Hello friends, hope you all are fine and enjoying good health In the previous posts we have seen the basic concepts and introduction of Induction motor, we did few calculations as well and now I am gonna discuss the types of Induction motor.
Its a very quick post and just for the knowledge, it have no part in controlling speed of induction motor but as you know knowledge is power so I thought of sharing it as well as such questions are mostly asked in vivas and interviews.
I have divided this tutorial in nine parts and in the whole tutorials, we will cover all about Induction motor, how it works and its controlling factors etc and in the coming tutorials I will explain its controlling using microcontroller. These are the few parts in which I have divided this tutorial :
A complete Tutorial on Induction Motor
Generally, induction-motors are categorized based on the number of stator windings.They are:
1-ϕ induction-motor
3-ϕ induction-motor
Single-phase Induction Motors
These motors are mostly used today than others. 
These motors are least expensive and lowest maintenance. 
This type of motor has only one stator winding (main winding) and use 1-ϕ power supply. 
The rotor is the squirrel cage type in all single-phase induction motors. 
The 1-ϕ induction-motor is not self- starting. 
Pulsating magnetic field is produced by single phase power supply. 
Rotor is energized due to induction. 
Required torque is not generated due to pulsating magnetic field. This will cause the rotor to vibrate (but not to rotate). 
To provide starting enough starting torque to rotate these motors requires a starting mechanism. 
Starting Mechansm of Single-phase Induction Motors
The starting method of pulsating 1-ϕ induction-motor is mainly an additional stator winding (start/auxiliary winding) as shown in Figure 1. 
Start winding can have a series capacitor and/or a centrifugal switch. 
Interaction between magnetic fields generated by the main winding and the starting mechanism produces a resultant magnetic field rotating in one direction. 
The motor starts rotating in the direction of the resultant magnetic field.
Figure 1 : Single-Phase Induction-motor without and with Start Mechanism
When motor reaches approximately 75 percent of its rated speed, a centrifugal switch disconnects the start winding. 
All single-phase motors are generally used for applications up to 3/4 hp only, with the exception of capacitor start/capacitor run type. 
Classification of Single-phase Induction Motors
Single-phase induction-motors are further classified on the basis of various start techniques, as :
Split-phase induction-motor.
Capacitor start induction-motor.
Permanent split capacitor (capacitor run) induction-motor.
Capacitor start/capacitor run induction-motor.
Shaded-pole induction-motor.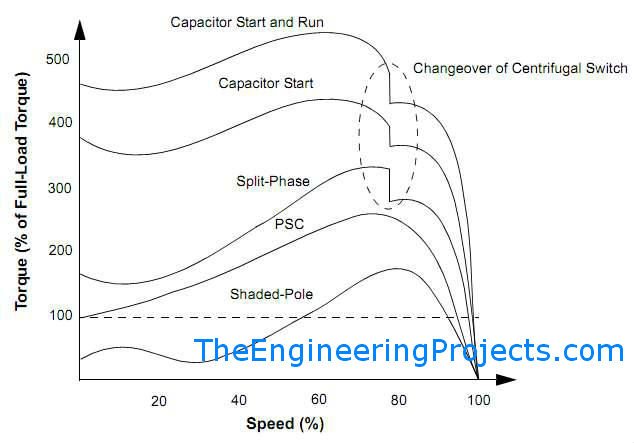 Figure 2 : Torque-Speed Curves of Different Types of Single-Phase Induction-motors
Three-Phase Induction-motor
Three-phase AC induction-motors are widely used in industrial and commercial applications. 
These motors are self-starting and use no capacitor, start winding, centrifugal switch or other starting device. 
They produce medium to high degrees of starting torques. 
These motors have medium to high range of power capabilities and efficiency. 
Applications of Three-Phase Induction Motor
Some applications of these motors consist of :
Grinders
Lathes
Drill presses
Pumps
Compressors
Conveyors
Farm equipment
Electronic cooling
Classification of Three Phase Induction Motor
Depending on the rotor design three-phase AC induction-motors are further classified as:
Squirrel cage motor
Wound-rotor motor
Ninety percent of the three-phase Induction-motors are squirrel cage motor.. The power ratings range from one-third to several hundred horse-power in the three-phase motors. These motors are rated one horsepower or larger, cost less and can start heavier loads than their single-phase counterparts.
Note :
In one of my viva I was asked this question that "Normally squirrel cage induction motor is used, tell us other types of motors ???" And I was like
as I have no idea then. Well its Wound-rotor motor as I mentioned above.
22,590 total views, 7 views today
Related posts