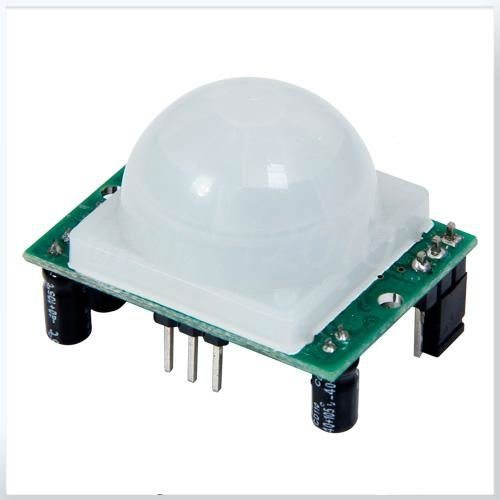 Price : Rs. 1500 in Pakistan.
Delivered : Within 2 days. 
To Buy : Click on the Add to Cart button below.
Model Name : HC-SR501

Secure payments through bank deposits & Reliable shipping through TCS

.


Note: Shipment charges will be Rs. 190/- within Pakistan which is the TCS fee.
11 Units in stock. 
Description
Color: White + Green
Dimension: 3.2cm x 2.4cm x 1.8cm (approx)
Infrared sensor with control circuit board
The sensitivity and holding time can be adjusted
Working Voltage Range: DC 4.5V- 20V
Current drain:<60uA
Voltage Output: High/Low level signal:3.3V TTL output
Detection distance: 3–7M(can be adjusted)
Detection range: <140°
Delay time: 5-200S(can be adjusted, default 5s +-3%)
Blockade time: 2.5 S (default)
Trigger: L: Non-repeatable trigger  H: Repeat Trigger (default)
Work temperature:-20-+80°C
Trigger Method: L unrepeatable trigger / H repeatable trigger
Working
Its used for motion detection and is very sensitive one.
Total 3 pins :

One for +5V.
Second is OUTPUT pin.
Third is Ground pin.
Applications
Security Products.
the human body sensors toys.
The human body sensor lighting.
Industrial automation and control, etc.
Download Datasheet
18,862 total views, 11 views today
Related posts