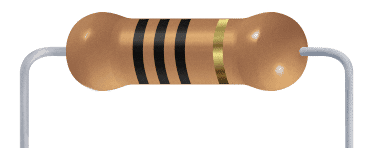 Hello everyone, first of all happy new year to all of you. I hope this year brings more happiness in everyone's life. 🙂 Today, I am going to share a new online tool for the first time named as
Resistor Calculator
.
Using this online tool, you can easily find the resistance value using its color code and I am really excited about it because we haven't shared any online tool before. We are gonna share more such online tools real soon and I hope these online tools will help engineers in their Engineering Projects.
I have also shared how to calculate the resistance manually using its color code and its given after this resistor calculator tool. So, its a suggestion that not only use this resistor calculator but also learn how to do it manually because knowledge is always helpful plus there's a chance that you won't find internet when you wanna use our resistor calculator. 😛 So, here's the online tool for resistor calculator:
Resistor Calculator
Online Resistor calculator using Resistor Color Code.

Select the color bands of your resistor by using the four combo boxes given below.
As you change the colors of your resistance bands, the value will be updated in the Resistor Value box.

Developed By TEP | The Engineering Projects