Hello friends, hope you all are fine and enjoying good health. I was a little busy in one of students' project so couldn't post in couple of days. Well i am kind of free today so thought of adding a new tutorial.Today's tutorial is about relays. We will discuss all about relays and also its interfacing with microcontroller. Its a quick tutorial as i think there's nothing much to discuss about it, so i wont discuss the very details of it but it will be enough to work with it.
If you guys feel any problem may ask in comments and i will try my best to answer them.In this tutorial we will just look at the basics of relay means how to use it and whats the need of it and in the next tutorial i will explain how to use it with microcontroller as relays are mostly used with microcontrolers particularly in automation projects. So let's start the flow :
What is a Relay ?
A relay is nothing but a switch. In the figure below, I have shown a simplest relay with five terminals.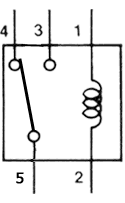 A coil is attached to the terminals 1 and 2 and the remaining terminals are free to use.
This one is the simplest relay. There are many kinds of relays but in all the relays there is just one coil.
Some relays have four switches, some has eight but the coil is always one.
But the coil specifications may differ like some relays have coils of 5V, some of 12V and they also differ in DC and AC.
This specification always written on the coil you are purchasing.
Working of relay
Its working is not as complex as some people consider it before using.
Suppose you have purchased a 12V relay with five terminals as shown above. Now in its normal behavior terminal 4 and 5 are connected.
Apply a 12V source at terminal 1 and 2, now when you apply 12V to the coil, the coil will be energized and produce a magnetic field which will attract the strip connecting terminal 5 and 4 and now the strip will connect to terminal 5 and 3.
Now when you remove the 12V source coil will be de-energized and the strip will come back to its original position i.e terminal 5 and 4 will be connected then.
Making the long story short, when you apply 12V to the coil of relay 3 and 5 will be connected and when you remove the 12V, 4 and 5 will be connected.
Usage of relay
Relay brought a revolution in the field of electronics, in fact the modern electronics based  on the discovery of relay.
Its mostly used in automation and also for security purposes.
Suppose there's a simple circuit which is operating on 220V AC and have a simple switch, now this switch is dangerous and it may cause a shock to the person using it.
Now just remove this switch and add it to the terminals 3 and 5 of relay.
Pace a 12V battery and a switch in series and connect it to the terminal 1 and 2 of relay.
Now when you press this switch 12V are supplied to the relay and it got actuated and hence the terminals 3 and 5 will be connected.
No spark or shock risk, simple 12V switch.
Isn't it good and very easy to use, that's the reason its using very much these days in circuits.