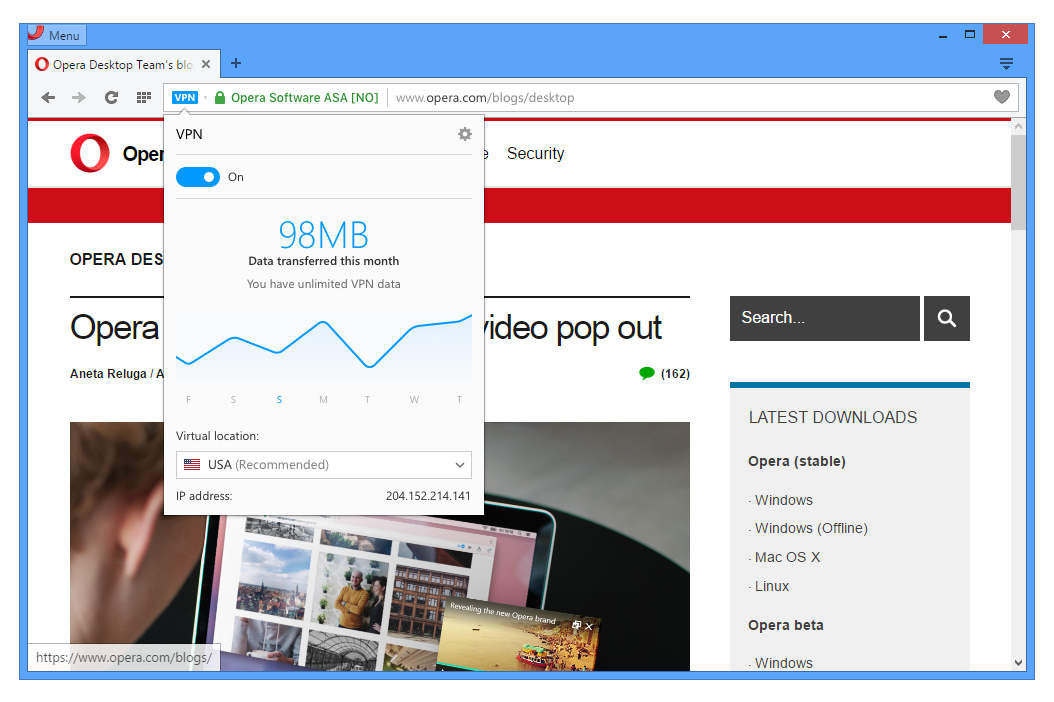 Hello friends, I hope you all are doing great. In today's tutorial, I am going to show you How Reliable Is Opera's Built-In Free VPN. Opera's built-in free VPN is one of the most exciting and innovative features on any web browser. They are the first company to recognize just how important VPNs are to our security and privacy. Using it is as simple as clicking one button. However, the old cliché is true that there's no such thing as a free lunch. We'll look at some of the pros & cons of Opera's service along with the other mobile VPN choices you might have.
Why Should You Use Opera's VPN?
It's built-in to the browser. This means you just need to download Opera, enable the VPN, and you're good to go. Better than this, it's free, but still provides unlimited bandwidth. Other free options throttle your speed or will only give you a couple of gigabytes making streaming and downloading difficult. Using Opera's VPN won't cost you anything, and it's even compatible with Netflix unlike many other VPNs—both paid and free—out there.
What About Speed and Security?
These are two areas where Opera's VPN performs fairly well. Opera utilizes the same AES 256- bit highly secure encryption that large commercial VPNs offer. It even does well in speed tests performing at similar speeds with it turned on as when turned off. Besides, although Opera doesn't follow a strict no logs policy, it's transparent about what it tracks "the product features you use, how often you use the app, runtime environment and UI session activity." However, they do claim this information isn't linked with your personal account. It also tracks app performance like crashes, memory data and so on. Nobody really knows what this means though, so take this policy with a grain of salt.
The Cons of Opera's VPN
There are many of them. Opera's VPN isn't a long-term solution. If you are doing anything online where data security is a real concern, like financial transactions, then Opera isn't a great option. Here are some of the reasons why: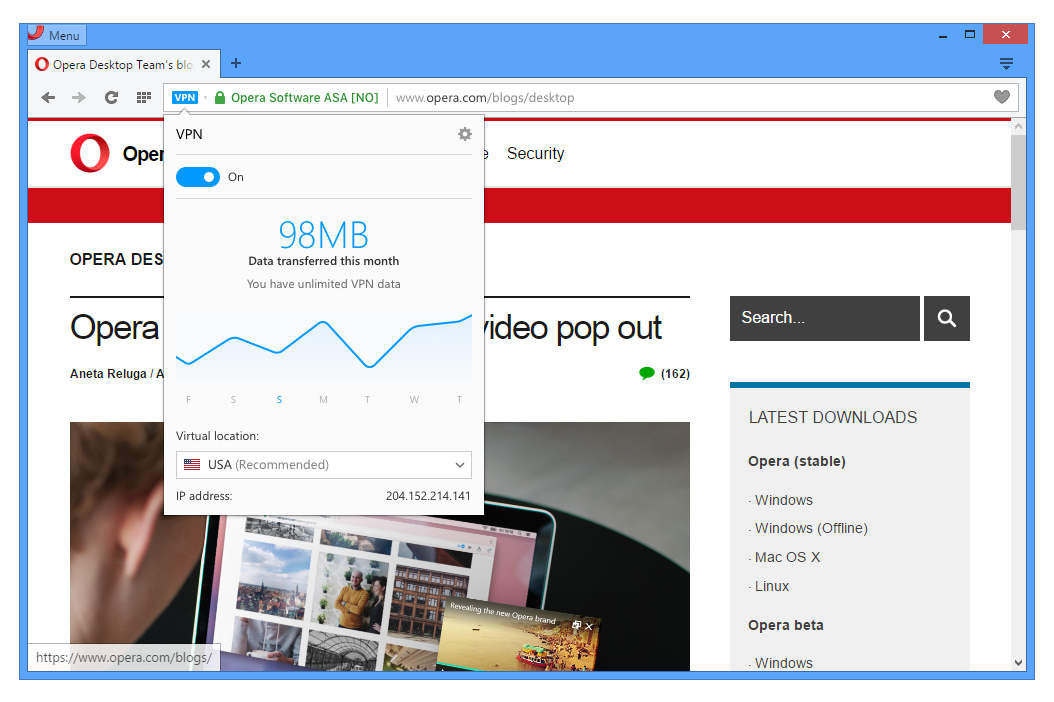 1) It's Not a Real VPN
Opera's VPN is not really a VPN. It's actually a proxy. What's the difference? While both hide your IP address and have some basic security features, that's where the similarities end. Proxies don't encrypt your connection, so hackers or your ISP can still easily see all of your data and browsing activity. Thus, Opera isn't safe, because it doesn't really encrypt and protect your information.
2) Desktop Browser Only
Opera's VPN is only available on its desktop browser. You cannot use it on the mobile app nor does it apply to any of your other network connections. If you are using Google Chrome or playing an online game, your connection is still visible. It once again shows how it's much more like a proxy than a VPN. Instead, you'll need to find a mobile VPN (similar to this one) if you plan to use your smartphone or tablet.
3) Few Server Locations
Opera's service only provides you with a handful of locations around the world. You can choose between Optimal (chosen automatically) and in a few places in Europe, Asia, and the Americas. Also, it doesn't work very well around region blocks. For example, BBC iPlayer doesn't work from outside the UK.
4) Privacy Problems
Although Opera does give you better security than nothing, when put to the test, it's not very strong. When put through a series of tests, key information was easily obtained including DNS address. This is a big warning sign when it comes to security. Hackers can then use this information to extract more data about your connection type, connection location, and more.
What's the Bottom Line?
Opera is a good quick VPN solution. If you connect to a public network and want some basic privacy protection or use streaming websites like Netflix, it is an excellent tool to use. Opera's a great browser with many features that users love making it an ideal choice for simple usage or if you have to use somebody else's computer to protect some of your privacy. Nevertheless, if you want real security, then you'll need to find a reliable mobile VPN that also works on your desktop, tablet, and even your router. Many of the top VPN providers offer free trial periods. Do a little comparison shopping and see which one works best for you. These days, the top VPNs offer multi-device support so you can protect your connection from all of your devices. Not only that, they offer a wide array of other features including enhanced security and high speeds. Best of all, they don't even have to be expensive with some annual plans costing as little as $3 a month. So, do some research and find the best VPN for you.