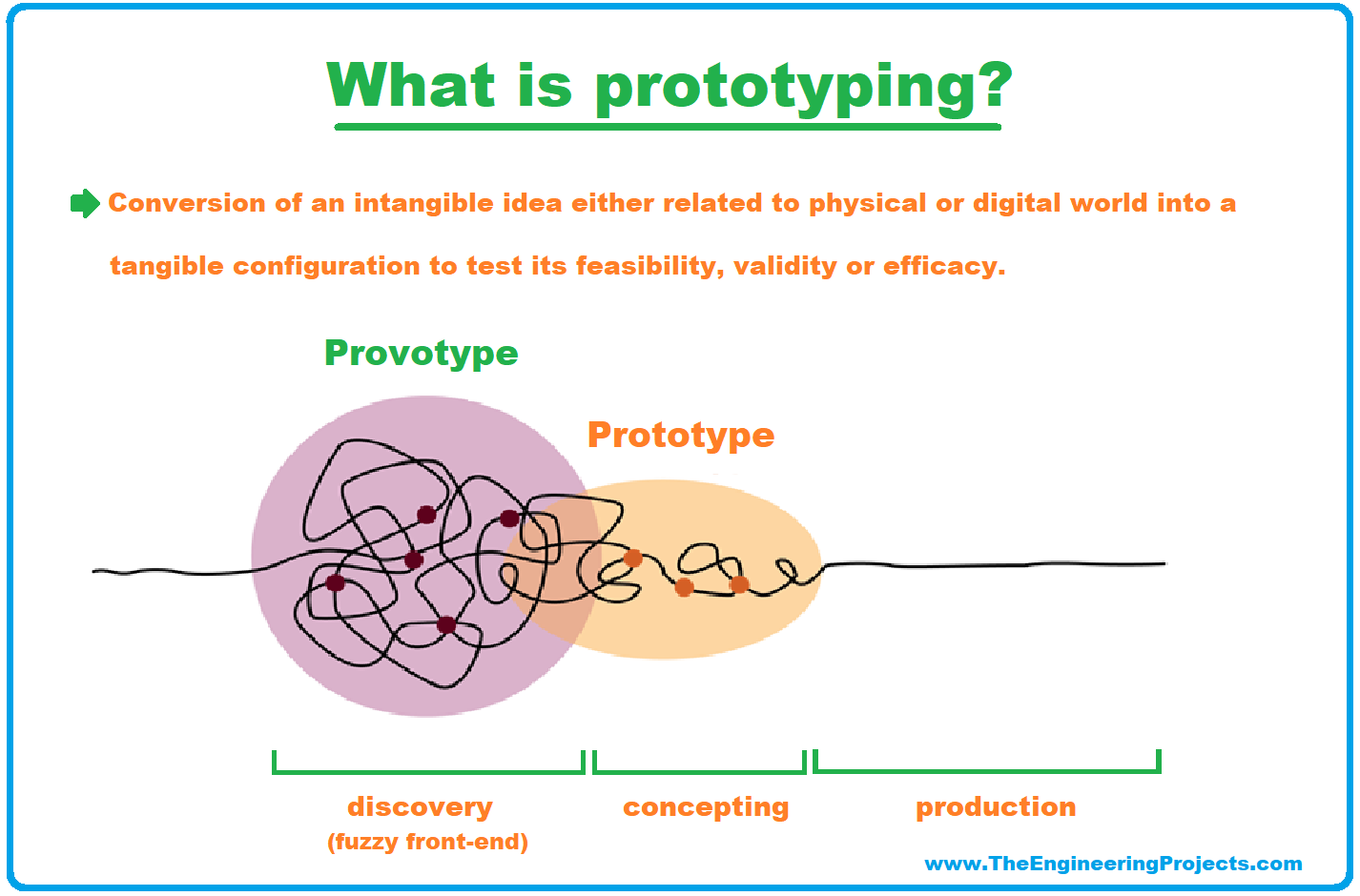 Hello everyone! I hope this article finds you happy, healthy and content. Today we are discussing a very interesting and versatile topic that might have crossed your path many times if you are related to any of the engineering fields most probably software, electrical or mechanical or if you are a final year student struggling to get your project approved then you know the drill absolutely, or maybe you are someone who works with materials and crafts related to product design, Yes! You guessed it right! The topic we have at hand today is Prototyping. Before proceeding and diving into the sea of prototyping I want to make one thing very clear here, I'll be treating it in a generalized and systematic way, we would not limit our discussion to machine design or an app design only!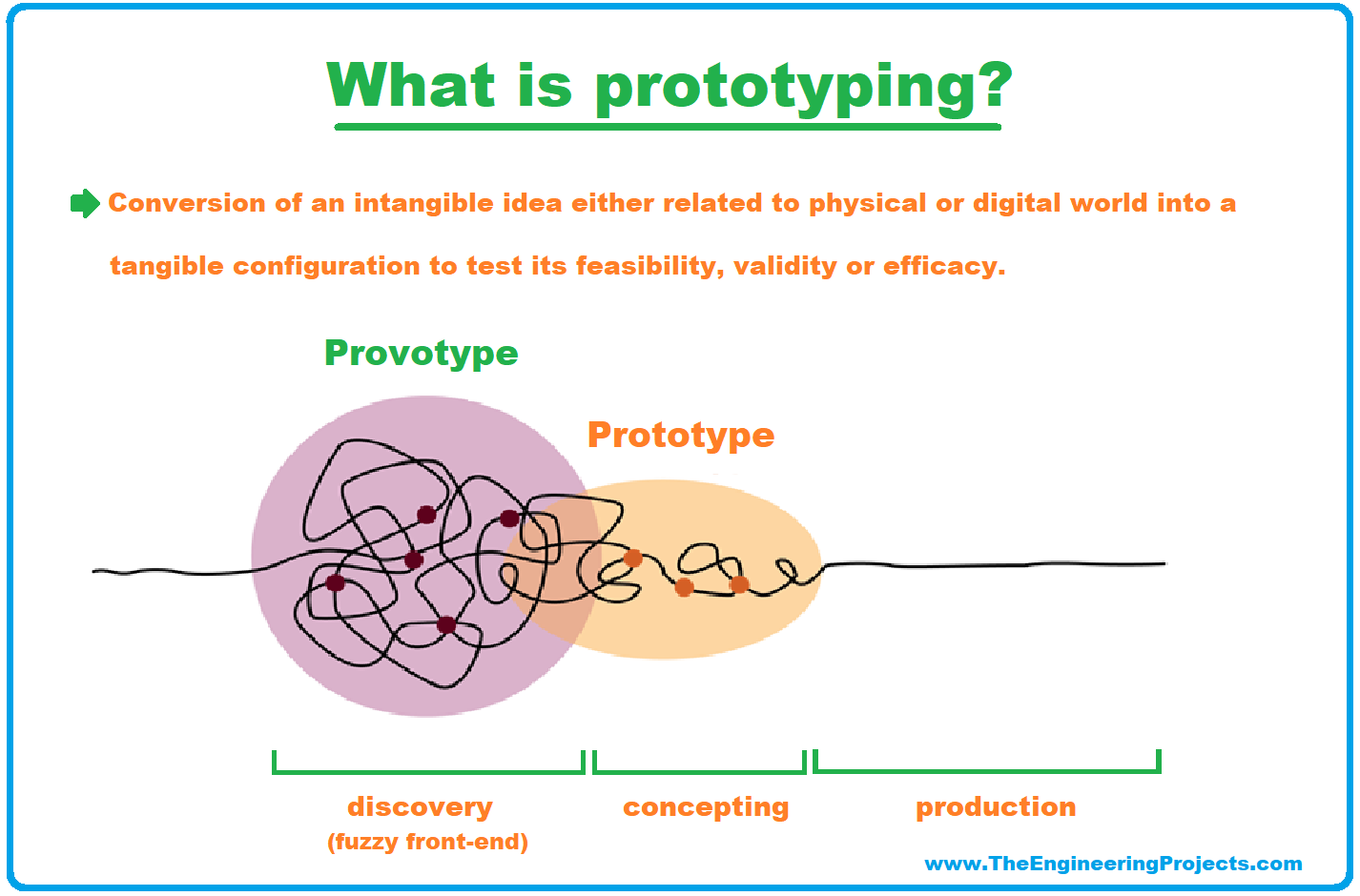 What is Prototyping?
So let's get started with the most important question of all, What is Prototyping?
Definition of Prototyping
Prototyping can be defined as the Conversion of an intangible idea either related to the physical or digital world into a tangible configuration to test its feasibility, validity or efficacy.
You might have pondered many times, Why we need to prototype our product or why prototyping is important in engineering? Prototyping is crucial because it helps in;
Materializing Raw Ideas:
It helps the designers and engineers in materializing their raw ideas.
Rectification:
Prototyping helps in the rectification of design flaws and loopholes in the very beginning of the project.
  Material Versatility:
It helps in testing the design along with the materials proposed for use in the product.
Prototyping Attracts Investments:
Prototyping a product or a project attracts investors which can be a sigh of relief for the designers involved in the process.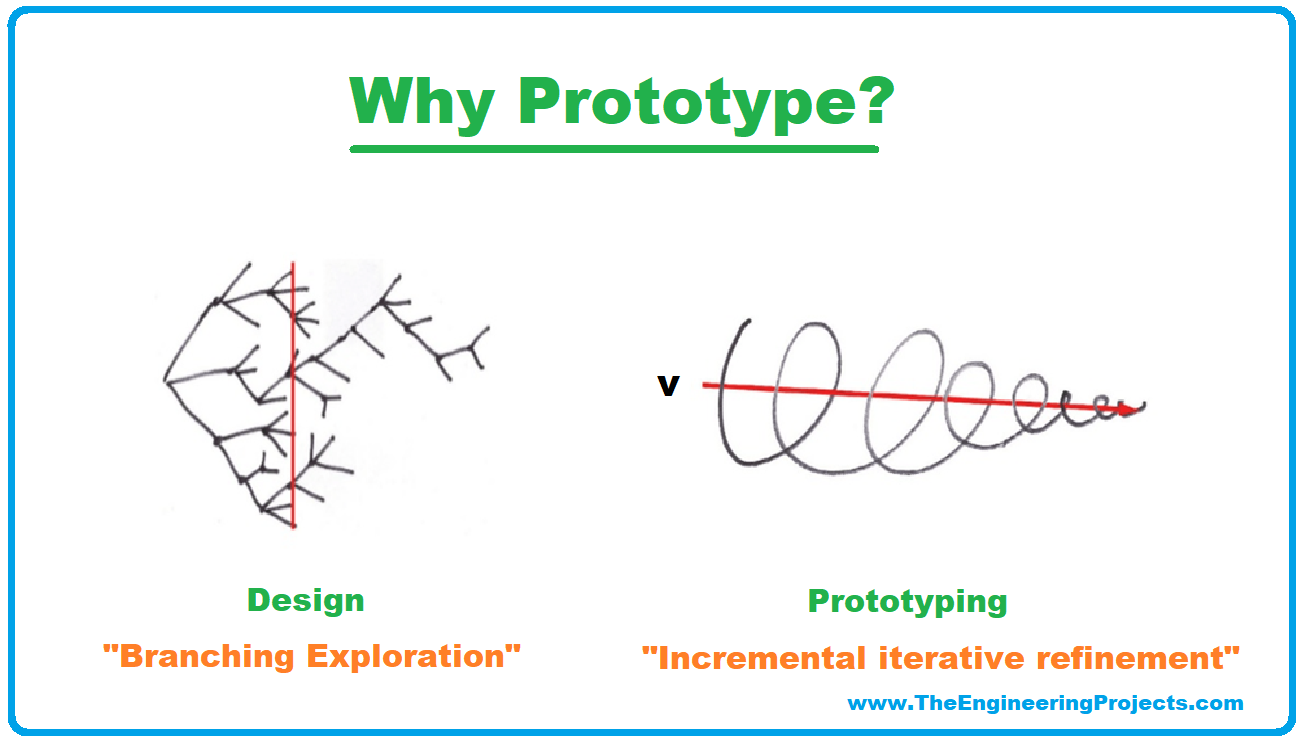 Prototyping Saves Money:
It can help save money for the investors who are involved in the due process of mass production.
Profit Loss Estimation:
Prototyping can help in the estimation of profit margin or loss for the parties involved in the project.
Refine the final outcome:
Prototyping helps refine the final outcomes either in the case of a digital product or a physical one.
Prototyping Protects Intellectual Property:
It helps reserve the intellectual property of the ideator, just imagine you presented a rough sketch of a revolutionary idea to your friend or anyone in your vicinity and after some time you find your idea gaining money and fame but not with your name instead of your friend's who researched it, prototyped it, sold it to an investor and earned money and fame, so now you know why we need to prototype an idea and how it protects intellectual property!
Prototyping and Materialization
Why Prototyping is called Materialization? Prototyping is also called Materialization because it turns an idea into something materialistic or tangible which totally justifies the term being used.
Types of Prototyping
Now the question arises, how we identify the type of prototype we require for our project to get approved? Or which type of prototype is needed for your product if you are working for a company? It certainly depends on the two factors:
How the product would be used and which would be the target audience?
Representation or general appearance of the product we need to prototype.
We all have been somehow a part of the product testing and prototyping process in one way or the other when it comes to different types of prototypes either consciously or unconsciously. You must be wondering, "How you have been a part of it!" You would find out the answer to this intriguing question after knowing the types of prototypes explained in this section. Following are the few famously known types of prototyping depending on their usage and representative nature;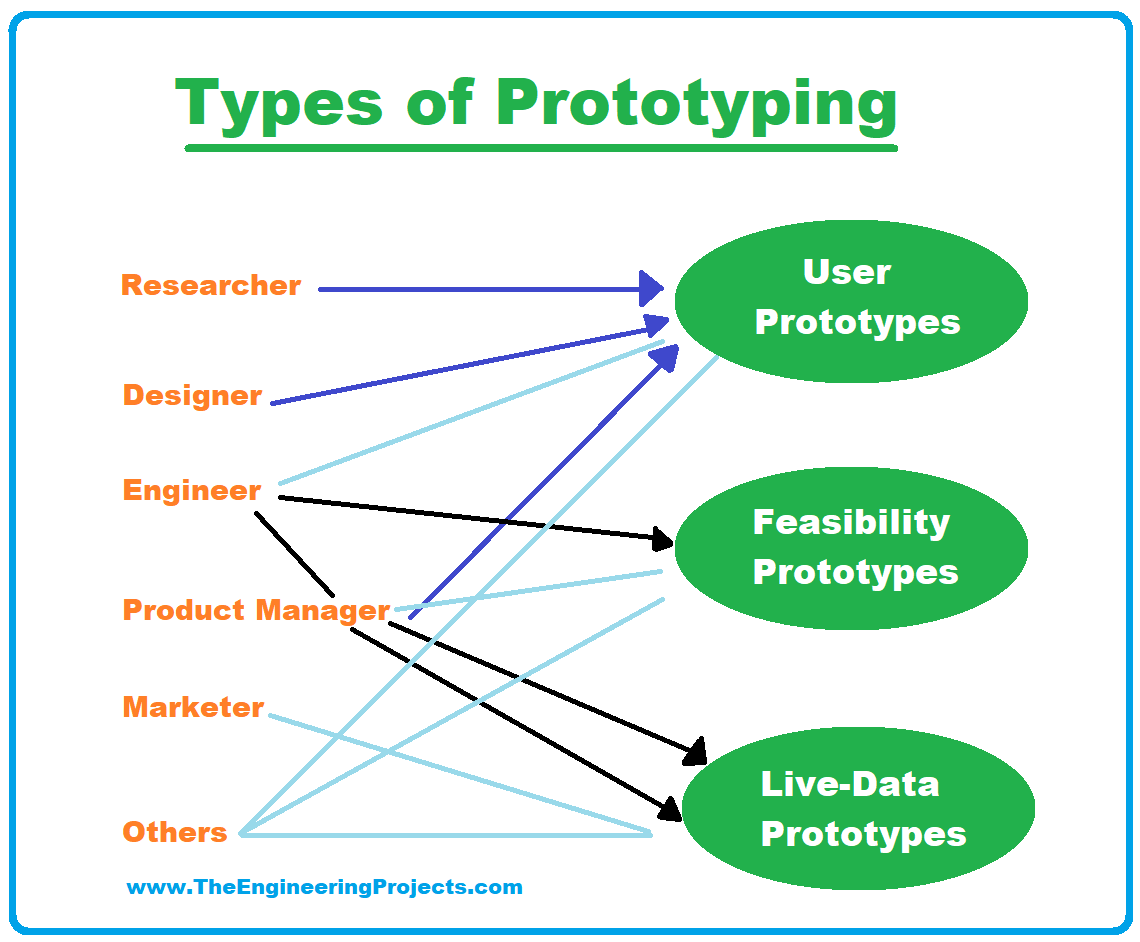 Feasibility Prototypes
These types of prototypes are made to test the viability and feasibility of the product.
For example, consider making a spatula we use in cooking with a material other than silicon, as silicon is the most commonly used material these days, in order to test the feasibility of your product, you would definitely prototype it first with a material other than silicon.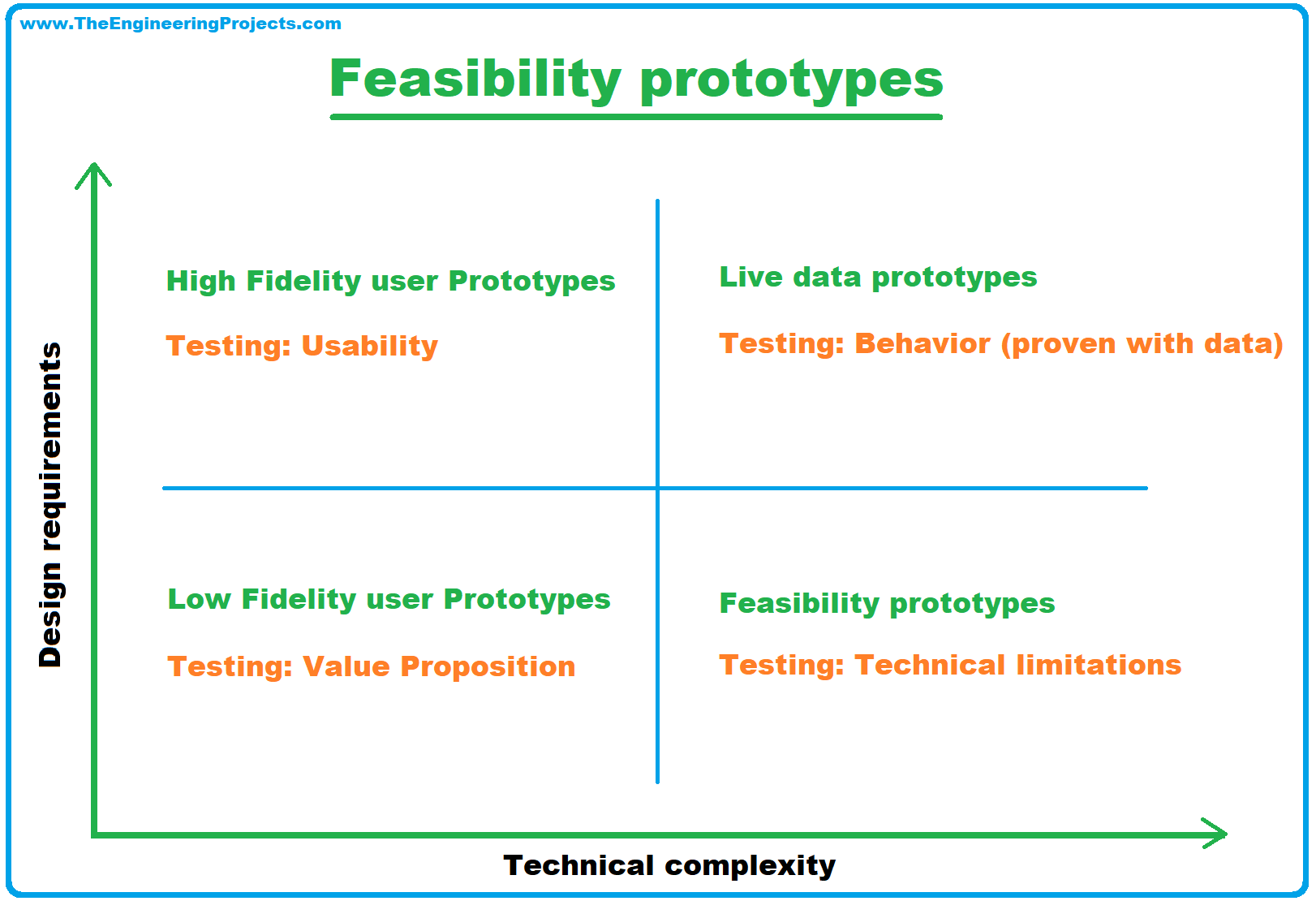 Live data prototypes:
A prototype intended to test the digital features and functionalities of a program or a solution.
Iit is very closely designed to the original product or solution using JavaScript, HTML or CSS.
Live data prototypes help analyze the success or failure of the project with the help of feedback provided by users involved in testing the product.
Miniature prototypes:
As the name suggests, this prototype is the three-dimensional or two-dimensional depiction of the product in a miniature form.
For example, in the inauguration ceremonies of the buildings and monuments, you might have seen their smaller versions being grounded there for the groundbreaking ceremony, a mini sculpture more precisely. Those are miniature prototypes.
Low Fidelity Prototypes:
It is a rough or low maintenance prototype of a product that doesn't give an advanced idea of the end results or feasibility of the project, they serve the purpose of;
Educating the audience.
Communicating with the audience.
Informing the people of a certain solution.
These low-fidelity prototypes can help connect with the target audience through the materialization of concepts and ideas in a tangible manner. Low Fidelity prototypes can be made in the following ways:
They can be made in the form of rough sketch.
Clickable wireframe.
A drawing representing the idea.
A mood board with all the collected data, summarized in the form of pictures, charts or graphs.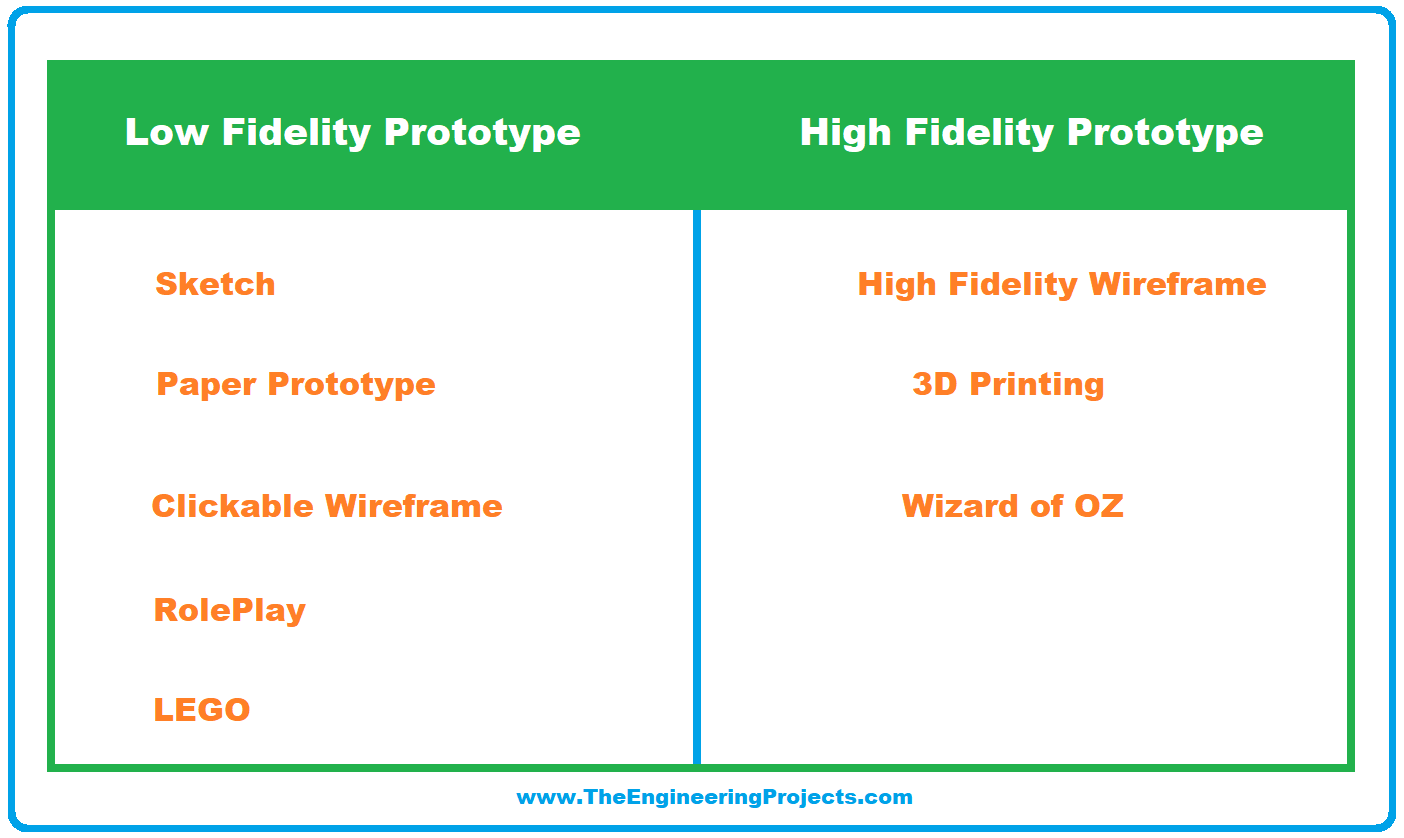 High fidelity prototypes
High fidelity prototypes as the name suggests are a high-end form of prototypes which are almost similar to the end product but not exactly the same as the original would be, it is used by companies with relatively high budget and sponsors. Qualities of high fidelity prototypes may include:
It is almost similar to the product.
A combination of materials can be tested making a high fidelity prototype.
A high-fidelity prototype may lack a feature or two as compared to the original product.
It renders enhanced user interaction and testing.
It can help identify and rectify design flaws in a more effective and efficient way.
Display prototypes
Display prototypes are made around the end feel or appearance of the product, it may not be a working model of a product instead, it is intended to show the audience how would they feel about the product when they would hold it for the first time in their hands! For example,
A non-working, non-functional physical model of a mobile phone is yet to be launched in the market.
A display of a desktop screen of a laptop prior to its launch.
A draped dress on a mannequin with pins without being stitched to perfection just to give the idea of how it would look like when stitched in actuality.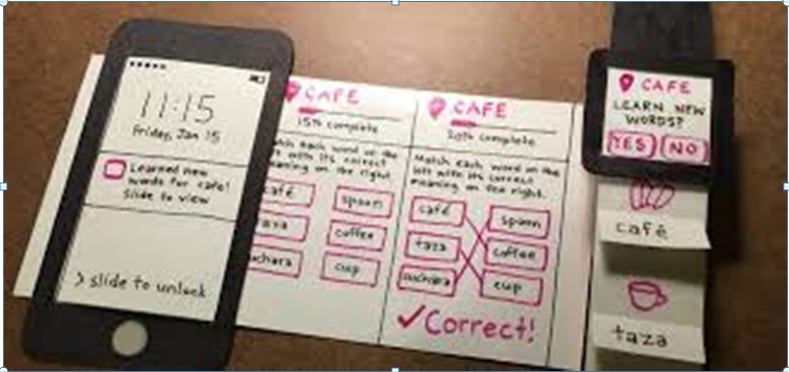 Video Prototype
You might have seen countless animations and short clips on the social media pages of certain websites related to technology and lifestyle, when they are about to launch a product, they video prototype its functionality and forward it to social media platforms.
It's another way to connect with your audience.
People get hooked to the screens more in the case of animation.
Video interaction with the users intrigues them.
It compels the audience to make a buying decision which enhances sales.
Process of Prototyping
By now you are fully aware of Prototyping and its types, we will be discussing the process involved in prototyping.
First thing first, do you know why an engineer or a designer is compelled to prototype a product?
Which makes him or her indulge in the process?
Which circumstances initiate this tiresome journey?
Let me summarize this pathway for you mapping it straight to the prototyping;

When a certain individual or a company face a problem either be it digital or physical it paths down to a significant amount of research,
The research proposes a lot of solutions,
Amongst all the proposed solutions, the one feasible enough is chosen,
The chosen solution is then tested in terms of feasibility, durability and market parameters.
The product or the solution is then prototyped, upon rejection or approval, it decides the fate of your idea in solving the problem which hindered your path!
Qualities of a Prototype
A prototype must have the following qualities when accessed: The prototype must be precise and accurate enough to be interpreted and accessed accurately, to move further with the production process of a product. All the parts of the prototype should be articulated well, a well configured and a well-structured prototype has higher chances of approval from the clients. A prototype must perform basic functionalities if it is somehow related to the digital field or a digital solution. Take the example of an app to be launched in the market, the app must have the basic functions to help understand its usability when prototyped.
Tools for Prototyping
You must be wondering, How we prototype a certain product or an idea? Create a rough sketch in mind, we will be discussing it in detail within the next section,
We design our prototype digitally at first with all the dimensions and specifications
After that, we move towards the solidification of that digitally approved prototype if it is a tangible product!
Just as we can say that, we would definitely digitally prototype a mobile app meanwhile a silicone spatula would be physically prototyped in a three-dimensional structure and form.
Keep one thing in mind whether it a digital or physical prototype, you have to design it first using software that suits you best.
With advanced solutions and boom in soft technology, we have now countless tools in the prototyping industry which can be picked up and used according to client's convenience and ease either paid or free, each of them has their own specialties and workflow.
Problems Requiring Digital Prototyping:
Some of the things that require digital prototyping include;
UX/ UI
Website design
App development
Video animation
Architectural design
Product design
Artificial limb replacement
Orthotic devices
Weapon design and production
Tech packs in the fashion industry

Commonly used Software for Prototyping
There are countless tools and software to create a digital prototype which includes;
Photoshop CC
Figma
Vectr
Envision
Webflow
Grunt
Axure
Origami studio
SketchUp
Gulp
Yarn
AutoCAD
Solid works
Photoshop CC:
Photoshop creative cloud is a famously used software for modeling, sketching and rendering designs, who have not used Photoshop even once in life? Almost every designer had gone through it once. You need to buy a paid version of Photoshop CC in order to start your journey as a product designer. It is an extremely versatile software of the digital world.
Figma:
Figma is a web-based graphic designing app that allows graphics of almost every kind to be designed either it is a user interface, website design a 3D model of a tool or a product under construction. A fully functional version of the website is only available once you pay for it, you can buy a membership plan which suits you the best. Multiple designers can work on Figma on one document which is a unique feature only provided by Figma.

Vectr:
Vectr is a very easy-to-use software that you can use for prototyping a certain object you require, it is simple and can be learned with a bit of practice within no time. It is readily available offline as well, the collaborative feature of the website makes it possible for multiple users to work on a single design at a time.
InVision:
InVision is widely used for prototyping and collaboration among people who work remotely, it improves workflow among the participants. The initial version is absolutely free of any cost for everyone using the software. You can sketch your design and turn it into a prototype by using tools provided in InVision.
WebFlow:
Webflow, as the name suggests, is solely dedicated to website design, you can design your prototyped version of the website without any hassle, as it is very user friendly and convenient, another sigh of relief is that you do not need to code the website while designing it, doesn't it make the prototyping process easier and convenient?
Grunt:
Grunt is a slightly high-end tool available in the market amongst the one we have studied above, it's a JavaScript task runner which is used to perform many automated tasks which have been predominantly defined ahead into the Grunt file. The most amazing feature it provides is the availability of files having routine tasks that a user can run anytime on its system, and another amazing feature includes the customization of the files, a user can cut and prune the file according to its own needs without any inconvenience.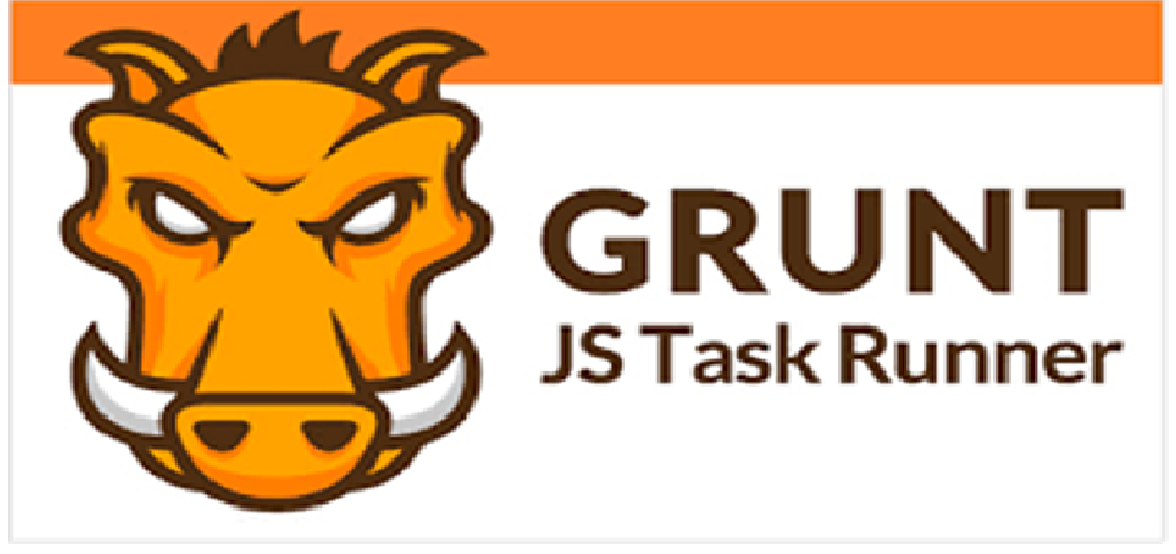 Axure:
Axure is one of the most celebrated prototyping tools out there in the competitive market, it generates high-quality, user-friendly and interactive prototypes that can later be coded through HTML, CSS and JavaScript by using its in-built HTML output file and then published accordingly. It is available free for the students and teachers although the professionals have to pay for their monthly or yearly subscription. It is widely used by website designers, Head designers, UX analysts and researchers as well.
Origami Studio:
Origami studio was developed by Facebook. It is absolutely free and has a user-friendly interface and provides hassle-free creation of digital prototypes which can, later on, be analyzed on their app as well. You can build your prototype and check its user interface and interactions in a real-time situation, it also helps analyze workflows.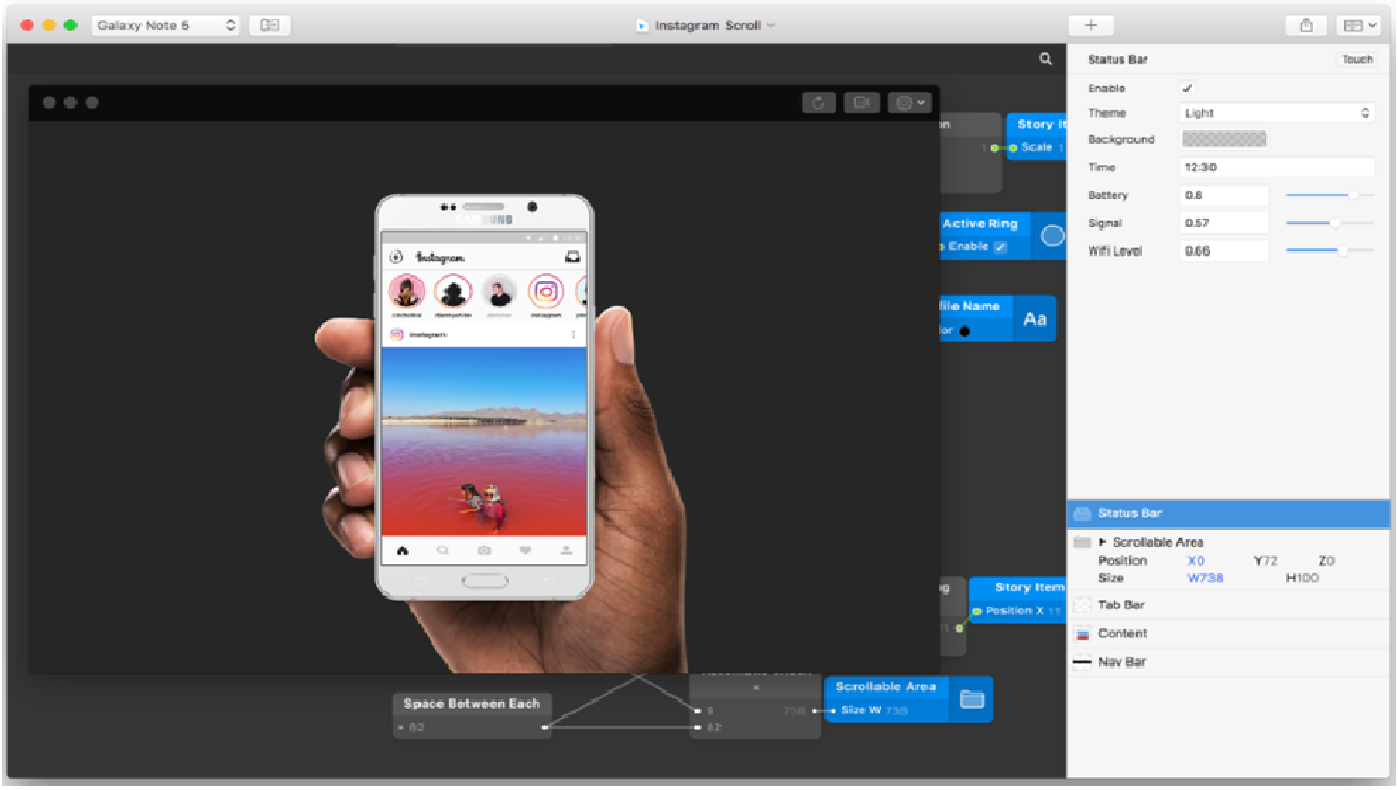 SketchUp:
SketchUp is advanced software that is used in machine design by a lot of designers for its rendering capabilities,
It can render a lot of dimensions of a prototype.
It is used for the 3D modeling of a design.
It has a very simple user interface that is easy to understand and comprehend.
SketchUp makes 3D modeling of a prototype relatively easy for new users as well.
Gulp:
Gulp is a JavaScript toolkit used in web development, it provides seamless workflows through shorter and simpler configurations as compared to other provided tools in the market, you just need to understand the basics to use Gulp, and then you are good to go! Create website prototypes and test them easily anytime through already configured settings, you can ever tweak them here and there as per your liking, isn't it a lifesaver? Definitely, it is!
Yarn: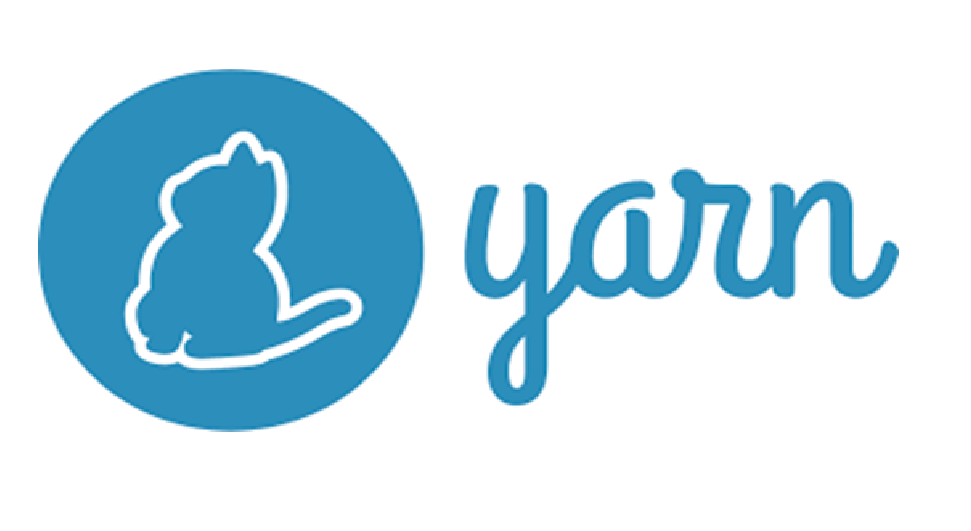 This is not your ordinary Yarn used in textile for clothing purposes, it's a tech solution that is completely known as, Yet Another Resource Negotiator.
The yarn has outdone its competitor in the market because of its insanely high spend, a speed that is matchless and can download multiple packages in one go!
It also acts as a project manager for your coded website or a design by sharing it in the form of packages with other designers and developers to test your website, with high security and reliability! Isn't it amazing? Multiple people can test and rectify your prototype without any hassle!
AutoCAD:
If you are an engineering student or somehow related to product design then it is impossible that you are not aware of AutoCAD! AutoCAD helps to design a 3D prototype of a product with all the dimensions and specifications, after approval of the 3D design you can get it printed in 3D form for presentation on different platforms. AutoCAD is widely used in the physical 3D modeling of prototypes in the industry.
Solid works:
Solid Works as the name suggests, presents a very solid base for product design for engineering purposes, from sketching to rendering and then prototyping which leads to 3D modeling and printing solid work knows its virtue! Solid works has an extremely user-friendly interface but some people find it difficult to work with just because of the lack of exploration and practice, a little practice and dedicated time would definitely make you a pro. Solid Works has changed the lives of engineers and product designers for good! Do give it a try if you want something detail-oriented yet simple to work with!
Examples of Prototyping
Our discussion started with the basic definition of prototyping followed by the characteristics of an insanely good prototype, leading to the types of prototyping and the tools we use to develop these prototypes we are now at the end of this discussion and I presume that you have a basic understanding of all we have learned by now! Now, let's have a look at a few examples of prototyping:
Prototyping Examples in Industrial World
There are endless examples when it comes to prototypes, almost every industry related to the design and development of a product or software implements it.
Let's have a quick view of the industries that use prototyping.
1. Prototyping in Automotive industry:
Before releasing or launching a new model, it is always designed and prototyped first, initially into a digital form using software like AutoCAD or Solid Works and then it is moved on it 3D printing for representation.
2. Prototyping in Architectural Design:
A building is first prototyped in software like SketchUp, AutoCAD, InDesign, Revit, Photoshop, 3D max studio and whatnot!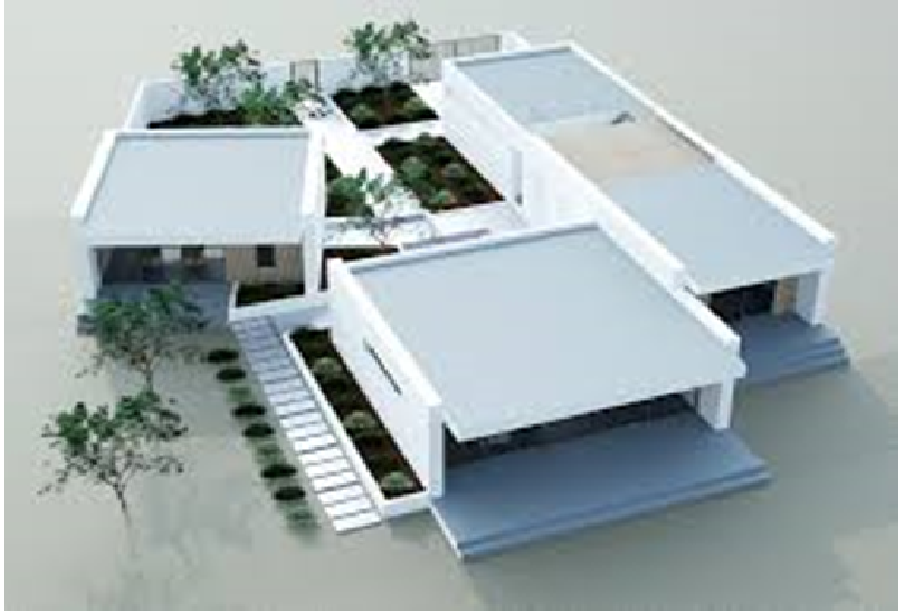 3. Prototyping in Biomedical Industry:
Have you ever gone for a tooth replacement? Or you might have observed someone's knee replacement? Everything is prototyped with the proposed material first, after checking for material, allergies associated with the material and the design elements related to the prosthesis and the approval of the prototype, actual replacement is made for the limb or a part of body to be replaced which can be a joint, teeth or a bone. It is certainly a long process and costly too
4. Prototyping Machine Assembly and Spare Parts:
Have you ever seen a machine whose parts do not articulate into each other well enough? You must have not because of the fact that it designed and prototyped first and after completely testing it and getting approved by the quality control department, it is launched in the market and same goes for its assembly parts or spare parts available in general.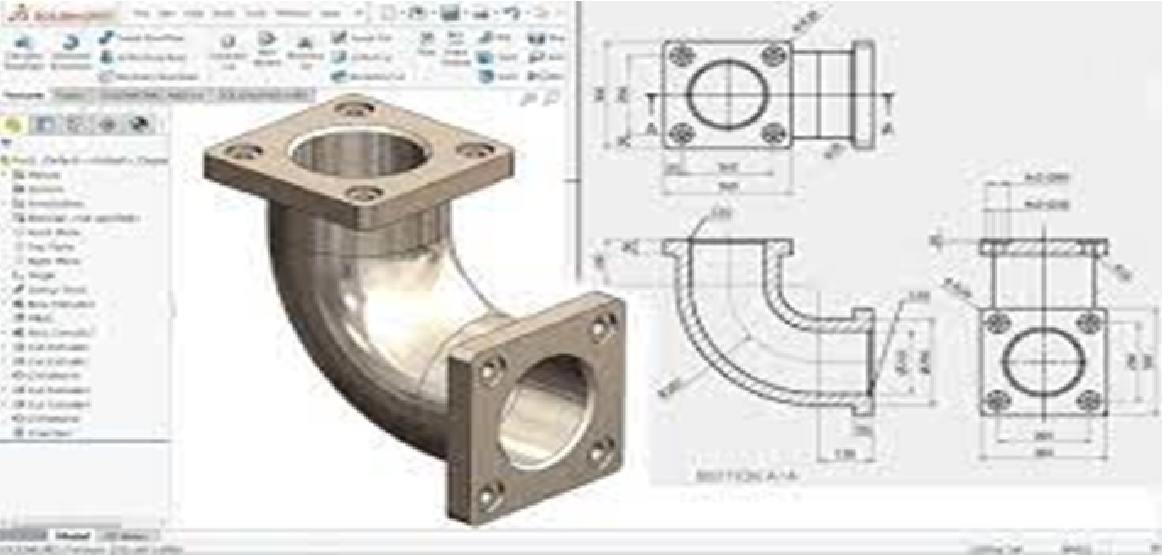 5. Prototyping in software and web design:
Our discussion would have been incomplete if software prototyping wasn't here in the list, the most commonly heard and tested prototypes of all are the ones used in the software industry, let me tell you how! Whenever you are about to launch an app, a prototype with limited functions is given to some of the users for testing purposes to check the user interaction and workflow.
The prototype doesn't have all the functions the app or the website would possess, instead, it provides a few basic ones to analyze the user reaction on the launch.
You must be thinking about why the prototype doesn't have all the features? The answer is so simple to hunt, who would buy the complete package after the launch if your prototype has it all? Obviously no one!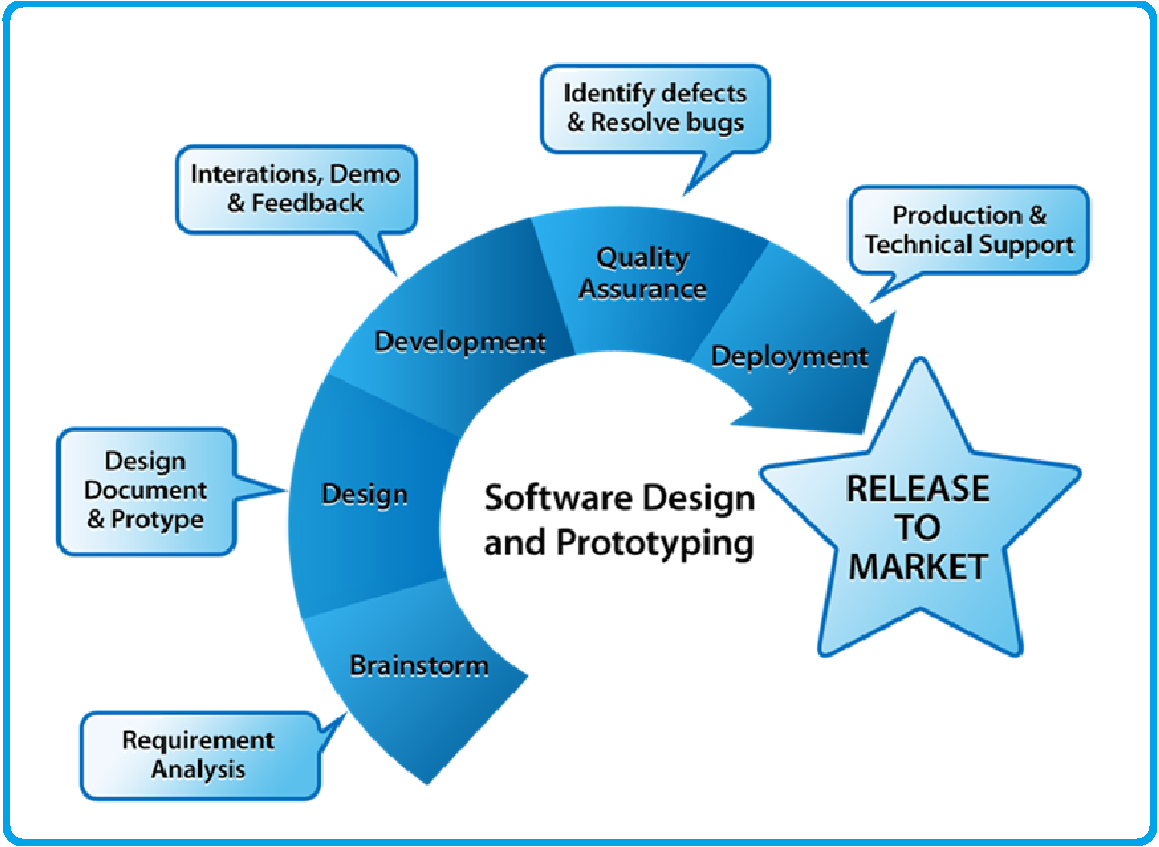 6. Prototyping in product design:
Let's take IKEA as an example who has never let anyone come even closer to the revenue it generates yearly!
IKEA has a very unique selling point, which is hidden in the self-assembling of their furniture by customers, this assembling of the furniture provides a sense of self-satisfaction and achievement which compels them to buy more.
Do you really think, all these self-assembly parts which seamlessly fit into each other by the customer itself are achievable without being prototyped? No, not at all!
All these parts and designs are Sketched and prototyped, first digitally and then physically in 3D forms. Now you know the power of prototyping? Definitely Yes!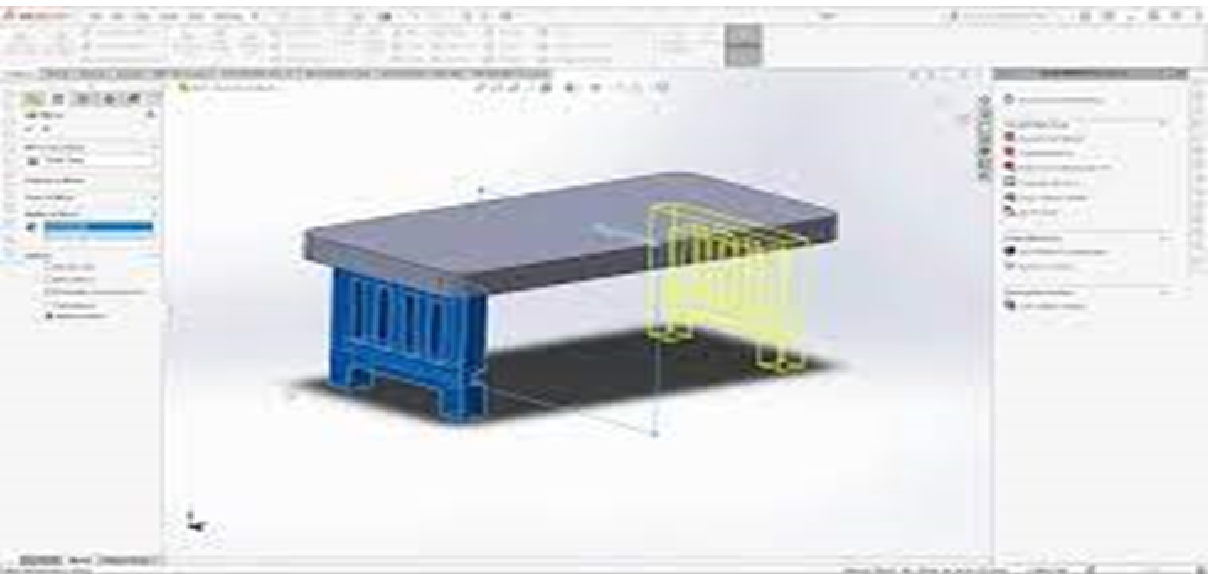 7. Prototyping in Aerospace Industry:
Prototyping is an essential element to the design process in the aerospace industry, evaluation of the parts designed, their feasibility and durability are checked with the help of prototyping, designing it first and then modeling with the help of 3D printing. A design flaw or a loophole can be rectified using a prototype saving everyone from a major disaster.
Military Prototyping:
Military prototyping is extremely crucial to military Industry when checking the feasibility and viability of a weapon, from tanks to guns and missiles prototyping has a significant role in the successful launching of a weapon checking its utility and design, a minor loophole or a flaw can cost millions to the inventors which would be derogatory to the budget as well.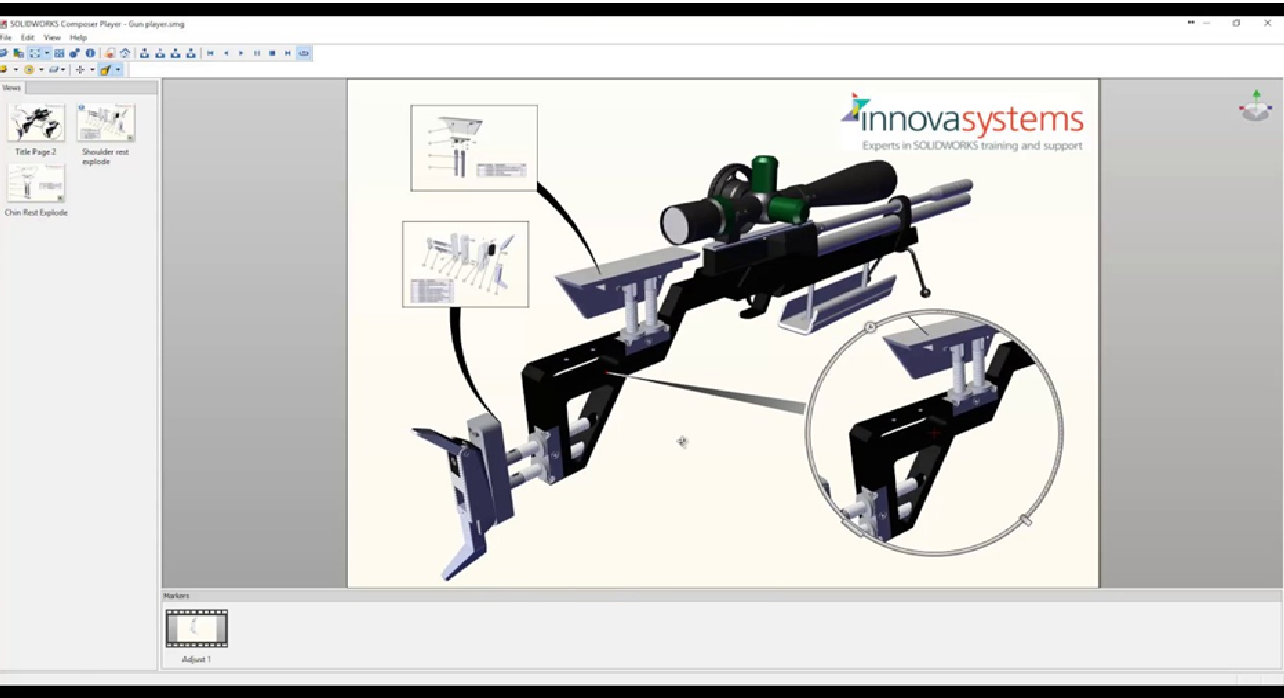 Prototyping in Robotics:
Prototyping in robotics goes hand in hand with the design and configuration of the robot, without prototyping the manufacturer would never be able to see the true outcome of the features and added designs that are essentially required for the successful launch.
Scenario-Based Example of Prototyping:
We are now done with the practical examples of prototyping in different industries, in this section, we will discuss a scenario-based example to help you grasp the concept in a better way.
Prototyping a Physical Product
For understanding, this scenario put yourself in the shoes of a product designer, you are a product designer now who has been asked to design a mug that keeps things warm in winter and cold in summer, but with a very unique instruction in the design elements of the mug, it must not be covered on top. What would you do now? Let's us break the process down for your convenience;
Step 1: Research
Research is the utmost part of a project, what can you do without it? Obviously nothing! Research must be your strong forte, search for the already existing designs in the market with similar specs.
Step 2: Design
After research, you would definitely be considering the design and material for your mug, which keeps the liquid warm in winter and cold in summers!
Ultimately after design selection you would sketch it in your desired software in a 3D form be it AutoCAD or solid works or any other one you like the most; it would be the digital prototype of your project.
Step 3: 3D printing of the prototype
After the approval of the digital prototype, the next step would be the materialization of your design into a three-dimensional structure, this step would be achieved with the help of 3D printing and it would be a physical prototype of your product.
Step 4: Approval of the Prototype and Rectification of Errors
In this stage of product development, we have a digital and a physical three-dimensional prototype of our product which has been tested with different materials and design constraints.
The final design is approved after all the rectifications have been done.
Step 5: Mass Production of the Product According to the Prototype
The final prototype got our mug with unique design and features approved, and is now all set for mass production.
Voila! You have made it to the competitive market with a revolutionary product. Good work!
Prototyping a Website or an App
Now you know how the prototyping process takes place and leads to the production of a product either be it small or large, without prototyping it would not have been possible to make a design or a product error-free, which is a really important factor for influencing the buying decision of our target audience. The previous example was all about a physical product launch and how prototyping is involved in the process, in the next scene we would be discussing an example related to an intangible product which is a website or an app design. Let's get started;
Step 1: Researching the Key Features and User End Expectations
App development starts with the research phase, but this time you have to orient your research around your target audience, find out the features they want you to add or the things that don't like in the user interface and all the necessary stuff required for the job with the help of survey or a poll.
Step 2: Design a Low Fidelity Prototype for User Interface
After identifying the key requirements develop a low fidelity prototype with the help of any software you like such as Invision which would help create the basic functionalities of the user interface.
Step 3: Production of Live Data Prototype
A low fidelity prototype can be turned into a live data prototype making a few features of the app functional.
This would help in generating true feedback and analysis for the app when tested by the people, you might have seen some testing versions of an app saying; "this feature of the app is not available in this version", which is the reason why they aren't available.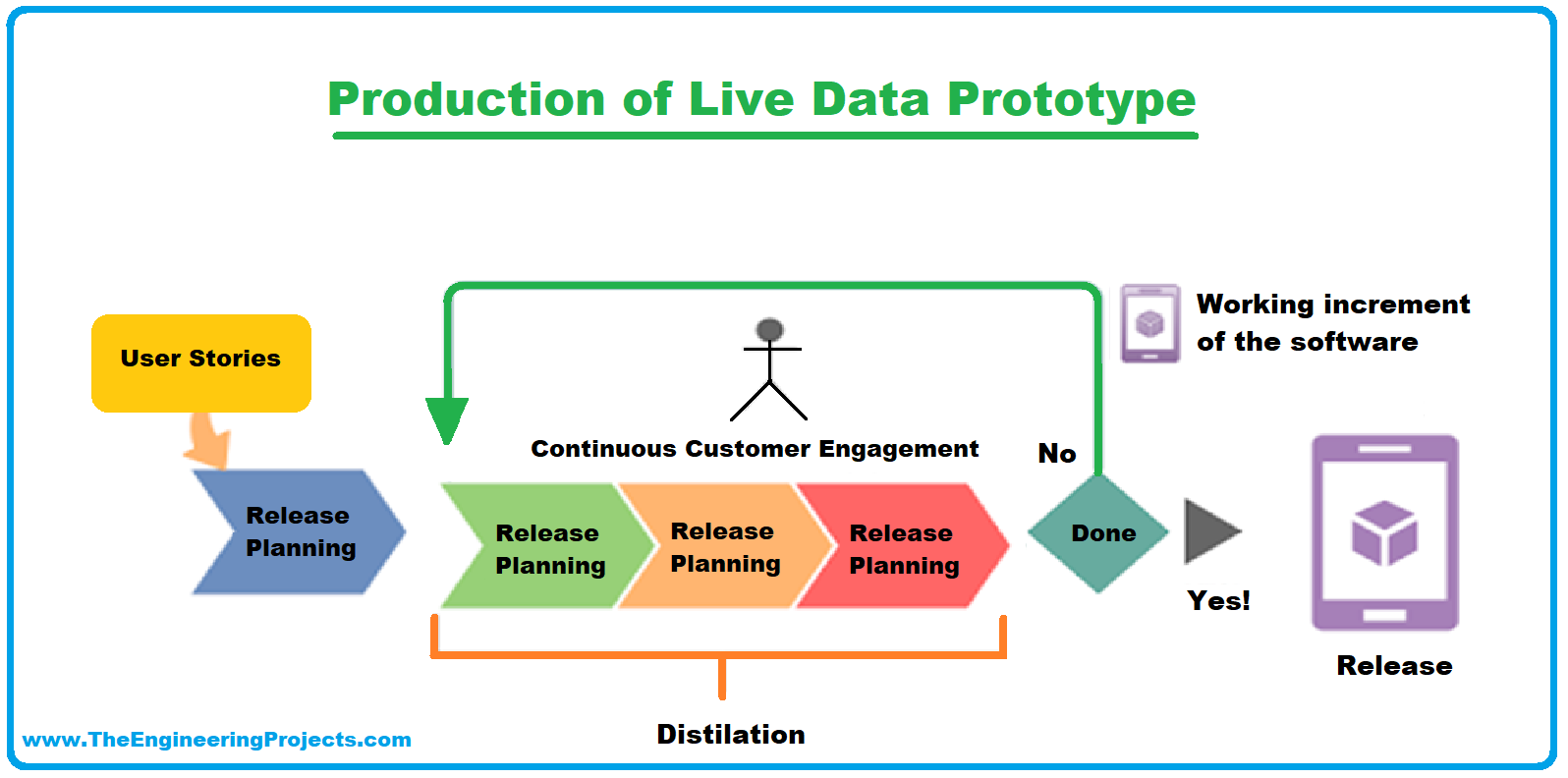 Step 4: Approval of the Prototype and Rectification of Errors
After the approval of the prototype by the investors and data collected by the audience, we move towards adding the complete features that were planned for the app.
Step 5: Release for Public Use
The app is then released with complete features and is made available to the general public for use.
That was all about the use of prototyping in the app and website development, you can yourself see that the process would have been incomplete if prototyping has to be skipped completely or partially. It is not necessary that all the steps mentioned above have to be followed exactly in the process, instead any of the steps can be altered by the developers according to their plan of action.
Limitations of Prototyping
Nothing in this world exists without imperfections and minor flaws, same is the case with the process of prototyping, no doubt the process in itself is remarkable enough to do wonders wherever implied, but it has some limitations as well which are being stated below:
Exaggerated Expectations:
The product or the object which is prototyped can sometimes create unreal expectations for the final outcome which may not be achieved in real life.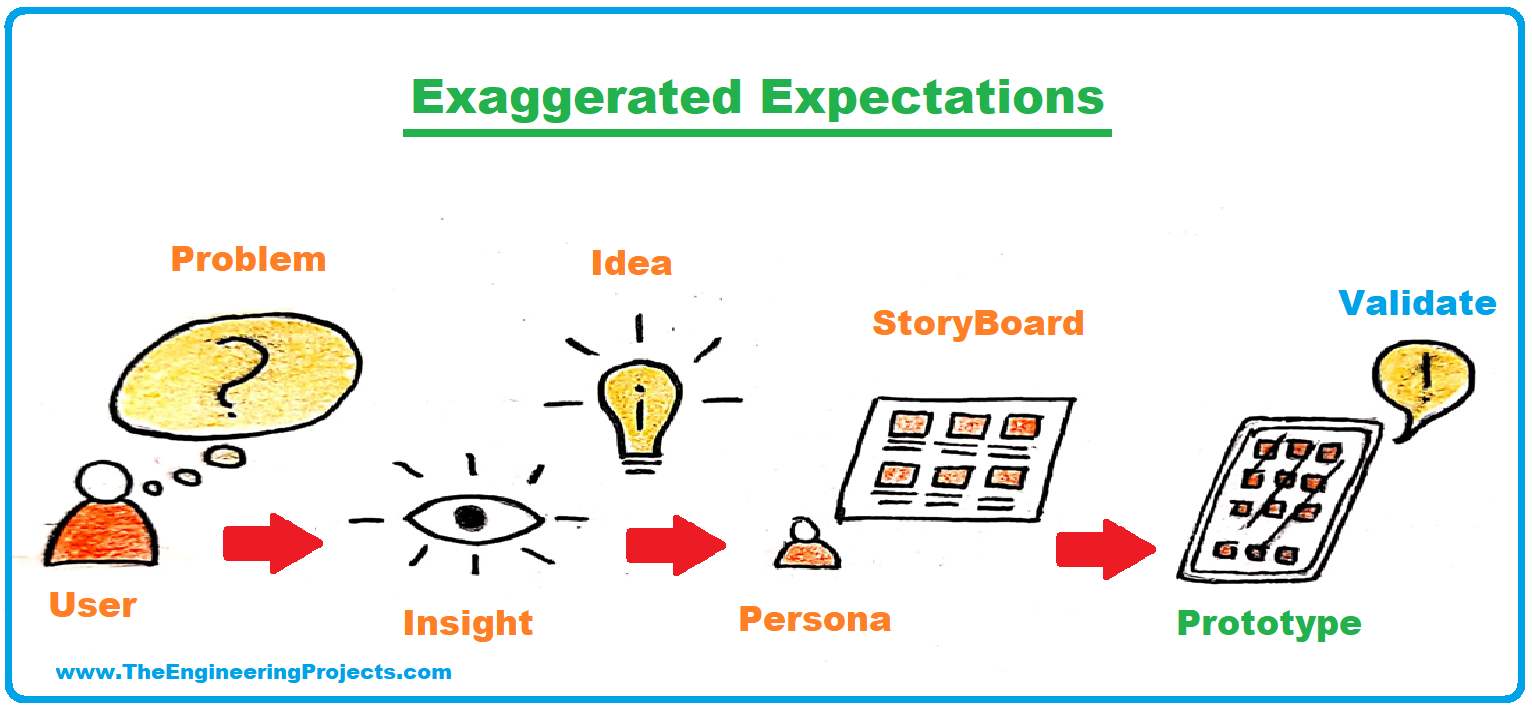 Material Constraints:
Material constraints can play a major role in creating problems for the product designers, the material which is prototyped may not turn out well enough when used for mass production on a large scale which can add additional costs and strains the budget in turn upsetting the shareholders.
Lack of Absolute Imitation of the Presented idea:
Prototypes are scalable models which are materialized on large scales in real life, the digital forms of a prototype may not be able to communicate everything about the final physical product what the designer has in mind, in simple words, you cannot put everything in your mind you have on a piece of paper accurately. So, summing up, this section concludes our journey of prototyping,  without any second thought I can say that you have learned and understood the concepts well, if not, it is never too late to mend just give it another read! Good luck!