Hi Guys! Hope you're well today. Thank you for clicking this read. In this post today, I'll walk through Cloud Computing Advantages.
Growing a business requires keeping up with modern technologies. And cloud computing is no different. Even though it's not a new term and has been around for a long while, it still encompasses a huge potential to effectively run and manage business operations. Cloud computing is the provision of computing resources over the internet. These resources include storage, processing power, and databases.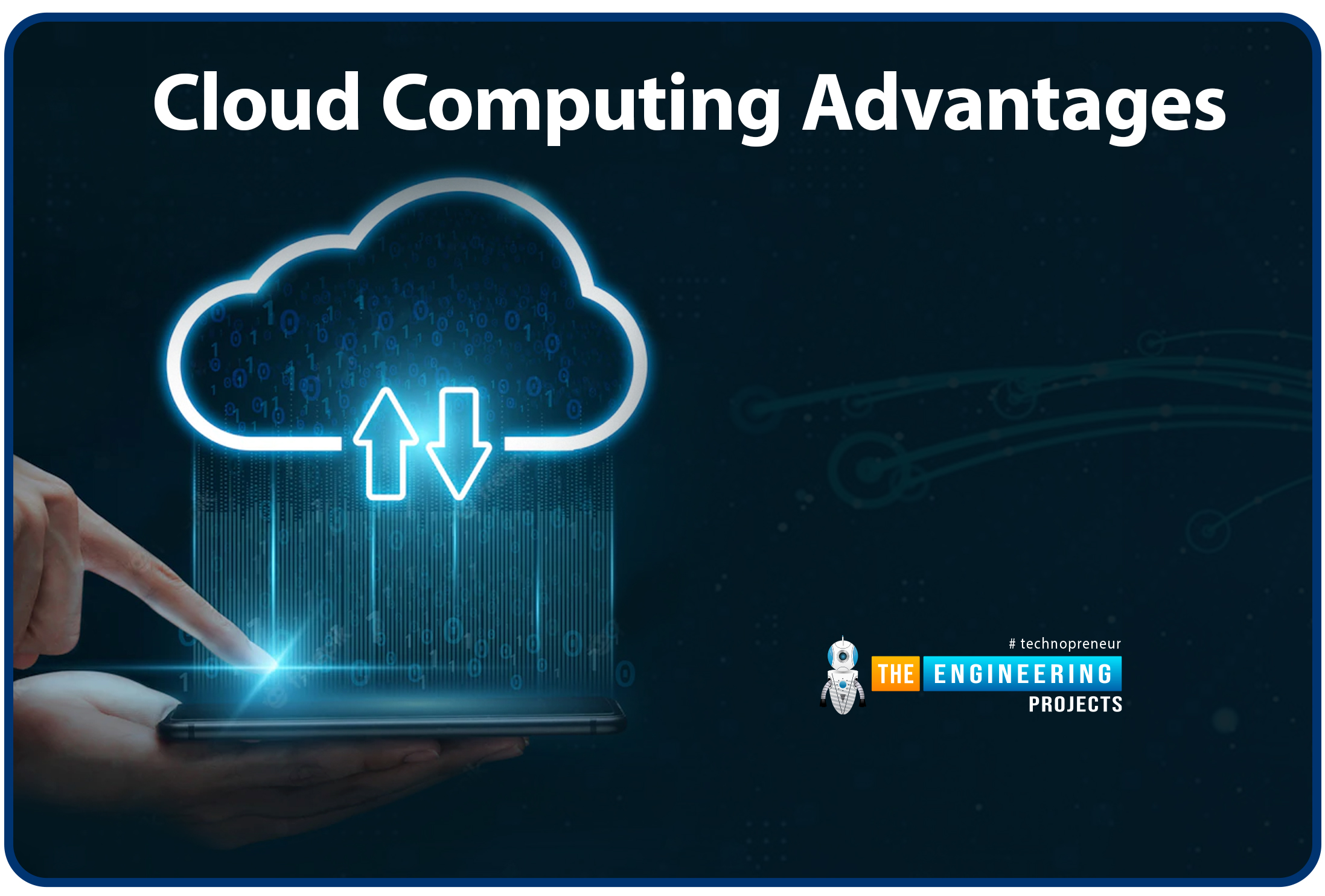 Integrating more technologies (like IoT, AI) into the business models means it opens up opportunities to produce a large amount of data. And it's very challenging to store and process that data on on-site data centers. This is where cloud computing comes in handy. It has the potential to effectively handle the flood of data while giving remote access to the developers to manage that data from anywhere in the world.
I suggest you read this entire article as it aims to cover the advantages of cloud computing.
Keep reading.
Cloud Computing Advantages
Cloud computing comes with scores of benefits. A few of them include cost saving, scalability, mobility, unlimited storage, security, instant collaboration, automatic software update, and more. we've discussed them one by one in the section below.
1: Cost Saving
Cost is crucial when it comes to successfully running your business. You need to take careful steps to spend capital investments. Using traditional ways to handle your data allows you to spend an upfront payment for the installation of complex IT hardware infrastructure. And this is not enough. You need money to maintain, scale and upgrade that system to effectively handle your data. Cloud computing prevents you from setting up hardware on-site and your data is managed and stored remotely over the cloud with data centers. You don't need experts to use computing resources. Everything will be taken care of by the cloud service provider.
2: Scalability
Scalability is another big advantage that comes with cloud computing. You are not bound to pay for all the computing resources. Service providers offer pay-as-you-go service which means you'll only pay for the resources you use for your business. For instance, you can pick the specific bandwidth, storage, and processing power to handle and store the data. Business requirements increase as the business grows over time. And at times it happens, based on the customer's current needs and requirements you need to customize the approach. If you require less storage and processing power, you can ask for it from the service provider.
3: Mobility
Cloud computing offers mobility which means your data is not stored in any specific computer hard drive. That data is available online and anyone with an internet connection can access that data. This saves you from program failures or power shutdown. If the system on your location is not working, you can access the data from a different location as long as you have the device to work on and a strong internet connection.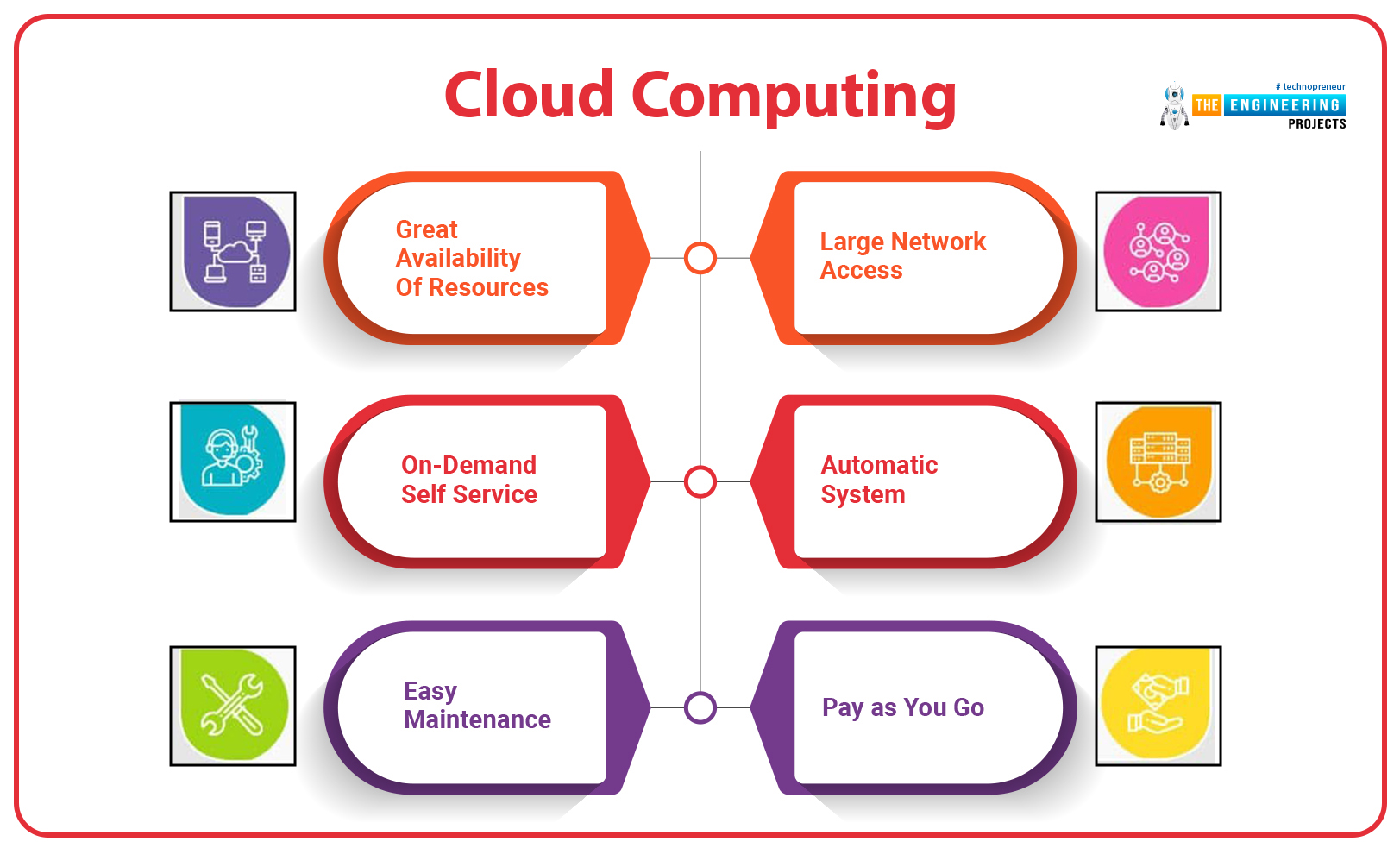 4: Unlimited Storage Capacity
With cloud computing, you create a virtual office to handle the onslaught of data. It gives you the power to ask for unlimited virtual access to handle that data. With traditional data centers, creating unlimited storage capacity is very difficult since you need to upgrade the hardware which requires huge investments. This is not the case with cloud computing. Data centers are handled globally by the service provider and you only pay for the resources you use.
5: Security
Security is important to turn your business into a brand. More customers will rely on your applications if they know the information they share with you is safe and carefully handled. Data on the cloud computing servers is secure. No need to worry in case your sensitive data is deleted. Data centers on cloud computing are located at different locations and they create the copy of your data at different locations. This means if you've lost the data or the server at one location is down, you can use another server from a different location to claim that data. Cloud computing also offers an access management feature that gives access to sensitive data to your employees only, preventing that data from being attacked by potential hackers.
6: Instant Collaboration
Cloud computing allows instant collaboration between workers. Especially if you are working with freelancers or employees from remote locations. Any file or information shared on cloud computing gives instant access to that data from anywhere in the world. For instance, Google Drive or Dropbox are examples of cloud computing. Data available on these applications can be accessed by anyone anytime.
7: Automatic Software Update
The software and applications available on cloud computing get updated automatically. You don't need IT experts to do manual updates. This is the job of your service provider. They instantly update their systems and software for security purposes to avoid any potential threats.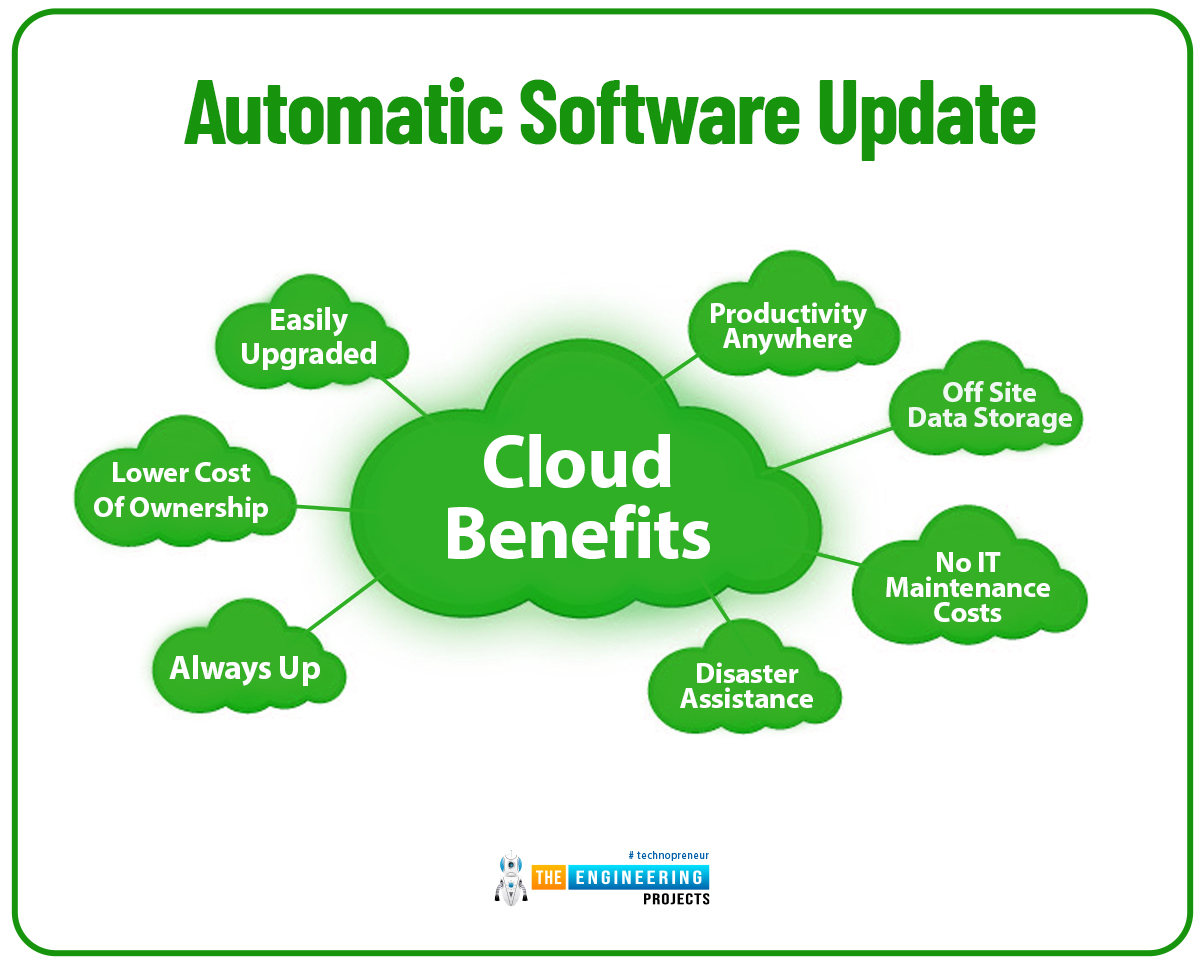 8: High Speed
In cloud computing data is managed over the internet. This means you can easily try new ideas and can simply apply new tweaks in the software within seconds. The data is remotely handled and any new software deployment gives you instant access to find the information in the software or any newly introduced application.
9: Disaster Recovery and Back-up
Cloud computing offers disaster recovery and backup features. At times the updates on your applications don't work out and you instantly require the previous version. Cloud servers store the backup of your previous version. And if one server is down, cloud computing quickly moves the customers to the running servers, preventing you from big financial loss.
10: Better Control
Cloud computing allows you to have better control over data. It gives you different types of cloud models to pick from like public cloud, private cloud, and hybrid cloud. If you want to process your sensitive data locally, you can pick a private cloud, or if you want to store a large amount of data you can pick a public cloud. And the hybrid cloud is the combination of both private and public cloud which allows you the selectively handle and process your data over different clouds. Moreover, if you don't want to remain dependent on one service provider, you can get services from two different service providers, this gives you to have better control over your sensitive data.
11: Competitive Advantage
Not every company picks cloud services to handle data. Some are not even aware of this architecture and even if they are aware, they are not willing to incorporate this infrastructure into this business model. If you choose cloud computing to manage your data, you will remain ahead of your competitors and can better store and process your data.
Conclusion
Cloud computing gives you benefits like security, scalability, unlimited data storage, data recovery, high speed, and more.
One wrong move in the initial steps of picking the right service provider can drastically impact your business.
It takes the right knowledge and skill to implement cloud computing into any business model.
Make sure you're handling your sensitive data in the right hands who know how to effectively incorporate this cloud model into your organization.
Rest assured, if the service provider is reputable and expert in what they do, you'll be better off with the cloud model to enhance the productivity, revenue, security, and collaboration of your enterprise.
That's all for today. Hope you've enjoyed reading this article. If you're unsure or have any questions, you can reach me in the section below. I'd love to assist you in the best way possible. Thank you for reading this post.