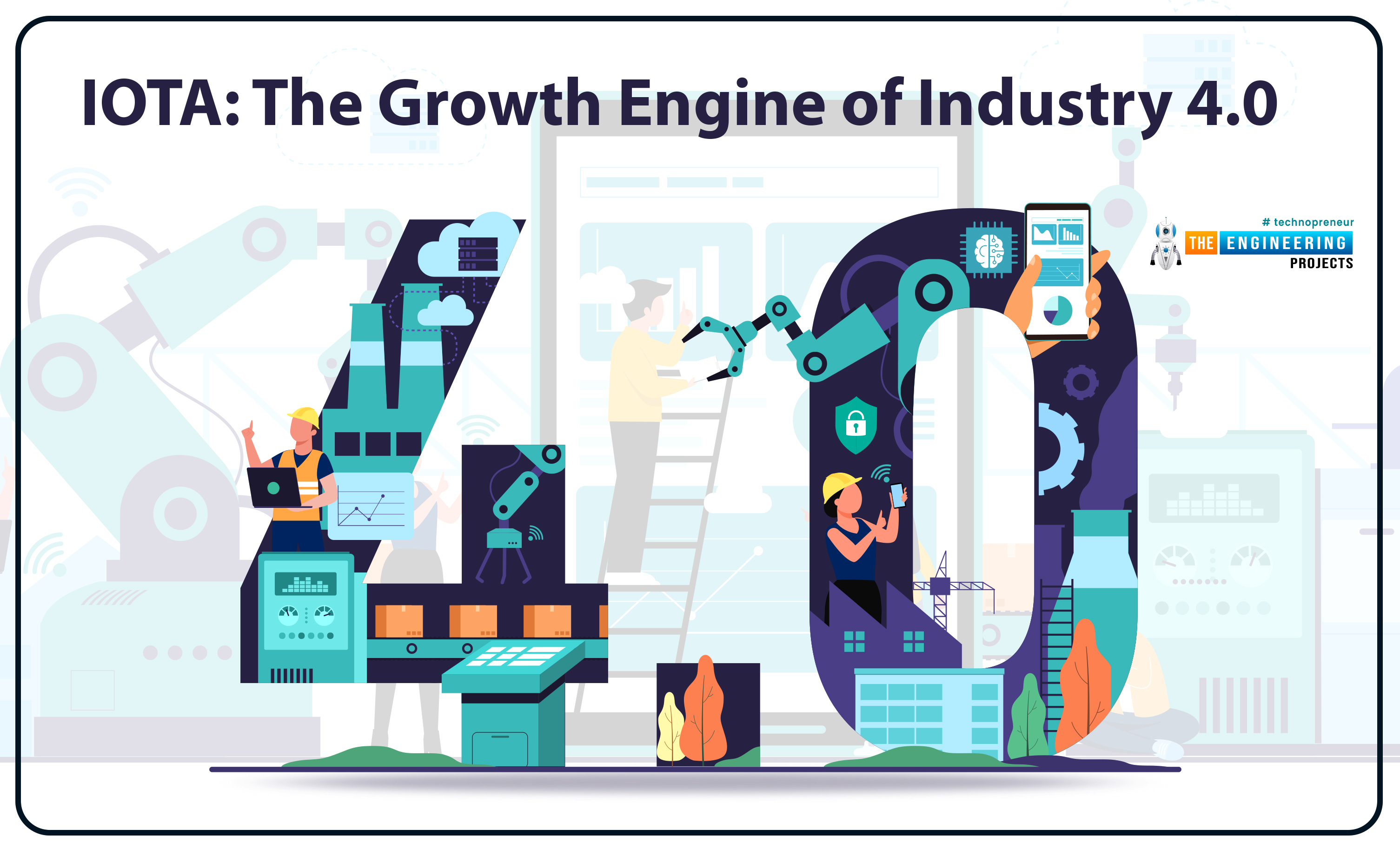 The Industry 4.0 market size will reach $267.01 billion by 2026. Industry 4.0 depends on the secure, fast, and cost-effective data transfer between IoT devices. IoTA is designed to ensure secure communication between two devices within the IoT(internet of things) framework. Let's have a detailed look at the role of IoTA in industrial IoT.
Understanding IoTA- how it's different from blockchain
The terms MIOTA and IoTA together make up the term IoTA. While MIOTA is a cryptocurrency, IoTA is a non-profit foundation. Since its inception in 2015, IoTA has formed joint ventures with firms like
Fujitsu
Samsung
Telekom
Volkswagen
IoTA is technically different from blockchain in terms of the underlying technology. IoTA works on a technology called DAG (directed acyclic graph). Under the DAG technology, two transactions need to be validated to send one transaction. Apart from this, a proof of work needs to be submitted to validate the transaction. You will find a lot of boxes in the figure given below. Each box represents a transaction. This system of boxes is known as an IoTA tangle.
One of the most distinguishing features of the IoTA tangle is that, unlike blockchain, it can work offline. The data can be synchronized later. The ability to work offline happens to be an essential feature to consaider while developing IoT applications. This is because IoT devices often work in scenarios wherein there is no guarantee of a strong internet network.
Now that we have had a look at the basics of IoTA, let's now see why IoTA is important for industry 4.0.
Why is IoTA important for industry 4.0?
The first industrial revolution was industrialization through water and steam power. The second industrial revolution consisted of mechanization through electricity. The third industrial revolution started with the wide-scale adoption of computers in manufacturing. The fourth industrial revolution will be built on what started in the third industrial revolution.
Products will be produced automatically by machines that will talk with each other. All this will be fuelled by machine learning and data science.
The success of Industry 4.0 relies a lot on IoT devices. The IoT devices need a base layer to connect the different industries.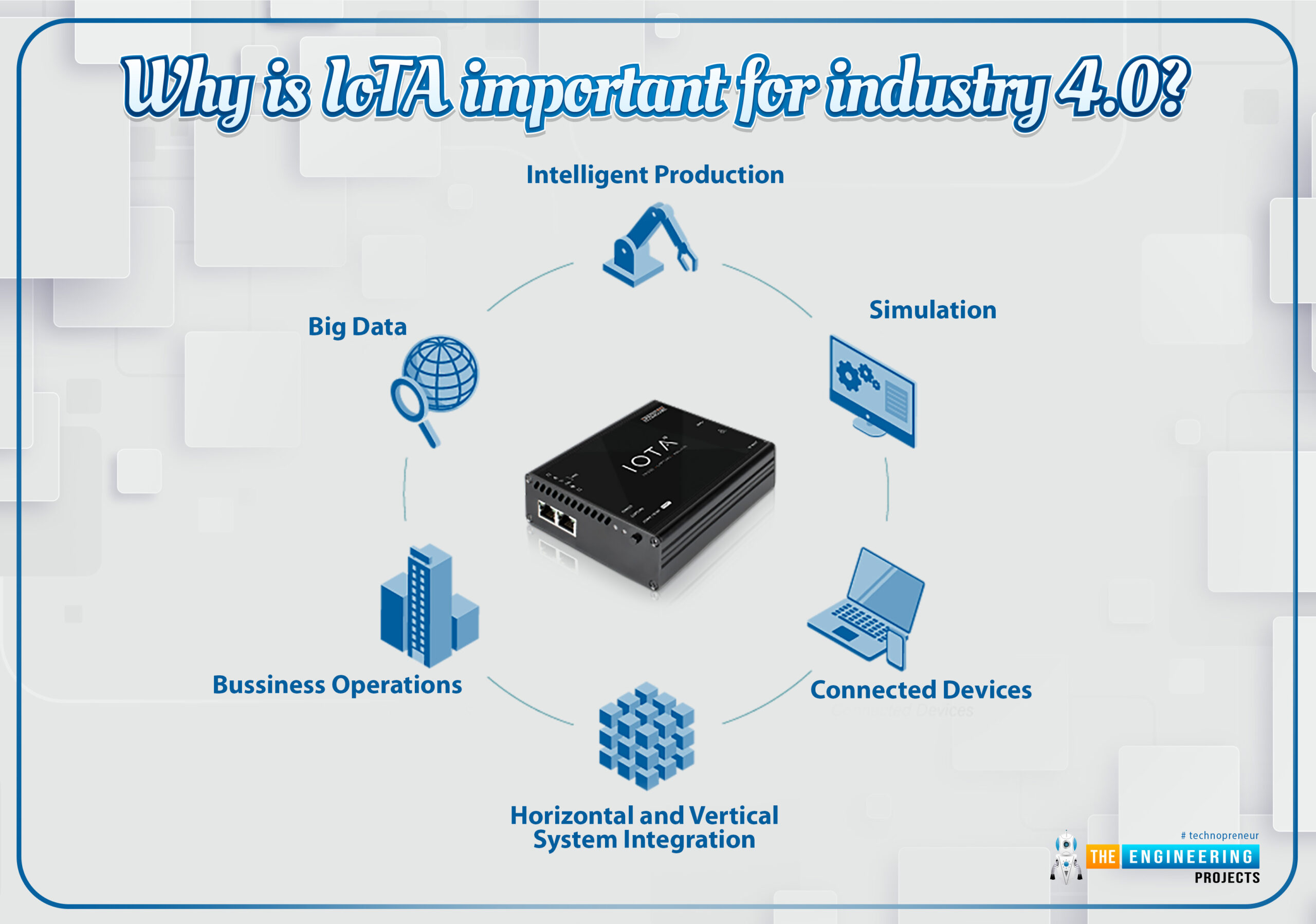 The base layer should have the following characteristics.
Able to cater to the entire IoT market
Already has successful partnerships
Battle-tested products
If there is one technology with all these characteristics, it's IoTA. IoTA is a highly scalable technology that enables fast transactions. Unlike blockchain, there are no fees or mining costs with IoTA.
Key Benefits of IoTA
The following are the significant benefits that IoTA provides.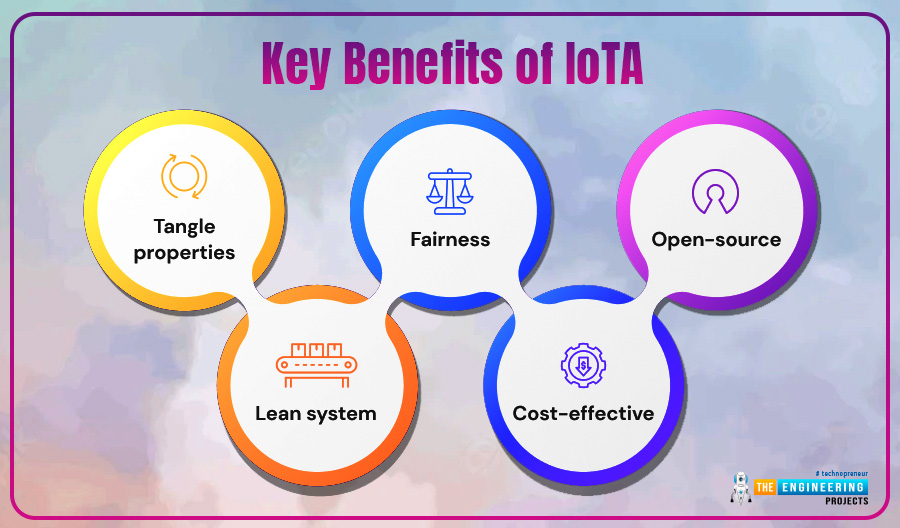 Tangle properties
IoTA allows for the secure transmission of data. Data sent through other communication channels only proves that someone sends data. With IoTA, it is possible to ascertain whether the same data was sent to everyone else or not and when the data was sent. This feature of IoTA is important because fraudsters can send one set of data to one person and another set of data to another person. The "Notarization" feature of IoTA can be used to prove that an electronic document existed in a physical form earlier and the document has not been changed since its creation.
Lean system
IoTA is a system that is designed specifically for IoT devices like sensors. IoTA is an energy-efficient system that can easily participate in a low-energy network. An IoTA system allows nodes with low hardware resources to participate in the IoTA network.
Fairness
An IoTA system is a fair system as nobody can gain a higher priority in processing by paying more money. Unless the system is congested, all the transactions in an IoTA system are treated equally.
Cost-effective
Unlike blockchain, no mining is required in an IoTA system. This makes IoTA transactions feeless. The ability to conduct feeless transactions is an essential feature of the IoTA system as it enables micropayments to be done easily. Using an IoTA system, you can build a machine-to-machine economy and implement consumption-based payments.
Open-source
The IoTA is an open-source communication protocol. As it is an open-source protocol, everyone can collaborate on the code. Being open-source, the growth of IoTA is exponential as many companies come together in the Tangel EE Working Group and work on solutions for commercial uses.
Industrial use cases of IoTA
There is a wide range of Industrial use cases of IoTA. We have discussed the most popular ones below.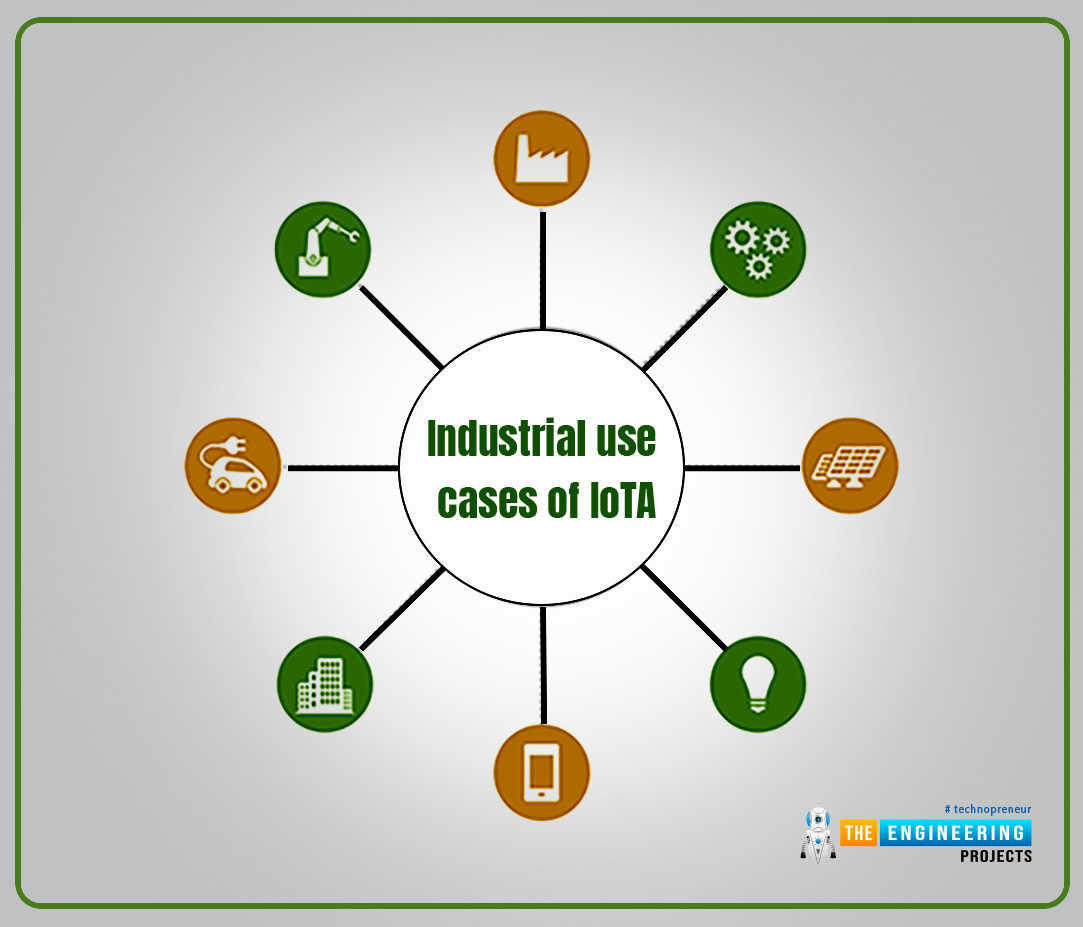 Mobility
Mobility is one area where IoTA can prove helpful. According to research, by 2025, there will be 8 million consumer vehicles that will have self-driving capability.
IoTA tangle allows for secure data transmission between cars and other machines. The vehicles can transact data about weather conditions, traffic congestion and road conditions using IoTA.
IoTA can also enable cars to automatically pay for tolls, parking, battery charging and other services. IoTA makes cars safer and reliable through real-time software updates.
Using IoTA, trucks can do platooning. In platooning, the trucks drive semi-autonomously, with minimum distance between them. Consistent speed creates fuel efficiency and safety, improving the profitability of truck owners.
Supply chain
Around 10% of goods transferred in the global supply chain are fraudulent. The supply chain industry faces trackability, and transparency of goods being transferred is the most prominent issue. IoTA can help resolve these issues.
The logistics companies can keep an immutable and encrypted audit trail of logistical updates with IoTA.
An IoTA-enabled tracking system includes real-time data about weather conditions and geo-location. It also verifies transfer of ownership/custody of goods. Thus, an IoTA-enabled system helps logistics companies improve their trackability and traceability.
Healthcare
IoTA helps healthcare service providers secure patient data. IoTA also helps in democratizing access to healthcare data.
Healthcare researchers can verify the integrity of research data through an IoTA ledger. IoTA can also help companies conduct better pharmaceutical trials. IoTA does this by logging every step and test result of the trial process into the IoTA tangle.
The MAM protocol helps healthcare providers and patients securely exchange patient data.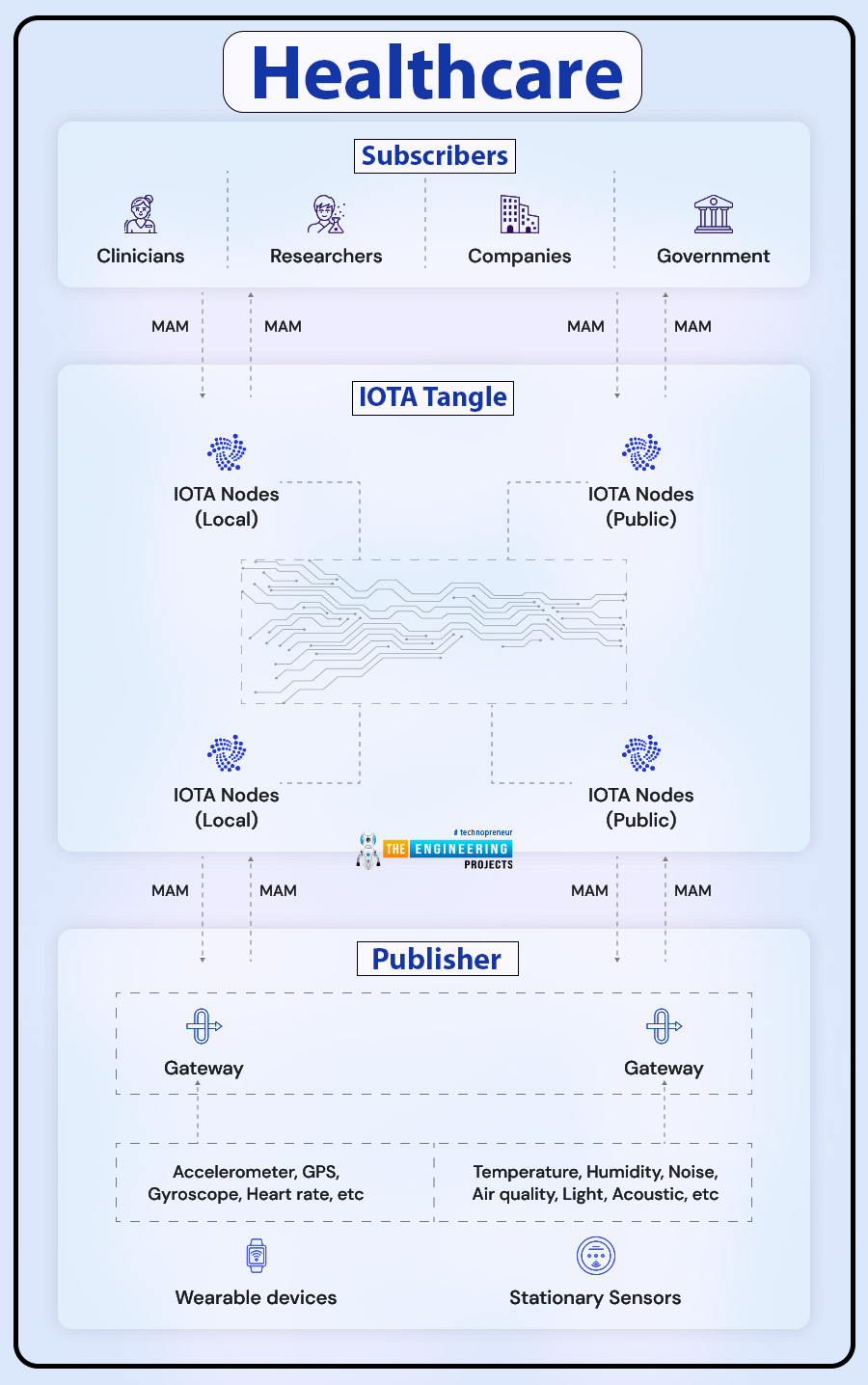 Smart energy
IoTA can open up doors toward a decentralized peer-to-peer energy trading system.
An IoTA-enabled system can help users to control energy assets remotely. The energy companies can achieve better grid stability and peak shaving through an IoTA-enabled system.
An IoTA-enabled system can provide seamless EV smart charging based on M2M micro-payments.
Industrial IoT
An IoTA enabled smart factory system securely stores the factory data in an IoTA tangle. The IoTA-enabled factory system stores only the encrypted hash in the tangle, thus creating a tamper-proof audit trail.
Through an IoTA-enabled system, the machine owners can lease out entire production lines to people who want to produce products.
Once the products leave the factory, they automatically become part of the smart supply chain. This way, an IoTA-enabled system brings a significantly higher efficiency into the industry.
Closing thoughts
Industry 4.0 is the next leap forward in the growth of mankind, and IoTA will play an important role in deciding the future of industry 4.0. Businesses that want to be a part of the industry 4.0 growth story need to leverage the power of IoTA to achieve exponential business growth.