I have posted a complete tutorial on Microsoft Visual studio – Com Port in which I have explained in detailed how to send and receive data via serial port in visual basic 2010. It was quite a basic software, which just transmit and receive data from a serial port but today I am gonna provide you a complete serial terminal, which will not only transmit and receive data but will also display that data in different formats. The GUI of this serial terminal is shown in the below figure.
As shown in the below figure, first of all you need to select the COM Port from which you want to receive the data and then select the Baud Rate. Hit Connect and you are now ready to communicate with the selected com port.Download link for this software is given below but as our team has put a quite a lot of effort so we deserve some award that's why its not open source. If someone needs the code for this software then the buy link is also given below but we have placed a quite low price so that students can easily afford it.
Download SoftwareGet Software Code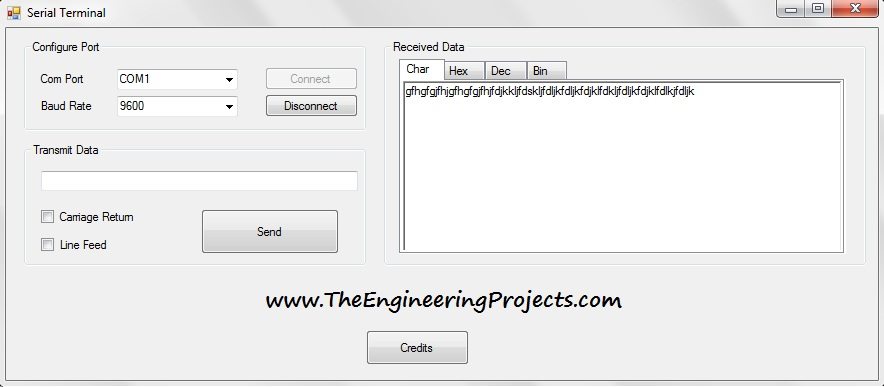 Features added in Serial Terminal
Different features are added in the serial terminal to make it more user friendly. First, let's talk about the Transmitting portion. If you guys have noticed, in the previous version of serial terminal. there was no option for Carriage Return and Line Feed but now these options are added.
If you simply want to send data without Carriage Return or Line Feed then uncheck both of them.
If you check the Carriage return, then it will be sent after the data.
If you check Line feed, then it will be sent after the data.
If both are checked, then both will be sent after the data.
Now, coming to the receving side, the data recived will be shown in different formats. In the above figure, I have shown a random data, now in order to check this data in hex format, simple click on hex tab and it will be displayed and same for the decimal and binary as shown in below figures: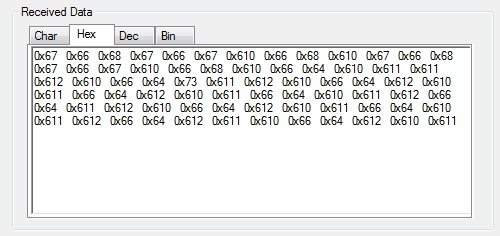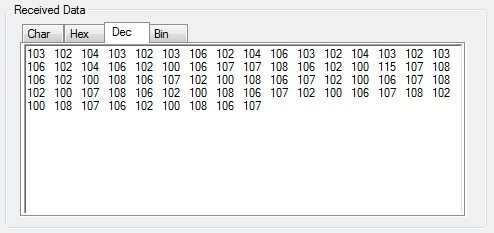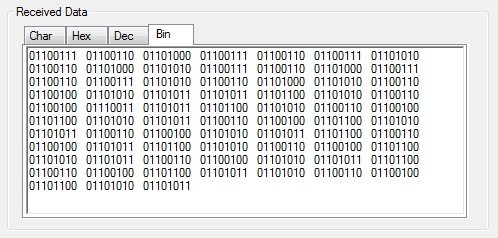 Showing data in different formats help in designing the project as usually understanding of the coming data is quite necessary. Give this software a try and let me know your suggestions for the improvement.