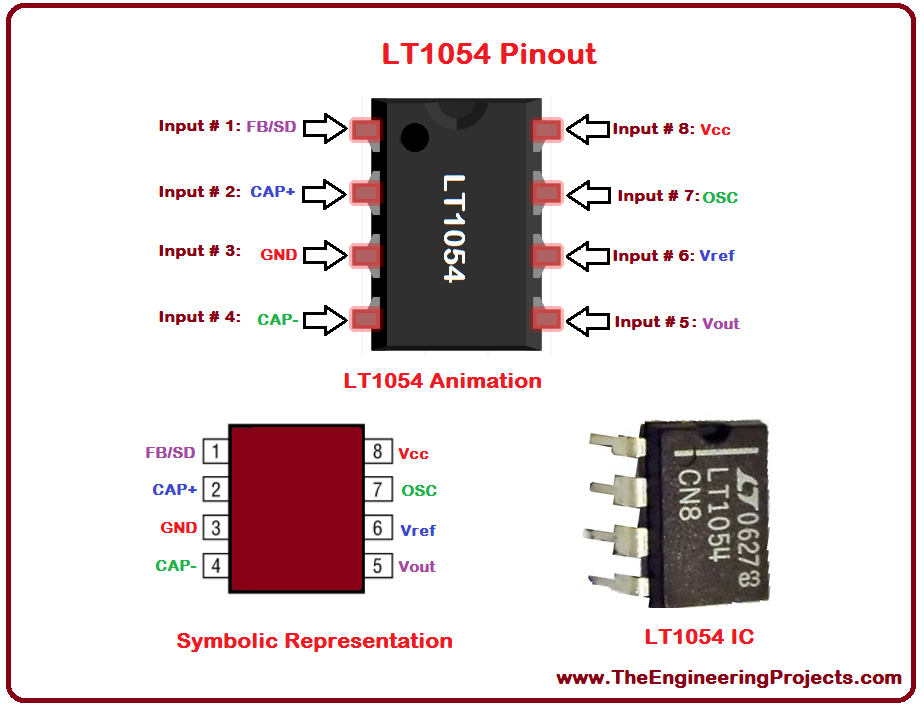 Hello everyone! I hope you all will be absolutely fine and having fun. I am going to elaborate you on Introduction to LT1054. It is a monolithic device. LT-1054 is also known as voltage regulator and bipolar capacitive voltage converter. Its mean feature is that it provides very low voltage losses as compared to the other common converters. LT 1054 also provides large output currents in comparison to general converters. It provides a voltage drop of around 1.1V while operating at 100mA. LT 1054 provides us with a feature of regulation. This feature was not available in earlier voltage converters. We can get a regulated output just by inserting an external resistance. We can shut down LT-1054, if we ground its feedback terminal. Its internal oscillator works at 25kHz frequency. Switching frequency can be adjusted using oscillator terminal. LM-1054 operates on a temperature ranging from 0 degree Celsius to 70 degree Celsius. LM 1054 has several exciting features including external shut down, external oscillator synchronization, low losses, reference & error amplifier for regulation etc. The further detail about LT-1054 will be given later in this article.
Introduction to LT1054
LT1054 is a bipolar, switched capacitor voltage converter or voltage regulator. It is most common in the market now a days due to its amazing features like it provides low voltage losses in comparison to the standard normal converters and also provides higher output current as compared to the earlier voltage converters. LT 1054 provides oscillator synchronization, reference amplifier for regulation. It can be used in voltage regulators, voltage inverters, data acquisition supply etc. LT-1054 is shown in the figure below.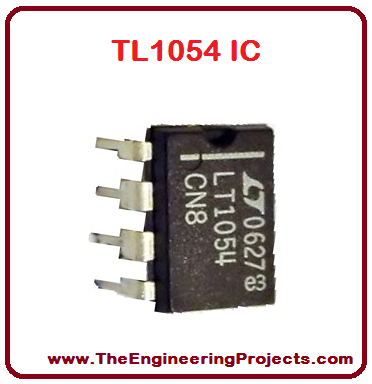 1. LT1054 Pins
LT 1054 has eight (8) pins in total with a different individual feature.
All of the 8 pins are listed in the table given below.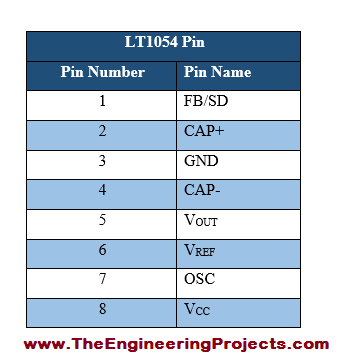 2. LT1054 Pin Description
We can not use any device without even knowing the features associated with its each pin.
LT-1054 pins function description is given in the table shown below.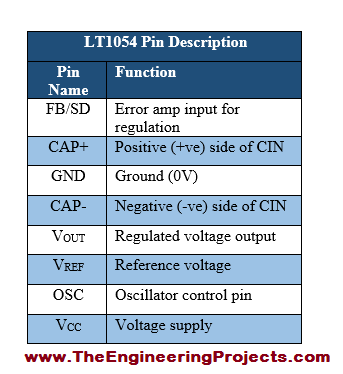 3. LT1054 Pinout
Before using a device we must know its pins configuration, pinoutout diagram helps us in this purpose.
LT 1054 pinout diagram is shown in the figure below.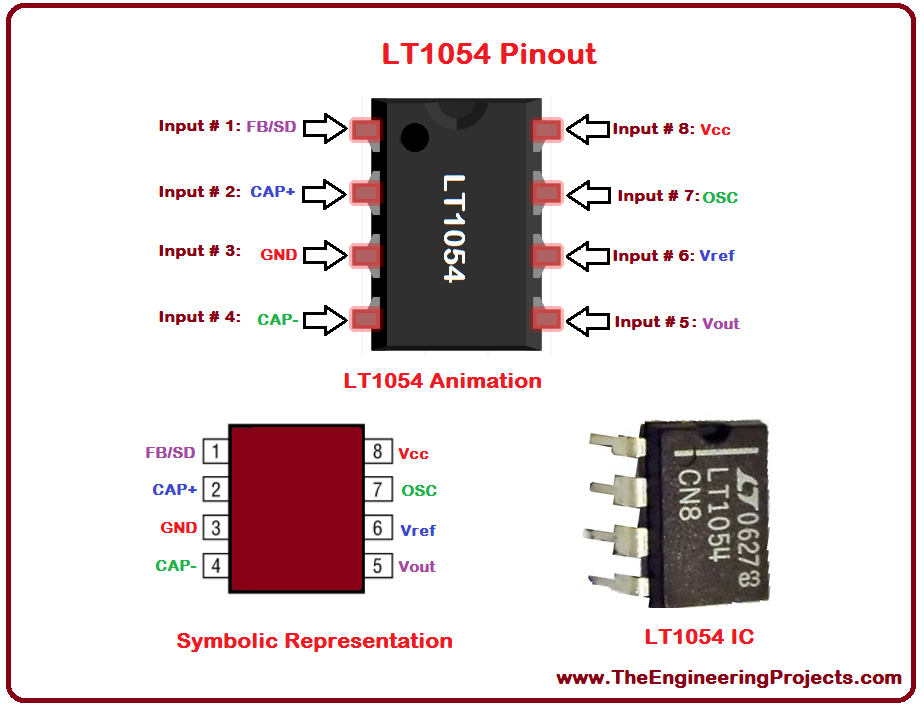 4. LT1054 Packages
Packages just show the earlier and latest model of any device.
LT-1054 has two types of packages i.e. PDIP (8) and SOIC (16).
Both of the packages are listed in the table shown below.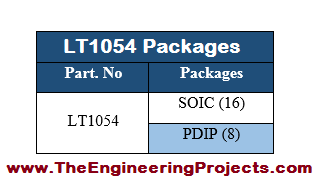 5. LT1054 Packages Dimensions
LT-1054 has two packages, each has different size.
Both of these packages are shown with their dimension and SI units in the table given below.

6. LT1054 Block Diagram
Block diagram presents the internal flow of the logic followed by any device.
LT 1054 block diagram is shown in the figure below.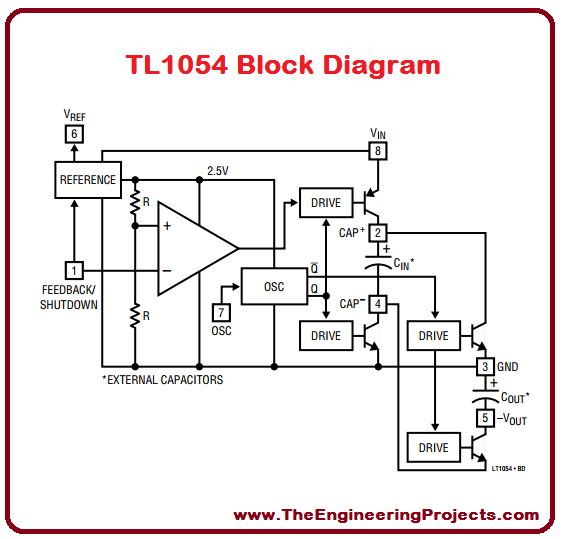 7. LT1054 Ratings
The rating of a device or equipment show the how much power is needed to operate this device.
LT-1054 power, current and voltage, all of these ratings are listed in the table given below.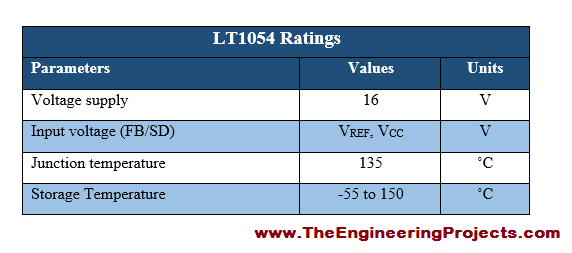 8. LT1054 Features
For a special purpose, a device can be identified from its features whether they are suitable for the required task or not.
LT-1054 has a lot of features, some of them are given in the table shown below.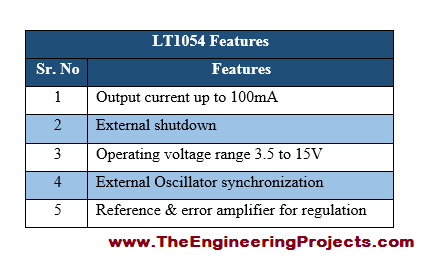 9. LT1054 Applications
While purchasing any device we have to mention its application that why we are purchasing this device.
They play a vital role in the popularity and availability of a device.
Some of the applications associated with LT-1054 are given in the table shown below.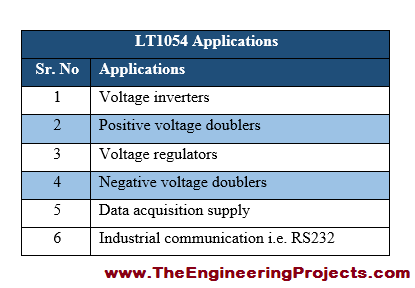 The tutorial Introduction to LT1054 has provided the detailed discussion on the use of LT 1054 voltage regulator. I hope you will appreciate my effort. The whole discussion consist of IC's pin, pin functions and description, pin configurations, block diagram, features and applications. If there something missing please let me know so that I could update this article in order to avoid the future inconvenience. In my upcoming tutorials, I will share other informative articles. So, till then take care :)