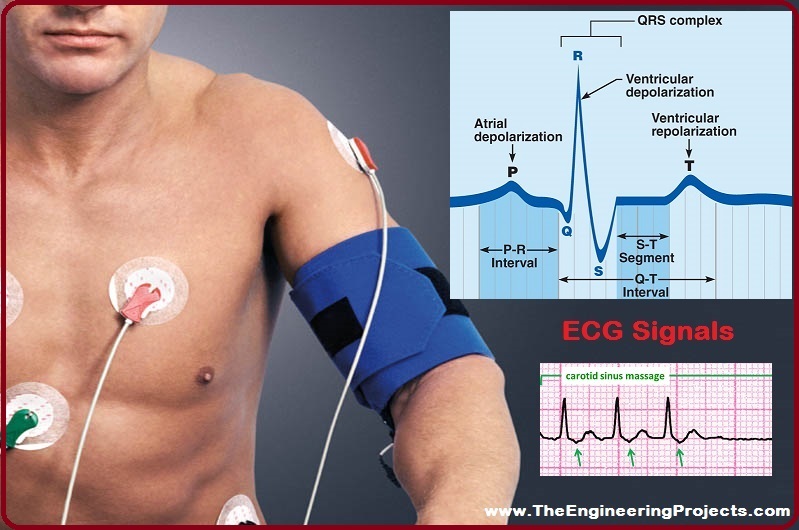 Hello friends! I hope you are doing well. Today, I will give you a detailed overview of the Electrocardiogram, abbreviated as ECG or EKG. An electrocardiogram is a biological test used to convert the activities of the heart into electrical signals, and these signals are then read by specialized surgeons to predict heart conditions. In simple words, ECG is used to record the rhythm of the heart activity on a moving strip of paper. Related doctors are able to read the spikes and dips on the paper and can decide, whether the heart is in normal condition or not. These spikes or dips are usually known as waves.
As we know, the heart is a muscular pump consisting of 4 chambers. There are two lower chambers and two upper chambers. Lower chambers are known as ventricles, whereas the upper chambers are known as atria.
What is ECG?
In this section of the tutorial introduction to ECG, we will keep our focus on the basics of ECG, its testing methods, diseases which can be detected through ECG signal. First of all I will elaborate about the ECG that what is it. Then I will move forward to wards its measuring methods and then towards the diseases which can be detected through an ECG signal. So the discussion about ECG is given below.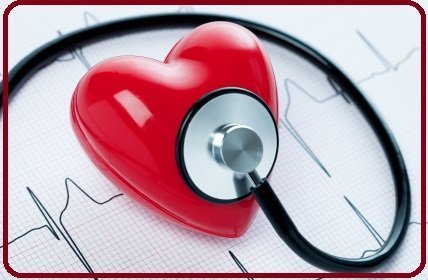 ECG is abbreviated from the word Electrocardiogram. 
Sometimes, ECG is also known as EKG.
ECG is a medical test which tells us about the electrical activities of our heart.
Based on these electrical activities we can say that our heart is working properly or not.
ECG records the heart activities on a moving strip of paper.
Related doctors can read the spikes and dips on that paper.
These spikes or dips are usually known as waves.
On the basis of these waves doctors can determine which part of the heart is overworked or damaged.
This was the brief introduction to ECG.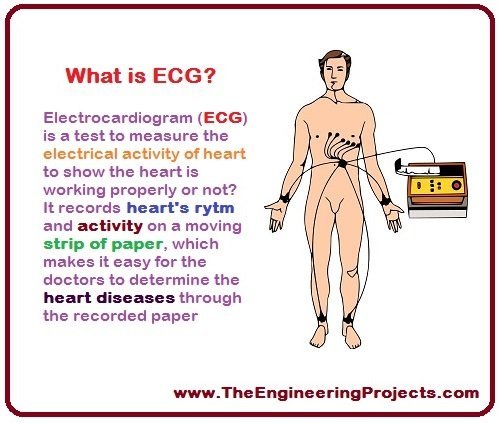 When ECG is needed?
ECG test is not necessary in daily routine for those people who do not have any risk related to heart's disease e.g. chest pain.
Those must have their ECG test who have risk factors for heart's abnormality e.g. high blood pressure or other symptoms associated with heart diseases including breath shortness, chest pain, irregular heart pain.
 If someone has family issue of heart disease, he/she must have their ECG tests regularly.
ECG requirement for different situation is given in the figure shown below.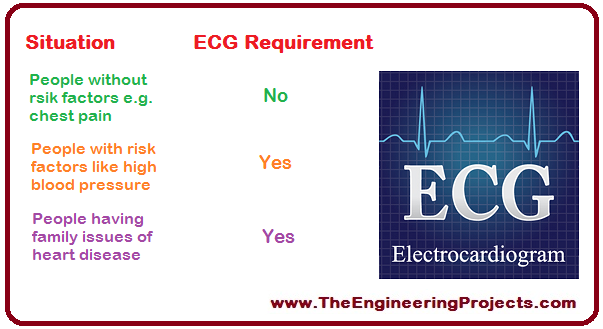 Is ECG Harmful?
This section will tell you that whether ECG test is harmful for us or not and hows is it painful.
ECG test is not harmful because ECG machine does not send electricity into the body and just records ECG.
There is not any pain or risk while having ECG test.
Yes, when the ECG stickers are removed from the body, it may be some uncomfortable for a person.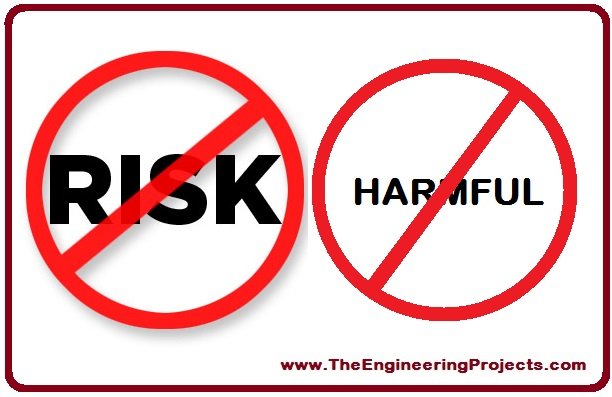 Why an ECG is Performed?
ECG test is done to check the following things in the human body.
To check electrical activity of heart (how fast the heart is beating).
To check the reasons of sudden chest pain.
Find the reasons of sudden shortness of breath and abnormal heart beat.
Find the thickness of heart's wall chamber.
To check how the well the particular medicines are working and whether they have their side effects on heart or not.
In presence of different diseases, checking the health of heart.
How to read ECG signals?
Through an ECG test we can check the following conditions associated with the heart.
Thick heart's muscle, or any other part of the heart which has become big.
Abnormalities in heartbeat, i.e. it could be more fast, very slow or there could be some irregularities in it.
By birth defects in heart.
If heart is not pumping forcefully now.
Coronory heart disease i.e. blood is not flowing properly to the heart.
Heart valves disease i.e. heart's valves are not performing well.
If a person had an heart attack in his/her past.
If there is any enlargement on one side of the heart.
Abnormalities in the rythms of heart.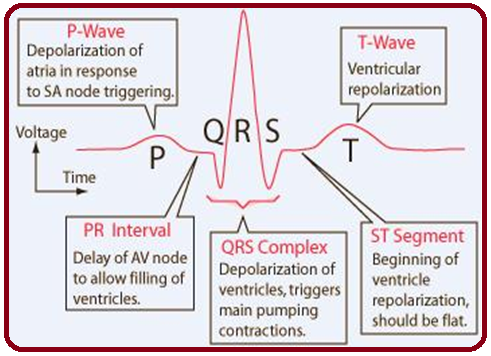 How an ECG is Performed?
In this section of the tutorial introduction to ECG,s I will tell you about the different methods normally used for an ECG test. Basically an ECG test is carried out in three different ways as explained below. ECG calculation procedure is given in the figure shown below.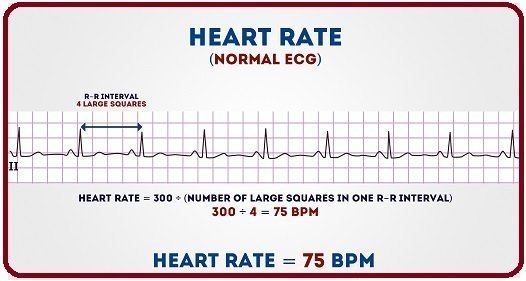 1. Resting ECG
Resting ECG is the first method of performing an ECG test, it basically consists of some rest.
In this method doctor checks out the performance of your heart when your are at rest.
In this method, while measuring an ECG doctor suggests you to relax or lay down.
So, its a brief description about resting ECG test.
Resting ECG visualization is given in the figure shown below.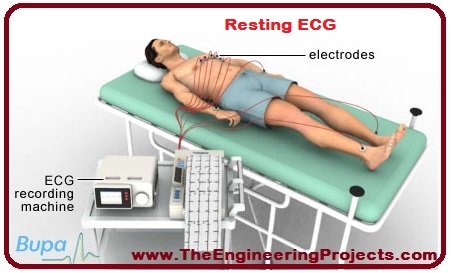 2. Exercise ECG
This is the second method for performing an ECG test.
In this method, doctor checks the performance of your heart when you are doing some activity.
Your heart beat is recorded when you are doing some exercise e.g. cycling.
So, its the description about performing an exercise ECG.
Exercise ECG is shown in the figure given below.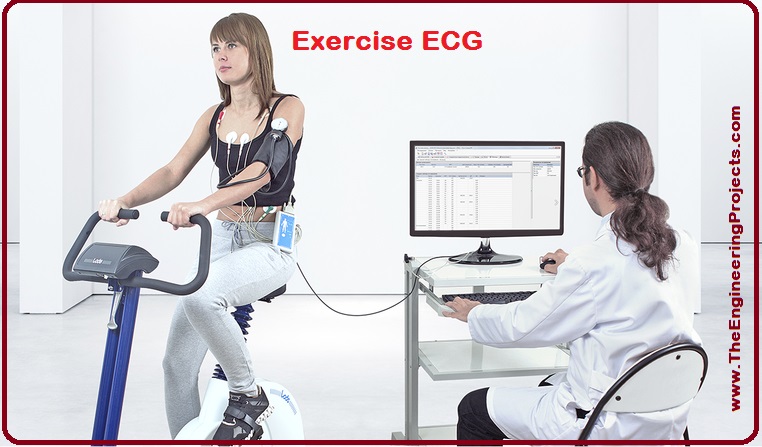 3. 24 Hour ECG
This is another method of performing an ECG test.
Sometimes the patient's situation could be critical.
There is a need of measuring his/her ECG throughout the whole day.
In this case small ECG stickers are placed on the patient's body.
Sometimes you need to wear small ECG machine.
Doctor records the reading from the machine, when you return it.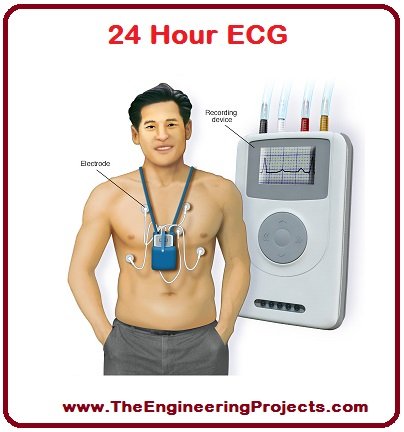 4. 24 Things to be Done before ECG
There are certain things that should be kept in mind before performing an ECG test.
If you doctor is doing resting ECG then there is nothing important to do before that.
If you are having exercise ECG, you should wear comfortable shoes and clothes so that exercise can be done properly.
You are also not allowed to eat meat or drinks 2 hours before this test.
These are few of the important steps that one should keep in mind while having an ECG test.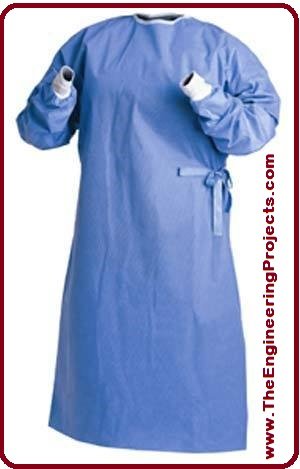 5. How to Reduce Risks of Heart Diseases
There are certain things to reduce the risks as given below.
Avoid smoking
Try to be physically active
Diabetes proper management
Reduce alcohol use
Control your blood cholestrol
Reduce mental stress or tensions
Controlling your blood pressure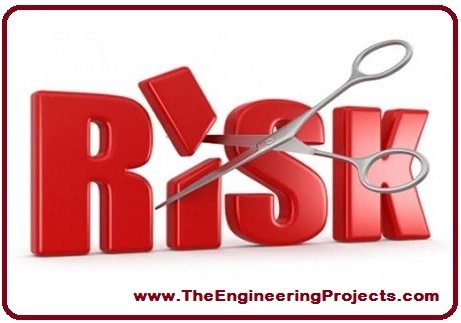 In the tutorial Introduction to ECG, I have explained the entire basics of ECG test. It included the ECG types, its detection methods, why it is done and what can it show? I hope you have enjoyed the tutorial and it proved to be an interesting for you guys. I am also waiting for your appreciation ;) I have tried my level best to provide all the basic information about ECG. If you found something missing, please let me know so that I can upload this tutorial accordingly in order to avoid the future inconvenience. If you have any issue, you can ask us in comments anytime without even feeling any kind of hesitation. I and my team is always available to help you and to entertain you. We will try our best to sort out your problems. I will share further interesting and informative topics in my upcoming tutorials. Till my next tutorial, take care and bye.