Hey Guys! I hope everyone's fine. Today, we are going to have a look at What is MOSFET? We will cover MOSFET Definition, Full Form, Symbol, Working & Applications in detail.
MOSFETs are commonly used in many electronic applications. Number of MOSFETs are added in tiny memory chip or microprocessor that are widely used in cell phones and laptops. It is a voltage-controlled device which is mostly used for amplification and switching purposes. I'll try to touch every area related to MOSFET, so you can get brief idea what it does and what are main applications it is used for. Let's get started.
What is MOSFET?
MOSFET is an advanced type of FET, manufactured with controlled oxidation of semiconductor, having 4 Terminals, named:

Drain(D)
Gate(G)
Source(S)
Body(B)
where,
Gate(G) Terminal is practically insulated from the entire assembly by a thin layer of Silicon-oxide(SiO2).
Body(B) Terminal is connected internally with Source(S) Terminal & thus the MOSFET package consists of 3 pins.
Below figure shows the MOSFET package, construction & symbol: (we will dicuss them in detail below)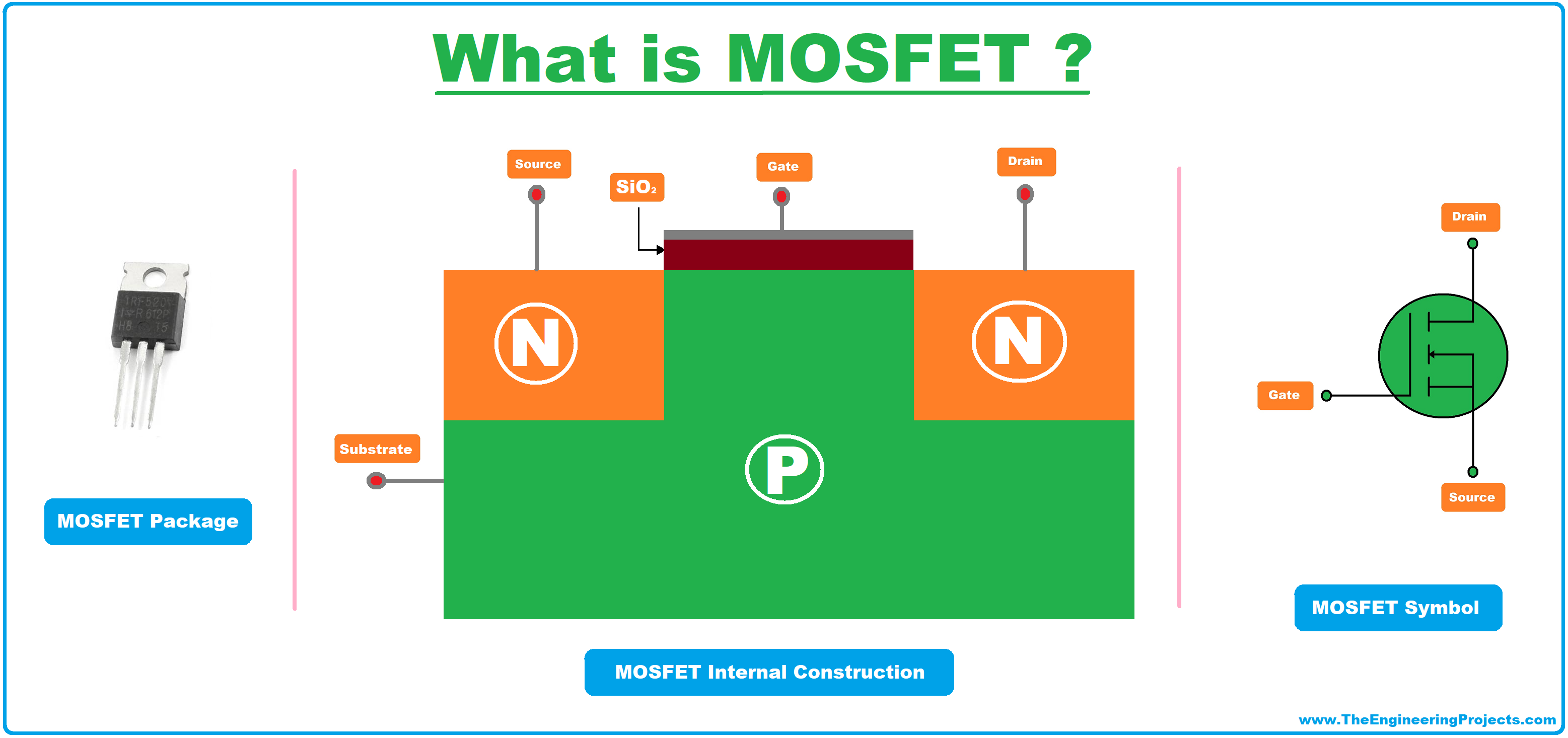 MOSFET Full Form
MOSFET stands for "Metal-oxide Semiconductor Field Effect Transistor".
MOSFET Symbol
Although MOSFET has 4 terminals, but as I have mentioned before, 4th terminal is internally connected with the Source terminal & thus the package consists of 3 Pins, so as the MOSFET Symbol. MOSFET symbols are shown in below figure: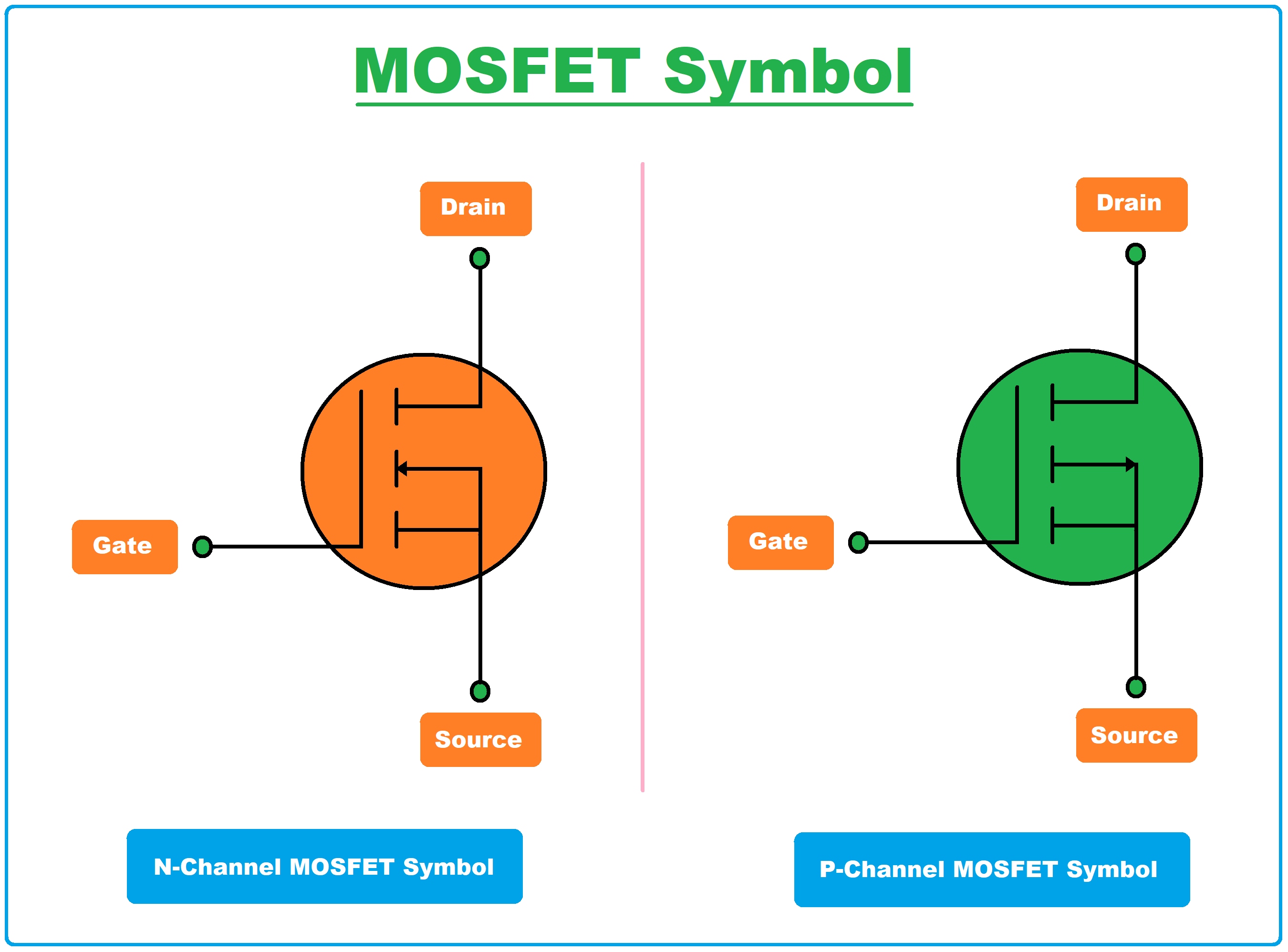 Why MOSFET?
Unlike BJT, MOSFET requires almost no input current & controls heavy current at output.
MOSFETs are quicker in operation than FETs, thus used in fast switching applications.
FET has high drain resistance, while its too low in MOSFET.
MOSFET Construction
Let's understand the construction of N-type MOSFET: In N-type MOSFET, two-highly doped N regions are diffused into a single lightly-doped P substarte.
Silicon Oxide(SiO2) layer is placed over Gate Terminal to create the insulation.
Aluminium Probes are used for connecting terminals i.e. Gate, Drain & Source to respective regions.
Solicon oxide(SiO2) layer is the main difference between FET & MOSFET and thus MOSFET is sometimes reffered as "FET with Insulated Gate" or "IGFET(Insulated Gate Field Effect Transistor)".
Because of this oxide layer, MOSFET acts as a voltage controlled IC i.e. voltage at Gate Terminal decides the conductivity between drain and source.
The conduction path between Source(S) and Drain(D) is called channel & its width is controlled by the Gate(G) voltage in MOSFET.
MOSFET is a unipolar device i.e. conduction of current is carried out by the movement of either electrons or holes(majority charge carriers).
N-Channel MOSFET internal Construction is shown in below figure: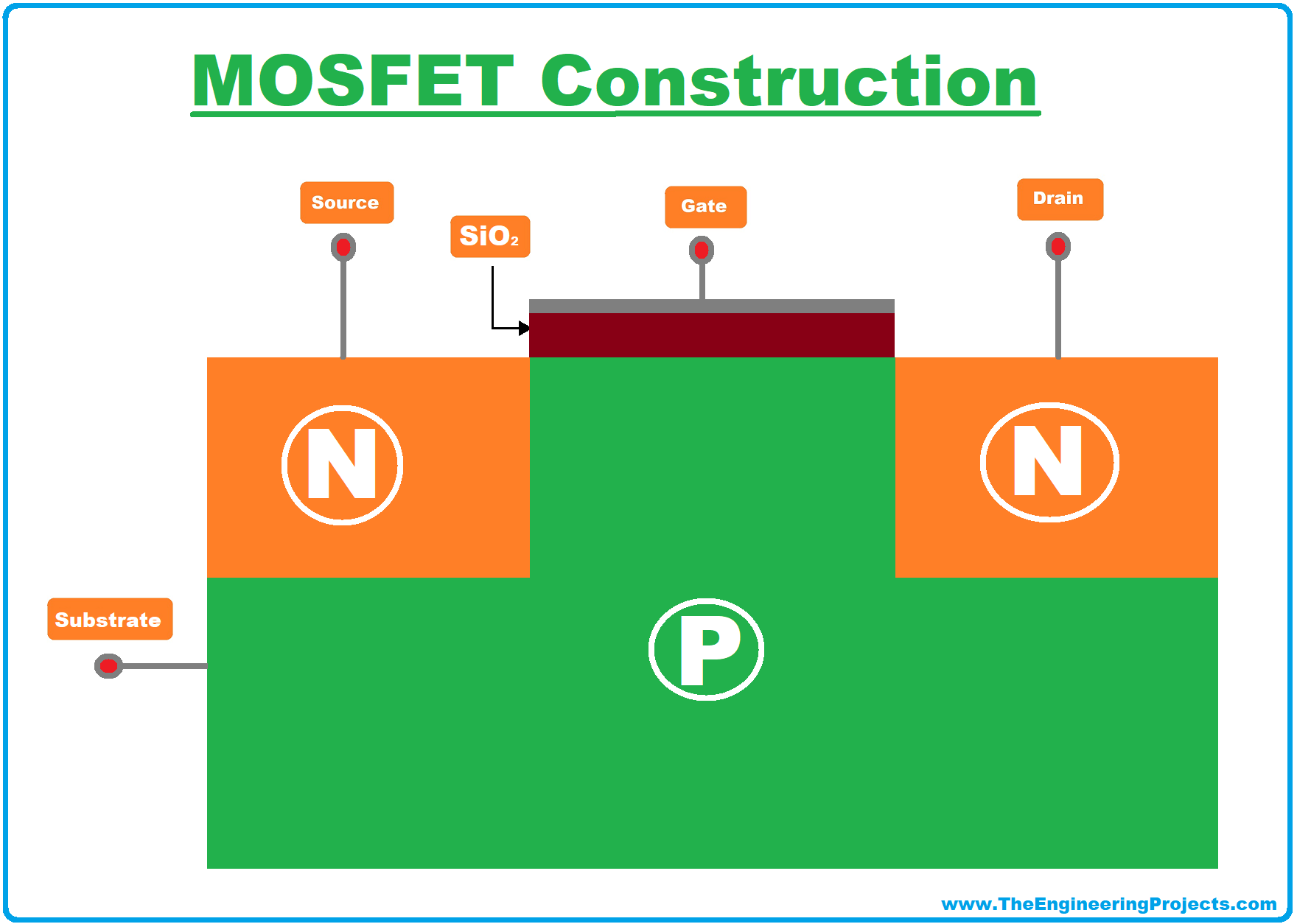 Types of MOSFET
MOSFETs are futher divided into two types. MOSFET types are as follows:
N-Channel MOSFET.
P-Channel MOSFET.
Let's understand these MOSFET types, one by one:
N-Channel MOSFET
In N-Channel MOSFET, single P-layer is present between two N-layers & current flows because of negatively charged electrons(termed as majority charge carriers).
Below figure shows the symbol, construction & block diagram of N-channel MOSFET: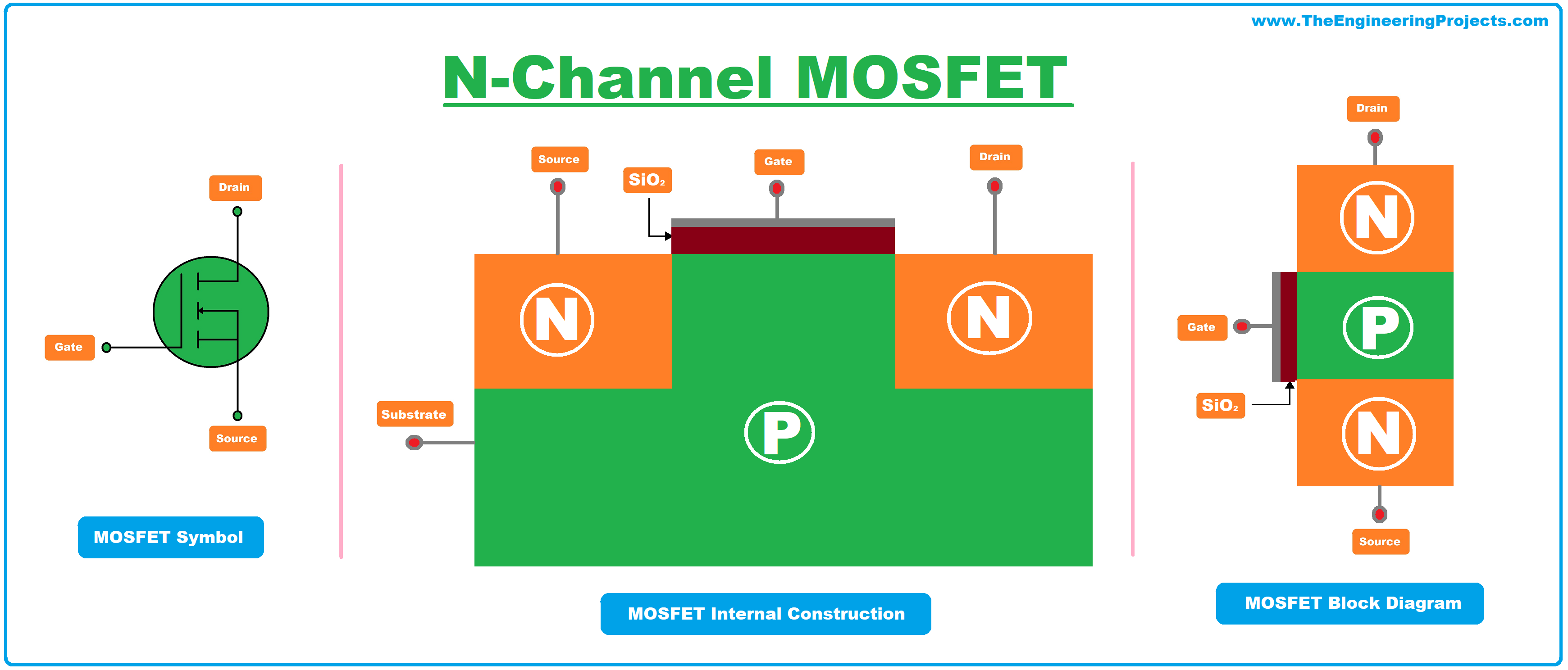 P-Channel MOSFET
In P-Channel MOSFET, single N-layer is present between two P-layers & current flows because of positively charged holes(termed as majority charge carriers).
Below figure shows the symbol, construction & block diagram of P-channel MOSFET: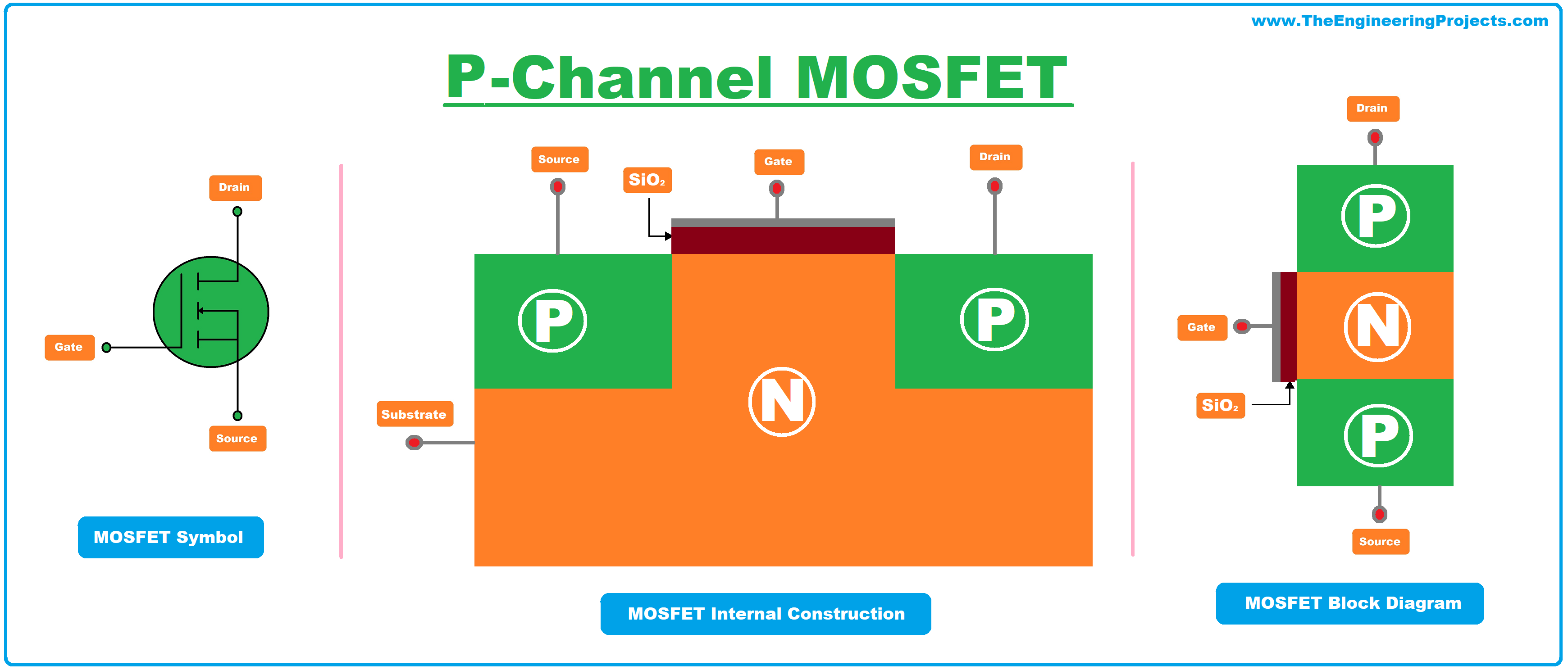 MOSFET Working Principle
In order to understand the working principle of MOSFET, we have to first understand its operational modes. Depending on polarity of Gate Voltage, MOSFET operates in two modes, named as:
Enhancement Mode.
Depletion Mode.
MOSFET Enhancement Mode & Depletion Mode
Let's take the example of an N-type MOSFET:
If posivite voltage is applied at Gate Terminal of N-type MOSFET, it starts conducting by creating a bridge btween Drain & Source and termed as acting in Enhancement Mode.
When positive voltage is applied at Gate terminal, the surface below oxide layer starts attracting electronics while repeling holes.
Hence, electrons gets accumulated below the silicon oxide layer.
As we increase the voltage at Gate Terminal, more electrons get attracted & thus conduction increases in N-Type MOSFET.
If we reverse the voltage at Gate Terminal, N-type MOSFET will repel electrons and attract holes, thus the connection between Drain & Source will break & MOSFET is said to be in Depletion Mode.
Both Operating Modes of N-Type MOSFET is shown in below figure: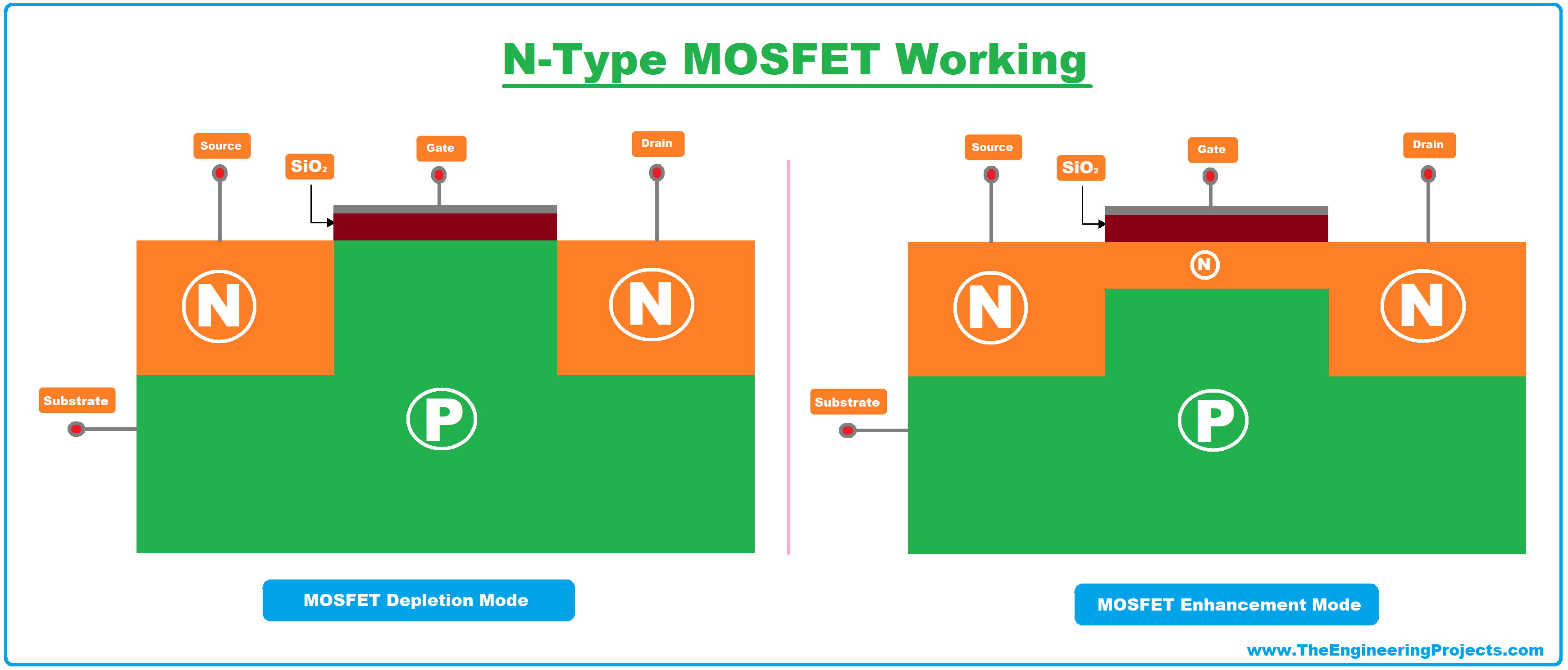 MOSFET Characteristics
In the composition of enhancement MOSFET, there must be minimum input gate-source voltage is applied to the gate before it starts conducting, this minimum voltage is called threshold voltage.
In order to conduct for these enhancement amplifiers, the gate source voltage Vgs must be greater than threshold voltage.
Drain current Id will increase by increasing the forward biasing of MOSFET, making them suitable for efficient amplifier circuits.
When we apply fixed voltage between drain and source Vds, we can plot the values of drain current Id for different values of the voltage across gate and source Vgs.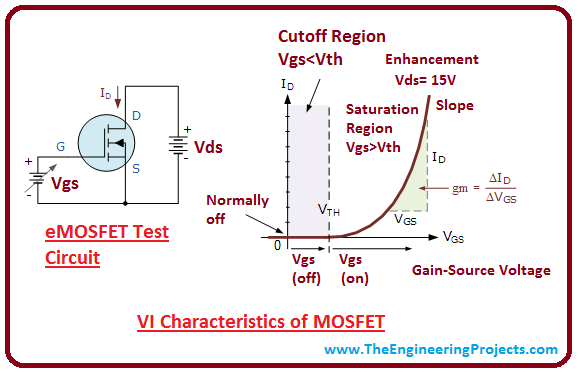 These VI characteristics show the transconductance of the the MOSFET. This transconductance is the ratio between the output drain current to the input gate-source voltage.
For fixed value of Vds, the slope of transconductance can be found as
gm= ΔId/ΔVds
This ratio is termed as transconductance which is a short form of "transfer conductance". The SI unit of transconductance is Siemens which is ampere per volt.
Voltage gain of this MOSFET increases with the increase in transconductance and value of drain resister.
At Vgs=0, N-Type enhancement MOSFET acts like an open switch or normally off, because field effect won't be able to open the N-Type channel around the gate.
Thus transistor will fall under "cut-off" region at this point. The OFF condition of the eMOSFET is represented by the dotted line unlike depletion region which shows continuous line, showing conduction region of the transistor.
As we apply gate-source voltage Vgs at the gate terminal, it will start to conduct in the region between source and drain.
The voltage at which transistors starts conducting is known as threshold voltage and is represented by Vth.
As we increase the gate-source voltage it will allow the conducting channel go wider and ultimately increases drain current Id.
It is important to note that gate never conducts as it is practically isolated from the conducting channel between source and drain. MOSFET encompasses high impedance which is useful in many electrical amplifying circuits.
If the threshold voltage is greater than gate-source voltage, then the channel will not conduct, it will only conduct when threshold voltage will be less than gate-source voltage Vgs.
In the conduction or saturation region drain current can be calculated as
Id= K(Vgs-Vth²)
It is important to note that value of threshold voltage Vth and K(conduction parameter) are different for different eMOSFET, these values don't vary physically as they come by default during the composition of the material from which transistor are made.
It is clear from the figure above that graph on the right side starts as a parabola and then it becomes linear, and it gives the slope of characteristic curve that increases with the increase in drain current for fixed value of drain-source voltage Vds.
In order to put the MOSFET in ON state, gate of the transistor must be biased from its given threshold level.
Biasing of gate terminal can be achieved using two different method i.e. zener diode biasing, and drain feedback biasing. Before biasing you must take one point into consideration that gate voltage must be greater than source by a value greater than threshold voltage.
MOSFET Vs BJT
Major difference between BJT and MOSFET is that BJT are bipolar devices in which conductivity is carried out by the movement of both electrons and holes while MOSFET are uni-polar devices in which conduction is carried out by movement of electrons or holes.
The three terminals in BJT called emitter base collector are the analogous of MOSFET three terminals called as source gate and drain respectively.
Another area where MOSFET differs with BJT is that there is no direct connection between gate and conducting channel of source and drain, unlike BJT where small current at the base side is used to control the large current at the emitter and collector side. That's the reason MOSFET are also named as IGFET (Insulated Gate Field Effect Transistor)
MOSFET Review
MOSFET is a type of FET that is a unipolar device i.e. single charge carriers are responsible for the conduction between source and drain.
Voltage applied at the gate side is used to control the current flowing through conducting channel between source and drain.
MOSFET is a voltage controlled device unlike BJT which are current controlled device.
Practically gate of the MOSFET draws no current. However, small amount of initial current is needed to charge the capacitance of the gate terminal.
MOSFET Applications
MOSFET is mostly used as as electronic automatic switch in both analog & digital circuits.
It is widely used in applications where high amplification is required.
That's all for today. Hope you have got a clear idea about MOSFET. If you have any question you can ask me in the comment section below. I'll try my best to resolve your query as soon as possible. Your feedback and suggestion will be highly appreciated. It will allow us to give you quality work based on your needs and expectations. Stay tuned!
Leave a Reply