Hello friends, I hope you all are doing great. In today's tutorial, I am going to share a detailed tutorial on How to monitor your System on Mac with Istat. Every year, consumers of Apple products are becoming more and more. Their hearts conquer the functionality and security of devices. When you work on your Mac, you do not just spend time with pleasure, but really enjoy the process. But like any gadget, your Mac requires attention and care. There are a large number of applications that may help you be aware of everything that happens with your computer. They are needed in order to react in time to some problem and correct it. We will talk about one of these applications in this article.
It's about a popular and very useful iStat Menus utility that allows you to monitor the state of all the main parameters on your Mac. If you have never heard of this product and doubt that it suits you, we will gladly give you some key points that will lead you to its side.
How to monitor your System on Mac with Istat
Having started using this program, you may feel as if in front of an airplane control panel. A lot of sensors, indicators, and data allow you to keep track of the smallest details of your computer's activity. More than a hundred parameters will be opened to you in real time and you will be able to collect all the necessary information. For your convenience, the data can be demonstrated in the form of graphs. Imagine that now you can know the exact temperature of any component of your Mac, such as the computer wall or the processor core. You are able to see the status of all your drives, both external and internal. You can see the level of charge not only the Mac itself but also the wireless mouse and keyboard. The program is also synchronized with your calendar and can show you world time, sunrise and sunset time and lots of other useful information.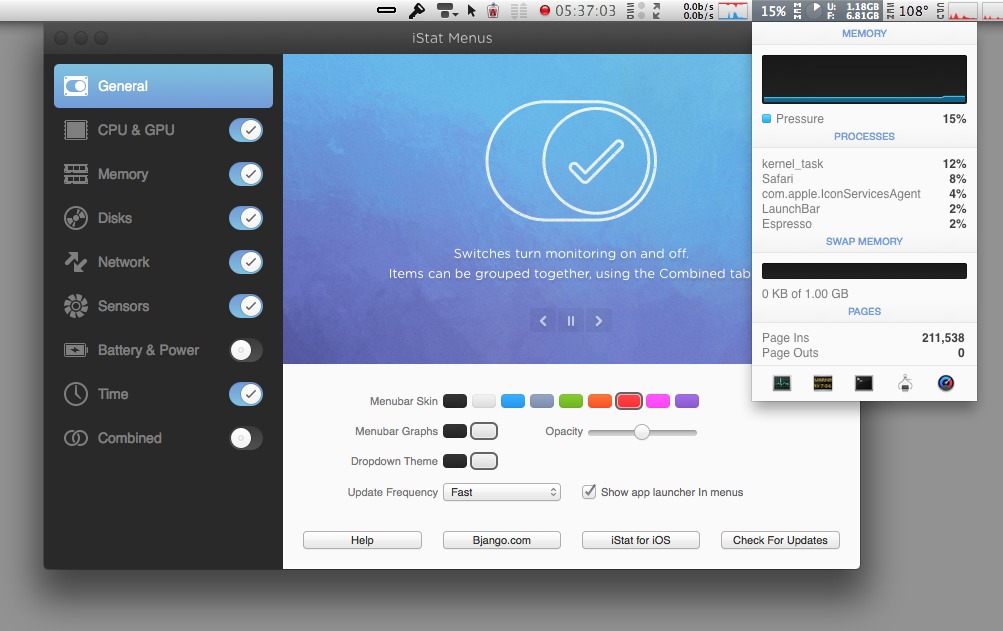 The program interface is very accessible, despite the abundance of parameters. You can always customize it for yourself. Select the options that you are most interested in, and hide the rest. Thus, you will visually simplify and facilitate the use. Also, you can choose the color solution that suits you. This applies to diagrams that display data and the general view of the program menu.
You will be pleased with the complete synchronization with OS X Mavericks and Yosemite. The program adapts to each of the software and displays the data as provided in this version. Thus, you do not have to change your habits and pick up other software.
You will find tremendous localization when using iStat Mac. It means that you can monitor the information not only comprehensively from the whole computer. Choose an application or a separate processor core and get an analysis of its state. Now you can import and export program settings.
Taking care of your computer is very important if you want it to serve you for a long time. This app keeps you up to date on everything that happens outside our field of vision. Keep everything under control with iStat Menus. You can try this program with a two-week demo version. It certainly will not leave you indifferent.