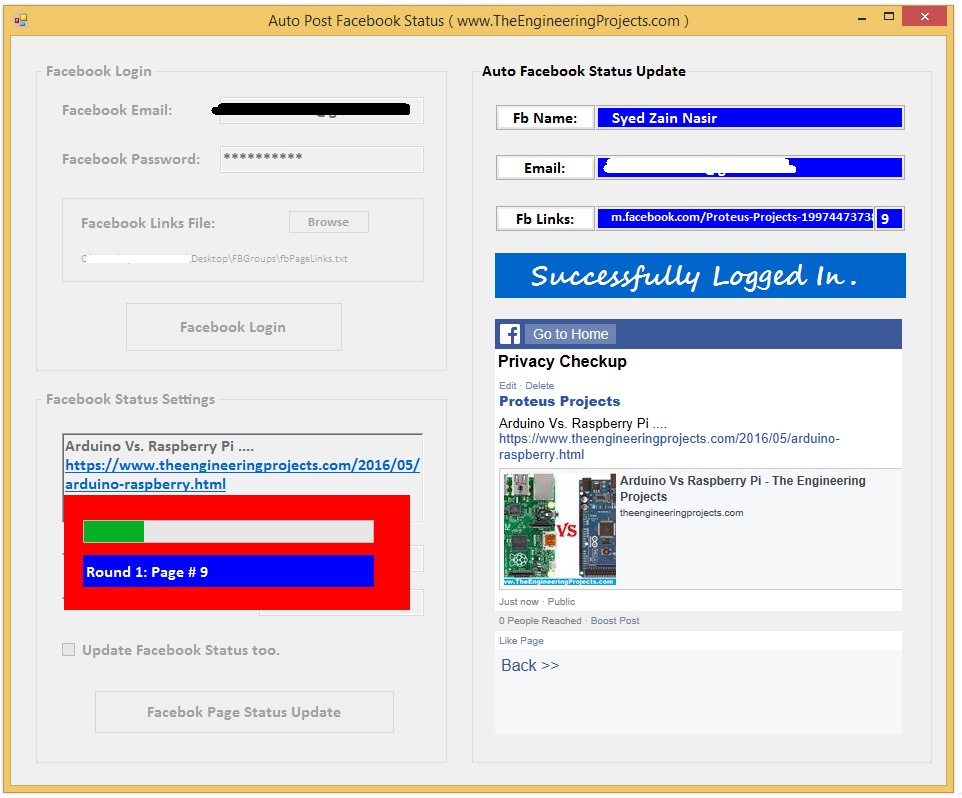 Hello friends, I hope you all are doing great. In today's tutorial, I am going to share a new SMO tool named as Auto Post Facebook Status. I'm quite excited while sharing this software because its my first SEO tool. I will work on more such SEO and SMO tools in the near future. Using this software, now you can quite easily post in many groups automatically. It will be like, you make a click and software will start posting your status in different Facebook Pages & Groups. Before going into the details of this software, let me first give you a brief introduction of SMO. Here's the video in which I have shown How to use this SMO tool Auto Post Facebook Status:
What is Social Media Optimization (SMO) ???
If you are a blogger and you have done some SEO in your life, then you must be aware of the power of social sharing sites.
Increasing the social sharing counts of your blog post / web page is simply called Search Media Optimization (SMO), which is an essential factor in SEO.
Google tends to give higher ranks to sites with good social sharing counts.
There's a long list of social media sites and few of them are Facebook, Google+, Twitter, Pinterest, StumbleUpon, Digg, Reddit etc.
Here's a screenshot of social media counts of my blog's homepage:

So, I hope you have now got the basic idea of SMO.
Just remember one thing, its always a good approach to have high social sharing counts for your blog posts or web pages.
Now, as I am sharing a Facebook tool today, so I am gonna focus on Facebook only. So let's have a look at How Facebook Sharing works:
Facebook Sharing Counts for WebPages
When you share your blog post on Facebook, then it gets an increment in its Facebook Like Count.
Now when someone likes your shared Facebook post then it also ads up in the same count.
Let's have a look at this below image: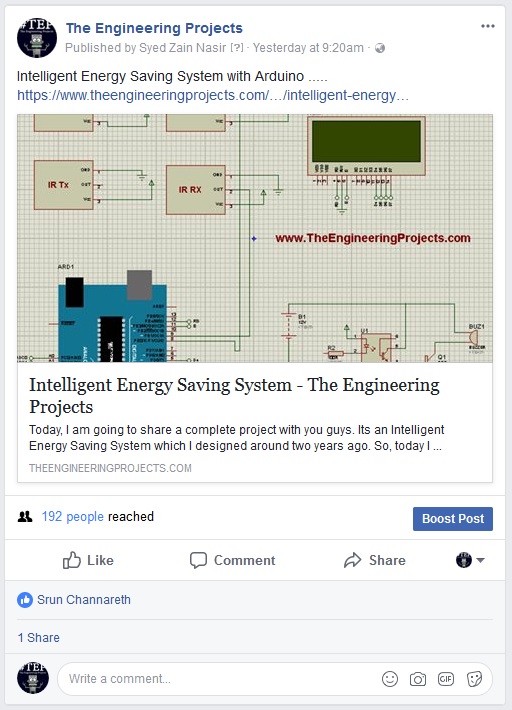 In the above image, you can see that I have shared one of my blog's post on my Facebook Page.
Moreover, I have got 1 Fb Like and 1 Fb Share on this Facebook Post.
So, in total I will get an increment of 3 Facebook Likes on my Blog Post.
That's the difference between a normal Facebook Like and Blog Post's Facebook Like.
Bottom Line:
So the bottom line for all this discussion is that:
Normal Facebook Post: Like and Share counts separately.
For Blog Post: Like and Share counts in single variable. So, if you have 5 Like and 8 Shares then in total you have 13 Facebook Likes.
If you want to increase Facebook Likes for your Blog Post then share it on Facebook as much as you can.
You can create different Facebook Pages and Groups where you can share your Blog Posts.
Now I hope you have got the idea off how Facebook Like Count works, so now let's have a look at my SMO Tool Auto Post Facebook Status.
Auto Post Facebook Status - SMO Tool
As I have explained earlier, if you want to increase Facebook Likes for your Blog post then share it as much as you can.
For example, you can create a single page and you share your blog post 100 times on it.
When Google will have a look at it, it will see 100 Facebook Likes. :)
Here's the main idea behind this SMO Tool:
Main Idea
You have to create a New Facebook account and make sure that its verified completely.
Important Note:
You can also use your original Facebook Account with this tool as its totally secured. In my video, I have used my own account, I am so sure because I have designed it. :P
But still if you wanna be on safe side then you should use New Facebook Account.
Now after creating your Facebook Account, now you have to create as much Facebook Pages as you can. That's a one time effort.
You can create 2 or 3 for testing first but I would recommend you to have around 100 Facebook Pages. Because you have to do it once.
Now suppose you have a Facebook account and you are admin of 100 Facebook pages.
You must have noticed that when you share on any Facebook Page as an admin then it shows the name of the Page instead of your profile name, as in below figure: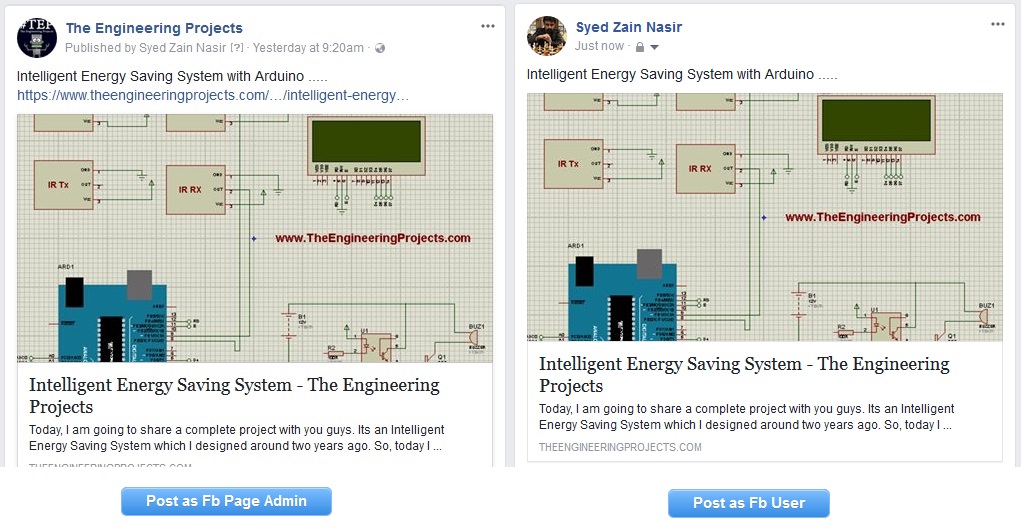 In the above image, I have posted both of these statuses but one on my personal profile while second on the Facebook Page.
That's the reason I have selected Facebook Pages instead of Facebook groups because when you post in groups it comes under your profile name.
So, now next thing is Facebook ban policy, which is the main concern.
If you post a same status in 100 different groups then Facebook will immediately ban you because it will detect the spamming. But if you post in 100 different Facebook Pages then for Facebook its not spamming because Facebook will think that 100 different Pages are updating their status. That's the real trick here. :P
Now the only problem left is continuous posting to these Facebook Pages and for that I have created this SMO tool Auto Post Facebook Status.
So, now what you need to do is, you just need to create 100 Facebook Pages (SMO tool works with any number of pages) and then log in your Facebook account using this SMO tool, Give you status which you want to update and click update.
This SMO tool will share your status (which has blog Post link) in all of these Pages automatically.
You can also increase the rounds like if you wanna post it 5 times in each page then it will do that as well.
I hope you have got the Main Idea behind this SMO Tool, so now let's have a look at How to use Auto Post Facebook Status:
Installation
First of all download the setup file by clicking below button:
[dt_default_button link="https://www.theengineeringprojects.com/DownloadSoftware/Auto Post Facebook Status.rar" button_alignment="default" animation="fadeIn" size="medium" default_btn_bg_color="" bg_hover_color="" text_color="" text_hover_color="" icon="fa fa-chevron-circle-right" icon_align="left"]Download SMO Tool[/dt_default_button]
Unrar the files and you will find three files and one folder in it. You need to focus on these two files:

Setup.exe
fbPageLinks.txt

Click on the Setup.exe file, you will need .NET Framework 4.0 for this software to work.
fbPageLinks.txt is the file, which will contain the links of all your Facebook Pages / Groups. ( I would recommend to use Pages only to avoid Facebook ban)
So add all your Facebook Page links in the fbPageLinks.txt file and make sure to follow the same syntax.
You must have '@' this sign before each Page Link.
Moreover, replace 'www' with 'm', as it will open it in mobile form so will load faster.
Here's a screenshot of my Facebook Page Links text file: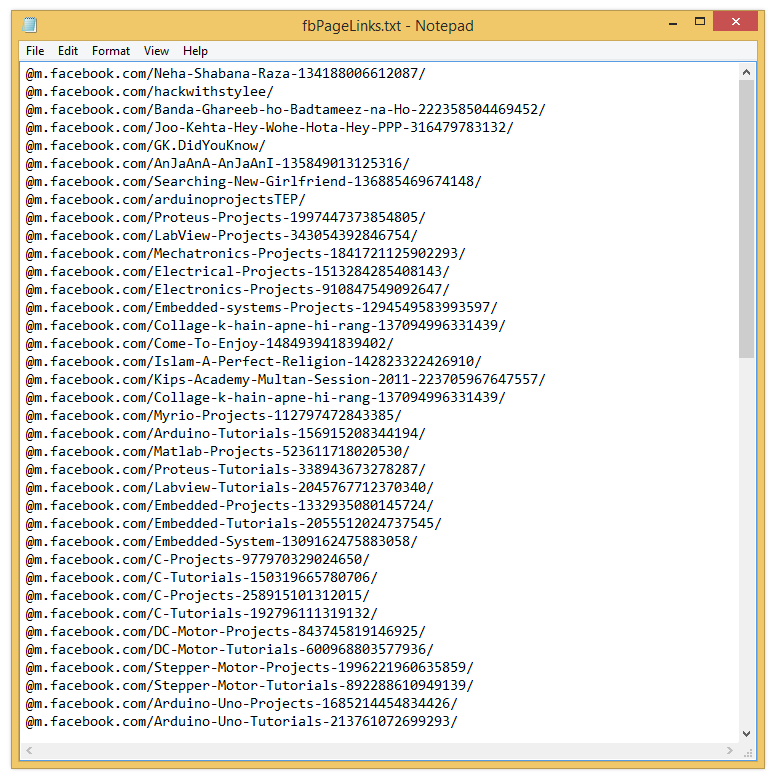 You can follow the format as shown in above image. These are my Facebook Pages on which I share my blog links using this SMO Tool.
Now start your SMO Tool Auto Post Facebook Status and here's the first look of SMO Tool: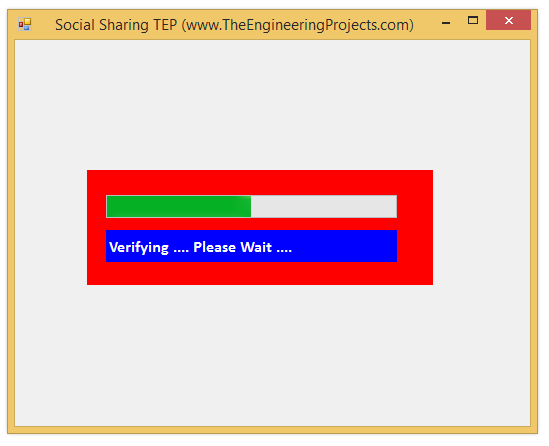 It will first verify that whether you are connected with internet or not and also if you have the latest version.
After successful verification, the software will open up as shown in below figure: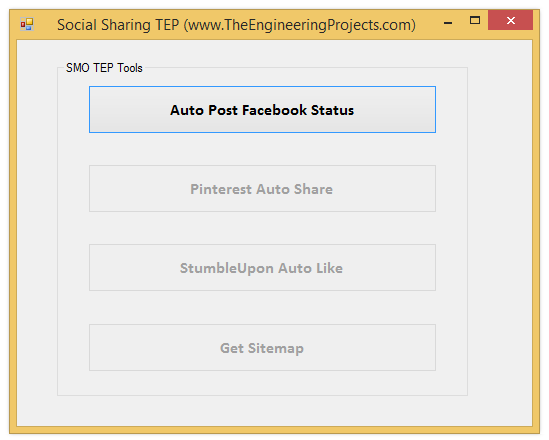 The other social networks are not yet ready that's why I have disabled them. I am working on Pinterest which is almost complete and I will share it soon. Rite now Facebook is ready to play with. :)
So click on this button which says Auto Post Facebook Status and a new window will open up as shown in below figure: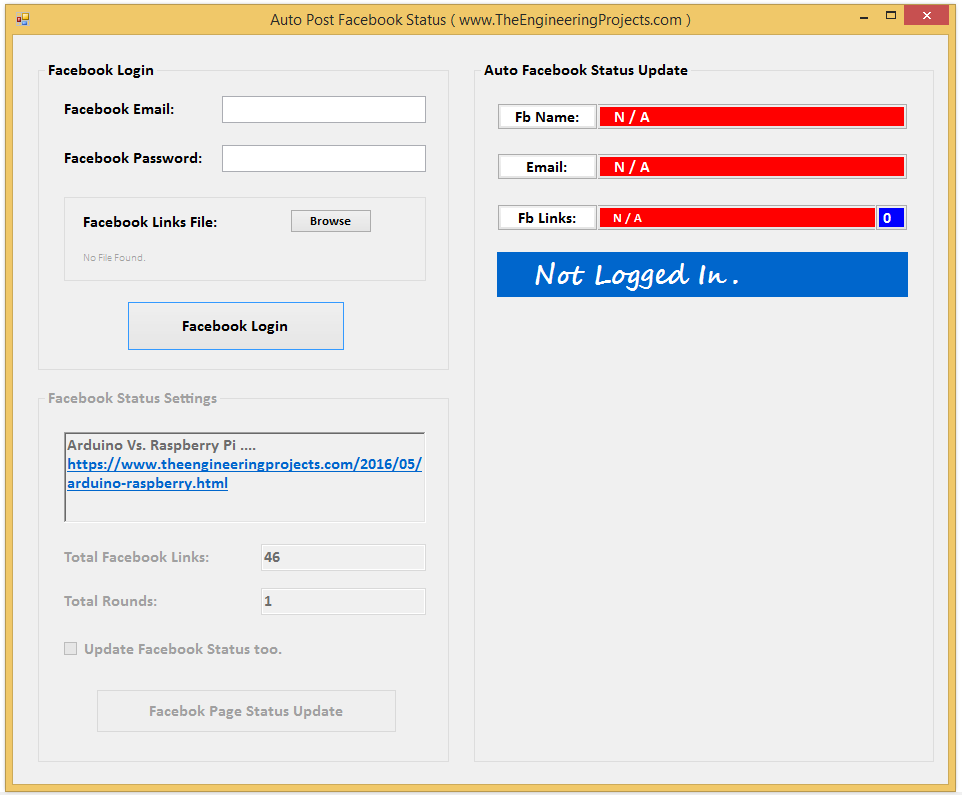 Now you can see in the above figure that it has three parts.
So First of all, you need to enter below three things:

FaceBook Email
Facebook Password
Browse to the file fbPageLinks.txt (which has all your Facebook Pages Links in it).

Now click on the Facebook Login Button and if you have entered everything successfully you will get something as shown in below figure: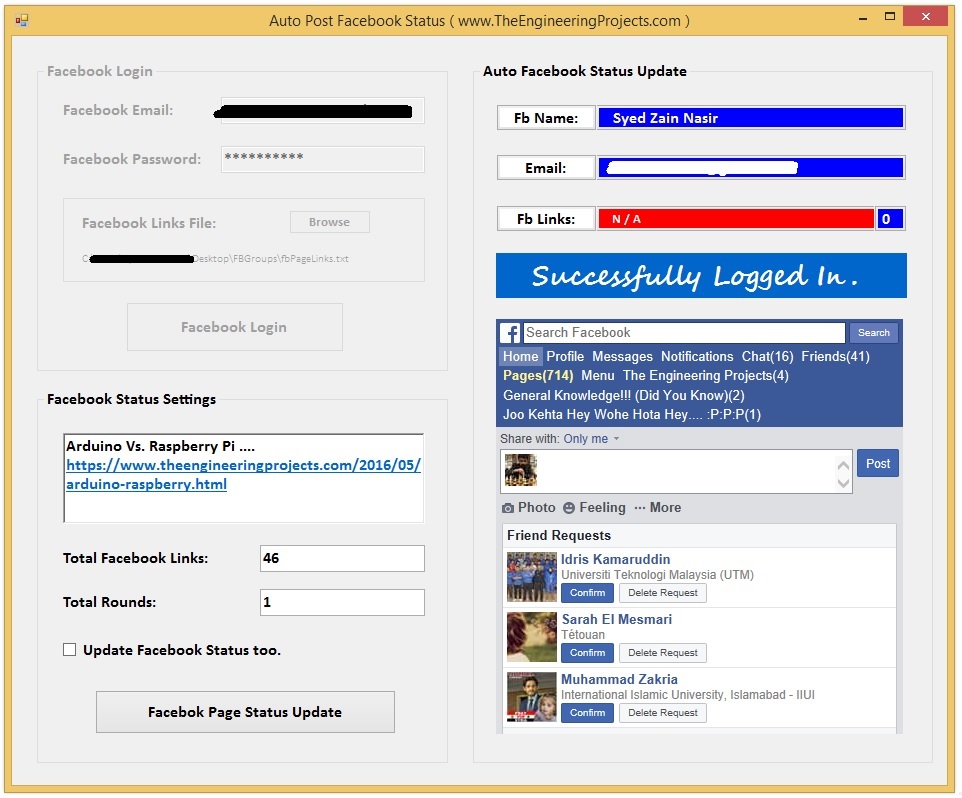 Now you can see I am logged In with my original Facebook Profile, I have blacked out my email. :P
Make sure that your Facebook Profile doesn't have any security checks because it will cause problem in logging in.
Sometimes it asks the user to click on some link to verify, in that case you have to do it manually in this small Facebook window.
When the above tab says Successfully Logged In then that means you are good. If it doesn't give you that status then you have something wrong. :P
Now I hope that you have successfully logged In your Facebook account so now we need to update our Facebook Status and as you can see I have added link of my site.
After that select the total Facebook Links which is the number of Facebook Pages on which you wanna share.
You can use any number of Facebook Pages or Groups.
Now let me explain this Rounds thing. Suppose you have 10 Facebook Links then our software will start from 1 and will stop at 10, this is called 1 round.
So if you select 5 rounds then software will start from 1 to 10 and will do it 5 times.
Now let's do a little calculation, if you have 100 Facebook Pages and you select 10 as rounds then it will share your link in 100 Pages and for 10 times each.
So, in total you will get 10 x 100 = 1000 Facebook Likes with just a single click.
I have used it with 100 Pages and 10 as rounds and Facebook had no problem :D and I got 1000 Likes on my blog post which is very good in the sight of Google. ;)
Moreover when you share such stuff with 100 Facebook Pages then you get some audience too with time.
Its pretty simply once you had it running but the installation is a little difficult. you will get it and if you got into any trouble then you can ask us. :)
Here's a screenshot of this software while posting in my Facebook Pages: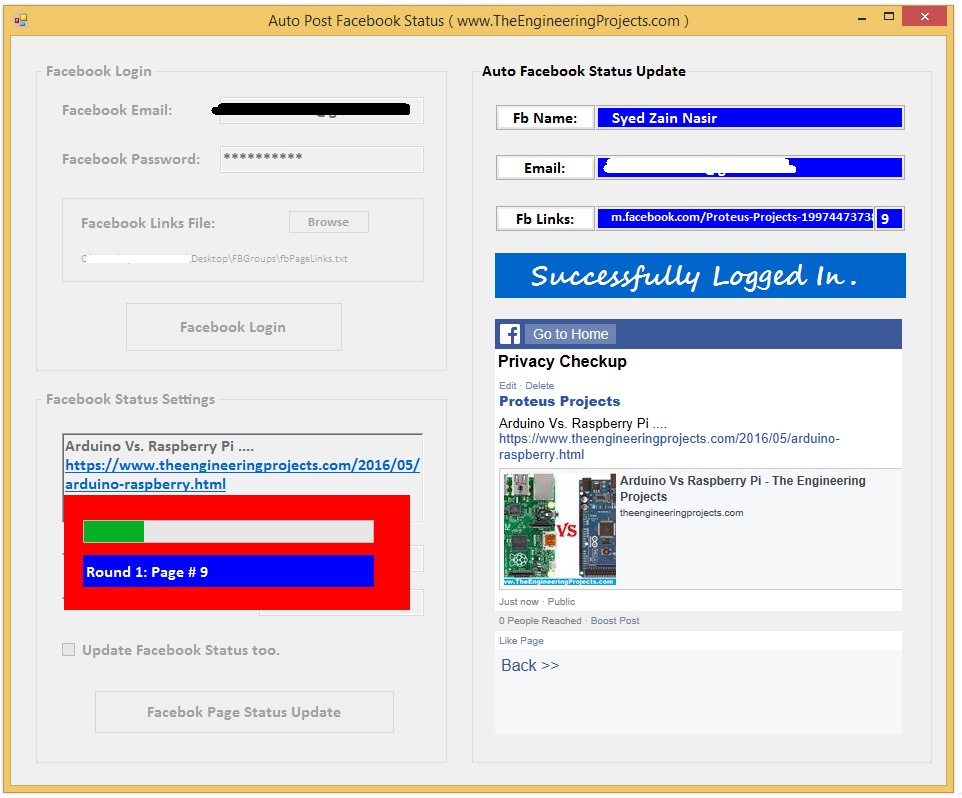 In the above figure, you can see that it has posted in the Proteus Projects Facebook Page, which is the 9th Page.
It will give the link as well as count of the Page.
I have shown the working of this SMO Tool in below video in detail which will give you quite clear idea about How to use it.
It's a free version that's why it has a small restriction that it will also share one of our Blog Post Link in the Page or Group along with your status.
If you want to buy a Full Version then contact us.
Here's a video demonstration of its working:
Important Notes about SMO Tool:
It's better to use your original account because it will get low chances of being banned by Facebook.
Software will work with both Facebook Pages and Groups. I would recommend you to use Facebook pages if you want bulk likes. But if you just want to share stuff with audience then you should use Groups. Maximum Limit of Groups is 30 I guess.
Facebook gives warning first so if you get a warning then that means you are using it a lot, reduce your Facebook pages or rounds.
If you have any problems in Logging In then solve it manually, have some interaction with this Facebook window and make sure that you got Successfully Logged In at the status bar.
It may have some bugs in it because I am still working on it and testing as well so if you got into any trouble then simply restart it.
If you still got into any troubles then you can contact us and our team will help you out.
So, that was all about toady. I hope you will enjoy this SMO Tool and will let me know about your suggestions. Have a good day. Take care and have fun !!! :)