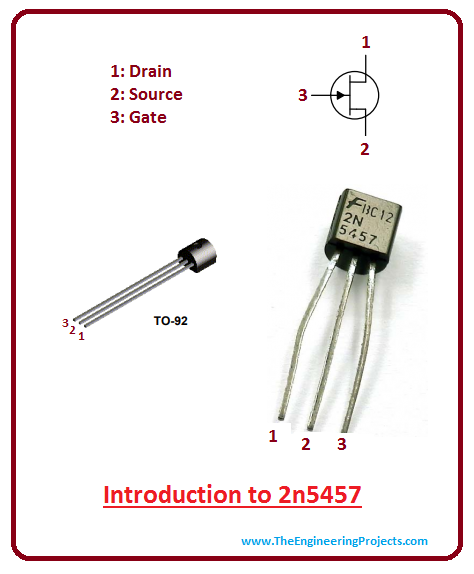 Hey Fellas! Hope you are enjoying life and getting most out of it. I am back to give you daily dose of information so you can excel and grow in your relevant field and keep coming back for what we have to offer. Today, I am going to uncover the details on the
Introduction to 2n5457
. It is an N Channel JFET (Junction Field Effect Transistor) which is mainly designed for audio and switching applications. It consists of drain, source and gate which are denoted by D, S and G respectively. I'll try to cover every aspect related to this transistor so you don't need to go any where and find all information in one place. Let's dive in and explore what is it about and what are its main applications.
Introduction to 2n5457
2n5457 is an N channel field effect transistor which is mainly used for audio and switching applications.
It consists of source, drain and gate which are analogous to emitter, collector and base in the bipolar junction transistors.
In contrast to normal bipolar junction transistor, it is a voltage controlled device which doesn't require any biasing current to control large current at the other terminals.
It starts conducting when current flows between drain and source terminals.
It is called field effect transistor because static field plays an important role in transistor operation.
A JFET is considered fully ON when there is no potential difference between source and gate terminals. However, if you apply negative gate-source voltage, it will turn off this device.
This component limits the flow of current if there exists any potential difference between source and gate terminals.
A JFET are available in two types, N type and P type channel. 2n5457 is a N type JFET where voltage at the source terminal is greater than the voltage at gate terminal.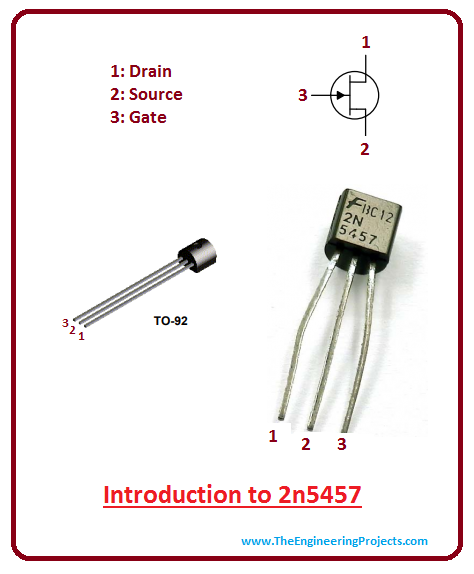 Current also has a large effect on the electric field between drain and source.
2n5457 comes with high speed analog circuit performance and low error voltage where drain and source are interchangeable.
2n5457 is composed of semiconductor material which contains negative charge carriers such as electrons.
It has high AC input impudence and high DC input resistance.
It comes in TO-92 plastic encapsulated package and contains low transfer and input capacitance.
In JFET, the flow of current is handled by limiting the channel through which current is flowing.
This JFET is mounted using through hole technology, means it comes with more strength to endure stress but it occupies large space as compared to surface mount technology on which devices are mounted directly on the surface of the PCB board.
2n5457 Pinout
2n5457 N Channel Field Effect Transistor mainly consists of three pins.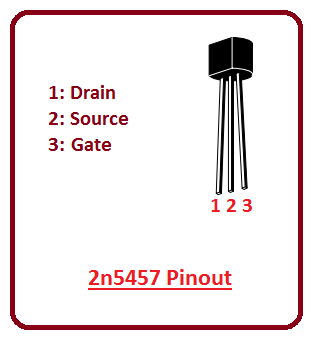 1: Drain
2: Source
3: Gate
In this N channel device voltage at the gate terminal is used to handle the current that flows from the device.
It will conduct when current flows from source and drain terminals.
Working of 2n5457
Field effect process is mainly used to make conducting channel in this JFET.
Flow of electrons in any transistor plays an important role to predict the conducting nature of the device.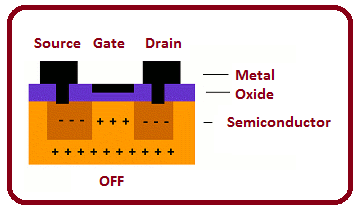 In this N Channel JFET flow of electrons between source and drain is limited by the number of holes available in the gate terminal.
An electric filed is generated when we apply positive voltage at the gate terminal. It results in the flow of electrons from source to drain terminal, helps in switching on the transistor.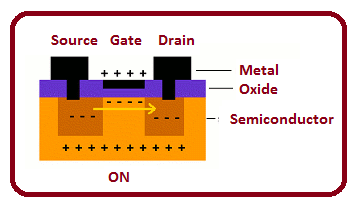 Field effect process is used to generate the current that's why these transistors are termed as field effect transistors.
Absolute Maximum Ratings
Following figure shows the absolute maximum ratings of 2n5457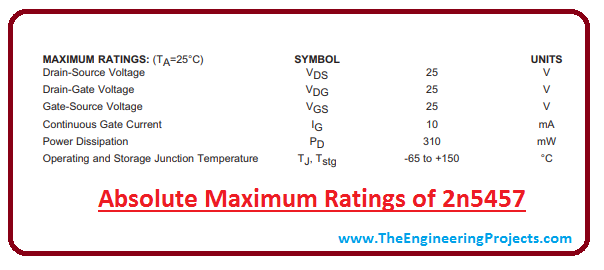 Drain-Source and Drain-Gate voltage is 25 V.
Maximum Power it can dissipate is 310 mW.
These ratings are derived from maximum junction temperature of 150 C.
It is important to note that if stresses are exceeded above absolute maximum ratings, they can damage the device.
Similarly, if stresses are applied for extended period of time, they can effect the device reliability.
Electrical Characteristics
Following figure shows the electrical characteristics of the N channel 2n5457 JFET.
The figure shows both on state and off state electrical characteristics.
It is important to note that electrical characteristics don't determine the quality of the product.
These are just used for determining the electrical behavior of the device so it can be perfectly aligned and resonated with the electrical circuit it will be used for.
Applications
This device is mainly used for analog switching applications and is referred as low level amplifier or switching transistor.
It has low cross modulation and intermodulation distortion which makes it an ideal choice for most of the applications.
That's all for today. I have tried my best to give you most relevant and useful information related to 2n5457 N Channel JFET. However, if still you feel skeptical or have any question, you can ask me in the comment section below. I'd love to help you according to best of my expertise. We feel happy when you keep us updated with your feedback and suggestions, they allow us to give you quality work that resonates with your needs and expectations. Stay Tuned!