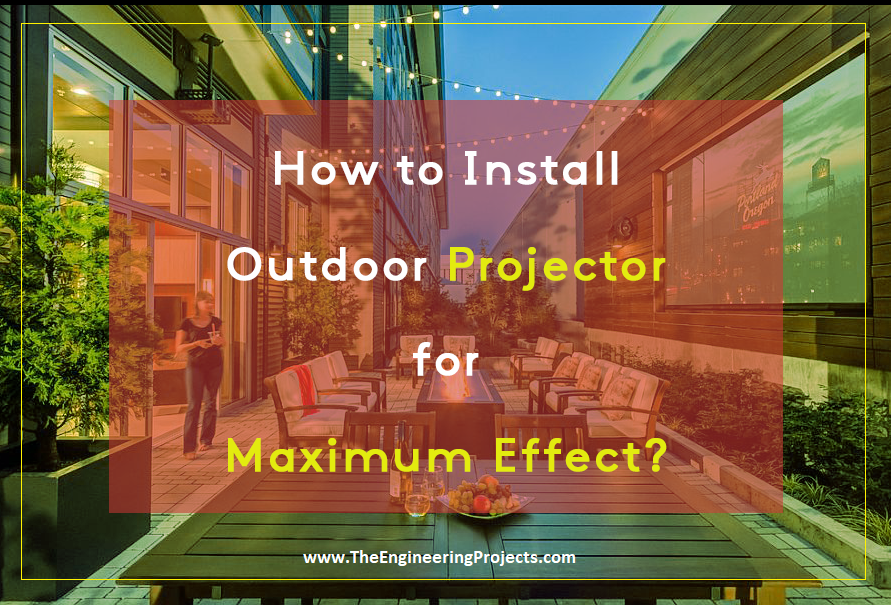 Hi Friends! Hope you are doing well. We always strive to keep you updated with valuable information as per your needs and demands so you keep visiting us quite often. Today, I'll uncover the details on How to Install Outdoor Projector for Maximum Effect. When you are in the middle of dealing with atrocities of life, you want a break that gives you both pleasure and relaxation at the same time. Putting yourself in a sheer peace differs from person to person, some love to fuel their car up and go for the long drive, other want to relax their muscles a bit and go for some game they love to play and some end up finding new ways of entertainment.
Thanks to technology that has made things easy more than ever before and turned out to be a solution to almost every problem.
Most of the people, if not all, enjoy to glue with the TV screen and watch their favorite season or the movie they find interesting. Watching a new movie at the cinema is a bit of a whole new experience, but not everyone comes with a bunch of dollars to afford its cost.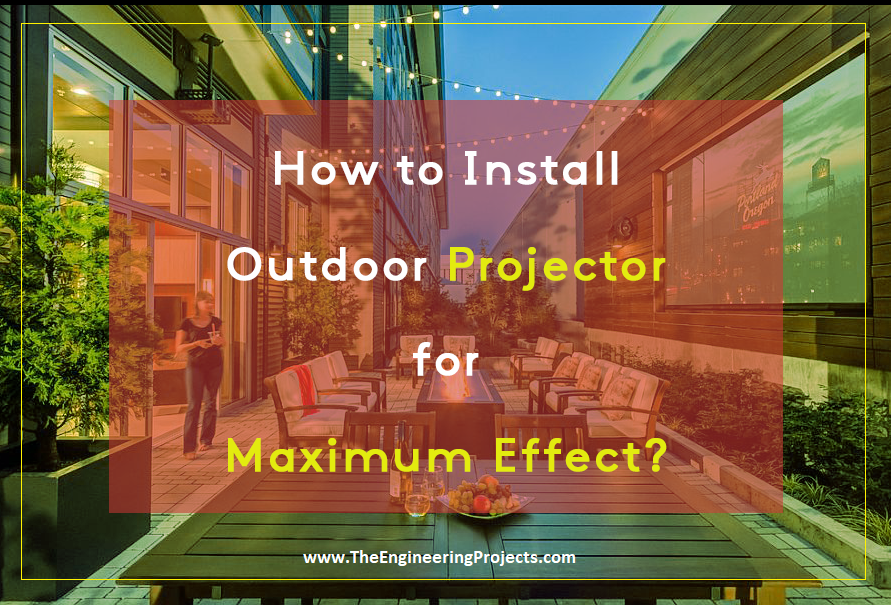 What if I tell, you can buy and install your own projector screen and enjoy the feel of cinema right from the comfort of your home. Yes, you heard that right. You can buy an outdoor projector and turn your yard into a full cinema. Installing a projector is not as easy as it looks and is not as difficult as it sounds. With few instructions beforehand, you can easily install and optimize the projector in your backyard.
How to Install Outdoor Projector for Maximum Effect
There are many things you need to be taken into consideration before picking the right projector that perfectly aligns with your needs. But don't you worry, I have covered everything up for you in the post: the place to pick the economical projector and how to tune it for getting the maximum results.
Temporary Arrangement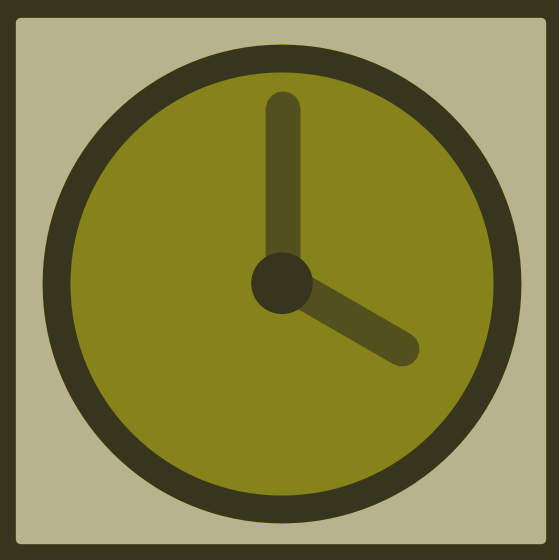 You need to put the whole setup at an optimal distance where you can watch the screen at the perfect angle. Figuring out the right projection angle and distance is a real task.
It is advised to put and adjust the whole set temporarily at first so you can modify its location afterward in case the arrangement doesn't match with your glace.
Cooler or empty packaging boxes are the good pick to design a temporary solution where you can place whole nitty-gritty of the outdoor projector.
Both the projection angle and distance vary from person to person, and it all depends on your interest. Some love to watch the screen with their neck little bit up with some distance and some like to watch the movie with their neck sitting at the angle of around 45 degrees.
Note: You must have a knack of playing with a bunch of wires while you set up the temporary arrangements because you gotta deal with a lot of them.
Permanent Arrangement
A wooden arrangement is preferable if you need a permanent solution. And an underground PVC pipe is perfect to house the number of wires. It saves you from the haunted look of messy wires and packs them all together in one place. By following simple steps you can design the permanent arrangement for your projector.
Make a solid hollow wooden rectangle supporting two three splinters, exposing a flat surface. Also, make sure the final rectangle is a little bit larger than your projector, covering it from both sides.
Grab the shovel and dig a small ditch for putting the PVC pipe that will contain the wiring to the unit.
Never forget to cover the PVC pipe with some insulating material. Leaving it open will make it vulnerable to both forecast and birds.
As I already mentioned, installing your own projector looks hectic at first, but you can do it by yourself. If you are open to spending some dollars to make things easy like a walk in the park, you can hire some handyman to get this task done.
Now hunt down the perfect place in the yard that you feel comfortable sitting in and design the legs for the whole arrangement that stand fit and support it from all ends, making them titled will keep the whole platform sitting on shaky grounds.
It is advised to paint the arrangement with the weatherproof material for making the whole platform secure and away from the hassle of nature.
You can learn more about outdoor projectors if you aim to buy the cost-effective ones. You must do a little bit research before making a final decision and picking a right one. Prior knowledge about projectors can save you a bunch of dollars at the start.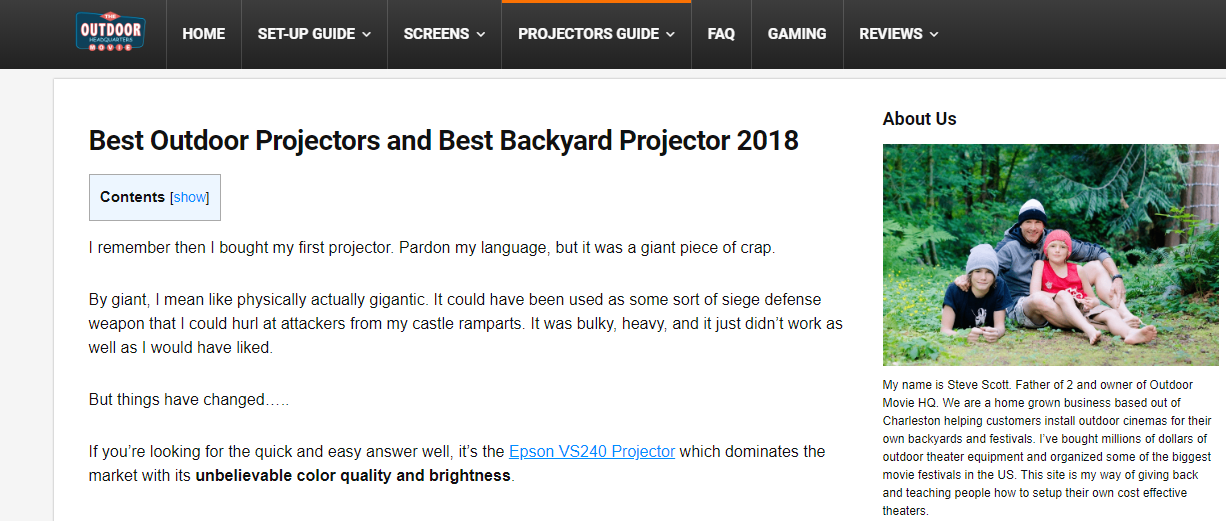 I'm not referring to being tech-geek and getting way too much involved yourself in the overwhelming information spread across the web. But, make sure, you have some information about brightness, resolution and aspect ratio of the projectors and what are the main factors affecting them in the long run. That's all for today. I hope I have given you a brief overview on how to install the outdoor projector with maximum effect. If you are feeling unsure or have any question, you can ask me in the comment section below. I'd love to help you according to the best of my expertise. You are most welcome to keep us updated with your valuable feedback and suggestion, they help us provide you quality work as per your needs and expectations. Thanks for reading the article.