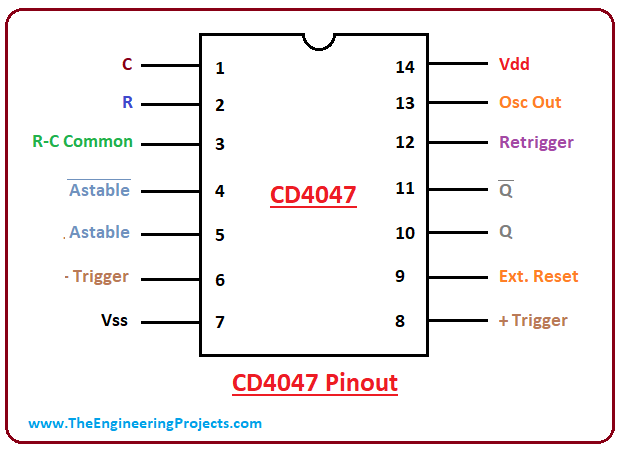 Hi Guys! Hope you are doing well. In this platform, we always strive to keep updated with valuable information related to engineering and technology. Today, I'll discuss the detailed Introduction to CD4047. It is a CMOS Low Power monostable/astable multivibrator mainly used for converting DC current signal to AC signal. This inverter proves to be very handy in some countries where load-shedding creates a significant problem as it comes with an ability to store electrical energy and discharge it in the absence of main electrical power. In this tutorial, I'll cover the entire details on this inverter, its main features, working, and applications. Let's dive in and explore everything you need to know about this inverter.
Introduction to CD4047
CD4047 is a CMOS Low Power monostable/astable multivibrator mainly used for converting DC current signal to AC signal. It comes with a high voltage rating around 20-V.
CD4047 is a 14 pin IC that operates on a logic techniques with an ability to allow negative or positive edge-triggered monostable multivibrator action layered with retriggering and external counting options.
Accurate and complemented buffered output with low power consumption make this IC an ideal choice for Frequency Division and Time Delay applications.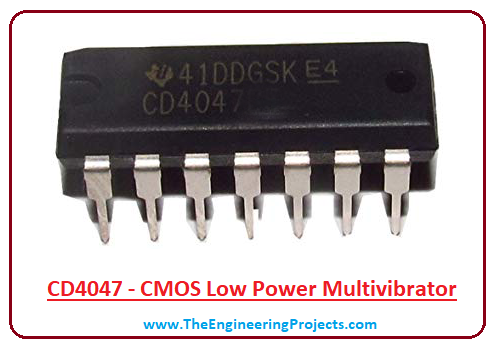 The internal power-on reset circuit is added on the IC and fast recovery time makes it an independent from the pulse width.
There is a sheer difference involved when IC works in monostable and astable mode. In monostable mode, the inverter needs a trigger signal for generating the output pulse, but an astable multivibrator doesn't require trigger signal for every output pulse. More often than not, an astable multivibrator can be called as an oscillator.
CD4047 Features
No matter what type of operation this IC undergoes, an external resistor is permanently connected between RC-Common and R timing terminals and an external capacitor is connected between RC-Common and C timing terminals. The following figure shows the main features of this IC.

Features
Low Power Consumption Noise Resistance Generate both Monostable and Astable operation Symmetrical buffered output characteristics One resistor and one capacitor is used externally
Monostable Features
Output pulse width doesn't dependent on trigger pulse duration Pulse width expansion with retrigger option The positive and negative edge trigger option is available
Astable Features
Creates 50% duty cycle Free running operating modes Oscillator output Impressive frequency stability
CD4047 Pinout
Following figure shows the pinout diagram of CD4047.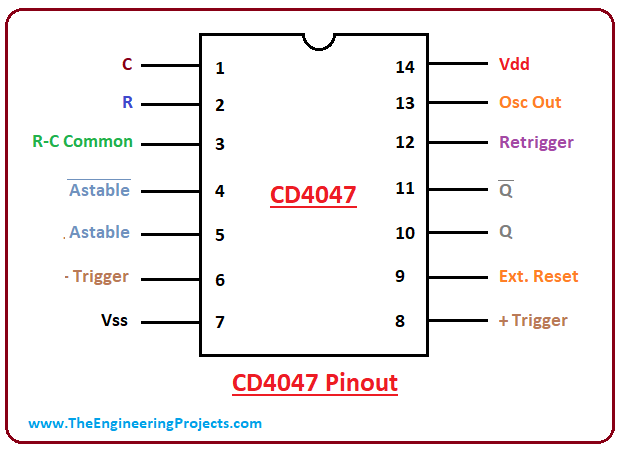 There are 14 pins available on the IC where Vss is a ground pin and Vdd is a voltage supply pin. There are six inputs including trigger', trigger, astable, astable', external reset and retrigger. While buffer outputs include three outputs mentioned as Q, Q', and Oscillator.
Both astable and astable' take part for triggering the operation by keeping high level on the former and low level on the later.
The IC behaves as a gatable multivibrator if complement pulses on the astable' and true pulses are applied on the astable pins.
The CD4047 will be only triggering in a monostable state when a positive edge appears on the +trigger with -trigger keeping low.
CD4047 Pin Description
As mentioned earlier there are 14 pins on the IC interface with every pin is used with a specific purpose. Folloiwng table shows the pin description of each pin.
| Pin# | Pin Name | Pin Description |
| --- | --- | --- |
| 1 | C | Connected to an external capacitor |
| 2 | R | Connected to an external resistor |
| 3 | R-C Common | Common pin for establishing a connection with resistor and capacitor |
| 4 | Astable' | Must be kept low when used in astable mode |
| 5 | Astable | Must be kept high when used in astable mode |
| 6 | -Trigger | High to Low transition will be given to this pin when used in Monostable mode |
| 7 | Vss | Ground Pin |
| 8 | +Trigger | Low to high transition will be given to this pin when used in Monostable mode |
| 9 | EXT Reset | External reset triggers when a high pulse is provided to this pin, resetting the output Q to low and Q' to high |
| 10 | Q | Generates high output |
| 11 | Q' | It is an inverse output of pin 10, producing a low output |
| 12 | Retrigger | This pin is used in Monostable mode for simultaneously retriggering +trigger and –trigger pin |
| 13 | Osc Out | Generate oscillated output |
| 14 | Vdd | Voltage supply pin |
CD4047 Working in Monostable and Astable Mode
CD4047 is a low power inverter that comes with an ability to operate in both states: astable or monostable mode. In astable mode, it operates by charging a capacitor using a valuable resistor that is mainly used to adjust the output frequency near 50Hz. Monostable Mode In Monostable Mode, an external resistor must be connected between Pin 1 & 3 of the IC that helps in determining the output pulse width. We will be using +trigger and –trigger Pin in this mode.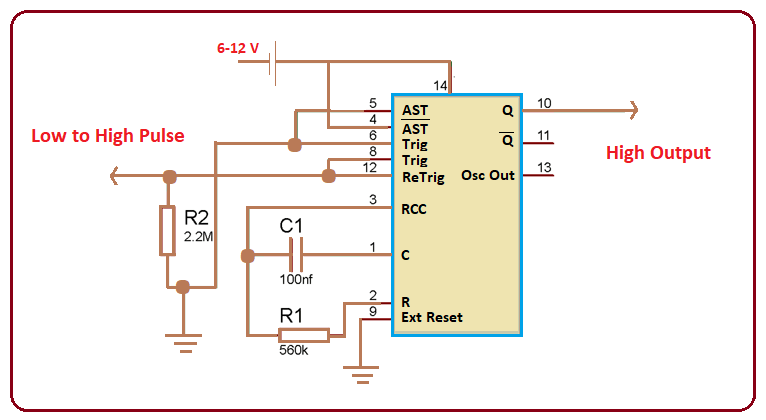 Both pins will generate the Monostable output when we provide High to Low transition at –trigger Pin and Low to High transition at +trigger Pin. The following formula is used to determine the frequency at Pin 10 & 11

f = 1 / 8.8 x R*C

Astable mode As mentioned earlier in astable mode, the inverter needs a trigger signal for generating the output pulse. The output frequency is determined when a single capacitor is connected between PIN 2 and 3.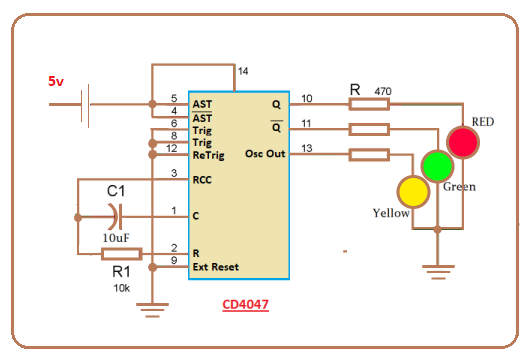 The IC will be operating is an Astable mode when we apply  HIGH on Pin 5 and LOW on Pin 4, generating the output toggling between HIGH and LOW. The oscillated output frequency on Pin 13 can be determined using the following formula

F = 1 / 4.4 x R*C

Similarly, the formula to find the time it takes to generate pulse will be given as:

t = 2.48 x R*C
Applications
This inverter comes with a wide range of applications that are mainly related to DC to AC conversion. Following are the main applications it can be used for.
Frequency division
Frequency multiplication
Timing delay applications
Timing circuits
Frequency discriminators
That's all for today. I hope this article has helped you got a complete overview of CD4047 and the main functions associated with it. If you are unsure or have any question, you can ask me in the comment section below. I'd love to assist you in any way I can. Feel free to give your feedback and suggestions that help us provide you quality work based on your needs and requirements. Thanks for reading the article.