Hello friends, I hope you all are doing great. In today's tutorial, we are gonna have a look at Should you outsource mobile app development or keep it in house? Many businesses face the same dilemma when it comes to mobile app development – is it best to keep everything within the company, or pass it onto another pair of hands?
The truth is, there are pros and cons to both. It's all about what your business wants, how much it is willing to spend, and how much time you have available. If you're wanting to create a successful mobile app that will stick around, it's important you consider both options carefully and choose what you really believe will be best for you, your company, and your staff.
Here we'll go through the pros and cons of both, to allow you to make the most educated decision possible.
What is outsourcing?
Outsourcing is turning to an outside agency to develop an app for your business. This agency could be a mobile/design studio, a digital agency, mobile specialists, app developers, or even freelancers.
Why should you outsource?
Outsourcing is best for businesses that do not have the right resources to develop in-house.
It sounds like common sense, really- however many venture into the unknown when it comes to mobile app development, and end up on the losing side of it.
What is in-house development?
Development in-house means hiring your own team to manage and create the app.
Your business will oversee the entire project from start to finish, without the involvement of any third parties.
Why would you keep your development in-house?
This is perfect for businesses who want to take total control of the development. You'll be able to address any problems quickly and easily, build team skills, and execute everything much quicker.
Which is more cost effective?
Mobile app development is a long term project that can cost you and your business a lot of time and money. Hiring a team in-house will cost you not only in fees, but insurance, holiday pay, and even other company incentives, too.
Passing your project to an outside team will stop you from having to hire new staff, and allow you to pay an upfront fee for all work undergone.
Many find this not only cheaper but less hassle when it comes to managing a whole new team. Staff members are also much more likely to stay with you if you keep the work challenging.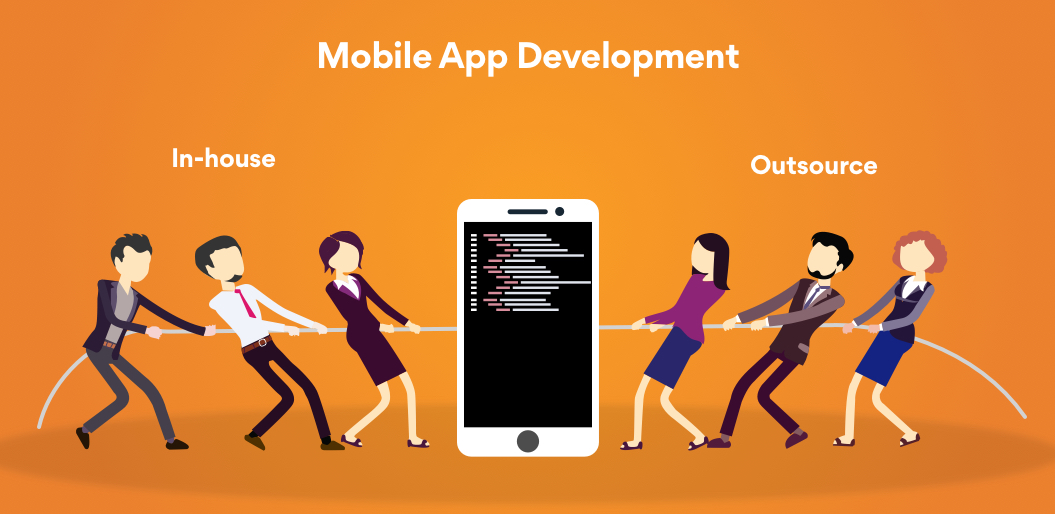 Which will result in quality results?
Mobile development is likely to be very time consuming if IT isn't your business' forte. Outsourcing your development means your project is left in safe hands, with a team working towards a tight deadline. Your teams can then work with their skills to get the best out of the app. For example, Digital Authority Partners suggest that staff from an e-commerce store will be able to focus on customer service, marketing and other efforts to boost your online sales.
Which holds the most risk?
Many managers struggle to delegate tasks to employees. Businesses can struggle to pass their work onto outside agencies in the exact same way. It's hard to trust others with something you're putting so much time and money into.
Luckily, many agencies now work with projects in chunks, sending examples and designs to the client regularly to check everything is going as envisioned.
If you find it particularly hard to trust others to take on work, then it might be best that you keep it in-house. This way you have complete control, and don't turn into a difficult client for someone else! However, if you're happy to outsource the project, simply check in with the team regularly to make sure they are creating exactly what you want.
Mobile applications generated over $77 billion in total by the end of 2017, compared to just $18.56 in 2012. You're playing with a lot of potential money when it comes to mobile apps, so it's best that you're confident with your team.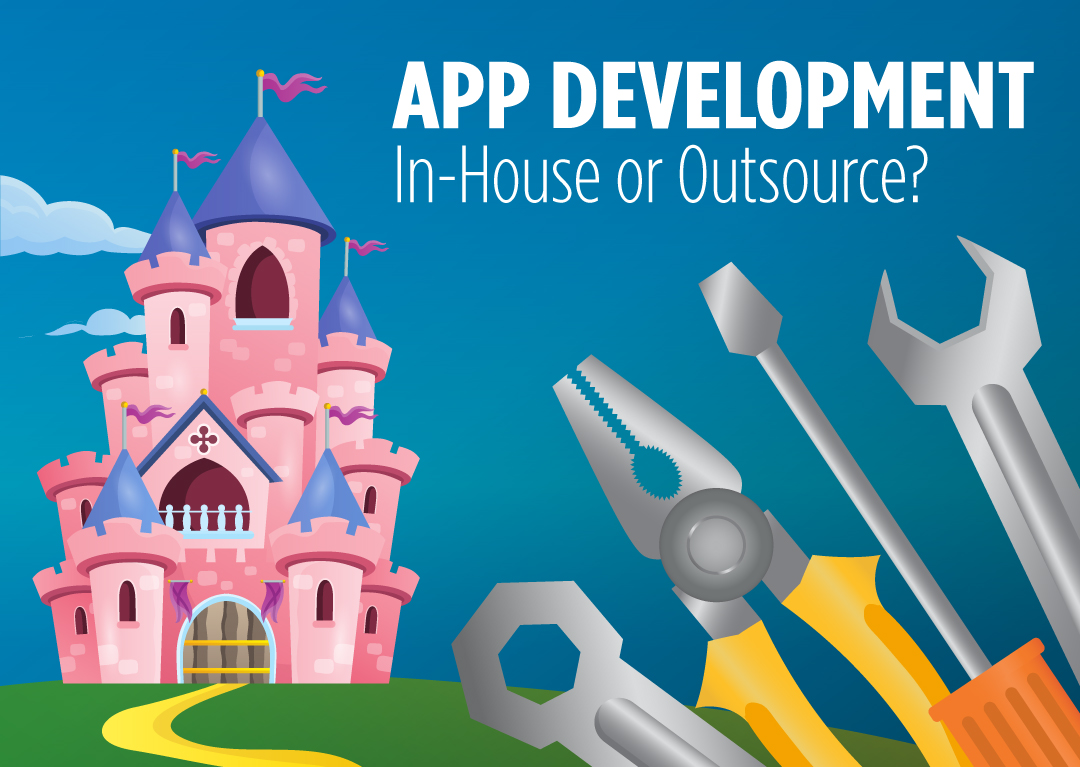 How about aftercare?
It's easy to think that once development is over, you're good to go for the foreseeable future. Many businesses don't realize that a fair amount can go wrong with mobile apps that will lead them to fail. An app that constantly crashes, is hard to use or has glitches will lead customers to discontinue use.
Working with an outsourced team will allow you to approach them for support with these issues at a fixed cost.
This means that even when something goes terribly wrong, a team can be working on it almost immediately. If your team is in-house, they may struggle to deal with issues straight away. After all, we all know it can be hard to build a mobile app.
Which is most efficient
The likelihood is that outsourcing will be much more efficient for mobile app development, especially when it comes to small startups. The time it takes you to get something on the market can be the difference between an amazing project and 'just another' app, especially if a competitor beats you to it. App agencies have a wealth of experienced designers on-hand, and there's no shame in turning to them if it will put you ahead of the competition and make you money. This means you and your team can pay more attention to marketing your app, which all starts with building a great site and landing page for it. 
The bottom line
Overall, if you are a business with limited staff, funds and time – outsourcing is going to be better for you. This means you can pass all of the development stress onto another team, giving you more time to focus on what you're good at and marketing your product instead.
However, if your business has the time and money available to invest in its own team, this may work out to be the best way to keep track of everything happening with the development and keep your unique app idea on the down-low!  By 2020, mobile apps are forecast to generate around 189 billion U.S. dollars in revenue. Make sure you're getting your app ideas out there now, no matter how you choose to develop them.