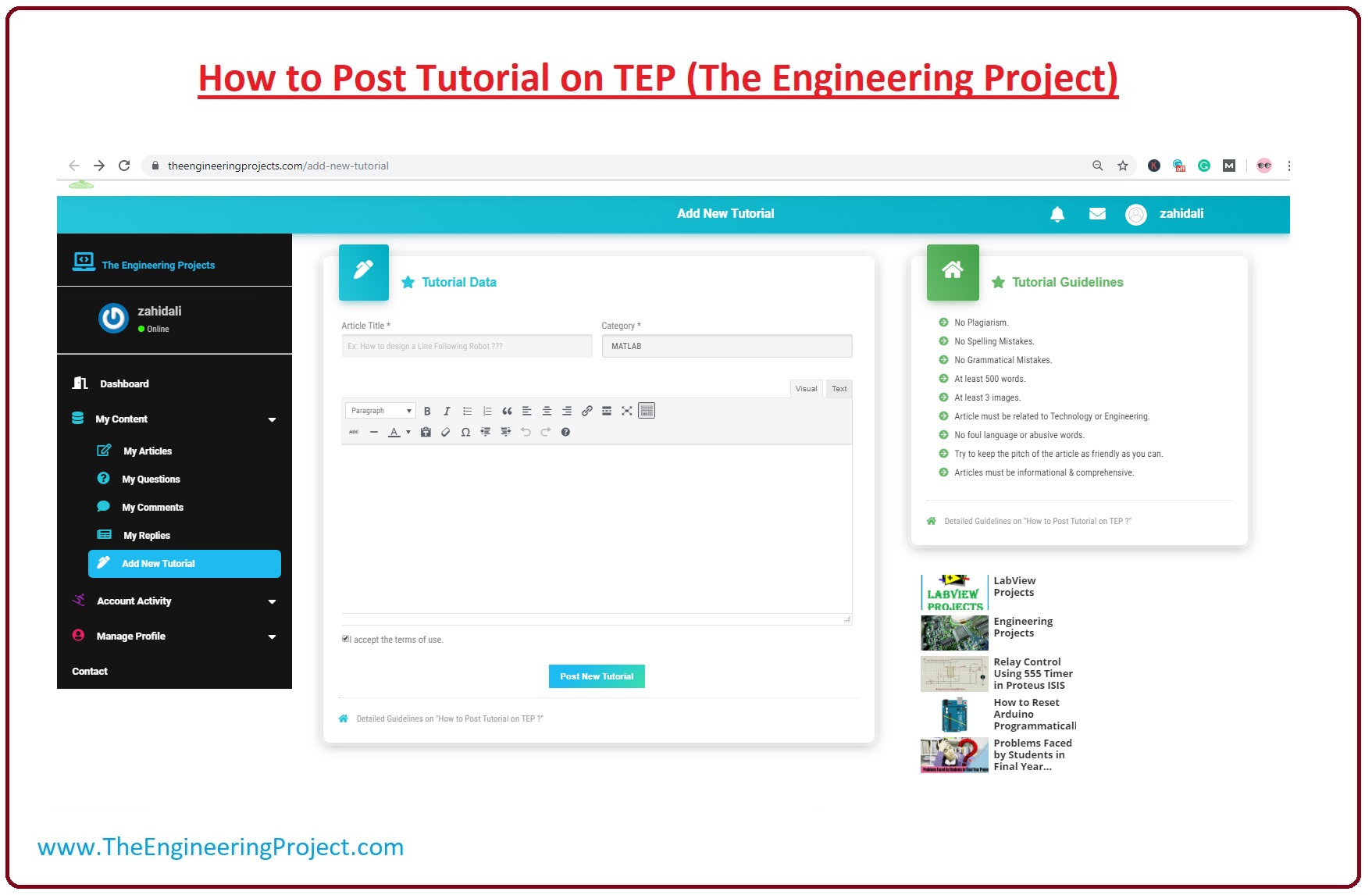 Hello friends, I hope you all are doing great. We are very excited to introduce something new for our website. Our team members were working on the website and finally we have launched this new feature. Now you can also become a part of this blog quite easily, by writing engineering tutorials & posts and can also publish your technical and engineering-related projects on our website. Guys, we hope that you are well aware of our website The Engineering Project. It is the platform where we provide different engineering projects and tutorials, for engineering students & professionals, to help them in their projects & products. In order to share your engineering experience, you just have to visit our website and click on the Add New Tutorial, first of all, you should have an account on our website which can be created very easily by just submitting some information like name, email address and password. After login to your account, you can easily share your technical knowledge with other people. So, if you are planning to start your first tutorial or project then please read through this guideline for once, so that your article successfully passed the moderation queue.
How to Post Tutorial on TEP
First of all, Register a New Account on TEP, if you haven't already created.
After creating an account, click on the Add New Tutorial and you will get something as shown in below figure: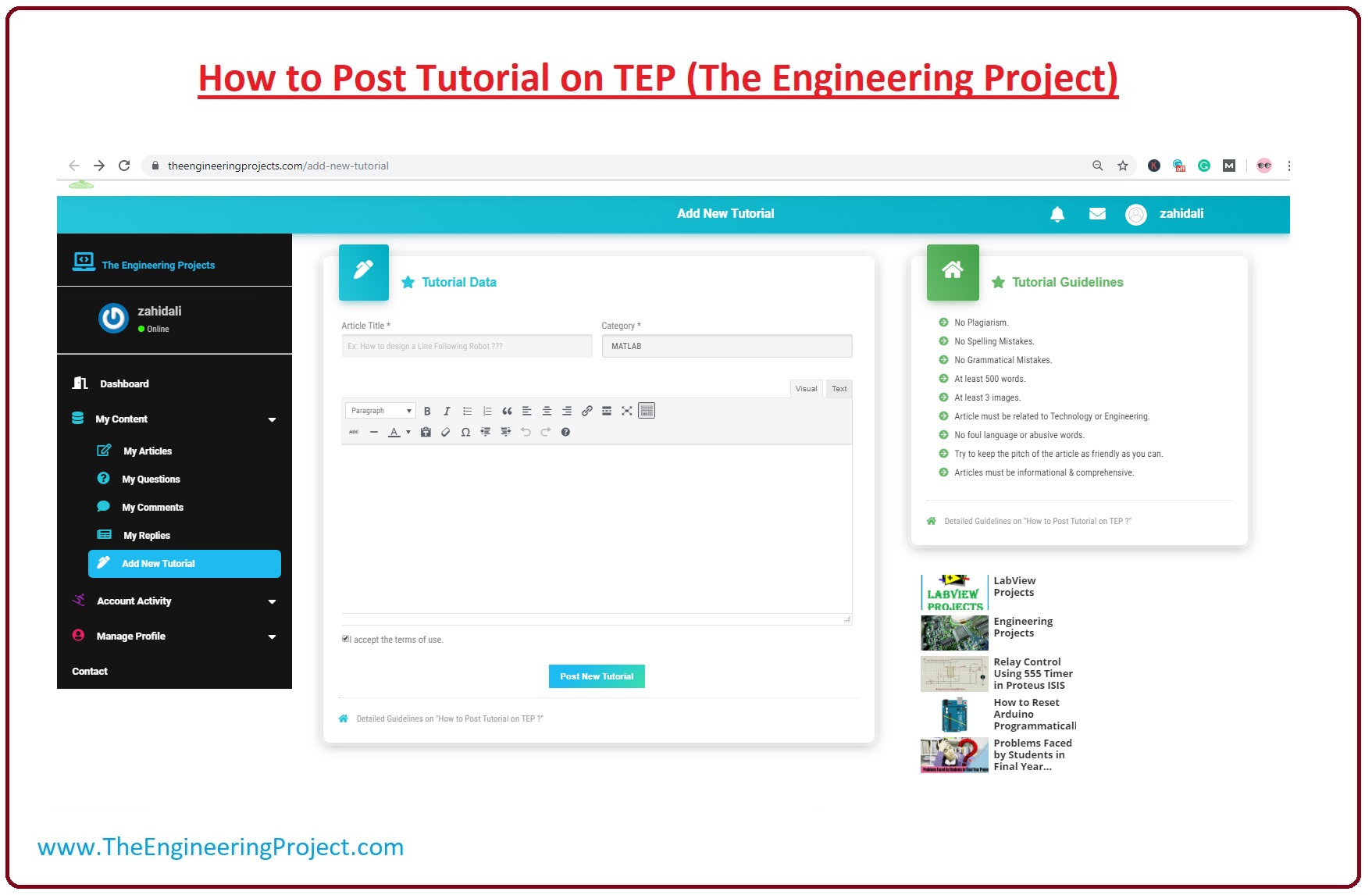 Here, you need to provide article name, category, and Article Body and then click on the Add New Tutorial button and your article will be ready to publish.
We daily receive dozens of requests and in order to maintain standard, we personally review every tutorial.
It normally takes 5 working days for tutorial to pass the moderation queue and get published, but if the tutorial needs any changes then we inform the writer via email.
We currently accepting tutorials related to below categories:

Arduino Tutorials
PIC Projects
Matlab Projects
Proteus Projects
MyRio Projects
Embedded Systems
Electronic Projects

You can also give suggestion about new categories which you think should be added in this list.
Rules to Write Article on TEP
As I have mentioned earlier, in order to maintain quality for TEP readers, we personally review each & every tutorial, so please follow these guidelines so that your tutorial won't stuck in moderation queue.
Please follow below guidelines:
There must be no plagiarism in the tutorial. Please try to avoid such article which is copied from other websites.
In the article, there should be no spelling mistakes. Try to avoid such type of mistake because if there are lots of spelling mistakes in article you can not deliver your knowledge to others comprehensively. After writing your tutorial, please proofread it to avoid spelling mistakes, you can also use different free tools to check the spellings.
Please try to avoid the grammatical mistakes, if you do these mistake you can not express your ideas properly to others. For removal of these mistakes please read the article again and again, or you can solve these problems by using some online tool.
The length of the article should be at least 500 words, there's no upper limit.
You should also have to add at least three pictures related to the article, which must be well designed, eye-catching and easily understandable.
As you already know that our website is related to engineering and technology so try to write such articles which have a technical background.
Please try to avoid abusive language and harsh words.
Article should be informational & comprehensive.
Article Formatting on TEP
If you are an engineer, then you must be aware of the fact that "Presentation is the key to success".
Till now, you have learnt the rules and regulation for writing tutorial on TEP, now let's have a look at How to make it pretty and presentable.
Heading Option:
In the figure below, you can see the paragraph option when you click on it there are lots of heading option like, Heading 1, Heading 2, Heading 3, Heading 4, Heading 5.
Visual Option
In the visual tab, there are many options which you can use to write and add different formatting on your post. Let's discuss them one by one.

Bold (B): This option for to bold text, you can bold different important points in your blog by using this option.
Italic Option (I): By using this option you can change your font style. This option is used to emphasize some point in the post.
Bulleted List: By using this option you can add different points in your post.
Numbered List: Using this option you can give numbering to different points and heading in post.
Blockquote: You can write some important points in the blockquote.
Align Left: You can set the alignment of your text to the left side of the posting page.
Center Align:  You can set your text in the centre of the page by this option.
Align Right: You can align your text on the right side of the page.
Insert Link: By this option, you can add links of your previous articles to new articles.
Special Character: You can use this option to write special letters like <, =, ?, ?, etc.
Text Option: 
Guys if you are a programmer or have knowledge of different programming languages text option is for you.
How to Send Posts to the TEP Team
Guys till now you have learned different regulation about post writing on the TEP and how to write the post.
The main thing after the written post is that how we will get your post it is very simple you just tick the (I accept the terms of use) option and then click on the post new tutorial option.
How to Edit Users Profile on TEP
Till now you have learned about article writing on the TEP one thing more you should know as you are the members of TEP, you should also know about your profile.
In the given diagram, a profile of the user is shown and its some option you can see are described here.
First, you can see the Dashboard option on this page all of your written posts will be saved and you can also write a new post in the dashboard by clicking on the new post.
There are some options of Dashboard are described here.

My Articles: In this option, your already written posts are saved and in future, you can write posts and save here. You can edit them whenever you want in the future.
My Questions: In this option, you will read the question asked by the reader of your posts, you can also guide them further about your article.
My Comments: In this option, you will receive the comments on your posts.
Add New Tutorial: You can write a new article by using this option.
Account Activity:
When you click on this option you will see two more option which is described here.

My Activity: By using this option you can see your previous articles very easily and in which month you write them.
My Notifications: In this option, you can read different notifications on your posts by date and name of the previous article.

Manage Profile: In profile option, you can edit your personal information like your account name, email, and password. The further you can edit are listed here.
How to Contact With the TEP Team
If you are facing any issue related to posts writing or some other problems, you can ask for help very easily. Our contact details are given here: E-mail:
info@theengineeringprojects.com
support@theengineeringprojects.com
help@theengineeringprojects.com
You can also contact us by solving the contact us form which is available at the home page.
Guys, it is the detailed article on How to Post Tutorial on TEP (The Engineering Project) and share your knowledge with other people. Each and everything to write a post on TEP is clearly mention in this article if you have any problem you can ask in comments. Our team members will help you thanks for reading. Take care...