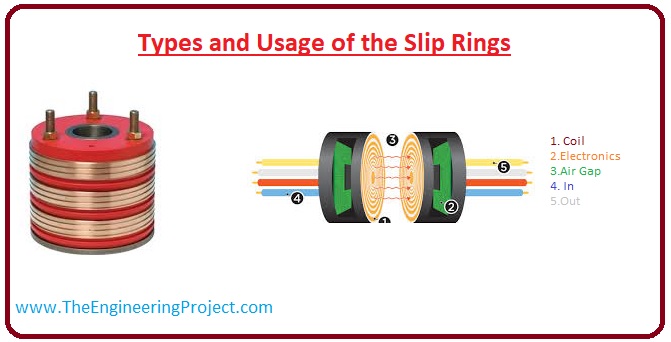 Hello friends, I hope you all are doing great. In today's tutorial, we will discuss the Types and Usage of the Slip Rings. Slip rings are an essential part of any system that has or does rotation as a part of working. At the center of any automation system, an electric slip ring is responsible for the transmission of current from a static device to a rotating one. They are used almost with every machine that requires power and data connectivity. It is because of this reason slip rings have a significant impact on equipment consistency, action, and performance. Slip rings enrich the mechanical-performance of the mechanism, modernize system utility, and eliminate damage-prone wires dangling from revolving joints. Slip rings are also known as rotatory linkages, swivels, and commutates. A slip ring encompasses brush blocks, which are coordinated and available as a pair of the ring and a brush. These days almost every product has a slip ring in them. There are all kinds of the slip rings available in the market like collecting ring, high-speed slip ring, disk electric conduction slip ring and many more. Each slip ring has a different purpose and use. In today's post, we will have a look at different types of slip rings and their uses. So let's get started with the Types and Usage of the Slip Rings.
Types and Usage of the Slip Rings
Wireless Slip Rings
They don't rely on procedures approved using carbon contact brush and resistance based metal in slip rings.
As an alternative, they rely on the transformation of data and power wirelessly utilizing the electromagnetic field.
It is produced using the coils that are positioned in a revolving receiver and immobile receiver.
Pancake Slip Rings
In the pancake slip ring, electrodes are located on the flat disc. They are the kind of concentric rings that are positioned at the inner of the rotating shaft.
This arrangement possesses a high burden and advanced capacitance and gathers wear remain on its vertical axis proficiently.
Mercury Wetted – Slip Rings
They are distinguished for their steady connection and their low-slung resistance.
Here sliding brush contact is substituted by a pool of liquid metal that is confined to links.
During the spin, the liquid metal starts a linkage amongst a rotating and immobile contact.
Pneumatic slip ring
This slip ring is used to transport pneumatic pressure or void from a static inlet to a rotating outlet. Meanwhile stabilizing and separating the liquid connection while rotating 360.
Fiber Optic Slip Rings
Also known as Fiber Optic Rotatory Joints, they are to pass signals across spinning interfaces when a large amount of data is being transmitted.
Fiber optic Rotatory Joints maintain essential benefits of fiber from end to end.
They are mainly used to transmit two way and four-way fiber optic connectors. Because of this, the design should be carefully crafted as the fiber's diameter is small moreover single-mode fiber's diameter is just 9nm.
USB Slip Rings
USB slip rings are used to get a USB signal from the static part to the moving part when it is moving 360 continuously.
At the same time, it also assures that the USB wires don't become twisted with each other.
Ethernet Slip Rings
Ethernet slip rings are a revolving electrical device the purpose of which is to transfer power while controlling circuits or data from static inlets to revolving outlets.
Large Current Slip Ring
Large current slip rings are used to transmit high power and large current from a static part to a revolving one.
While doing that they preserve and isolate the electrical connection. They also function as revolving connectors when a high amount of current it requires.
Miniature Slip Rings
These are small slip rings designed to meet the requirements of small devices in which there is a need to transfer power and signal from an immobile to the revolving component.
Given their small size they are ideal for electrical devices like sensors, video transmitters, and control panels.
Waterproof Slip Rings
The waterproof slip rings are used in an environment where there is a presence of moisture, corrosion and in underwater systems.
Conferring to the operational environment, the waterproof slip ring could be classified into various fortification grades, such as IP65, IP67, IP68 and many more.
Capsule Slip Rings
They are best used for applications where signal and power transmission is required. Also where a compressed footprint along with the low cost is essential.
They are a blend of concentrated scope and high function making them perfect for video and other stimulating transmissions in which space is critical.
Slip rings are one of the most crucial parts of an automatic system that has a rotating motion. Hence their performance directly relates to the consistency of the whole system which runs even during routine operations. So, it is the detailed article on the types and usage of the slip ring, if you have any question about slip ring ask in comments. Thanks for reading. Take care until the next tutorial.