Hello friends, I hope you all are doing great. In today's tutorial, we will have a look at
Introduction to PT2272. 
It is a CMOS (complementary metal-oxide-semiconductor) that use to design simple wireless controlling of instruments installed at some distance. This module is normally used for controlling the circuits of garage door, speed control of the fan, robots and for monitoring the alarm connected at different places for security purposes.
This integrated circuitry uses non-variable code address and no built-in encryption due to these parameters it not used for such circuits where high security is need but uses only for small or less cost security circuits such as used in home security alarms etc. In today's post, we will have a look at its working, pinout,  applications and some other related parameters. So let's get started with the Introduction to PT2272.
Introduction to PT2272
The PT2272 is a decoder coupled with the PT2262 use the complementary metal-oxide-semiconductor technique.
The use of PT2262 with this module to work as a transmitter for the PT2272 that work as a receiver and decodes the data sent by the transmitter.
The output pinouts of this module are transistor-transistor logic that can be connected with the other circuitry and microcontroller.
The operating voltage of the transmitter (PT2262) is five volts to twelve volts dc and the operation voltage of PT2272 are also five volts dc.
This module consists of twelve bits of tri-state address pinout that offers three hundred twelve address codes.
This module has features like large no of output data pinouts, latching and temporary output.
The complementary metal-oxide-semiconductor technique (CMOS) technique used in this module offered the use of less power, less sound to noise ratio, twelve tri-state address pinouts, six data pinouts many ranges of voltages operation.
This integrated circuitry is the finest option for security circuits used in different vehicles like cars, door alarm, robotic controls and some other home automation circuits.
Pinouts of PT2272
Now we discuss the pinouts of PT2272 with the detailed, that is described here with the detail.
Pin No:
Pin Name:
                                        Parameters
A0 to A5
Input pinout
These pinouts are address pinouts. All these six pinouts are used to get input coming from the transmitter and then encode the data.
A6/D5 ~ A11/D0
Input and output pinouts
These 6 pinouts are used for such data that has a large number of bits and also on the type of PT2272 module used.
DIN
Input pinout
When these pinouts are operating as inputs, these pins behave as tri-state input pinouts and every pin can set at the three different levels one, zero and floating.

If we use these six pinouts as

When used as output pins, these pins are driven to
VCC if (1) the address decoded from the waveform
that was received matches the address setting at
the address input pins, and (2) the corresponding
data bits received is a "1" bit. Otherwise, they are
driven to VSS.

OSC 1
input pinout
It is oscillator pinout no one.
OSC 2
Output pinout
It is oscillator pinout number two. A specific value of resistance connected among them finds the value of the fundamental frequency of PT2272.
VT
Output
This pinout is used for the output gain
VCC
–
At this terminal positive input is provided.
VSS
–
This terminal is used to provide a negative supply.
NC
–
This is open pinout.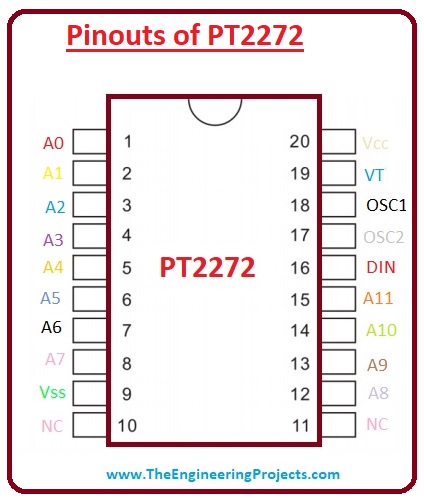 Features of PT2272
These are some features of PT2272 that are described here with the detailed.
This module used complementary metal-oxide-semiconductor (CMOS) technique.
This module used a small amount of energy for its operation.
Its provides larger immunisation from the noise.
This module has twelve tri-state code address pinouts.
This module has six data pinouts.
Its operating volt re from four to fifteen volts.
This module also consists of a single resistance oscillator.
It is also available in dual in-line package and in small outline package.
Its operating span is from five volts to twelve volts.
Its input voltage is five volts dc.
This module has already assembled light-emitting diode on its assembly.
This module also has four outputs of transistor-transistor logic.
Its transmitter is dimensions are thirty-six milli-meter by twenty-six milli-meters.
Its receiver dimensions are forty-five to twenty-six millimetres.
Absolute Maximum Ratings of PT2272
Now we discuss the ratings of PT2272 with the detailed.
| | | |
| --- | --- | --- |
| Parameter | Symbol |                                       Rating |
| Input Voltage | Input voltage denoted as VI. | The value of these voltages is -0.3 VCC+0.3 volts. |
| Supply Voltage | Denoted as VCC | The value of voltage is -0.3 to 16 volts. |
| Storage Temperature | This temperature denoted as Tstg. | The temperature value is -65 to 150 Celsius. |
| Operating Temperature | It denoted as Topr. | Temperature value from -40  to +85 celsius. |
| Output Voltage | This voltage denoted as VO. | This temperature is from -0.3 VCC+0.3 volts. |
DC Electrical Features of PT2272
Now we discuss the pinouts of PT2272 with the detailed, that is described here with the detail.
Parameter
Symbol
                   Conditions
Supply Voltage
This voltage denoted as VCC.
                      –
Stand-by Current
This current is denoted as ISB.
The conditions for this voltage is VCC is twelve volts.
DIN is zero volts.
OSC1 is zero volts.
DOUT Output Driving Current
It denoted as IOH.
The voltage VCC is eight volts.
The voltage VOH is four volts.
DOUT Output Sinking Current
It is denoted as IOL.
The value of VCC is five volts.
The value of VOH three volts.
"H" Input Voltage
This input voltage is denoted as VIH.
VCC
"L" Input Voltage
VIL
VCC
Applications of PT2272
These are some applications of PT2272 described with the detailed.
It uses in circuits of a different security system.
It is used in circuits of automatic on and off of garage door circuits.
It used for the automatic control fan speed circuits.
Security circuits of home.
It used in different robotics circuits.
It used in industries for the control of different machines.
It is the detailed tutorial on the PT2272 if you have any question about it ask in comments thanks for reading.