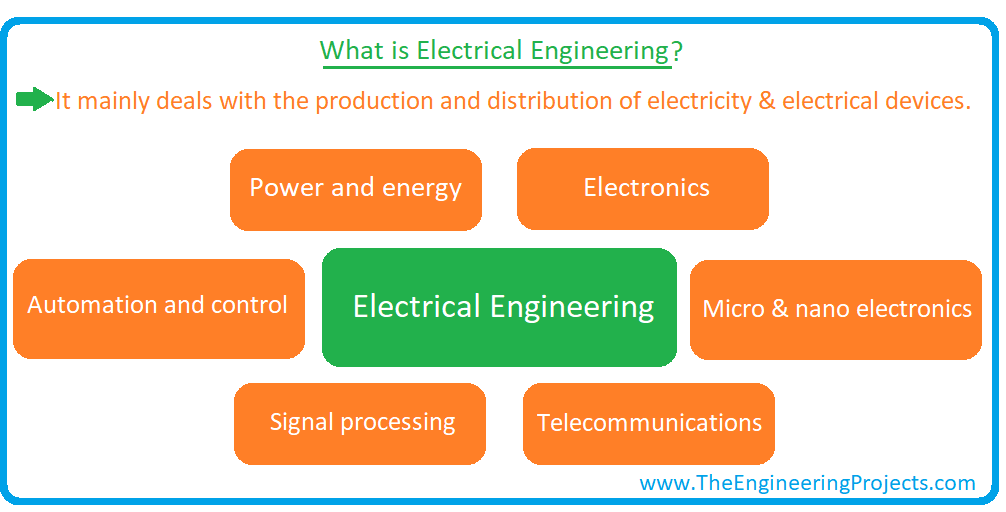 Hello friends, I hope you are having a good time. In today's tutorial, I am going to discuss detailed information about what is Electrical Engineering? We will cover the following contents; Electrical Engineering fields, major & minor courses, Scope, Jobs, Salary, famous electrical engineers & their contribution and top universities offer Electrical Engineering degree. Before further discussing our topic, let me ask you a question. Did you ever imagine your life without electricity? We can't, right? That's why, I always find electrical engineering the most developed and broad field of engineering, provides thousands of job opportunities in different companies. For example, from smartphones to power generation houses, electrical engineers are required by companies everywhere.  Are you also interested in the development and designing of electrical devices? Then, I'm sure this tutorial is for you. Now, let's come to the point: what is Electrical Engineering?
What is Electrical Engineering?
Electrical engineering (the engineering discipline) deals with the production & distribution of electricity as well as designing & developing complex electrical systems.
Electrical engineering also involves the term electronics engineering, deals with electronic circuits (i.e. transistors, integrated circuits etc.), While the electrical engineers work with high power generation.
Electrical engineers gets highly paid jobs in renewable energy projects, lighting & transport systems, power production & transmission etc.
Major courses of Electrical Engineering
Every university has a different curriculum but there are some major subjects, common in almost every electrical engineering syllabus. Let's discuss them out:
Electrical Machines: This subject is all about AC and DC motors and generators.
Power Systems: This subject teaches you about generation & distribution of electricity from Power house.
Control System: In this subject, you will learn about how to control, manage and regulate the electrical system and devices using various control loops.
Basic Electronics & communication subjects: This course will focus on analog & digital communications and electronic circuit.
Network Theory/Signal: This course focuses on teaching you the basic electrical principles.
Some other major subjects are:
Introduction to Engineering.
Basic electronics.
Power Engineering.
Electrical Machines theory.
Circuit Theory.
Computer Architecture.
Non-conventional energy.
Electrical installations.
Electrical machines drawing.
Power Circuits and Systems.
Electrical control system.
Digital Systems.
Electrical lighting..
Microprocessor Applications.
Electric Circuits.
Microprocessor.
Principles of Programming.
Switch gears and protection.
Electromagnetics.
Electrical instruments & materials.
Signals and Systems.
Microelectronic Circuits.
Communication Systems.
Minor courses of Electrical Engineering
Minor courses also depend on university or also the choice of students. Let's discuss some common minor courses choose by electrical engineering students.
Minor Courses of Electrical Engineering

Logic Design
Dynamic System Theory
Signals & Systems
Introduction to Learning from Data
Control Systems
Stochastic Processes
Electronics
Wireless Communication
Analog Electronics
Digital Communication
Machine Learning
Digital Signal Processing
Communication Systems
Introduction to Information Theory
Electrical Energy Systems
Speed Processing
Electromagnetics
Digital Image Processing & Communication
Physics of Semiconductor Devices
Computational Optical Imaging
Deep Learning
Optical Fibers and Waveguides
Optimization Theory and Methods
Introduction to Subsurface Imaging
Sustainable Power Systems
Lasers and Applications
 Introduction to Biomedical Optics
Computational Methods (Materials Science)
Optical Spectroscopic Imaging
Solar Energy Systems
Introduction to Photonics
Physics of Semiconductor Materials
Engineering Optics
Semiconductor Devices
Electromagnetic Fundamentals
 Electronic Optical & Magnetic Properties of Materials
Fabricating Technology for Integrated Circuits
Analog VLSI (Circuit Design)
Nano & Micro-Electronic Devices Technology
Analog Design Fundamentals
Branches of Electrical Engineering
Let's find out some popular fields of electrical engineering and briefly discuss them.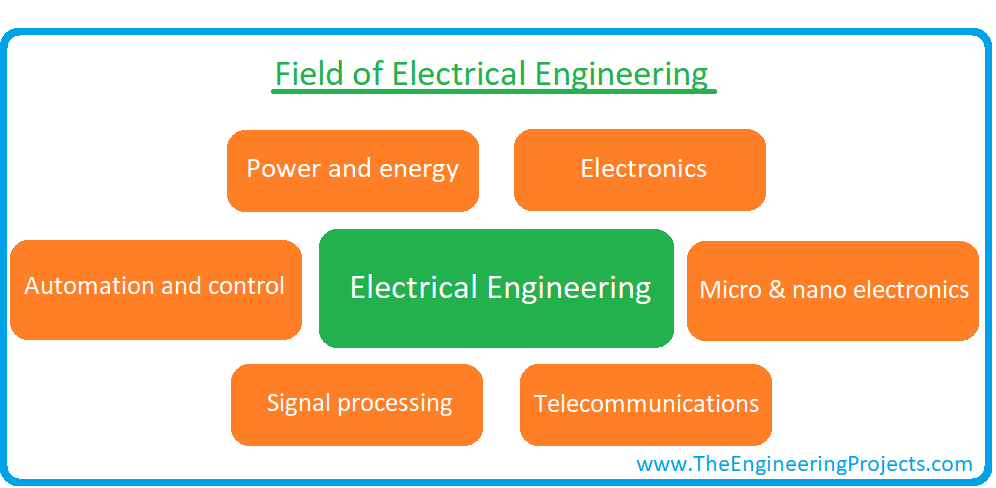 1. Power and energy
Let me tell you, this field of electrical engineering, mainly deals with the generation and transmission of electricity on large scale.  Further, this is also working on the manufacturing of electrical generators, electrical motors and transformers. They also focus on the projects under governments such as power grid.
2. Automation and control
This field is actually all about developing, controlling different complex systems as well as controllers, and is responsible for their proper functioning. To design such controllers, they take helps form electrical engineers. The control engineers have all over in the airliners as well as in the modern automobile companies. They also work in designing robotics using control algorithms.
3. Electronics
Electronic engineers are focusing on the designing of integrated electronic circuits & their components, transistors, capacitors, resistors, diodes and many more.
4. Microelectronics and nanoelectronics
They deal with the fabrication and designing of micro size electronic circuits components; such as semiconductor transistors.
5. Signal processing
They are working on the analysis techniques and testing of communication signals. It may be analog signals or digital signals. In the case of analog signals, the signal processing mainly relates to amplification and filtering for telecommunications. Besides, In digital signals, signal processing involves in compression, detection of error & correction of error.
6. Telecommunications
They focus on the communication channels in space through coax cable, optical fiber or free space. Some other popular fields of electrical engineering are:
Radio-frequency engineering.
Electronics.
Systems engineering.
Computer engineering.
Photonics.
Telecommunications.
Signal processing.
Power engineering.
Optics.
Instrumentation.
Electrical Engineering jobs and salaries
We have already discussed the fields of electrical engineering. According to BLS, mostly electrical engineers getting hired by research & development companies and popular engineering industries. Moreover, the federal government and other manufacturing industries are also interested in young electrical engineers. Electrical engineers generally worked indoors in any company, but the experienced & senior engineers may also get the position of just visiting sites.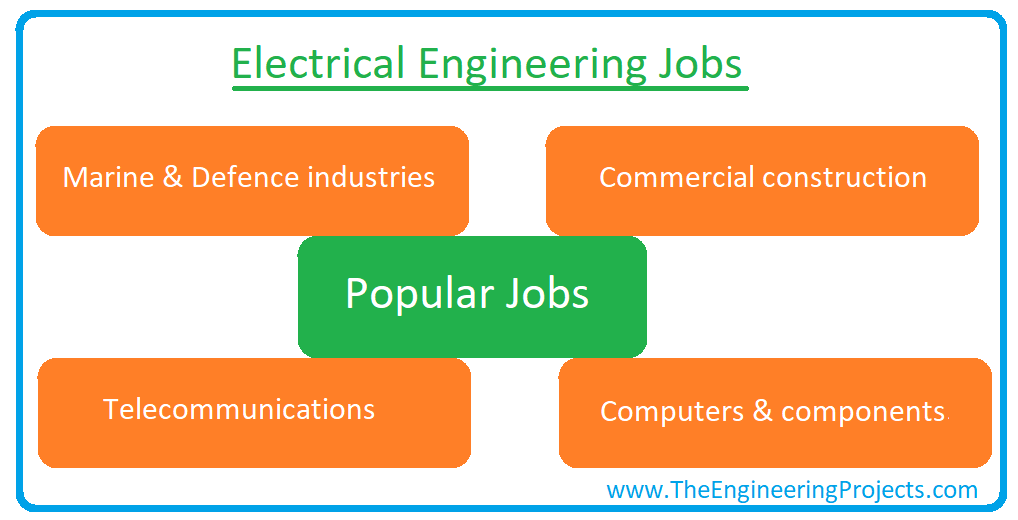 The manufacturing industries hired electrical engineers are:
Defense.
Marine.
Commercial construction.
Computers & components.
Automotive.
Lighting.
Aerospace.
Consumer electronics.
Telecommunications & traffic control.
Railroad.
There are also government departments, offer employments to electrical engineers in national laboratories, transportation departments as well as in the military. As you are well aware, each company has its own qualification criteria for job. Some firms need bachelor degree in electrical engineering.  But a master degree will enhance the chance of promotion and salary. Most importantly, most famous companies require the certificate from good institutes such as Institute of Electrical and Electronics Engineers or Institution of Engineering and Technology. Let's talk about the estimated salary of an electrical engineer. In 2014, the estimate salary range of a bachelor degree holding electrical engineer was $55,570 to $73,908 according to research. The electrical engineers holding master degree with 5-10 years experience were paid with $$74,007 to $108,640. Additionally, a senior engineer with 15 years of experience with a doctorate degree was getting $97,434 to $138,296 salary. This is amazing; isn't it?
What are the Key Skills of Electrical Engineering?
Common skills gained with an electrical engineering degree include: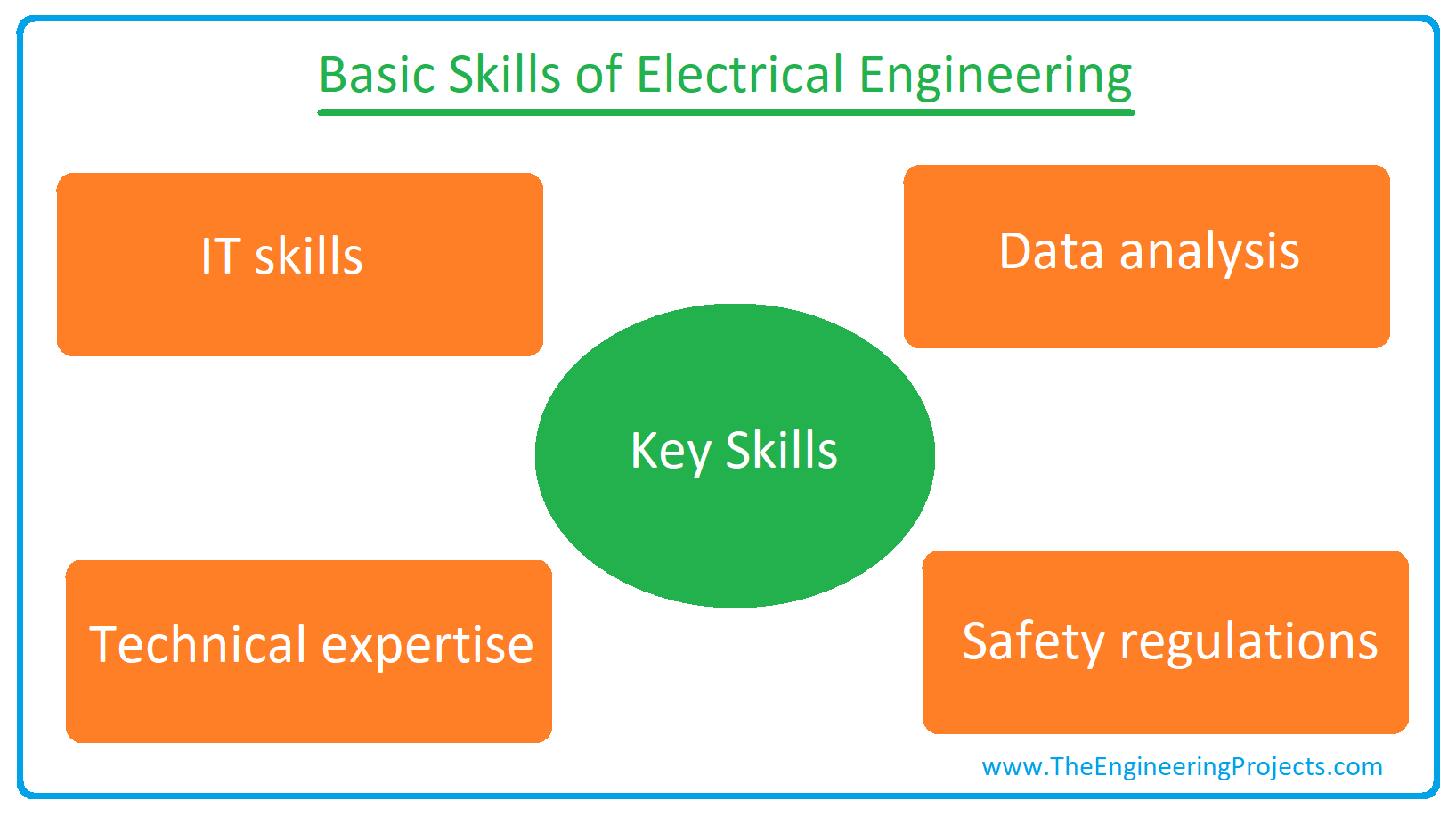 Develop a strong numeracy.
Provides basic IT skills.
Technical expertise.
Self-management (such as planning & meeting deadlines).
Allow to design and analyze technical diagrams.
Teach how to do Team work & communication skills.
Allow the flexibility.
Make you able to identify and solve problems.
Budgeting.
Professional communication, spoken and written.
Data analysis.
Deeply understanding about how to deal with high electrical power systems & safety regulations.
Provide awareness of other stuff; such as business and environmental issues.
Top reasons why you should choose Electrical Engineering?
1. Job opportunities
The famous companies all over the world are hiring young electrical engineers, give then good training with a great salary package. That's why I think, this is one the most valued profession.
2. Bright job offers from abroad
Getting an electrical engineering degree, means you have a lot of job opportunities all around the world. A lot of technical firms are willing to hire people from other countries. Well! I must say, you will have a bright future ahead.
3. Other specialized fields
It may seem like doing an electrical engineering means you are just going to deal with electricity. But, the truth is, you will definitely have chances to learn about other specialization fields such as;
Signal Processing.
Power Engineering.
Telecommunications.
Microelectronics.
Control Systems.
Radio-Frequency Engineering.
4. Get chance to study top universities
Getting a degree from a well-known university has a strong impact on your future. Many companies also hire stud nets graduates from good universities. There are so many famous universities offering this degree bachelor as well as master throughout the world. These universities not only provide you high level engineering skills but also groom your personality. Let me enlist some top universities of 2021.
University of Portsmouth; U.K.
Chalmers University of Technology; Sweden
University of Birmingham; U.K.
University of Leeds; U.K.
University of Colorado Denver; U.S.
University of Twente (UT); Netherlands
Massachusetts Institute of Technology.
University of California; Berkeley.
California Institute of Technology.
Georgia Institute of Technology.
Stanford University.
University of California; Berkeley.
California Institute of Technology.
University of Illinois; Urbana, Champaign.
Georgia Institute of Technology.
University of Texas; Austin (Cockrell)
Carnegie Mellon University.
University of Michigan; Ann Arbor.
Tsinghua University; China
Harbin Institute of Technology; China
Aalborg University; Denmark
Nanyang Technological University; Singapore
Southeast University; China
National University of Singapore; Singapore
University of Technology Sydney; Australia
Zhejiang University; China
University of Electronic Science and Technology of China; China
Huazhong University of Science and Technology; China
Popular Electrical Engineers and their Contributions
There are so many great electrical engineers who contributed in this field. Let's discuss a few of them for your better understanding with electrical engineering.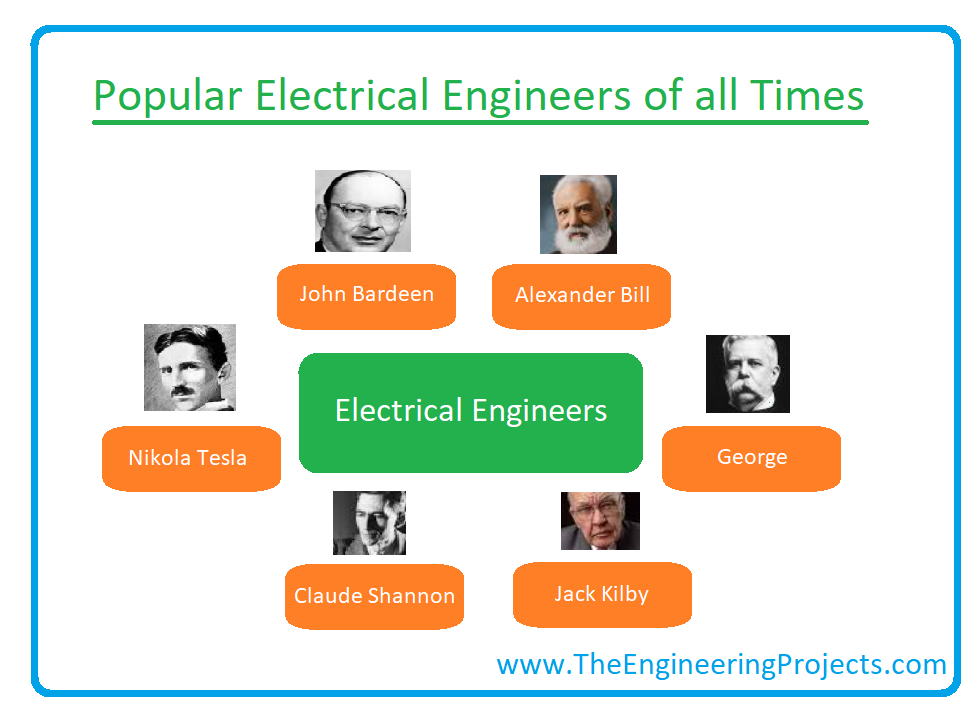 Popular Electrical Engineers of all Times

 No.

Name

Contributions

1
Otto A. Knopp
He is the founder of standard transformers testing as well as compensation winding.
2
A. K. Erlang
He worked on communication signals and queuing.
3
Alan Blumlein
He was one of the greatest electrical engineer invented telecommunications, radar system, stereo, television and sound recording.
4
Albert H. Taylor
Was the first engineers, demonstrated the radar.
5
Alec Reeves
He was the inventor of pulse coding & modulation.
6
Alfred Rosling Bennett
He discovered the electric lighting & telephones.
7
Alessandro Volta
He invented electrical battery.
8
André Blondel
He worked on oscillography and give electrical machine theory.
 9
Andy Bechtolsheim
He has contribution in the invention of sun Microsystems
 10
Arnold Orville Beckman
Discovered pH meter, Beckman Instruments and Silicon Valley.
 11
Hugo Hirst
He was the co-founder of General Electric Company plc.
 12
Bern Dibner
He is the founder of Burndy Co., electrical connectors,
I want to enlist some more famous electrical engineers.
| | |
| --- | --- |
| Charles Frederick Burgess | William Duddell |
| Alan Archibald Campbell-Swinton | Allen B. DuMont |
| John Renshaw Carson | J. Presper Eckert |
| James Kilton Clapp | Thomas Edison |
| Edith Clarke | Cyril Frank Elwell |
| Lynn Conway | Douglas Engelbart |
| Seymour Cray | Justus B. Entz |
| Sidney Darlington | Lloyd Espenschied |
| Lee de Forest | Federico Faggin |
| Jack Dennis | Michael Faraday |
Popular books of Electrical Engineering
There are a vide variety of books about electrical engineering.  A good book about this field will better help you to understand it. Here are some book, I want to recommended.
Automation and Robotics.
Introduction to Electronic Engineering.
Essential Engineering Mathematics.
Introduction to Power Electronics.
Electronic Measurements: Exercises and Assignments.
Electrical Power.
Control Engineering Problems with Solutions.
Concepts in Electric Circuits.
Nuclear Powered Generation of Electricity.
Three Phase Electrical Circuit Analysis.
Essential Electromagnetism: Solutions.
Electromagnetism for Electronic Engineers.
Advanced Topics in Electrodynamics.
Fundamental Engineering Optimization Methods.
Essential Electromagnetism.
An Introduction to Nonlinearity in Control Systems.
CMOS Integrated Circuit Simulation with LTspice.
Electric Drive Dimensioning and Tuning.
Essential Electrodynamics: Solutions.
Introduction to Digital Signal and System Analysis.
Thermal Modelling of Electric Machines.
Essential Electrodynamics.
I hope this article helps you to better understand electrical engineering, its scope, fields, popular books and top electrical engineers & their contribution.