Hello friends, I hope you all are doing great. In today's tutorial, we will have a look at a detailed overview of Periodic Table. Understanding the Periodic Table is one of the nightmares everyone had once in a lifetime, don't fret! I was one of those people too. Today I would be breaking down this complex topic into smaller digestible chunks. Before diving deep into the topic let me introduce you to the fact that atomic number is more reliable than the atomic mass of an element, every element has a fixed atomic number and it increases by a value of 1 with every element in the modern periodic table, that is the reason why we use Atomic Number instead of Atomic Mass as the base of the modern periodic table.
History of Periodic Table
Rome wasn't built in a day, in the same way, the modern periodic table isn't the product of a single effort from a chemist or two, it took two centuries to complete. The older version of periodic table was based on Atomic Masses by Dimitri Mendeleev, Many scientists contributed to the formation of the periodic table such as:
Doberiner presented the idea of Triads when he observed the relationship between the atomic masses of three elements. Within a Triad the central element had the atomic mass equal to the average of two corresponding elements.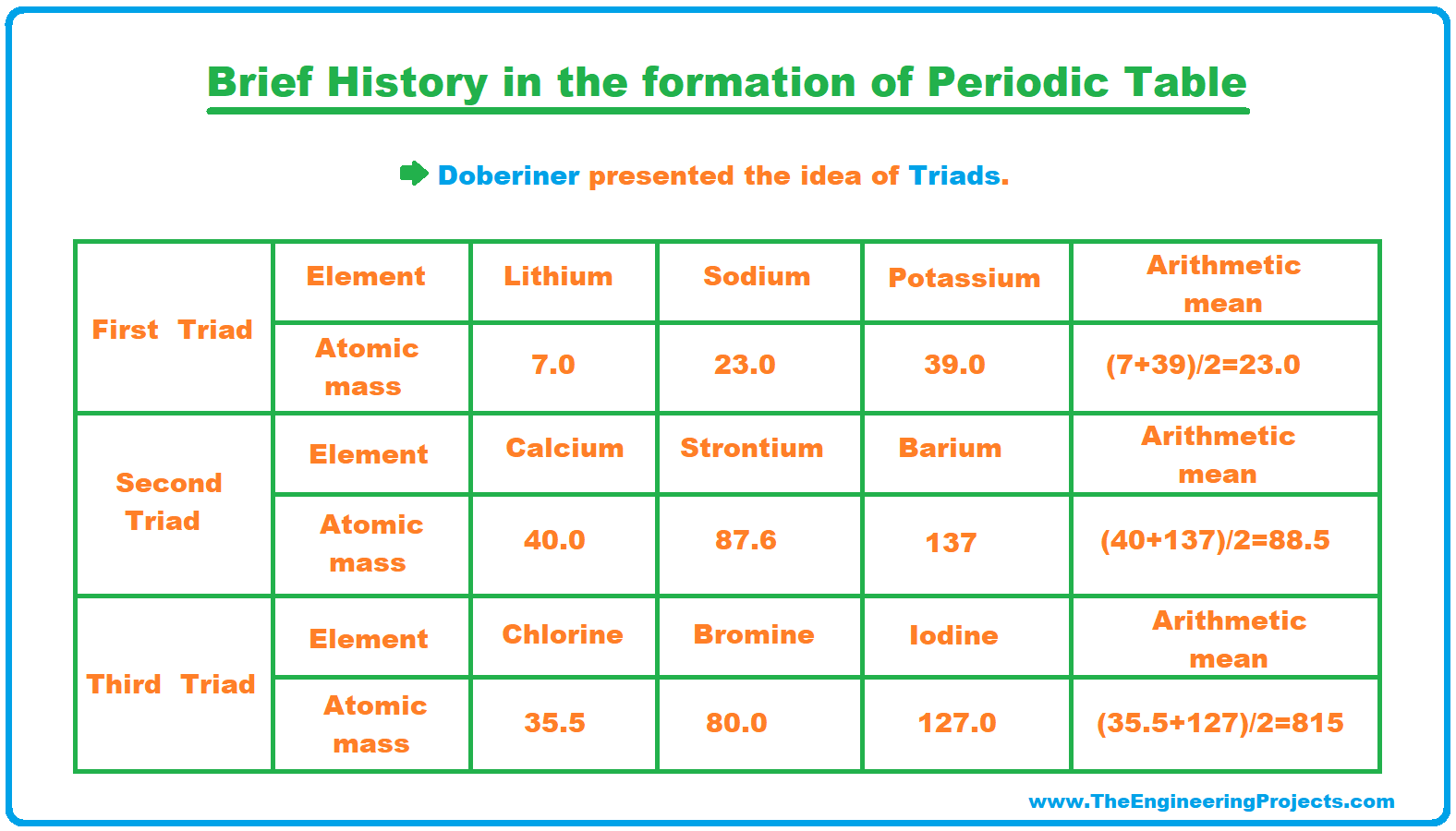 Newlands proposed the Law of Octaves in 1864 when he observed the repetition of properties in every eighth element, when elements were arranged in an order of increasing atomic masses.

Later on, after the discovery of atomic numbers by Henry Mosley in 1913 and some new elements modern periodic table is now based on the increasing order of atomic numbers which was proposed by Henry himself when he discovered atomic numbers. Let's have a look at the proper definition of periodic table:
Periodic Table Definition
Let's start with its basic definition;
Periodic Table is the tabular arrangement of elements in the order of increasing atomic numbers, Hydrogen having the smallest atomic number, meanwhile, Oganesson having the highest atomic number of all.
The vertical columns from top to bottom are called Groups in the periodic table, which are 18 in number.
The horizontal rows from left to right are called Periods. There are 7 periods in the Periodic table.
Here's the image showing the modern Periodic Table:
Arrangement of Modern Periodic Table
The periodic table has 118 elements till now, we can figure out a lot of things about an element just by looking at it, such as:
Atomic weight is present at the top right corner.
Atomic number is at the top left corner.
Electronic configuration of valence shell can be seen at the bottom left corner.
Consider the following example for better understanding: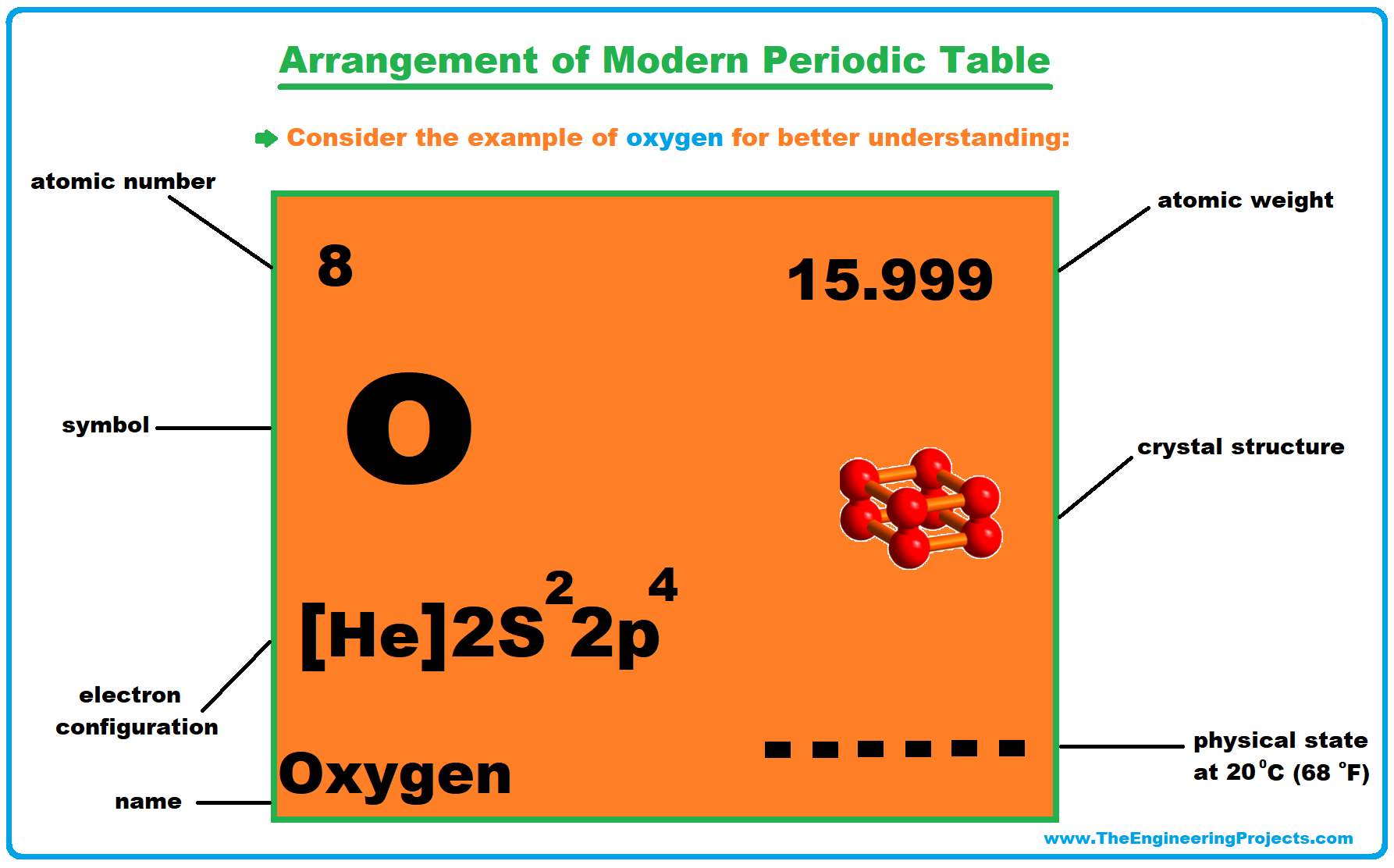 Groups and Periods
As I have mentioned earlier, elements are arranged in an order of increasing atomic number in the form of rows and columns called periods and groups respectively. When I was a student I was always confused about period and group, so here's a trick if you're struggling too, just cram it as " top to bottom in a group" so whenever you'll think of a group you'd have an idea what exactly you're thinking about.
Blocks in Periodic Table
Periodic table can be divided into four blocks, s, p, d and f.
Have you ever thought why they are named s, d and p? They could have been named a, b, c or d! Let me figure this out for you:
Blocks are named after the electronic configuration of valence electrons.
For example, all s block elements have their valence electrons in s subshell and same goes for p block elements, interesting! Isn't it?
Groups in Periodic Table
There are 18 groups in periodic table which are named as:
Group 1 comprising of Alkali Metals
Group 2 having Alkaline Earth metals
Group 3 – Group 12 housing Transition elements
Group 13 housing Boron family
Group 14 with Carbon family
Group 15 containing Nitrogen family
Group 16 having Oxygen family
Group 17 with Halogens
Group 18 containing Inert or Noble gases
Group 1 of Periodic Table: Alkali Metals
This is the very first group of the periodic table and its members are called Alkali metals with elements Hydrogen being the lightest having an atomic number of 1, succeeded by Helium, Sodium, Potassium, Rubidium, lastly Cesium and Francium in the family.
You might have thought why they are called alkali metals? Upon reacting with water these metals give strong alkalis, naming them as alkali metals. 
Physical Properties of Alkali Metals:
Physically they are shiny, lustrous and sleek in appearance.
Chemical Properties of Alkali Metals:
Alkali metals are highly reactive and their reactivity increases down the group.
All of them have low Ionization energies so it is easier for them to lose an electron.
They are mostly found in an oxidation state of +1.
Group 2 of Periodic Table
Group 2 elements were discovered by Humphry, it contains highly reactive elements which result in oxides upon reacting with oxygen, and these oxides when dissolved in water produce strong alkali solutions taking their name as Alkaline Earth Metals.
Alkaline earth metals have Beryllium, Magnesium, Calcium, Strontium, Barium and Radium in the group with an order of increasing atomic number.
They are very reactive and so are considered strong reducing agents. Do you know what a reducing agent is?
"A reducing agent is a chemical species which can lose electrons easily in a chemical reaction and hence oxidizes itself". Chemical Properties of Alkaline Earth Metals:
They are highly reactive in their natural forms being strong reducing agents.
They can easily become a cation with 2+ charge by losing two electrons from their outermost shell.
Physical Properties of Alkaline Earth Metals:
They are highly abundant in nature.
They have a shiny appearance and are often silvery-white in color.
They have a lot of commercial applications.
Group 3-12 of Periodic Table
This group comprises of the d and f block elements which are found in the center of the periodic table and are famously known as Transition Elements.
d block elements are called outer transition elements meanwhile f block elements are called inner transition elements despite the fact that they occupy totally opposite places in the periodic table.
You might have thought why d and f block elements are called transition elements?
Here is a simple answer to the question, the d and f block elements have their properties in between s and p blocks elements, some of them show the characteristic behaviors of s block that is Group 1 and 2 elements by losing electrons meanwhile some of the elements resemble p block elements by gaining electrons during a chemical reaction in this way they take their name as transition elements. Following are the families found in the transitional groups:
Group 3 has Scandium family.
Group 4 houses elements like Titanium making them Titanium family.
Group 5 is called Vanadium family.
Group 6 has Chromium family having very famous members like Tungsten.
Group 7 is Manganese family.
Group 8 is the Iron family, who is not familiar with this super famous element? We all have been hearing it since childhood.
Group 9 is the Cobalt family.
Group 10 has Nickel family with its famous members like Platinum, you all have heard of Platinum rings and bands right?
Group 11 has been crowned by Copper along with Silver-Ag as its succeeding member.
Group 12 lastly forms the Zinc family with its ever useful and renowned member Mercury which is the only metal found in the liquid state on room temperature, that's is the reason it is commonly used in Thermometers!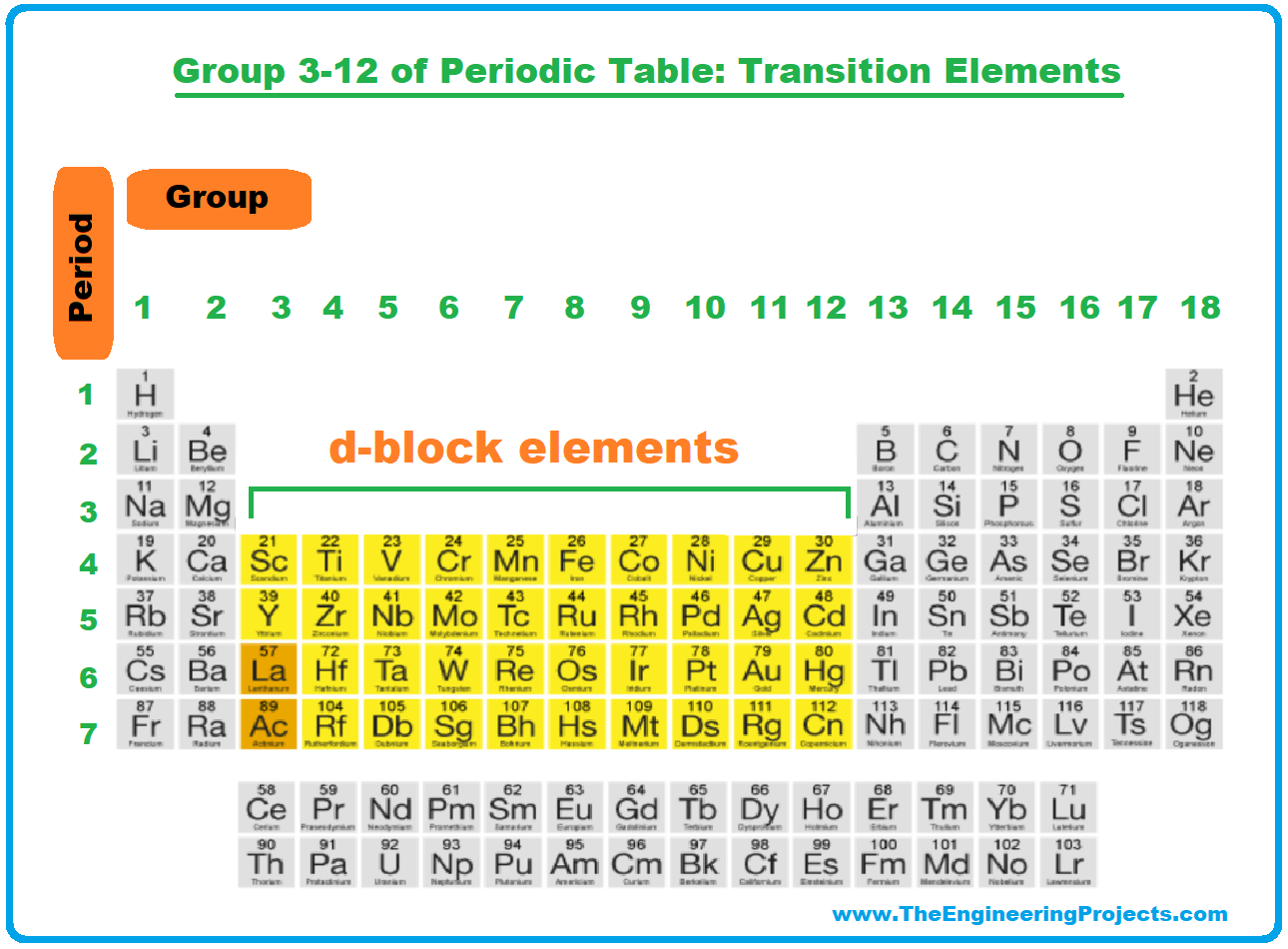 Lanthanides and Actinides:
These are f block, inner transitional elements with unique properties as clearly visible by their names.
Actinides have the following properties:
Atomic number ranges from 89 to 103
Radioactive in nature
Valence electrons in 5f orbitals
Oxidation state can be up to +6
Lanthanides have the following properties:
Atomic number ranges from 57 to 71
Valence electrons are present in 4f orbitals
They are not radioactive in nature
Can maximally go up to +4 oxidation state
Chemical Properties:
They are excellent conductors of electricity because of the formation of electronic pool in their structure, when I was in school I used to think of the best conductor of all the Transition Elements, at that time I didn't have Google so I could have searched, I have got to know now, it's Silver which is the best of all these metals in terms of conductivity.
They form complex ions and colored compounds as a product of their chemical reactions.
They have high melting and boiling points. 
Physical Properties:
These groups have metals which are Malleable and Ductile, which in simple terms mean; they can be turned into sheets and wires.
In terms of physical appearance they have shiny and lustrous appearance, if you forget in any case the properties possessed by these groups just recall that Silver is a transition metal with a shiny, lustrous appearance and can be turned into jewelry too. 
Group 13 of Periodic Table
Group 13 elements are also called Boron family with other elements like Aluminum, Gallium, Indium, Thallium and Nihonium in the order of increasing atomic number, Boron being the smallest and Nihonium being the largest element but synthetic in nature.
Group 13 elements are also called Triels or trivalent because of the presence of three electrons in their valence shells.
Chemical Properties and Usage:
You must have been thinking about the chemical properties of this group! So let me tell you, they are highly abundant in nature and reactive too they can react with hydrogen, oxygen and halogens forming hydrides, oxides and halides respectively.
Boron family has isotopes too which have wide applications in medical field.
From Boron being used in ceramics to the Aluminum which is the most abundant metal of earth crust being used in construction and metal works, Indium and Gallium are not lesser than any of the other group members, they have a lot of commercial applications too.
Thallium is used in the production of poisons for killing reptiles and rodents.
Group 14 of Periodic Table
This is known as the famous Carbon family with its top most members as Carbon and Silicon.

Physical Properties and Usage:
When thinking of Carbon one must recalls the chemical reactions in Organic Chemistry which were never an easy pill to swallow! Phewww! Carbon has the unique bonding ability to form long chains which is called "Catenation", all thanks to catenation we have another branch of chemistry known as Organic chemistry. Not only organic chemistry, but Diamond and Graphite are also the gifts of Carbon being their allotropes.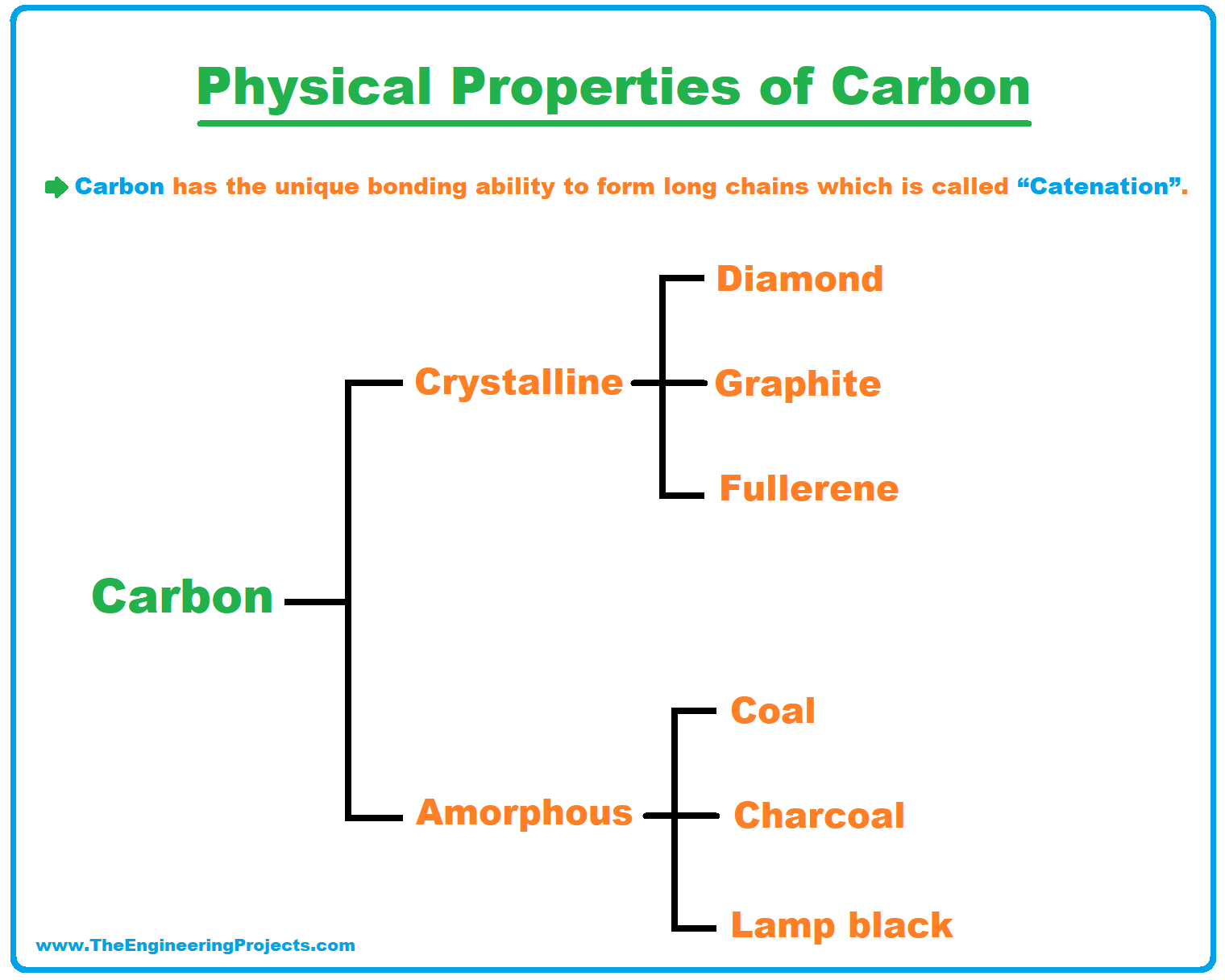 Next to Carbon is Silicon which is one the most abundant elements on the planet Earth and is commercially used in the formation of semiconductor diodes and chips used in various technological devices. Germanium is used in the formation of semiconductors as well.
Who's not aware of lead and tin? Both of the elements are used commercially because of their stable nature in the formation of cans, nuts and bolts.
Chemical Properties of Carbon Family
Carbon family has four electrons in its valence shells which results in covalent bonding.
Covalent bonding is the reason of their high melting and boiling points.
All of the group members form hydrides, oxides and halides reacting with hydrogen, oxygen and halogens respectively.
They are usually found in the oxidation states of +3, -4 and +4.
Group 15 of Periodic Table
The name Pnictogens points to the ability of nitrogen to choke in the absence of Oxygen. Other members of the group include Phosphorus, Arsenic and Bismuth.
Reactivity:
Nitrogen and Phosphorus act as non-metals whereas Arsenic and Antimony have proven themselves to be metalloids, meanwhile the last member Bismuth is a metal.
They form covalent compounds due to the presence of five electrons in their valence shell and are mostly found in the oxidation state of +3 or +5
Usage:
Nitrogen is found abundantly in nature, you might have thought of it earlier while studying Nitrogen Cycle in your school textbooks. Chefs using liquid nitrogen to freeze a dessert instantly has always fascinated me, it is due to its unique ability to stay non-reactive at room temperature. Nitrogen is used in fertilizers and has countless commercial applications.
Meanwhile other members of the family are not less than any other element, Phosphorus is highly flammable and used in manufacturing explosives and fireworks and has three forms red, black and white.
Arsenic being poisonous founds its use in fertilizers.
Bismuth is used in pharmaceutical industry for production of several beneficial drugs.
Group 16 of Periodic Table
Elements of group 16 are also called Chalcogens, as interesting as the name sounds, the reason behind the name lies in the ore forming ability of these elements.
Oxygen, Sulphur, Selenium, Tellurium and Polonium are the members of this groups.

Chemical Reactivity:
Chemical reactivity increase down the group with the increase in atomic number.
Total number of valence electrons are six in the family which encourage covalent bonding, as it is very difficult to loose six electrons meanwhile gaining two electrons to complete the octet would be easier, isn't it?
Oxidation state of -2 is most common among the group, Sulphur can exist as +4 and +6 as well.
Usage:
Oxygen is the most abundant one, now a days we have seen an enormous demand for clinical oxygen in Covid stricken patients, different types of oxygen is obtained by fractional distillation in plants under specific conditions, many industries such as steel mills use oxygen in their processes as well.
Sulphur is found in the form of ores and is used in the formation of fungicides and several medicines.
Selenium and tellurium are photoconductive meanwhile polonium is a rare radioactive metal.
Group 17 of Periodic Table
Elements of the group 17 are called Halogens and are highly reactive, students often ask about the reason behind their unique name, so cracking it for you Halogen is a Greek word which has been derived from two words "Halo" meaning "Salt" and "Gen" means "to produce something", the term collectively means "salt producing".
These elements are called halogens because of their salt producing ability when they react with an alkali metal. Halogens include Fluorine, Chlorine, Bromine, and Iodine.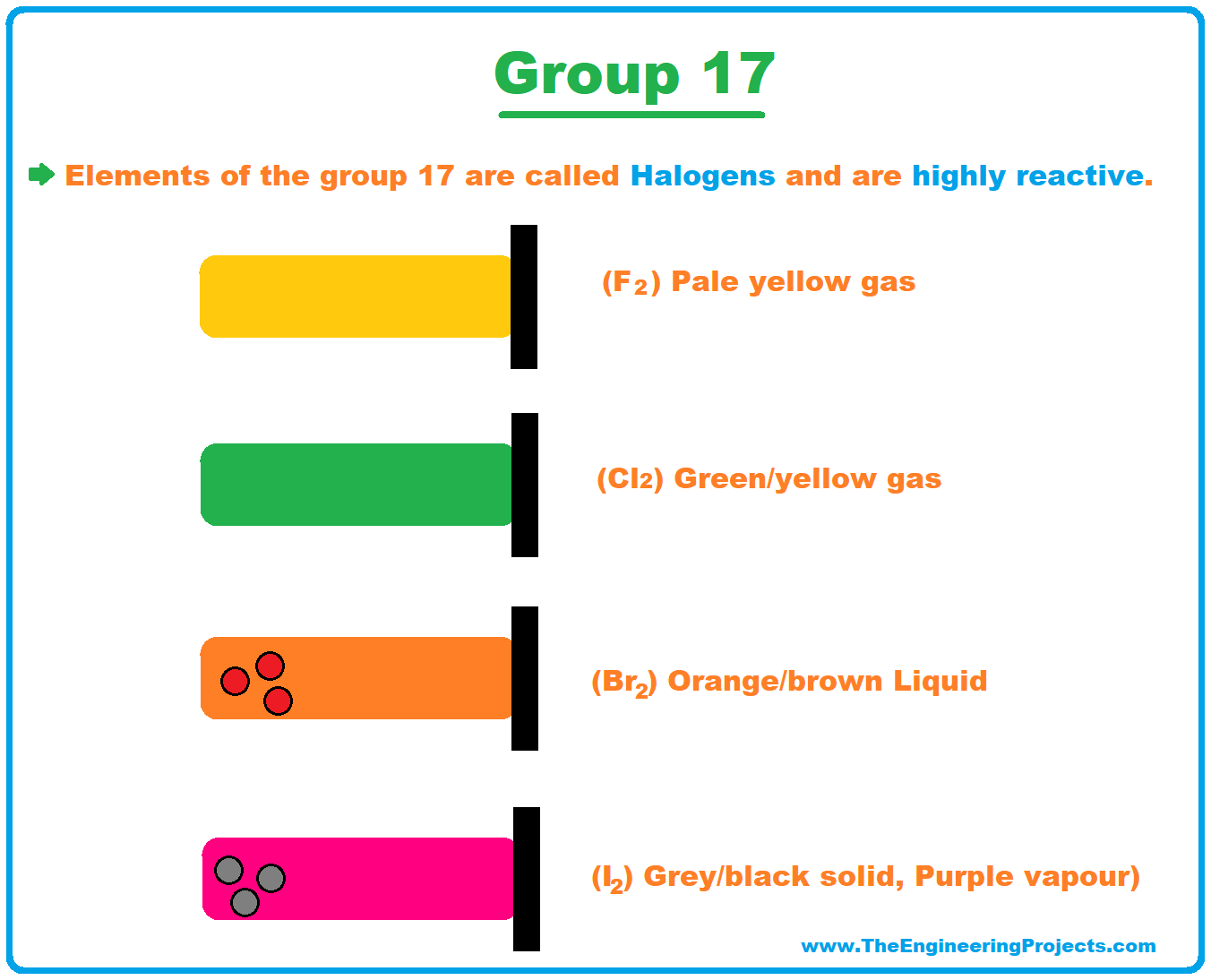 Chemical Reactivity:
Fluorine is the most reactive element of this group.
All the halogens have seven electrons in their outermost shell so they can easily gain an electron in a chemical reaction. They have a usual oxidation state of -1.
They are good oxidizing agents because of their higher electron affinities.
Physical Properties:
Halogens turn into a darker color as we move from top to bottom in the group. Fluorine being pale yellow, meanwhile Chlorine has a greenish yellow tint, Bromine is found in brown color and lastly Iodine has a purple hue.
First two elements are gases, Bromine is a liquid and Iodine exists as a solid at room temperature.
Usage:
You must have watched a million ads on the television about fluoride toothpaste, yeah! It helps in preventing tooth decay. Fluorine has always been a fundamental part of dental industry.
Chlorine is a bleaching agent and used to purify water as well especially in swimming pools.
Bromine is used for water purification, pesticide production and in pharmaceutical companies as well.
Using Iodized salt is a common practice in many countries, because it helps in improving growth and metabolism when used in appropriate amounts. Iodine is also used as a topical antiseptic agent.
Group 18 of Periodic Table
Elements of group 18 are also known as Noble gases, who is termed as a noble? A person who never mess around with anyone, same is the state of Noble gases, they're inert and don't react with anything because of the very obvious reason, can you guess? Yeah! You guessed it right. They have a complete octet, they don't have to reach out anyone to be stable. Noble gases include Helium, Neon, Argon, Krypton and Xenon.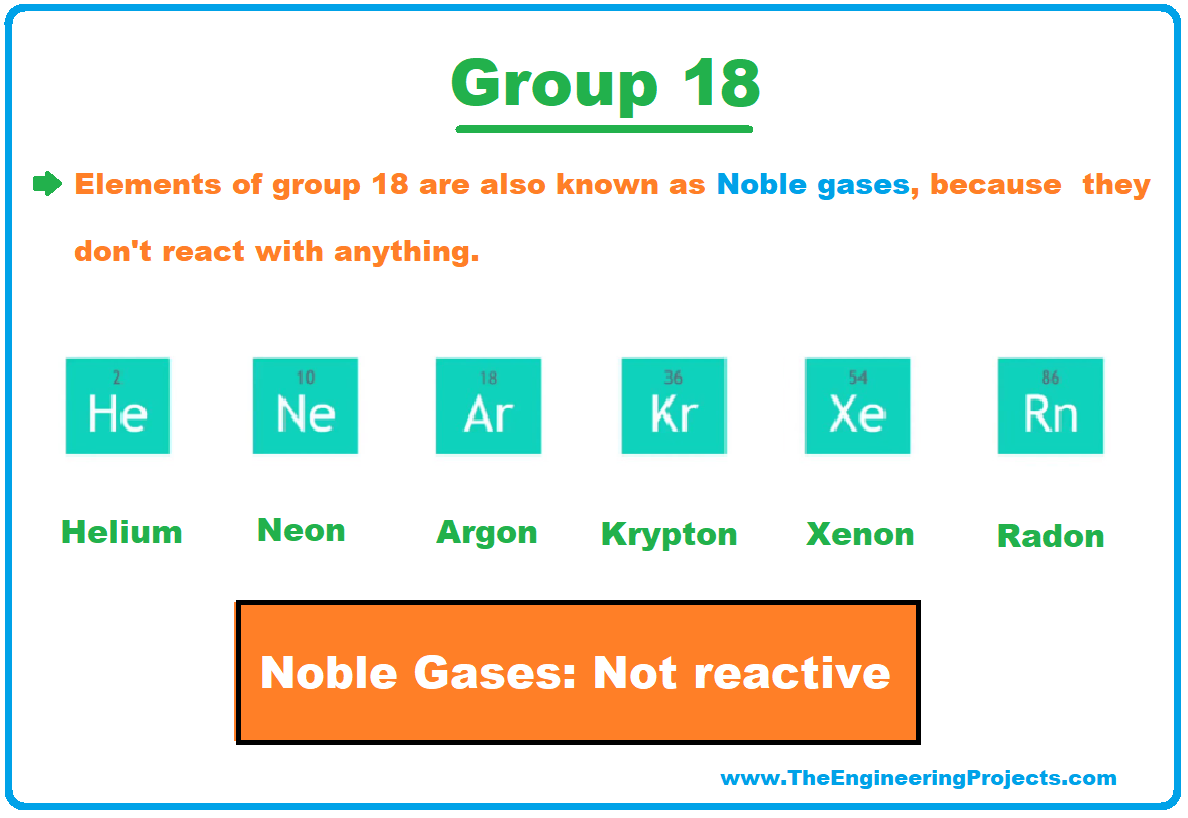 Physical and Chemical Properties:
Noble gases are colorless and odorless in normal conditions.
They have low melting and boiling points.
Noble gases can be used as oxidizing agents under special circumstances.
 Usage and Applications:
We all have seen ice cream cone as a lighting sign with popping colors outside the ice cream parlor, they're called Neon signs, the gas in them is not exactly neon every time but is always a Noble gas. All Noble gases give out their specific color when lighted.
Helium balloons have also remained eye candy to every one of us in our childhoods as Helium gas is very light in nature that is the reason it is used for filling balloons.
One of the latest applications of the noble gases are Excimers, these are the diamer forms of Noble gases and have wide applications in medical field. They help in eye surgery and myocardial repair.
Trends in the Periodic Table
In order to understand the trends found in the periodic table we must understand the term periodicity "Periodicity refers to the cyclical trend in the chemical and physical properties of the elements with increasing atomic number." Periodicity help us understand and predict various trends among the family members of same group just like offspring from same parents have some general characteristics in common , they all may have blue eyes or black hair or anything in common as a family, families of the periodic table also have common characteristics in the similar ways.  Some of the periodic trends in the periodic table are;
Atomic radii.
Ionization energy.
Electron affinity.
Electronegativity.
Shielding effect.
Metallic and Nonmetallic  behavior.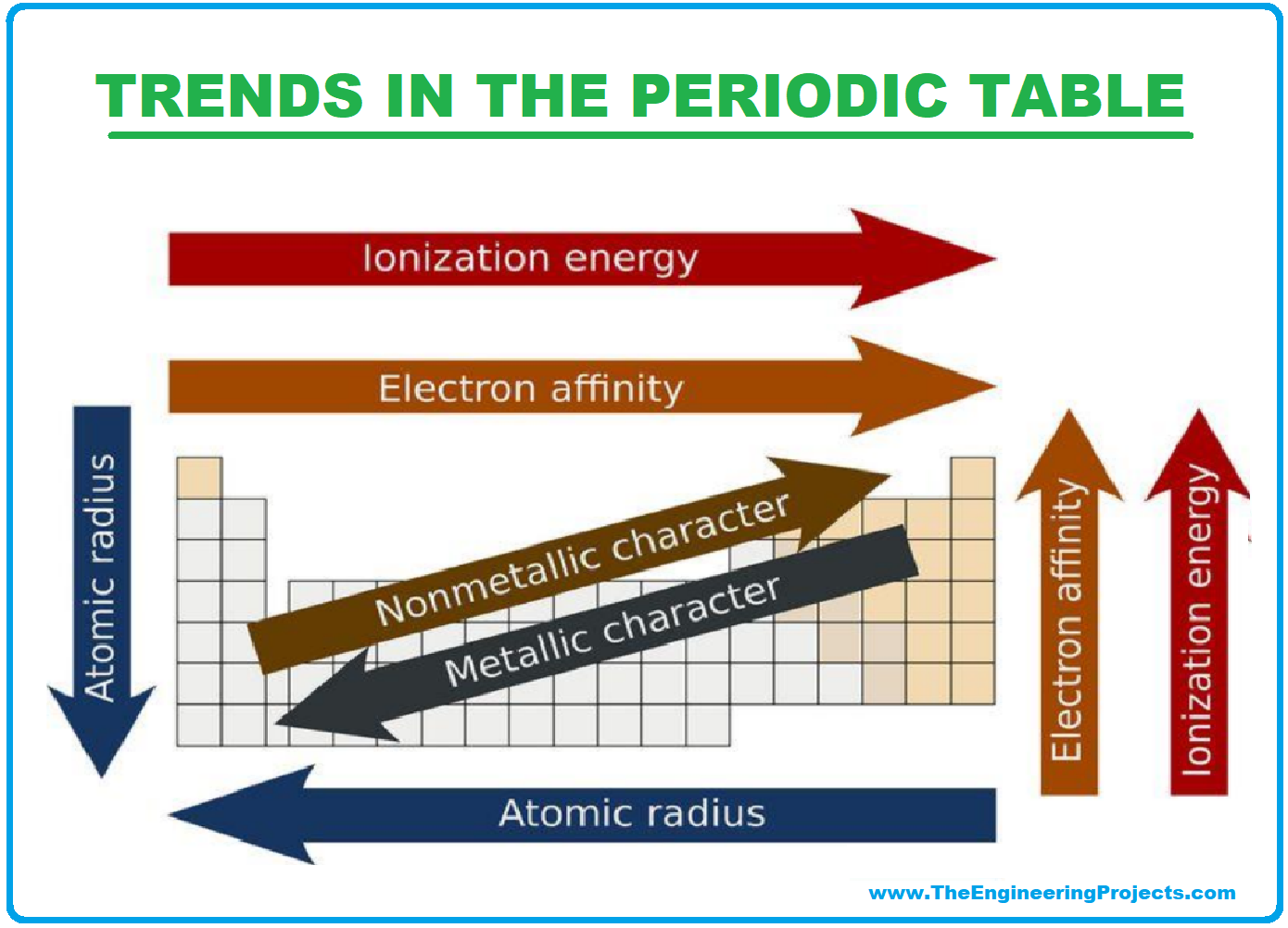 Atomic Radii Trend in Periodic Table
Atomic radii is one of the core aspects that can make the elements behave in a certain way in a chemical reaction.
Factors effecting the Atomic Radii:
Atomic number
Number of shells : As we move from top to bottom in a Group the atomic number increases, this gradual increase in the atomic number makes the atomic radii larger and larger by adding in a number of shells
Trend across the Group:
When the atomic radii grows larger from top to bottom in a group, the hold of the nucleus on the valence electrons decreases.
This decreased force on the valence electrons increases the reactivity of an element.
So we can conclude that as we move towards the bottom an increase in reactivity of the elements can be predicted, why? Because they are less bounded by the nuclear forces and are free to react.
Trend across the Period:
Similarly when moving left to right in a period , atomic radii decreases due to the decrease in atomic number and hence reactivity of the elements decreases , all thanks to strong grip of the nuclear forces on the valence electrons which pulls the electronic cloud towards itself.
Largest and smallest element With respect to Radius
You might have thought which is the largest and the smallest element in terms of radius? Let me tell you, the smallest one is Helium meanwhile the largest one is Francium.
Exceptional Behavior:
There are a few exceptions in the normal trend as well because all the five fingers can never be same.
Ooxygen has a larger radius than its neighboring nitrogen all because nitrogen has seven proton in its nucleus meanwhile oxygen has eight so it has larger ionization energy value.
Ionization energy Trend in Periodic Table
Ionization energy can be defined as:
"Ionization energy is the amount of energy required to remove the loosely bound electron from the outermost shell of a neutral gaseous atom in its ground state".
Factors effecting ionization energy:
Atomic radius
Shielding effect
Increased atomic number
Trend across the Group:
Ionization energy is mainly governed by the atomic radii, as we move from top to bottom in a group atomic radii increases, which results in a decline in effective nuclear charge.
A declined effective nuclear charge and an increased shielding effect leads to the lesser binding force on the valence electrons, when the valence electrons have less nuclear force on them, what would happen? That would be easy to remove by giving a small amount of energy, this energy is called the ionization energy.
Summing up we can say ionization energy decreases down the group as we move towards the bottom.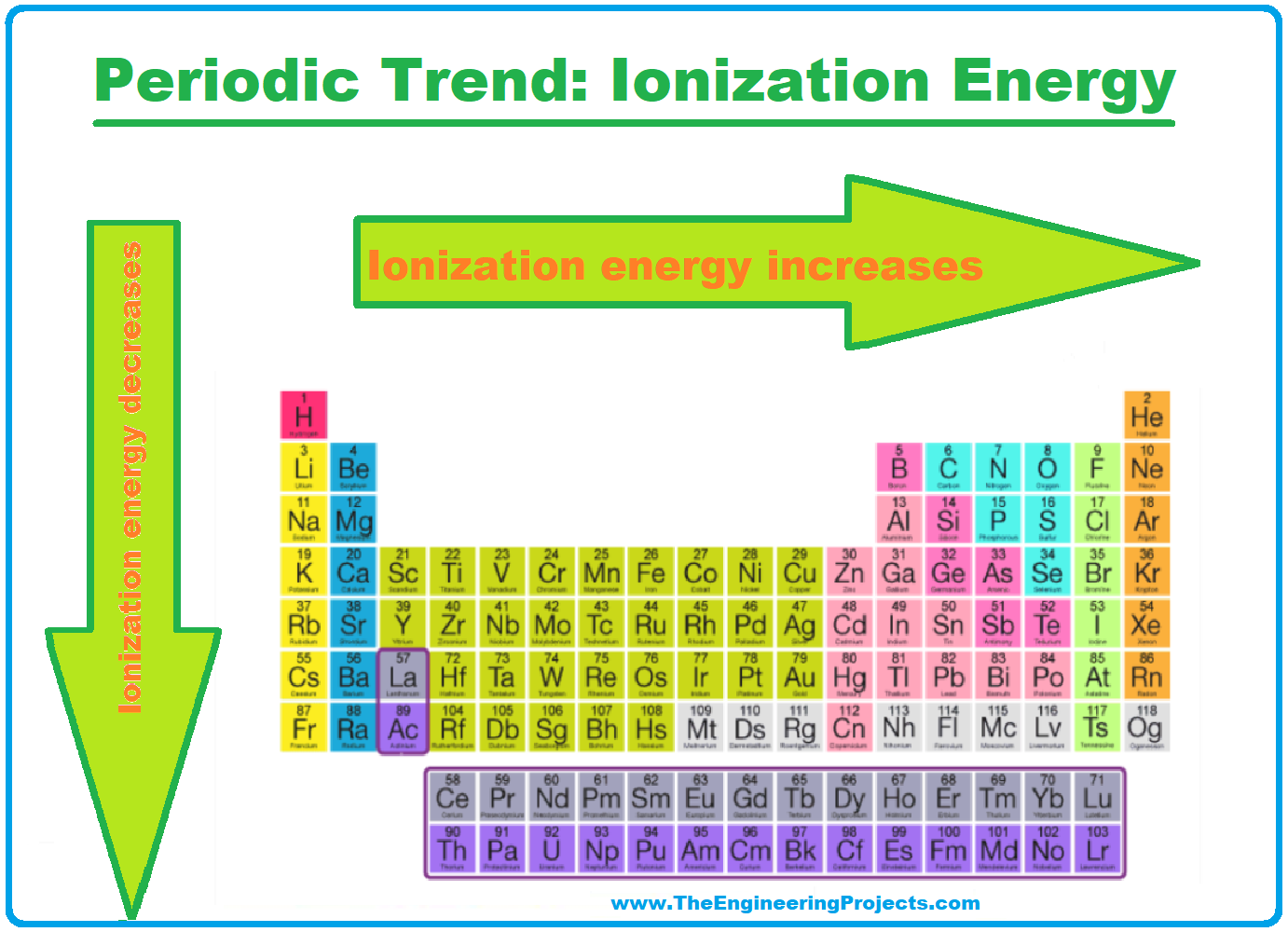 Trend across the Period:
When moving across a period from left to right, the effective nuclear charge increases leading to a decrease in atomic radii, ultimately shielding effect also decreases, all these factors make it highly difficult to remove an electron rather they would prefer to gain an electron or two for stability.
So we can say that ionization energy increases from left to right in a period. 
Types of ionization energy; There are two types of ionization energy
First ionization energy
Second ionization energy
Following is an example of first and second ionization energy:
First ionization energy is the energy required to remove the electrons from a neutral gaseous atom.
Second ionization energy refers to the amount of energy required for removal of an electron from the molecular ion or cation.
So here is an understandable clear fact which must not be missed in any way; second ionization energy is always higher than the first one. Let me explain why! It happens because of the increase of additional positive charge on the electronic cloud because of the removal of electron, nucleus tightens its grip on the valence shell, and hence a large amount of energy is required to remove an electron which is always higher than the first one.
Shielding effect Trend in Periodic Table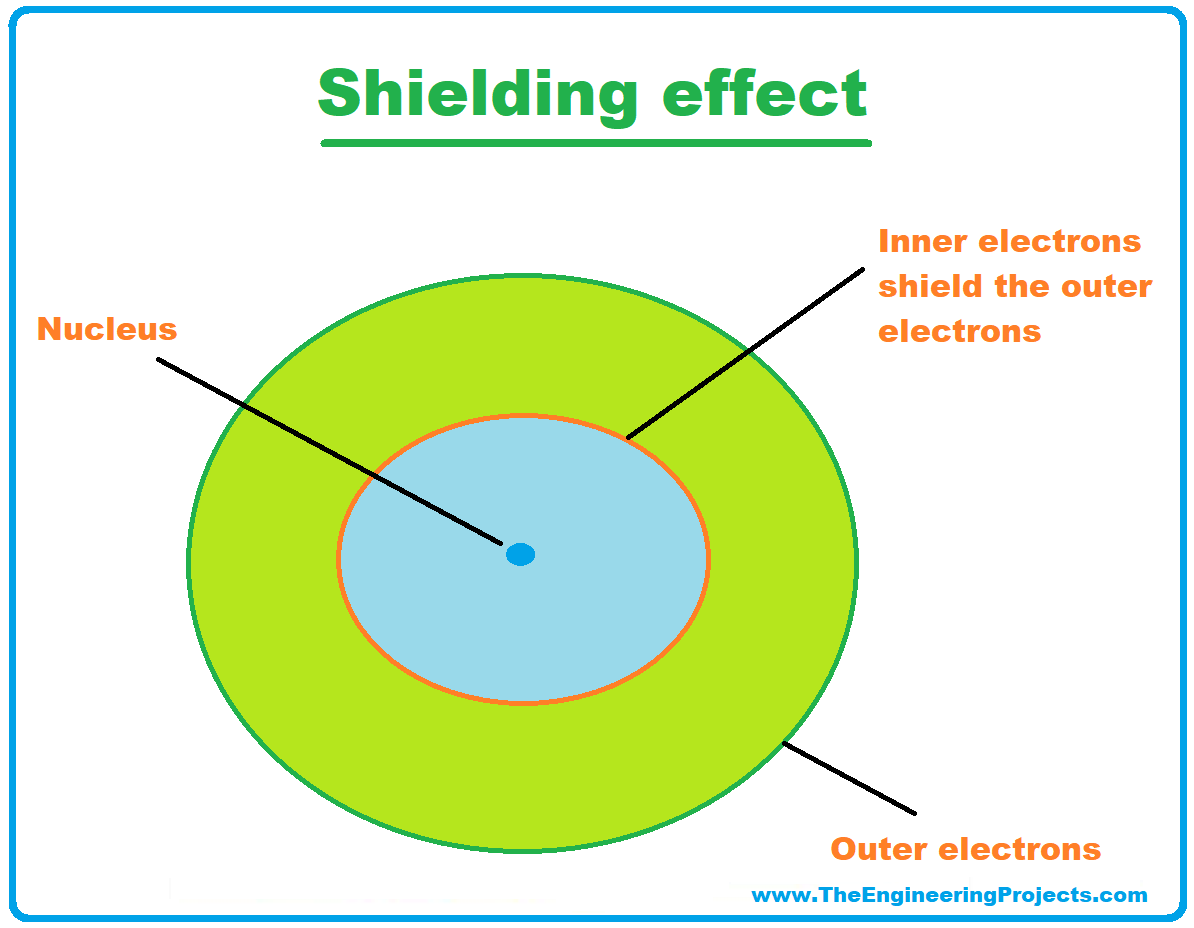 Before studying the shielding effect let's discuss what does a shield do? A shield masks or hinders the effect of any force applied to a body, when same principle is applied to an atom, we can define shielding effect as:
"When the inner shell electrons shield the effect of nucleus, decreasing the effective nuclear charge on the valence electrons, then this phenomenon is called shielding effect".
Shielding effect decreases the effective nuclear charge experienced by the valence electrons. So now you must be thinking what is effective nuclear charge?
"Effective nuclear charge is the average net positive charge experienced by an electron from its nucleus".
Trend across the Group:
As the atomic number increases the number of shells in each atom also increase, with every additional shell there's a greater shielding effect on the valence electrons.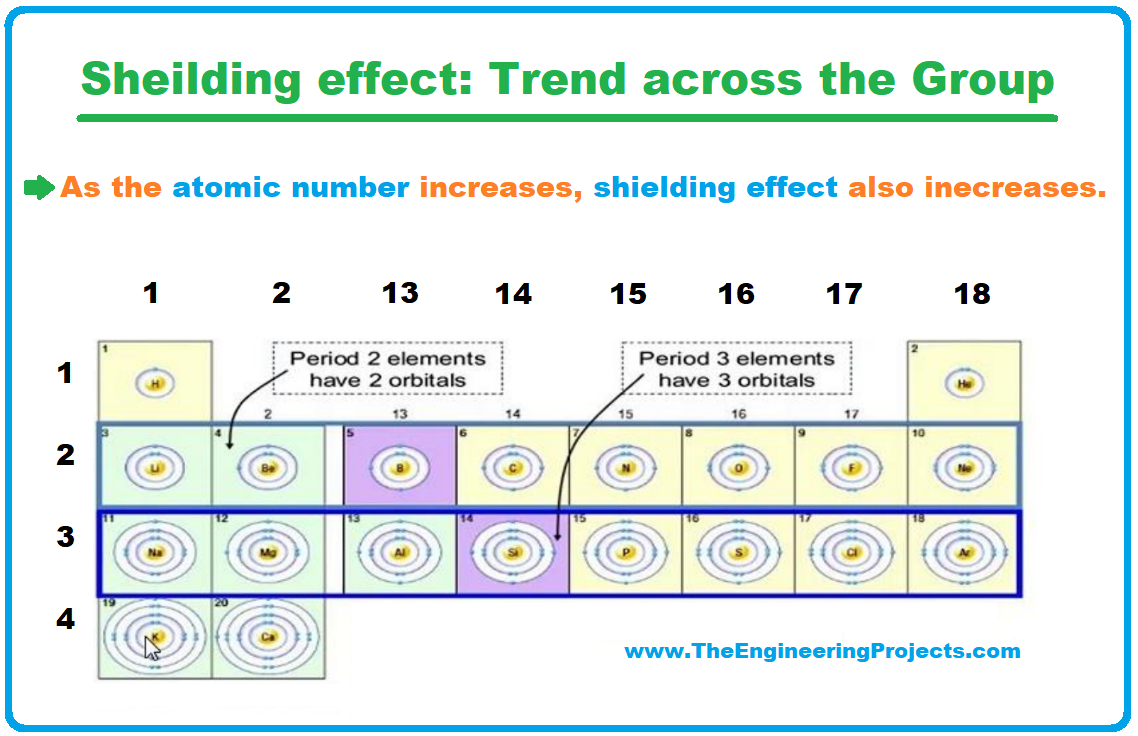 Trend across the Period:
Shielding effect increases from top to bottom in a group meanwhile it remains constant from left to right in a period.
The sole reason behind constant shielding effect from left to right is the same number of shells in all the elements residing in a period, no additional shell leads to constant shielding effect. Simple!
Electronegativity Trend in Periodic Table
Electronegativity can be defined as,
"The ability of an atom to attract the shared pair of electrons partially or completely towards itself when bonded to another atom in a molecule".
Whenever we study covalent bonds we often talk about the poles, this is a polar covalent bond that is a non-polar one, you might have thought which causes this polarity within the molecules? So now you have your answer, electronegativity difference causes polarity in a molecule. Electronegativity values of certain elements have already been determined, the difference between their values i.e. the electronegativity difference help us predict the nature of bond, whether it would be ionic, covalent, slightly polar or moderately polar in nature.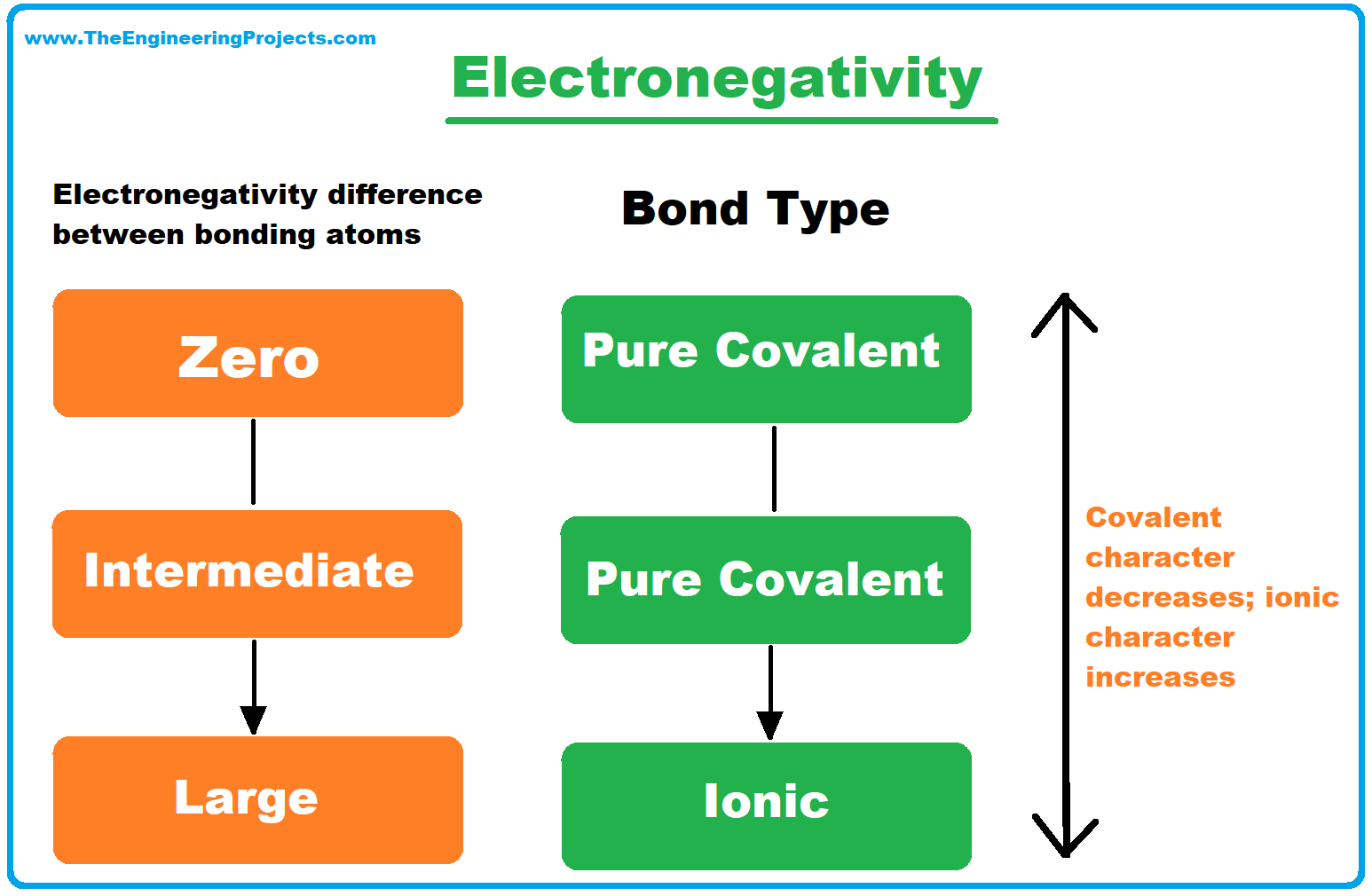 Factors effecting Electronegativity: Electronegativity of an element is effected by the following:
Atomic number
Number of valence electrons
Shielding effect and effective nuclear charge
Atomic radii
Trend across the period:
In the periodic table electronegativity increases across the period when moving left to right, fluorine being crowned as the most electronegative element of all having the value if 4.
All thanks to the strong grip of nucleus on the electronic cloud, which never lets anyone escape its grip!
Trend across the group:
Meanwhile due to increase in atomic number and shielding effect, electronegativity decreases down the group, so these elements have lesser tendency to keep the shared pair of the electrons towards themselves so we can say that the left bottom elements of the periodic table can never be good keepers of the shared electrons.
Electron Affinity Trend in Periodic Table
Electron affinity is the opposite of Ionization energy which we have discussed earlier, ionization energy is the energy required for removal of an electron on the other hand electron affinity is the energy required for the addition of an electron to an atom.
Electron affinity can be defined as "the amount of energy released when an electron is added to a neutral gaseous atom turning it into an anion."
As energy is being released the process is exothermic in nature.
Halogens have highest electron affinities in the periodic table
Metals have lowest electron affinities in the periodic table.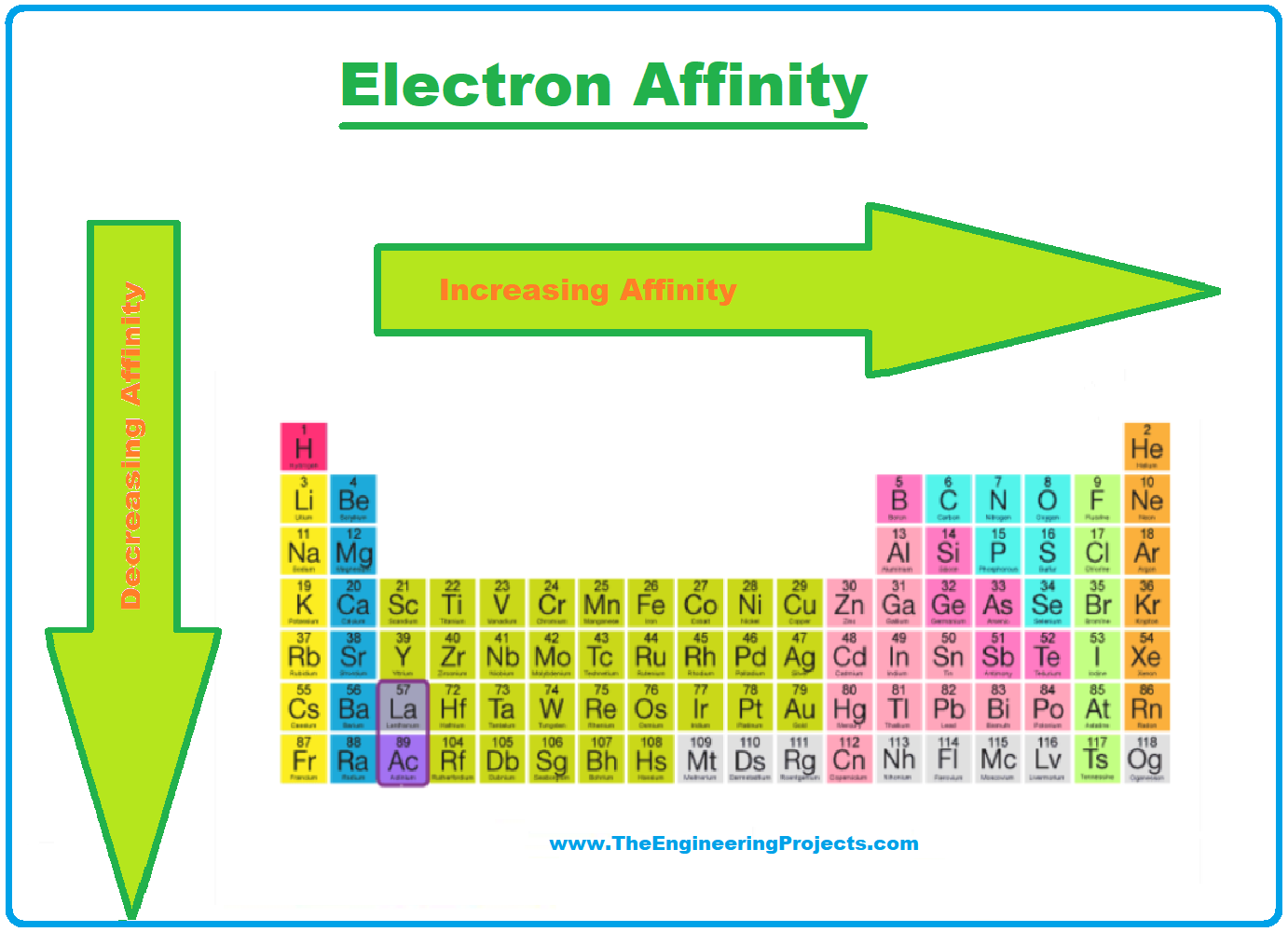 Factors effecting electron affinity: Electron affinity is effected by the following:
Atomic number
Number of valence electrons
Shielding effect and effective nuclear charge
Atomic radii.
Trend across the Group:
When we move from top to bottom in a group, atomic radii increases resulting in a weak nuclear charge on the valence electrons.
So what you think now what would be the trend? I hope you can easily guess it by now! Yes you are right, electron affinity would decrease from top to bottom in a group.
Trend across the Period:
From left to right in a period, effective nuclear charge never let anyone move astray like street animals, so it has strong hold on the valence shell, adding an electron releases a huge amount of energy which corresponds to higher electron affinity values increasing the electron affinity values gradually across the period.
Element with highest electron affinity:
Chlorine has the highest electron affinity of all the elements even higher than fluorine because of its structural compactness as compared to fluorine.
Metallic Character Trend in Periodic Table
Metallic character is one of the most interesting properties possessed by elements, as indicated by name, "metallic character is the ability of metal to lose electron during a chemical reaction."
Metallic character is observed due to the least ionization energy values of the metals which tend to loose electrons easily to remain stable rather than keeping them.
Electron pool theory: While discussing metallic character we must not forget electronic pool theory , Electronic pool theory is about the metallic character of the metals which tend to lose all their valence electrons turning it into a pool of electrons around a positive charge , this is the reason of their electrical conductivity, now you know! Trend across the Group: Metallic character increases down the group because of the following factors that come into play;
Increased atomic number.
Increased atomic radii.
Lesser ionization energy.
In the presence of above factors, metals tend to lose electrons easily.
Trend across the Period:
From left to right in the periods metallic character decreases due to higher effective nuclear charge and smaller electronic clouds, so it is extremely difficult to lose an electron and exhibit metallic character.
Most and Least Metallic Elements:
The most metallic of all the elements is Francium, meanwhile Fluorine is the least metallic or non-metallic element of the periodic table.
So that was all about periodic table and its groups with their brief introduction and general trends, I hope it helped you clear some general misconceptions we all have in our minds regarding the topic. See you with another topic soon, have a good day!