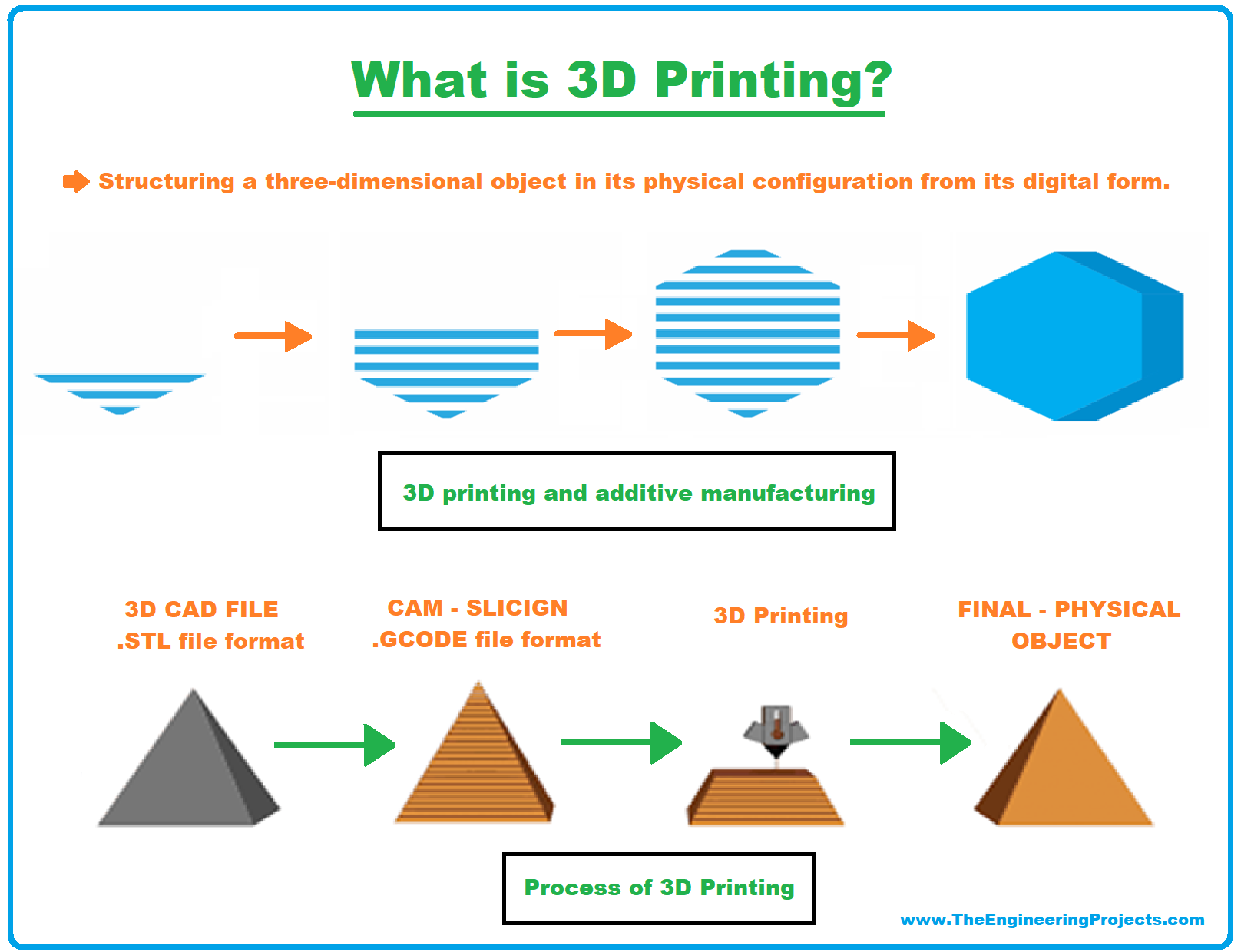 Hello students, I hope this tutorial finds you happy, healthy, and content. The topic we have at hand today is "3D printing", it is a very interesting and versatile topic, and extremely easy to comprehend as well, it would definitely keep you hooked to your screens. You might have heard a lot about 2D and 3D objects, in this digital era almost everyone has at least once heard of it, do you know what is a 3D object?
A 3D object can be defined as,
"An object or structure that has three dimensions which includes width, length, and height."
Definition of 3D Printing
As you are now familiar with the term 3D we shall proceed further with our actual topic, so
Here we have the most commonly asked question of all, what is 3D printing?
3D printing can be defined as;
"Structuring a three-dimensional object in its physical configuration from its digital form"
3D printing and Additive Manufacturing
3D printing is also known as additive manufacturing due to the process of layering it involves. Both terms are used synonymously, digital printing is another term used for this purpose which you might have heard as well.

What is Additive manufacturing?
Additive manufacturing is the opposite of subtractive manufacturing which was used widely in the past involving gradual removal of layers from a solid block of any material either be wood or metal to form a 3D object.
Additive manufacturing as the name indicates is the layer by layer deposition of a specific material to form a 3D shape or structure.
This technique can be employed in powders be it glass, ceramic, metal and resins in liquid form.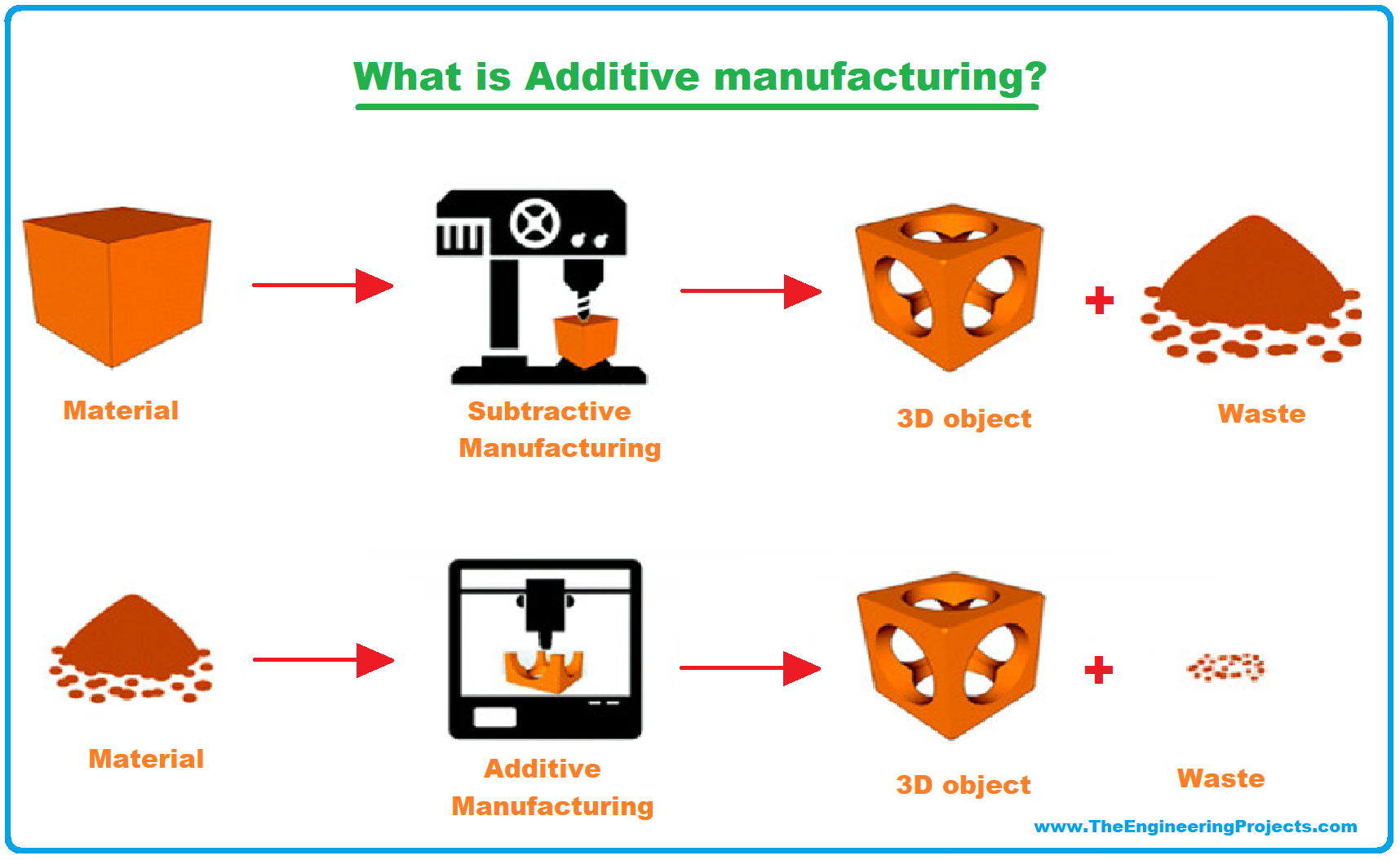 Complex shapes and design elements can be easily cured on the materials using additive manufacturing techniques.
There is almost zero wastage of the raw material in the additive manufacturing process.
A narrow range of materials can be employed for the process which has relatively low melting points.
History and Origin:
In order to understand a complex process, it is extremely important to be well aware of its roots, as humans evolved so did their technology, 3D printing also evolved in its today's form with time. Here is a quick trip to the past of 3D printing;
Murray Leinster unknowingly presented the idea of 3D printing in his shorty story Things Pass By, in 1945.
In 1971, a continuous inkjet metal printer that could produce multiple prints on-demand by melting the metal, again and again, laid the foundation of 3D printing but still the term 3D printing was not coined at all.

Ariadne

a column by David E. H. Jones in 1974 introduced the concept of 3D printing by its name, finally!
In the 1980s many scientists worked on 3D printing some of them failed miserably on the hands of low budget and lack of support, some of them materialized their 3D printing dreams.
The popularly introduced and used technologies for 3D printing by then were Stereolithography, Ultraviolet lasers, and Photopolymerization.
The first-ever 3D commercial printer was SLA-1 launched in the market by 3D Systems Corporation in 1988.
By

1999

, 3D printing was not a new concept in the commercial market, within the initial years it was very expensive to buy a 3D printer but later due to increased demands the prices dropped a bit.
By 1993 inkjet 3D printing started known as the dot-on-dot technique, introduced by Solidscape industries.
In the first two decades of the 2000s, 3D printing experienced its full bloom and evolution, the process became cost-effective and efficient all thanks to the innovations and materials that were introduced in the industry of 3D printing.
Technology Used In 3D Printing
After going through the origin and history of 3D printing, you might have a vague idea of the technology used in 3D printing. 3D printing makes use of several types of efficient technologies which includes;
Stereolithography SLA
Multi Jet Fusion MJF
Direct Metal Laser Sintering
Electron Beam Melting
Laser sintering
Selective Laser Sintering SLS
Digital Light Processing DLP
PolyJet Fusion.
Before a detailed preview of the technologies involved in the process of 3D printing, let's study a few basic processes that are involved in 3D printing which are:
Photopolymerization
3D slicing
STL file configuration
Here's a brief account of the above-mentioned processes;
1. Photopolymerization
Photopolymerization refers to the curing of photopolymers under exposure to Ultraviolet light.
You must be wondering, what a photopolymer is? A photopolymer is a resin material that solidifies under UV light.
It helps in the solidification of several layers at once making it a quicker process than others.
Photopolymerization makes the exposed material tough and durable.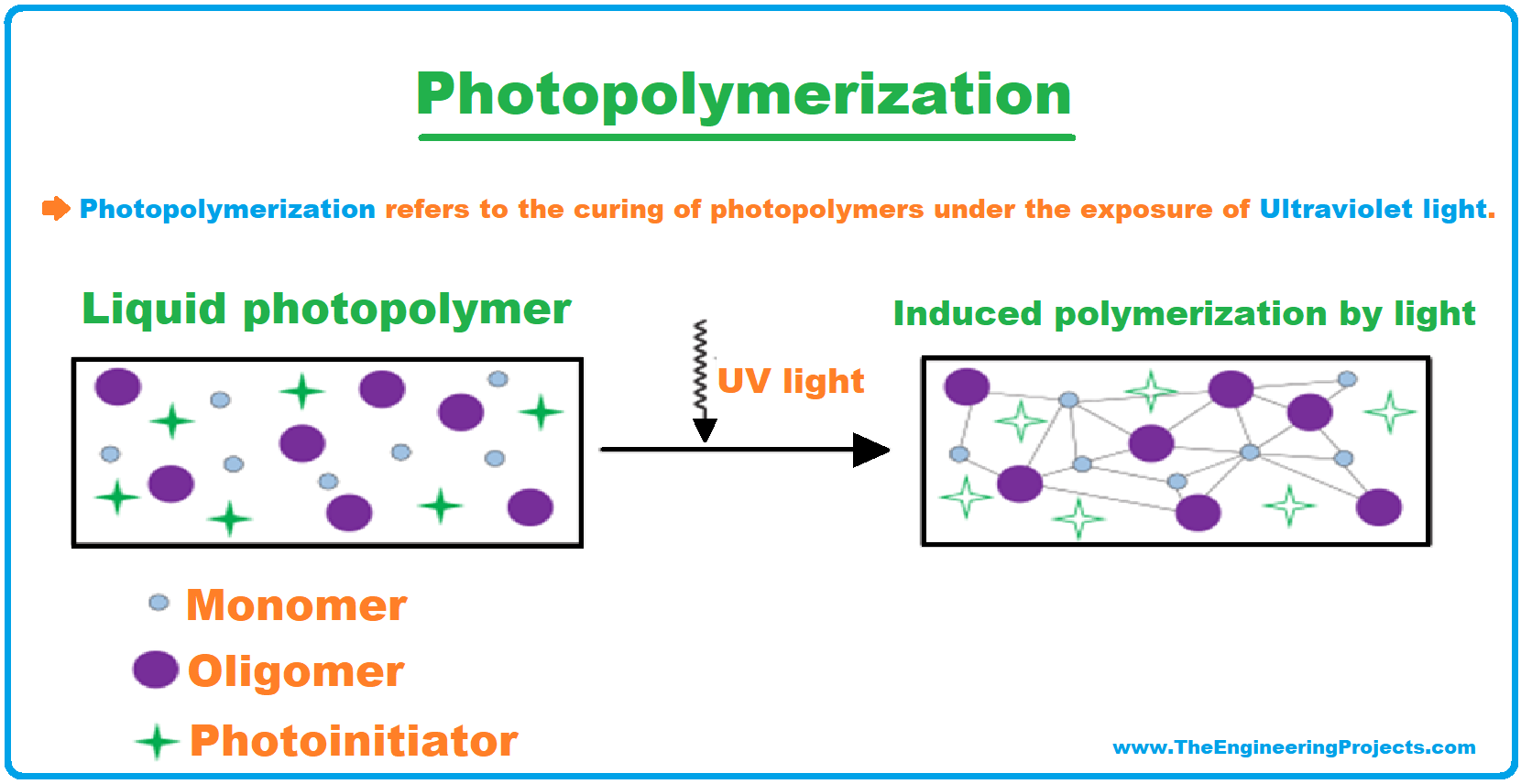 2. 3D Slicing
3D slicing is the process of breaking down a design into several layers.
It simply involves cutting a design in layers, these layers are then deposited one by one on each other during the printing process.
A slicer generates a G code which helps in providing instructions to the 3D printer that is how the print process should be carried out.
A lot of software is available in the market which can be used for 3D slicing such as Cura Slicer, Slic3r, and Simply3D.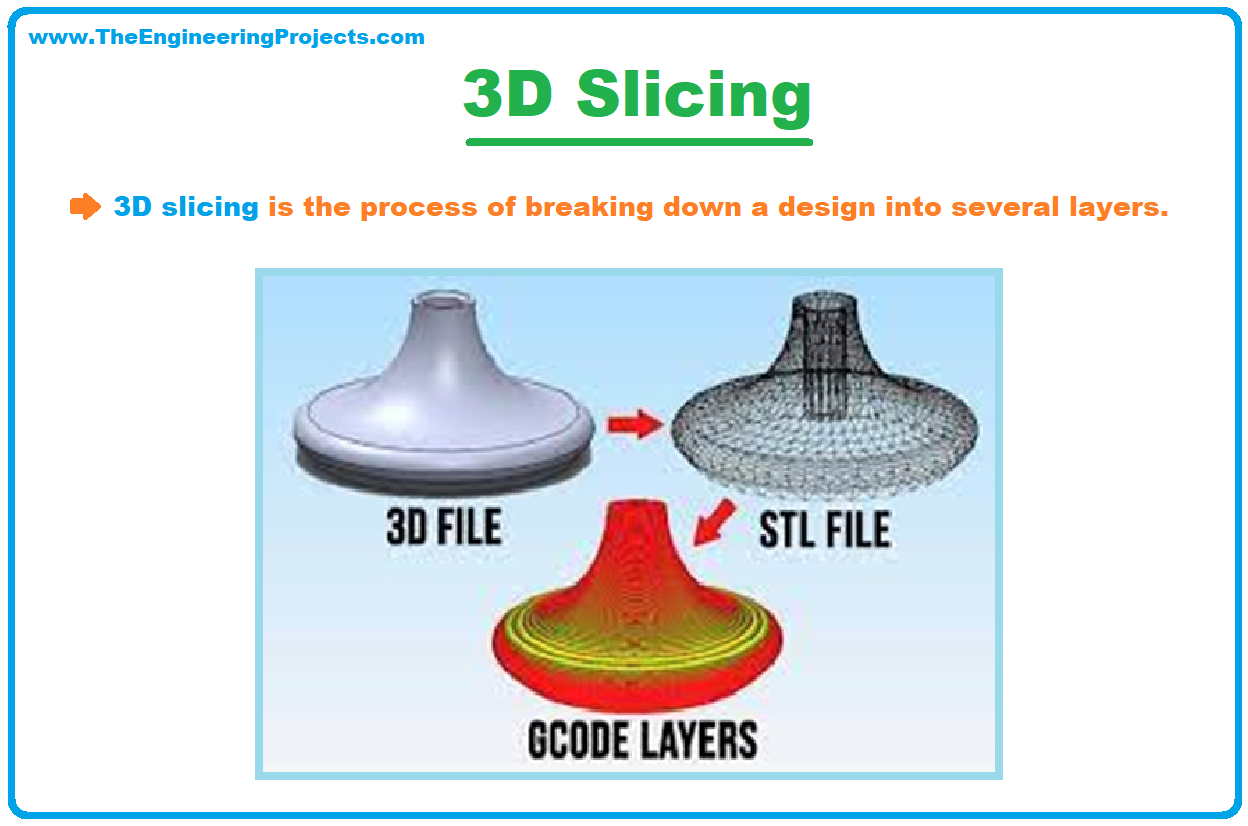 3. STL file format
STL file format is mostly used in Stereolithography.
It is also called Standard Tessellation Language or Standard Triangle Language
STL file format is used for describing the surface geometry of an object to be printed by the 3D printer before the process starts.
All types of 3D printing technology serve the same purpose of printing the object in its 3D shape, the only difference they have is in the layering techniques and materials that are specific to each type. Some of the insanely famous technologies used in 3D printing have been enlisted below.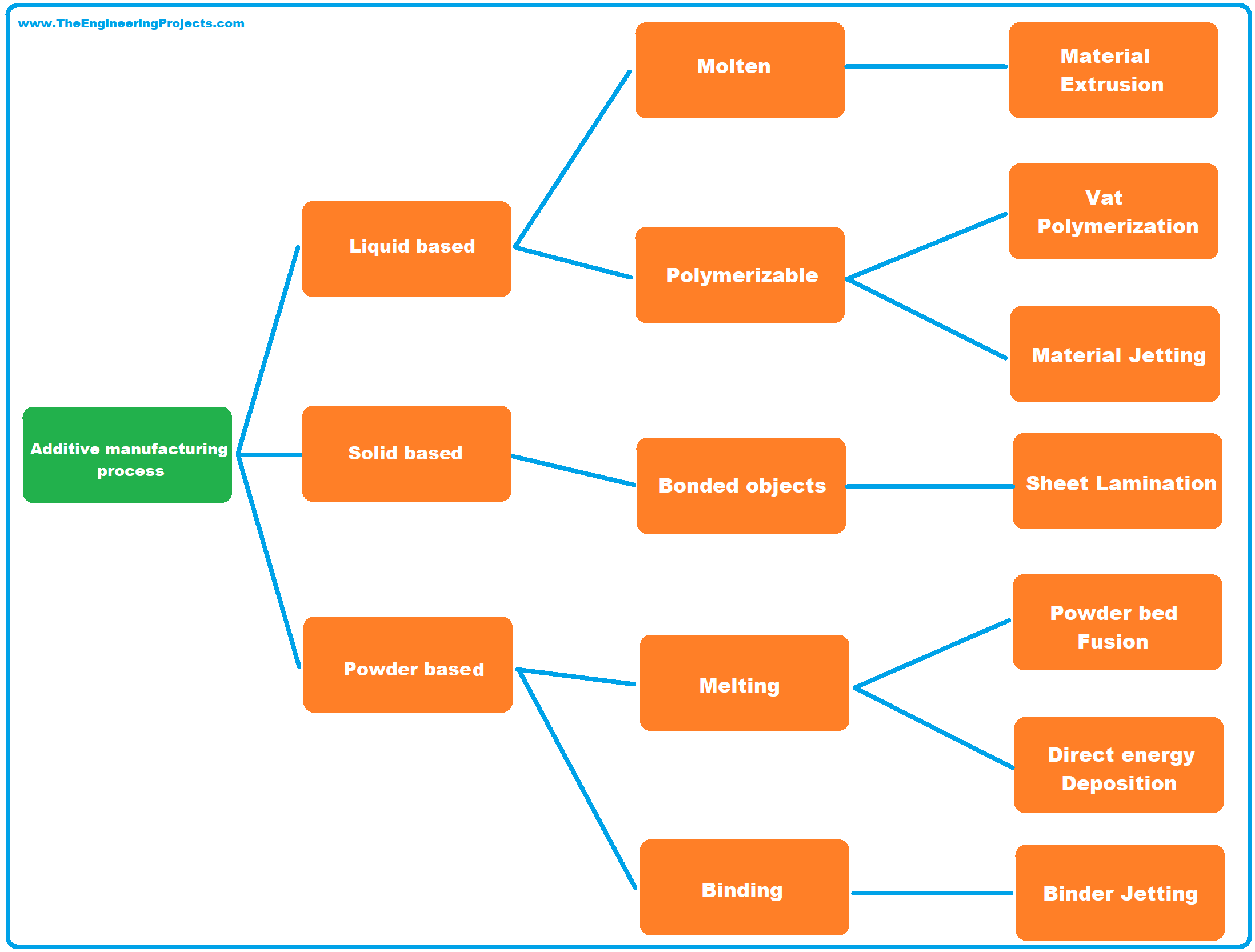 4. Stereolithography SLA
The term Stereolithography was coined by Chuck Hill in 1984.
SLA is also called VAT Polymerization.
SLA process involves the production of a 3D model by casting a light beam on the photopolymer resins.
When the UV light beam strikes the polymer layer, it castes a design on the polymer bed, the design then solidifies and moves one inch downward, afterwards another sheet is polymerized in the same way, the process continues until the 3D object is formed completely.
After the competition, the modeled object is washed with the solvent to remove excess resin from the layers making the design neat and sleek.
This process is highly expensive yet fast, you can generate your model in a day.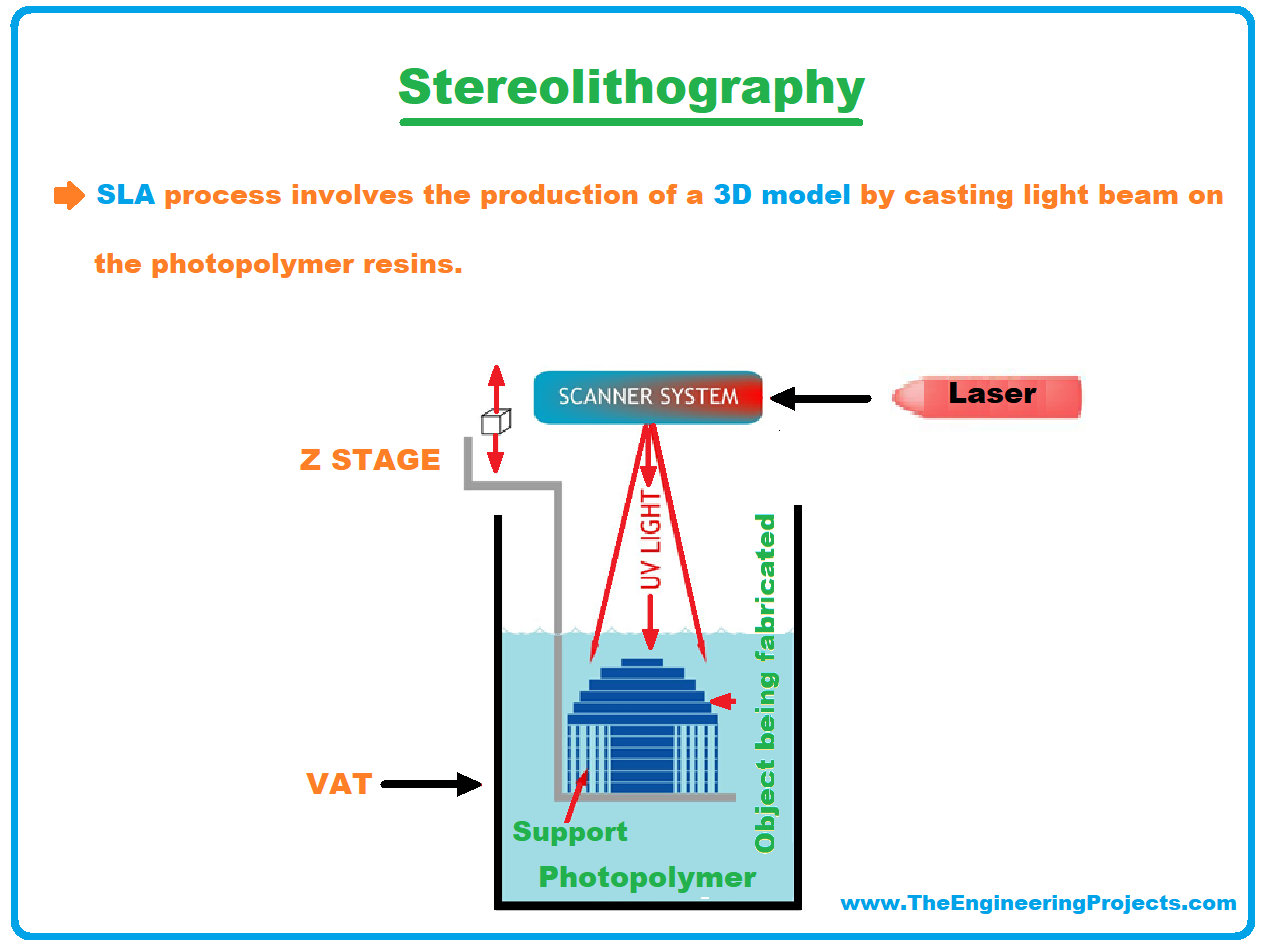 5. Selective Laser Sintering
It is very

similar to the technique being used in SLA

but differs in the use of powders instead of resins and laser beam instead of UV light beam in case of selective laser sintering.
A high-powered pulsed laser beam such as a Co2 laser beam is projected on the powder bed, according to the 3D modeled file fed into the system.
Powder beds can be made of any material such as Polyamide, Polystyrenes, Polycarbonate, and materials with thermal stability and durability are used.
The 3D model is formed layer by layer by melting and then solidifying the powder layer, these layers are then fused together in the end to form the finished product.
6. MultiJet Fusion
Multi-jet Fusion is used commercially for the production of 3D prototypes.
A fusing agent and a detailing agent are used in the process.
A nylon powder bed serves as the material for making the prototypes as the core material.
A layer of material is selectively fused with another layer with the help of a binding agent which is also called a fusing agent. The layers after fusing are exposed to the thermal energy sources for better binding.
After fusing the layers with each other, a detailing agent is then applied to create design elements and smooth surfaces.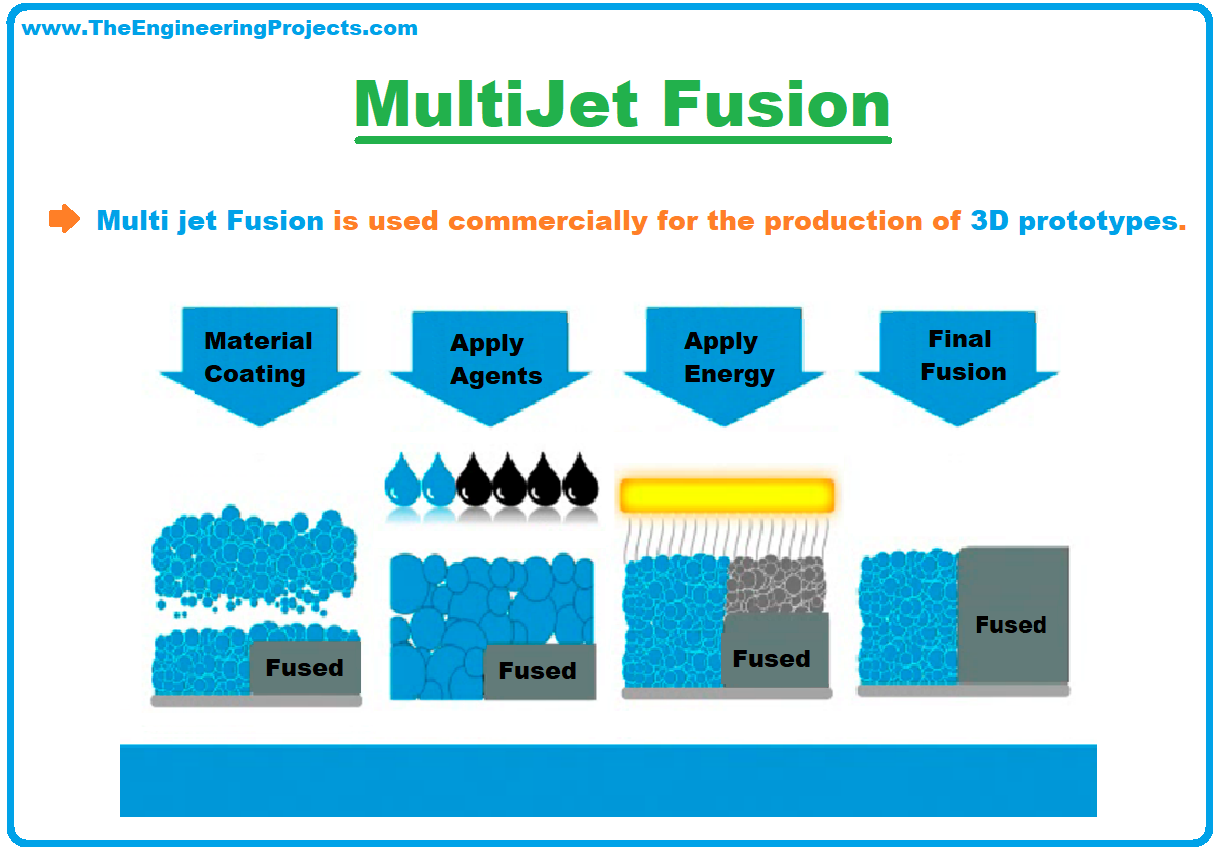 7. Electron Beam melting
Electron beam melting is a 3D printing technology that is mainly used in the production of heavy metal parts.
It is similar to Fused Deposition Modelling, both of them only differ in the material being 3D printed, FDM makes use of plastics meanwhile Electron Beam Melting implies metal as the core material.
An electron beam in a vacuum chamber is used to melt the metal powders, several layers are formed one by one, and these layers are then solidified together, for producing a 3D print.
The end product doesn't require thermal treatment for the solidification of successive layers, unlike other 3D printing technologies.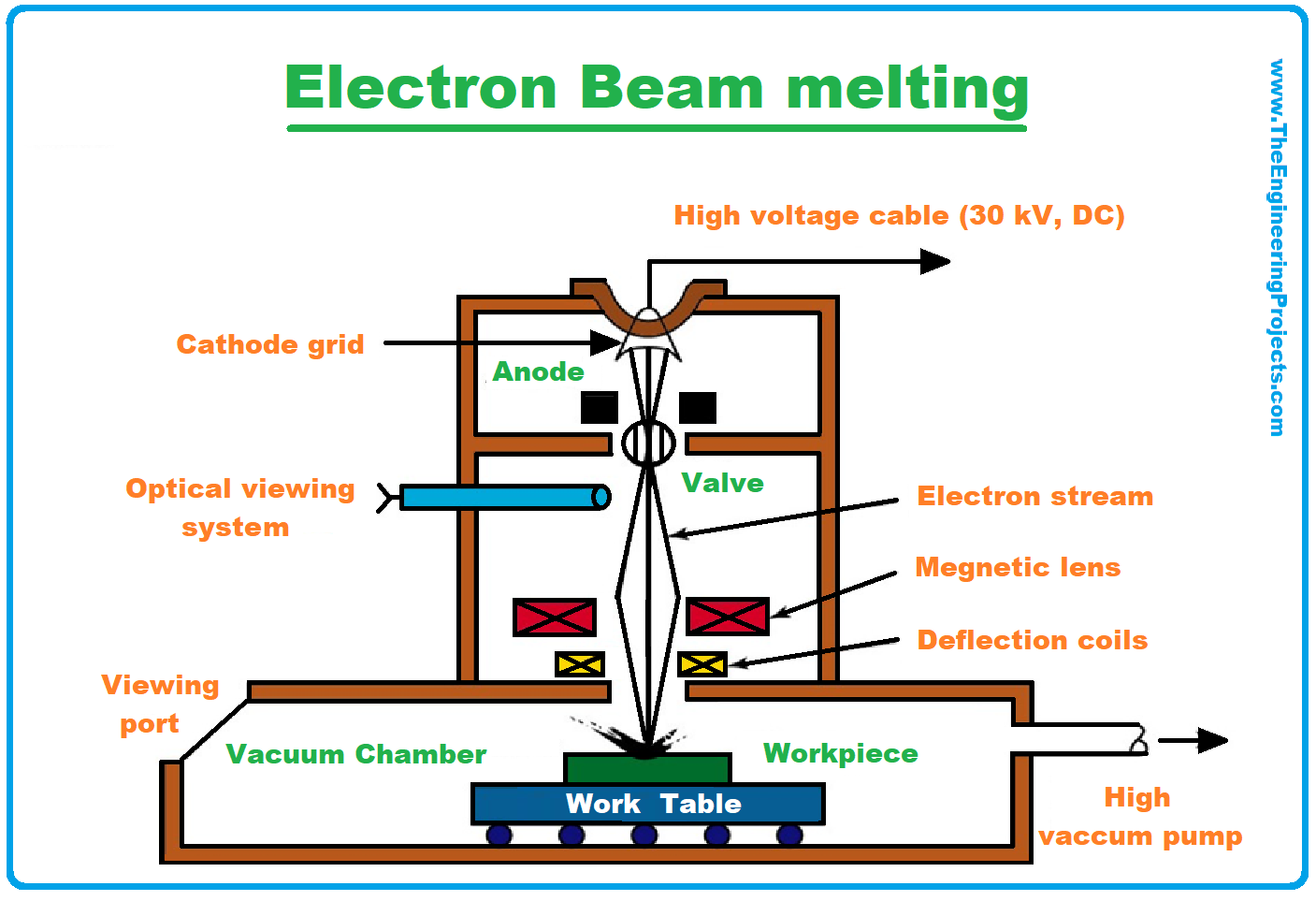 8. Fused Deposition Model FDM
It is the most commonly used method of 3D printing these days.
FDM is used for the production of 3D prototypes and small-scale end products as well.
Thermoplastic material like Polyacetic acid is used in the process as the core material.
A 3D object is printed in layers by heating the thermoplastic material and extruding it on the layers by extrusion nozzles.
The liquefier head along with the extrusion nozzles moves in X and Y coordinates according to the instructions already fed into the printer depending on the design of the 3D object.
Each layer when formed is consolidated with the layer beneath it which hardens by time.
The Fused Deposition Model is quick and produces sturdy 3D products with sleek finishing.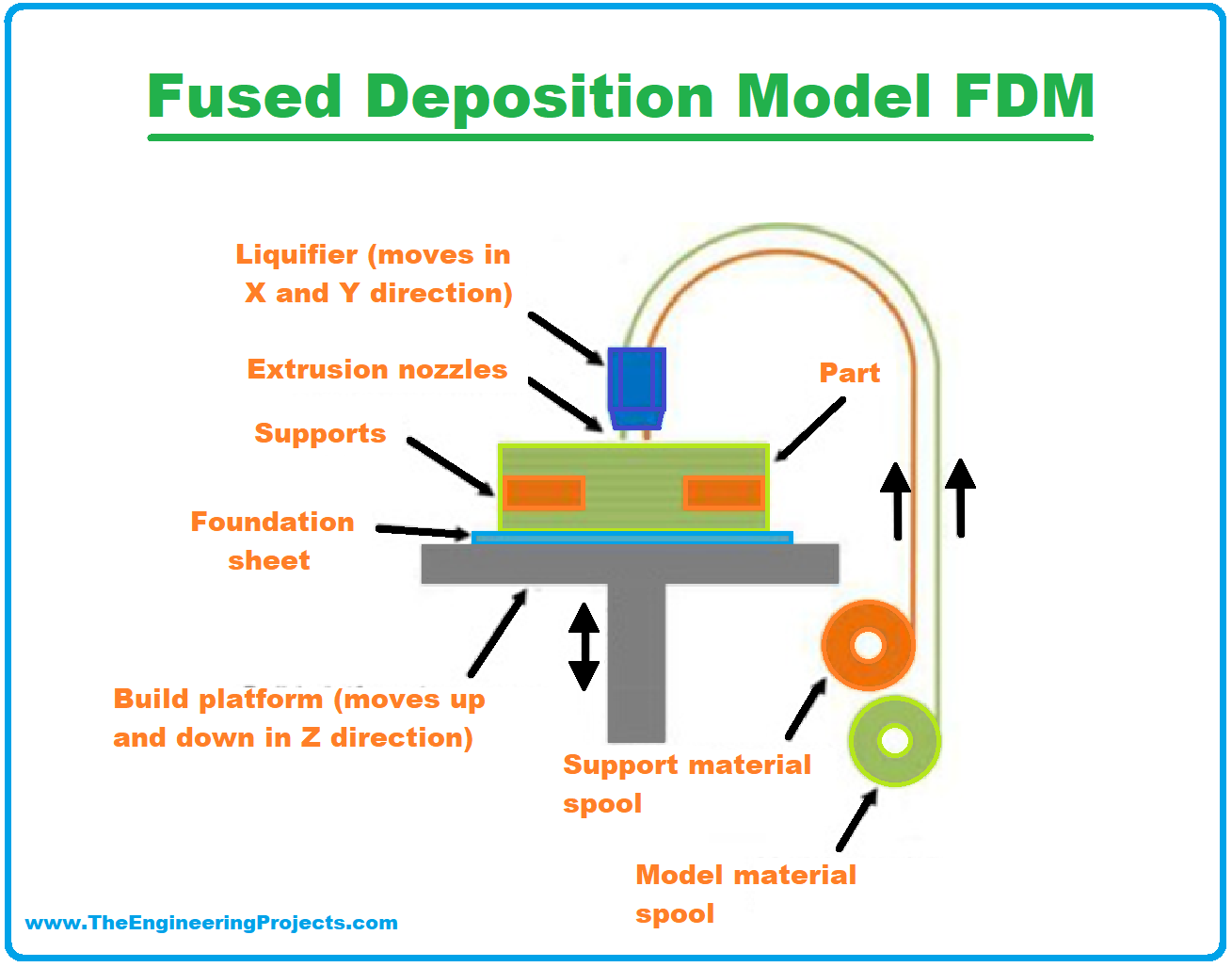 9. Laminated Object Manufacturing LOM
As the name suggests, laminated object Manufacturing makes use of laminated sheets coated with adhesive material.
The sheets can be made of plastic or paper according to the requirement of the 3D model.
All the laminated sheets are glued together under specific temperatures and pressure.
The laminated sheets are then cut into the desired 3D shape with the help of a laser or anything other cutting-edge technology.
This is one of the outdated methods of 3D printing which aren't used today.
10. Direct Light Processing DLP
Direct light processing has a similar working principle as of SLA, the only difference is the nature and use of the Light beam in the case of digital light processing.
DLP makes use of a DMD, A Digital Micromirror device made up of a semiconductor chip that has multiple micro-sized mirrors arranged on it in the form of a matrix.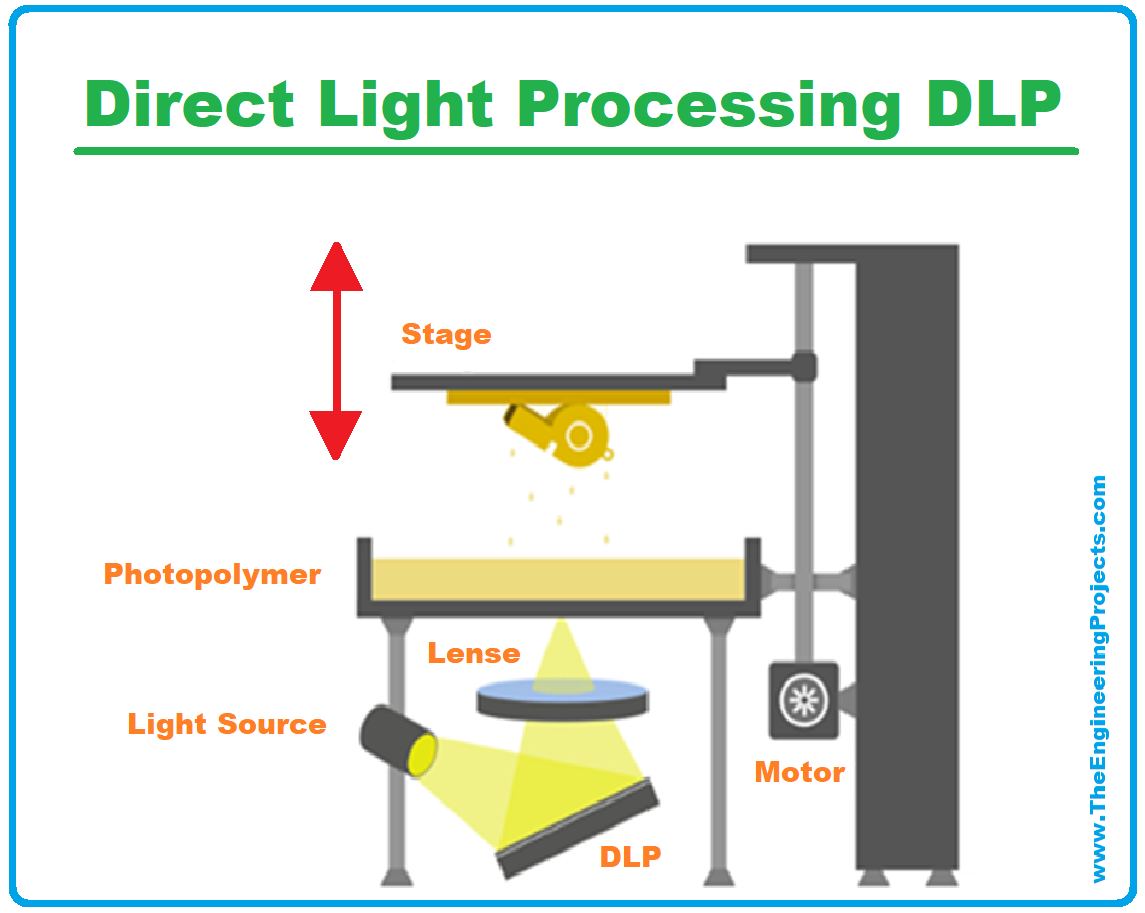 You must be thinking about what these micro-sized mirrors do? So here's your answer, they reflect the projected light beam on the Vat or resin bed forming the pattern according to the instructions of the printer. The design thus cured on the resin is in the form of voxels, if you are not well aware of a voxel, then let me tell you, Voxel is a three-dimensional cube inside the three-dimensional grid of a 3D model in the parallel 2D world it is similar to pixel but it is definitely not a pixel!
DLA is faster than the other known methods of 3D printing to date.
11. Direct Metal Laser Sintering
Before diving into metal sintering, here is a question for you, do you know the meaning of sintering?
Sintering is the fusion of particles into a single solid mass without melting, under specific temperature and pressure conditions.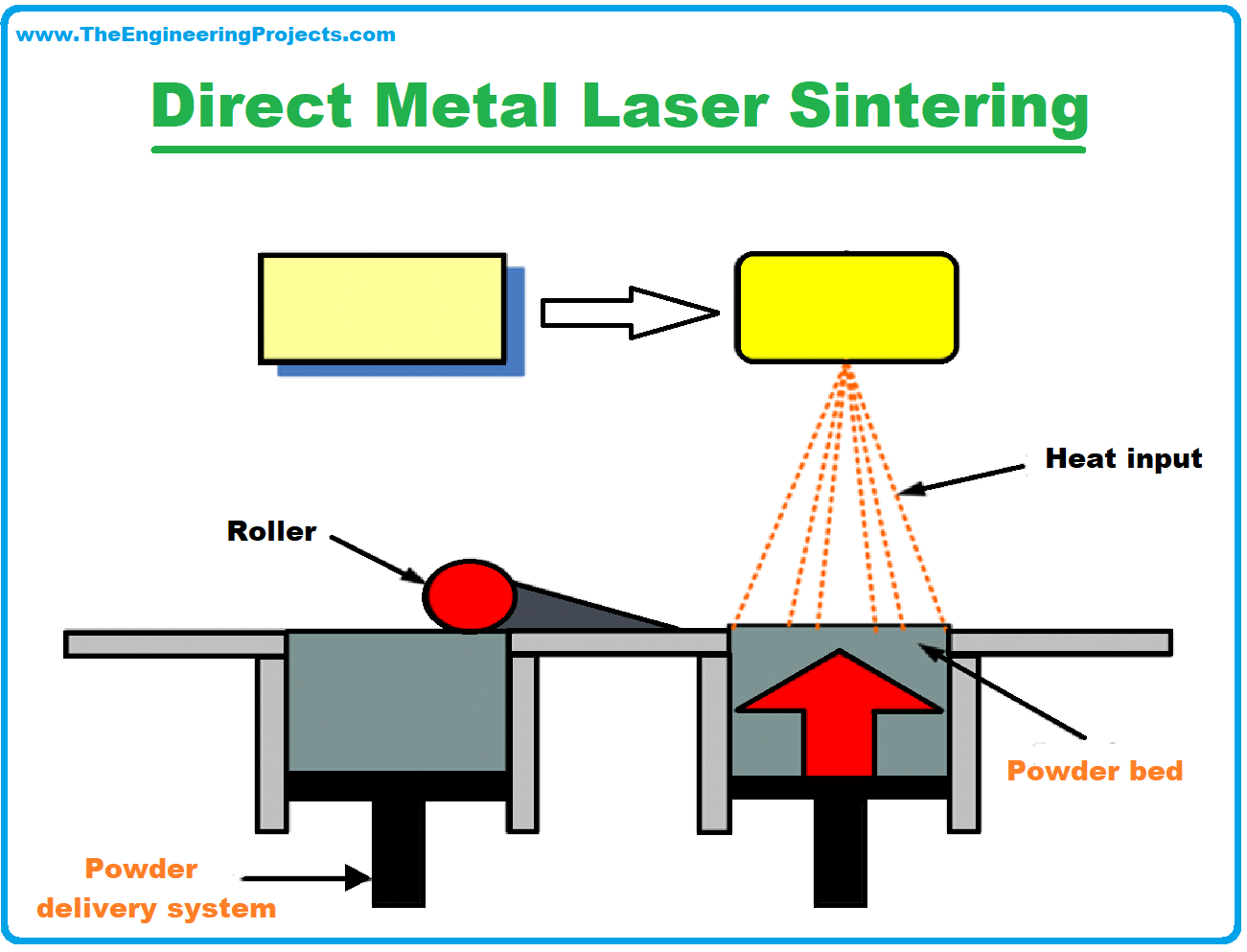 Direct metal laser sintering has a similar working principle as Selective Laser Sintering, the only difference they have is the material being used.
Selective laser sintering can implement the use of any material like ceramics, plastic or glass meanwhile, direct metal laser sintering can only be used for powdered metals.
DMLS is widely used for the production of metallic parts and prototypes on an industrial level
12. Poly jet 3D printers
Poly Jet printers are similar to inkjet printers.
These printers jet photopolymers on the surface of the design bed which is later on cured with UV light. A layer-by-layer additive process creates the full-fledge 3D object.
The most amazing feature of Poly Jet printing involves the use of two or more materials for a single prototype or product. You can manufacture any part of the 3D modeled object with your desired material without disturbing the other parts.
Post-processing is not required while we use PolyJet printers, the 3D modeled object is ready to be used right after manufacturing
PolyJet 3D printing is an expensive yet speedy process, with higher design accuracy than the other 3D printing technologies yet known to us.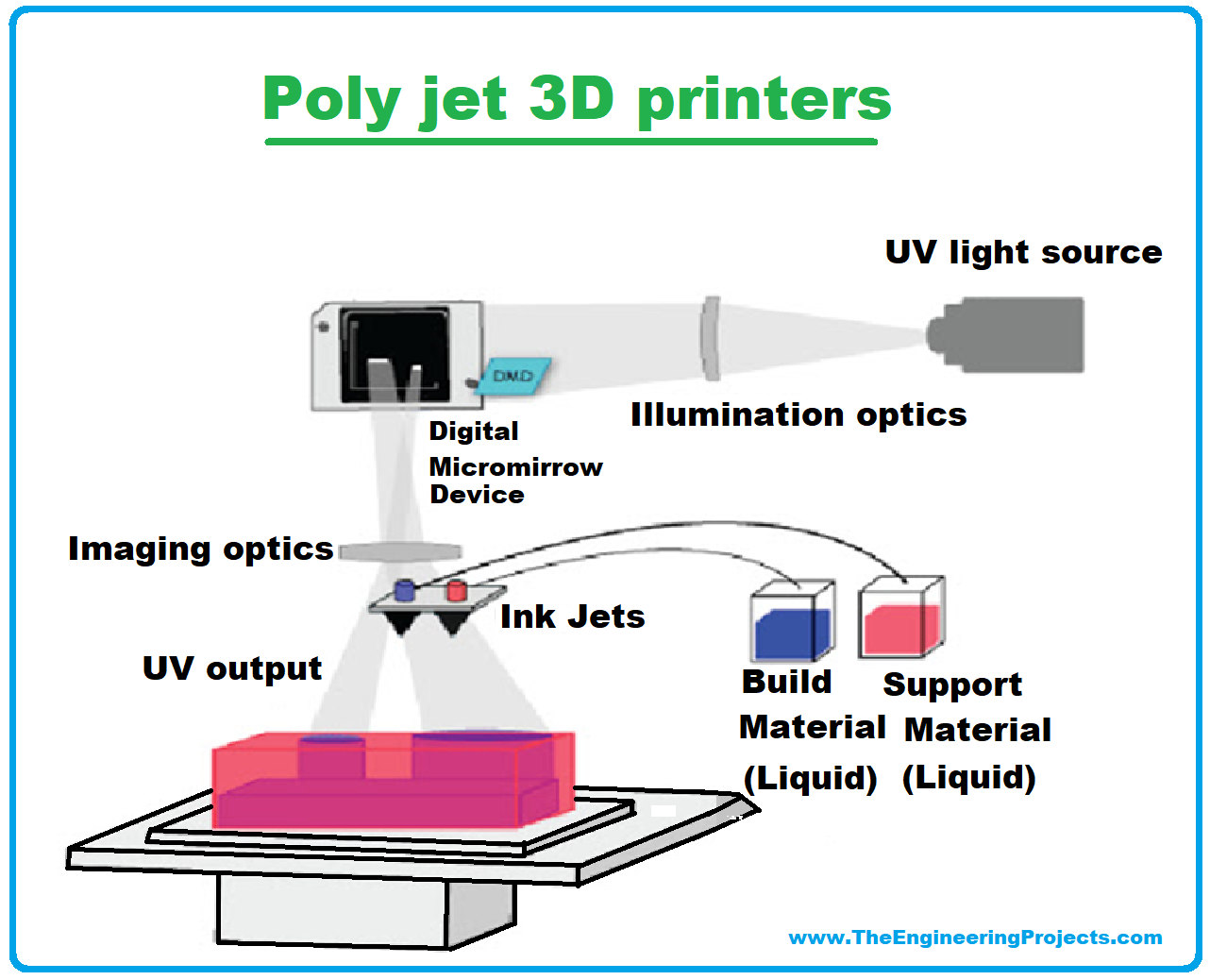 The following table shows the summary of all the technologies we use in 3D printing, you can go through it for a quick sneak peek of the overall process for each of the mentioned technologies for 3D printing.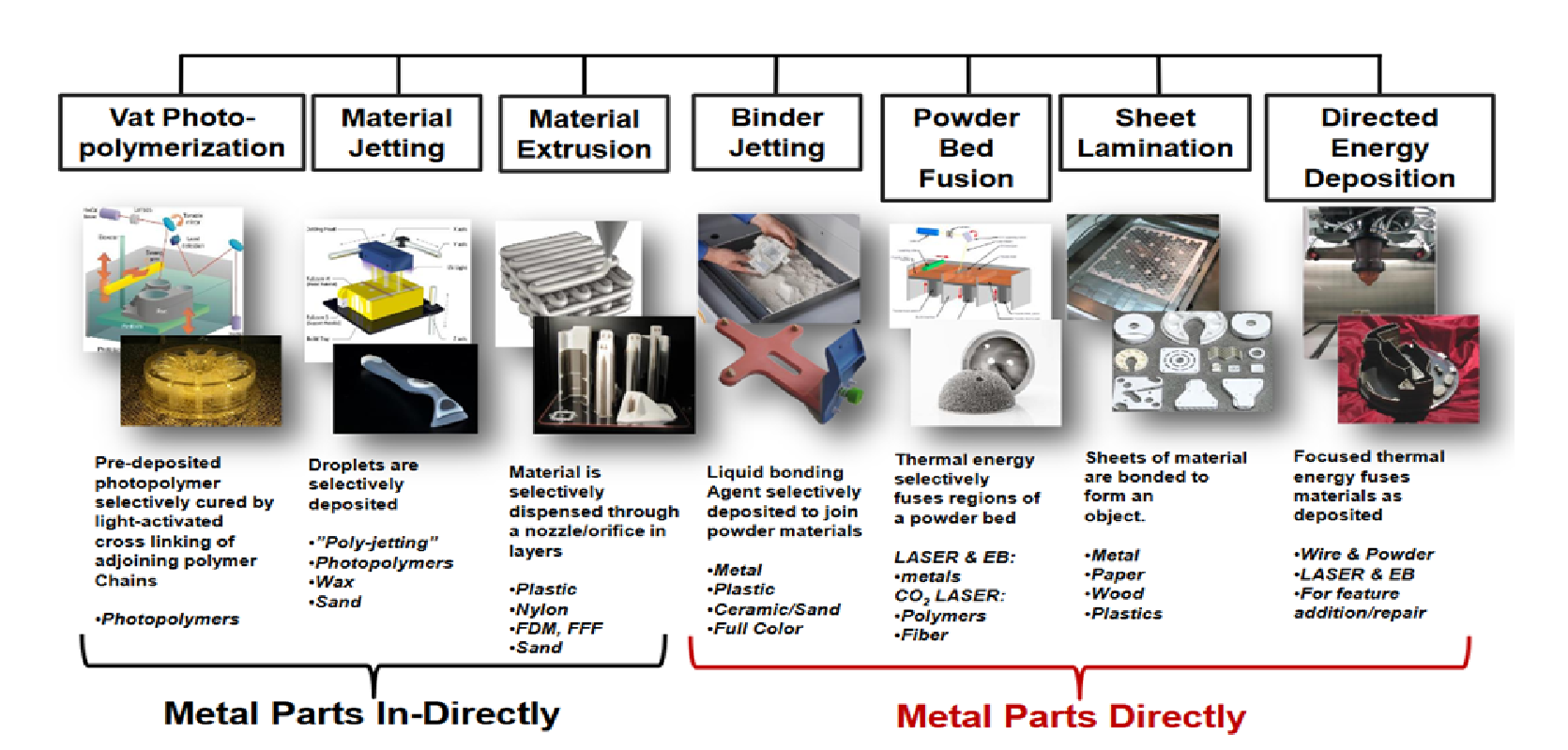 Process of 3D printing
We have completed the section on 3D printing and the technology being used for 3D printing by now, you must be thinking of the process involved in 3D printing! Let's discuss this process step by step in detail for a better understanding;
Step 1: Modeling
3D printing begins with the process of designing the product in digital form using software like AutoCAD, solid works or whichever you like to work with as there are plenty of modeling software present in the market.
 Step 2: 3D Printing
After the approval of 3D design the file is fed into the 3D printer which translates the digital file into STL format.
After translation of digital file into STL file format, a 3D Slicer starts configuring the whole process, layer by layer.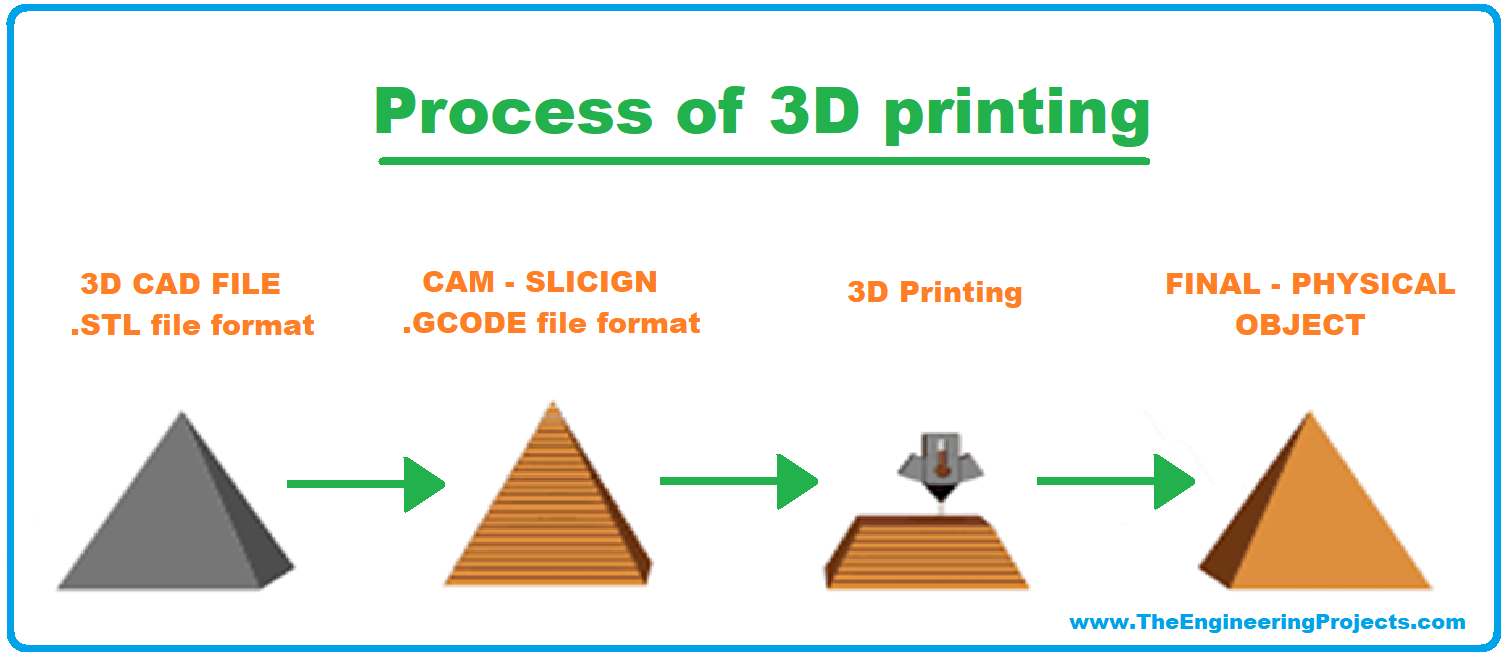 Each layer is deposited on the other according to the technology your 3D printer works on, it can be SLA, SLS or DLP. The process then continues until all the layers have been formed and our 3-dimensional object is complete. This was all about the process of 3D printing, absolutely simple and easy to understand! Isn't it? You can get anything 3D printed from the service providers nearby, cost depends on the dimensions of the object being printed. 3D printing has become less expensive now as compared to the past, all thanks to the increase in demand which led to the availability of better pocket-friendly options.
Applications of 3D Printing
3D printing has countless applications some of them are being listed here:
Rapid Prototyping
3D printing is used for Rapid Prototyping of 3D structures, I have a detailed tutorial on Rapid Prototyping, and you can definitely read it for an in-depth study of the topic.
Small Scale Production
3D printing is used for the end-products in industries as well, this feature of 3D printing has brought itself on a commercial scale.
Medical Equipment
3D printing has left its mark in biomedical engineering as well, from the prototyping of artificial limbs to the manufacturing of splints and braces on small scale, 3D printing knows no bounds.
Anatomical Models
Anatomical models of body organs and systems are 3D printed for educational purposes.
Assembly Parts
Small assembly parts made from powdered metals are also 3D printed for mass production, because of their cost-effectiveness.
Toys and Games
Legos and small toys produced from manufacturing-grade plastics have made their way into the market all thanks to 3D printing.
Research and Development
Almost every kind of 3D prototype can be printed with the help of 3D printing techniques, these prototypes are used for research purposes.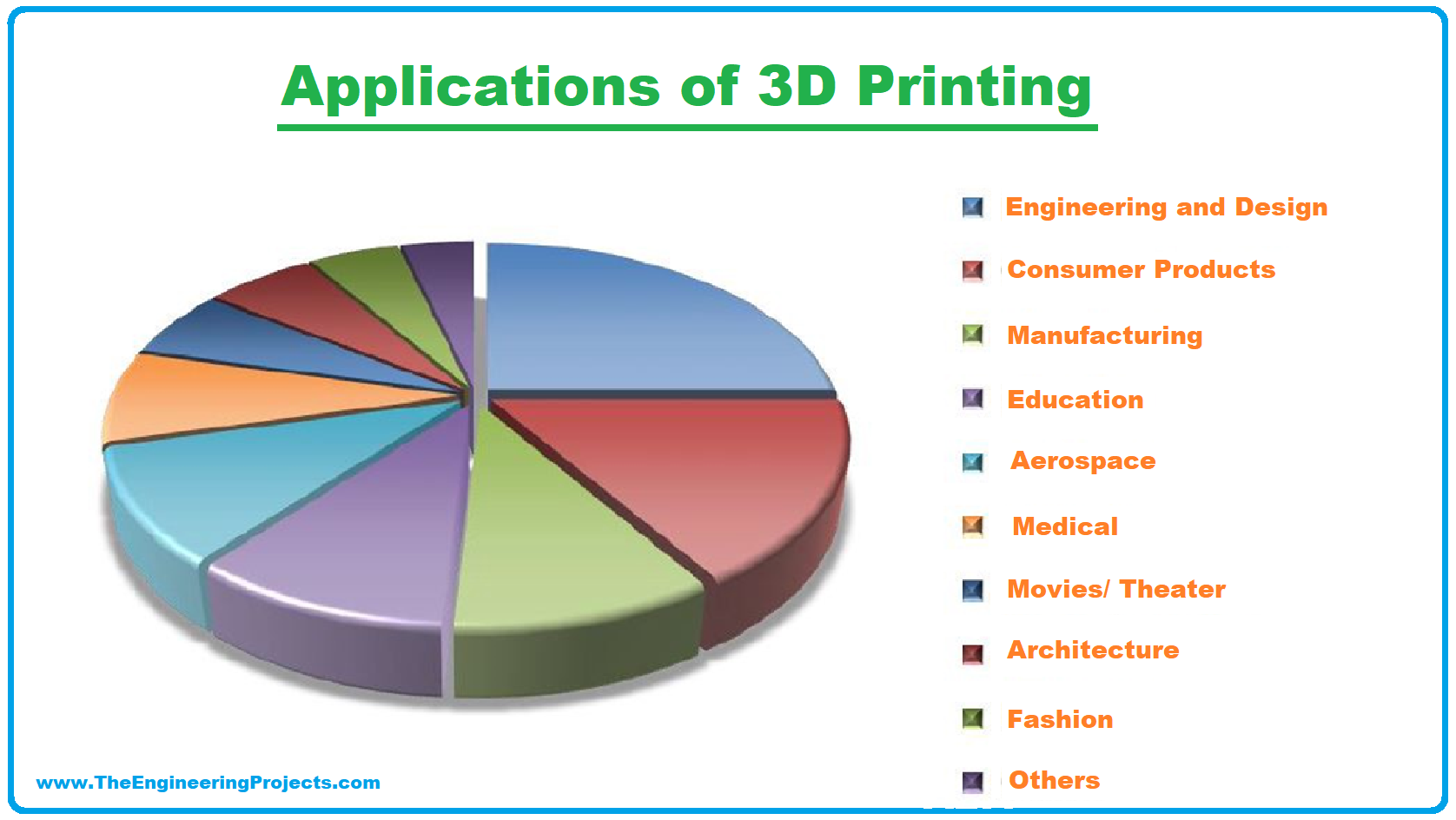 Art and Design
3D printing is used in the field of art of design for making sculptures, you might have seen a lot of them in the student's thesis display! If not, pay a visit after the pandemic ends.
Jewelry
Limited edition jewelry is an extremely hyped-up thing these days, although the production cost is not as much as the tags say, but women buy it for the sake of self-satisfaction! These limited edition pieces are also 3D printed.
Agile Tooling
Agile tooling that deals with the design and formation of tools that are related to tool manufacturing tools, including dies and molds also involves 3D printing.
Automotive Industry
The automotive industry is also using 3D printing for the manufacturing of components, Urbee is the first car in the world that used 3D printing for its components.
Architectural Designs
Architectural industry prints scalable 3D models of the buildings and bridges for evaluation and approval of everything that comes under building and construction.
Advantages of 3D Printing
3D printing has definitely made our lives easier and better, here are some of the advantages associated with the process:
1. Broader Design Window:
Complex parts and products are easily achievable through 3D printing technology, traditional methods of production had a lot of limitations in case of complex and intricate designs
2. Durable Parts:
The assembly parts that are manufactured with help of 3D printing are lightweight and durable because 3D printing can work with a variety of materials that better suits the manufacturer.
Although the materials have to be checked according to the required parameters for safety and sustainability.
3. Minimal Waste:
3D manufacturing is an additive process and hence less waste is produced, you must be wondering how?
The material only needed to build a 3D object is deposited layers by layer according to the design fed into the printer which means less waste.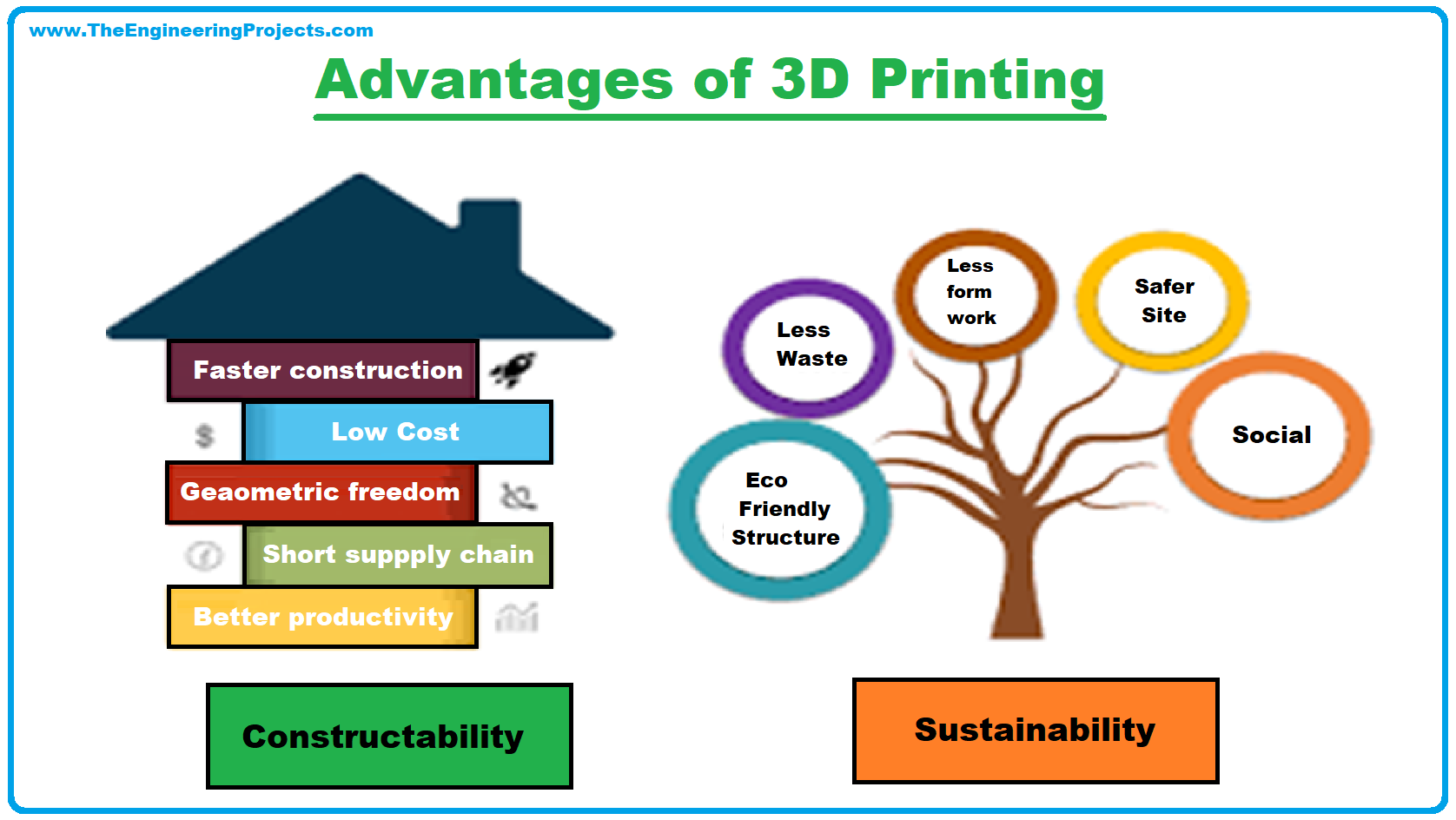 3. Rapid Prototyping Made Easy:
3D printing makes rapid prototyping easier and faster, you can complete your prototype within days or weeks.
This feature was missing when people used to make prototypes through the machining process in the past.
4. Cost-Effectiveness:
The process of 3D printing is extremely cost-effective, you don't have to pay a lot of money in the form of labor costs and a large amount of material procurement.
A design and a 3D printer service provider can make your day!
5. On-Demand Production:
When you are using 3D printing for end-product manufacturing, you can easily print as many pieces as you want according to the supply and demand, so there is no need to stock up when you are using this method.
A slight modification or a bigger change in the design can be made easily in the 3D file of the product, without disturbing the entire design.
Limitations of 3D Printing
You are well aware of the advantages 3D printing serves, in this section we'll be discussing some of its limitations which is a necessary evil.
Different End Product as Compared To 3D Model: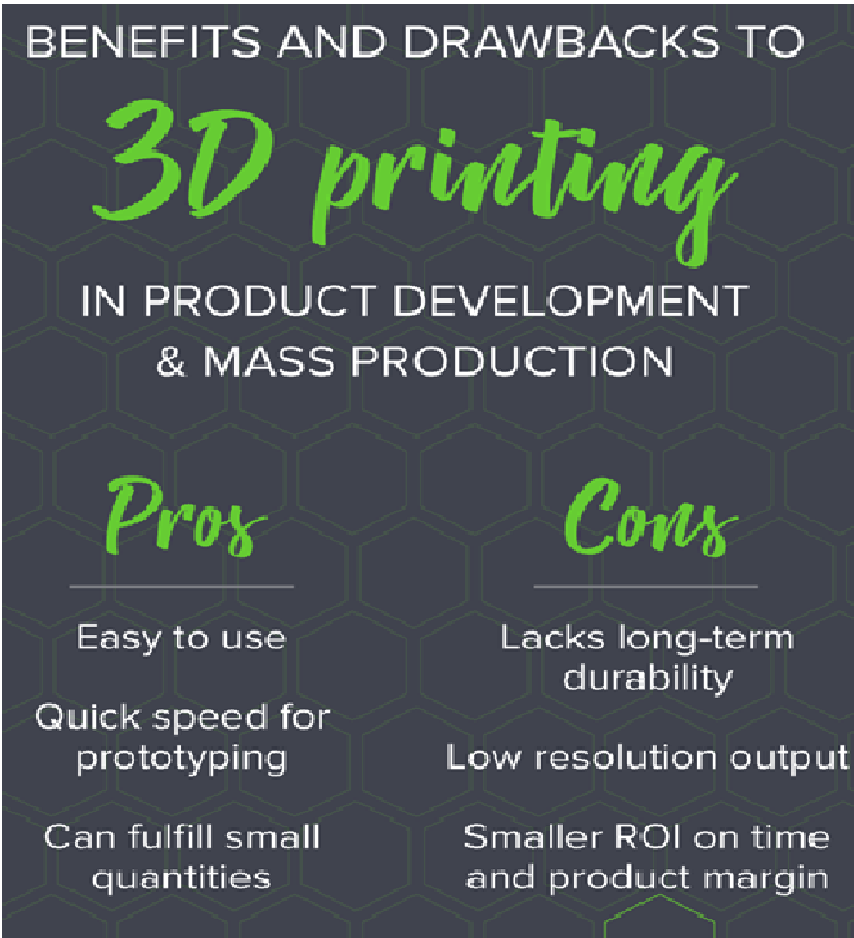 1. Material Limitations:
Nobody wants it to be true, but it can be! 3D modeling software has rendering tools and other highly specialized tools which create a sleek design with intricate details and patterns on the product, the product may not have all the design elements when 3D printed because of the gap between the 3D world and the real world. 3D printing can experiment with a lot of materials when you prototyping for design and development but in the end, the materials with very specific properties can be employed for end product and its mass production.
2. Size of the Object:
The objects when 3D printed have smaller sizes because the 3D printers are not humongous enough to print large 3D shapes and objects, have you ever thought, how much changed would our world be, if 3D printers could print an Eifel tower or leaning tower of Pisa?
3. Post Processing of the 3D Object:
After printing the object that has been modeled, it is soaked or bathed in different chemicals to remove the access amount of adhesive materials left on its surface, we have to wait for the model to cool down to start post-processing which takes time!
4. Fragility of the 3D Structures:
A few 3D printing methods produce 3D prints that are not sturdy enough and can break down if a higher amount of temperature and pressure is put on them, Fused Deposition Modeling is one of those techniques, don't fret! , a little amount of care can save your day! That was all about 3D printing, I tried to make it simpler for everyone. I presume you must have gained something out of it, if not, you can always revise it for another time, a second read never hurt anyone!