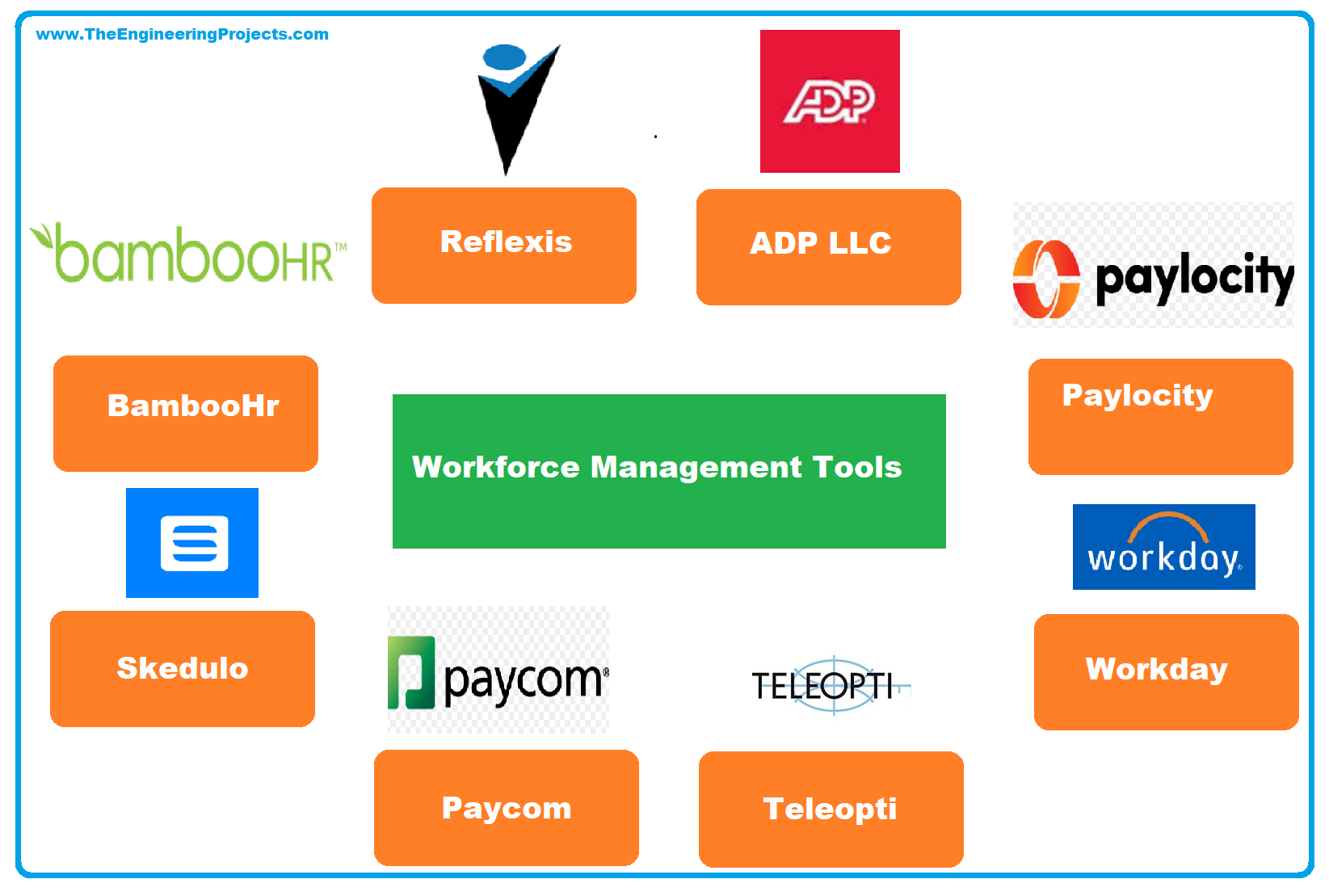 Hello friends, I hope you all are happy healthy, and content. We have been discussing workforce management lately, today we will discuss another topic related to workforce Management which is none other than, "Best Workforce Management Tools for Big Companies."
Giant companies with thousands of workers need a systemic and uninterrupted workflow, with the advancement of technology workflow is fully automated through workforce management software and tools. We will discuss some of the best available tools for big companies in this article, let's get started:
Definition of Workforce Management
Let's define workforce management first:
Workforce Management is the amalgamation of different processes, which helps companies to optimize their employee's performance and workflow."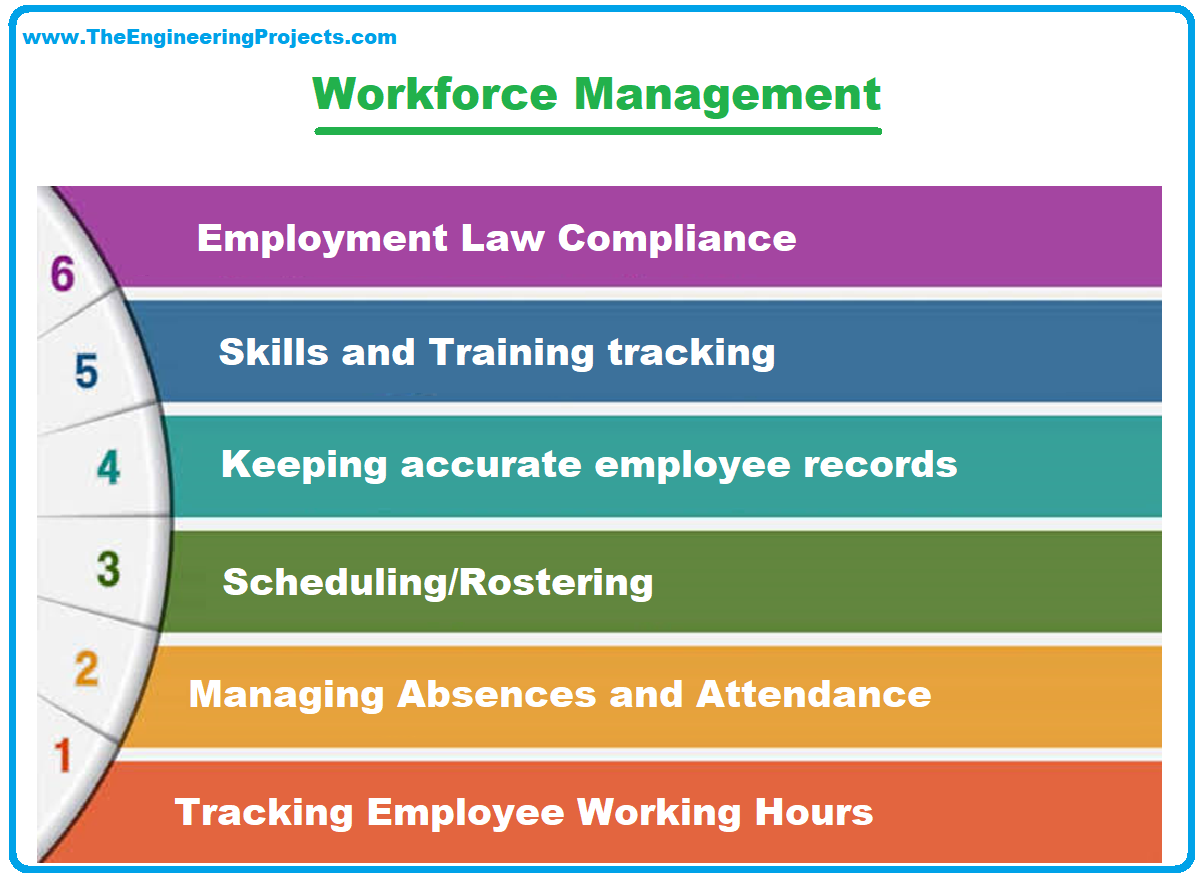 Workforce Management System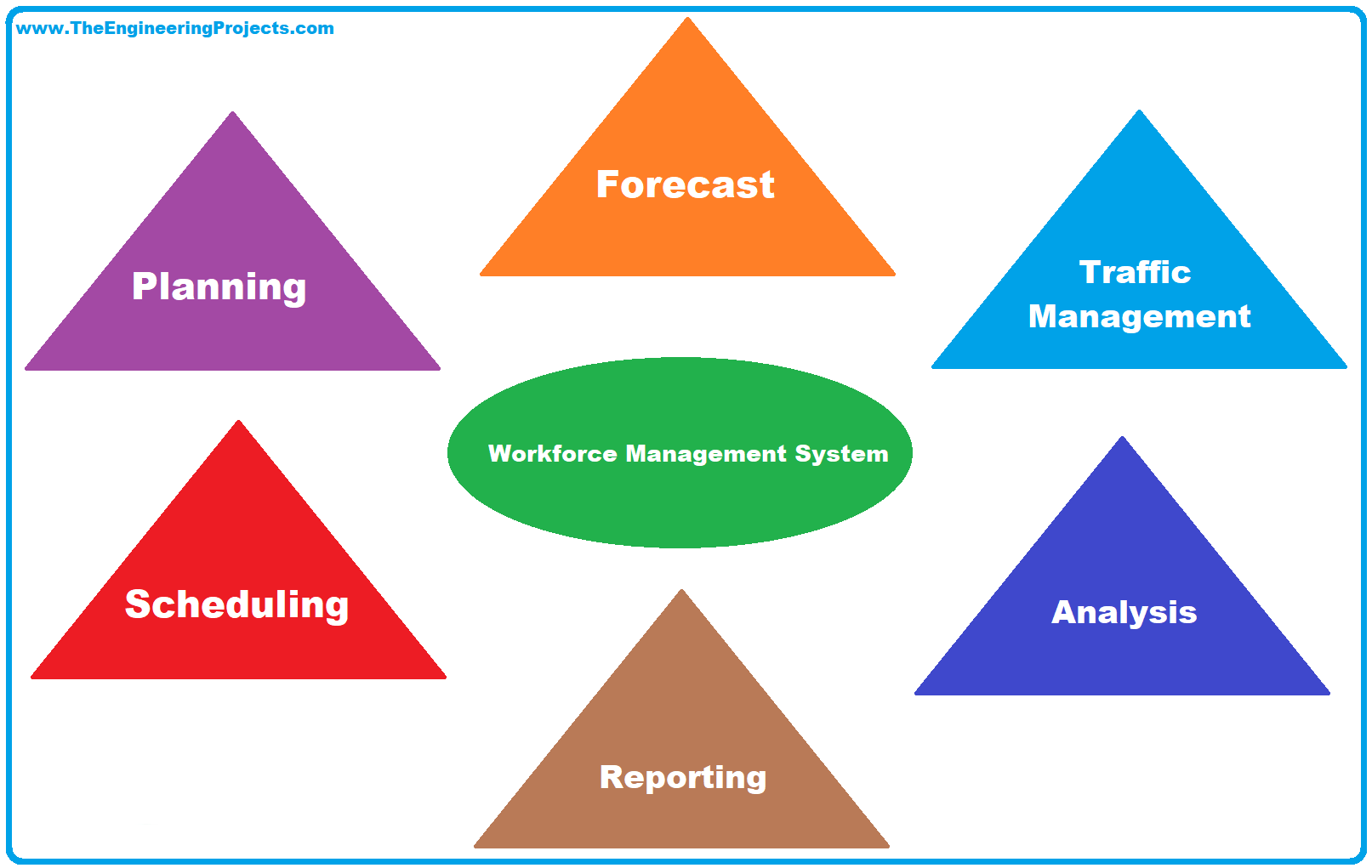 Now you have a clear idea of what is workforce management? we will proceed further with our discussion, as per our definition of workforce management, several processes are involved in this system, which is now fully automated and controlled by workforce management tools or software in our modern-day society, who wants to be surrounded by paperwork all day with heaps of files and papers to go through? Absolutely no one! That's why workforce management software is here to help us achieve bigger things with smart work, as they say, work smarter not harder!
I'm listing below a few possible systems which are automated through workforce management software which leads to an overall automated workforce management system;

Time tracking and attendance system.
Human resource management system.
Payroll management system.
Talent acquisition and talent management system.
Benefits management system.
List of workforce management Tools used by big companies
Big companies having thousands of employees use fully automated workforce management systems with the help of workforce management software, the reason for using such a highly sophisticated and efficient system is the fact that such a huge number of employees can not be managed manually, we will now be discussing a few immensely famous and widely used workforce management tools and software used by big companies.
ADP LLC
The first one on our list is ADP LLC, the workforce management tools provided by ADP, LL are matchless in quality and efficiency.
ADP LLC is a famous software used mostly by big businesses having an employee range of up to 1000+ employees.
According to an estimate, ADP LLC has 80,000 clients who use their workforce management software services and tools.
ADP LLC provides the tools for workforce management by automation of following systems;

Payroll Management
Time tracking and attendance
Talent acquisition and management
Tax management
Leave Management

ADP LLC can help you recruit and train new employees through their fully automated system.
You can also keep track of your employees performance by strong analytics of ADP LLC.
ADP LLC has a mobile app for time tracking which is accurate and up to the mark, through time tracking system employees can log in anytime without using plenty of timesheets.
The leave case management process is also very convenient by tools provided by ADP LLC software, in case an employee wants to apply for annual leave, leaves can be viewed and approved easily through the app by workforce managers.
A big company has to deal with a lot of legalities, ADP LLC can manage your Taxes according to regulations of federal, state, and local government.
ADP LLC offers a three months free trial as well although, with a few terms and conditions, you won't see it anywhere else, maybe there can be a few exceptions in the industry but a free trial for such a sophisticated system isn't a common thing.
You can get a quote In case you want to buy the services and tools provided by ADP LLC, just fill the form and submit it and patiently wait until their team gets back to you.
Paylocity
Paylocity is a versatile workforce management software retaining everything you need for seamless and effortless workforce management.
Paylocity provides countless tools through its workforce management software for the automation of the workflow for big companies.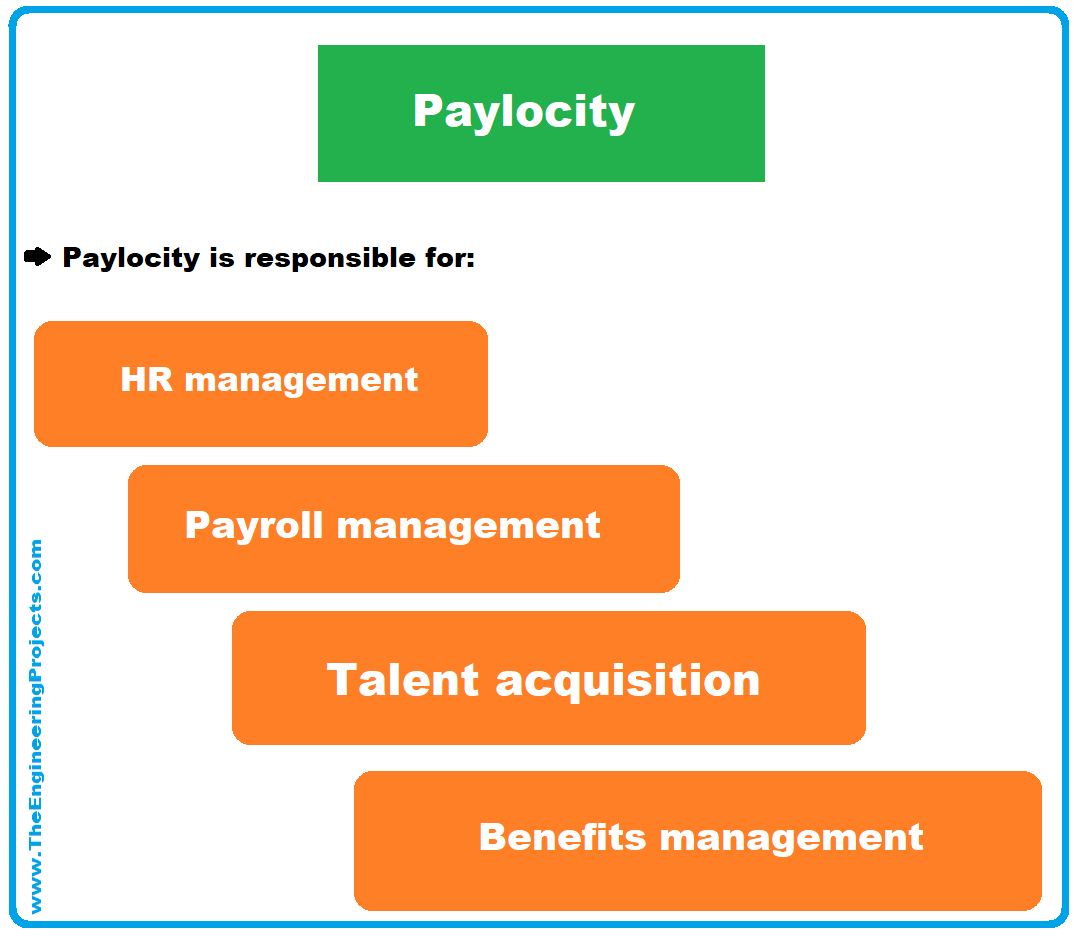 It is responsible for;
HR management
Payroll management
Talent acquisition and management
Benefits management
PayloCity is client-oriented and user-friendly.
The tools for time tracking and scheduling are powered by the geofencing parameters and time clocks.
Talent management is done through fully automated recruiting software, attracting candidates which are perfect for the company using the tools provided by Paylocity.
Paylocity has top-notch analytical tools that provide data insights with highly analyzed reports and surveys to improve the operation and productivity of the company.
A payroll management system of paylocity is highly sophisticated which can be configured and can be incorporated with any service provider you want.
If you are a big company thinking to buy a full-fledged service of paylocity, then tools provided by paylocity for workforce management through their fully automated software can certainly live up to the expectations, go for it!
Workday
Workday provides high-quality tools for workforce management in big companies through their all-in-one workforce management software.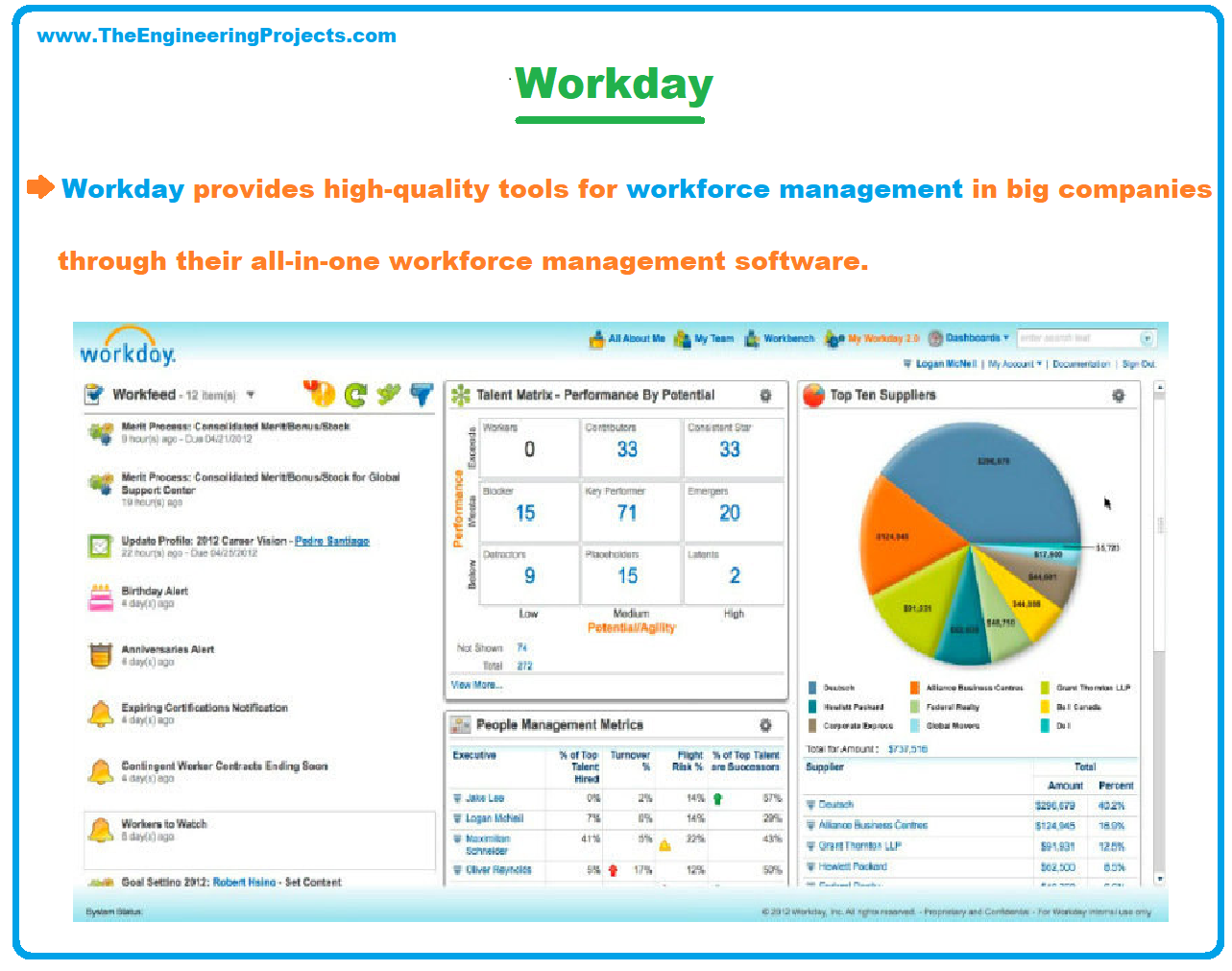 Workday is a one place solution to all the following through their workforce management software;
Human resource management HR
Talent acquisition management
Enterprise management
Payroll management
Workday workforce management software has an outstanding time tracking tool powered with geofencing, through this efficient tool the employees receive an indication or alert for check-in and check-out when he or she embarks the site of the job.
Workday workforce management software provides the facility of self-service to employees by empowering them with the option of entering and editing their data through the workday workforce management mobile app.
Workday also provides another tool to the employees i.e they can view the full schedule and timelines of the project from the company calendar which is accessible to everyone, keeping everyone updated on the current situation.
The payroll system can also be integrated with the service provider of your own choice, all thanks to the tools provided by workday.
One of the most amazing featuring of the workday is that it also provides an open shift board with a swapping option your employees can easily mention their availability and take a paid time off.
Workday provides an analysis of global labor cost with this tool the company high ups can view the global labor trends and ongoing situation of the industry with the strong analytical tools of the workday, it helps big companies in making better decisions for growth and prosperity.
workday offers different packages to companies according to their size, You can get the per-user cost from the customer support team of the workday, by filling a simple form available at their website.
Teleopti
Teleopti provides tools for workforce management to Enterprise Level businesses.
Teleopti workforce management software is specialized for the following;

Staffing
Scheduling
Tasking
Customer support of the company using teleopti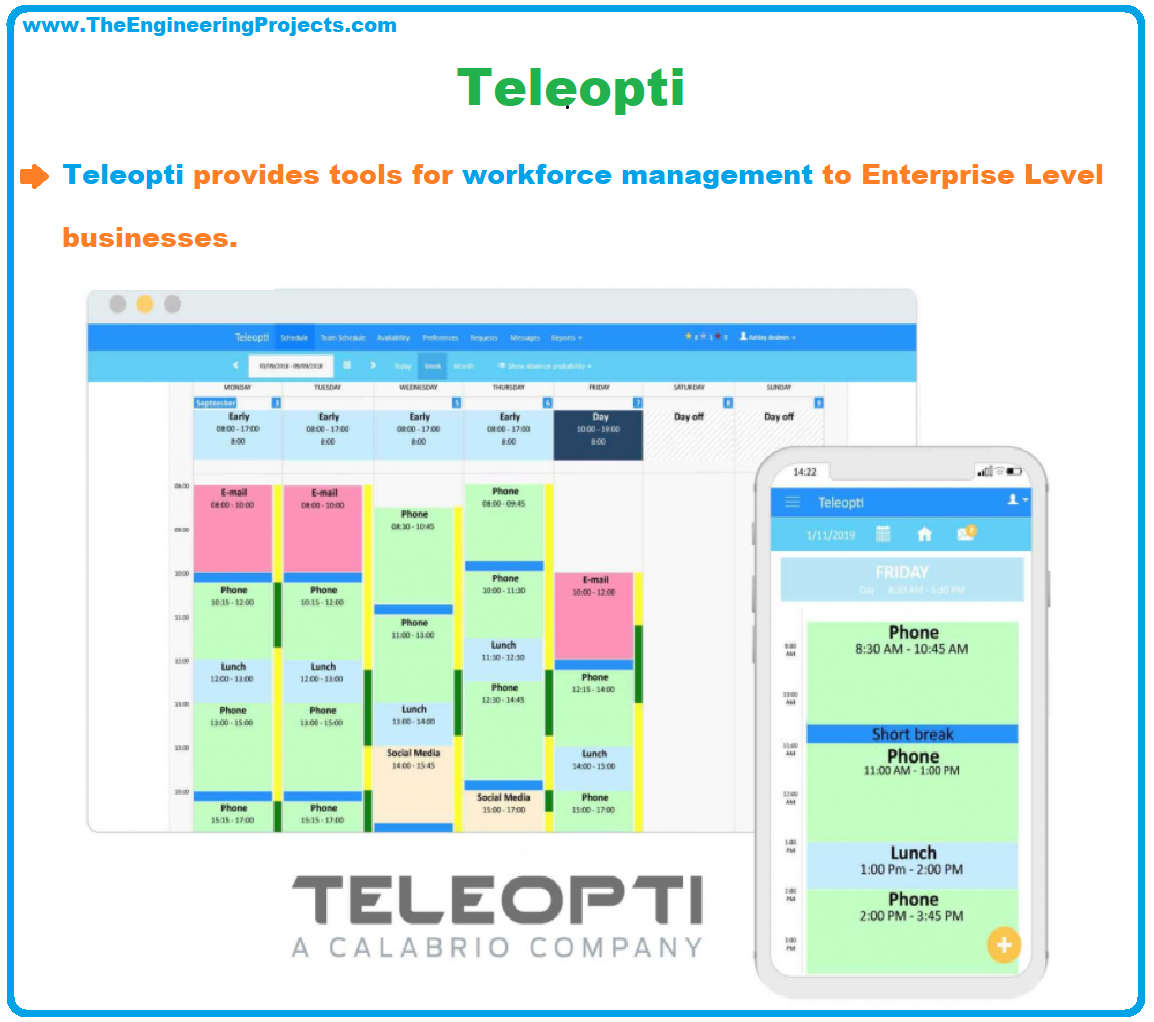 Teleopti fully automates the workflow of big companies by effectively managing staff and creating automated schedules for the employees.
Strong analytical tools provided by teleopti are used for analyzing the performance of the employees.
Another astounding feature of Teleopti is the tool provided by teleopti for generating in-depth and well-analyzed reports, helping companies improve their customer service operation.
Teleopti allows a provision of fully automated training of employees to cover their lackings in different fields, helping the employees improve their skill and competency.
One of the most amazing tools provided by Teleopti workforce management software includes the internal communication option by instant alerts and text notifications within the working hours, keeping everyone aware connected, and on track throughout the day.
Many big companies vouch for their services in terms of their customer service tools and analytics, you can also get a quote by filling a simple form available on their website.
Paycom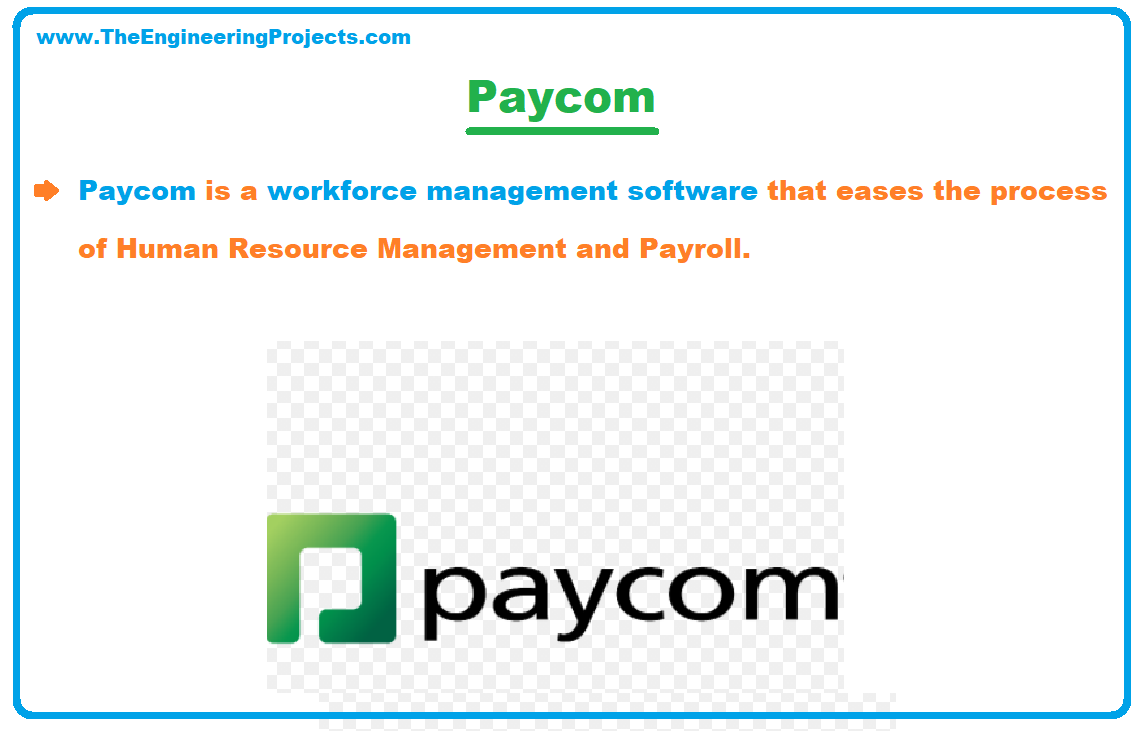 Paycom provides workforce management tools to big companies that ease the automation of the following systems;
Human Resource Management
Payroll management system
Paycom can help you manage the payroll process within hours with a single click, that is why is mostly used by big companies. They provide an extremely smooth workflow and above all, Paycom claims to be everything you need for workforce management from hiring to retiring!
Paycom is mostly used by enterprise-level companies for managing their workforce with a very user-friendly app that is easily available on the play store.
In the paycom app, for performing Managerial tasks and services, There is a remarkable feature of the Manager on the go, the tools available in the manager on the go helps manage the following;

Tacking time cards
Approving and rejecting Time off requests made by the employees
managing schedules
Supervise expenses and overall finance of the task
The Paycom app has a very simple user interface for employees of every rank, every employee has his or her login id and security pin for logging in to the account.
For attendance and time tracking employees can instantly clock in and clock out through their Paycom mobile app.
Paycom provides tailored workforce management tools to the big companies, you can easily get a quote by filling a form on their website.
Skedulo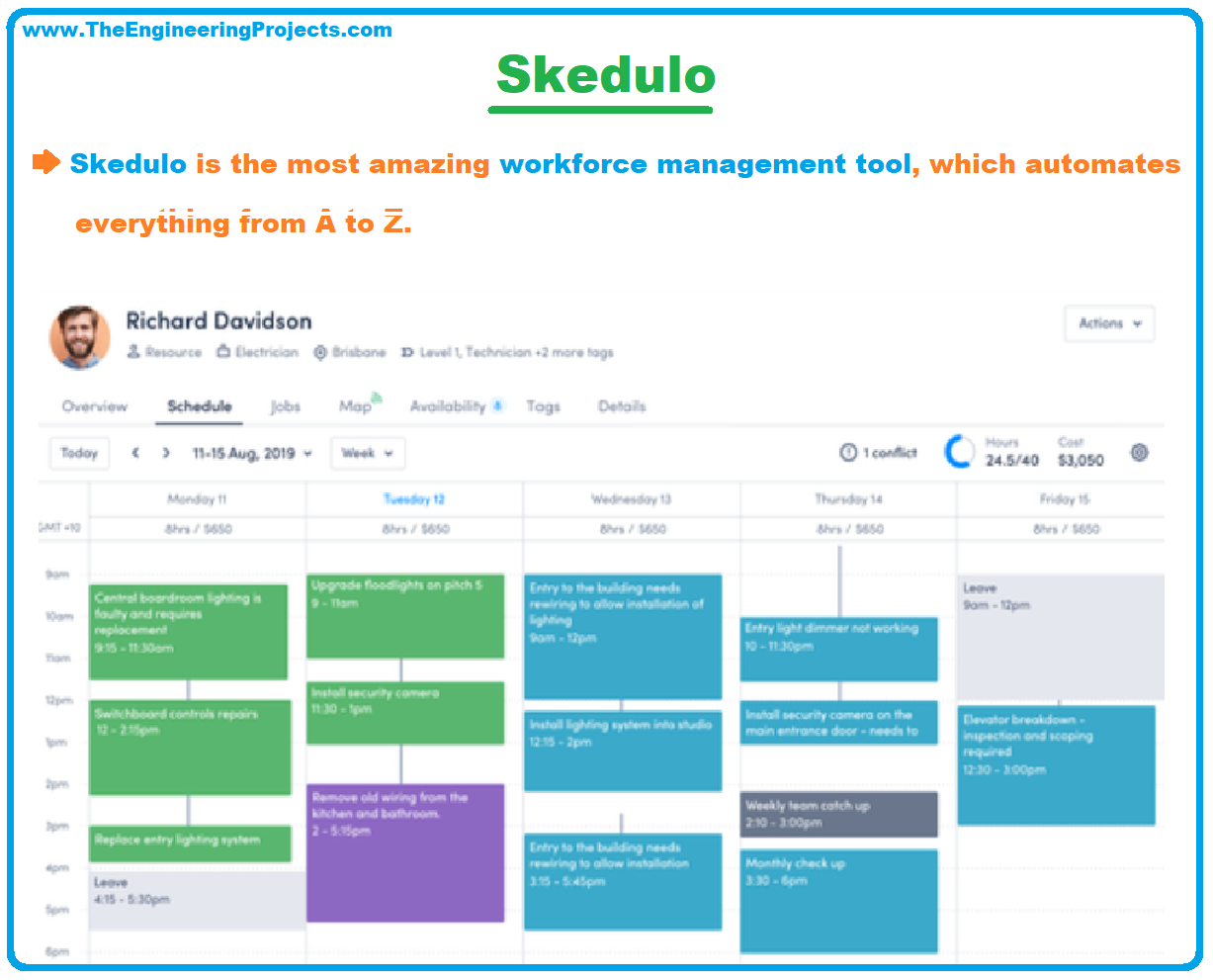 The next most amazing of all the workforce management tools provider is skedulo, the workforce management software which automates everything from A to Z, but hey! There's is a twist, it used by big companies which hire people who don't work in the traditional office setting.
You can yourself imagine the network of Runway, DHL, American Red Cross among many others which use skedulo for their day-to-day tasks.
Skedulo provides effective tools for the automation of the following processes;

Tasking of the employees
scheduling of the employees
Preventing Over job scheduling of the employees

One of the most remarkable tools of skedulo is the deskless productivity cloud for managing the system especially for the employees who are working remotely because it helps them manage their day-to-day tasks effectively.
Let's talk about the skedulo app which is highly talked about by the big companies, Skedulo app has the following features;

Scheduling and tasking jobs
Synchronized calendars for employees
Online and offline maps
Photo attachment alternative
Electronic Signature alternative for customers
Mapping and routing of the employees which is used to locate an employee as well
Chat and communication feasibility for staffers in the same team or job
Leave submission and approval by the employees
Mobile forms that can be easily filled and submitted by the employees and consumers

Analytics provided by skedulo workforce management software help in full automation and a reminder of daily tasks through skedulo deskless cloud software, lowering the cost of on-site and off-site tasks and projects.
 BambooHr
BambooHr is an all-in-one tool for workforce management and helps in the  following;
Human Resource Management
Tasking system
Scheduling system
Time Tracking system
Leave Management system
BambooHr has a cloud-based system that gathers, stores, and analyzes employee's data at a cloud-based database with utmost security.
The most distinctive feature of BambooHr is their time off feature, the time off feature is used by the employees for sending leave requests by following a simple procedure, the HR Managers can approve the leave request with a single click, convenient and simple! Isn't it?
Scheduling and tasking tools are very convenient to use in BambooHr workforce management software, the mobile app of bambooHR is highly user-oriented, managers can schedule anything on the calendar and publish it for their employees.
The electronic signature tool introduced by BambooHr enables the employees to sign documents anytime without any pen or paper, this is indeed a great step to reduce paper waste and automate workflow without using heaps of papers.
BambooHr has an excellent internal communication system, Announcements can be made through the BambooHr app for a specific project or a task and it reaches everyone within a matter of seconds.
Reflexis
Reflexis provides workforce management tools to big companies like American Eagle, outfitters, MacDonald's, The home Depot, Sunglass Hut, and many more.
Reflexis workforce management software provides tools to automate the following systems;

Time tracking
Scheduling
Labor management
Forecasting

Reflexis is powered by an AI system to automate the workflow of big companies through their workforce management software.
Reflexis help in the overall management of the company's workflow by automated schedules which can be immediately viewed by the employees once they are issued by the workforce managers. The scheduler tool of the Reflexis software is compatible with both the Android and iOS systems.
Reflexis enables its users to clock in and clock out during shifts or designated working hours, you can easily manage paid time off, shift swaps missed shifts, and leave management.
Reflexis strong analytic tools provide insights about the current situation of budget, labor costs, and other expenses. These in-depth reports make it possible for the big companies to reduce their labor costs and cut down extra expenses.
Kronos Workforce Central
Kronos workforce central is being annually used by forty million users, which is definitely a huge amount, isn't it?
Big companies opt for Kronos workforce Central because of the tools it provides for the automation of the following systems;
Tasking system
Human Resource Management system
Scheduling system
Time tracking system
Payroll management system
Tax management system
Kronos workforce Central enables the big companies to automate their workflow, the HR system which needs a lot of time and dedication is easily managed by Kronos workforce Central tools.
Kronos Workforce Central has a remarkable tool for analyzing daily operations, the workforce managers can easily probe into the in-depth analytics of the ongoing project through the dashboard in the app.
Time tracking is also a hassle-free process when it comes to the time management and tracking tools of Kornos workforce Central, workforce managers can view the individual time punches, availability, and location of any employee, on the parallel line employees can instantly clock in and clock out according to their Working hours.
Kronos Workforce Central provides excellent tools for scheduling that prevent overstaffing, moreover, the self-service facility provided by Kornos workforce Central to its employees helps them to mention their availability and swap shifts.
Kronos Workforce Central has in-built tools to calculate the working hours of employees for payroll management, this payroll management, and integration considerably reduces the time from days to a few hours for payroll processing and management.
The workforce management system provided by Kronos Workforce Central can also be integrated with other third-party apps and products to keep the important documents in a single place for a smoother workflow.
The only drawback to the Kronos workforce Central tools is that they require dedicated training to be used efficiently and easily, you can't expect to operate everything without a proper training program or demo.
Oracle Workforce Management Software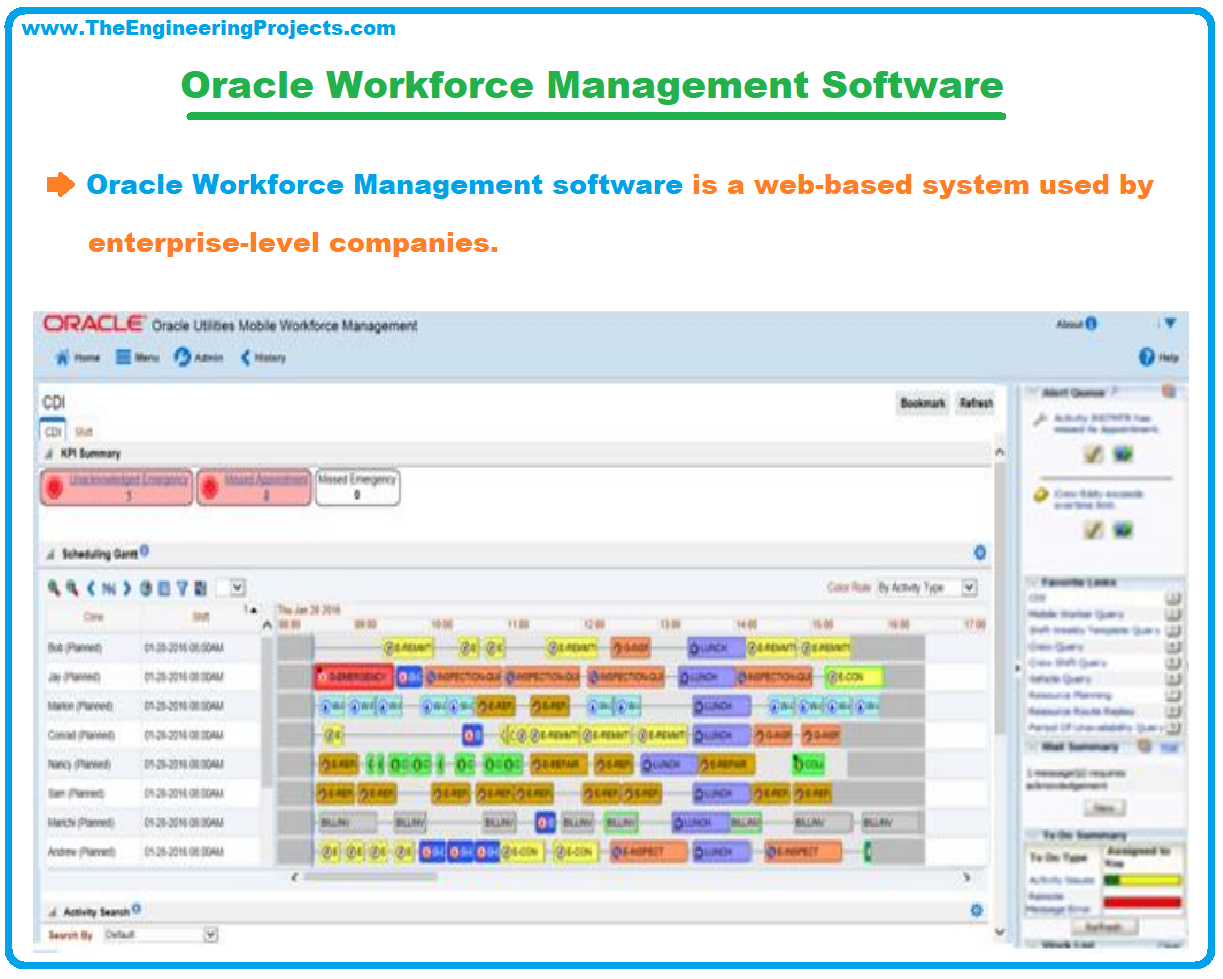 Oracle Workforce Management software is a web-based system used by enterprise-level companies. It helps in the automation of the following processes;
Human Resource Management System
Time tracking system
Scheduling and tasking system
Forecasting system
Attendance management system
Payroll management system
Talent acquisition and talent management system
Oracle Workforce Management provides tools for data analytics, the in-depth data analytics helps take important decisions regarding tasking and scheduling of employees.
Oracle Workforce Management system enables the integration of payroll management system with the working hours of the employees, it eventually helps in keeping the payroll management process simpler, easier and quicker.
The user interface of the system is super easy and convenient, the drag and drop functionality makes it possible to add unlimited data daily into the system.
Company calendar which is always visible to the employees with important details, projects, and milestones is always the highlight of the day for people using the Oracle Workforce Management system.
Oracle Workforce Management system has an error-free time tracking and attendance system, the inbuilt tools determine overtime and premium hours of the employees without any glitches.
The system of Oracle Workforce Management software is highly configurable, there is no need to make changes and amends in the source code of the product for the addition or deletion of a certain feature.
Oracle Workforce Management system makes it possible for big companies to identify the areas of less productivity for rectification, all thanks to their strong analytical tools.
You can easily use the Oracle Workforce Management system for any type of employee, either hour-based, remote, onsite, office-based, or shift-based.
Oracle Workforce Management system provides tools for very strong internal communication, Hr managers can release an instant alert for the employees about a certain disease, emergency, or unsafe situation, ensuring the safety of everyone around.
Oracle Workforce Management system provides a constant twenty-four hours support to the companies using their system for managing a smooth and effective workflow.
TimeTrex
The last entry for the workforce management tools used by big companies is the TimeTrex software, TimeTrex provides the following services to its clients by automating the whole system;
Human resource management system
Time and attendance management system
Payroll management system
Talent acquisition and management system
Leave Management system
The most famous of all the tools provided by TimeTrex is the attendance management tool, your employees don't need buddy punching at all, biometric facial recognition is the new trend to be followed, alongside facial recognition, QR code can also be scanned for attendance, these time clocks inbuilt in the TimeTrex software can recognize the employees even with hats, glasses and facial hair.
You can set ultimate rules for the time and attendance software as well, it significantly reduces the chance of human error while calculating overtime, accruals and premium hours.
Another amazing tool provides by TimeTrex is the synchronization of the company schedule for the employee with his or her phone calendar, you can't even forget a day or date for a meeting or event, in case you ever want to!
Payroll management is a wholly manageable process for the companies using TimeTrex, as time tracking has already been connected with QR code, the system immediately calculates the working hours and associated salary with a single click, you can integrate it with a third-party service provider, and above all TimeTrex provides inbuilt tools which calculate relevant taxes as well.
If you are looking for an all-in-one system for your company then TimeTrex can definitely be your best bet.
It's a wrap for today, TimeTrex concludes the best workforce management software used by big companies, I presume it has been an informative journey for you. It is never easy to find your best match in one go but real customer reviews always help, just in case you are wondering how would you find the best of all the available tools! If you know the best tool for workforce management, then you can mention it in the comment section below. I'll see you with another discussion soon. Have a good day ahead!