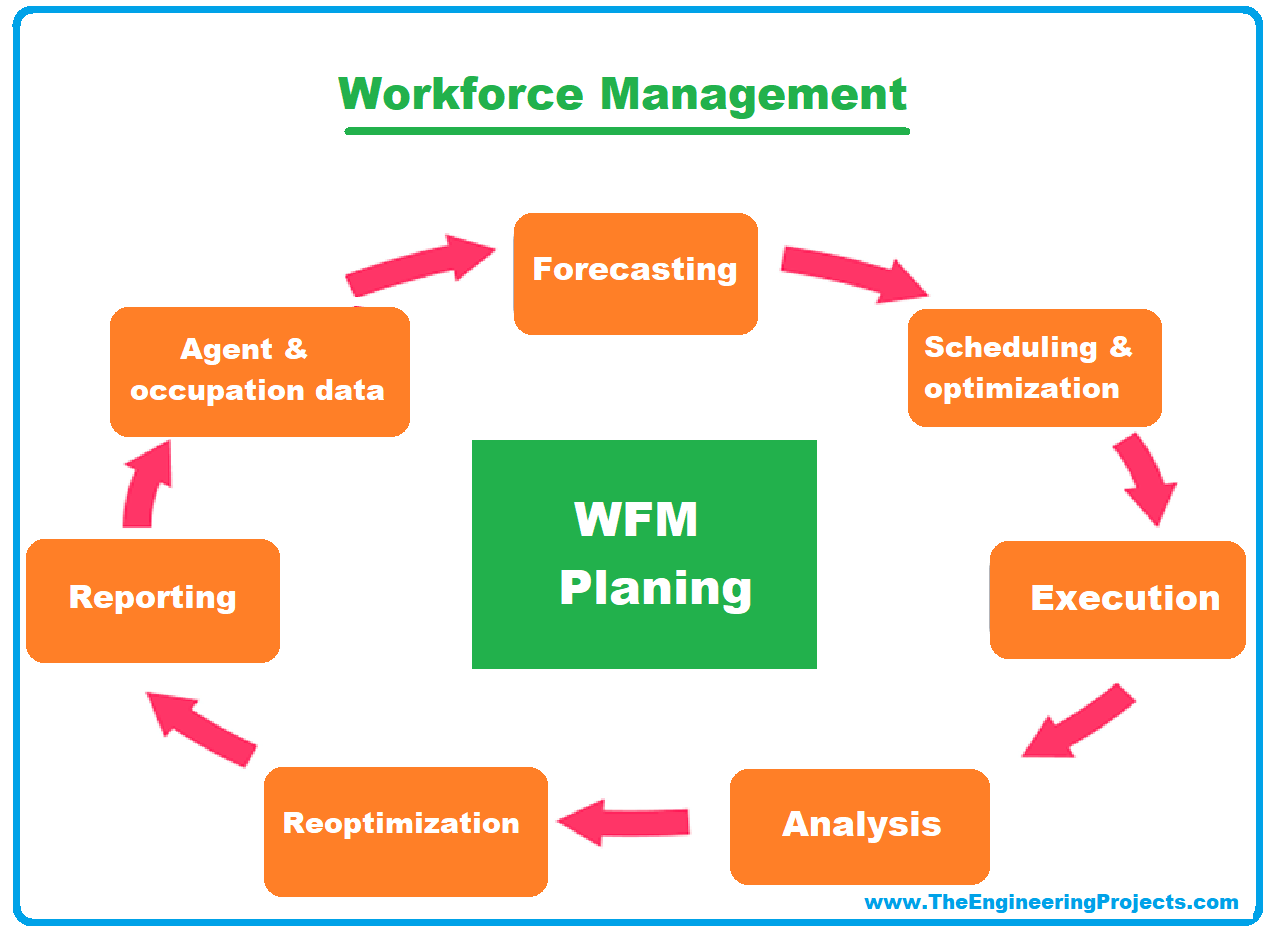 Hello friends, I hope you all are doing great. Today, I am here with another discussion related to workforce management, which is all about the Best Workforce Management Apps for Mobile. With the technological revolution of today's world, everything is being controlled from far away places through different software, same is the case with workforce management, many top tier companies have launched workforce management apps that are exclusive to mobile phones for their web-based workforce management software for a convenient and exquisite user experience with the tagline "Manage everything with a single tap".
So, We will explore some of the best available apps which are exclusively designed for mobiles that are used for workforce management, Let's get started:
Definition of Workforce Management
"Workforce management refers to the process of keeping the employees of a company under constant check for performance, productivity and overall wellbeing."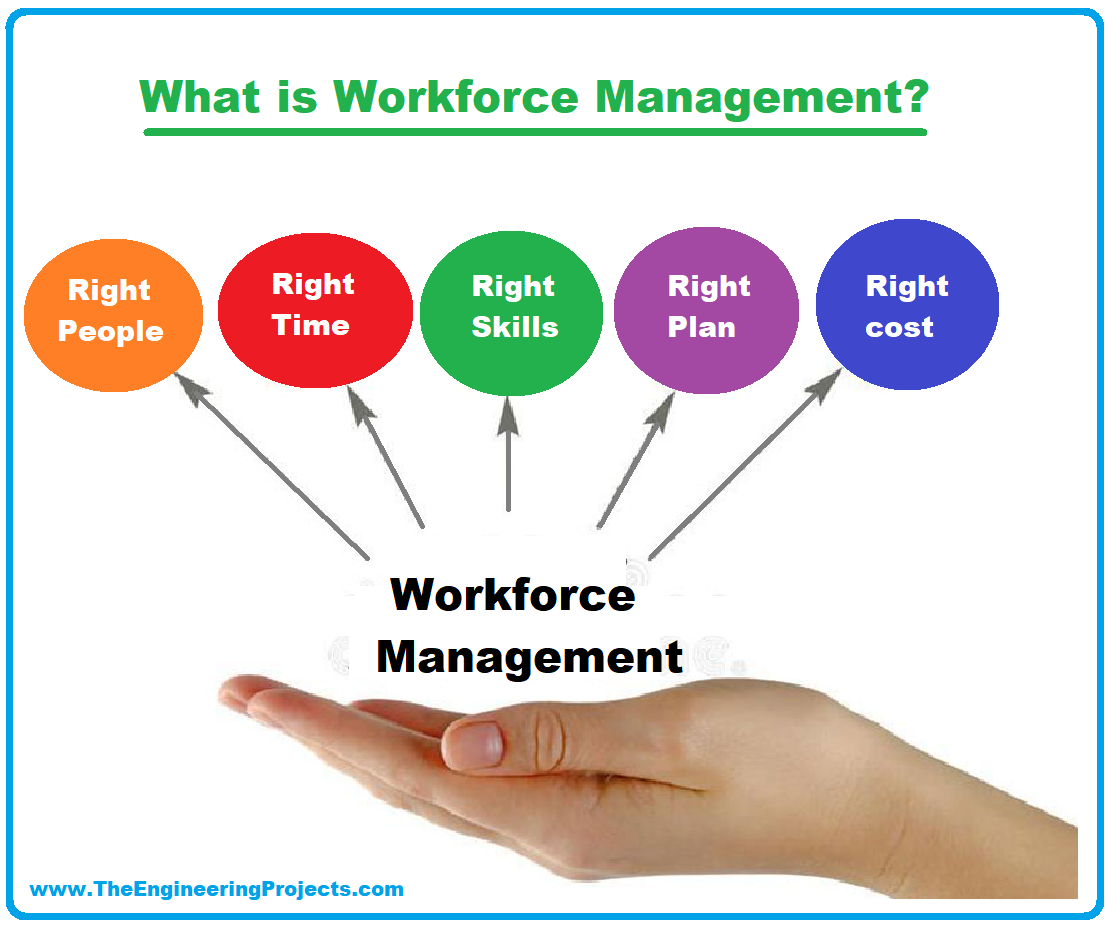 For a detailed outlook on Workforce management and how it works, you can check our previous article covering all the basics, no need to fret, we have got you covered!
We all know that the days of managing things manually by keeping handheld paperwork, records, and datasheets are long gone. We are living in the era of technology, almost everything is automated for convenience and ease. The same goes for workforce management, managing hundreds of employees is not an easy thing to handle now we have to use cloud-based and web-based software and system for the purpose of convenience and ease.
In order to understand how the workforce management apps work, you must know about the workforce management software which is specialized to perform certain automated functions they are specialized for, such as payroll, human resource management, benefits, hiring and a lot of other stuff.
Some apps work Independently i.e. you can use them without having a subscription from a service provider of that software company, meanwhile, others necessarily need a proper contract between the two parties, the company which is to use the software and the company which is providing the service.
Most of the time, these apps allow only paid users to use their service and features fully. The pricing of each app for workforce management system varies accordingly and can be found easily on their website under the heading of "Pricing" or "Get your Monthly and Yearly Plan".
List of Commonly Used Mobile Apps for Workforce Management
The main purpose of this discussion is to explore the best available options among apps for workforce management either they are paid or somehow free to a limited number of users. Without any further delay, let us start our list;
Trello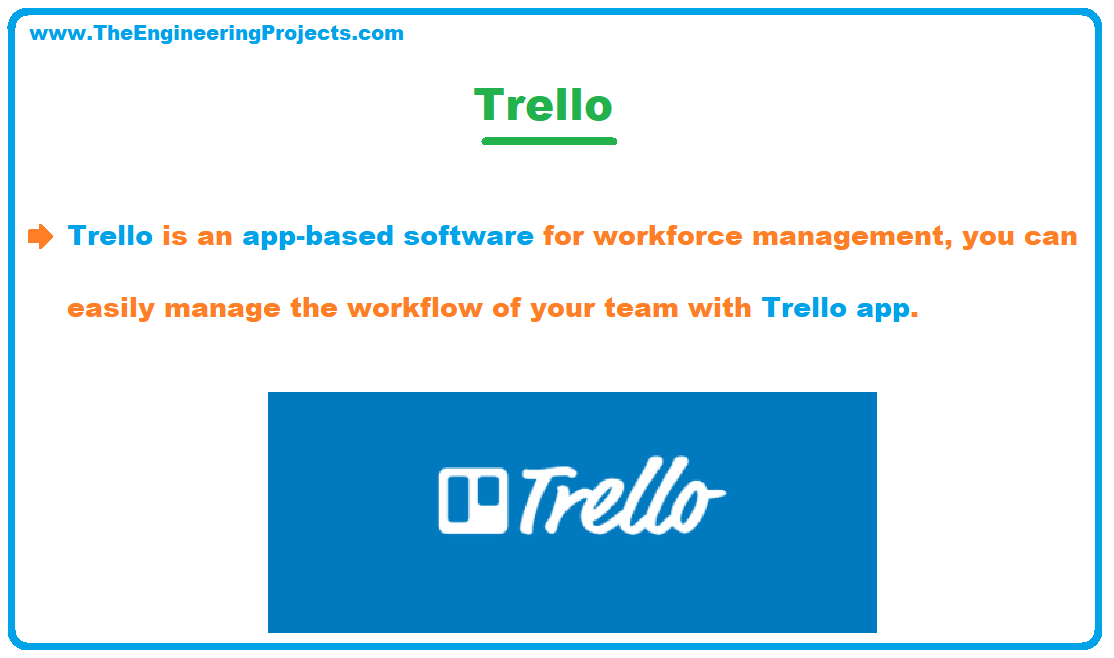 So the first one on our list is Trello, Trello is an app-based software for workforce management, you cannot manage and integrate everything with this app like payroll, benefits, and some other complex processes but you can easily manage the workflow of your team with Trello app.
You can easily manage tasks and projects with Trello. Trello board can be used for a timeline review of your project and the calendar can be used to keep a track of days.
There is another available feature called Trello Cards, you can make a card for a task, share it with your teammates and track it as well.
You can also integrate Dropbox, Evernote, Google Drive, Slack, and Confluence with your Trello app.
Above all, Trello is extremely easy to use when you have to create a custom button for building an automated process, there is no need to code anything!
You can easily set deadlines for your teammates and schedule tasks for them, they would simply pop up on your teammate's account without any hassle.
Asana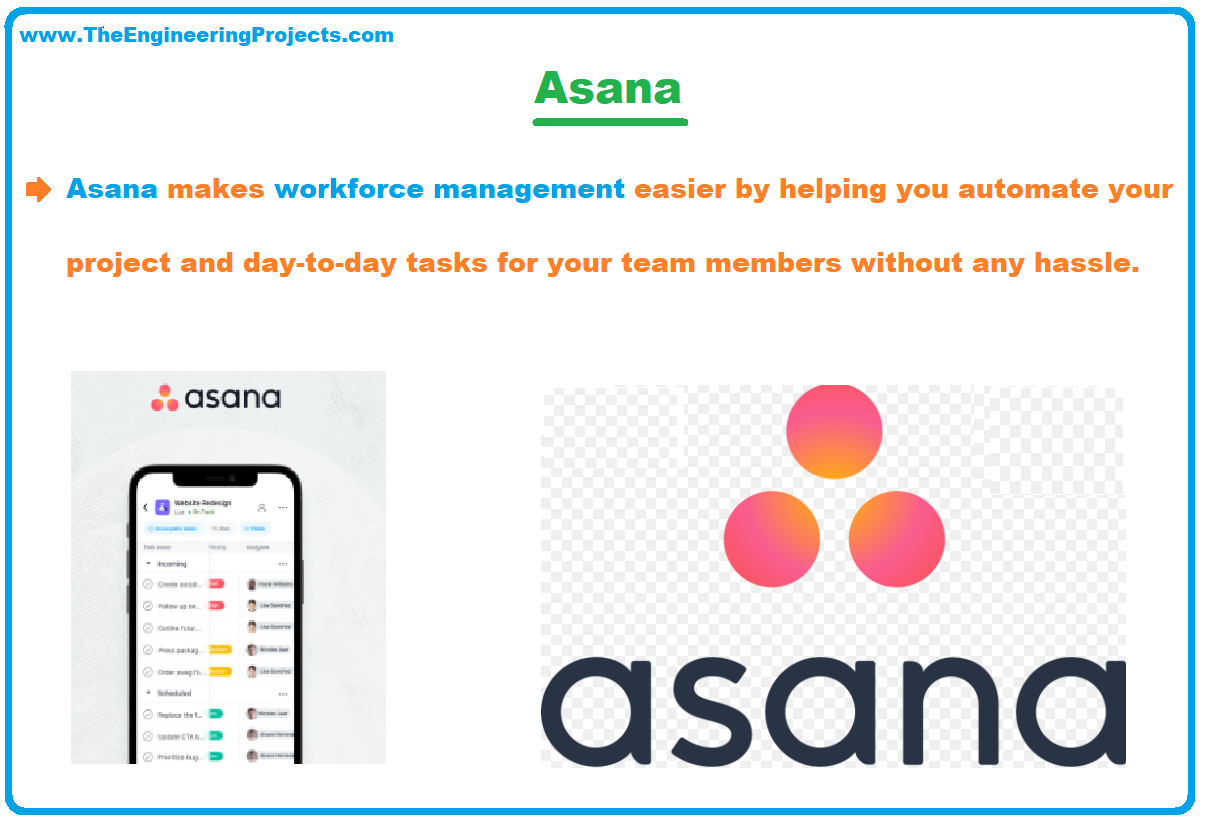 The second entry for the best mobile phone app for workforce management is the Asana app.
Asana makes workforce management easier by helping you automate your project and day-to-day tasks for your team members without any hassle.
Asana boards and maps are an amazing option to keep your team updated and focused on the tasks at hand. You can focus on the prioritized task and project and clear it from the row. There is an available option of attaching documents, images and other stuff on the dashboard too.
You can even create rules for a project or a task to prevent any human or technical errors.
Asana Templates are also a helping hand in creating custom made project design for your team, you can choose the one which suits your project. Customize your workflow the way you like!
For better workforce management you can integrate your Asana app with hundreds of other applications such as Google Drive, Slack, Zapier, One drive, and whatnot!
Asana is not a one place solution to workforce management because of the absence of a true HR functionality, it is more focused on managing the creative teams for certain tasks and nothing else.
Paycom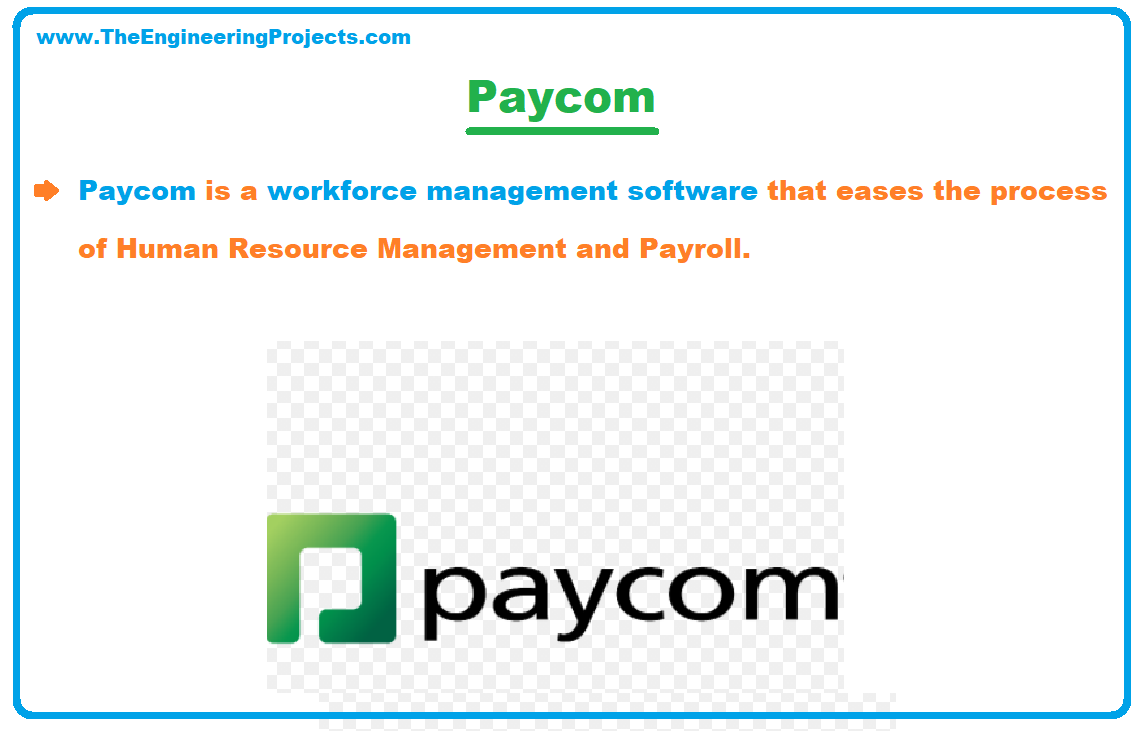 workforce management software that eases the process of Human Resource Management and Payroll.
You might not believe it, but with the help of Paycom, you can manage your payroll process within hours with a single click.
They have an extremely easy user interface and above all, they claim to be everything you need for workforce management from hiring to retiring!
Paycom is used by Enterprise level companies for managing their workforce and has a very user-friendly app available on the play store. Every employee has their login id and security pin, employees can quickly clock in and clock out through their app, mentioning their department, location, date, and time.
There is an amazing feature of the Manager on the go in the paycom app to perform Managerial tasks such as tracking time cards, employees Time off requests, managing schedules and expenses.
Zoho
Zoho is another famously known workforce management system and an office suite which has countless applications on a single platform.
Zoho app is an easy-to-use app for maintaining spreadsheets, online video conferencing, tasking, scheduling, customer relationship management, and above all payroll as well.
To get started with Zoho you need to get its membership plan first, You can easily cancel your membership any time.
Automating your business workflow is an easy thing now with the zoho app, to know more about it, you can check their website.
Bitrix24
Bitrix24 definitely sounds like a spell from a Harry Potter movie, but no it's not.
Bitrix24 is an efficient workforce management app for mobiles, a better workflow is a single tap away!
It is loved and appreciated by people working remotely because you don't need to bring your laptop everywhere to manage your day-to-day tasks and employees, Bitrix24 has got you covered by integrating everything at a single platform.
Bitrix24 helps in arranging video conferencing, scheduling, and tasking, you can assign tasks to your teammates anytime, track their time and progress.
Bitrix24 is free for individual users but it has a complete payment plan for teams and organizations, you can check that out from their website.
Odoo
The next entry on our list is Odoo, odoo is as unique as its name. It is an open-source suite comprising of a number of apps mainly in thousands for managing the inventory, E-commerce, warehouse, project management, CRM, and whatnot.
It's basically an ERP software, Enterprise Resource Planning software which is highly used by growing businesses to track and scale their growth.
The open-source version of odoo is still free and Working well for people using them for workforce management but advanced ones are paid.
Wrike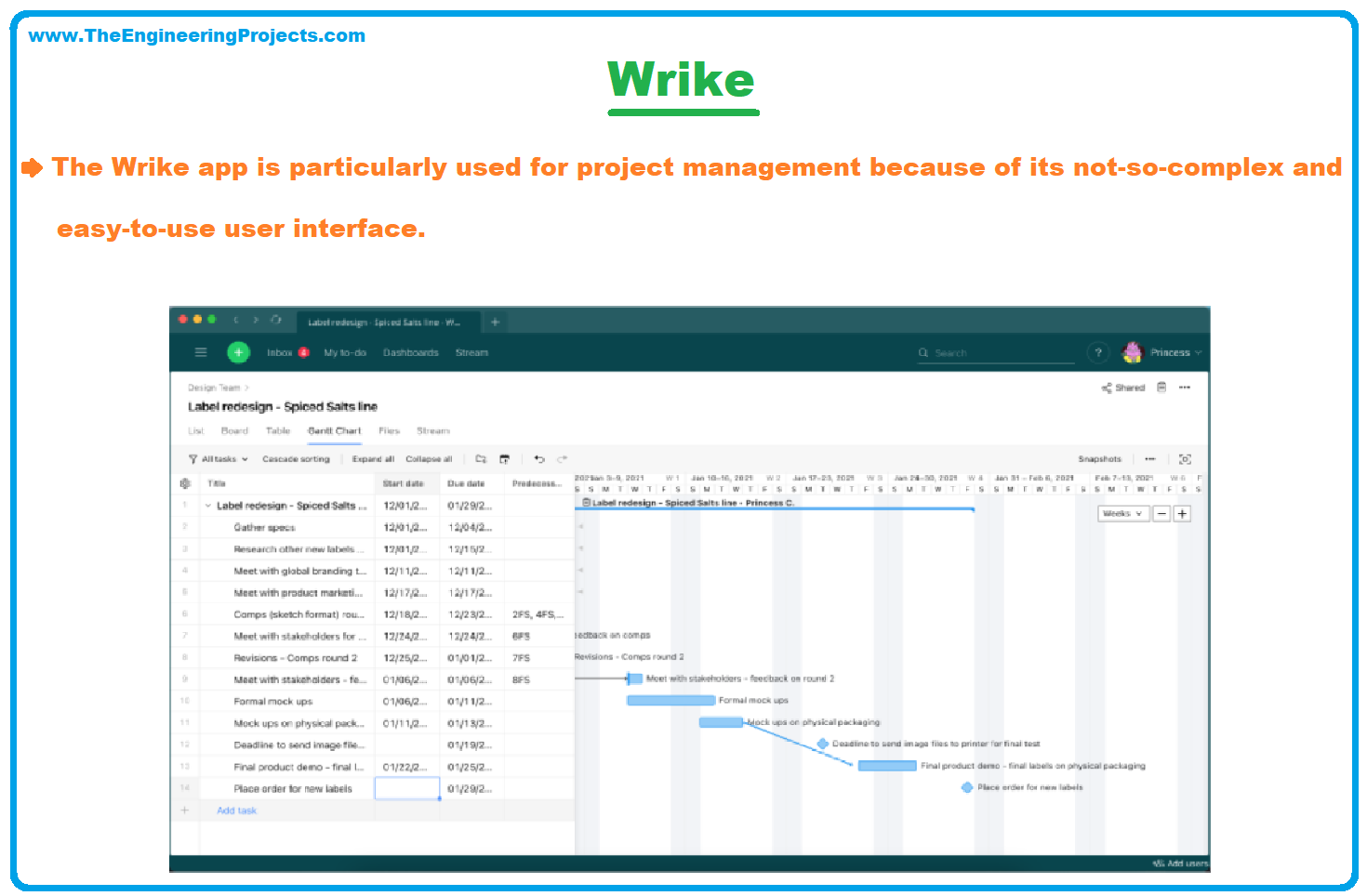 The Wrike app is particularly used for project management because of its not-so-complex and easy-to-use user interface.
Wrike helps you create a workflow for your project and run it in multiple instances, you can easily track the progress of your team members through available options in the Wrike app.
You can easily streamline processes that need
Supervision of a high-up through approval option in the app, ask your teammates to submit the work for approval and take it to another step after approval.
You can schedule your workflow in advance, either be it monthly, weekly or daily.
Wrike has different payment plans for a number of team members and organizations.
BambooHr
BambooHr as the name indicates is an all-in-one Human Resource Management software and has a very user-friendly app for this purpose.
BambooHr collects the information related to employees and everything in between at a single cloud-based database. It helps gather, store and analyze employee's data conveniently and efficiently.
BambooHr Mobile app solution is user-friendly and client-oriented, you can schedule and task everything and anything on the calendar and publish it for your employees.
One of the most amazing features of BambooHr is the time off feature, the time off feature allows the employees to send requests for leave within a few steps and on the parallel lines HR Managers can approve it within a single click, isn't it time-saving and easy?
Announcements can be made anytime through the BambooHr app making it sure that nobody is missing out on anything. Sadly we don't have an option of internal communication in this app, you can't send an instant message to anyone in your team.
Hiring is also a hassle-free process through the BambooHr app, you can track your application easily through the available key options.
One of the most astounding features of BambooHr is the electronic signatures, employees can sign documents anytime, anywhere, it is a great way to save the earth by reducing waste indeed! Isn't it?
ADP LLC
ADP LLC is a versatile and highly efficient system for workforce management.
You can easily manage HR, payroll, hiring, and benefits through the ADP LLC app.
ADP LLC can help the users track time and Working hours, balance sheets, transactions, retirement funds, and much more with a single tap.
The calendar and timeline view of ADP LLC helps users to track their progress and milestones for a certain project they are working on.
Users can download the app from the play store and log in with their id provided by the company, each employee has his own login id and password to access the account.
ADP LLC is indeed an advanced solution for workforce management of big businesses.
Slack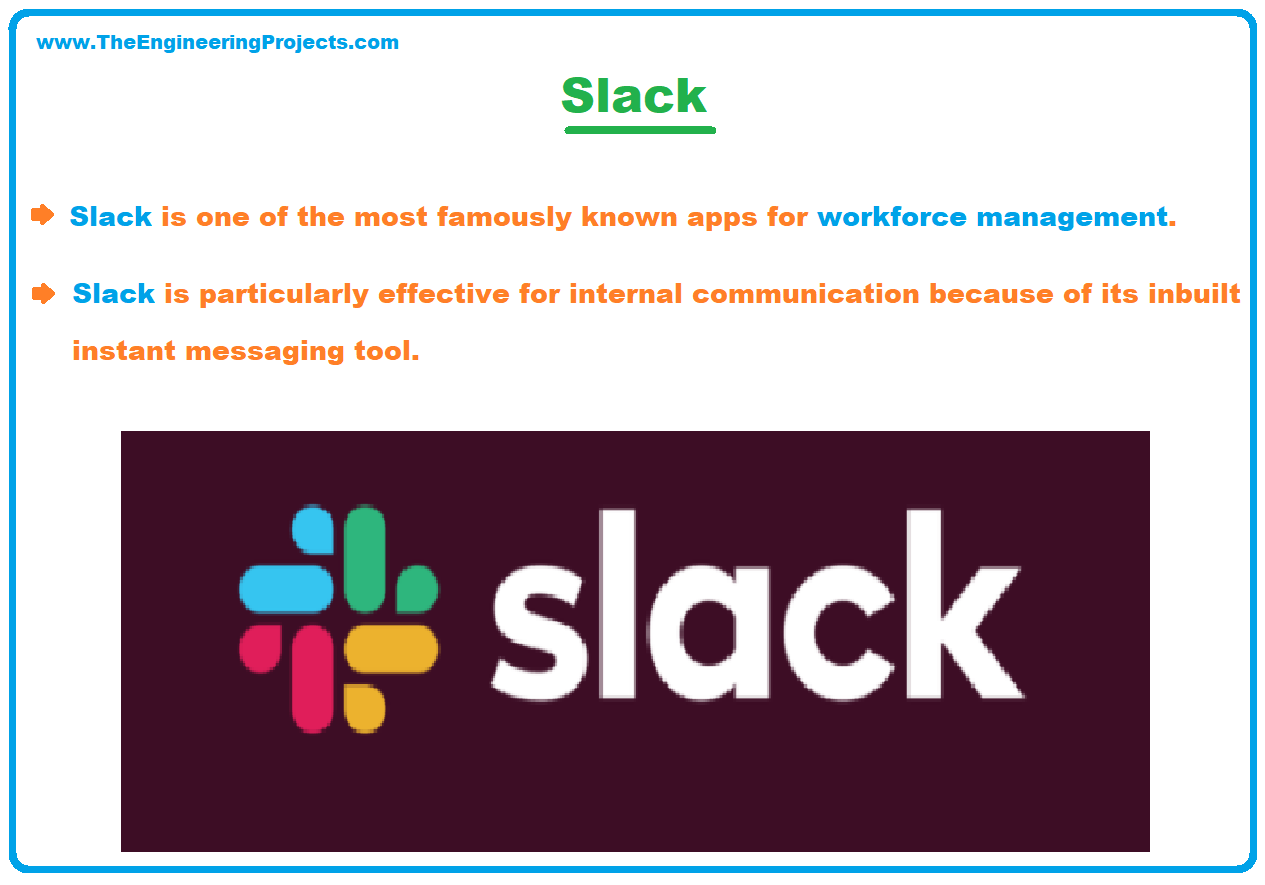 Slack is one of the most famously known apps for workforce management.
This is particularly effective for internal communication because of its inbuilt instant messaging tool.
Slack has a remarkable ability to provide a communication channel for off-site and on-site employees of the company, you can leave an instant message or update and nobody misses out on anything.
Slack can even connect individuals or companies with third parties or service providers to maintain a smooth workflow.
Slack can be used for video conferencing as well, it is particularly helpful for the coordination of on-site technical team and office-based technical coordinators in problem-solving.
You can integrate many other software and apps with slack such as Google drive and spreadsheets but sadly it is not a one-step solution to workforce management such as BambooHR, ADP LLC, and Paycom.
Jiblee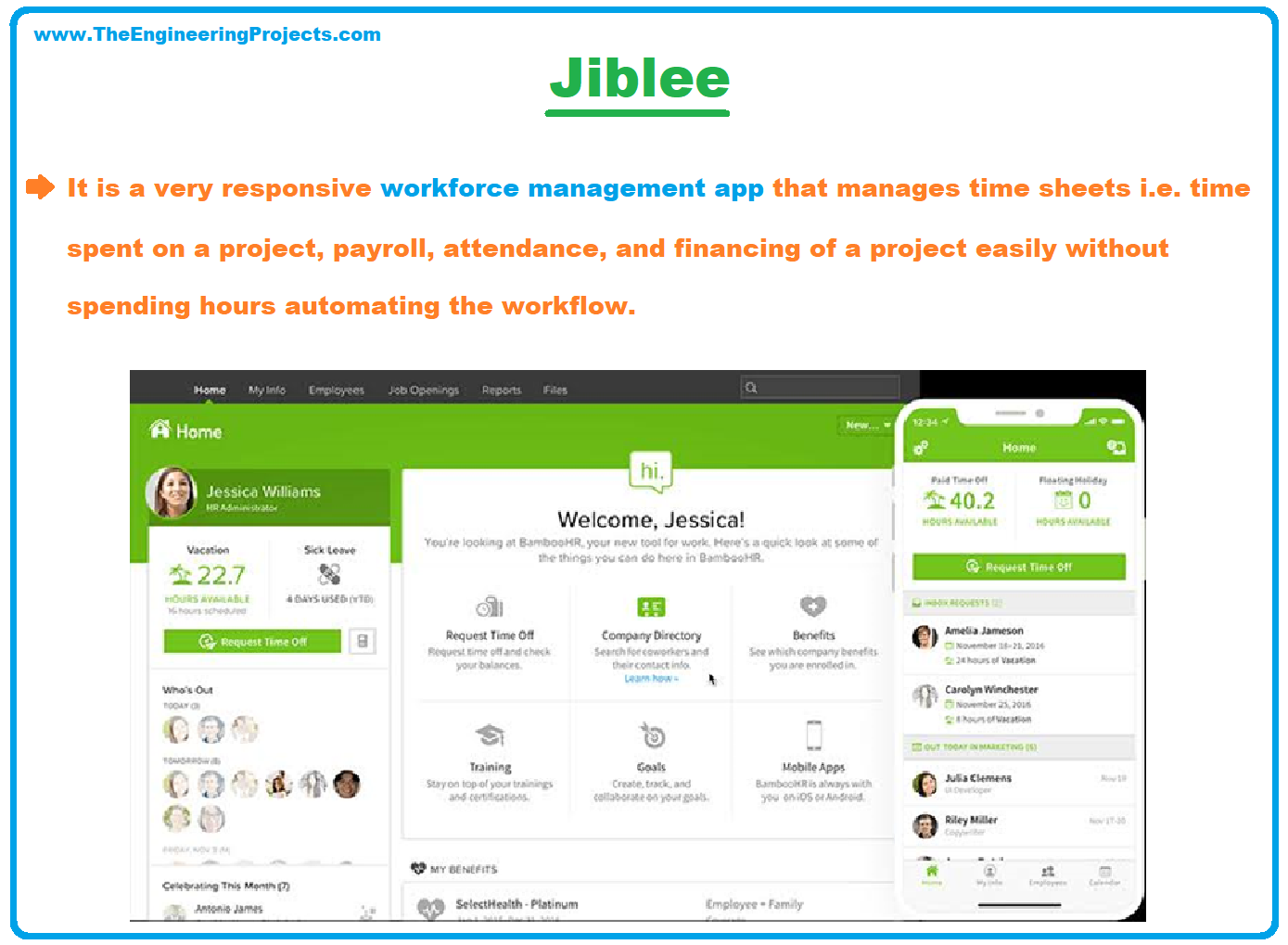 Jiblee is one the best available options present in the competitive market, this is not my personal or biased opinion instead customer reviews say so.
It is a very responsive workforce management app that manages time sheets i.e. time spent on a project, payroll, attendance, and financing of a project easily without spending hours automating the workflow.
There is a free version for the app which is highly efficient having the features of facial recognition, personal login ID and password, slack integration, online reports, and analysis, overtime analysis, timesheets automation, and much more, believe it or not, it is free!
Jiblee is also available in a paid version with a lot of advanced features to manage everything with your phone.
Jiblee doesn't only have a mobile phone app but it has a desktop version of its app as well.
In case of any glitches in the system, you can contact the Jiblee support team which is super responsive.
Nowsta
Nowsta is the last entry on our list of apps for workforce management if you are looking for a solution that can manage payroll and the workshifts of your staff.
Nowsta has an outstanding activity dashboard to check out what's going on with the projects at hand.
The user interface of the app and scheduling window is very easy and convenient and is highly appreciated by the users.
The time tracking service of Nowsta is also impressive but the most amazing of all is the payroll system which is hassle-free, time-saving, and value for money.
Employee database makes it easier to store and use data hence reducing heaps of paperwork for maintenance of the workflow.
You can integrate many other applications with your Nowsta account to synchronize everything.
Nowsta also provides insights and analytics for the performance of employees in different projects, so, if you are looking for something easy, user friendly yet efficient, then Nowsta can be your best bet!
Its a wrap for today, that was all about Best Workforce Management Apps for mobiles, if you know or you have used any other better available options, you can let everyone know in the comment section below. I'll see you soon with another discussion soon. Have a good day ahead!