Hello friends, I hope you all are doing well. Today our topic of discussion is Top 20 Workforce Management Software, software that establishes the foundation of uninterrupted and seamless workflow for companies of varying sizes and industries.
With the automation of day to day tasks, workforce management is a relatively easy process in this era of technological advancement, I hope you have a clear idea about workforce management and how it is done, let us define workforce management for those who don't Know;
Definition of workforce management
Workforce Management can be defined as;
"Combination of processes that keep the track of employees performance and progress in a company."
Processes in Workforce Management
Following processes are involved in workforce management;
Human Resource Management
Payroll management
Scheduling and tasking
Time track and attendance
Finance management
Benefits
Workforce Management Software
Now let's have a look at what is workforce management software!
We live in a modernized tech-based society, using manual techniques, methods and processes are old school things now. Everything is automated these days to save time and money. Workforce management is also done through workforce management software to a huge extent for managing employees and workflow.
Definition of Workforce Management Software
"A workforce management software is a designated system which automates the processes such as HR, payroll management, scheduling and tasking in a seamless way for companies using it."
Workforce management software is either cloud-based or web-based, most of them have mobile apps as well, for the convenience of their users.
Features of a Workforce Management Software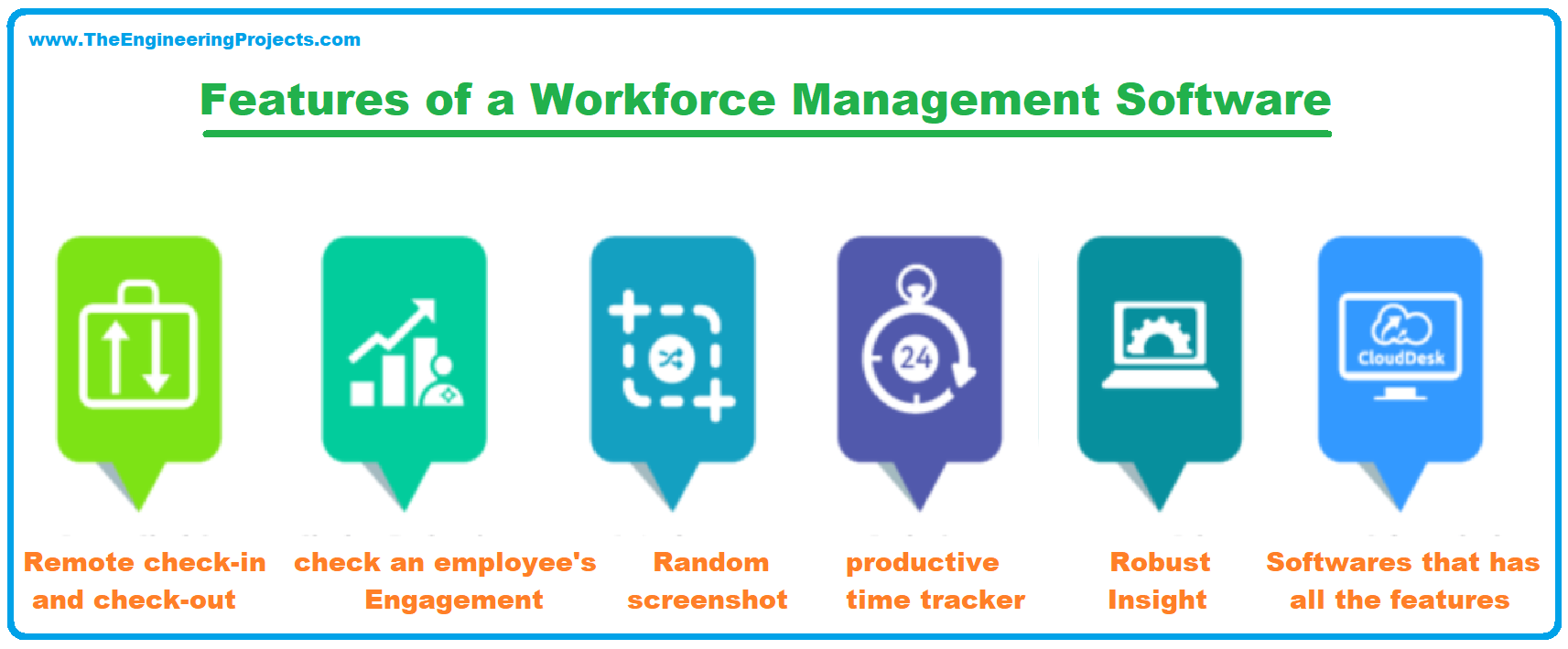 A certain criterion is followed to develop Workforce Management Software, a top-notch Workforce Management Software must have the following features;
Ability to develop contingency plans.
Scheduling and tasking
Security to keep the data of the employees and company safe
Biometric modalities
Error-free tools for generating performance analytics
Time tracking and attendance system
Can be integrated with other tools and software
Payroll Management
List of workforce management software
Now it's time to start our list for top 20 workforce management software, let's get started!
Paycom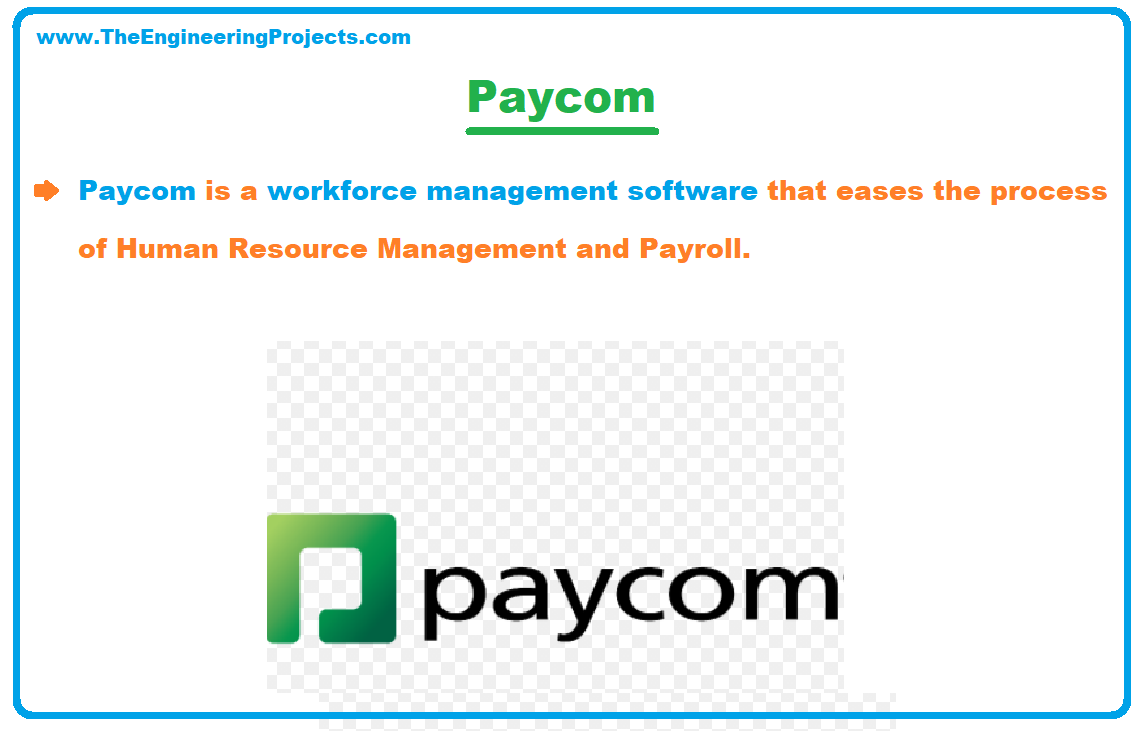 The very first entry on our list is Paycom, you might have guessed by its name what does paycom do but here is a brief description of its features;
Paycom is an American company that offers Human Resource Management and Payroll management to both small and big businesses.
Paycom is not only used by small, medium, and big businesses, it also helps people who use it according to their roles in different companies such as CEOs and Owners, IT decision-makers, operations executives, Humans resource managers, and payroll managers.
Paycom claims to be everything you need from hire to retire for an employee.
From talent acquisition to talent management, labor tasking and scheduling, and then payroll paycom cover everything you need to have.
Paycom provides a seamless payroll solution to the company which is error-free and less time-consuming and helps with taxation as well.
Through paycom employees can enter, manage and edit their personal data with ease because of its user-friendly interface.
Paycom is indeed a good choice for those looking for a one-touch solution to everything.
Paylocity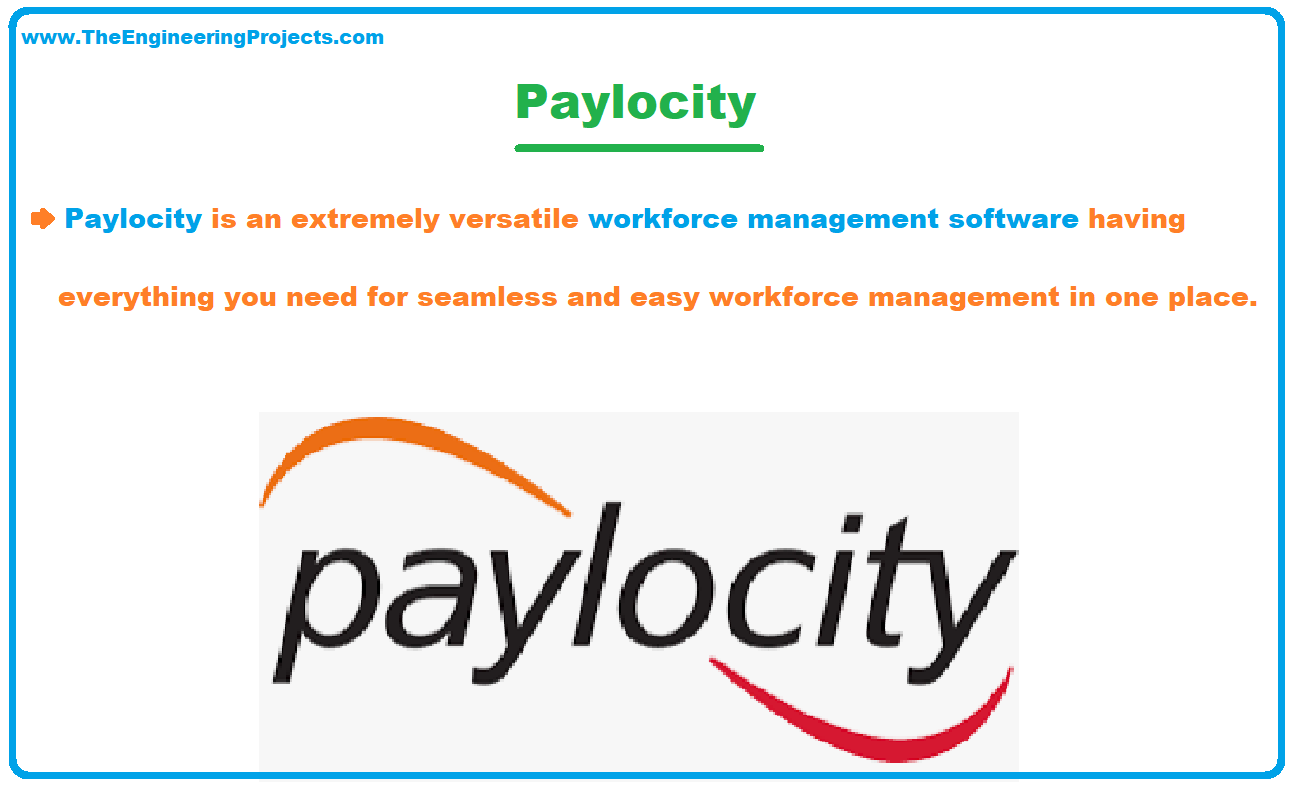 Paylocity is an extremely versatile workforce management software having everything you need for seamless and easy workforce management in one place. Paylocity provides the following services through their workforce management software by automating the workflow;
Workforce management through time tracking and scheduling with the help of geofencing parameters and time clocks.
Talent management through fully automated recruiting software.
Data insights through highly analyzed reports and surveys to improve the company's performance and productivity.
A payroll management system that can be configured and can be integrated with different service providers in the niche.
Paylocity is used by small, medium and big businesses depending on their affordability and need, you can easily get a quote for their service through their official website.
Workday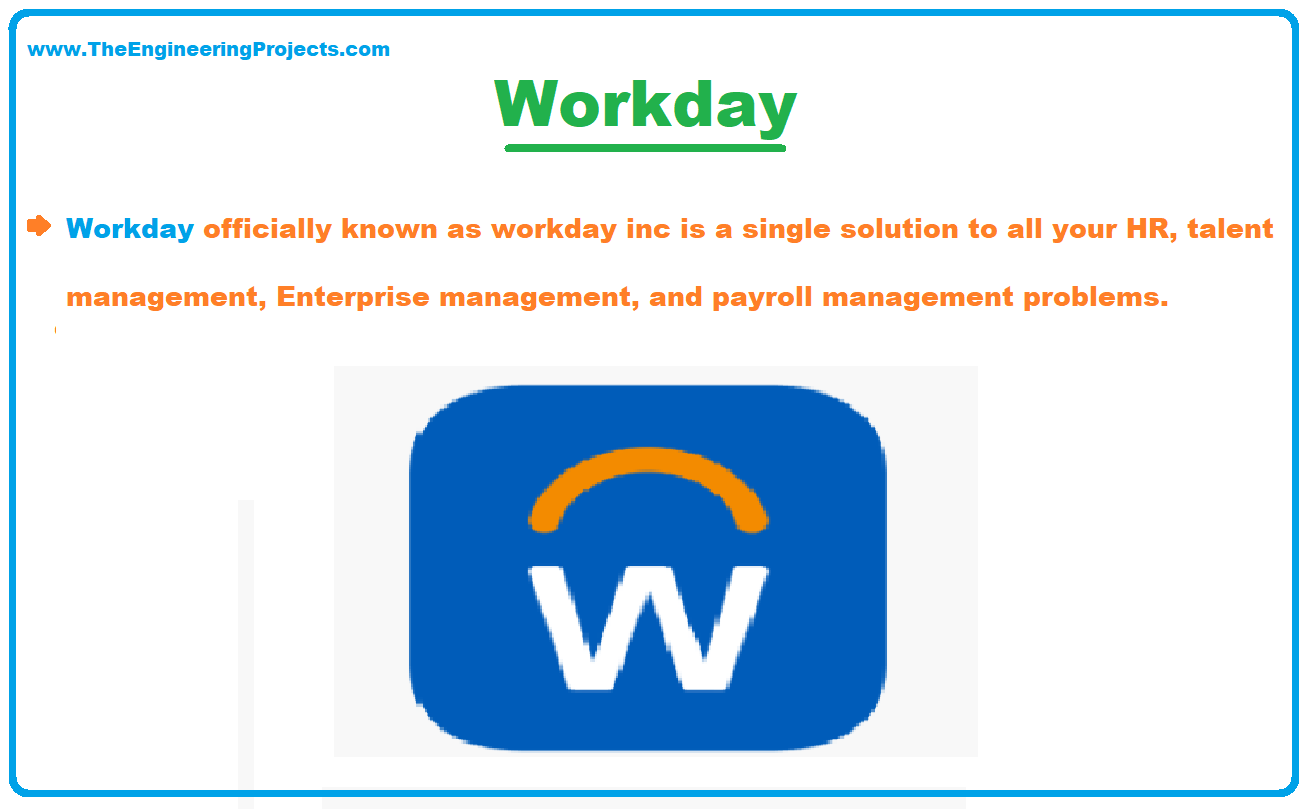 Workday officially known as workday inc is a single solution to all your HR, talent management, Enterprise management, and payroll management problems.
Workday being an efficient workforce management software has an excellent time tracking tool with geofencing, the employees get a reminder for check-in and check-out when an employee enters the site of the job.
Workday workforce management software also provides self-service to employees by giving them the option to enter and edit their personal data through a mobile app, they can view the full schedule and timelines of the project in the company's calendar available to everyone.
Along with hassle-free payroll, workday also provides an open shift board with a swapping option i.e. employees can mention their availability and take a paid time off.
With workday, you can get a global labor cost analysis, with this feature you can easily view the global labor trends and ongoing situation of the industry all thanks to the strong analytical tools of the workday helping you make better decisions for the growth and progress of your company.
Workday doesn't mention the per-user cost for their workforce management software or any other tools, if you are planning to get the service for your company, you can request a quote by filling a form available on their website.
Whosoff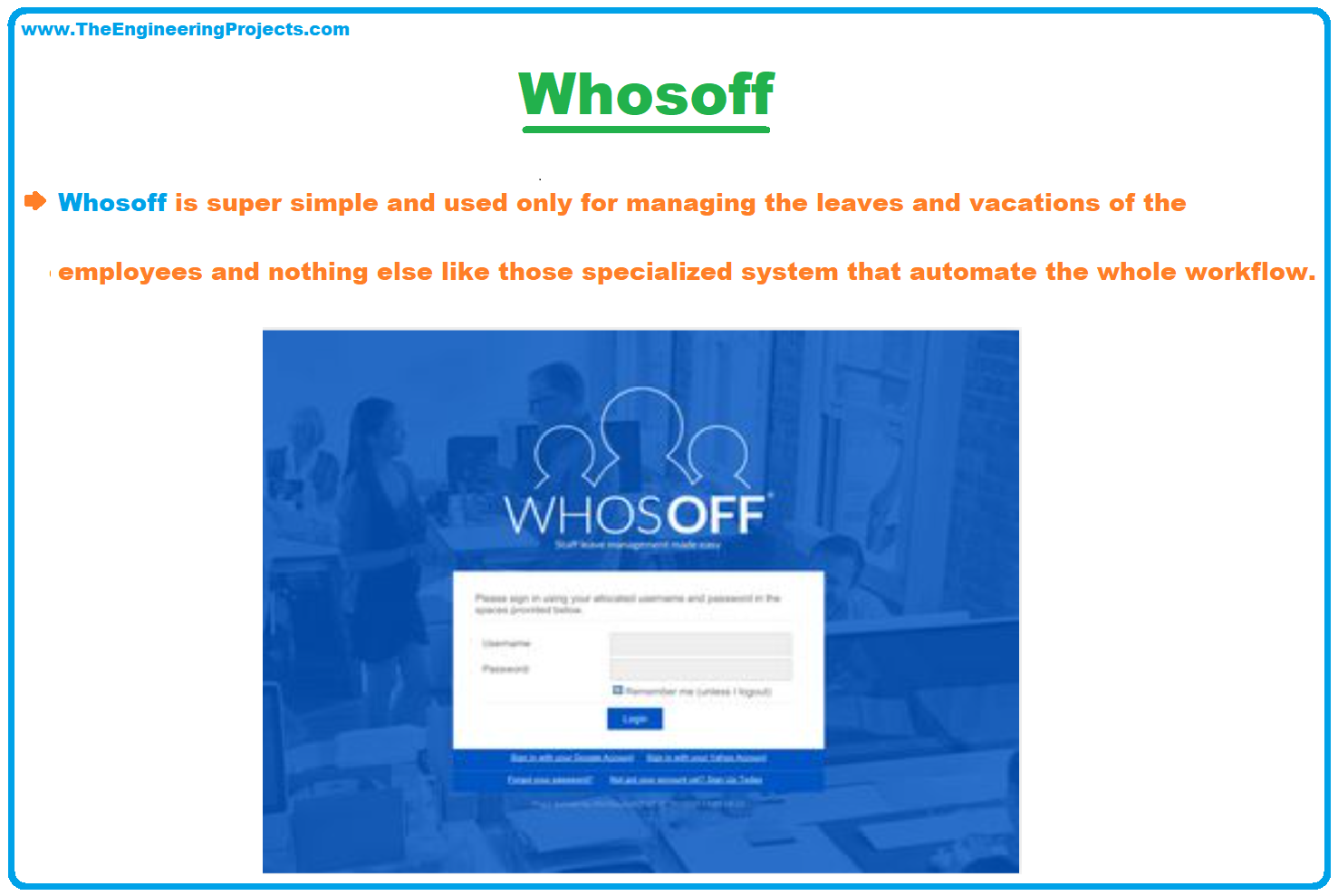 The name sounds interesting so is the task of this workforce management software.
Whosoff is super simple and used only for managing the leaves and vacations of the employees and nothing else like those specialized system that automate the whole workflow.
Employees can apply for annual vacation or simple day leave with this workforce management software.
The user interface is simple and easy to use the only flaw reported by the users is that you cannot cancel your leave request once you have submitted it! Yeah, there's is no going back!
Small and medium sized companies that don't want a highly functional workforce management software can go for Whosoff to manage their leave management system easily, it is super simple, convenient and above all it is not heavy on the pocket at all, what else you need!
Sage People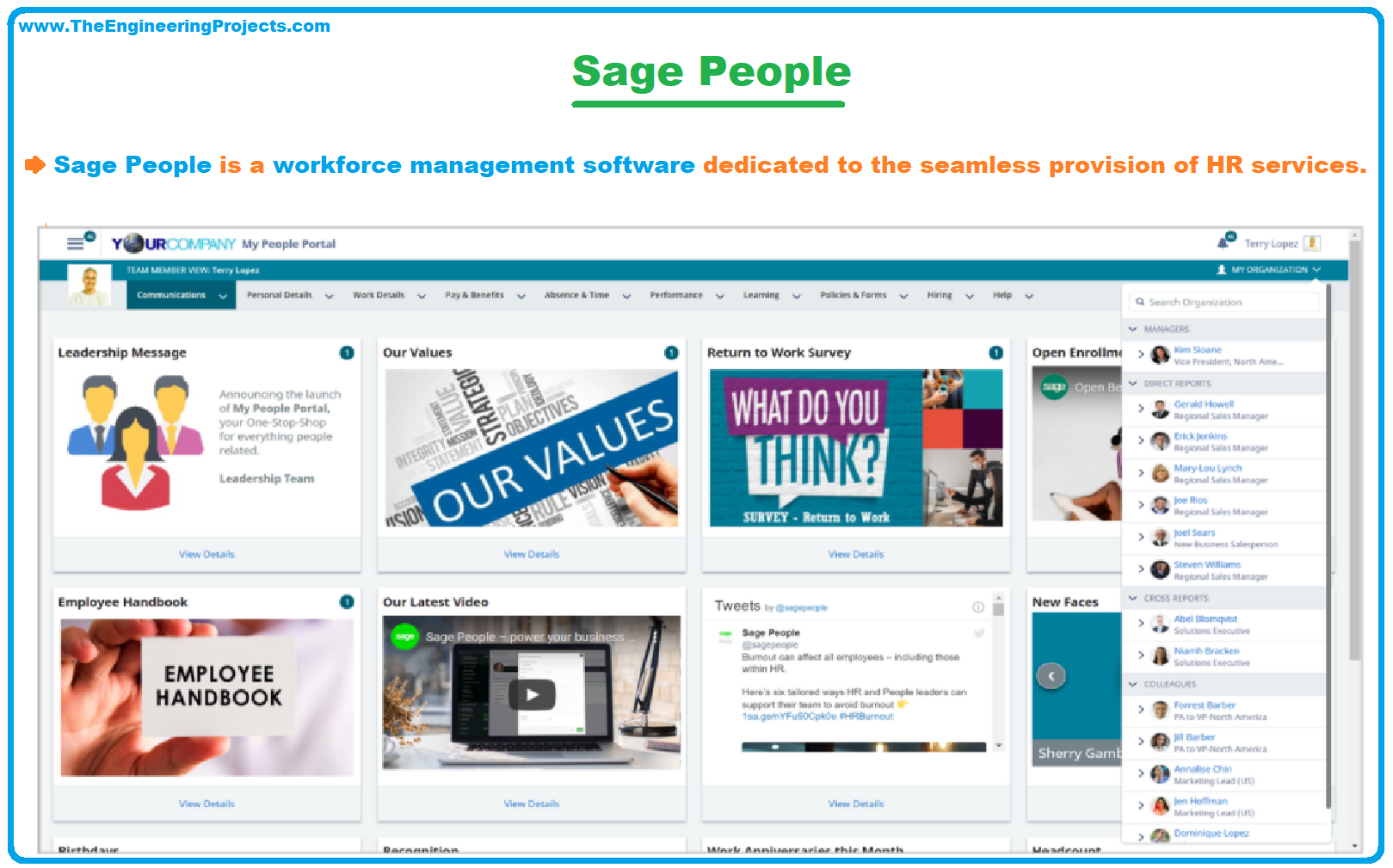 Sage People is a workforce management software dedicated to the seamless provision of HR services.
Sage People optimizes the workflow for medium-sized companies.
Sage People provides the following features;
Time tracking and attendance
PTO
Compliance
Benefits
Customization and internalization of different fields for a project
The only drawback of Sage People is the excess of important documents and files to everyone in the company which can somehow pose threat to sensitive information of the company which must not be disclosed to everyone.
ADP LLC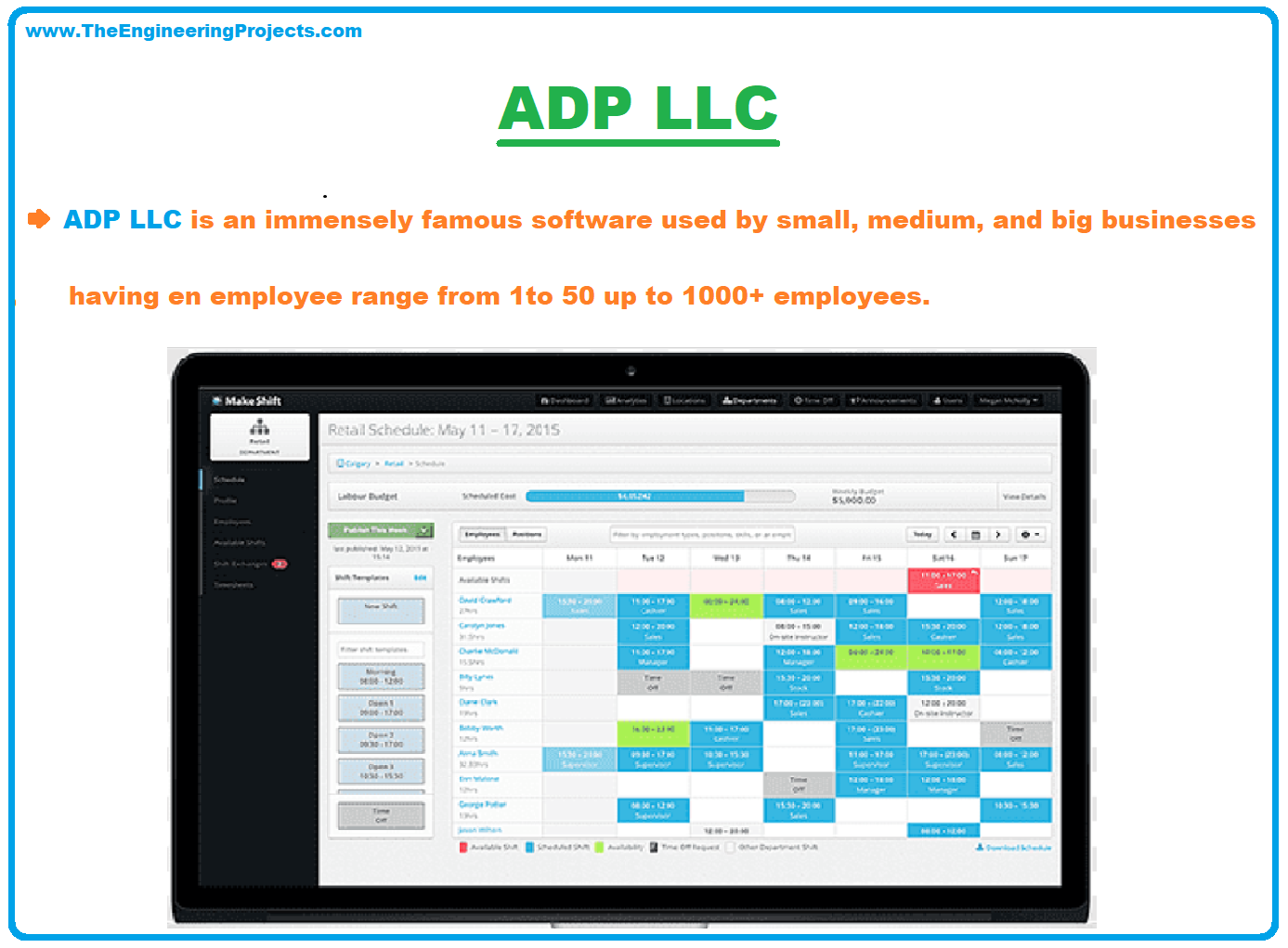 ADP LLC is an immensely famous software used by small, medium, and big businesses having en employee range from 1to 50 up to 1000+ employees.
ADP LLC has up to 80,000 clients who use their workforce management software services.
ADP LLC significantly reduces the burden of managing the workflow by automating the whole process.
You can also recruit and train new employees through ADP LLC, and above all, you can also keep track of their performance through strong analytics provided by ADP LLC.
They have a mobile app for time tracking which is accurate and up to the mark, employees can log in anytime without being surrounded by heaps of timesheets wasting their time.
Leave case management is also an easy thing to do with several features provided by ADP LLC.
ADP LLC helps you manage the following;
Payroll
Taxes according to regulations of federal, state, and local government.
Human resource management
ADP LLC generously offers a three months trial which isn't provided by most of the big names in the workforce management industry. But wait, Don't be too much excited, terms and conditions do apply!
You can also get a quote if you are interested in buying their service for your company, just go to their offical website, fill the form and voila! You are done!
Jiblee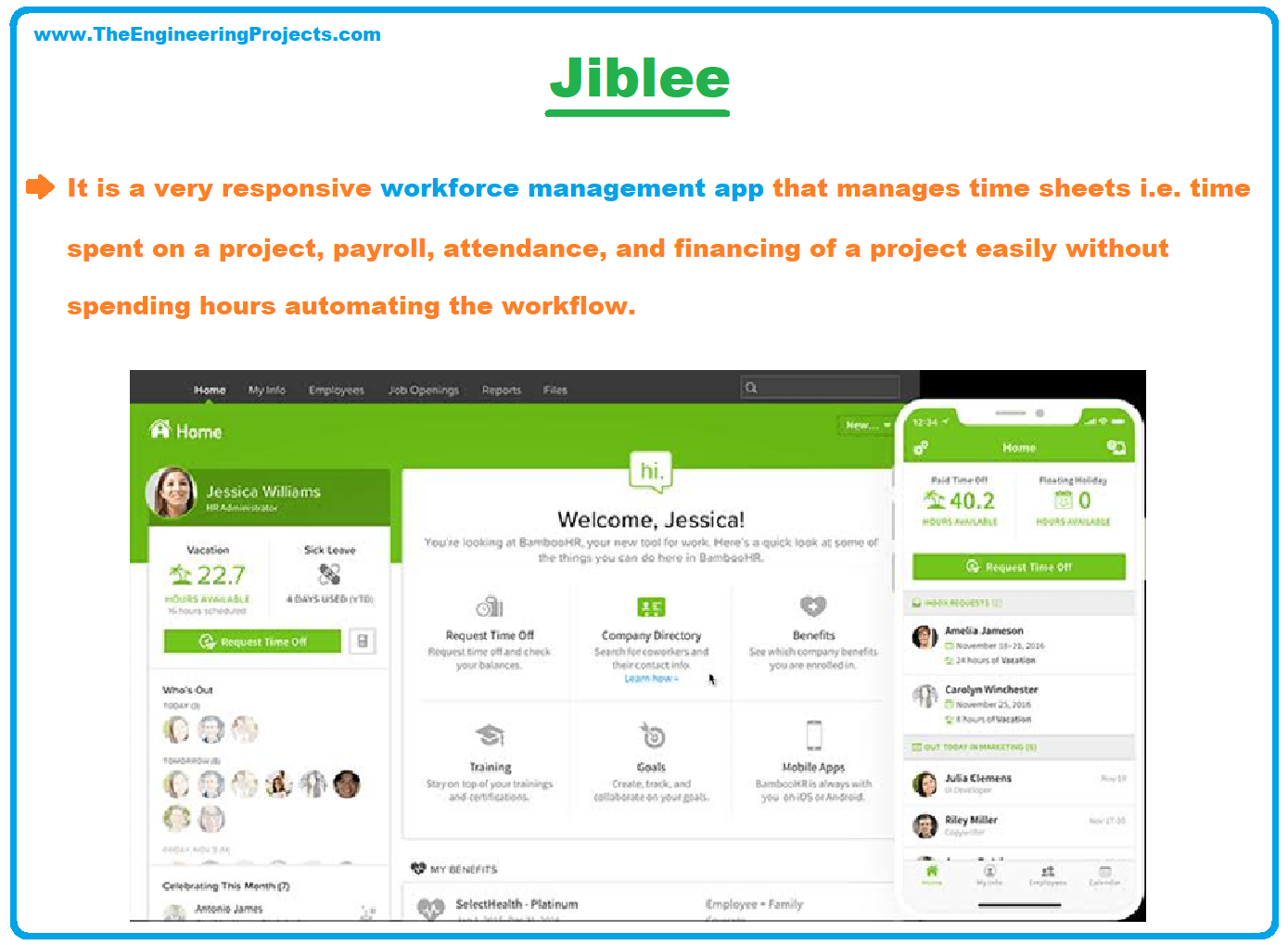 The next workforce management software on our list is jiblee, jiblee provides the following features to its clients;
HR management
Time tracking
Payroll management
Let us talk about time tracking first, jiblee has an efficient mobile app that can easily track time spent by employees on a task, the time they check-in and check-out is also tracked using a geofensing tool.
Jiblee also provides automated timesheets which significantly help in payroll management, pay your employees within hours according to the tracked time and days without heaps of calculations.
You can also get a detailed preview of your team's overall performance and productivity through strong analytics provided by jiblee.
Jiblee can also be Integrated with slack and google teams which would make your workforce management process super easy and on the go!
As per the reviews of jiblee users, their customer support team is super supportive and responsive, in case you are looking for a one-touch solution to your everyday workforce management problems, jiblee can be your best bet!
Built for teams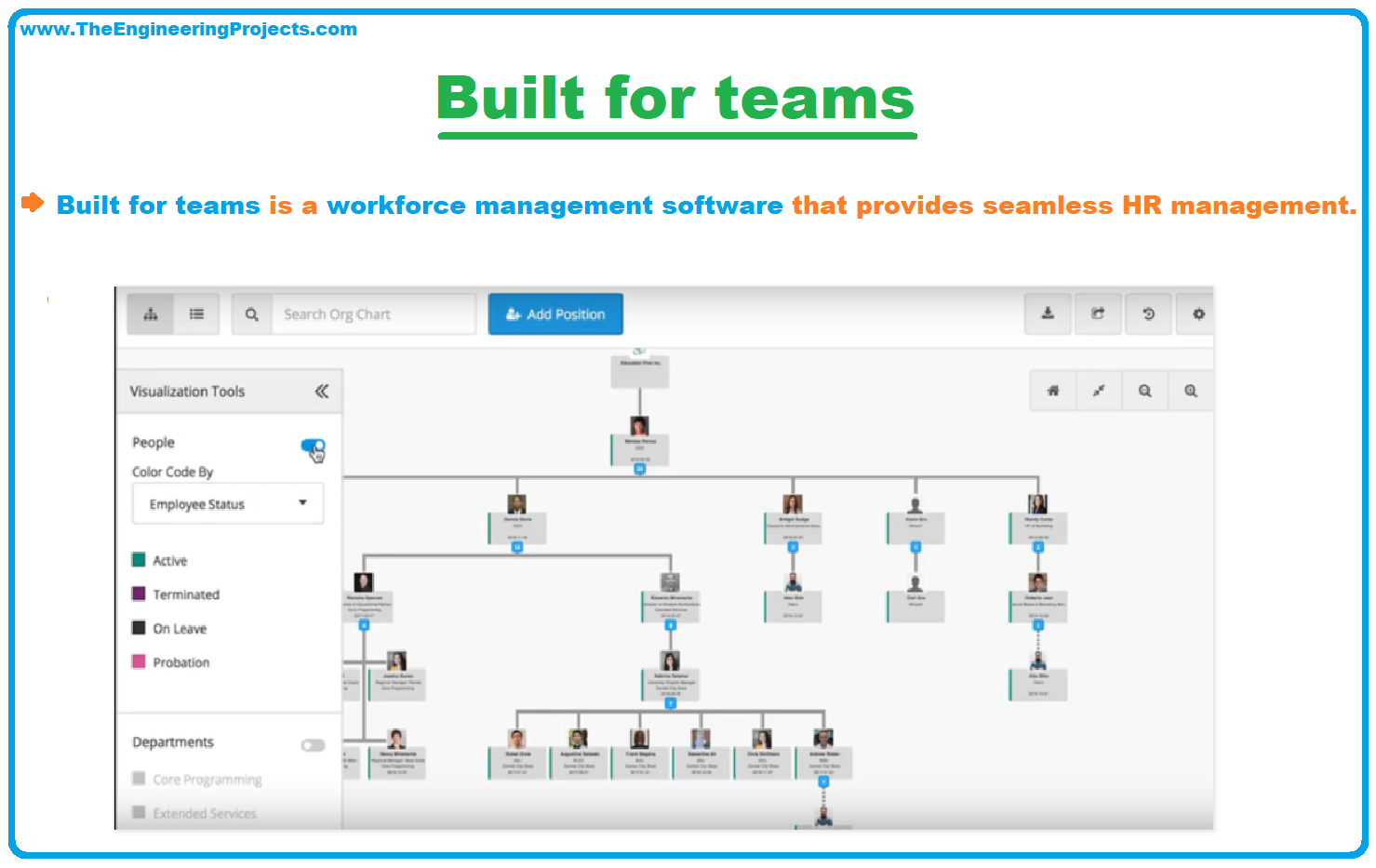 Built for teams is a workforce management software that provides seamless HR management. let us talk about some unique features of this software;
The org chart and company directory are loved by new recruits of the company letting them understand who is who and what is what!
Paid time off requests are super simple to make and are really appreciated by the employees as well.
The companies using built for teams workforce management software really appreciate their customer support team and response to feedback.
Schedule Flex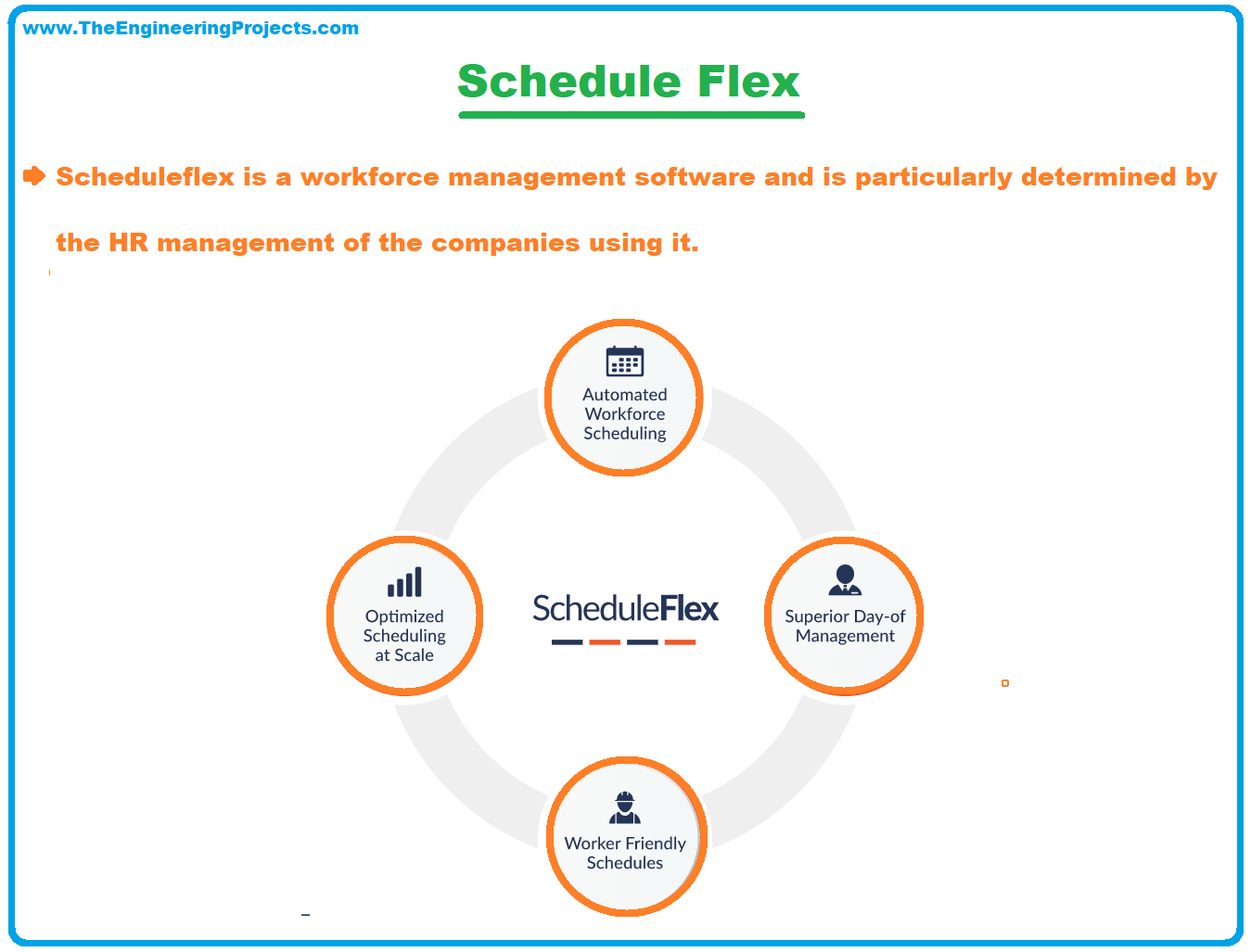 Scheduleflex is a workforce management software and is particularly determined by the HR management of the companies using it.
There is a shift board feature that helps employees comply with their work schedule in a well-oraganized manner.
Shiftboard is particularly effective for better performance of the employees resulting in lesser labor costs.
Teleopti
Teleopti WFM provides workforce management solutions to Enterprise Level businesses.
Teleopti workforce management software is geared towards staffing and scheduling along with customer support.
The company claims that their software can fully automate your workflow from effectively managing staff to creating automated schedules for the employees and later on analyzing their performance as well.
Teleopti also provides in-depth and well-analyzed reports to help companies improve the customer service operation of the companies using it.
Teleopti also provides automated training of employees to cover their lacking, helping them improve their skill and competency.
One of the most amazing features provided by Teleopti WFM, mobile workforce management software includes the option of internal communication through instant alerts and text notifications during working hours to keep everyone aware and connected throughout the project.
You can easily get a quote from them through their official website if you are planning to buy their services, good luck!
Namely
Namely provides the following solution for workforce management;
Payroll management
HR
Benefits Platform.
If you are looking for workforce management software that can be tailored according to your company's culture and structure, then namely can definitely be your go to option.
WebHR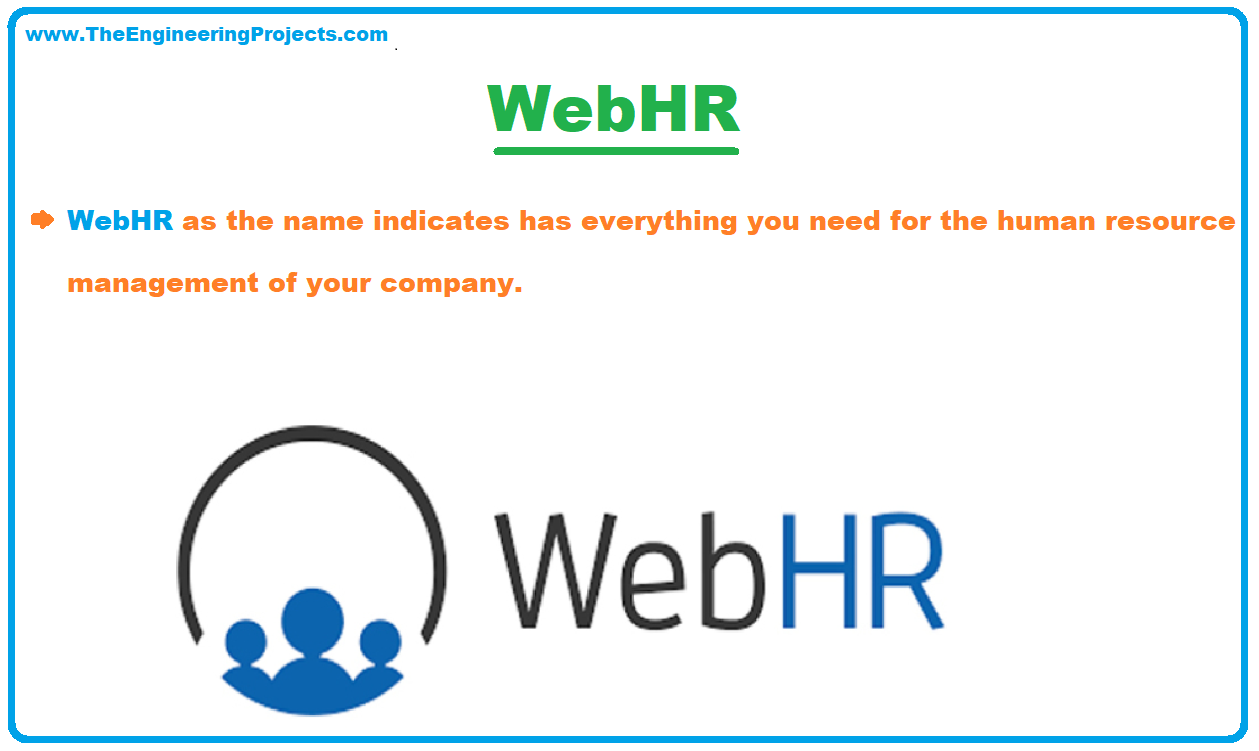 WebHR as the name indicates has everything you need for the human resource management of your company.
It is an efficient workforce management software that manages everything from hiring to retiring of an employee through an advanced AI-based system. I'm listing some of its features;
Time tracking and attendance
Paid time off PTO
Payroll management
Benefits
Employees self-service
CoreHr
Corehr is dedicated to HR management of medium-sized businesses only, it is not made for big businesses.
CoreHr helps recruit new employees and track their performance, the clocking system is perfect for check-in and check-out as well and lastly, the fully automated payroll system is a cherry on top.
The only existing problem with CoreHr is its complicated user interface which isn't liked much by the users and needs to be improved.
Rippling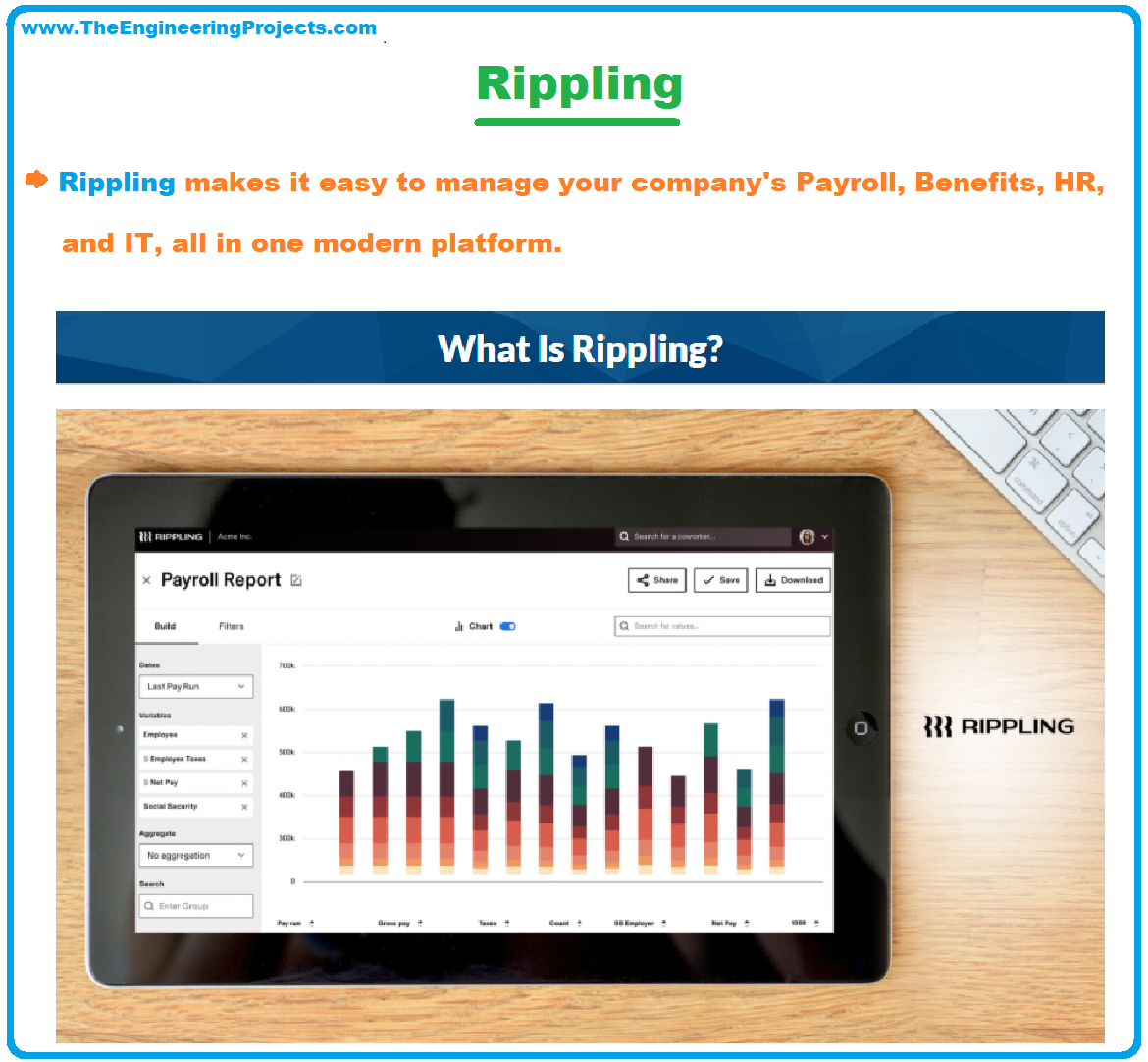 Rippling is a famous workforce management software that provides the following features to its users in terms of HR management and Payroll management;
Time tracking and attendance
PTO
Performance analytics of employees
Payroll integration with different service providers
Tax management
Self-service portal for employees and benefits dashboard.
Rippling is loved by HR Managers because of its ease of use, it has an easy-going user interface that doesn't require a training session for employees to be learned.
Some of the features provided by rippling workforce management software are complex such as payroll management and team management which need further improvement as per the reviews of people using this software.
If you are interested in buying the services of Rippling for workforce management then you can consider rippling as one of the strong candidates in the workforce management software Industry!
BambooHr
BambooHr is an all-in-one Human Resource Management software having a user-friendly app for this purpose.
BambooHr gathers, store and analyze employee's data conveniently and efficiently at a cloud-based database.
BambooHr Mobile app is client-oriented, you can schedule anything on the calendar and publish it for your employees. Announcements can easily be made through the BambooHr app for a project or a single task with a single tap and it reaches everyone within seconds.
The most unique feature of BambooHr is the time off feature, let me tell you about it in simple words, the time off feature allows the employees to send requests for leave by following a few steps meanwhile the HR Managers can approve it within a single click.
BambooHr provides the feature of electronic signatures,  employees can sign documents anytime and anywhere without having to use a pen and paper.
EPAY HCM
EPAY HCM is geared towards human capital management.
It helps in the cost reduction of HR management for the company by automation of the workflow.
EPAY HCM automates the following processes;
recruitments in the company using it
time and attendance
payroll management
EPAY HCM app is user-friendly and free of complexities.
One of the most appreciated things provided by EPAY HCM is its customer support throughout the clock in case of system failure or any technical glitch.
Skedulo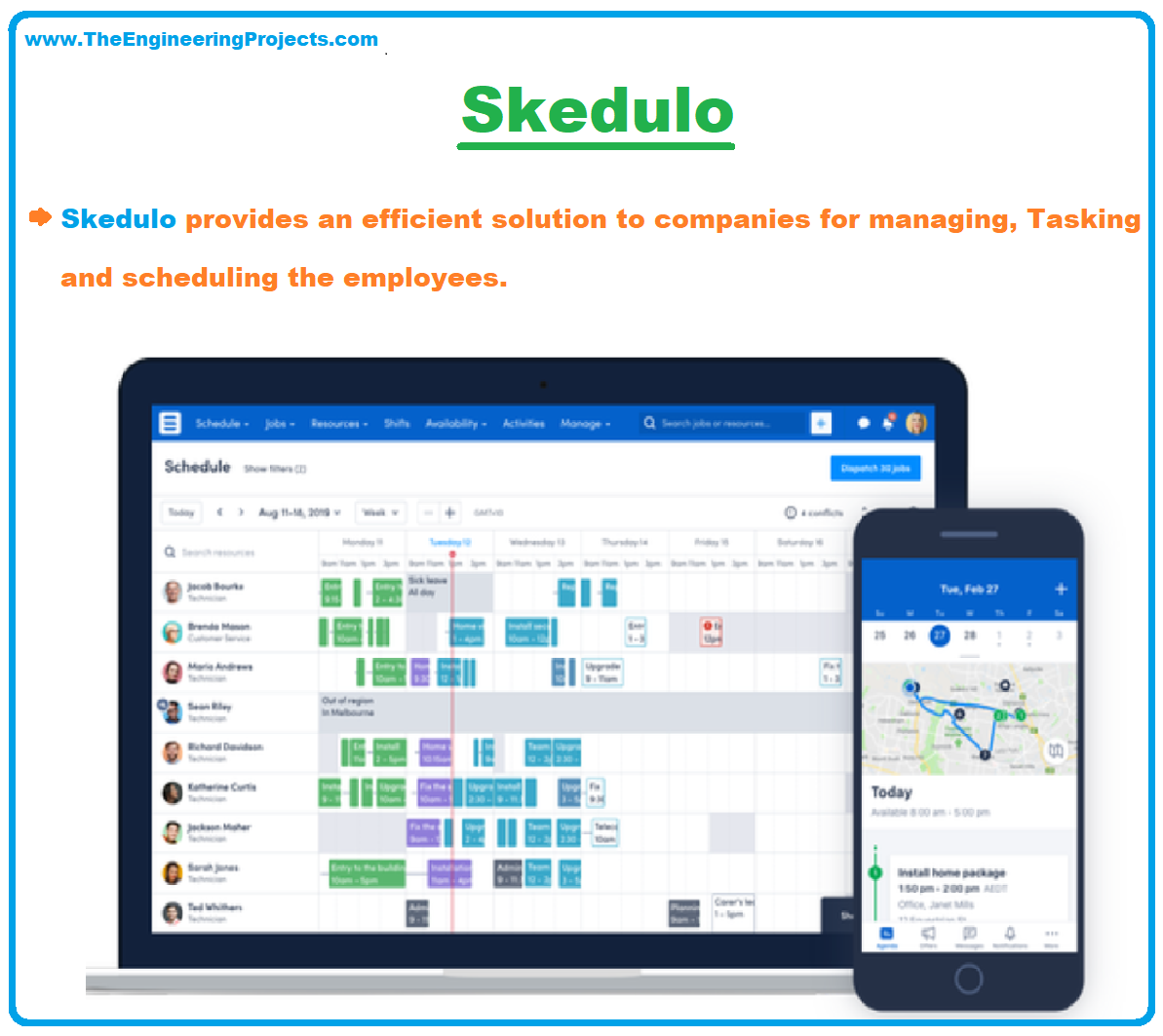 All the above-mentioned workforce management software was related to people who work in a typical office setting, except one or two which had the geofencing feature. Skedulo is particularly designed for people who aren't office-based.
You would be amazed to Know the DHL and American Red Cross along with several other organizations trust skedulo and its deskless productivity cloud to manage their system.
Skedulo provides an efficient solution to companies for managing;
Tasking and scheduling the employees
Over job scheduling
For the employees who are working remotely, skedulo is a blessing because it helps them manage their day-to-day tasks effectively.
Better management of daily tasks through skedulo helps in cost reduction of operational on-field tasks, all thanks to analytics provided by skedulo workforce management software.
Skedulo has a very user-friendly app that is available for Android as well as iPhone users and has the following features;
Mobile forms that can be easily filled and submitted
Scheduling and creating tasks and jobs
Synchronized calendars and maps
Photo attachment option
Electronic Signature option for customers
Mapping and routing which can be used to locate an employee as well
Chat option for employees in the same team or job
Leave submission
Intradiem
All the above mentioned workforce management systems are not made for a particular industry or niche, the one we are about to discuss is particular to call centers, yes you heard it right! Intradiem is workforce management software for call centers.
Intradiem can manage the call centers with a high influx of data because it is not humanly possible to manage such an influx without an external system or assistance.
It is an AI-powered system which helps in the automation of customer service teams.
Intradiem  can efficiently schedule and manage the activities of every employee in the call center by keeping a track of their performance through strong analytics.
Branch
Branch Mobile app is particularly used by the people who work on an hourly basis.
It is used by small-sized businesses as well as big businesses.
You can easily manage the workflow by tasking and scheduling your employees through the workforce management software of the Branch.
Branch shows the availability of employees, their Working hours, shift swaps, and shift timings.
You can even integrate Branch with your desired payroll provider for easy payment based on the working hours of your employees.
In case you are looking for workforce management software that is effective for shift management, then Branch can be a considerable option.
Nowsta
Nowsta is the last workforce management software on our list of best 20 workforce management software.
Nowsta is a one-touch solution that can manage payroll and the work shifts of your staff.
Nowsta also has an app for the ease of its users, The user interface and scheduling window of the Nowsta app are super simple and convenient and are highly admired by the users.The time tracking service of Nowsta is top-notch as well.
Nowsta has an incredible activity dashboard in case you want to check out what is going on in the projects at hand, in short, you can easily trace the timeline and project progress side by side.
The most remarkable of all the features provided by the Nowsta workforce Management system is the payroll system which is hassle-free and time-saving.
Nowsta Employee's database stores data hence reducing heaps of paperwork for provision of the workflow in the company using it. You can also incorporate many other applications with your Nowsta account for better coordination.
Nowsta also provides insights and in-depth analytics about the performance of employees in different endeavors of the company.
Pricing of Workforce Management Software
So, this last entry concludes our list of top 20 workforce management software to use, the other most frequently asked question about the workforce management software is their pricing, in case you want to know the price of a particular software, you can contact the relevant software provider or company through their website to get a quote according to your requirements, you would be getting a customized and tailored proposition!
Some of workforce management software companies have already provided the per user price on their website but most of them haven't, you can also get a free demo from a few of these companies but again it varies from one company to the other. You can easily find a best match for yourself if you dig a bit deeper into the demo, details and reviews , Good luck!
Its a wrap for today, that's all you need to know about 20 best workforce management software, in case you know a better option; the one you have personally used , you can let us know in the comment section below. I'll see you with another discussion soon, have a good day ahead!