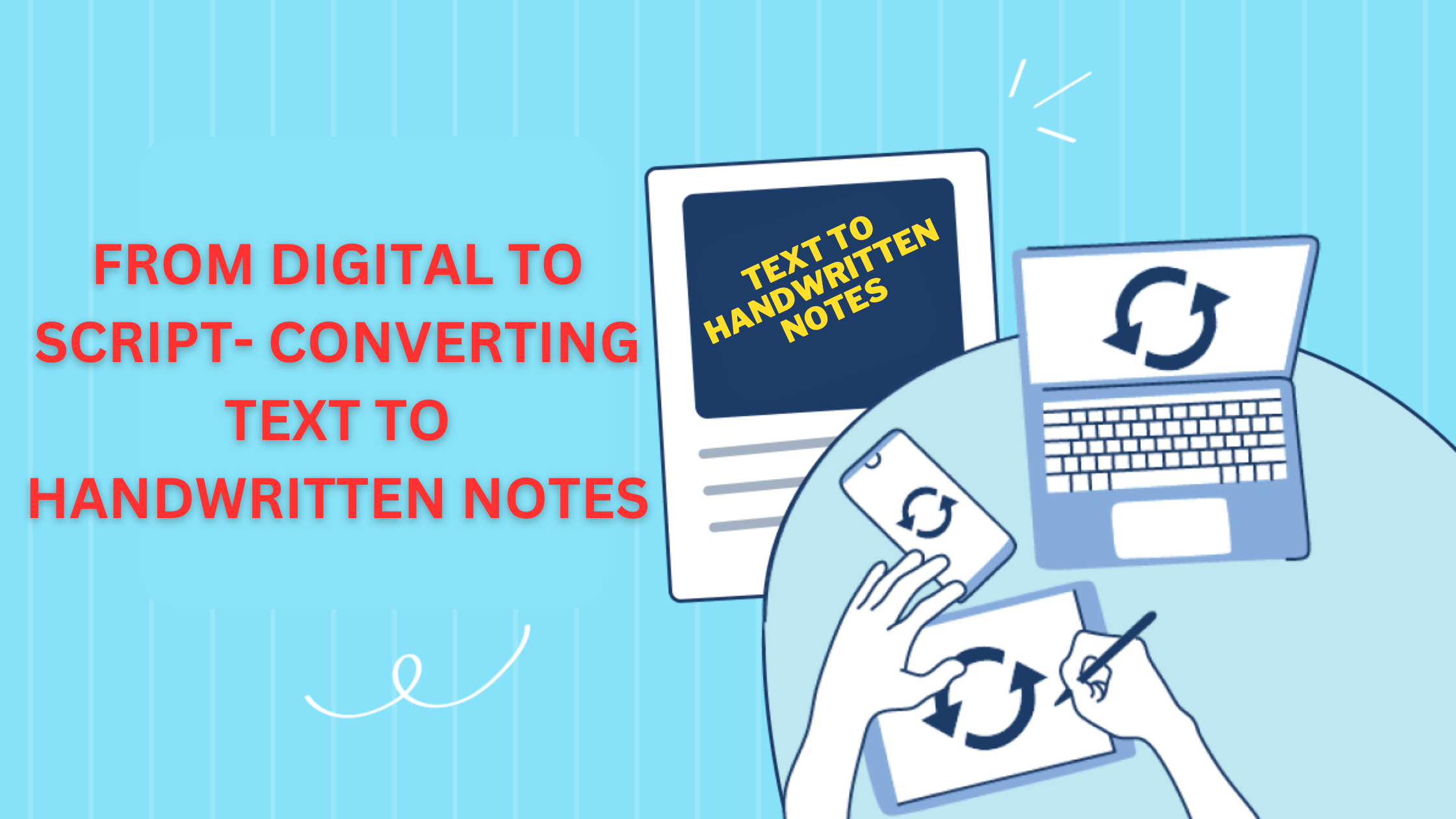 Sometimes you may be asked to submit a written piece of note in the form of handwriting. We all know, writing by hand is quite a labor-intensive and time-consuming task. You first have some blank pieces of white paper, and then find the required information from an online source. After this, the writing process will start.
So, what's the solution to this? Fortunately, there is a quick and effective solution available. If you are asked to convert some pieces of text available online into handwritten notes, then instead of manually noting it down, you can consider utilizing text-to-handwriting tools.
These tools allow users to convert normal text into handwritten style in real-time.
Remember, utilizing online tools is the only solution if you don't want to make use of pen and paper in order to write handwritten notes.
In this blog post, I will be discussing how you can quickly and efficiently convert into handwritten with the help of tools. So, without any additional details, let's the things.
Introduction to Text to Handwriting Converters
As I have already stated, these are online tools that help people quickly convert digital text into handwritten style. They provide output results in real-time on a realistic white paper and allow users to download them for later use.
Moreover, text to handwriting converters offers different handwriting styles to choose from, so that users can pick the one that is closest to their natural writing style. Not just this, they also offer pen or ink colors, and page styles as well for maximum personalization.
Now that you have understood what actually these converters are. It's time to understand how you can make use of them for converting text into handwritten notes.
Converting Text into Handwritten Notes – Step-by-Step Guide
Below, I have discussed a step-by-step procedure for converting text into handwritten style notes. All the steps are extremely easy to follow, which means users with almost no technical background can also understand them.
Pick a Reliable Text to Handwriting Converter
Obviously, in order to convert normal text into handwritten quickly, you first need to find a reliable converter that will perform the conversion. Remember, the conversion process will completely depend on this step, If the converter you have chosen is good, then you will not face any kind of hassle.
There is a huge range of text to handwriting conversion tools available on the internet . This huge availability may make it difficult to determine and select the right one. This is so because all the converters claim to be the best.
For maximum ease of selection, I have mentioned a few factors that will indicate the reliability of the particular tool.
Availability of multiple handwriting styles

Different page styles and ink colors

Authority to adjust writing size on the paper (to give a maximum realistic look)
The availability of these factors or features in a particular will be a good indication that is reliable enough for converting text into handwritten efficiently.
For this guide, we have found such text to handwriting converter that fulfills almost all the factors mentioned above.
Select the appropriate writing style, pen color, page size, etc.
Once you have chosen the right converter, you then need to select the most appropriate writing style that is close to your natural handwriting style. So, the converted handwritten note gives a feel that you have written it by yourself.
Not only this, but you also select the required pen color, because sometimes you may be asked to write handwritten with a specific pen color. The same can be the case with page size, so it would be good if you also choose the right size before starting the conversion process.
Paste or type the text that you want to convert
In this step, you just need to either directly paste or type the text that you want to convert into a handwritten note in the input box of the converter. Once you have given the text, the converter will provide it handwritten in real time.
To demonstrate this, we have converted a piece into a handwritten note with the tool that we have selected in the first step. The output we got from it can be seen in the image below:
As you can see in the image, the tool has quickly converted the given text into a handwritten style.
Download output results
Once, you have successfully all the text into a handwritten note, then you can download the output results for later use. The tool we used is providing multiple download options. Users can either get the results in the form of an image or in a PDF . So, the choice is all yours.
Final Thoughts
If you are asked to write a handwritten note, but don't want to hold a pen and blank paper to start writing. In this case, you can consider converting digitally typed text into handwritten style with the help of online tools. In this article, I have discussed a step-by-step procedure that you can follow in order to do the same, hope you will love the solution I have provided.