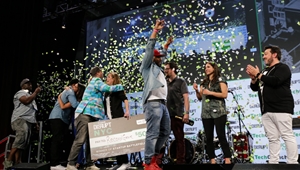 Major League Hacking, also known by its official acronym MLH, organizes student hackathons. MLH was established in 2013 by Mike Swift, who previously worked for SendGrid and Jonathan Gottfried, who formerly worked for Twilio. The two are former developer evangelists. All hackers at MLH events have, for the last two years, been getting a special voucher code from Domain.com. With this coupon, and several other deals, the students at each event can register a free domain (.com, .net or even .org), get better prices on hosting. Additionally, the most innovative domain name at each MLH event gets rewarded with a bag full of great hacker gear.
What exactly is MLH?
At first, MLH was intended to facilitate North American student-run university hackathons. Every year, MLH is behind more than 200 weekend-long events. The aim of these events is to inspire innovation, grow communities, and help more than 65,000 students from all around the world learn computer skills. MLH is an involved and spirited maker community made up of the upcoming generation of technology leaders and entrepreneurs.
What is a Hackathon?
Hackathon comes from joining the words, "hack" and "marathon". However, in this case, the hack is a term used to refer to exploratory programming and not the computing crime that goes by the same name. Other versions of the word hackathon are hack day, hackfest and codefest. During this event, computer programmers and other software development experts such as project managers, graphic designers, interface designers, and others like subject-matter experts, take part in the design sprint-like event in a vigorous software project. Every now and then, there is a hardware aspect to the hackathon. Typically, a hackathon will run for between a day and a week. The focus of a hackathon can be educational or social, but there are quite a number of cases where the intention of the event is to come up with usable software. Usually, a hackathon will have a very specific focus. It could be something like the programming language being used, the operating system, an API, an application, or a special demography of programmers. However, it is not unusual for there to be no restrictions to the software that is being created from the event. From the mid-2000s to the late 2000s, hackathons grew gradually in popularity. Companies and venture capitalists recognized a hackathon's capacity to create new software and technologies with speed. Through hackathons, the companies and venture capitalists could also see where they could innovate and fund. Hackathons have inspired the formation of major companies such as GroupMe, which started as a project during a hackathon at the TechCrunch Disrupt 2010 conference.
How are Domain.com coupons used at the event?
The first step towards online success is getting a great domain. With the Domain.com coupon, MLH student hackers get new .com, .net, or .org domains for free. Domain.com takes care of this by making the process of acquiring a domain easy, fast and affordable. At Domain.com are all the major Top Level Domains (TLDs), as well as more than 25 Country Code Top Level Domains (ccTLDs). Use discount code 18COOL whether you are MLH student hackers or not, get an 18% discount when registering any domain name at Domain.com.