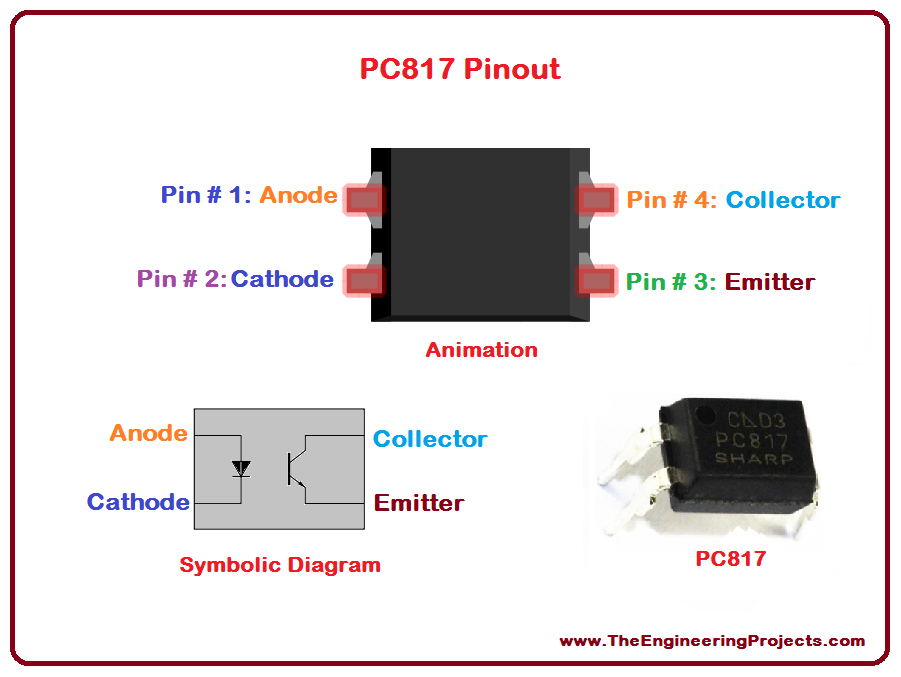 Hello everyone! I hope you all will be absolutely fine and having fun. Today, I am going to give you a detailed Introduction to PC817. PC-817 is also known as an optocoupler / optoisolator. It consists of Infrared Emitting Diode (IRED). This IRED is coupled to a photo transistor optically and not electrically. It is closed in a four (4) pin package. This package is usually available in two different forms. The first one is wide lead (Pb) spacing option and the second one is SMT gullwing lead form option. PC 817 has an internal LED and a photo transistor. The photo transistor's base becomes activate when LED throws light on it. The output obtained can be divided into two formats either common emitter or common collector. But the configuration is mostly common emitter. If the LED does not glow, transistor remains off and hence there will b no output generated by the optocoupler i.e. PC-817. PC 817 has different feature e.g. double transfer mold package, current transfer ratio, different CTR ranks available, RoHS comliant, lead (Pb) free etc. Its real life application includes noise suppression in switching circuits, programmable controllers, signal transmission between circuits having different voltages, signal transmission between different impedance etc.  The further detail about PC817 will be given later in this tutorial.
Introduction to PC817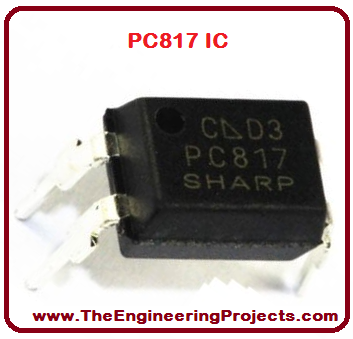 PC817 is a 4 Pin optocoupler, consists of an Infrared Emitting Diode (IRED) & photo transistor, which enables it optically connected but electrically insulated.
Inrared Emitting Diode is connected to first two Pins and if we apply power to it, then IR waves are emitted from this diode, which makes the photo transistor forward biased.
If there's no power on the input side, diode will stop emitting IR waves and thus photo transistor will reverse biased.
PC817 is normally used in embedded project for isolation purposes.
In my embedded projects, I place PC817 after Microcontroller Pins to isolate back EMF, in case of motor control etc.
 PC-817 has several applications e.g. noise suppression in switching circuits, input/output isolation for MCU (Micro Controller Unit). PC 817 is shown in the figure given below.
You can download PC817 Datasheet by clicking below button:
Download PC817 Datasheet
PC817 Features
No.
Parameter
Value
1
Pin Count
4
2
Manufacturer
Sharp
3
IRED
1
4
Forward Current
50mA
5
Peak Forward Current
1A
6
Reverse Voltage
6V
7
Power Dissipation
70mW
8
Collector Emitter Voltage
80V
9
Emitter Collector Voltage
6V
10
Collector Current
50mW
11
Collector Power Dissipation
150mW
12
Total Power Dissipation
200mW
1. PC817 Pinout
PC817 Pinout consists of four (4) pins in total, first two are connected with the Infrared Emitting Diode (IRED) while the last two are connected with Photo Transistor.
All of these four pins are given in the table shown below, along with their name & status.
PC817 Pinout
Pin No.
Pin Name
Status
Pin # 1
Anode
Input
Pin # 2
Cathode
Input
Pin # 3
Emitter
Output
Pin # 4
Collector
Output
PC817 Pinout diagram is shown in the figure below: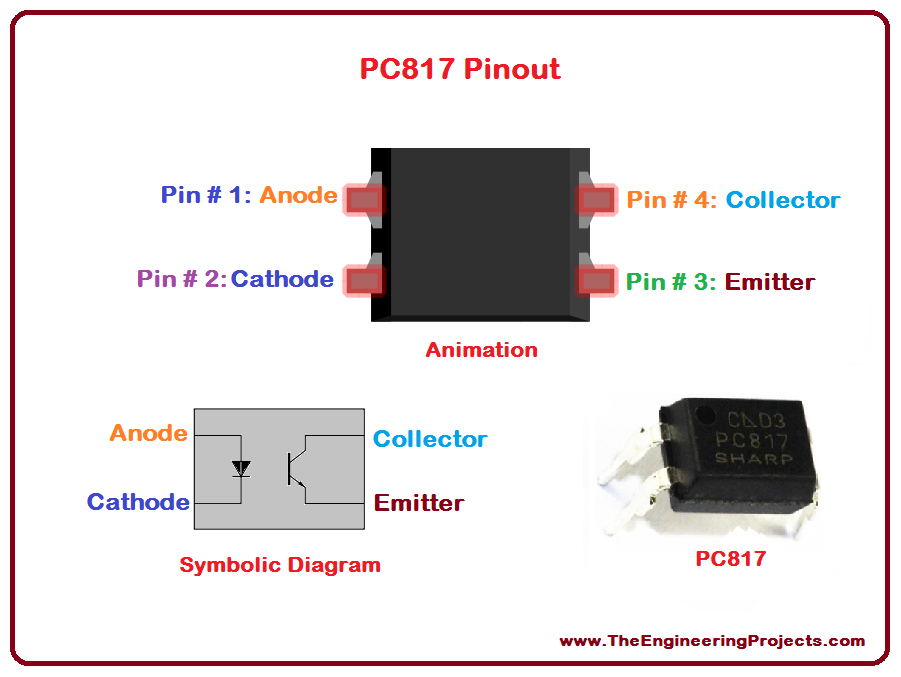 2. PC817 Packages
Different packages of the same device presents its models with some modifications or extra features.
PC 817 has four packages, displayed in below table:
PC817 Packages
No.
Package Type
Example
1
Through-Hole
PC817X
2
SMT Gullwing Lead-Form
PC817XI
3
Wide Through-Hole Lead-Form
PC817XF
4
Wide SMT Gullwing Lead-Form
PC817XFP
3. PC817 Symbolic Representation
Symbolic diagram presents internal structure and functionality of any device.
PC 817 symbolic representation is given in the figure shown below: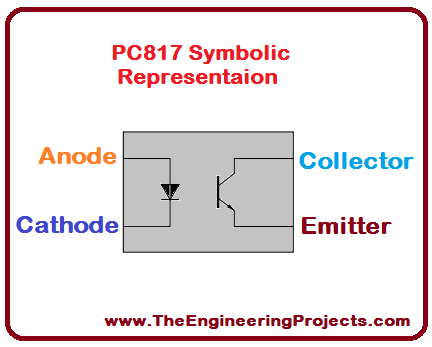 4. PC817 Features
The features of anything shows its ability to do something different and unique as compared to the others.
All of the amazing features associated in the PC-817 are shown in the table given below.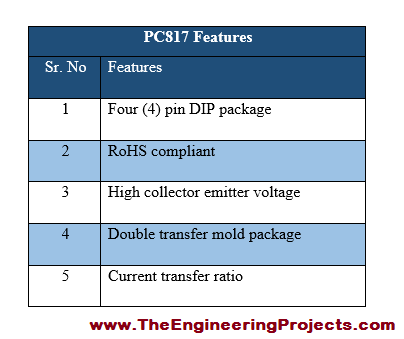 5. PC817 Ratings
Ratings of an equipment shows shows basically the operating conditions of that particular device,and they may vary from device to device.
The power, current and voltage ratings of PC 817 are given in the table shown below.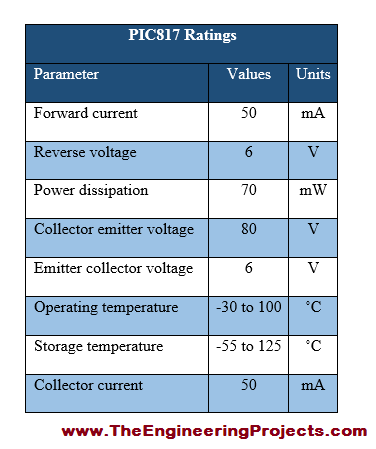 7. PC817 Applications
Any electronic device is usually known on the basics of its real life applications.
Real life applications are highly related to the popularity of a device.
some of the major real life applications of PC-817 are provided in the table shown below.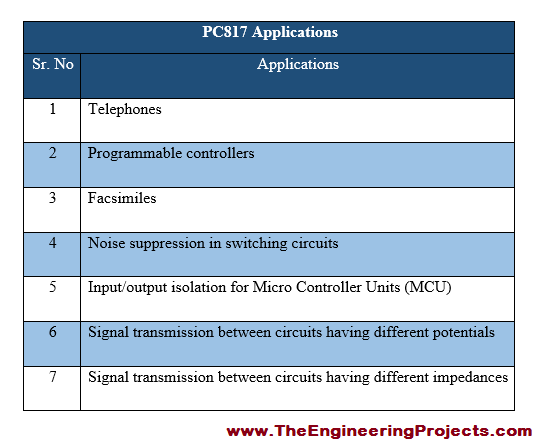 That was the detailed discussion on Introduction to PC817. This tutorial consists of all the important detail and information that a user must need to know before operating PC 817. If you have any problem regarding anything, you can ask us. We will help you to the best of our efforts. You can contact our team anytime you want to. I will share other amazing informative articles later. So, till then take care :)