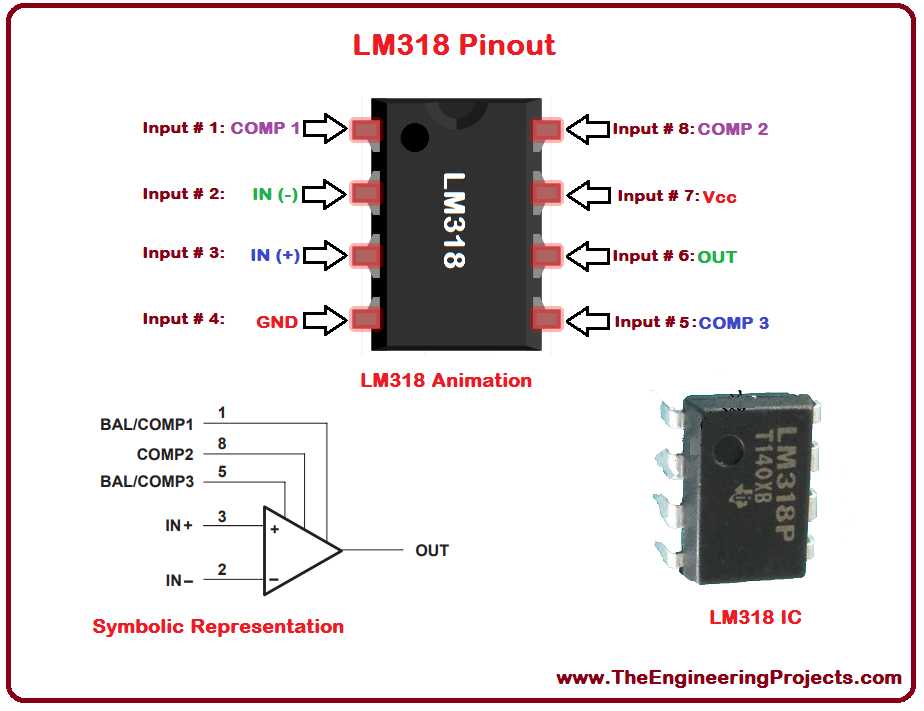 Hello everyone! I hope you all will be absolutely fine and having fun. Today, I am going to give a detailed discussion on Introduction to LM318. LM 318 is basically a high speed Operational Amplifier (Op-amp). It provides higher slew rates and wide range of bandwidth. LM-318 has processing speed 10 times higher than the common operational amplifier. It has unity gain frequency compensation. External components are not required for its operation.
Feed forward compensation increases the slew rate up to 150 V/us for inverting applications. It also doubles the bandwidth as compared to the earlier. In LM 318, in order obtain the high stability level we overcompensation can be used with amplifier. LM 318 setting time can be reduced by adding an external capacitor. LM-318 is very useful in analog to digital converters and oscillators because of its fast setting time and high processing speed. It performs its normal operations in the temperature ranging from 0 degree Celsius to 70 degree Celsius. LM-318 has different amazing features including input/output overload protection, internal frequency compensation, pin compatibility with general purpose Operational Amplifiers (Op-amp). LM-318 can be used in digital to analog converter amplifiers, wide band amplifier, high frequency absolute valued circuits, fast integrators etc. The further detail about LM-318 will be given later in this tutorial.
[otw_is sidebar=otw-sidebar-7]
Introduction to LM318
LM318 is basically an Operational Amplifier (Op-amp). It has high processing speed. Its processing speed is almost ten (10) times higher than the processing speed of general normally available operational amplifier. LM 318 provides higher slew rates. In inverting applications it is able to double the frequency and increase the slew rates too up to a certain level. LM 318 can be used in fast integrator, wide band amplifiers and digital to analog converter. LM-318 is shown in the figure given below.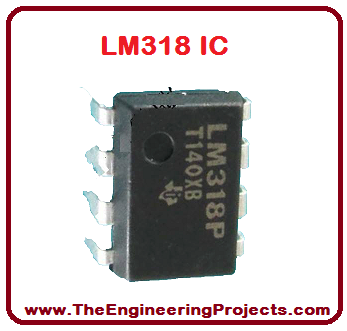 1. LM318 Pins
LM 318 has eight (8) pins in total, each having different functions.
All of the 8 pins are listed in the table shown below.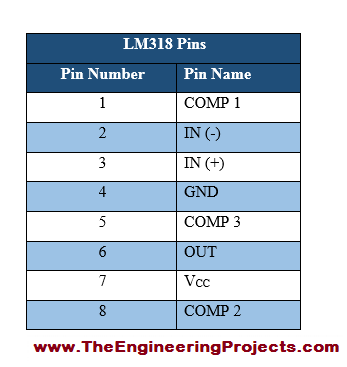 2. LM318 Pinout
To understand the pin configurations of any device we must need take help from its pinout diagram.
LM-318 pinout diagram is shown in the figure below.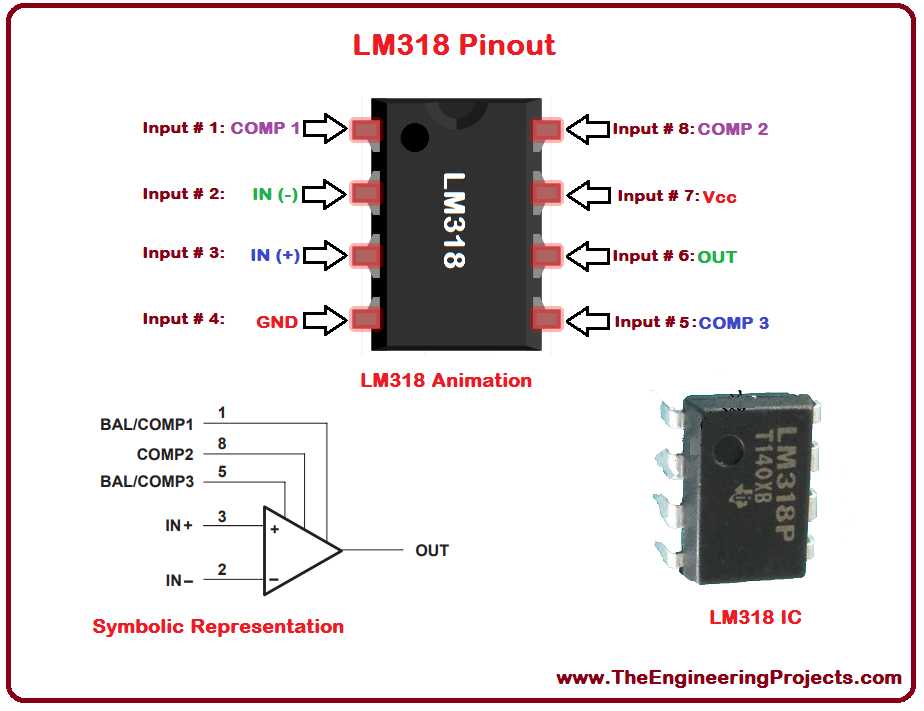 3. LM318 Symbol Representation
Symbolic representation presents the internal structure of any equipment.
LM 318 symbolic representation is shown in the figure below.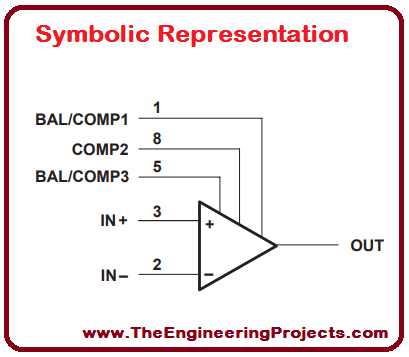 4. LM318 Voltage Follower
Voltage follower can be designed using LM 318 and some of the resistors.
The designed circuit for voltage follower is shown in the figure given below.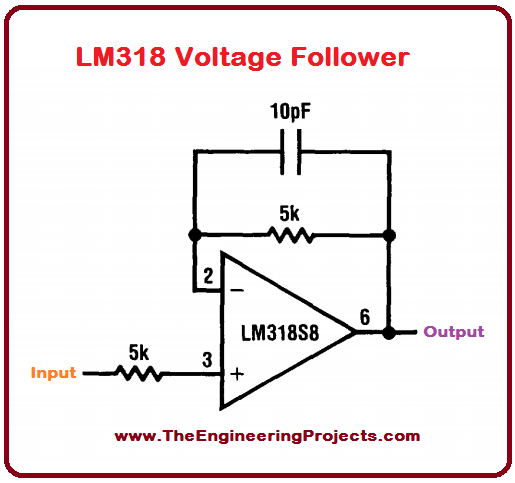 5. LM318 Ratings
The power requirement of any device can be estimated from its ratings.
All the three power, current and voltage ratings of LM 318 are given in the table shown below.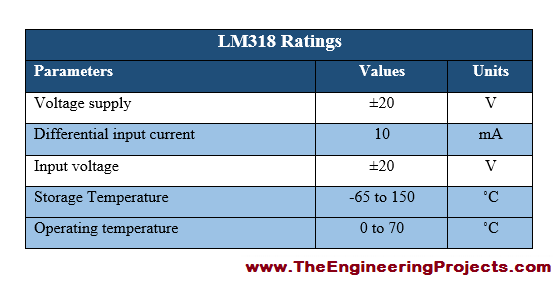 6. LM318 Electrical Characteristics
Mostly, electrical characteristics consist of input resistance, input offset current and voltage.
Some of the major electrical characteristics of LM-318 are listed in the table shown below.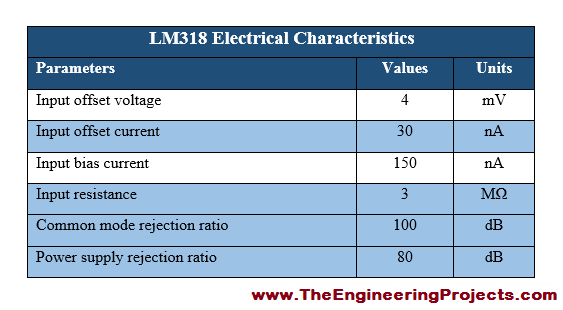 7. LM318 Features
LM-318 has several different features, some of them are given below.
Inout/output overload protection.
Pins compatibility with general purpose Op-amp.
Internal frequency compensation.
Input voltage range of 5 to 20V either with positive (+ve) polarity or negative (-) polarity.
8. LM318 Applications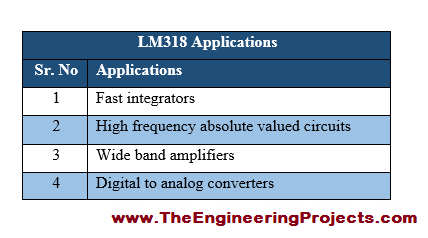 So, that's all from the tutorial Introduction to LM318. I hope you have enjoyed this tutorial and will appreciate my effort. You can ask as any type of question regarding you issues or anything else. Our team is always here to help you and for satisfaction. I will share information about other IC's in my later tutorials. So, till then take care 🙂