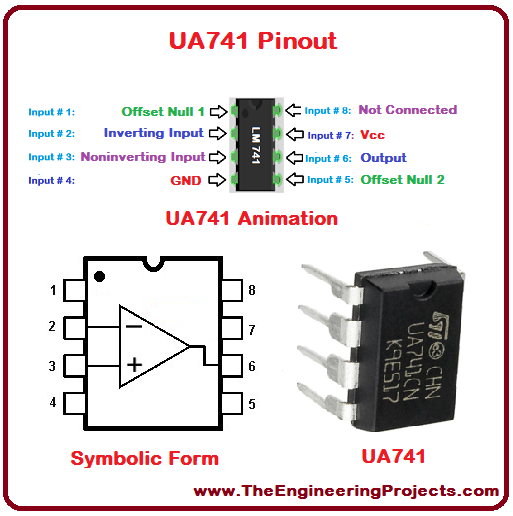 Hello everyone! I hope you all will be fine and having fun. Today, I am going to give you an elaboration on Introduction to UA741. UA 741 is basically a general purpose operational amplifier. This amplifier is considered to be ideal for the voltage follower applications because latch-up operations are no there in its case and it moreover it has High Common Mode Input Voltage Range (HCMIVR). UA-741 is a high performance operational amplifier made up of single silicon chip. UA 741 is stable without using external components, due to the internal frequency compensation and this device is safe from the short  circuiting. In order to cancel the effect of offset voltages we can use a small valued potentiometer/resistor. UA-741 can operate in a temperature ranging from 0 degrees celsius to 70 degrees celsius. This device has several different features including latch-up free operation, large common mode input voltage ranges, short circuit protection, large differential voltage ranges, capability of nulling offset voltages. UA 741 has a lot applications e.g. Digital Versatile Disk (DVD) recorders, audio mixers, DVD players etc.
Introduction to UA741
UA741 is a general purpose amplifier. It is known as an ideal amplifier for voltage follower applications. UA 741 has good stability without even using the external components. This stability is due to the latch-up free operations and high common mode input voltage ranges. It has amazing features like short circuit protection, latch up free operation, no frequency compensation, offset voltage nulling capability, large common mode voltages etc. Its real life applications include audio mixers, DVD recorders, DVD players etc. UA-741 is shown in the figure below.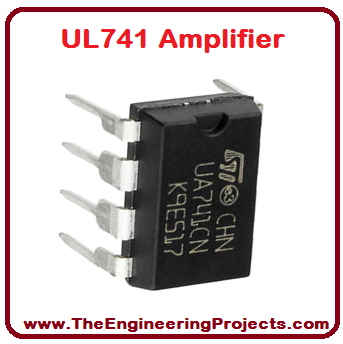 1. UA741 Pins
UA741 has eight (8) pins in total each having different functionality.
All of the eight pins along with their names are shown in the table given below.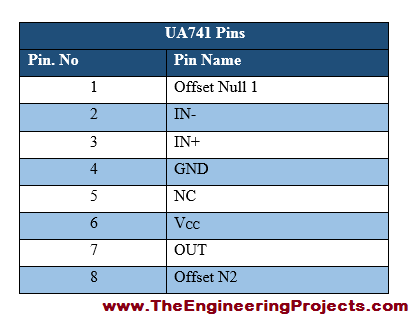 2. UA741 Pins Description
Each of the 8 pins has its own individual feature.
3. UA741 Pinout
Labeled pinout diagram of any equipment provides help in better understanding of the user.
A completely labeled diagram of UA 741 along with its animation and schematic is given below.
The complete pin diagram along with animation, symbolic representation and the real image of UA-741 is shown in the figure below.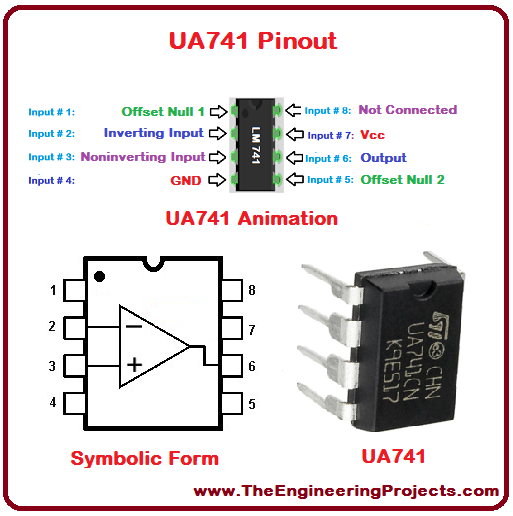 4. UA741 Packages
UA 741 has 3 type of packages PDIP (8), SO (8), and SOIC (8).
The all packages are provided in the table given below below.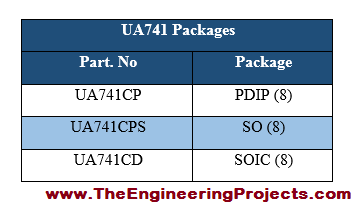 5. UA741 Packages Dimensions
Each of the three packages has different dimensions.
All of the three packages are shown in the table given below.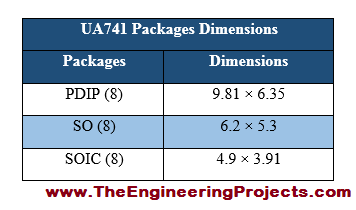 6. UA741 Ratings
The ratings of any equipment like voltage rating, current rating and power rating show the power requirement of that device e.g. how much power, voltage and current is required for its operation.
UA 741's current, voltage, power ratings are given in the table shown below.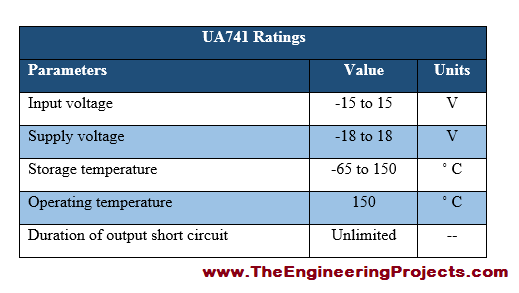 7. UA741 Schematic
Schematic representation of an equipment presents the internal functionality of that equipment.
A labeled schematic diagram of UA-741 is given in the figure shown below.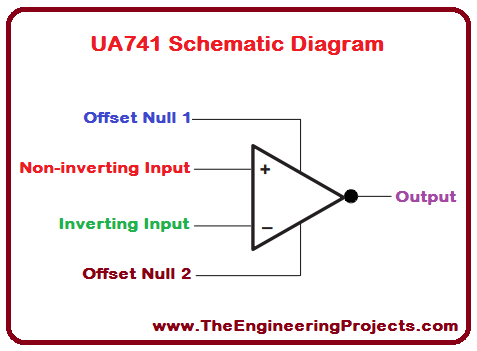 8. UA741 Features
UA741 has several different features as given below.
Latch-up free operations.
High gain.
No frequency compensation required.
Large input voltage range.
Short circuit protection.
Capability of nulling offset voltage.
Large differential voltage ranges.
9. UA741 Applications
UA 741 has a lot of real life applications, few of those applications are given below.
Functions generator.
Integrators.
DVD recorders.
Summing amplifiers.
DVD players.
Active filters.
Audio mixers.
Voltage followers.
This is the detailed discussion about Introduction to UA741. I hope you have enjoyed this exciting tutorial. If you have any of problem, you can ask me in comments any time you want, without feeling any hesitation. I will try my best to solve your issues in some better way, if possible. Our team is also here to help you. I will explore further IC's in my later tutorial and will surely share all of them with you as well. Till then, Take Care :)