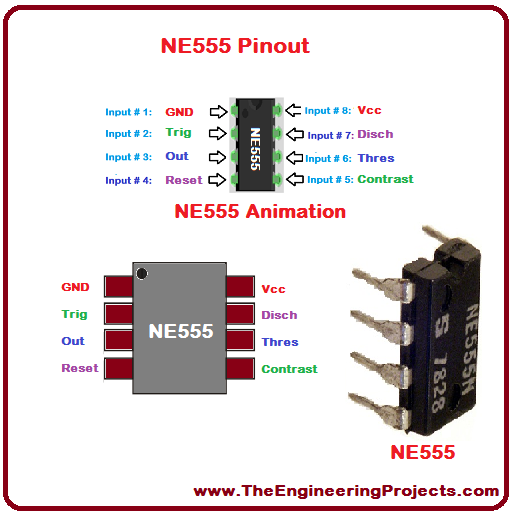 Hello everyone! I hope you all will be absolutely fine and having fun. Today, I am going to share my knowledge about Introduction to NE555. NE 555 is a precise timing circuit device. It can produce the precise time delays and oscillations. The time interval can be controlled by external resistor and capacitor when NE-555 operates in mono stable mode.Whereas in adjustable mode two external resistors and one capacitor controls the duty cycle and frequency. NE555 is an Integrated Circuit (IC/Chip) which can be used in different types of timers.  The output circuit is capable of bearing current up to 200mA. NE-555 timer works on voltage ranging from 5V to 15V. The output level have compatibility at 5V supply. NE 555 timer can be used in oscillator applications and pulse generation as well. Further detail about NE-555 will be given later in this tutorial.
Introduction to NE555
NE555 is a timing circuit Integrated Circuit (IC). It produces the accurate oscillations and time delays. It has two modes of operations i.e. mono stable mode and adjustable mode. In mono stable mode time interval is controlled by external resistor and capacitor. Whereas adjustable mode includes the control of duty cycle with two external resistors and a single capacitor. NE 555 timer has several different applications including finger print biometric, RFID reader, Iris biometrics etc. NE 555 timer is shown in the figure below.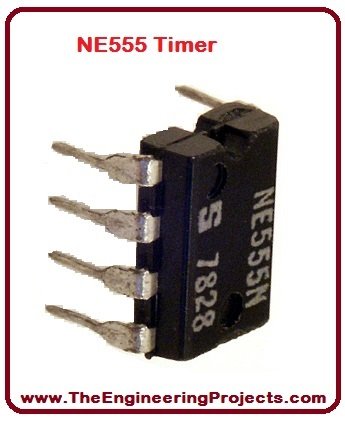 1. NE555 Pins
NE555 timer has eight (8) pins in total four (4) on the left side of the IC and the remaining four (4) on the right side of the IC.
All of the pins are shown in chronological order in the table shown below.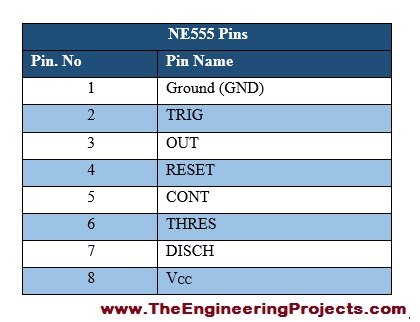 2. NE555 Pinout
A properly labeled pin diagram of the device helps user in their better understanding.
I have provided a properly labeled diagram of NE 555 along with its animation and schematic.
A proper pin diagram along with animation, symbolic representation and the real image of NE-555 is shown in the figure below.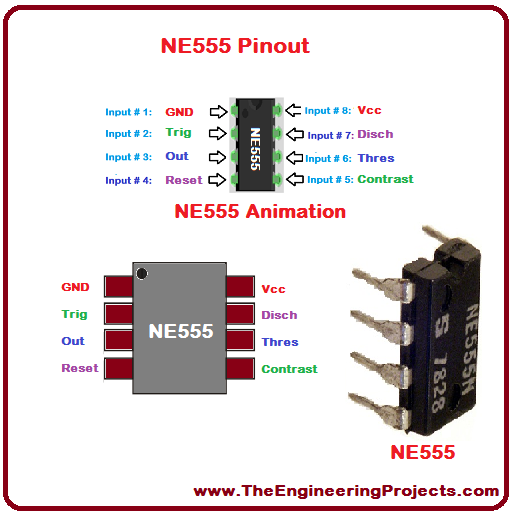 3. NE555 Packages
NE 555 has four (4) different types of packages TSSOP, SOIC (16), PDIP (16) and SOP (16).
All of the four packages are given in the table shown below.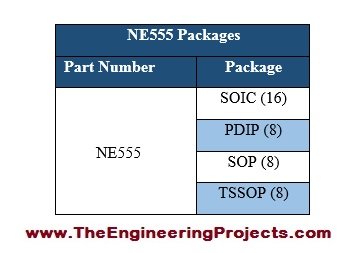 4. NE555 Package Dimensions
Each of the package has different individual dimensions.
The dimensions of all of the MAX 232 packages are shown in the table given below.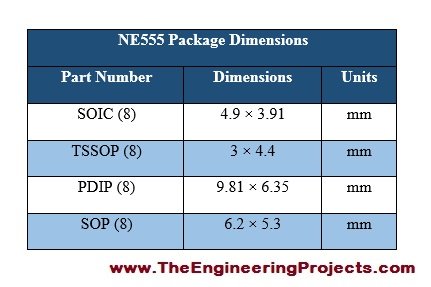 5. NE555 Functional Diagram
The functional diagram of any device presents the complete working of that device.
Functional diagram of NE 555 is shown in the figure below.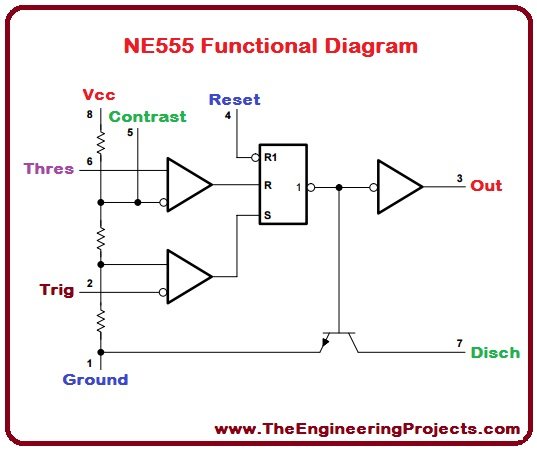 6. NE555 Features
The features associated with NE 555 timer are given below.
Timing from micro seconds to hours.
Adjustable or mono stable operation.
Adjustable duty cycle.
TTL compatible output up to 200mA.
Lead (Pb) free/
RoHS compliant.
Green molding compund.
7. NE555 Ratings
Current, power and voltage ratings of a device presents the power requirement of that device i.e. how much voltage, power and current is necessary for its operation.
I have provided NE555 current, voltage, power ratings in the table shown below.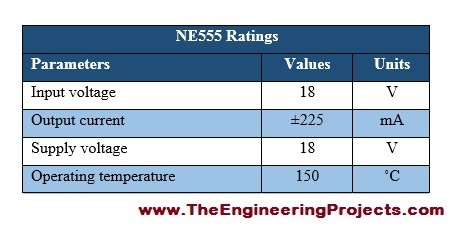 8. NE555 Applications
NE 555 timer has several different real life applications, some of them are given below.
RFID reader.
Finger print biometrics.
Iris biometrics.
So, that was all the necessary detail about Introduction to NE555. I hope you enjoyed my tutorial. If you have any sort of problems, you can ask me in comments, any time you want so, without even feeling any type of hesitation. I will try my best to sort out your issues in a better way, if possible. Our team is also available to entertain you. I will explore further IC's in my upcoming tutorials and will share all of them with you as well. So, till then, Take Care :)