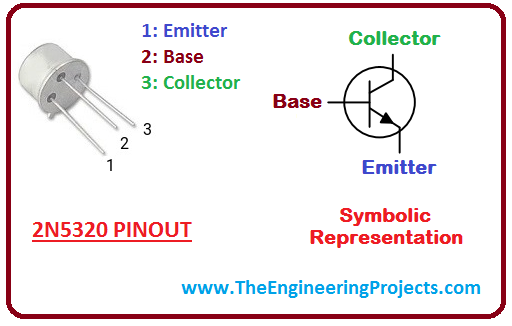 Hey Fellas! Hope you are doing great. Today I am going to give you the details on Introduction to 2n5320. It is basically a Bipolar NPN (Negative Positive Negative) Transistor (BJT), which contains two layers of N-doped semiconductor and one layer of P-doped semiconductor. P, layer lies between two N layers. Here P represents the Base of the transistor and two N layers show emitter and collector respectively.
This NPN transistor has a wide range of applications. It is mainly used for power amplification and switching purpose.You should also have a look at Introduction to BC547 which is also an NPN transistor. So, let's get started with Introduction to 2n5320:
Introduction to 2n5320
2n5320 is a bipolar Switching Silicon transistor, which is mostly used for amplification purpose.
2n5360 is an NPN transistor, where P doped layer exists between two N doped layers.
In this transistor, collector supply voltage will be positive with respect to the emitter and is denoted by Vce.
The transistor action is triggered by the free movement of electrons from its base. Actually, these electrons work like a bridge between emitter and collector.
The voltage between collector and emitter is 75 Volt, while the voltage between base and collector is 100 Volt.
Voltage between emitter and base is 6 V.
Maximum DC collector current is 700 mV.
I have shown the 2n5320 in both of its symbolical and actual form in below figure: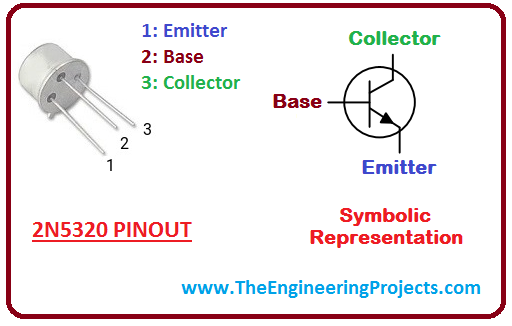 1. 2n5320 Pinout
2n5320 basically consists of three pins which are as follows:
1: Emitter
2: Base
3: Collector
Actual pinout of 2n5320 transistor is shown in the figure below: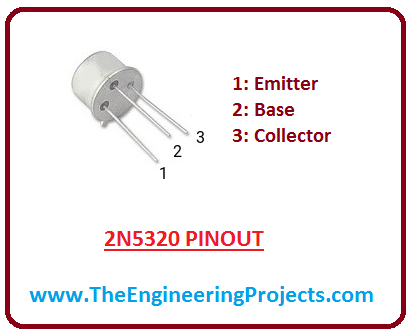 The small base current is used to control a large amount of current at emitter and collector.
The control of base current on emitter and collector is basically the backbone of transistor amplifying properties.
The transistor is considered as fully ON when a large amount of current flows through collector and emitter.
2n5320 is also known as a current operated device.
2. Circuit Diagram of 2n5320
The Circuit Diagram of 2n5320 is shown in the figure given below: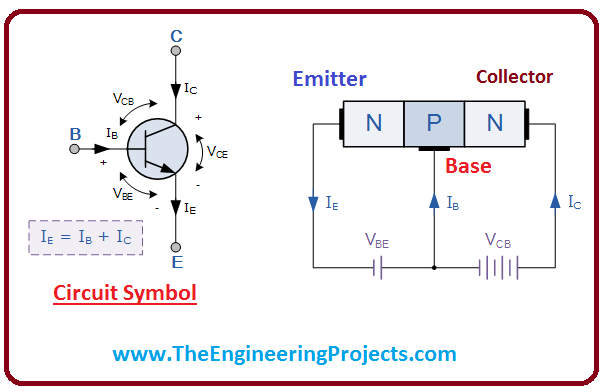 As it is NPN transistor so voltage is negative at the emitter side and positive at the base side. The base-emitter voltage can be described as Vbe.
One thing you must take into consideration, the base voltage will always be positive with respect to the emitter.
The current flowing through the emitter is a combination of base and collector current.
When we divide collector current to the base current, we get the transistor current in this switching bipolar transistor and is denoted by beta β. As it is a ratio between two current so it encompasses no units.
The standard value of this beta is 200. The ratio between collector current and base current is actually used for amplification purpose. The value of beta ranges from 20 to 1000. We can see the value of beta from the datasheet of different manufacturers but it generally ranges between 50 to 200.
The current gain of this transistor is defined as the ratio between collector current to the emitter current. It is represented as alpha. The value of alpha lies between 0.95 to the 0.99 and most of the cases it is considered as unity.
3. Pin Ratings of 2n5320
The Pin ratings of 2n5320 bipolar transistor is given below.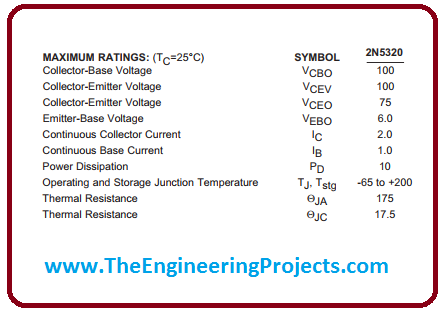 Here voltage is represented in voltage and current is denoted by ampere.
It is a low-frequency device that has the current rating of 2A. The semiconductor used in this bipolar transistor is made up of silicon that's why it is mostly called Switching Silicon Bipolar Transistor.
4. Mechanical Outline of 2n5320
Mechanical Outline of 2n5320 is shown in the below figure:
These mechanical outlines are of quite importance especially in professional projects.
But if you working on some student engineering project then these are not for you.
5. Applications
2n5320 Bipolar Transistor has many applications in real life. Some of them are given below.
It is used for amplification purpose.
Used for many switching applications.
It also works as a low frequency device.
So, that was all about 2n5320. I hope you will get something out of it. If you wanna ask something about this NPN transistor then ask in comments adn I will try my best to resolve your issues. Will meet you guys in the next tutorial. Have a good day !!! 🙂