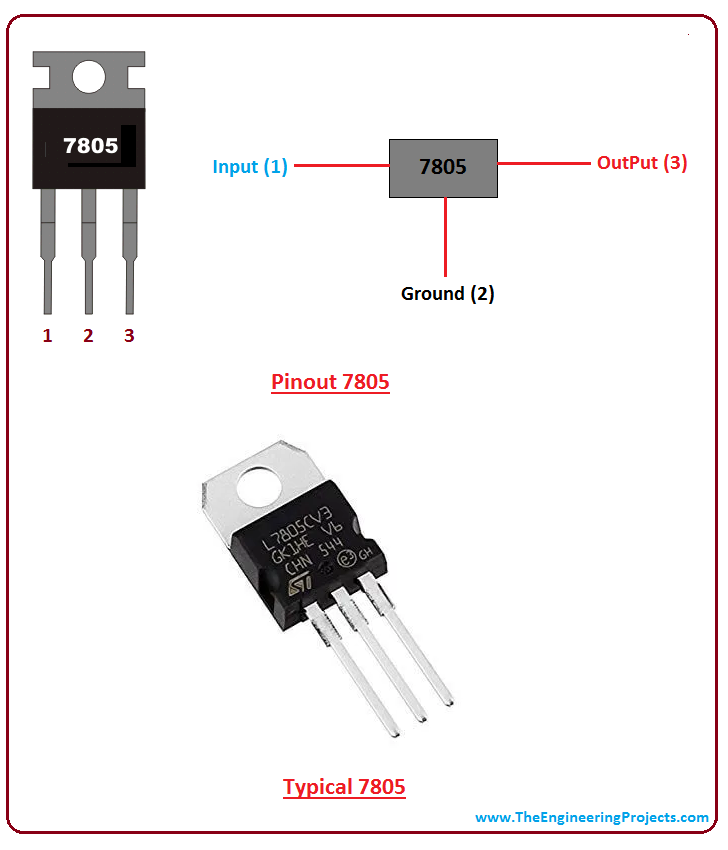 Hey Fellas! We always strive to keep you updated with best and valuable information so you keep coming back for what we have to offer. Today, I am going to uncover the details on the Introduction to 7805. It is a positive voltage regulator used for providing constant output voltage over a wide range of input voltage. Before we move on, you must be clear what is voltage regulation? Voltage regulation is referred as the measure of voltage change between input and output. The IC 7805 does the same thing. It provides constant output voltage when a range of different voltage is applied at the input terminal. This component comes with three terminals called input, ground, and output. This is called positive voltage regulator because it generates positive voltage with respect to the ground terminal. Transistors and voltage regulator IC like 7805 work in a similar way with the intention of providing voltage regulation. I'll discuss each and everything related this integrated circuits, so you get a clear idea what it does, and how it is used over a wide range of applications. Let's dive in and explore what is this about and everything you need to know.
Introduction to 7805
7805 is an IC used for voltage regulation and comes in TO-220 version. This component belongs to 78xx series where xx defines the output voltage it generates.
Voltage fluctuation is a common practice during the execution of many electronic projects. This component overcomes and prevents this voltage fluctuation by providing a constant output voltage at the output terminal.
The best part is that it doesn't require any additional components to set output voltage.
It is a compact IC that comes with a built-in protection circuit that avoids the circuits from too much heating, making it suitable for circuits drawing high current.
The input voltage range applied to the input terminals of this IC varies from 7 V to 18 V (in some cases 7 to 35 V), resulting in the generation of constant output voltage around 5 V.
You can see, there is a huge difference between input voltage and the output voltage that gets regulated. This difference is discharged as heat. The surge of heat generation can damage the device and affect the overall project performance.
There are two ways to overcome this heat generation i.e. you can use a heat sink that is widely used for heat dissipation OR you can limit the input current 2 to 3 V above the regulated voltage at the output terminal. For example, you'll get 5 V at the output terminal, so it is suitable to limit input voltage within 7 or 8 V.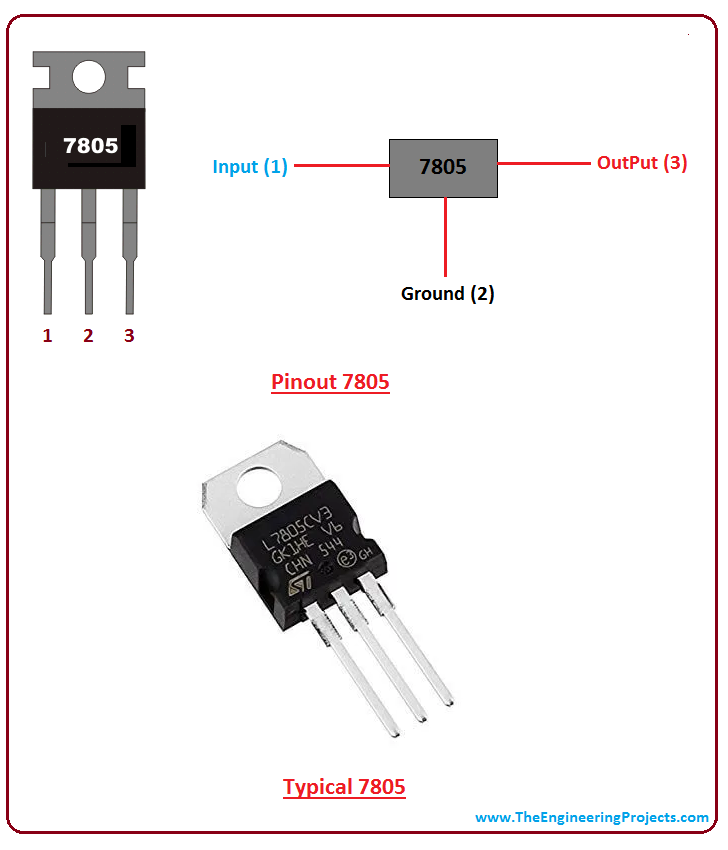 Heat sink comes in different sizes based on the amount of heat that is required to disperse. It is advised to calculate the size of heat sink before you put your voltage regulator in operation.
With the addition of heat sink, this IC can control output current at around 1.0 A.
This voltage regulator is an ideal choice for the applications where safe area compensation, thermal shutdown, and current limiting is required.
This device is designed with the purpose of getting constant output voltage, however, it can be coupled with external components with the intention of generating desired voltage and current.
This IC comes with an accurate circuit which generates constant voltage so no capacitors are required to produce smooth output, however, it is advised to place 10µF capacitors in the input and output terminal to remain in the safer side.
Pinout of 7805
Following figure shows the pinout of this voltage regulator.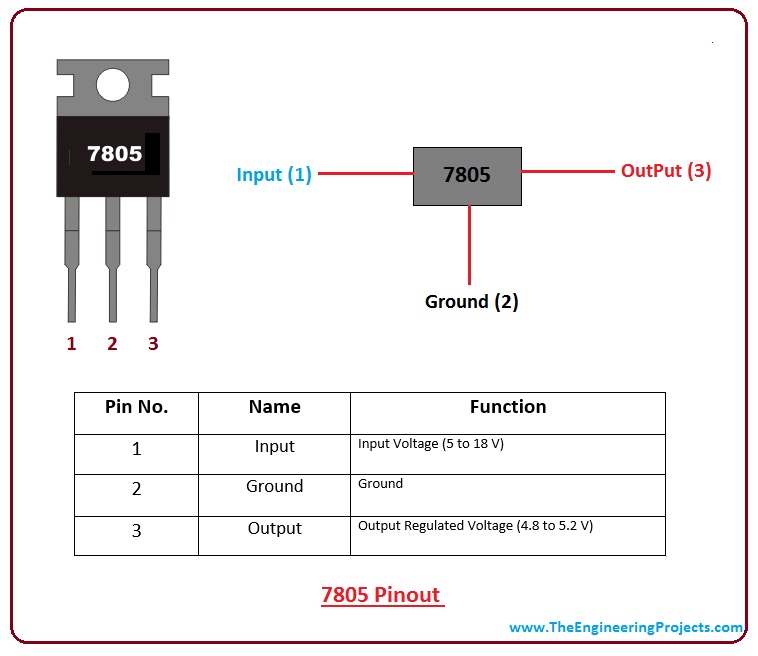 Pin 1 shows the input voltage applied to this regulator which ranges between 7 to 18 V.
Pin 2 shows the ground terminal. Voltage regulator generates positive voltage with respect to the ground terminal.
Pin 3 shows the output terminal where regulated voltage is obtained. Regulated voltage shows the tolerance between 1.5 % to 2 %.
This regulator has a capacity of controlling output current around 1 A.
It shows a voltage dropout around 2 V. It is advised to provide minimum 7 V at the input terminal in order to obtain exact 5 V at the output terminal.
Absolute Maximum Ratings
Following figure shows the absolute maximum ratings of 7805.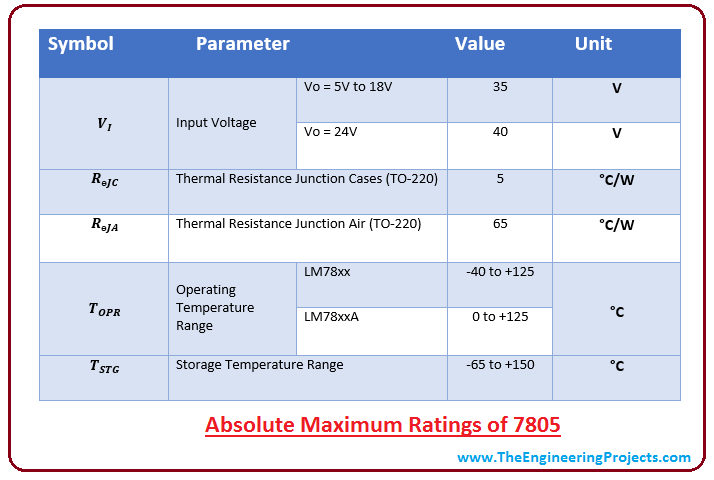 These are the stress ratings, which if exceed from absolute maximum ratings, can damage the device severely.
Before you place this regulator in the circuit, make sure it undergoes and exhibits same stress ratings as defined by the manufacturer.
Similarly, it these stress ratings are applied for a maximum period of time above the normal operating conditions, they can affect the device reliability.
These ratings are obtained with a storage temperature range at around 150 °C.
This IC exhibits a thermal resistance around 5 °C/W which is the resistance in the heat flow.
Applications
This voltage regulator is used over a wide range of applications. Following are some main applications of this regulator.
Used in a circuit where a constant voltage is required.
It is used in a phone charger and portable CD player.
UPS power supply circuit and remote control extension make use of this regulator.
This regulator is widely used where internal circuit current limiting is required.
Safe area compensation is another advantage obtained from this regulator.
This regulator is mainly used for generating constant voltage output, but it can be customized to use for the required current and voltage at the output.
It is an ideal choice for the applications which support current around 1.0 A to 1.5 A which cannot be obtained without proper heat sinking.
Safe operating area protection and thermal shutdown make it suitable for many applications involving high temperature and pressure.
That's all for today. I hope you have found this article useful. If you are unsure or have any question, you can ask me in the comment section below. I'd love to help you according to best of my expertise in any way I can. Keep your feedback and suggestions coming. They allow us to provide you quality work that aligns with your needs and demands. Thanks for reading the article.