[vc_row][vc_column][vc_raw_html]JTNDaWZyYW1lJTIwc3R5bGUlM0QlMjJoZWlnaHQlM0ElMjAxNjAwcHglM0IlMjB3aWR0aCUzQSUyMDEwMCUyNSUzQiUyMGJvcmRlciUzQSUyMG5vbmUlM0IlMjIlMjBzcmMlM0QlMjJodHRwcyUzQSUyRiUyRnd3dy50aGVlbmdpbmVlcmluZ3Byb2plY3RzLmNvbSUyRkVuZ2luZWVyaW5nVG9vbHMlMkZTZW9NZXRhRGF0YUFuYWx5emVyJTJGaW5kZXgucGhwJTIyJTNFJTNDJTJGaWZyYW1lJTNF[/vc_raw_html][/vc_column][/vc_row][vc_row][vc_column][vc_column_text]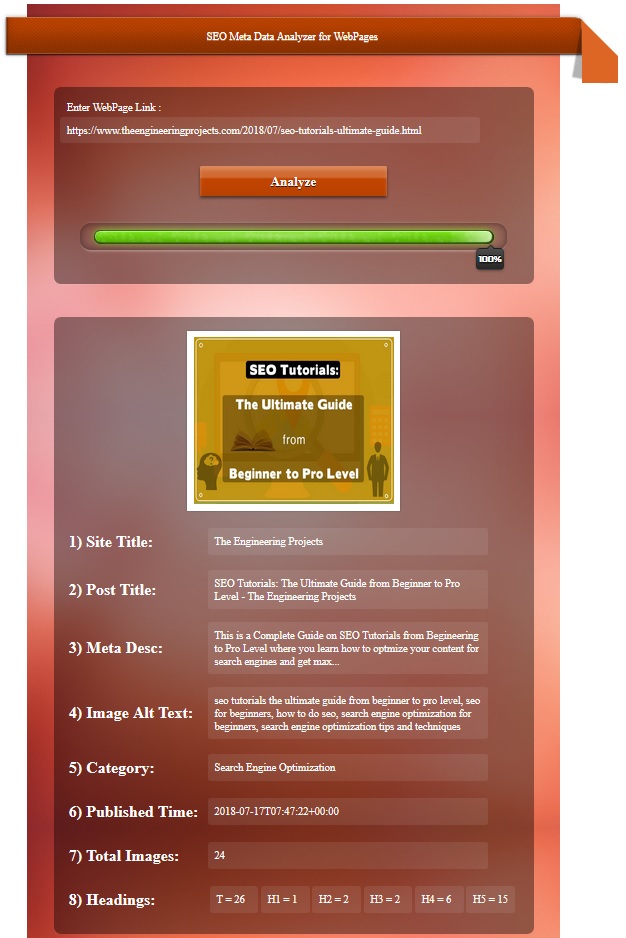 Hello friends, I hope you all are doing great. Today, I am going to share this new SEO tool named as Meta Data Analyzer for WebPages. It's our first tool in SEO category but we are planning to share numerous such tools in coming days. This tool will be helpful for bloggers mostly. Normally, software engineers come towards blogging or SEO so I hope this tool will help.
Using this tool, you can get all the meta details of any webPage. If you want to rank your page in Google then you must have to focus on these On Page SEO factors and if your web post is lacking any of these, then you won't have much wining chances. 😛
If you got into any trouble or have suggestions for us then let us know in comments.
Meta Data Analyzer for WebPages
Our Team was working on these SEO tools for quite a long time and finally we are able to start publishing them on our website.
So, here's our first tool in SEO tool series named as SEO Meta Data Analyzer for WebPages.
You must have used this tool by now and as you must have seen this tool is capable of extracting nine features of a webpage.
These features are normally referred as Meta Data or Meta Details of a Web Page.
You can extract these nine features with this tool:

Featured Image.
Site Title.
Post Title.
Meta description.
Featured Image Alt Text.
Category.
Published Time.
Total Images Count.
Total Headings Count.

Here's a screenshot: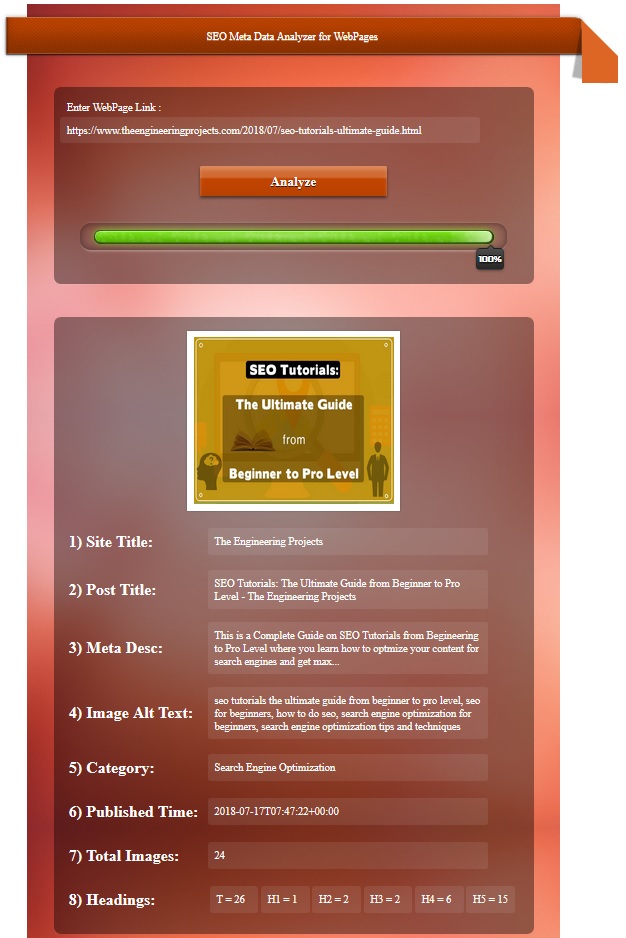 Related Links to Read
So, play with this SEO Meta Data Analyzer tool and let us know your feedback in comments. I hope you will enjoy it, will post more SEO tools soon. Have fun !!! 🙂