Hello friends, I hope you all are doing great. In today's tutorial, I am going to show you How to Create Promotional Videos Like a Pro. Creating a promotional video is one of the major factors for dominating online traffic. It is the most powerful part of your content. According to a prediction, in the next few years, most of the part on the World Wide Web will be taken over by the videos.
Cisco
estimates that video traffic will contribute 82% of the global internet traffic by 2021. Undoubtedly, this number is only going to rise up. It is because videos are capturing and keeping the attention of people more than text-based content.
If you are seeking to create a promotional video for your business like a pro and don't know from where to start, start reading about popular video marketing tools. These tools are efficient and help you create a video in a few minutes.
How to create promotional videos like a pro?
Today, you can read several blogs that illustrate how to create promotional videos for your brand. Websites like the Engineering Projects has a forum where people discuss the topics and posts about creating videos and many other topics. Coming to the main topic, how to create a promotional video like a pro, so let's find out…
1. Identify Your Objective
Before planning to sit down to script your video, take a step back and think why you want to create a video? Undoubtedly, videos can be expensive to create, so it is crucial to identify your objectives first. For instance, you've started a new company and you want to create a video that introduces the mission of your brand to the visitors. Or you have a new product line that needs to be explained to prospective buyers. Or you are running a sale and require people to take action. Usually, a video helps the brand in driving sales, traffic, educate customers and increase customer engagement.
2. Select A Direction
Now that you have identified your objective, it is time to choose a direction for your video. A video can help you introduce your business motive, encourage visitors to take actions, give solutions, and more. There are several possible directions including introductory, informative, drive action, explanatory, entertainment,  problem/solution, narrative, testimonials, and more to pick from. Once you've finalized your video objective and direction, it is time to further refine your video making approach by writing a script.
3. Write a Script
A well-written script is a base for an effective brand video. So ensure to take out some time and write down a valid script before starting to make a video. Your script should be able to:
Grab the attention of your viewers
Describe what your brand does (in an easy-to-understand method)
Keep your viewers engaged
Boost your conversion rate
Also, the sentences that you use in your video should be simple, short, and concise so that viewers can understand your motive. Speak in a personal tone and end things with a call to action.
Another important thing you should mention in your script is – the duration of your video. Keep the length short as much as possible. The reports show that people tend to drop off after the first 30 seconds, so keep your video to a minute or less.
4. Use an Online Tool
If you are ready with your marketing strategy (your objective, target audience, and brand goal), the next step is to start making a video. The best way to create a brand video is to take help from a reliable video making tool.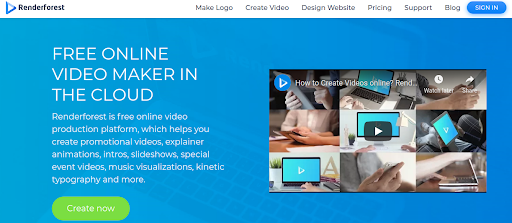 There are several tools available that can help you create professional brand videos in the cloud in a couple of clicks. From different options available to select from, you can pick Renderforest to make your dream come true. Choose a professionally crafted template as per your project theme, edit it, and put your brand in the spotlight in minutes. Using this tool, you can create a short or long video with lasting impact and can promote your brand with style.
Conclusion
These are some crucial tips you must follow to create promotional videos like a pro. Plan well, strategize and implement your idea to create great promo videos to take your brand to the peaks of success. Videos have the power to change the perspectives of your viewers. So, plan wisely to create a captivating video and present your business in the positive light.
Being a startup in this industry, first of all, you need to make your business website. If you're not a designer, it would be perfect to consult an expert regarding your list of important and final website making details.
Browse websites like TEP (The Engineering Projects) that can help you design attractive and SEO friendly website at a minimal cost with complete control on iPhone, Blackberry, and Android apps.
Once you've made your business website, you may proceed with producing professional videos for your brand. Keep all aforementioned tips in mind, begin creating stunning & exciting professional videos, and start your brand promotion.
Bio: Roman Daneghyan is Chief Marketing Officer at Renderforest, specializing in social media marketing, content marketing, and SEO.