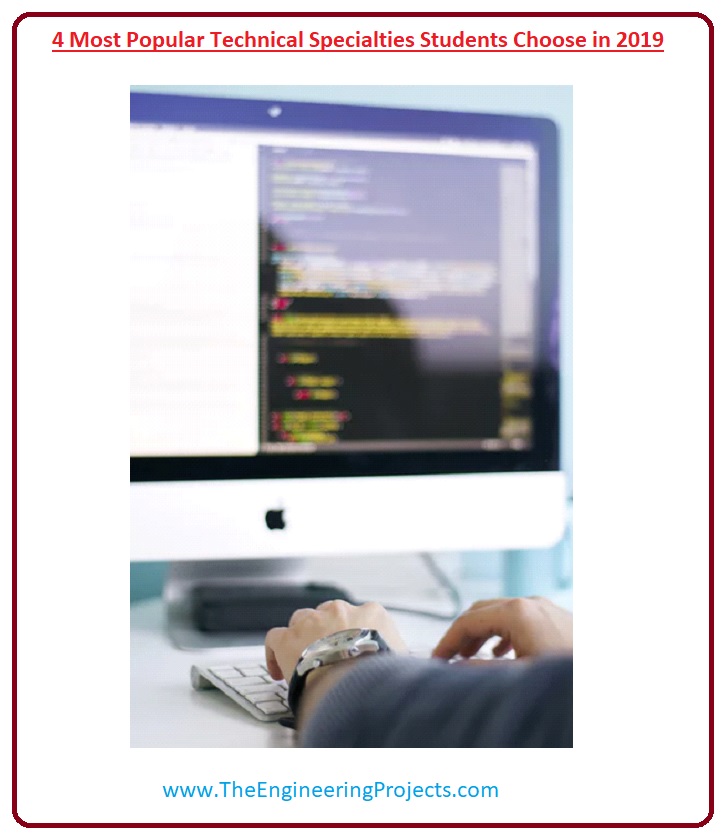 Hello friends, I hope you all are doing great. In today's tutorial, we will have a look at
4 Most Popular Technical Specialties Students Choose in
2019. Tech is considered one of the most promising work fields for the near future; with that in mind, many students choose to do a technical speciality after graduating from a major in order to prepare themselves for a competitive professional world. Before going into the adventure of a new career -or and extension of your previous- it's important to know your options well, so keep reading and let us tell you about them. So let's get started with
4 Most Popular Technical Specialties Students Choose in 2019.
Which specialities do students choose these days?
The current student generation has grown in a computerized world, and their natural inclination goes to the specialities related to IT and technology.
Which is good, because the future work field will be much related to today's technological advances.
Security Engineering
Many believe that the engineering field is decreasing, but they are wrong because it's transforming to adapt to the new technological world.
Computer engineering jobs are counted among the best paid in current work fields, and security engineering is one of its most recent fields of speciality.
It is centered on developing strategies and methods to create strong and robust security systems for companies, institutions, and any other client interest.
You will have to research to find technical schools to study this speciality.
Tech Support
These specialists offer assistance to solve problems related to devices' malfunctions, whether they have to do with hardware or software.
This profession requires a lot of preparation and many students choose it while they are still in school. Usually, they focus only on the tech field and prefer hiring research paper writing services to help them with academic assignments that aren't related; for example a research paper about literature.
So, the time they were going to invest in that paper goes to study more about the tech field.
These professionals are necessary in every business that involves computers, so it's a lucrative career with a huge world field.
Digital Marketing
This is a speciality of the internet era because it represents a kind of "evolution to digital" for traditional marketing.
It's a profession that uses digital media to promote products, just like traditional marketing prints ads in magazines, it started in the late '90s and early '00s, along with the rise of the internet.
But with Digital Marketing, advertising found on Internet the ideal platform to extend the image of a product worldwide in an effective manner.
In recent years, many students have felt inclined to this profession, because it´s easy to study online and gives big revenues.
Computer Graphics
This is a specialty you can choose after studying programming, film making, computer science, etc.… In which you create computer-generated image data using specialized graphic hardware and software.
It's a beautiful profession that combines creativity with technical skills, a profile that its attractive to many students.
You can study this specialty through school programs or online courses, or you can get a degree, depending on the field you want to work on.

Security Engineering
Tech Support
Digital Marketing
Computer Graphics
Platform
Software and hardware
Software and hardware
Digital media and internet
Digital software
Some topics to study
Computer security
Security software
Tamper-resistant hardware
Law (mostly related to personal protection)
Cryptography
Supply chain management
Electronic systems
Computer systems
Software applications
System working evaluation
Content Marketing
Search Engine Optimization (SEO)
Search Engine Marketing (SEM)
Influencer culture
Marketing
strategy
E-mail direct marketing
Social Media Marketing,
Data-driven marketing
Brand management
E-commerce
Interface design
Image processing (rendering and shaders)
Computer animation
3D modeling
Vector graphics
GPU design
Photography
Work field
Businesses of various natures
Office buildings
Businesses of various natures
Tech support companies
Advertising
Film making
Video games
Graphic design
Advertising
How to choose a technical speciality?
After you have graduated from one of the best engineering colleges or from one of the top colleges in the world, it can be hard to know "where to go from there".
Some decide that they're ready for the professional world, but others choose to prepare themselves a bit more.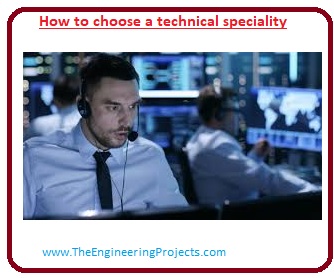 For those that want to find the perfect speciality and aren't sure about what's the better alternative, keep reading and learn tips to find the right specialty for you.

Determine your work preferences. Your experience in school can give you an idea of your preferences.
Study your skills. The fields where you standout are great choices for you.
Define your goals. How much do you want to earn? What job profile are you looking for? Do you want to work as a freelancer or associated with a company? The answers will serve as a guide to you.
Think about the future. Some careers are arising and have the potential to be stronger in the future.
 Look for a career counsellor. Most schools have this kind of advisors that can help you with vocational tests.
Study your academic options; Are there any technical schools nearby? Is it possible to study online? Can you afford another career?
Talk to people from the work field. If you have some options in mind, talk to professionals in the field, they can give you a first-hand perspective.
That is the detailed article on 4 Most Popular Technical Specialties Students Choose in 2019 I have written everything related to this article. If you have any question ask in comments. Thanks for reading.