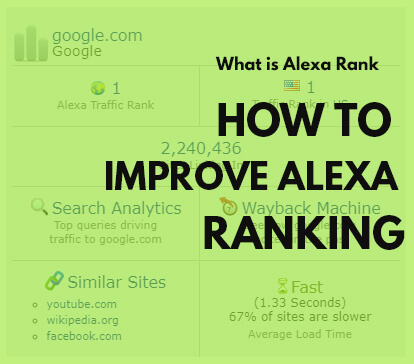 Hello folks, how are you guys doing? I hope everything will be great on your side. In today's tutorial, I am going to talk "What is Alexa rank, how to improve Alexa ranking and what is Alexa global rank? 
To make your website rank higher in  Alexa rank you should definitely know the answer to this question and it will also improve your search engine ranking too. 
Everyone is in the race to rank their website on top in the google search result and make their Alexa rank improve, you will probably come across different methods and techniques to climb over. 
To be on the top of the Alexa rank with organic SEO is tough but not impossible.
I will assist you in discovering what is Alexa, how to improve your Alexa rank, how to check your website Alexa ranking globally and internationally through a free
analytic tool.
What is Alexa?
Alexa is a tool of Amazon and it helps you to find website ranking or popularity. Alexa does not have any link with the Google search engine. They provide the result on the base of their own algorithm and combined data over the past three months. 
Alexa does a global ranking by using web traffic data and make a list of websites. In this global ranking, the lower your Alexa rank is the more popular your website is. 
For example (Google global ranking in Alexa is 1). Its means that this website has most visitors on the internet past three months. 
Alexa tells the rank of the website internationally and with a country too. Look in the image below
Country Rank or International Rank
Alexa provides the rank of your country too. The lower your rank is, the more popular your website would be. 
As you have seen in the image that googles Alexa traffic rank is 1. It is the top. 
You want to increase the traffic of your website then you have to know the global and national rank of your website. In case, it is higher than you need to work on it to lower it.
Does your Alexa Rank is not as efficient as it should be?
 There is nothing to worry, I will help you in improving your Alexa Rank.  The guide for improving Alexa Ranking is below. 
How to Improve Your Alexa Rank Quickly
The very important part to increase Alexa ranking is by installing the Alexa toolbar on your browser. Meaning, whenever you or visitors visit a website then website ranking will automatically boost up. So it is important to have installed an Alexa toolbar. Here is the ultimate direction for you.
#1 Write Unique and Eye-Catching Content 
To improve your website Alexa rank you have to write quality content for your website. You might have read many times that Content is king and this is a fact and there is no doubt in this statement. So try to write as unique as you can write. Write traffic-driving content for your website then there is nothing that can stop your website from improving Alexa rank.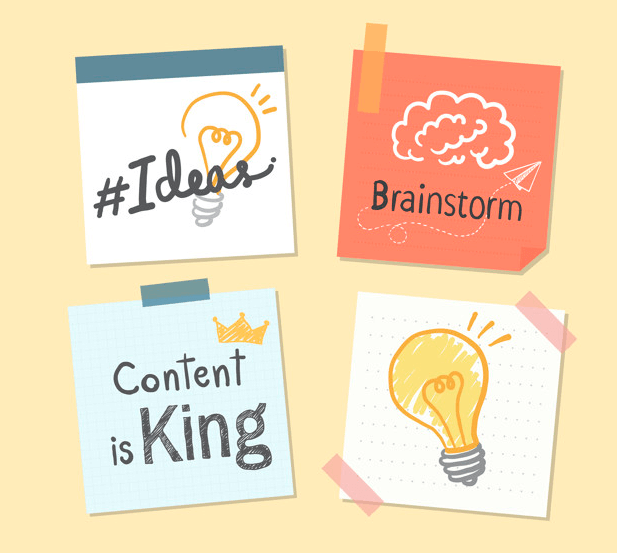 Unique website content will improve your search engine ranking and boost search engine ranking will improve your Alexa rank.
#2 Find Keywords that drive traffic to your website
It is important to work with the relevant keywords that drive traffic to your website. Try to find all those keywords that are driving traffic for your competitors. By doing a little research you can find what your competitors are up to and what your audience is searching. 
Your website quality content can't reach the relevant audience until you don't know what your consumers are searching.  So it is important to use keyword research tools to find out the right driving traffic keywords. 
Use
Keyword Planner - Google Ads
to find keywords. It is a free tool.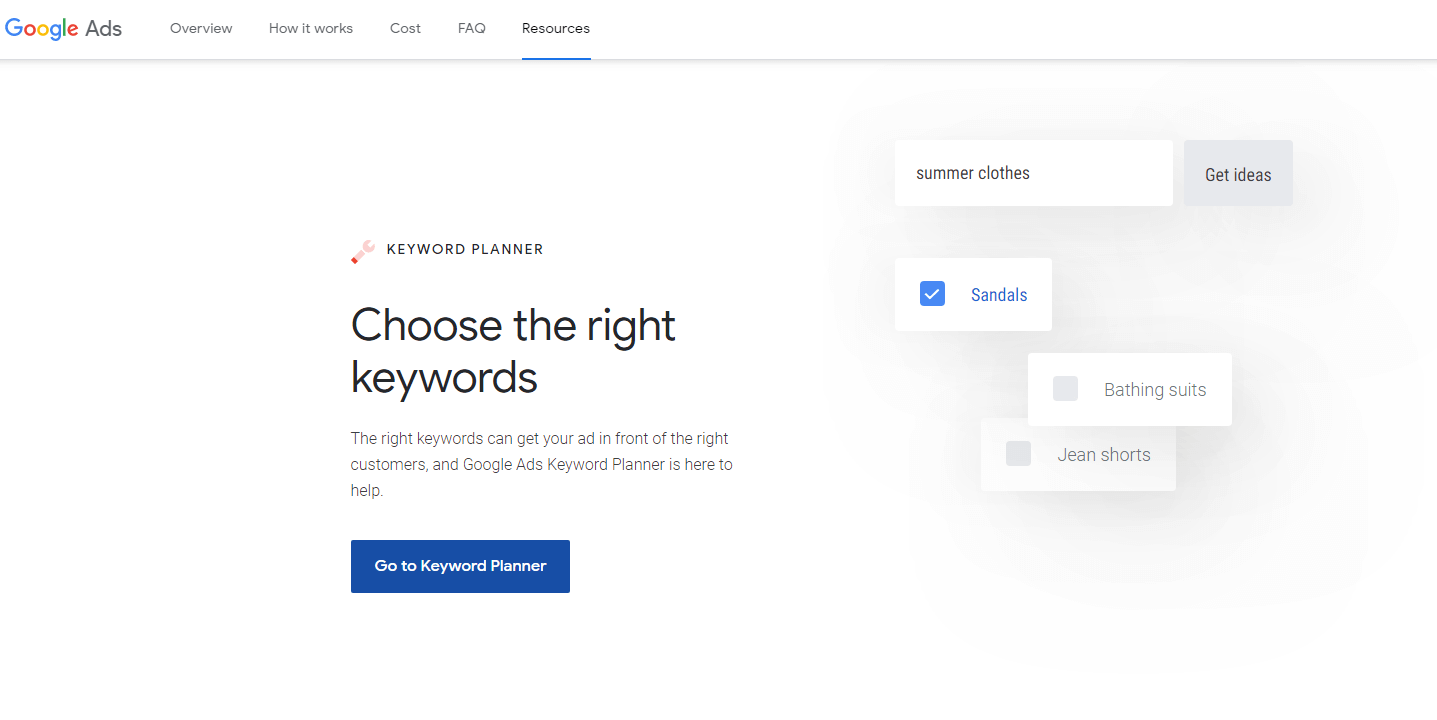 #3 Follow SEO best Practice on your website 
In this age improving your website without SEO is not possible. SEO will help you in improving your website search engine ranking and make it better for your customers. There are different strategies you have to practice to make your website visible in the search engine and improve the Alexa ranking. Keep in mind all these points:
There is a different platform for submitting websites. Search engines and directories are major forums. After submitting your website, it will index your website in a journal and will bring movement on your site. Your Alexa ranking will be enhanced after the movement on your website.
Share your content on Social Network Sites
Social networking media sites can improve your Alexa ranking drastically. All the sites will notify the existence of the website. So you should definitely do this to make your website ranking improve.
 It is important to post traffic-generating content daily to improve your website visibility. Website improvement in search engine ranking will certainly improve your Alexa rank.
Backlinks are so important for a website and all the SEO experts always highlight the importance of quality backlink. Quality backlinks help search engine to identify the authority and quality of your website. 
Increasing your traffic is not an easy task. It takes time to make your post on top of the search engine. Have patient and do your best and then wait for a miracle to happen. Create content that people want to read and daily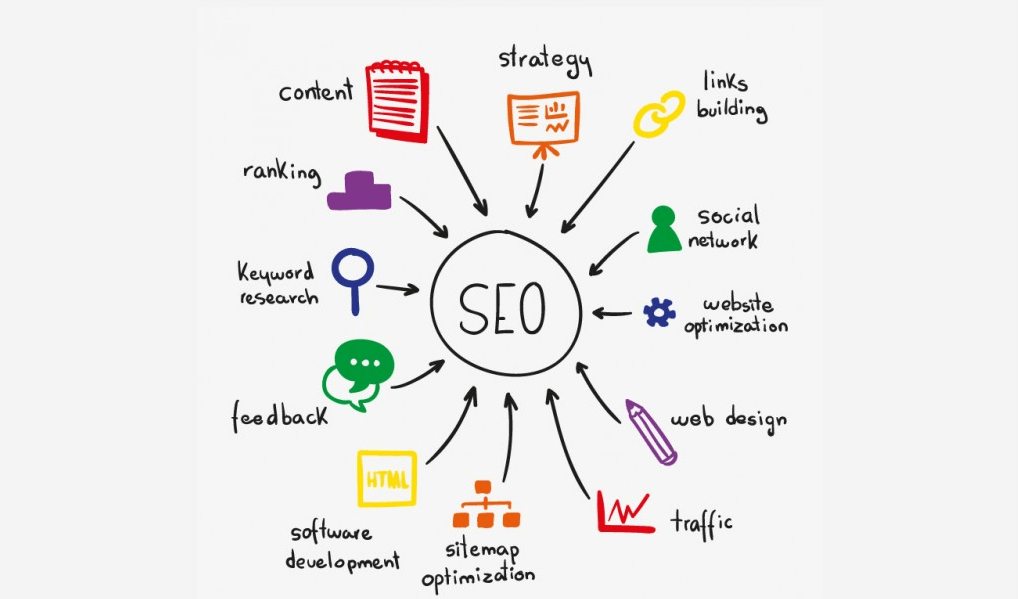 Consequently, your website Alexa ranking will improve within weeks after following these SEO practices.
#4 Install Alexa Toolbar
As I have pointed out before that installed the Alexa toolbar on your web browser. It leaves a big impact on improving the Alexa ranking and all your visit on your website will boost your rank. 
I am telling you all from my own experience, so don't take it lightly and download it instantly.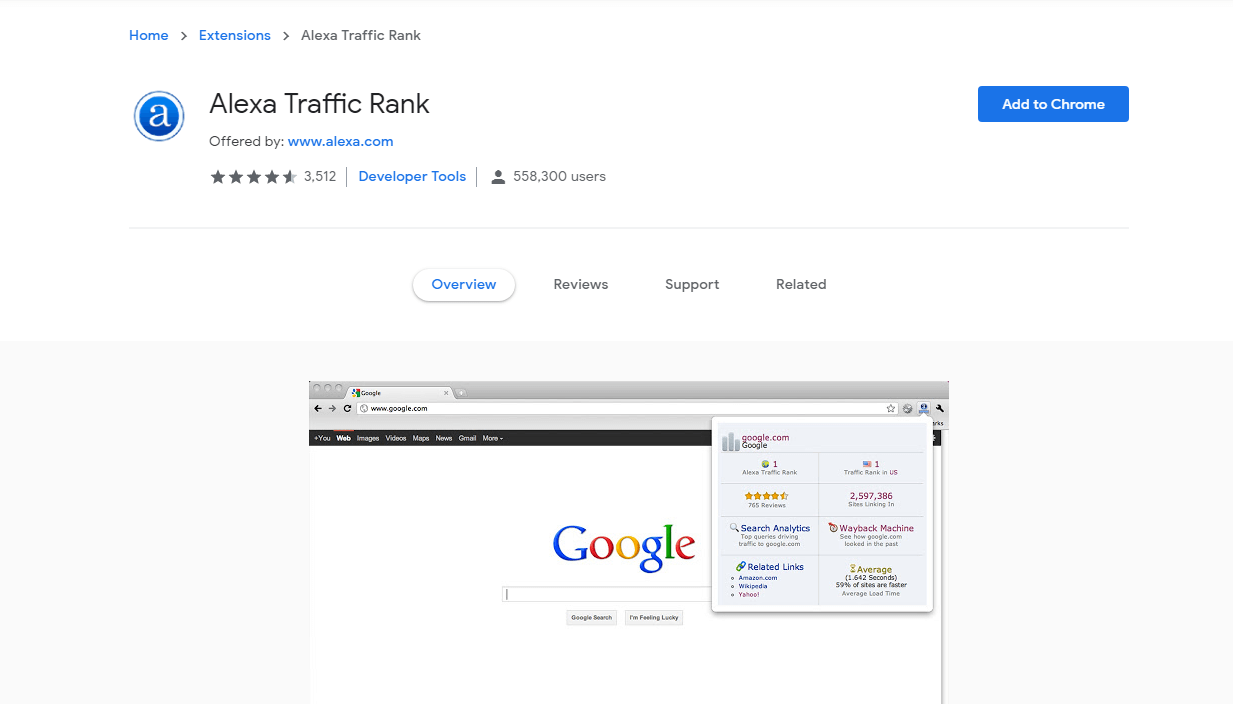 Note: Download Alexa toolbar in all of your computer/laptop web browsers and set your website as a default website in all of them. 
#5 Figure Out your Competitors Marketing Strategy
There could be many reasons follow Alexa ranking of your site. That's why I recommend you to discover your errors and mistakes by analysing your competitor's website
THROUGH
Alexa
siteinfo. 
Perform a Comparison of websites and find out what you were missing. 
It will allow you to identify what marketing strategies are not working for you and what trends are important. Then work on it after analysing and it will definitely leave a positive effect on your Alexa ranking.
Does Alex Rank have any Value in SEO?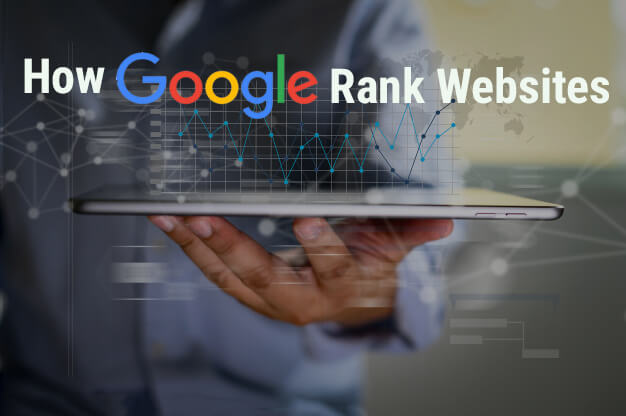 Yes!
As I told before, Alexa does work as one of SEO audit tool.  if you will follow Alexa improving strategy then your website SEO will certainly boost. 
Goole does rank the websites with little different strategies. Check below
How does Google Rank Websites
The reason behind the google on the 1st in the global ranking is that its search results are most relevant and useful. There are millions of users who use this website daily and trust the website content. 
The determination of the global ranking depends on the different (200+)  factors that how it is most useful and relevant to the users.
 No one is actually aware of the fact that what google search engine algorithm (mathematical process) use to rank a website. They never tell anybody. 
Although all the SEO and online marketing experts who are working on SEO for many years are coming to a conclusion and agree on a few terms. 
Main Factors To Rank A Website On Top In Search Engine
Keyword usage

Domain Factor

Website Structure

Time Spent on Website

Website Speed

Mobile usability

Number of quality links

Number of inbounds links

User Interaction

On-site web spam factor

Off-site web spam factor
Keep in mind one thing that all the algorithm is designed by humans but the ranking of the website entirely determined algorithm. There is no human involvement involved in determining any website.  
If any of the websites is on top again some keyword then it is based on algorithm result. Google Search engine is continuously changing, updating and reviewing its search result. If some website is top on today, it is a possibility that could go down next week if there would be a better website with great content.  
How to Get a Free Alexa Ranking Analysis
 To get a free Alexa analysis of your website or your client website is not difficult anymore.
Click here
. You can easily now find the global ranking through Alexa. 
As you can see, a screen will be pop up after clicking. Now there is an option for submitting a website. Enter your website URL.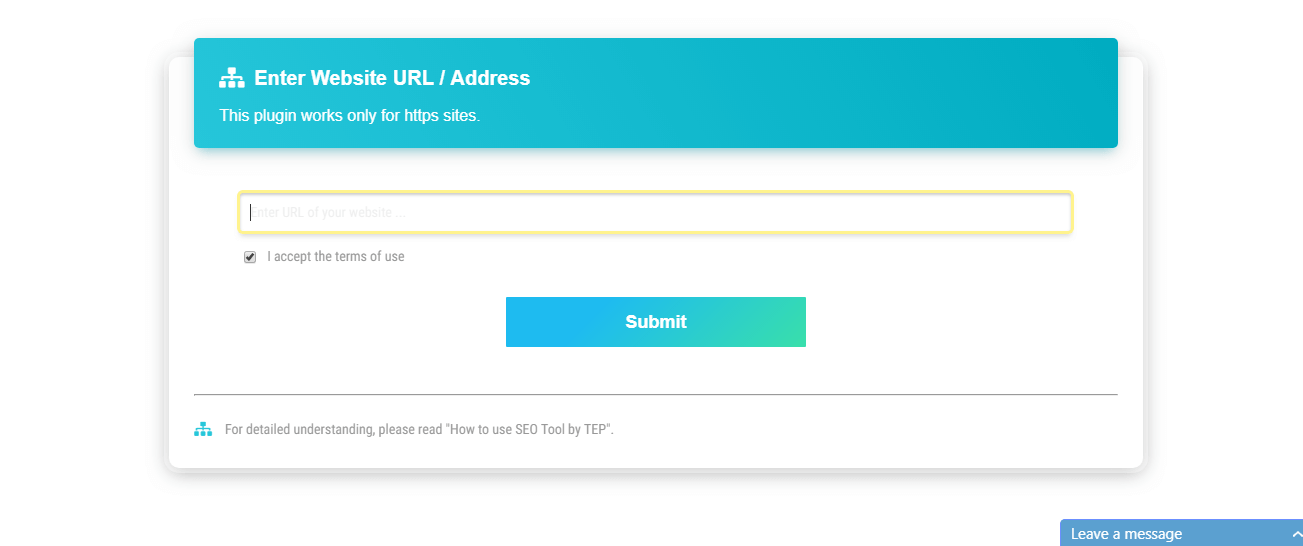 After entering a website a new dialogue box will show and now you can see the global ranking with the country ranking too.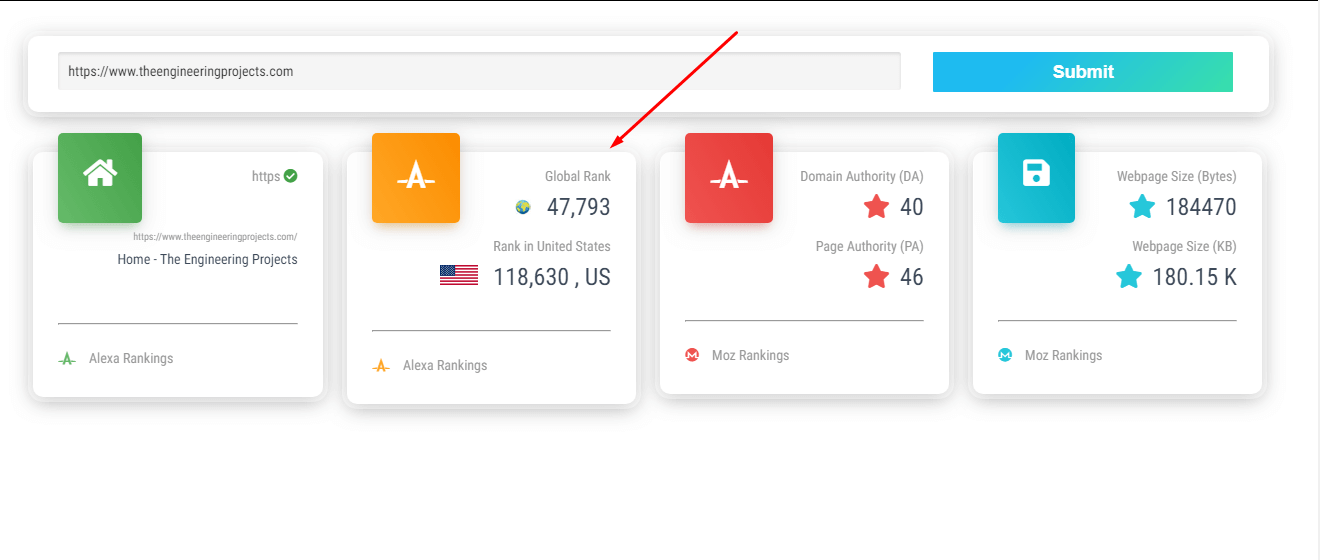 Do you want to look in more detail? Feel free to explore more thing on this tool. You will find it more useful and it will help you grow your knowledge.
HENCE, You all now aware of the importance of Alexa. SEO is continuously evolving and developing and it is vital to keep a tab on Alexa tool too. To make your ranking better.
If you want to be on the top of google search ranking then you have to keep an eye on Google updates. And check frequently Alexa ranking of your website to know about the progress of your website. Keeping an eye on updates can make you stick in this battle and help you in always on top.
If you want to stay updated then keep visiting our site for more insightful knowledge.