Hello friends, I hope you all are doing great. In today's tutorial, we will have a look at
What is cPanel and How do You Use It?.
cPanel is a control panel software that allows you to easily
manage
your web hosting account. Because of its user-friendly interface, it's an incredibly common tool. So what do you actually use cPanel for? A better question might be what you can't use cPanel for. cPanel is where you connect domain names to your hosting, set up customized emails for your site(s), install WordPress or any other CMS, back up your website, upload files to your server, check your bandwidth, usage stats, and security settings, install server apps, create and manage your databases, and optimize your server settings. Among other things.
As cPanel has improved, its price has increased, passing the cost on to consumers. The software makes managing your sites a lot easier, but it's not always intuitive. Below is a quick tutorial on how to take advantage of cPanel's more basic functions and get your comfortable enough to start exploring the software's real potential. So let's get started with What is cPanel and How do You Use It?
What is cPanel and How do You Use It?
Logging In
The first step to using cPanel, of course, is to log in. Your hosting company will provide you with a cPanel username and password, and most companies will show a cPanel link once you've signed into your hosting account.
If you're not sure where to find cPanel or how to access it, ask your hosting company.
It's often located under a settings tab like "My Accounts" or "Advanced."
Finding your Way Around
The cPanel interface is designed by your web host, but there are a few features that are common to most cPanel layouts.
To find your way around, you can use the navigation bar, located in the top right-hand corner of the screen.
There you'll see options to search, a link to your user preferences, a notifications bell, and the logout link.
The search bar is incredibly useful, especially if you are using cPanel for the first time. If you want to find "usage stats," for example, you can just type it into the search bar instead of hunting through cPanel's tabs and files for it.
User preferences are where you go to change password, language settings, contact information, and reset the page settings.
cPanel will use notifications to communicate basic information like news and updates, so the notifications bell can be a useful way to keep yourself updated.
If you're not getting the results you want from the navigation bar, there is an additional search bar located at the top of the page.
Instead of showing you results in a drop-down style, this search bar is a bit more powerful and will filter your results directly from cPanel itself.
On the left side of the screen, you'll see the sidebar. Depending on your hosting company, you'll see a few different icons displayed on the sidebar, but most cPanel hosting will display icons for Home, Statistics, Dashboard, and User Management.
Home, of course, will take you back to the homepage. cPanel's homepage organizes tools into categories that you can collapse or expand as needed to find the tool you want.
You can drag and drop tools or even entire sections if you want to reorganize how the homepage is displayed to customize the page to your personal preferences.
Statistics gives you a quick look at important numbers like how many email and FTP accounts you have, or how many domain names you are managing. Statistics will also show you how much bandwidth and disk space you're currently using.
The dashboard is a quick-reference page, a kind of mix of the homepage and statistics page.
The dashboard will feature resource stats like bandwidth and disk space alongside commonly used tools and links for quick access.
User Management is where you can add or delete users from your cPanel account.
This will also show you your email addresses and who has access to your FTP and web disk.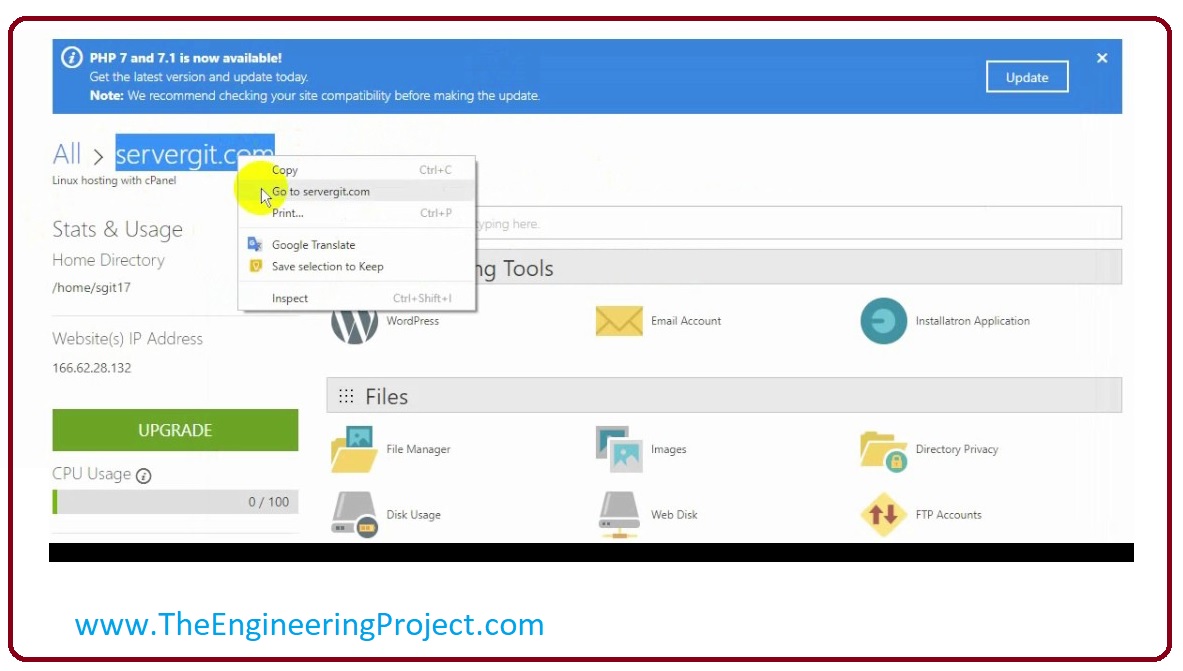 Preferences
The preferences page is where you set basic account information like your password and contact information.
Updating your contact information is also an important step for when you first get started.
The email you provide in user preferences is the primary way that cPanel will communicate with you if anything goes wrong with your configuration or account.
That's all about What is cPanel and How do You Use It? if you have any questiona ask in comments. Thanks for reading.