Hello Guys! I welcome you on board. Thank you for clicking this read. In this post today, I'll document the Introduction to 1n4744.The 1n4744 is a Zener
diode
that comes with total power dissipation of 1W. It is used in high power rating circuits for a clipping purpose. This component is composed of silicon material and comes with a forward voltage drop of 1.2V. This Zener
diode
is a bit different than a regular diode in terms of current conduction. The 1n4744 conducts in both directions i.e. forward biased and reverse biased condition. While the regular diode conducts in forward biased condition only. Zener
diodes
are also employed to prevent the electrical circuits from overvoltage.Read the entire post as I'll detail the datasheet, pinout, features, and applications of 1n4744.Keep reading.
Introduction to 1N4744
The 1n4744 is a Zener diode that is used in high power rating circuits for a clipping purpose.
This Zener diode is a bit different than a regular diode. The 1n4744 conducts the electrical current in both conditions… forward biased condition and reverse biased condition.
On the other hand, the regular diode conducts in one direction… it conducts during forward biased condition only.
And the current flows from the anode side to the cathode side in the diode.
The 1n4744 is composed of two terminals known as anode and cathode terminal.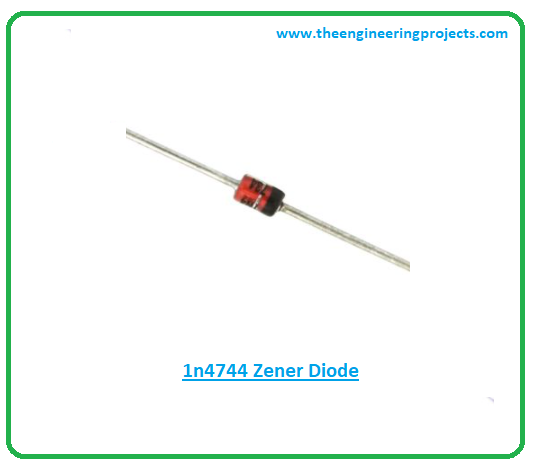 It is important to note that if we force the regular diode to conduct in both directions, it will damage the diode.
The Zener diode is manufactured with a variety of different voltages where some Zener diodes contain sharp p-n junction and in this case, electronic quantum tunneling leads to the reverse conduction process. This electronic quantum tunneling is called the Zener effect.
Zener diodes are also incorporated to produce a reference voltage for the circuits. And low power supply rails are constructed using these Zener diodes.
1N4744 Datasheet
Before installing this component into your electrical project, you better need to download the datasheet that highlights the main characteristics of the component. Click the link given below to download the datasheet of 1n4744.
1N4744 Pinout
The following figure represents the pinout diagram of 1n4744.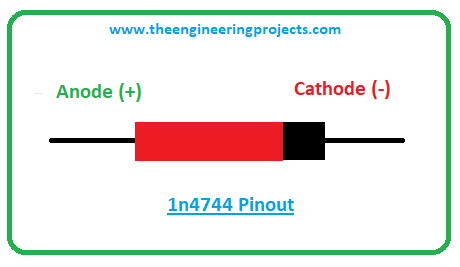 The 1n4744 is available with two terminals called anode and cathode. The cathode terminal is negative and the anode terminal is positive.
The anode is the pin from where the current enters the diode and the cathode terminal is a pin from where the current leaves the diode.
The current can flow in both conditions i.e. reverse biased condition and forward biased condition.
The grey band on the Zener diode represents the cathode terminal and the other side represents the anode terminal.
1N4744 Features
Package = DO-41
Regulator Current (Izm) = 0.061A
Nominal Zener Voltage (Vz) = 15V
Reverse Leakage Current (Ir) = 5µA
Total Power Dissipation (Ptot) = 1W
Forward Voltage Drop (Vf) = 1.2V
1N4744 Applications
Used in voltage stabilizing circuits.
Used in voltage protection circuits.
Used as a shunt regulator.
Used in high power rating circuits for clipping purposes.
Used as a low current voltage regulator.
Used as voltage protection for Microcontrollers.
That was all about the Introduction to 1n4744. If you have any queries, you can ask me in the comment section below. Leave your valuable suggestions or feedback around the content we share, they help us produce quality content that resonates with your exact needs and requirements. Thank you for reading this post.
Leave a Reply