Hi Folks! I welcome you on board. Happy to see you around. In this post today, I'll detail the Introduction to TDA2030.
This device incorporates a TDA2030 audio amplifier chip that produces 18 W output power with low harmonic distortion.
I suggest you read this post till ends as I'll walk you through the complete Introduction to TDA2030 covering pinout, datasheet, features, and applications.
Let's get started.
Introduction to TDA2030
TDA2030 is a monolithic integrated circuit that comes in a Pentawatt package, mainly used as a low frequency class AB amplifier.
The audio amplifier is a basic circuitry used to amplify the audio signal obtained through a device like a microphone.
Audio amplifiers are widely used in scores of applications including Hi-fi devices, Radio wave transmitters, talking toys, Home audio systems, Robots, and as an acoustic weapon for military operation purpose.
The main purpose of an amplifier is to convert an electrical signal into an acoustic signal. Any circuit containing an audio signal contains an audio amplifier at the output and the input.
The TDA 2030 is capable of generating 14W output power (d = 0.5%) at 14V/4Ω at ± 14V or 28V, producing output power 8W on an 8Ω and 12W on a 4Ω load.
This module comes with a wide supply voltage range of up to 36V.
It operates on the single or split power supply and protection circuitry against short circuits and offers thermal shutdown.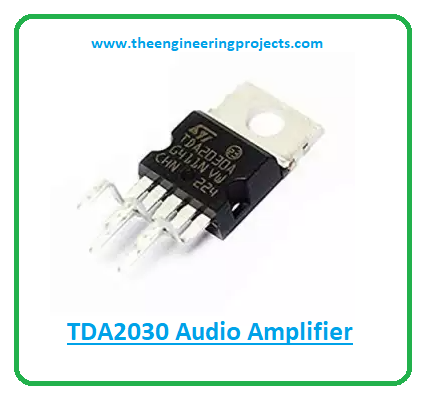 The short circuit protection settings automatically limit the dissipated power, keeping the output transistor operating point within a secure operating range.
The TDA2030 offers high output current and carries very low crossover and harmonic distortion.
It also features onboard terminal blocks for speakers and an onboard power indicator which indicates the operation of this device when power is provided to this module.
This device offers storage and junction temperature range -40 to 150 C.
Differential input voltage is +-15V and the output peak current is 3.5A and power dissipation is 20W.
TDA2030 Datasheet
Before you apply this device to your project, it's wise to scan through the datasheet of the component that highlights the main characteristics of the component. Click the link below and download the datasheet of TDA2030.
TDA2030 Pinout
The following figure shows the pinout diagram of TDA2030.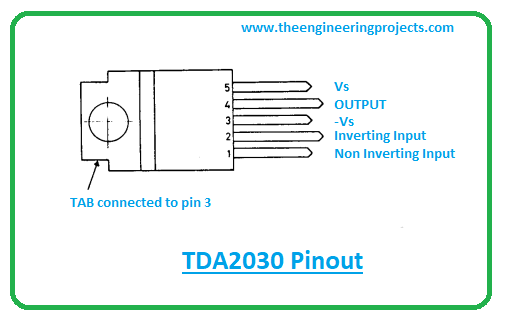 TDA2030 Features
An audio amplifier is generally developed in such a way that it takes input as the low strength audio signal and as a result, produces the output signal comprising high strength value.
The following are the main features of TDA2030.
Contains On-board power indicator
18 W mono amplifier circuit design
Short-circuit protection to ground
Operating Voltage Range = 6 V to 12 V
Single or split power supply
Main pins are routed to a standard pin header
On-board TDA2030A audio amplifier chip
Comes with On-board 10K potentiometer for volume adjustment
Features On-board terminal blocks for speaker
Module Size = 32 x 24 mm
Wide-range supply voltage, up to 36 V
Thermal shutdown
TDA2030 Applications
The following are the main applications of TDA2030.
Used in Hi-fi devices
Radio wave transmitter contains an audio amplifier
Employed in Talking toys
Used in home audio systems and robots
An acoustic weapon for military operations
That was all about the Introduction to TDA2030. Hope you find this article helpful. If you have any questions, you can pop your comment in the section below. I'd love to help you the best way I can. Feel free to share your valuable suggestions and feedback around the content we share so we keep producing quality content customized to your exact needs and requirements. Thank you for reading the post.