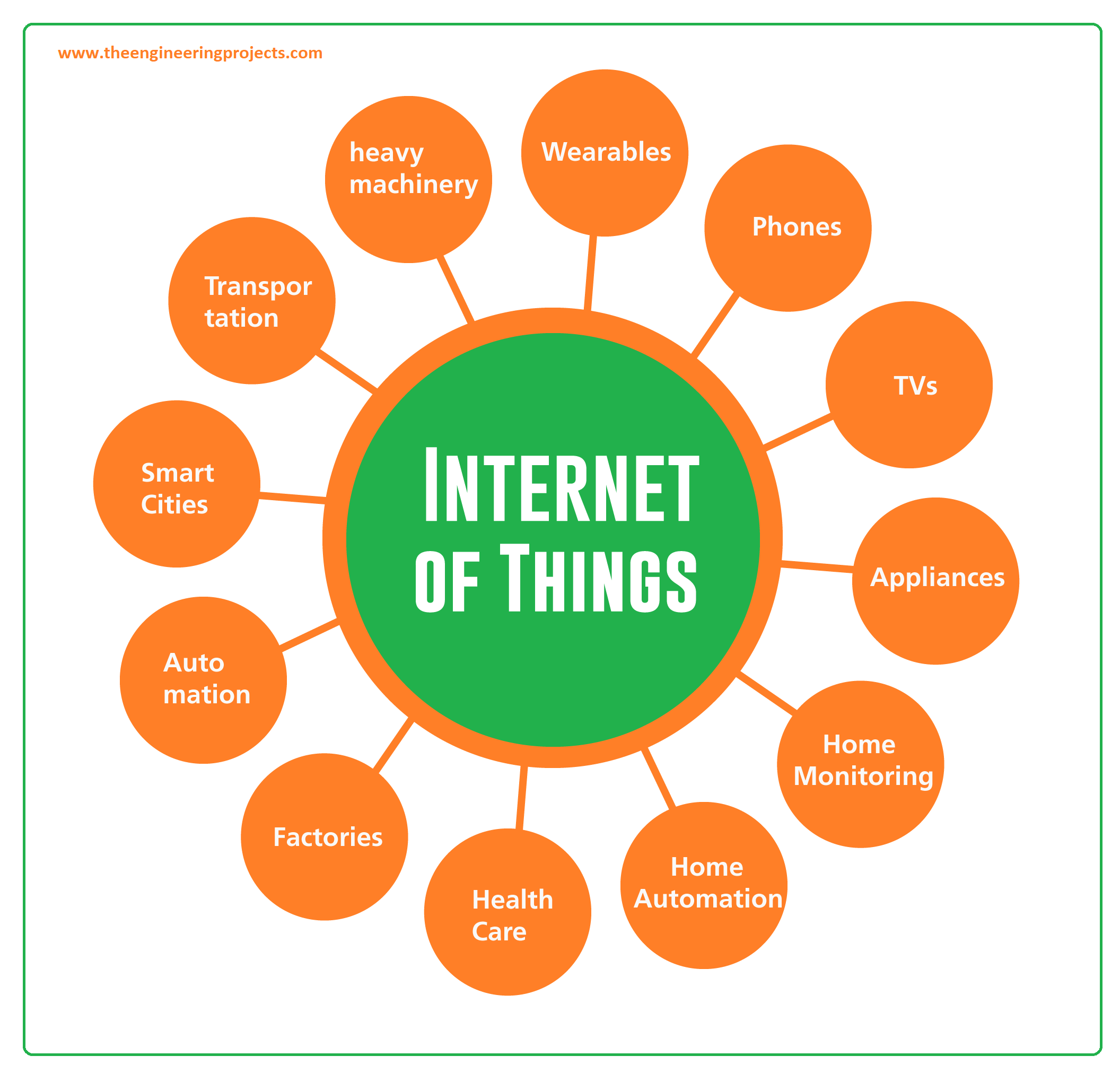 Hi Guys! Glad to have you on board. In this post today, we'll cover What is IoT (Internet of Things)? We'll also discuss IoT Definition, Meaning, Devices & Applications. Smart homes, smart cities, smart cars, smart wearables, smartphones, smartphones, and the smart world. These terms that have been creating a buzz for the last few years fall under IoT technology. I suggest you read this post all the way through as we'll cover in detail what is IoT. Let's jump right in.
1. What is IoT?
The IoT harnesses the power of the internet to connect physical devices in real-time. So any physical object connected through the internet can be converted into an IoT device. For example, how are you reading this article… over a smartphone, tablet, or PC? You're already connected through the internet and are using an IoT device.
Similarly, a light bulb, which is a physical object itself, will be considered as an IoT device when connected through a smartphone app to turn it on and off. IoT examples may include washing machines, refrigerators, watches, laptops, phones, cars, and pretty much everything we can connect with the internet.
Generally, the internet of things examples include quick access to the appropriate information at the right time, be it related to exercising, traveling to a meeting, socializing, shopping, or visiting a doctor.
Sensors are a crucial part of the IoT network. That means millions of sensors connected through IoT sensor technology worldwide to collect a rich set of context-aware and informational data including images, location, and weather conditions, and inject into the networks and applications for the data processing.
IoT Full Form
IoT stands for Internet of Things.
IoT Definition
The Internet of Things or IoT is defined as the process of connecting physical devices through the internet for sharing, collecting, and transferring data.
IoT adds the fabric of digital intelligence to the physical things connected through the internet, making the world around us more exciting and responsive.
IoT can help connect the people living in the remotest corners of the world. Plus with devices functioning at incredibly low power, IoT provides solutions without risking the system's accuracy. This is possible since at the smallest level we can incorporate these things with smart technology for them to communicate over the internet.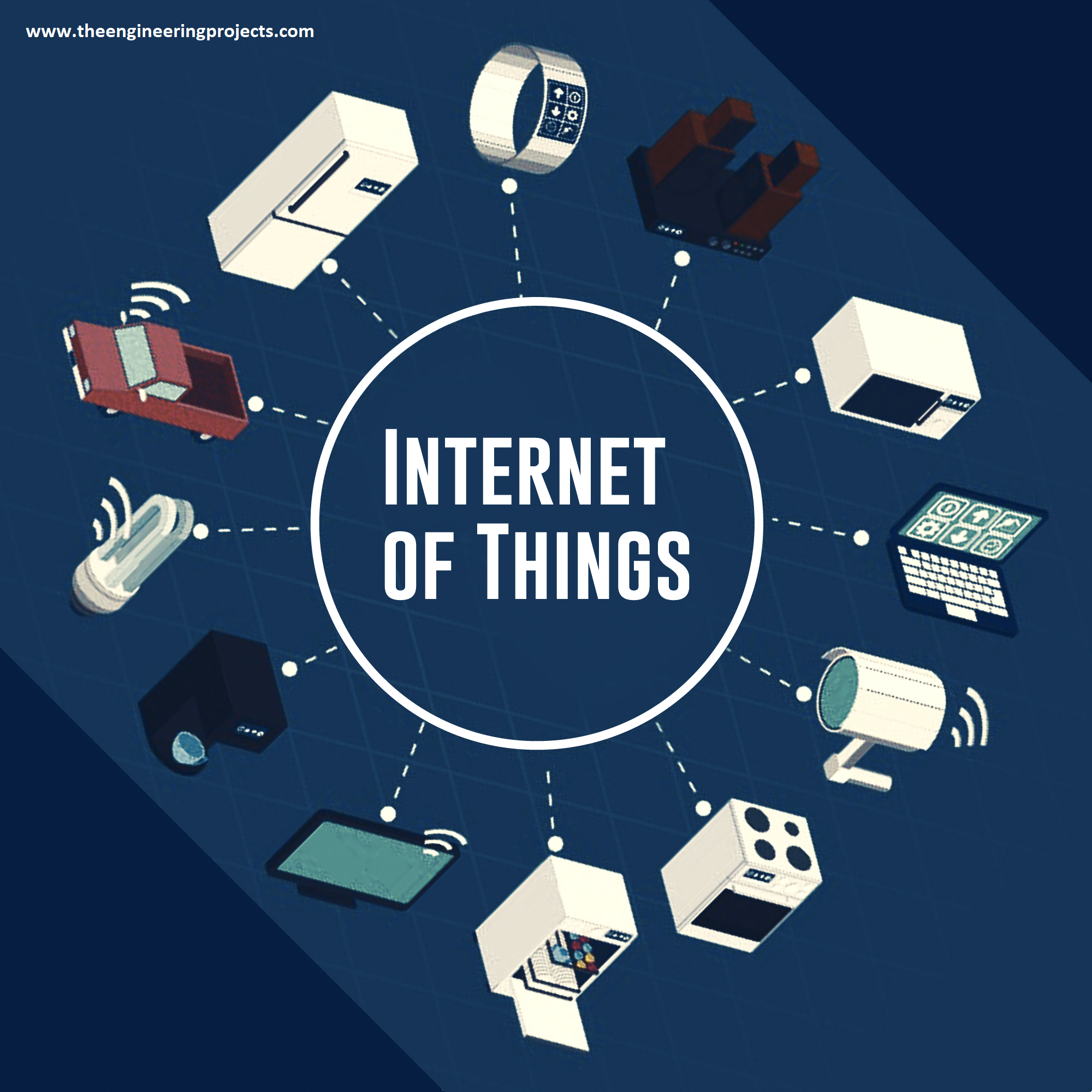 Don't see IoT as an individual system, but as an integrated infrastructure that can handle many services and applications at a time. Such applications include city-wide activities like efficient transportation systems, waste management systems, others include worldwide activities like global delivery systems, security systems while others include personalized activities like bridging the gap between the digital world and physical world.
IoT Benefits
IoT emerging technology offers scores of benefits that include:
Enhancing efficiency and productivity of business operations with minimum investment
Making revenue streams and new business model
Helping better data analysis of soil to increase production
Providing good automation and control with easy to use technology
Obtaining data-driven results from IoT information
Saving time and money by automating the manual tasks
Improving the productivity and quality of life
Effortlessly connecting the physical world around us with the digital world
Drastically improving patient data analysis helping doctors make intelligent decisions
Brief History of the Internet of Things
Over the past few years, we have witnessed tremendous growth in IoT. But how did we reach there? It ages back to the year 1964 when Carl Steinberg, a German computer scientist, said… "In a few decades, computers will be interwoven into almost every industrial product."
It was a big statement at that time when computer technology was not so advanced. It took almost 25 years to invent the first IoT device in the year 1990 when John Romkey created a toaster, the first IoT device ever, which can be controlled over the internet.
In the following year, a group of students at the Carnegie Melon University had developed a Coca-Cola vending machine with micro-switches over the internet to monitor the availability of coke bottles and identify which columns in the vending machine had the most chilled coke.
Know that, experts were using IoT applications long before the term IoT has been introduced. The term IoT was first coined by Kevin Ashton, a British Technology Pioneer, in the year 1999, although it further took almost 10-years for the IoT technology to resonate with the thought.
The breakthrough of IoT technology, however, was occurred in the year 2008, 09 when more things were connected through the internet than the human beings on this planet earth.
2. IoT Devices in Real World
Anything that can connect through the internet falls under IoT technology. So the IoT unit is a device that collects information using sensors and actuators from the surrounding and sends this captured information to the internet for the processing of that data.
An IoT device can be as small as the size of the pill and as large as the gigantic industrial machinery given that both are connected through the internet. It means even we humans can become a part of IoT if we're connected through the internet.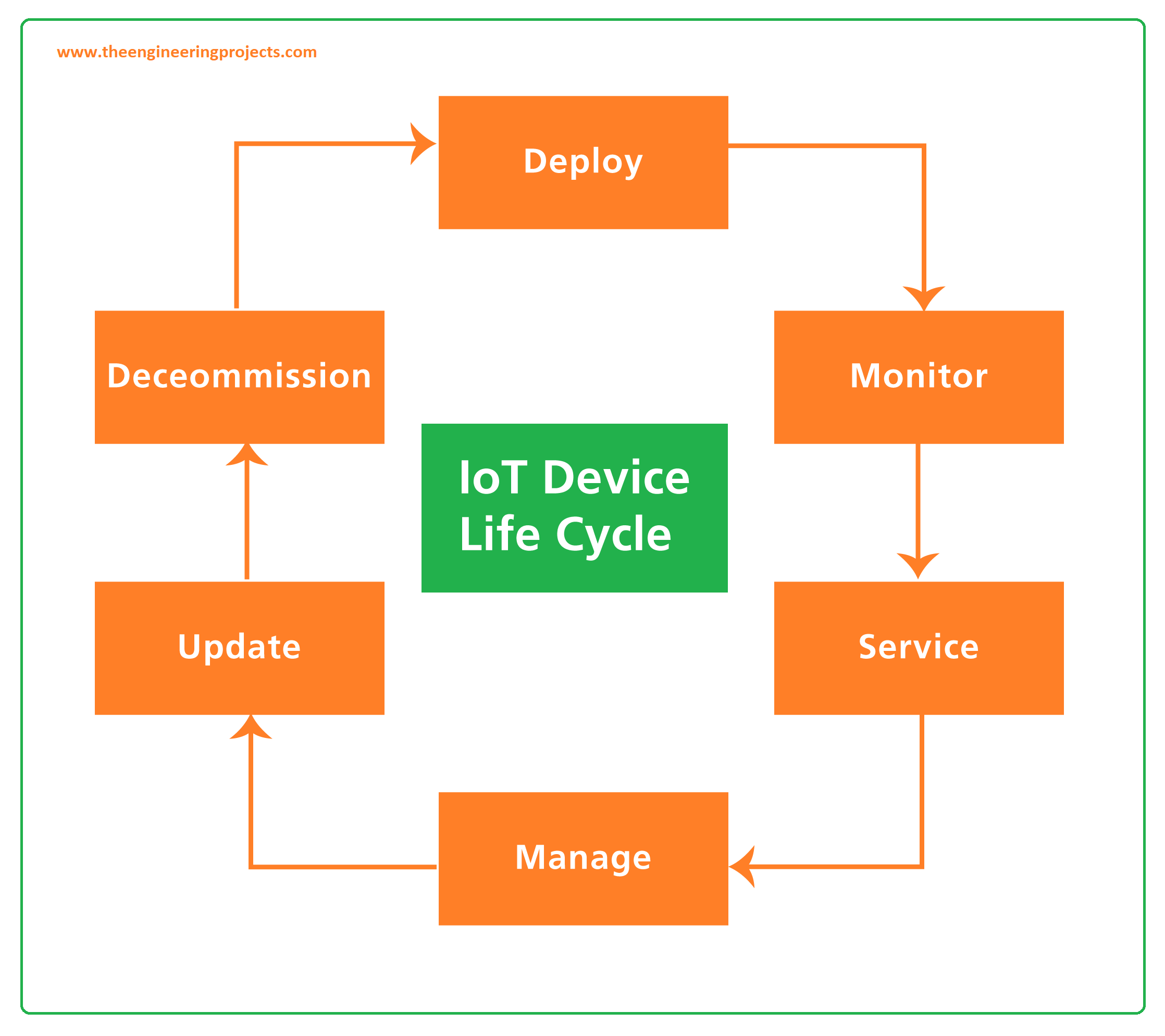 Typically, IoT devices use machine learning and AI to automate processes and systems including medical equipment, industrial manufacturing, agriculture, and more.
It normally takes two things to convert any device into an IoT device:
The device can be connected to the internet.
The device can be incorporated with sensors and functional software that can communicate with the network.
When these two properties are added together into one device, they generate an IoT device. The following list is documented with IoT devices that you can buy and experience by yourself.
1. Google Home Voice Controller
Priced at $130, the Google Home voice controller is an IoT device that works on your voice commands. It comes with remarkable features including a thermostat, alarm, media, and more which you can control using your voice.
Using this device, you can plan your day by managing alarms and timers. Moreover, you can control the home lights – doesn't matter if you're at home or miles away.
2. Amazon Dash Button
Amazon dash button is an IoT device that makes your life easy and simple. When you press the button, the device uses a Wi-Fi signal to connect with the Amazon Shopping app.
This way you can instantly order the items which have already been included in the cart.
Be careful while placing your new order, because you cannot place a new order until the previous order is delivered.
3. Amazon Echo Plus Voice Controller
Amazon voice controller is another IoT device that you can purchase for only $99.99. It can do a lot of functions like ask questions, set timers, and alarms, do phone calls, play songs, manage home instruments, check the weather, and more.
Now, you can do messaging and phone calls just by your voice commands. It features a sound canceling mechanism, helping you deliver your voice message even if the songs are being played.
4. August Doorbell Cam
August Doorbell Cam is a tremendous addition to IoT technology. Using this device, you can answer the person standing at your door. You can do it from anywhere inside the house or from a remote location.
With this device, you also get August Smart Locks which allow entry to only authorized persons to your house. The device is incorporated with a floodlight that ensures video in full-color HD print.
5. WeMo Light Switch
WeMo smart light switch is a reliable and innovative IoT device. It helps you control your home lights from your voice or by using your cell phone. It features a WiFi reset, WiFi indicator, and easy on/off push button.
Compact and easy to install, the WeMo light switch is easily integrated with your home WiFi network, giving wireless access to your home lights.
3. IoT Communication Protocol
Still, reading? Perfect. Hope you've got a brief insight into what is IoT. In this section, we'll cover 7 communication protocols of IoT technology.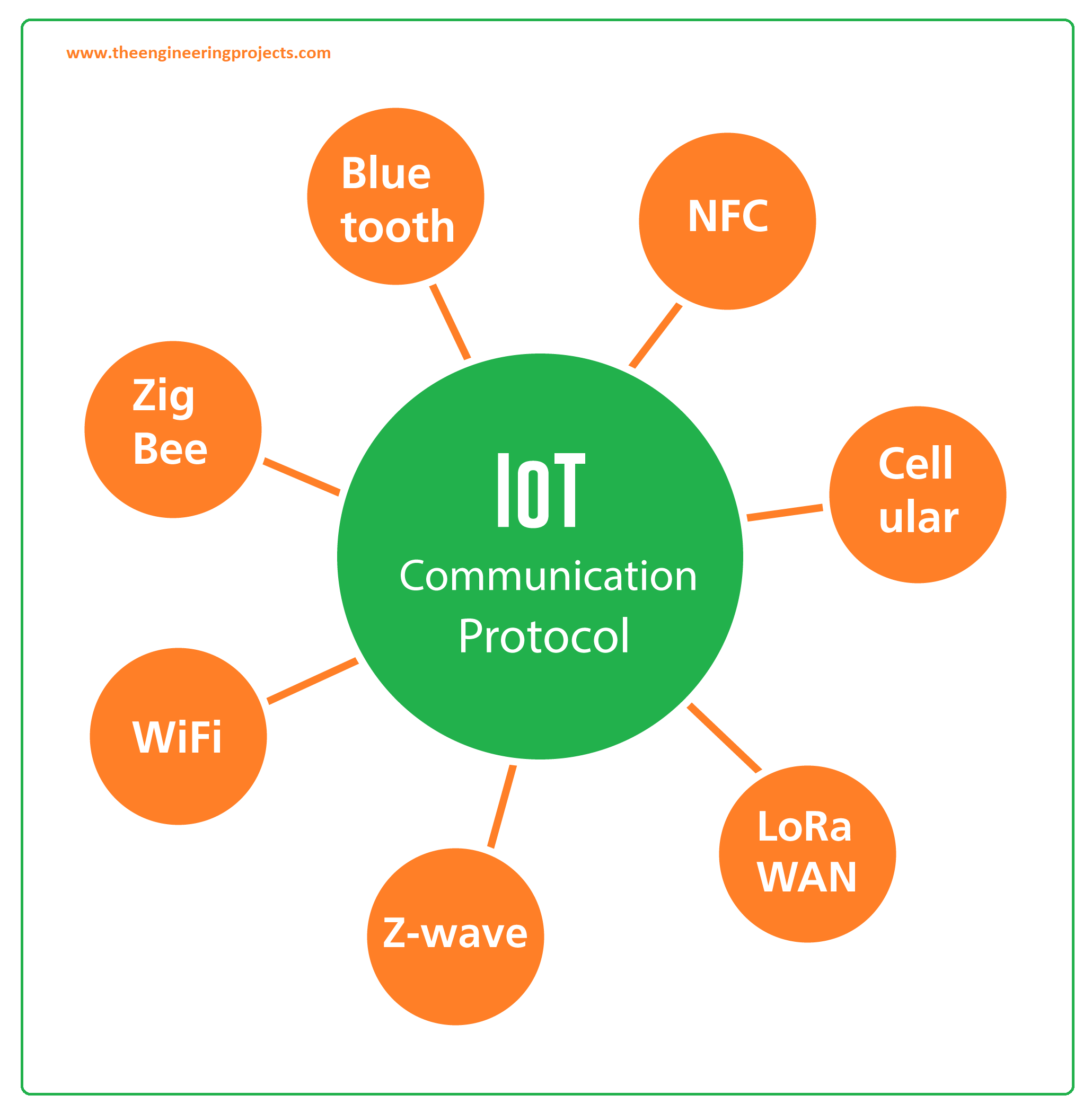 Let's get started.
1. Bluetooth
Mostly used in wearable products, Bluetooth is a short-range IoT communication protocol. It is a wireless technology mainly used to layout the connection between devices without physical interference.
Bluetooth can connect two devices up to 164 feet apart because it uses radio waves with frequencies ranging between 2.400 and 2.485 GHz.
An IoT device must include a microprocessor to manage Bluetooth and a second device to interface with it. Two different versions of Bluetooth are normally used for IoT devices that are Bluetooth Low Energy (BLE) and Bluetooth Classic – mainly developed for devices that run on low levels of power.
2. Zigbee
Zigbee is a wireless technology, similar to Bluetooth, mainly introduced to deal with lower-power low-cost IoT networks.
It is also deployed for radio-frequency applications in industrial and commercial settings where secure-networking and long battery life are required. It can support different network topologies and features a low-duty cycle.
3. WiFi
WiFi is the most common IoT communication protocol. It is a wireless technology that gives the freedom to use the internet from anywhere within the range of WiFi signals.
A wireless router is used to develop the connection with the devices. The 802.11ax is the newly introduced WiFi standard in 2019 that determines how your WiFi network behaves like the speed of the data transfer and the frequency used.
4. Z-wave
Z-wave is the wireless technology that operates on low power and doesn't interfere with your WiFi network.
Using this technology, you can connect your smart devices with the internet and control them from the distance. It uses low-energy radio waves, giving you wireless control over home appliances.
5. Cellular
For long-range communication, cellular technologies can be used for IoT networks like GSM, and 3G/4G. Companies are working to integrate 5G in their cellular devices that ensure a faster network with more capacity.
The 5G technology works on improving the frequencies on which cellular technologies will transfer information.
6. LoraWAN
The LoRaWAN is a wide area (LPWA) and low power networking protocol introduced to connect battery-operated 'things' wirelessly to the internet.
The transmit range of this network is more than 10km, typically ranges between 15 to 20Km.
7. NFC
NFC stands for Near Field Communication, is a low data rate, short-range IoT technology that allows safe and secure communication between IoT devices.
Again, this technology uses a radio frequency field with a frequency of 13.56 MHz. NFC technology is mainly introduced to exchange information between two electronic devices by using a simple touch gesture.
4. How big is IoT?
The IoT technology is not limited to smartphones and laptops only. It is slowly and steadily sneaking into almost every field of our regular life including healthcare, smart cities, connected cars, smart homes, connected wearables, and whatnot.
The number of connected devices is increasing every day, paving a way for a fully automated world in near future. IoT devices are connecting our physical world with the digital world, improving the productivity and quality of our life.
According to techjury, almost 35 billion devices will be installed throughout the world by 2021. Smart units like smart refrigerators and thermostats are the most searched topics on Google nowadays and are planning to give us never seen before experience.
IDC, Tech Analyst Company, has estimated that almost 41.6 billion IoT devices will be connected by 2025. According to a Cisco report, IoT technology is going to produce $14.4 trillion in the next decade across all industries. Yes, you've guessed it right, IoT will bring a change, nobody can imagine.
5. IoT Projects
The following IoT project list is particularly useful for students, who are beginners and planning to get a hands-on experience with this IoT technology.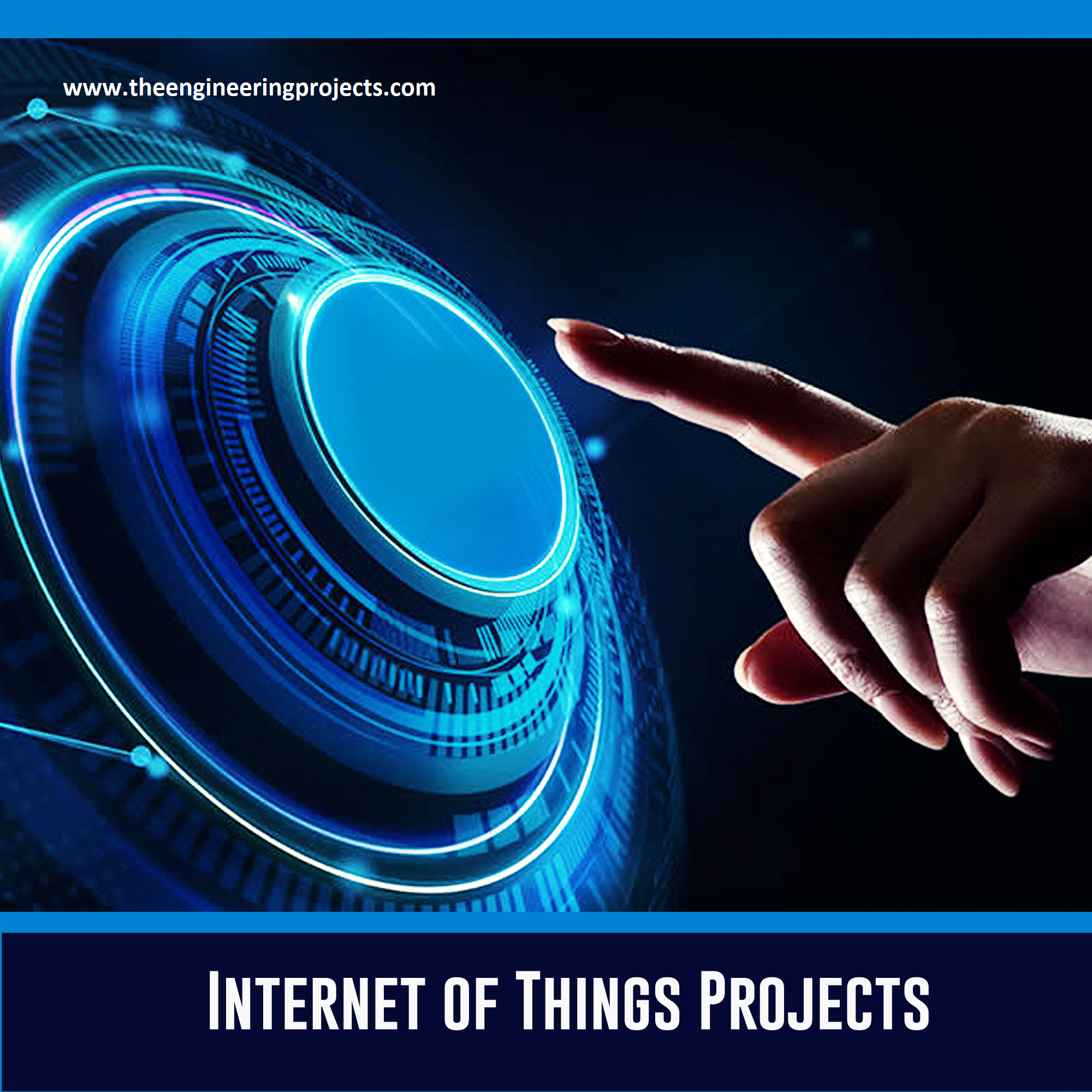 So if you're looking for IoT project ideas for your final year project, this list would suffice.
1. Smart Agriculture System
The smart agriculture system project stays at the top of the list. Since the current trajectory of the smart agriculture system demands making the farming process automatic with minimum human interference.
Using IoT technology, you can handle your crops right from the comfort of your home using a smartphone.
Schedule fertilizer spray on the crops and monitor soil moisture from a distance. Moreover, you can check the weather conditions and plan your farming process accordingly.
2. Air Pollution Monitoring System
An air pollution monitoring system is used to monitor the pollution level in the atmosphere.
Sophisticated sensors are incorporated in the system that measures five components in the air including carbon monoxide, ozone layer, nitrous oxide, sulfur dioxide, and particulate matter.
Apart from temperature and humidity sensors, a gas sensor is also included in the system that identifies the presence of flammable dangerous gages in the air.
3. Smart Alarm Clock
A smart alarm clock is a remarkable addition to IoT technology.
This unit not only wakes you up but also comes with other features including a text-to-speech synthesizer, voice command option, audio amplifier volume control, and automatic brightness adjustment. Moreover, you can also include customized features to your smart clock.
4. Facial Recognition System
A facial recognition system plays a key role to follow security protocols. It is an IoT system that recognizes the human face through technology.
This system monitors the geometry of your face using deep learning algorithms and compares it with the known faces in the database.
The facial recognition market stood at $4 billion in 2017 but is predicted to increase to $7.7 billion by 2022.
5. Smart Garage Door
Build a garage door and control it with IoT technology. Yes, this is possible. You don't need to install bulky chains to open and close your door. Integrate your smartphone with an IoT network, and control your garage door on the fly.
The smart notification option in this system keeps you notified about the current status of the door if it is open or close.
Raspberry Pi is used in this project where you'll create a webserver with Raspberry Pi and control the garage door with your smartphone.
6. Smart Cradle System
The smart cradle system allows parents to keep an eye on their infants. This system includes a voice detecting mechanism through which the cry of the child is monitored.
Moreover, a surveillance camera is connected to the cradle that can check up on the activities of infants and can inform parents by sending the footage of their kids.
Plus, many sensors are incorporated into this system that monitors the humidity and temperature of the cradle and sends alerts if the baby sheet needs replacement.
7. Home Automation System
Home automation system ensures the automatic functioning of home appliances and electronic devices, thereby helping you control them from a distance.
Home automation system consists of sensors and a WiFi connection that allows you to manage household objects from your IoT device that can either be smartphone, tablet, or PC.
Now, locking the doors, turning on lights, and controlling the home appliances is just one click away.
6. IoT Applications
On a large scale, the following are the real-time applications of the IoT network.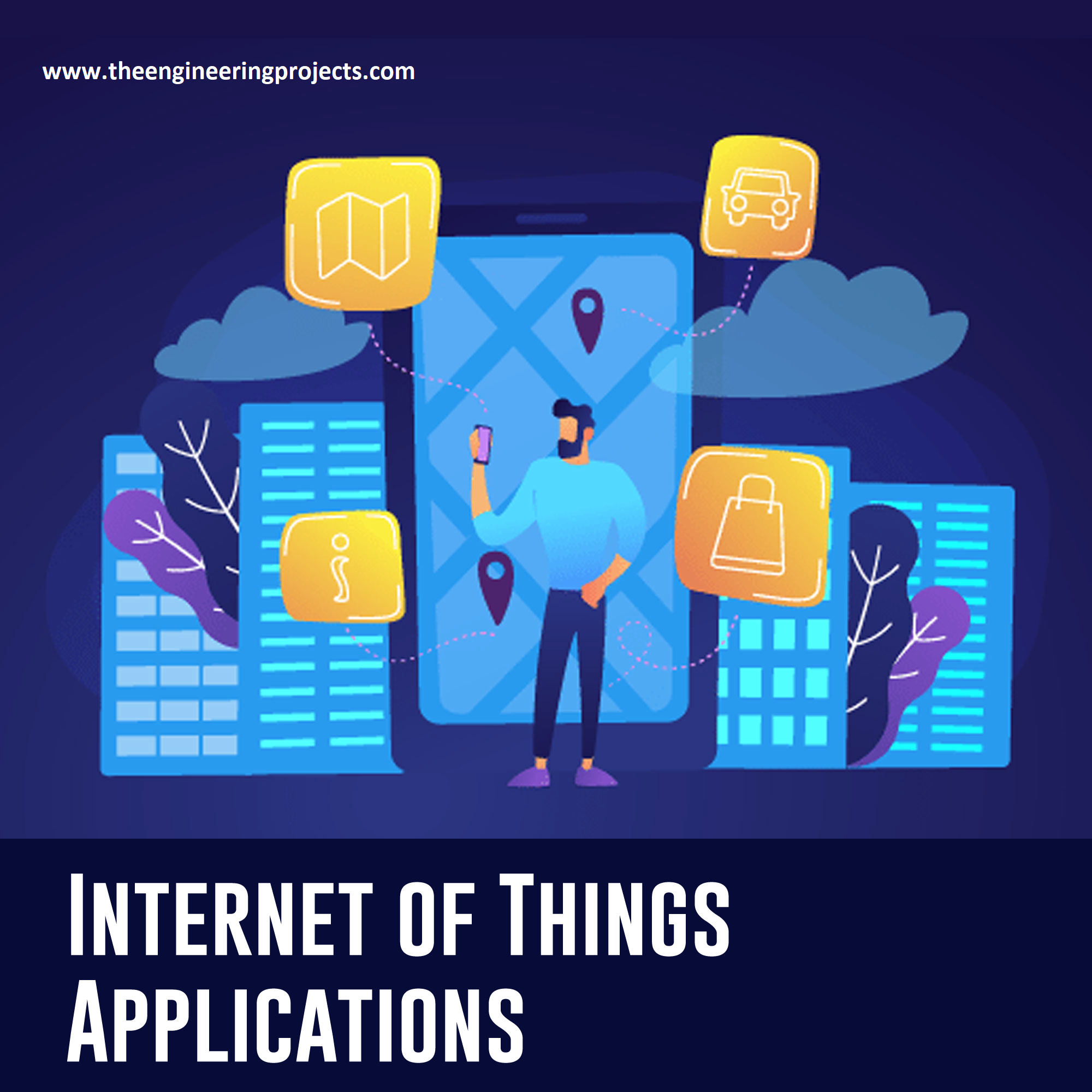 1. Smart Home
With the concept of IoT sparked in recent years, Smart home is the most used keyword searched on Google and it is said that soon, keeping a smart home will become as common as keeping a smartphone.
A smart home is a location that uses IoT technology to monitor and control your home from a distance. You can, for example, lock and unlock the doors in your absence.
Don't you worry if you forget to turn off the air conditioner upon leaving your home, with IoT technology you can turn off the AC with the flick of a thumb.
Smart home units are purposely designed for a specific purpose and companies like Ecobee, Nest and Ring are making incredible strides to offer an unprecedented experience to the targeted audience.
2. Smart Cities
Like smart homes, smart cities are another unique concept based on IoT technology.
In a smart city, pretty much everything will be connected through the internet be it, energy management system, transportation system, smart surveillance, water distribution, or environmental monitoring.
The entire city will be roped with sensors to get data from the surroundings and with the internet to process that data, offering cost-effective solutions to the users.
3. Manufacturing
Manufacturing machinery embedded with sensors provides data from the equipment failure to the manufacturer on which they can decide if the equipment requires proactive maintenance.
Sensors can typically monitor the duration when the production process is compromised.
The sensor alerts ensure the safety of equipment and bring a competitive advantage over others, helping businesses to minimize the production costs, and improve the business model on data-driven insights.
4. Healthcare
The Healthcare industry is widely dependent on the IoT asset-monitoring system. Nurses and medical staff often require the exact location of an available wheelchair.
The wheelchairs embedded with IoT sensors can help locate the patients, incredibly decreasing costs and cutting down the useless doctors' visits. IoT offers accurate informational data with minimized waste and automated workflows, reducing the risk of error.
The remote connection between doctors and patients over the internet is possible with IoT.
Even in this pandemic, doctors don't necessarily have to visit the patient in person, and can examine the patient over the internet without physical human intervention.
5. Smart Parking
It is hard to locate the place for car parking in crowded cities. This is where smart parking comes in handy. The IoT devices count the number of cars entering the specific facility and the number of cars leaving out.
Moreover, you'll be notified of the exact location of your car so you can come back to the same location without getting lost.
6. Waste Management
Waste management is a hectic task to handle by municipal corporations of big cities. Since the management tools are not properly sanitized and the route covered by the trucks is not always properly planned.
IoT devices installed in the waste collection area often help waster collectors check the availability of trucks, handle the efficiency of the entire process and evaluate the capacity of the waste dumps.
7. Motion Detection
Motion detection technology is another remarkable facility that falls under Internet of Things examples. Using this technology you can detect human activity in certain areas.
This is often helpful in high-security areas where only authorized persons are allowed in specific premises. Motion detection is carried out by IR sensors and IoT cameras.
8. Transformation and Logistics
The automotive industry can get massive advantages with the use of IoT technology. Sensors embedded in automotive vehicles can detect the impending failure of vehicles and inform the drivers about the parts that need replacement. The informational data collected through IoT applications can help car owners keep their cars up and running.
Thanks to IoT sensors, now the ships, trains, and trucks responsible for inventory can be re-scheduled based on the driver availability, vehicle availability, and weather conditions. The sensors can be installed on the inventory itself to monitor the temperature of the surrounding environment and track-and-trace products accordingly.
The pharmaceutical and beverage industries often come with temperature-sensitive inventory that monitors the rise and fall of temperature and sends alerts to re-examine the surrounding temperature.
9. Noise Monitoring
Noise monitoring is another application of IoT that keeps the noise within control limits. Some factories produce an incredibly loud noise, affecting everyday life throughout the day.
Such premises are incorporated with sensors that monitor the noise produced by the factory and send an alert in case the noise goes higher than the threshold limit.
Noise monitoring IoT devices are also installed inside homes that monitor your voice, indicating your presence inside the room and adjusting the room lights accordingly.
10. Ensures General Safety
IoT technology trends guarantee general safety across all industries. Employees working in dangerous environments like gas fields, power, and chemical plants often need alerts about the happening of a disastrous event.
When they are equipped with IoT-based sensors, they can be informed about the hazardous event, consequently triggering the backup plan to rescue them.
Even IoT ensures the safety of your homes. You can incorporate a security system with the internet that gives permission to the authorized people inside and locks up everything upon leaving the house.
7. IoT Companies
This section is dedicated to detail the popular IoT companies worldwide.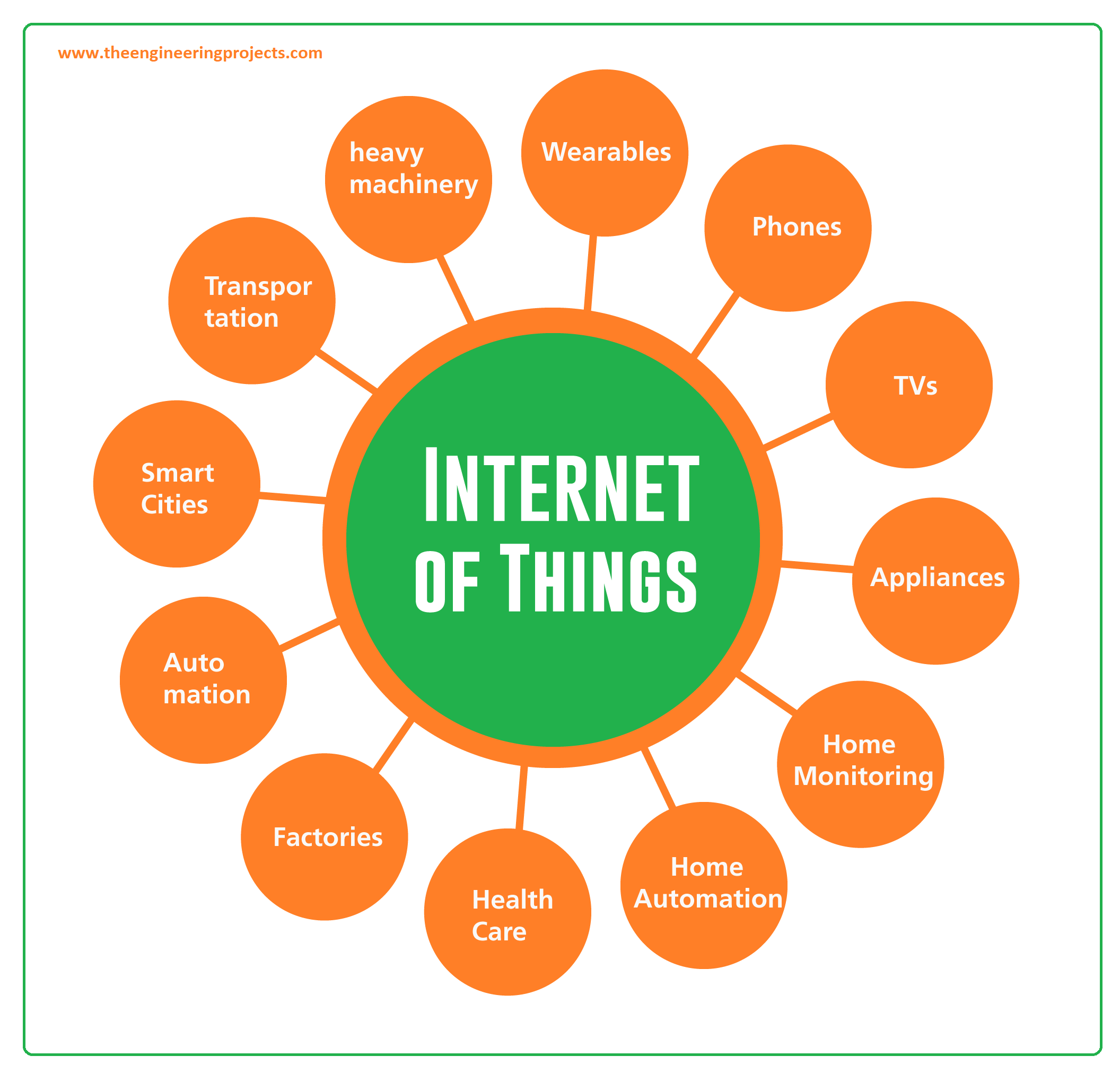 1. Softeq
Introduced in 1997, Softeq is a software company that offers full-stack development services related to mobile, web, embedded software, desktop apps, and hardware.
Included with 300+ employees, Softeq is also famous for providing IoT solutions and IoT application development under a single roof. The headquarter of this company is based in Houston, Texas, USA.
2. ScienceSoft
Founded in 1989, ScienceSoft offers IoT services to a range of departments including retail, healthcare, manufacturing, telecom, oil and gas, and transportation.
Moreover, it also provides IoT consulting that covers architecture design, strategic IoT planning, and tech stack selection.
Plus, it also offers managed IoT services that include troubleshooting, technical support, and security and cloud management.
3. Oxagile
Located in New York, USA, Oxagile offers comprehensive IoT services including software development, IoT consulting, integration, hardware prototyping, and continuous enhancement.
It was founded in 2005, and more than 350+ employees are working in this company.
Moreover, it is equipped with professional staff that offers expertise in big data, computer vision, artificial intelligence, cybersecurity.
4. Style Lab
Founded in 2006, Style Lab is an IoT software company that provides services for web frontend reporting, backend infrastructure, and mobile applications.
Famous for software development, Style Lab offers solutions for smart homes, healthcare IoT and industrial IoT.
5. HQ Software Industrial IoT Company
HQ software is dedicated to offering services like mobile app development, software re-engineering, IoT consulting, and software development.
It offers a range of IoT solutions to companies like IoT automotive, IoT healthcare, Industrial IoT, and Smart homes. It was founded in 2001 and almost 100 employees work here.
6. PTC
Founded in 1985, PTC provides detailed IoT solutions to industries including manufacturing, automotive, defense, and life sciences.
They help their customers get impressive results through CAD solutions, industrial IoT, and augmented reality.
7. Cisco
Founded in 1984, Cisco is famous for designing, manufacturing, and selling networking products. They offer a range of services to companies including datacenter, collaboration, security, mobility, and wireless.
Its IoT solutions include IoT data management, IoT gateways, IoT networking, IoT security, and IoT operation management.
8. IoT Gateway
An IoT gateway acts as a central hub for IoT devices and manages the communication between the internet, sensors, users, and applications. IoT gateway is a hardware unit that contains application software for performing important tasks. It plays a key role in making a connection between destinations and different data sources. An IoT gateway can perform the following tasks:
Buffering, Data caching, and streaming
Layout device to device communication
Ensures security between the connected devices
Can perform system diagnostic
Can do basic data analytics and data visualization
Guarantees data aggregation
An IoT smart gateway is an important link that delivers edge computing power to field technicians. Its main purpose is to capture sensed information and build a connection with external networks. IoT gateway offers a route for different communication technologies and processes the information before sending it. Most IoT devices can perform data aggregation. Sensors installed in your car, for example, can perform data aggregation and send this data to the IoT gateway before sending it to the Al analysis cloud service.
9. IoT Future Research
Before I document IoT future predictions, know that the sensing and actuation ability of IoT devices are not limited to public spaces only, but also stretch into apartments and homes where people can use security, entertainment, health, and energy apps to make their lives responsive and easy.
Gone are days when you had to learn programming skills to build a new app, now running and installing new apps is as common as plugging a toaster into the electric board. Using these apps, a range of tasks can be managed on the go including ordering food online, handling fitness routines, monitoring heart rate, or even getting health suggestions about your medical problems.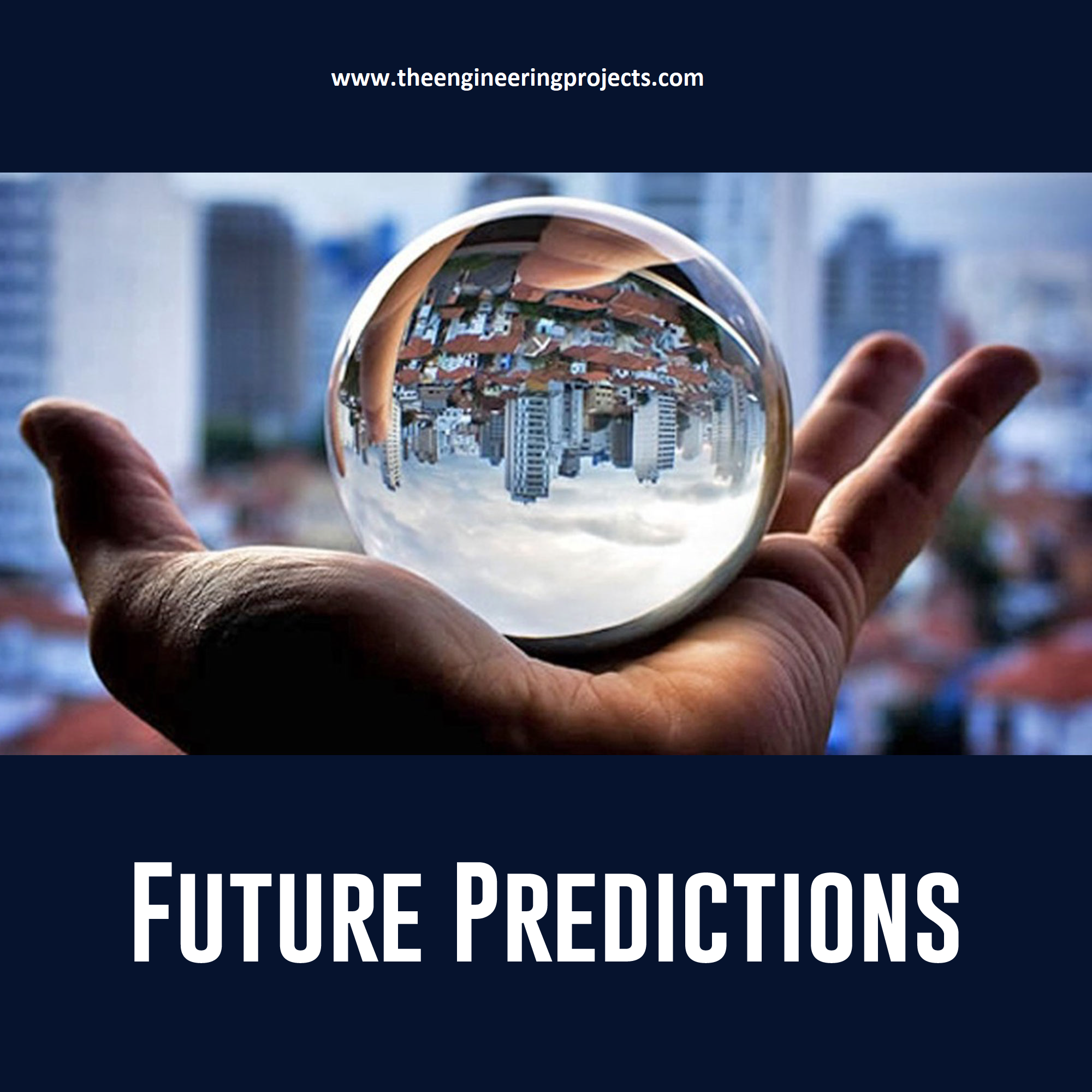 The future of the internet of things is massive and will be going to change the way we interact and communicate with others.
A smart city comes with scores of systems including water, sewerage, waste management, transportation, buildings, and utilities of different kinds, and so forth. To achieve the convenience and sustainability of cities, it's important to keep the operations of such systems organized and well-planned, and IoT can play a key role to get there.
Moreover, the parts of these systems have to be integrated horizontally to produce new applications where data is analyzed throughout the system. Because these systems carry their informational data and semantics where each of them works independently, it is challenging to develop new applications that keep working with them and can decode the data present in these systems
Exporting data with semantic annotations is one way to address this issue. This will incredibly ease the task of collecting data from different sources and constantly comprehending them, which leads to the making of new applications.
Conclusion
From agriculture, industrial machinery, and healthcare, to transportation, smart homes, and smart cities, IoT technology is slowly sneaking into everywhere.
The IoT technology is mainly introduced to bridge the gap between the physical and digital world. Anything that can connect with the internet can be converted into an IoT device. Currently, there are more IoT devices connected worldwide than human beings on the planet earth and this figure is drastically increasing every day.
Using this technology, you can make your homes safe and secure, improve your health, and keep an eye on your infants from anywhere in the world.
With the recent advancement in IoT technology, electronic devices and sensors are becoming cheaper, giving you the ability to automate your everyday life with easy to install and cost-effective technology.
The IoT technology detailed in this article is just the tip of the iceberg because most companies making incredible leaps in IoT technology are at the trial stage with IoT. But this is certain if companies continue to work with IoT network with the recent pace, and as the number of connected devices will continue to grow, you'll witness soon your environment will be occupied with smart products.
That's all for today. Hope you've enjoyed reading this article. If you have any questions, you can approach me in the section below. I'm happy and willing to assist you the best way I can. Feel free to share your valuable feedback and suggestions around the content we share so we keep coming back with quality content customized to your exact needs and requirements. Thank you for reading the article.