Hi guys! Hope you're well today. In this post today, I'll cover What is Industrial IoT (Internet of Things?)
IIoT is now a talk of mainstream conversation. This term has blown up in the past couple of years. Before we move further to describe IIoT, it is evident that industries are no longer dependent on the traditional production processes that happened to be costly and guaranteed no optimal results. Now companies are willing to incorporate automation in manufacturing and production processes. Smart systems, no doubt, are dangerous for the traditional labor workforce, but on the other hand, they create more opportunities for the people equipped with the latest business trends.
Curious to know more about Industrial IoT, how does it work, the difference between IoT and IIoT, examples of IIoT, the impact of IIoT on jobs and workers, and the advantages of IIoT?
Keep reading.
What is Industrial IoT?
The Industrial Internet of Things, also known as Industry 4.0 or Industrial Internet, is the use of smart connected machines, embedded sensors, and actuators mainly used to enhance the overall efficiency and productivity of manufacturing and production processes.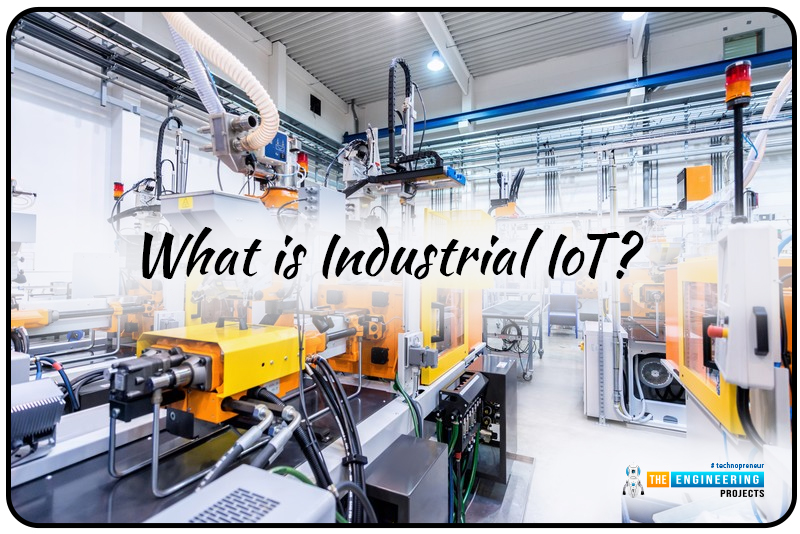 At its core, it is used to automate processes for the production of optimal products that build a strong connection with the customers and create new revenue streams. Automation leads to accuracy and better efficiency and removes the likelihood of error that is difficult to attain by a simple human workforce. The Industrial IoT is used across a range of industries including manufacturing, oil and gas, logistics, mining and metals, transportation, aviation, energy/utilities, and more.
How does Industrial IoT work?
The smart devices deployed in Industrial IoT are used to capture, store and analyze data in real-time and that data is delivered to the company leaders to make faster, smarter business decisions.
A typical Industrial IoT system contains:
Intelligent systems are used to store and capture data.
Connected internet devices are used as a data communication structure.
Analytical applications that guarantee optimized processes by using that raw data.
Tools that allow managers and decision-makers to use that data for better decisions.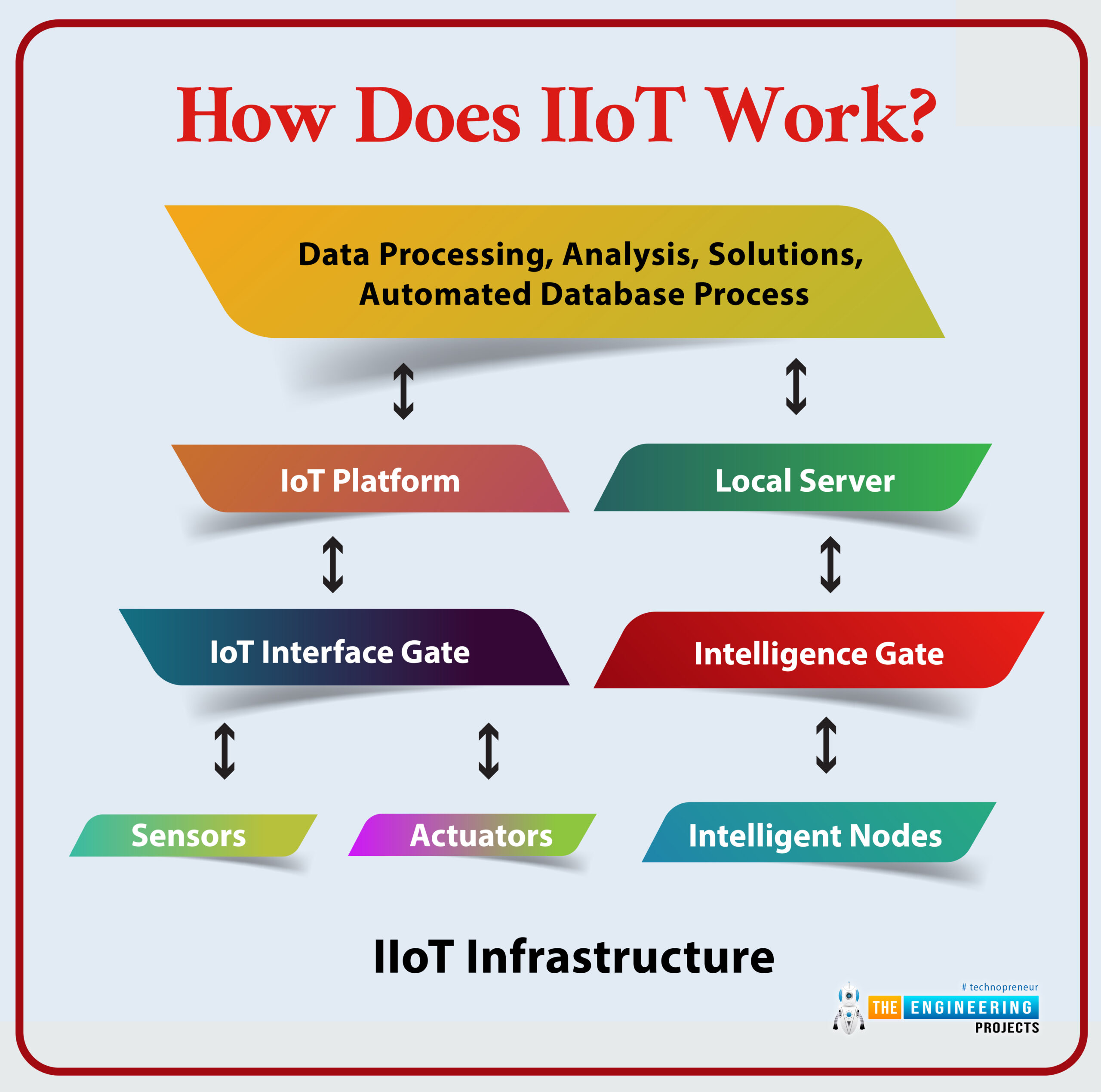 For example, I own a PCB manufacturing industrial unit. And I want to know which types of PCBs are most popular among customers. With IoT technology I can:
Use sensors to find out which areas of the industry are most crowded by the customers.
Hunt down the sales data to figure out which types of PCBs are selling faster.
Make sure demand and supply align so popular PCBs don't go out of stock.
The information gathered by the smart devices helped me to make better decisions on which items to stock up on which ultimately helped me save both time and money.
Difference between IoT and IIoT
Both IoT and IIoT work on the same principle: using a network of intelligent devices and sensors for collecting, storing, monitoring, and analyzing data.
IIoT is nothing but an extension of IoT. The IoT is mainly used for commercial and domestic purposes, making the consumers' life more easy and convenient. You can see its applications in wearable devices, smart microwaves, fitness devices, self-driving cars, and smart home automation systems.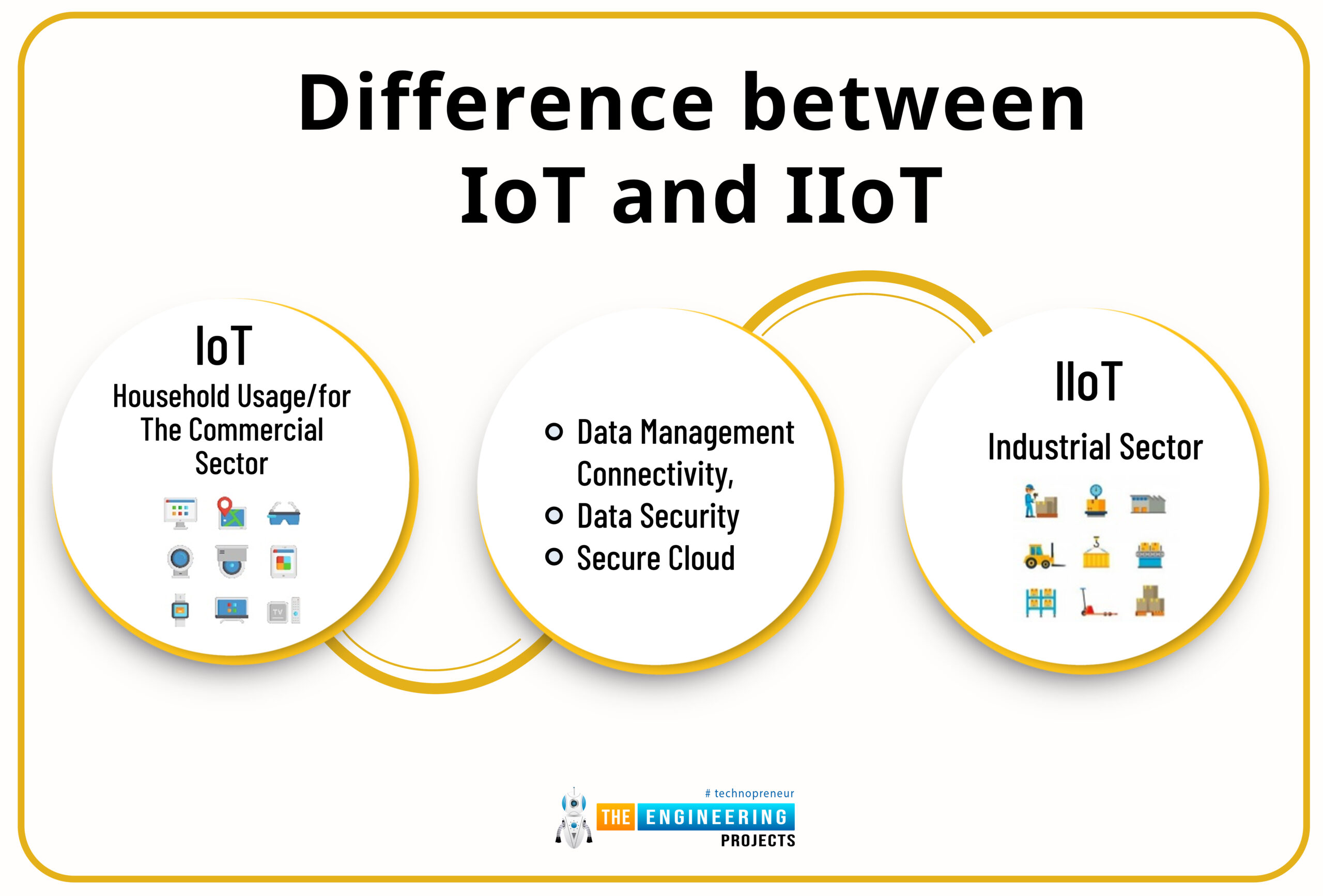 While IIoT, on the other hand, is employed for increasing the productivity and overall efficiency of the industrial units. The set of smart devices and sensors used in IIoT collect and analyze data, automate production processes and guarantee a secure atmosphere by providing information in advance about industrial units that need maintenance.
The IIoT can be employed in supply chain robots, transportation and construction vehicles, agricultural systems, solar and wind power and smart irrigation system, and more.
Industrial IoT Examples
You'll find a range of Industrial IoT examples. A few of them include:
Predictive Maintenance
When a certain industrial process or a piece of instrument is at the brink of total failure, preventive and proactive maintenance is applied to allow a quick fix to the problem beforehand. This saves both time and money which otherwise results in costly instrument replacement. Traditional methods are obsolete to identify the problem in advance since they often required access of labor to remote places to perform manual testing. With IIoT, you get an alert when the problem starts developing, which provides a valuable insight into whether the instrument requires overhauling or complete replacement.
For instance, industries that manufacture elevators now install multiple sensors inside the product to make sure any problem can be identified before it halts the business operations. These sensors communicate with the cloud environment through data points that provide earlier automated notifications to the company technicians. This way any issue can be fixed in advance before it escalates to serious consequences.
Process Automation
Automating the process is the main takeaway of employing IoT in industrial settings. When industrial processes are automated and involve no human intervention, it removes the likelihood of errors and improves operational productivity, and reduces overall production costs.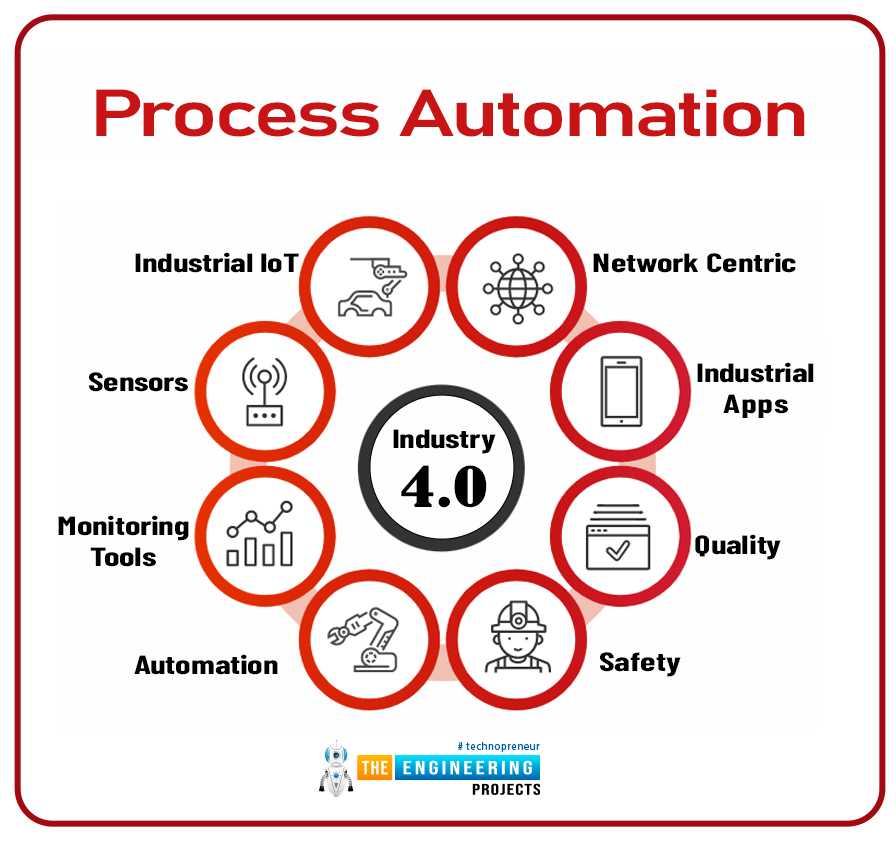 Only those industries excel and grow, that can produce maximum output with the minimum cost. In most industries, the energy cost is 30 to 50 % of the total cost of production processes. With process automation, the computer programs take inputs from the installed sensors and streamline the process that guarantees the optimal strategy for the plant. What makes these computer programs super important is their ability to learn from the given data and predict future trends to speed up the production process tailored to the changing conditions. The software directly controls the industrial equipment and allows it to move at a speed requiring minimum energy. Moreover, it also predicts if preventive maintenance is required, hence less energy, cost, and time is required to stop and restart the industrial unit for the regular inspection.
A smart irrigation system is another great example of IIoT used by farmers. Soil moisture and weather conditions are key factors to identify when watering is required for the crops. Soil moisture sensors are installed that provide moisture readings and send alerts to the system that automate the watering process. This way resources are used properly and more efficiently.
Remote Monitoring
Remote monitoring is challenging for the industries. With traditional methods, not only is it difficult but also inefficient and risky. The businesses require consistent monitoring of the instruments working out in the field. Manual testing is risky since the field environment is often occupied with lots of heat, vibration, or humidity. And the access of humans is not recommended to those places.
For instance, tanks at production oil wells require consistent monitoring to identify if there is overflow which can be dangerous and often result in expensive cleanup costs. To minimize the risk and ensure a secure working environment, the company can install an IoT system that comes with an automated tank monitoring solution that monitors level readings and sends this data to the on-field engineer for managing pickups and deliveries. Moreover, it sends alerts for predictive maintenance based on the level readings and actual data. Using this method, companies don't require any consistent physical existence of the human being on the field except when required.
In agriculture, it is often required to evenly distribute water across crop fields. Center pivots are mainly used for this purpose where water is sprinkled on the crops when center pivots move in a circle. Any damage to this center pivot can cause a loss of millions of dollars in revenue. Remote monitoring of the water pressure inside the center pivots can provide an insight into the disconnected fittings and leakage. Alerts and notifications are then sent to the farmers that take proper steps to nurture crop growth and avoid issues in advance before they aggravate a serious problem.
Impact of IIoT on workers and jobs
With the inception of digital technology, workforce transformation is on the rise. This new wave of technology, no doubt, removes the need for certain jobs but it also creates the possibility of generating new ones. According to the survey of business leaders in Accenture, this new digital era will create more jobs than it will eliminate.
The Industrial IoT provides scores of opportunities in optimization, automation, smart industry, intelligent decision making, industrial control, asset performance management, and in the sectors directly dealing with the customer's behavior. They strive to create an environment tailored to the exact customer's needs and demands so they keep coming back for what industries have to offer.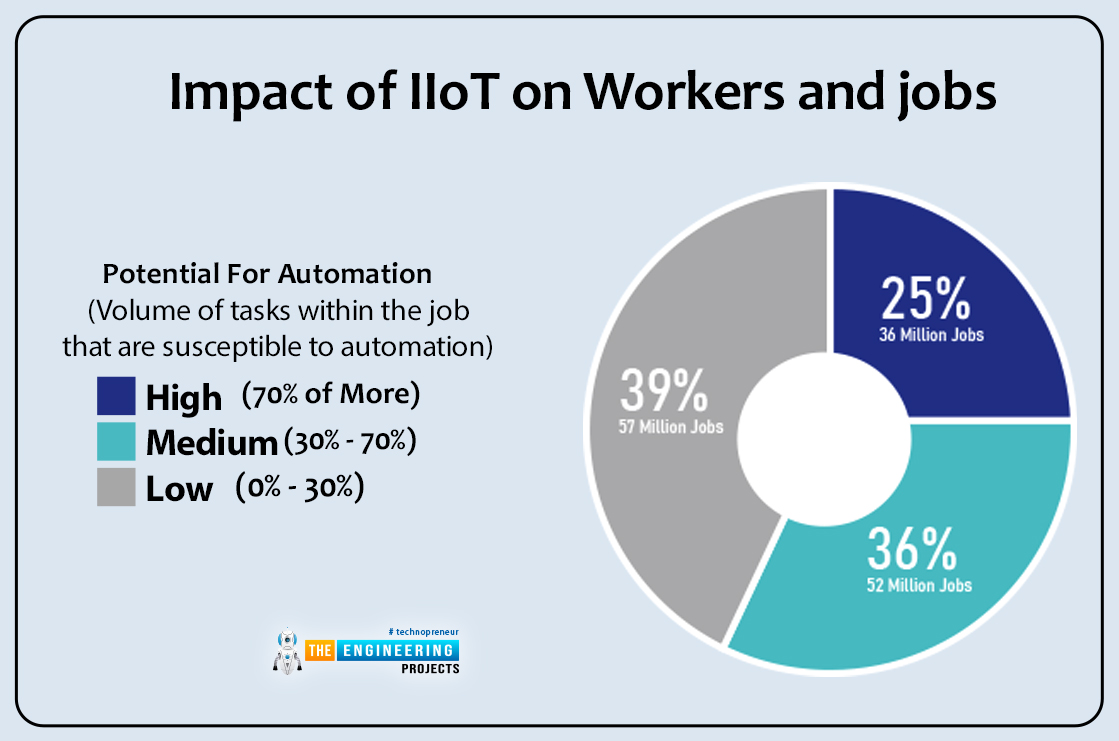 The IIoT makes the processes more efficient and improves productivity. It advocates for smart work, not hard work. Plus, the smart devices in IIoT removes the possibility of errors that may otherwise affect the production process if the traditional workforce is employed. Automation can gather data from hard-to-reach places, even reducing the risks to human lives. When a worker knows, they will get a notification on the smartphone about the tank leakage or the certain equipment that needs replacement, which means danger can be predicted in advance before it goes catastrophic.
This leads us to the conclusion: to survive in the ocean of digital transformation, it's obligatory to equip yourself with the latest trends in engineering and information technology and liberate yourself from traditional research and development processes.
Advantages of Industrial IoT
There are many advantages of industrial IoT and low operating cost tops the list. With IIoT, you no longer need the physical presence of a human that requires monthly wages, paid leaves, healthcare costs, and holidays. Moreover, it doesn't require commissions, monthly bonuses, and pensions that are compulsory if you induct human employees into your industry. More advantages of IoT include: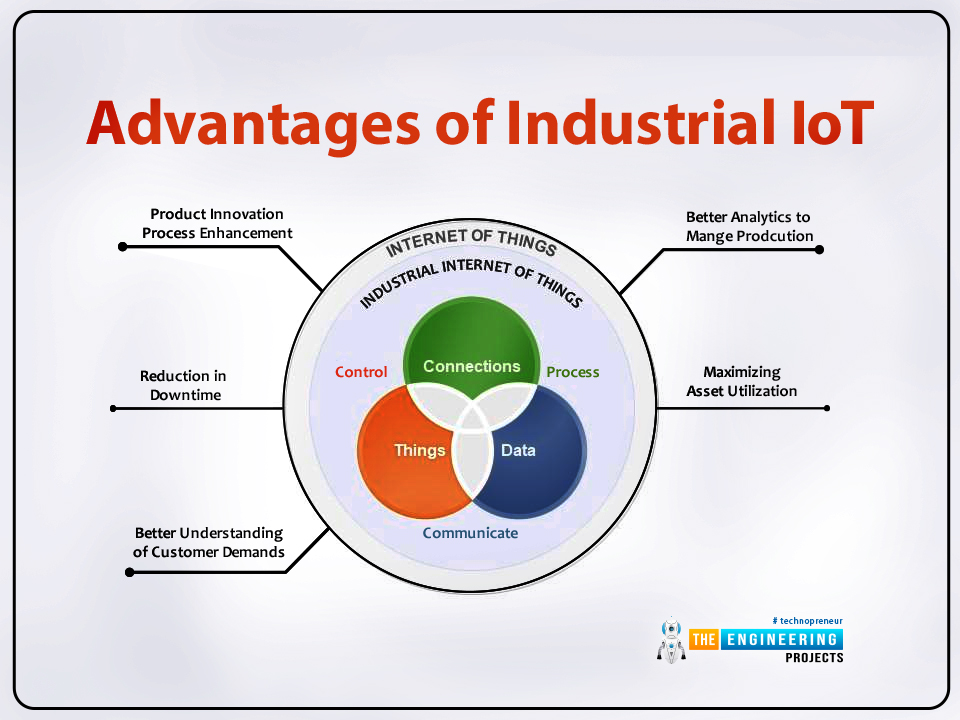 To run production units consistently, companies need hundreds of employees in rotation for all three shifts and the plant still shuts down for maintenance and holidays. With IIoT, industrial units can run all day without any break 24/7 and 365 days a year. The plant only closes down when the maintenance is needed which is different than the regular maintenance since in this case maintenance is only needed when IoT sends alerts about the critical process or a piece of unit risks failure.
When humans are employed in the industrial unit, there is always a likelihood of error no matter how hard they try to thwart it. With smart systems, no such errors occurred which guarantee the uniform and optimum quality of the products.
With IIoT, manufacturing processes are more flexible. If you employ a worker for any task, you need to give them training in advance to get a hang of the entire instrument. Robots don't require such training. They only need a program to perform any task.
Industrial automation ensures the safety and security of human beings. Companies no longer need humans to send them to hard-to-reach places that are subjected to high risks like high temperature, vibration, and pressure. With IIoT you can remotely check the status of instruments on the field.
Automated processes come with high precision and accuracy. They depend on the data gathered by sensors and streamline the overall industrial process based on the given information. Everything is done and controlled by the connected devices and no human intervention is involved which removes the possibility of error.
Conclusion
Industries have been incorporating automation into their production and manufacturing processes.
And this trend will increase over time and you'll witness more industries are stepping into the realm of automation.
Industries are committed to upgrading their system and instruments to keep up with the modern trends and to make a footing in disruptive technologies.
This process is, no doubt, more efficient, delivers better results, maintains product quality, and is more economical. Even though it requires a high initial cost, it doesn't need a regular labor force, reducing the overall operating cost of the processes.
If you want to make your worth in the industry, it is wise to keep you updated with the latest industry trends to make sure you're not left out in the traditional industry jobs.
That's all for today. Hope you find this article helpful. If you have any questions regarding IIoT, you are most welcome to ask in the section below. I'd love to help you the best way I can. Thank you for reading this article.