In this article, we will discuss the introduction to organic chemistry in which we will study organic compounds, classification of organic compounds, types of formulas, use, significances, general and covalent bond characteristics of organic compounds, and homologous series and his characteristics. 9 out of 10 takes the organic chemistry too tough but I explained it easily and simply to you. This article is for beginners and clears many topics.
Introduction to organic chemistry
Old Definition:
"The chemistry of compounds obtained from living things."
Vital force theory
Swedish Chemist Jacob Berzelius put forward this theory in the 19th century.
State
" Organic compounds could not be synthesized in the laboratory due to the influence of a mysterious force called vital force, which occurs only in living things."
This theory falls in 1828 when Wohler prepared urea by heating it from ammonium cyanate.
Equation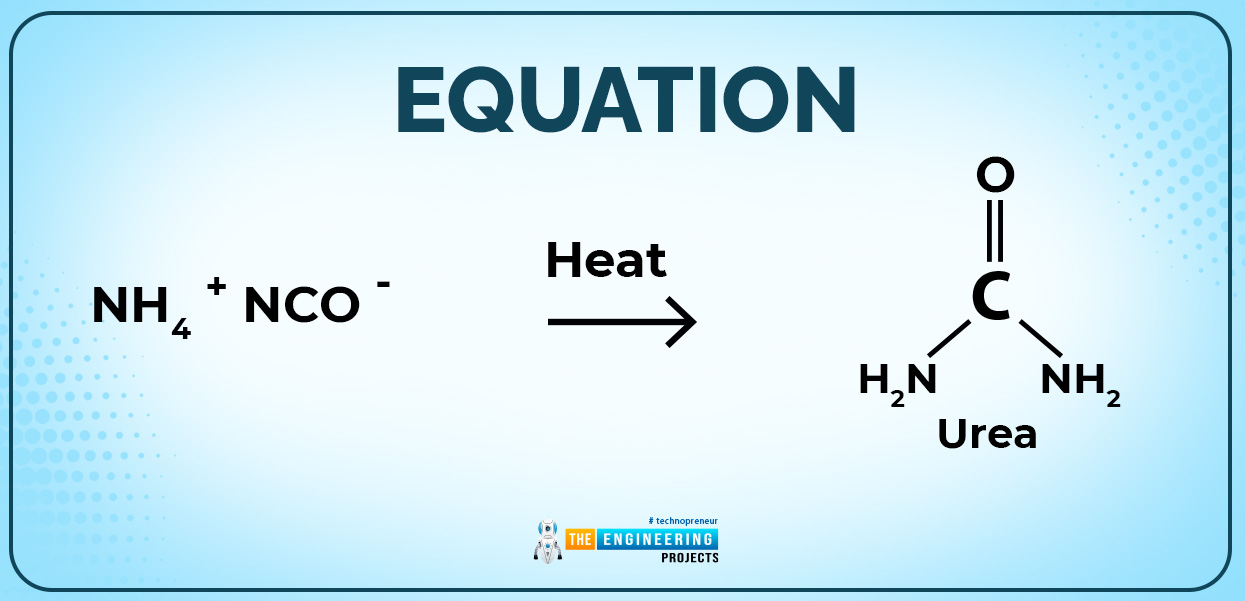 Also in 1845 when Kolbe prepared acetic acid in the laboratory.
Advanced definition;
The branch of chemistry in which we study hydrocarbons and their derivatives is known as organic chemistry.
Organic Compound:
Organic compounds belong to hydrocarbons and their derivatives which are covalently bonded to carbon.
Examples
There are so many examples of organic compounds
Carbohydrate
Artificial fibers
Fertilizers
Plastics
Paints
Dyes
Pharmaceutical products
Lipids
Enzymes etc.
Chart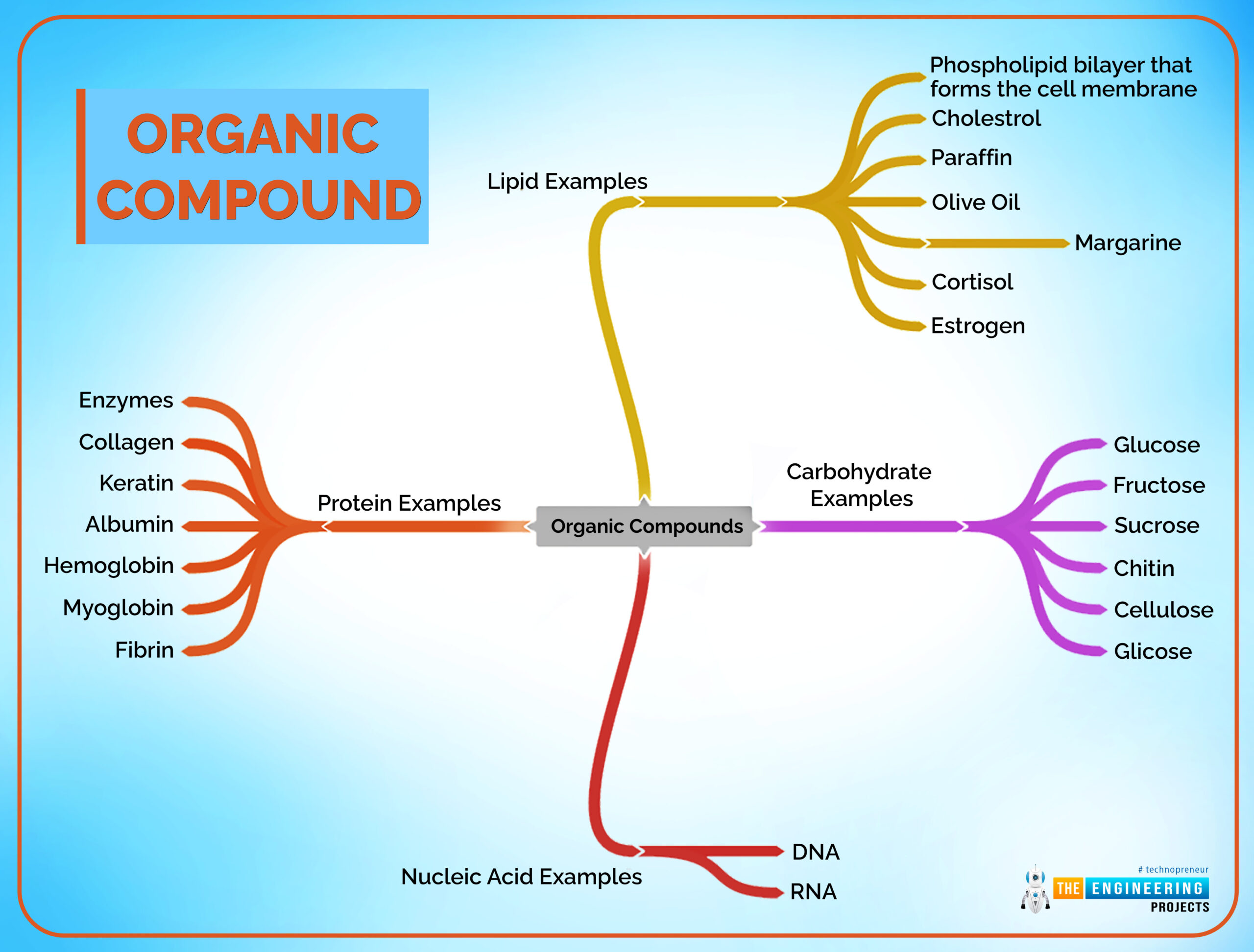 Formulas of organic compounds:
Organic compounds had six types of formulae;
Molecular formula
Structural formula
Condensed formula
Dot and Cross formula
Empirical formula
Skeleton formula
Molecular formula:
The formula In which the exact no of atoms is mentioned in one molecule of the organic compound is called the molecular formula.
Examples
The molecular formula of methane CH4.
Methane is made up of one carbon atom and four hydrogen atoms.
Each molecule of methane consists of one carbon atom and four hydrogen atoms.
Structural formula
The formula of organic compounds shows the actual arrangement of different atoms of various elements present in a molecule.
The structural formula of organic compounds differs but may have the same molecular formula as propane
A single bond represents a single line(__)and double bond show double lines (=) and a triple bond show three lines in a structural formula.
Example
The structural formula of propane is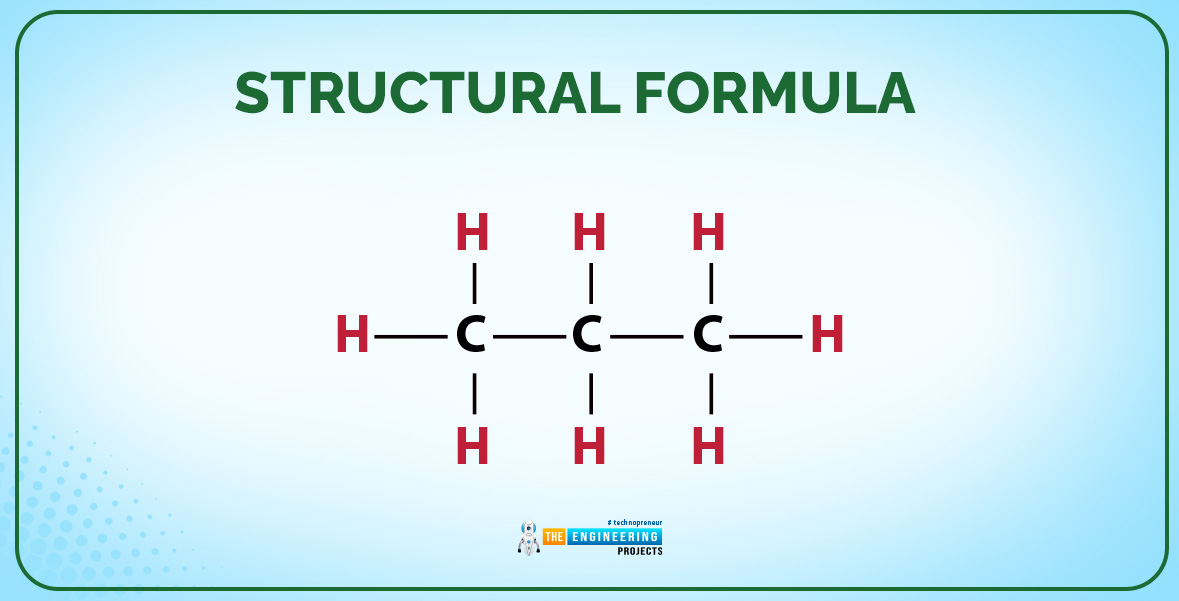 Iso_ propane
Condensed formula
The formula in which groups of atoms are linked with each carbon atom in a branched-chain or straight chain.
Example
The condensed formula of propane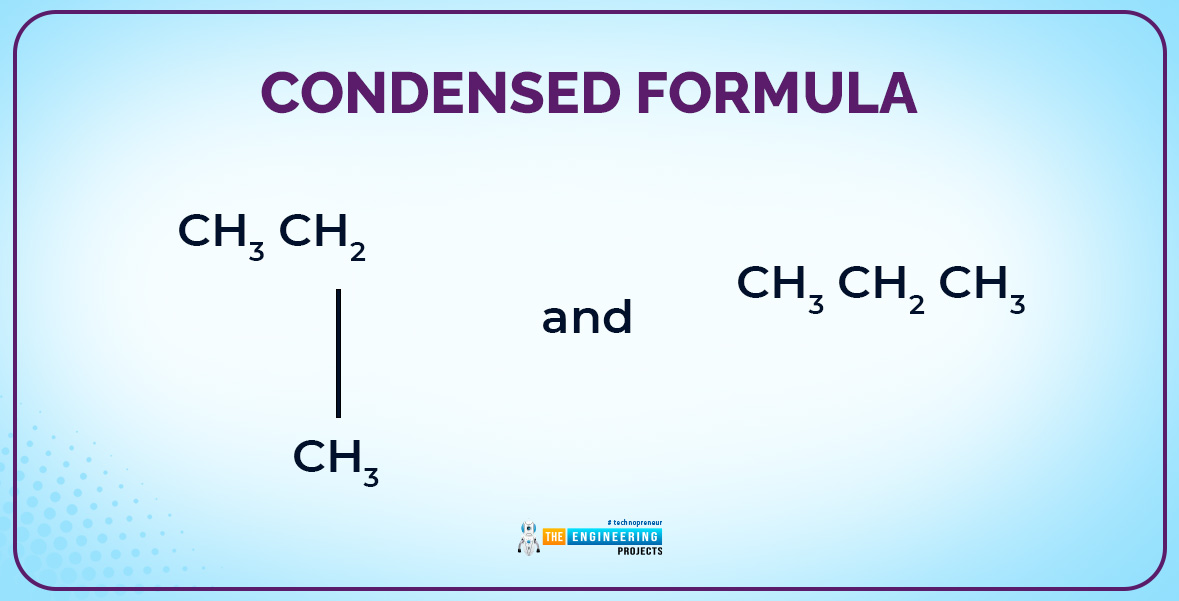 Iso_propane.                                                                                  n_propane
Electronic or Dot and Cross formula
The formula in which sharing of electrons in a dot and cross-form between the various atoms in one molecule is indicated is called electronic or Dot and Cross formula.
Example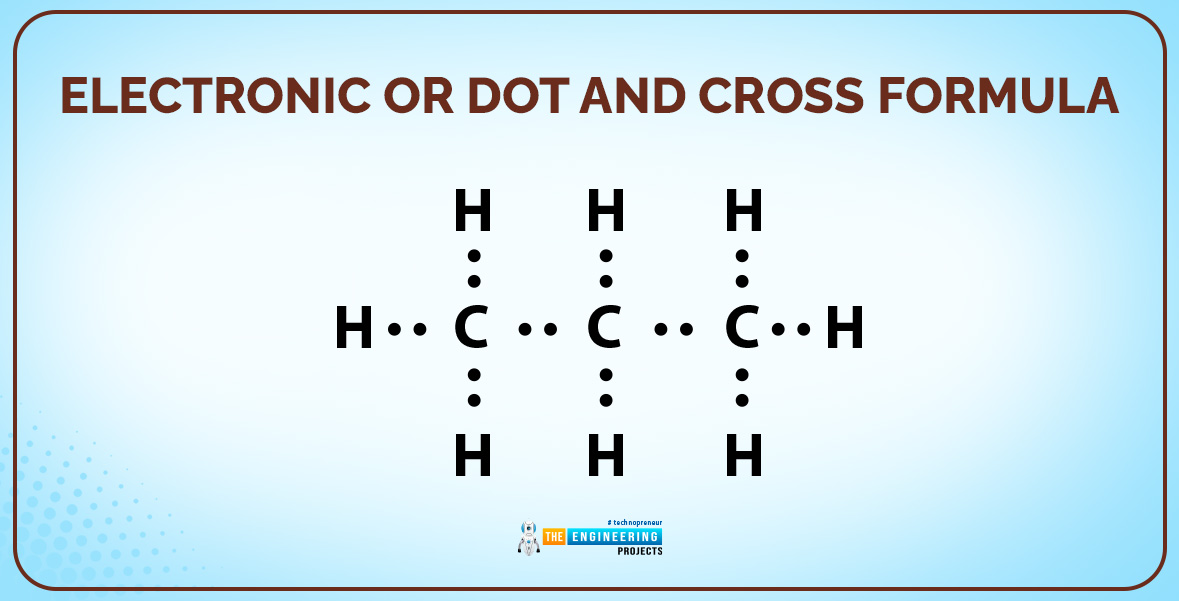 Empirical formula
In which whole, no ratio of different atoms in a compound gives the empirical formula of organic compounds
Example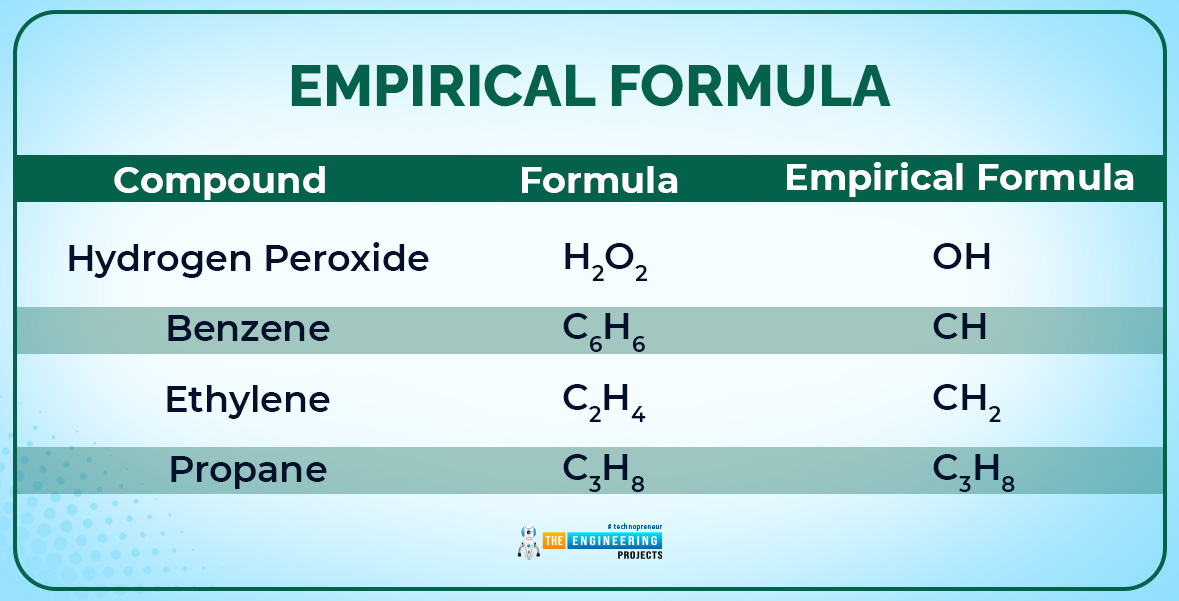 Skeletal formula
The essential form of structure of an organic compound makes a series of atoms that are bonded together in the form of a chain, branched, or rings called the skeleton formula.
Example
skeleton formula of propane is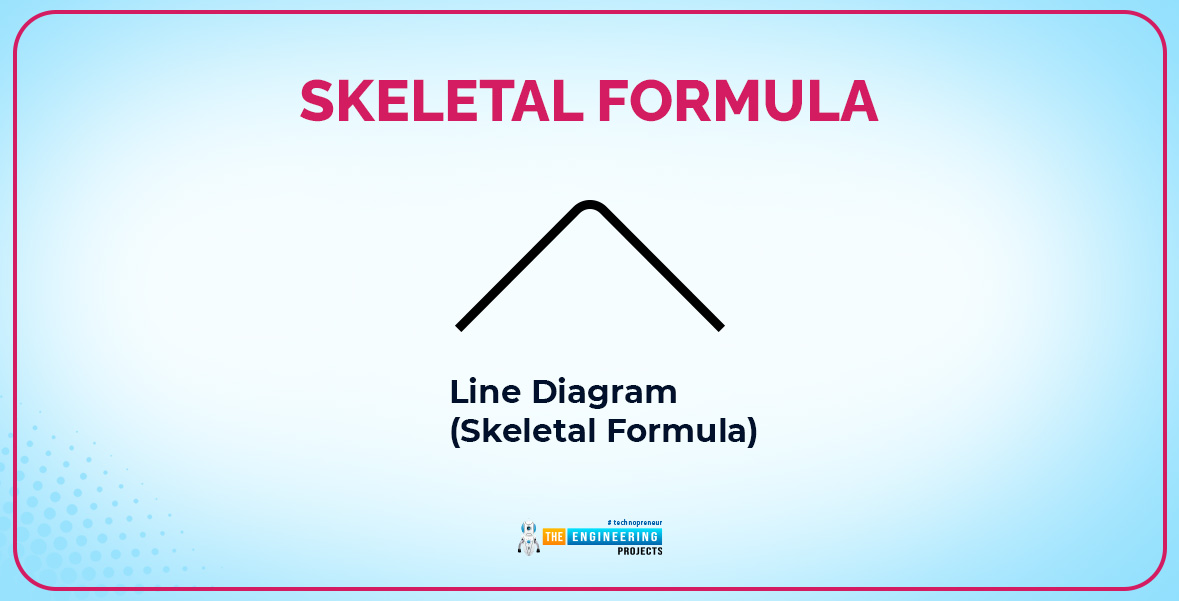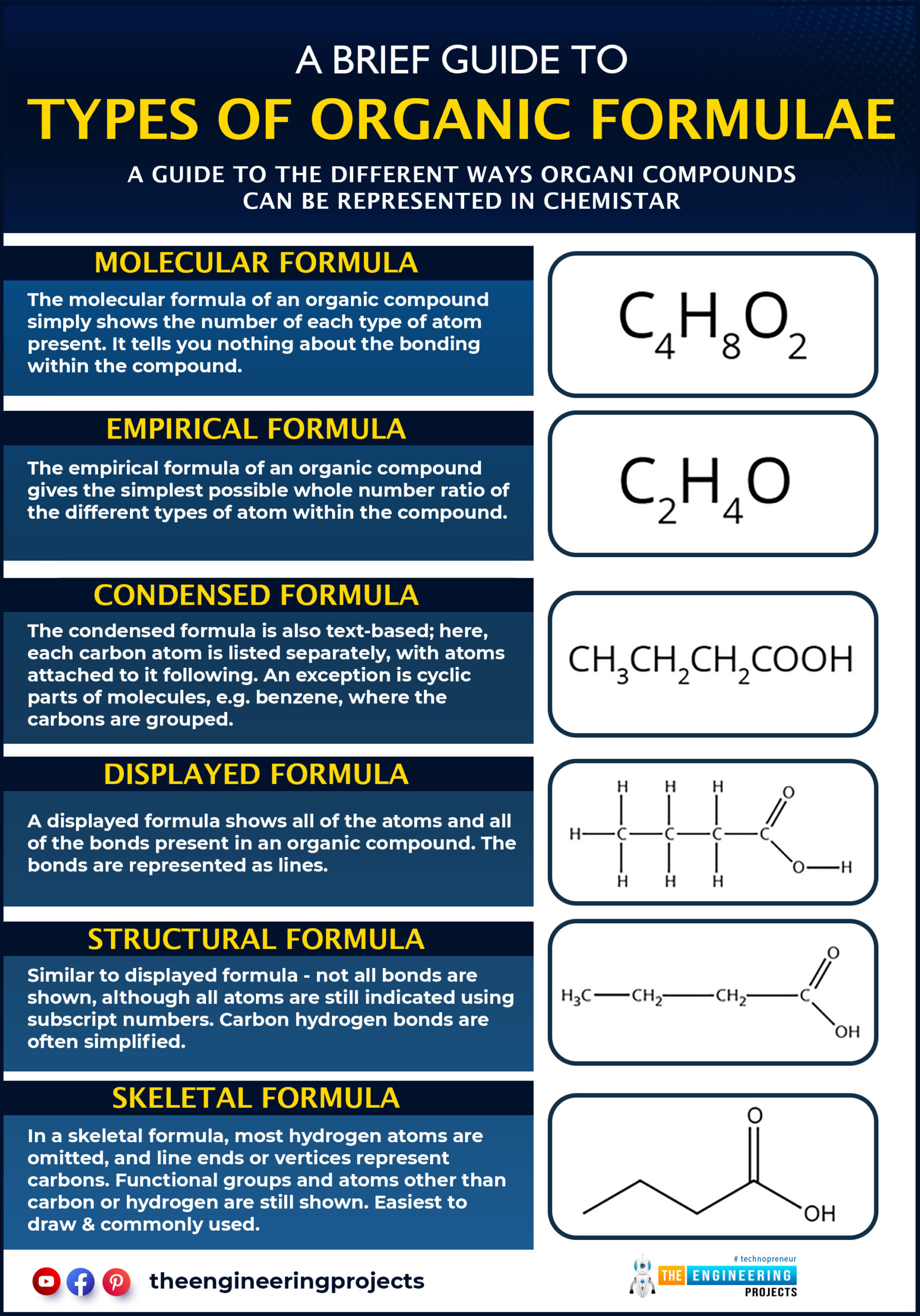 Classification of organic compounds:
Depending upon their carbon atoms, organic compounds are divided into two categories.
Open chain or acyclic compounds
Closed chain or cyclic compounds
Open chain or Acyclic compounds:
Acyclic compounds form a long chain of carbon atoms without joining the end of the cross-format with each other. They may form straight or branched chain compounds
Straight chain compounds
Branched-chain compounds
Straight chain compounds
A straight-chain is formed by the linking of carbon atoms with another carbon atom or any other atoms through single, double, or triple bonds.
Example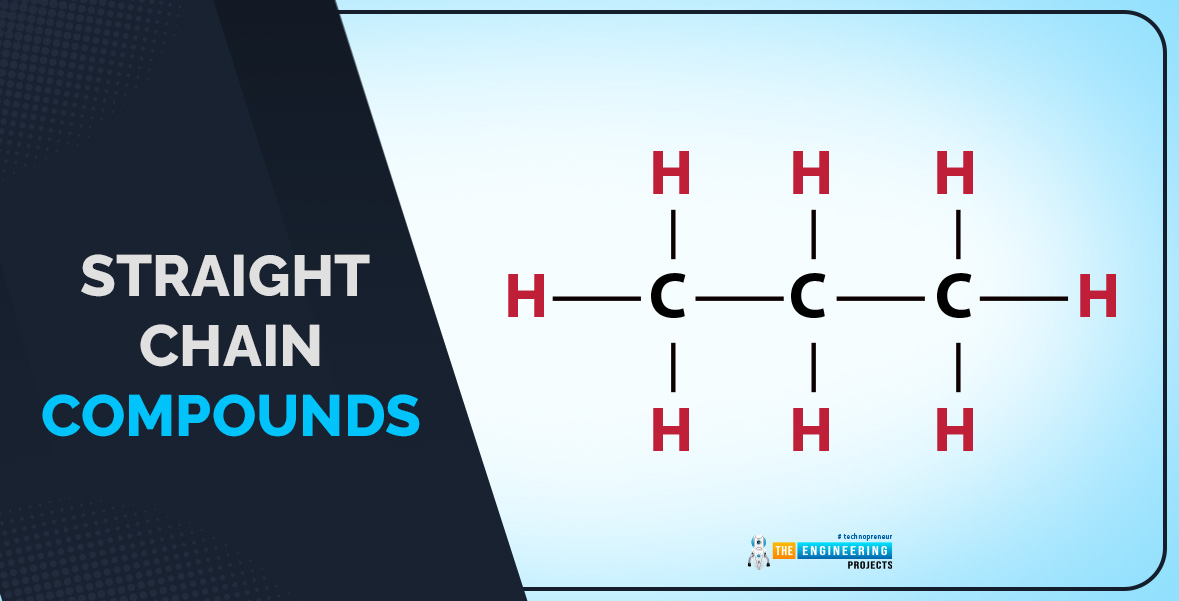 propane
Branched-chain compounds
Open chain compounds i.e. aliphatic compounds in which a branch along with a straight chain is formed.
Closed chain or cyclic compounds
The carbon atoms of closed chain compounds are not free from their ends and it contains one or more close chains. These are divided into two groups
Homocyclic or carboxylic compounds
Heterocyclic compounds
Homocyclic or carbocyclic compounds
These compounds are made up of rings of carbon atoms. These are further divided into two groups.
Aromatic compounds
Alicyclic compounds
Aromatic compounds
Aromatic compounds consist of benzene rings at least one in their molecule. Six carbon atoms with three double bonds make a benzene ring, these compounds are also called benzenoid compounds. They have aroma or smell so they are also called aromatic compounds.
Example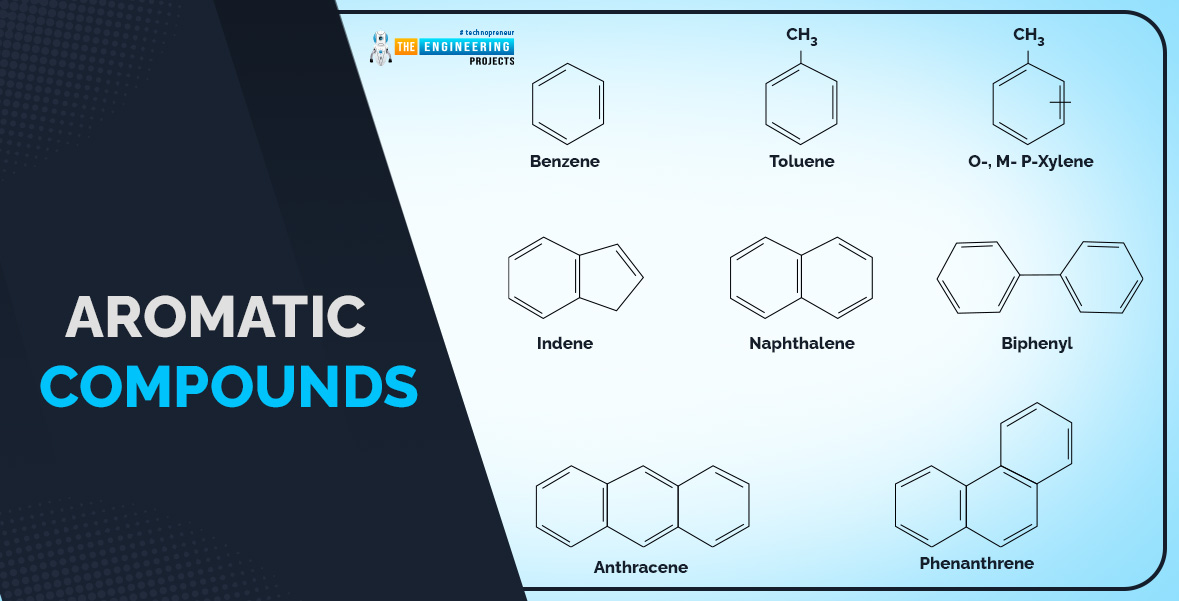 Alicyclic compounds Or none_benzenoid compounds
These are called none_ benzenoid compounds because the benzene ring is not present in these compounds.
Example
Heterocyclic compounds
Those cyclic compounds that consist of one or more atoms other than that of carbon atoms in their rings are known as heterocyclic compounds.
Example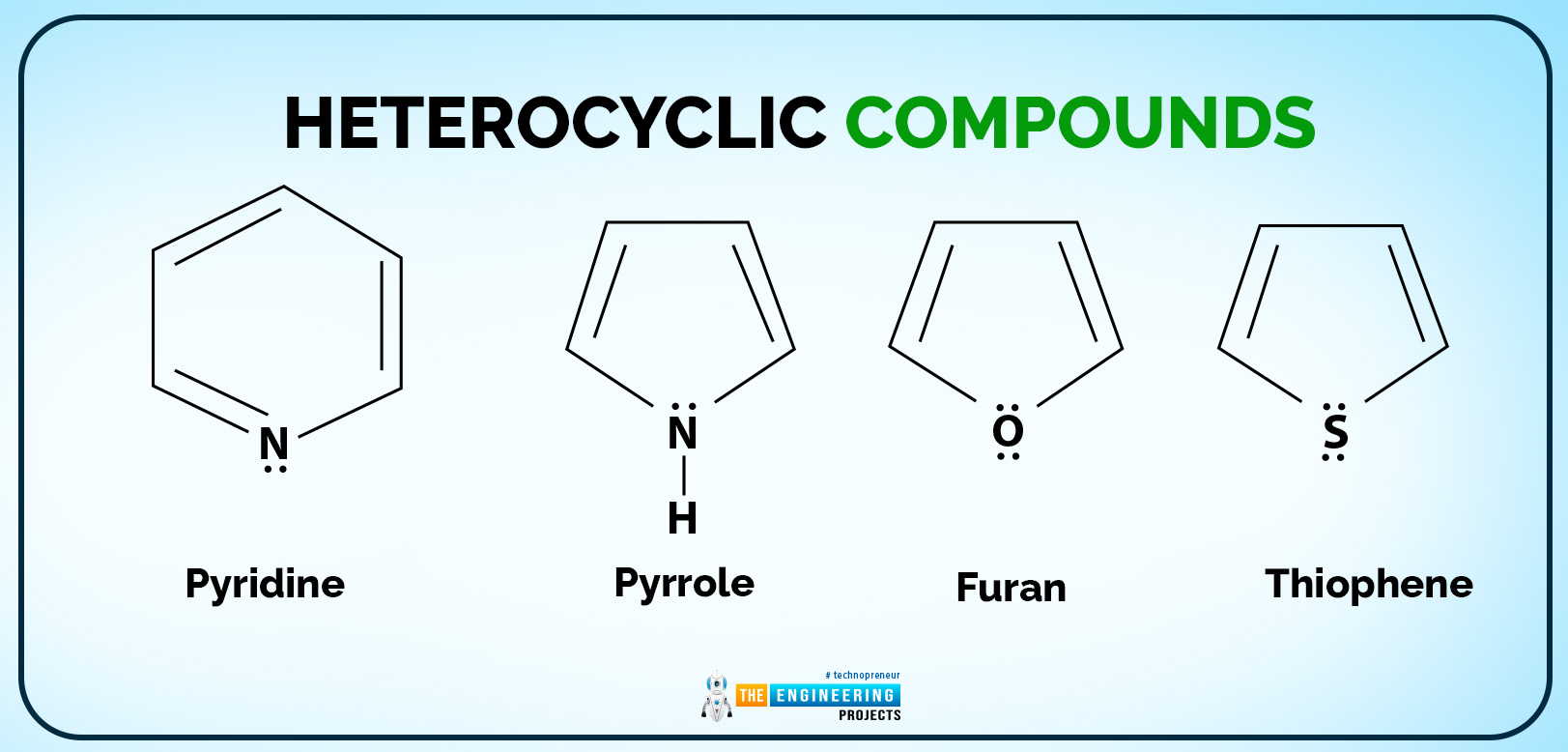 Chart
The classification of known compounds is as follows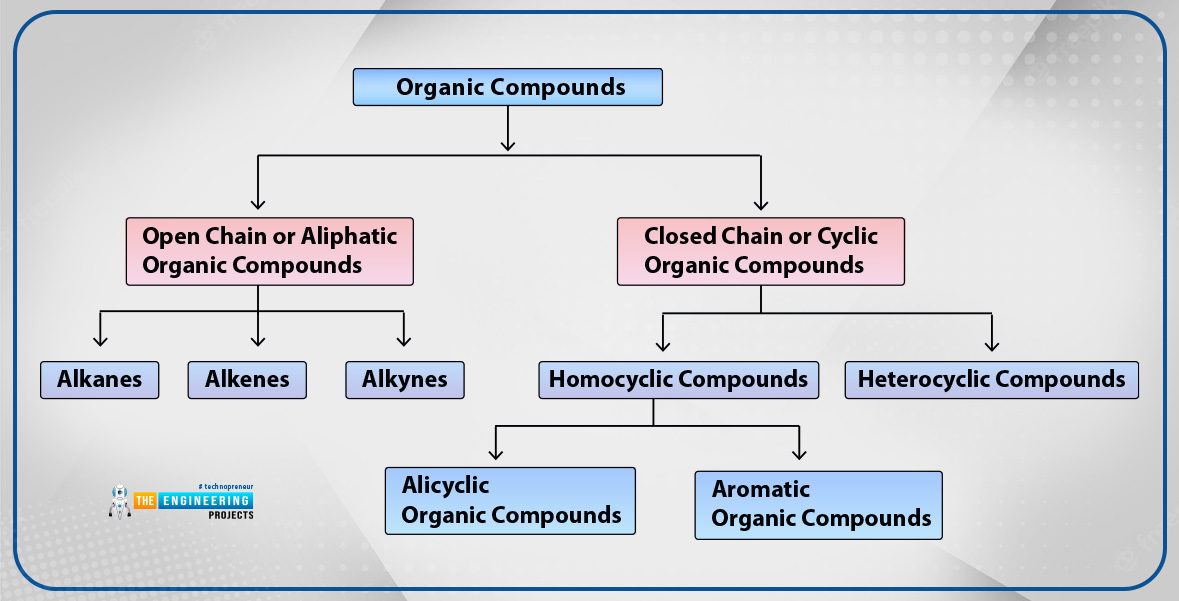 so the organic compounds are open or closed chains. Open chains are further divided into alkane, alkene, and alkynes. Closed chains may be homocyclic or heterocyclic. Homocyclics are alicyclic or aromatics.
Major sources of organic compound
From plants and animals, organic compounds are naturally prepared.
From animals:
Protein and fats are the two major groups of organic compounds that are synthesized by animals.
Protein included chicken, egg format and mutton, etc.
In milk and butter fats are present.
From plants
Plants could be prepared
Fats
Vitamins
Proteins
Carbohydrates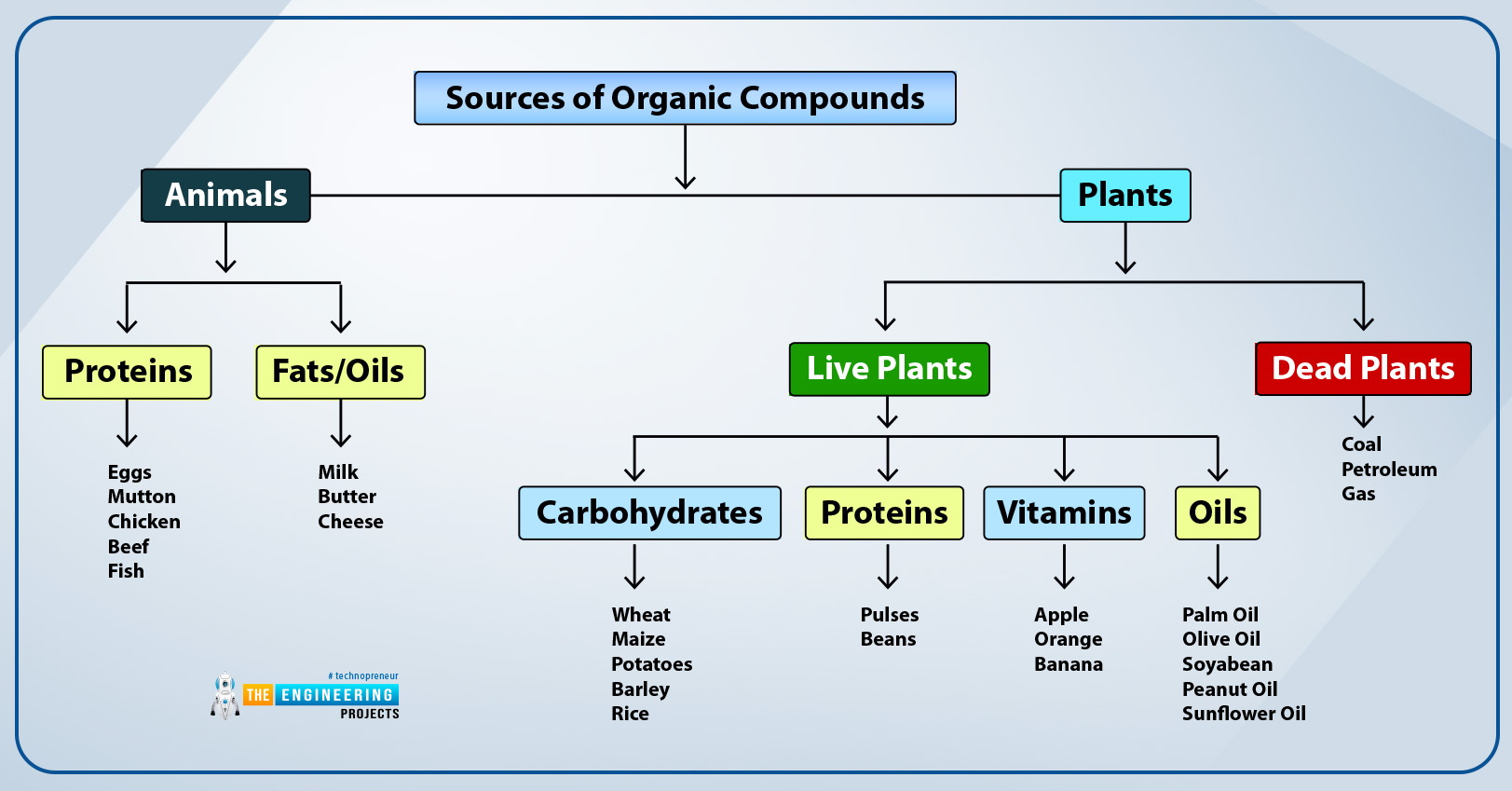 From dead plants through a biochemical process, we obtain
Coal
Gas
Petroleum
By the destructive distillation of coal and petroleum, we obtain thousands of organic compounds.
Coal
A blackish, complex mixture of organic compounds of carbon, hydrogen, and oxygen is called Coal
In the absence of air, strong heating of coal is called Destructive distillation.
Distilled products of coal
Except for carbon, coal contains different elements like hydrogen, oxygen, sulfur, and nitrogen.
So huge number of organic compounds are formed due to the destructive distillation of coal with few inorganic compounds.
Products:
coal gas
coke
Coal tar
Aluminum liquor
Fractional distillation of coal
Coke
When coal is passed through the destructive distillation process. A solid residue left behind and lost all of its volatile elements is called coke.
Fractional distillation
The techniques, in which different ranges of temperature are used to separate the mixtures of the coal in terms of temperatures. we get different products at different ranges of temperature.
Uses of coal
Used in the preparation of nitrogenous fertilizer.
Used in roads and leveling of roads.
In the extractions of metals, especially iron is used as a reducing agent.
Used mainly in fuel.
Used in plastics, synthetic fibers, and pesticides.
Chart
The below chart shows the uses and types of coal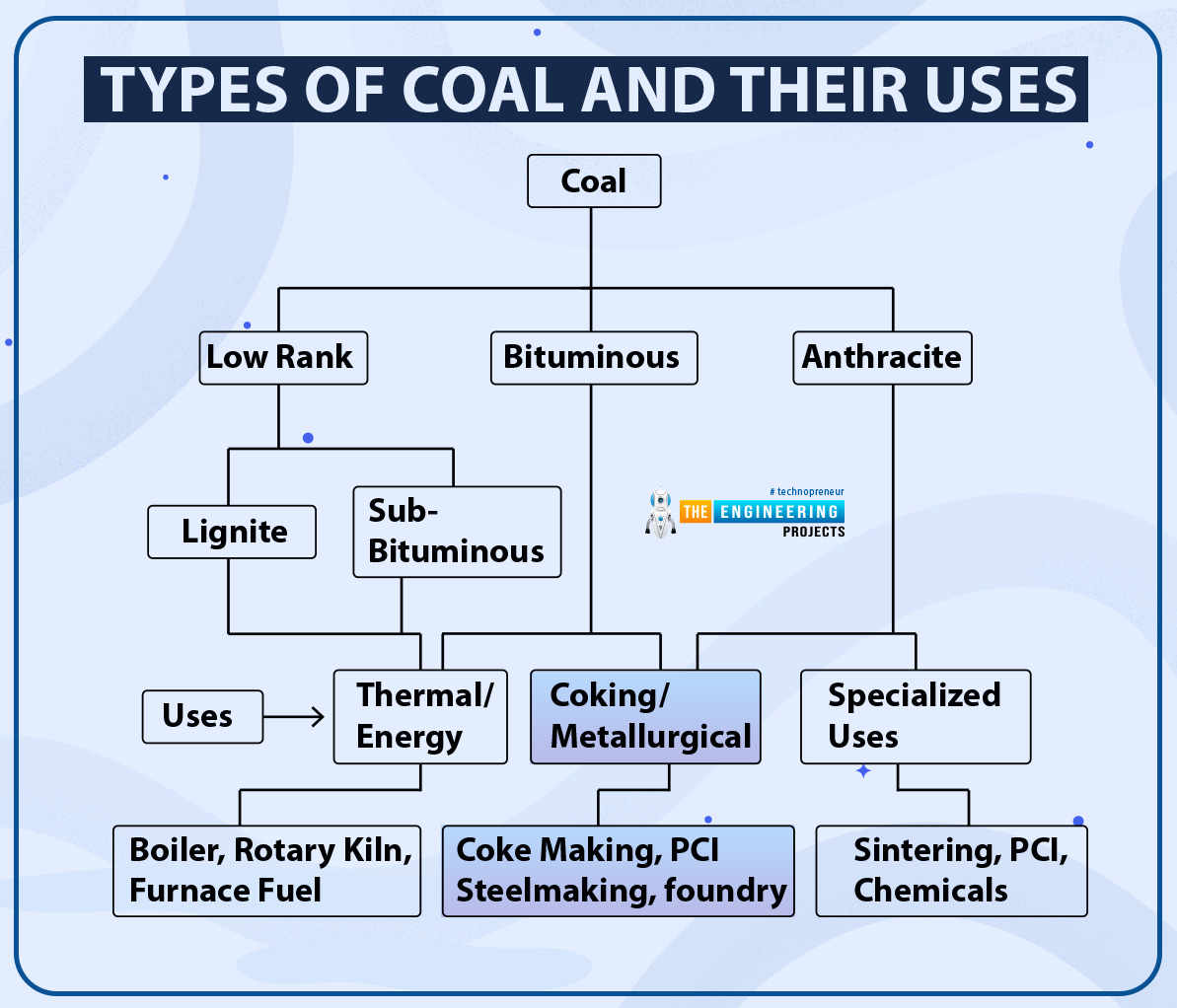 Petroleum
A Greenish black or dark brownish colored viscous liquid is called petroleum.
It is a complex mixture of salt, water, and Earth particles mixed with a mixture of serve solid, liquid, or gaseous hydrocarbons.
As a Source of organic compounds
The main source of organic compounds is petroleum and it is separated through fractional distillation. Different organic compounds consist of each fraction of petroleum that is not a single compound.
Natural Gas
Natural gas consists of serial gases like 85% of methane, nitrogen gas, carbon dioxide, propane, butane, and ethane.
Uses
Used in fertilizer
Making carbon black
Compressed natural gas (CNG) is used in automobiles.
Use in different industries and as well as in homes.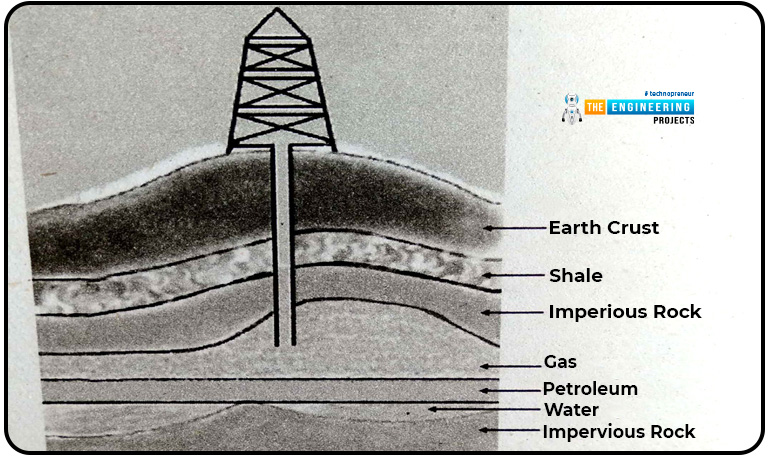 Plants
Macromolecules are formed by living plants
Oils
Vitamins
Proteins
Carbohydrates
Use
Prepare in laboratory
Two centuries ago, due to the vital force theory, we considered that organic compounds are prepared only from animals and plants and could not be synthesized in the laboratory.
But
A large amount of the organic compounds, almost more than ten million are synthesized in a laboratory.
Wohler synthesis urea in laboratory
Kolbe prepared Acetic acid
Drugs and medicines
Fragrance and flavors
Pesticides and insecticides
Synthetic rubber and fibers
Plastic and paints.
Synthesized products in the laboratory from animals and plants
Urea
Urea opens the way for chemists to prepare organic compounds in the laboratory and it is synthesized by inorganic salts.
Example
The fermentation of barley and molasses produced alcohols.
Natural Rubber
Synthetic rubber has much more qualities than natural rubber-like
Non-inflammable
Resist high temperature
No reaction between ozone and oxygen
Synthetic fibers
Different fibers are made in laboratory-like
Nylon
Rayon
Polyester etc.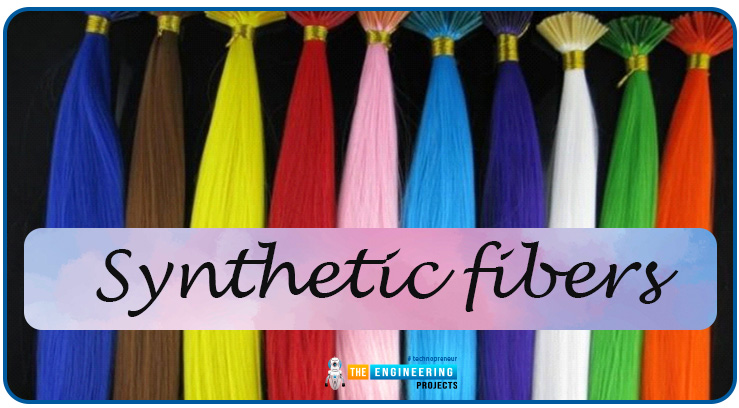 Natural fibers have better properties than synthetic fibers like
The ability of low water absorption
Greater strength
Good elasticity
Drugs and medicines
All proteins, sweeteners, vitamins, drugs, and medicines are being prepared in laboratories.
Uses of organic compounds
There is no doubt that more than ten million compounds are made in the laboratory but thousands of organic compounds are naturally synthesized by plants and animals.
Use in food
We use different organic stuff daily such as milk, eggs, vegetables meat, etc. contain protein, vitamins, fats carbohydrates, etc.
Use in cloth
Natural fibers and synthetic fibers, all are organic compounds used in cloth making that we use daily for wearing bedsheets, etc.
Use in raw materials
A variety of organic compounds are used in raw materials such as
Drugs
Paper
Ink
Dyes
Paints
Pesticides
Rubber etc.
Use in wood
cellulose naturally occurring organic compound in wood that is used for making furniture and housing.
Use in fuel
Coal, petroleum, and natural gas are all organic compounds called gospel fuel that is used for domestic purposes and automobiles.
Use in medicine
antibiotics (kill or inhabitants of microorganisms that cause infectious diseases) are life-saving medicines.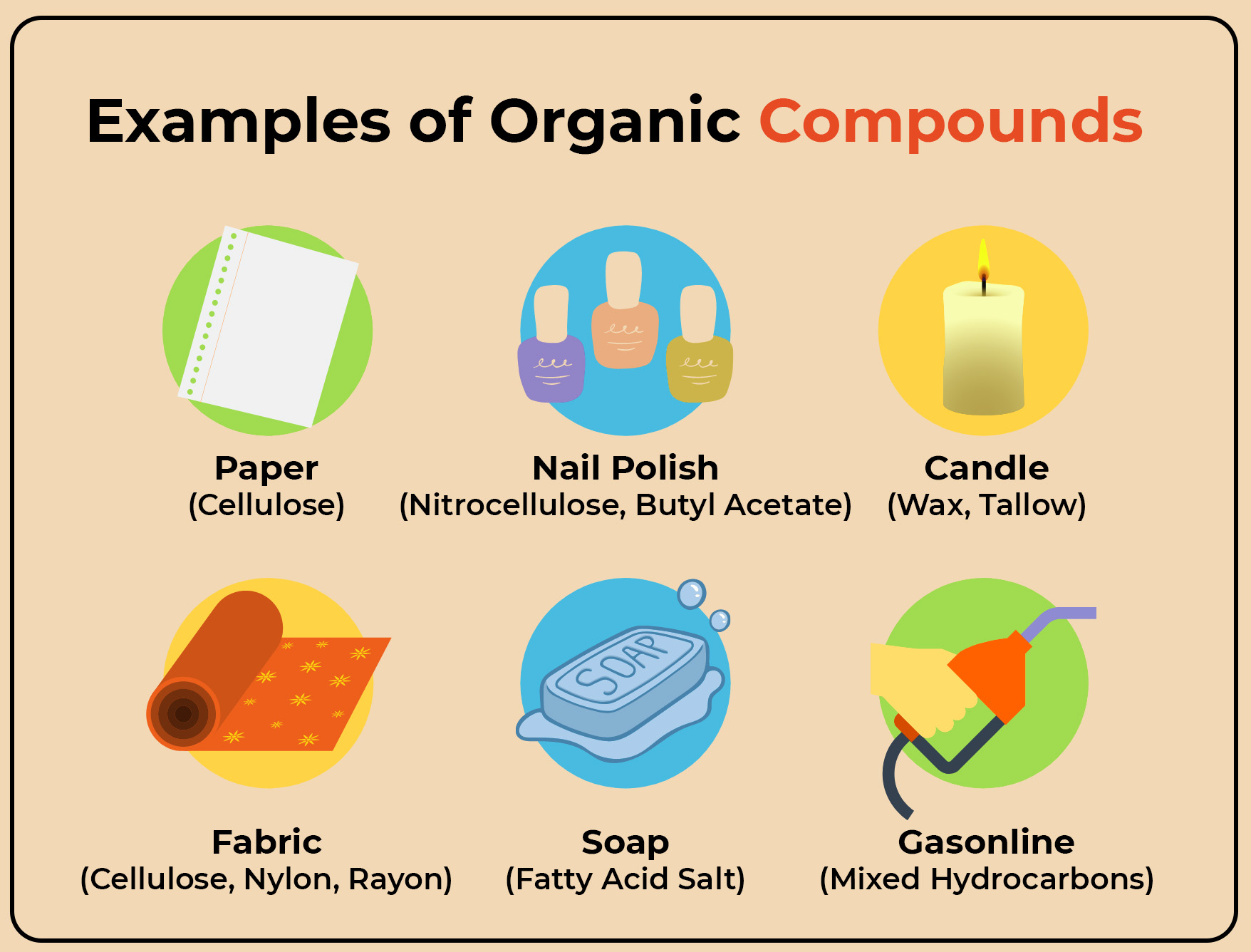 Characteristics
The general characteristics of Organic Compounds include:
Can be separated as well as prepared in the laboratory
Comprise almost 90% of all known compounds.
Mostly accumulated of only three elements- carbon, hydrogen, and oxygen. Other elements like halogen and nitrogen besides phosphorous are also existing but to a small extent.
Retain complex patterns and high molecular weights
Their properties are determined by a specific active atom or group of atoms recognized as the functional group.
They are primarily insoluble in water but soluble in organic solutions.
They are flammable
Chemical reactions comprising organic compounds continue at slower rates.
Characteristics due to Presence of Covalent Bonds
A covalent bond is a chemical bond that influences the sharing of electrons pairs between atoms in a switch resulting in a balance of impressive and despicable forces between the atoms. The presence of a covalent bond renders specific elements to the organic compounds. These include:
Low melting points and boiling points.
Organic acids and bases are powerful and thus they have a particular dissociation in an aqueous medium.
They express the process of isomerism in which an isolated molecular formula characterizes several organic compounds varying in physical and chemical properties.
They are flammable.
A major characteristic of Members of Homologous Series
A Homologous Series is a community of organic chemical compounds, usually summarized in the order of increasing size, that have an identical structure (and hence, also similar properties) and whose structures vary only by the number of CH2– CH2 units in the fundamental carbon chain.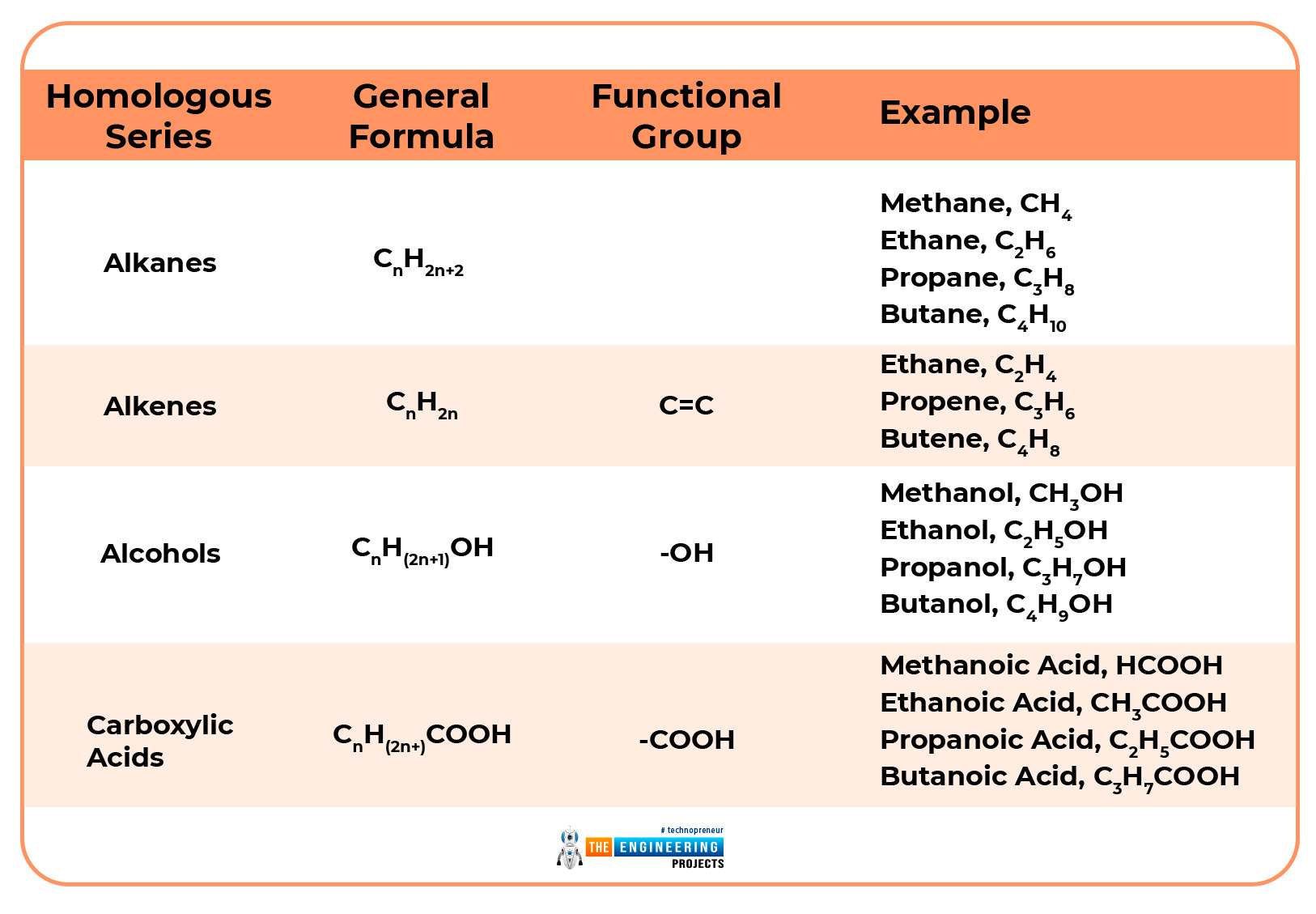 They maintain the following general characteristics:
A common formula defines the members of the homologous series.
Succeeding members differ from each other by CH2CH2
Physical properties change regularly with an increasing number of carbon atoms.
Members have similar chemical properties because they have an identical functional group because can be assembled using the same method.
Significance of Organic Compounds
Organic compounds are important because all inhabiting organic compounds contain carbon.
While carbohydrates, fats, the basic structures of life, are organic compounds
They are the basic units of many of the cycles that move the earth. For instance, the carbon cycle comprises the deal of carbon between plants and animals in photosynthesis and cellular respiration.
Organic compounds get together with metals to form organometallic compounds. These compounds are valuable industrially. They are employed as catalysts, promoters, analyzers as well as stabilizers.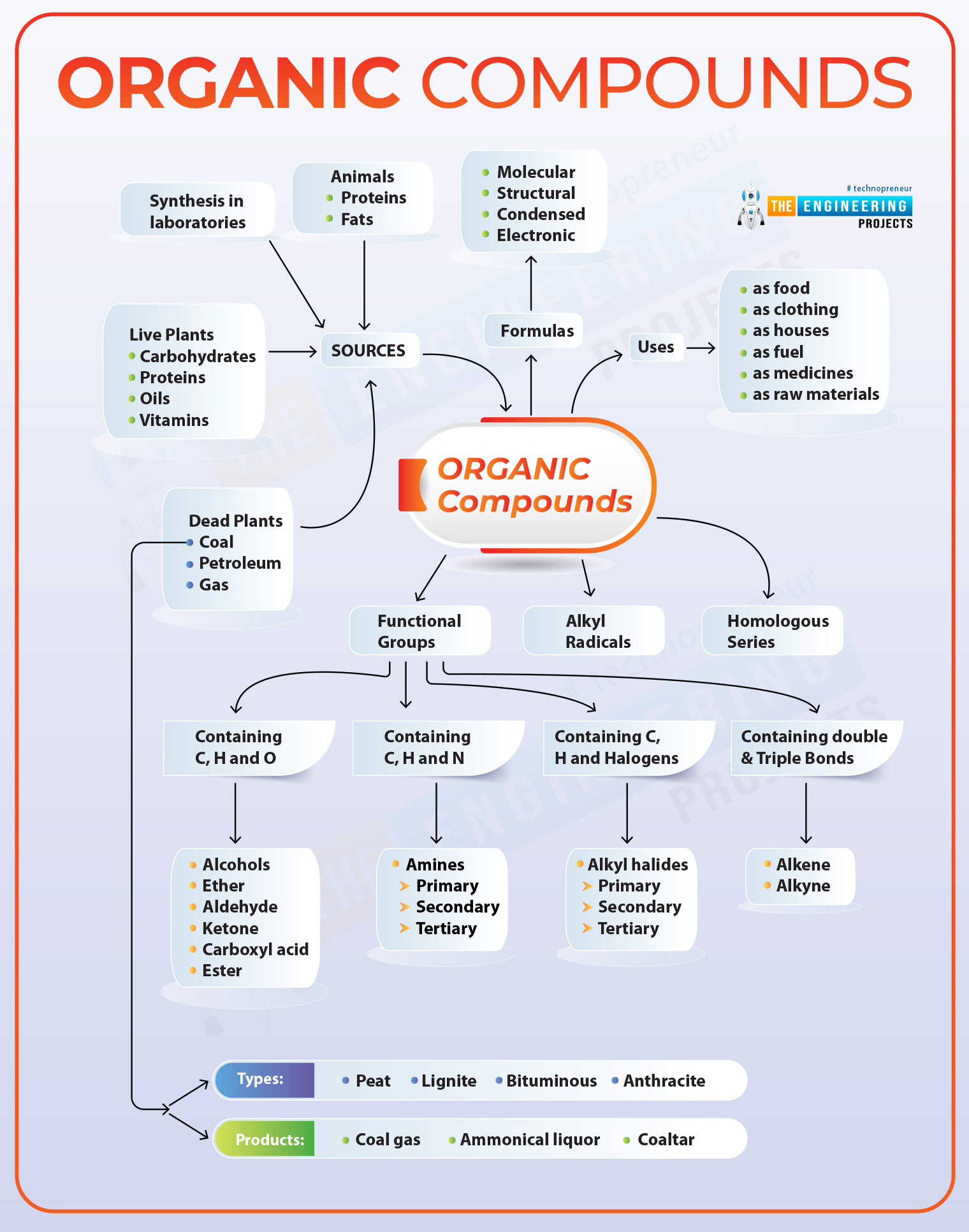 So this is all for our today's article. I have tried my best to explain all the important topics covered in the heading " Introduction to Organic Chemistry". So if you want more tough articles in simple ways then give me good feedback. It will help me for better work. Thanks