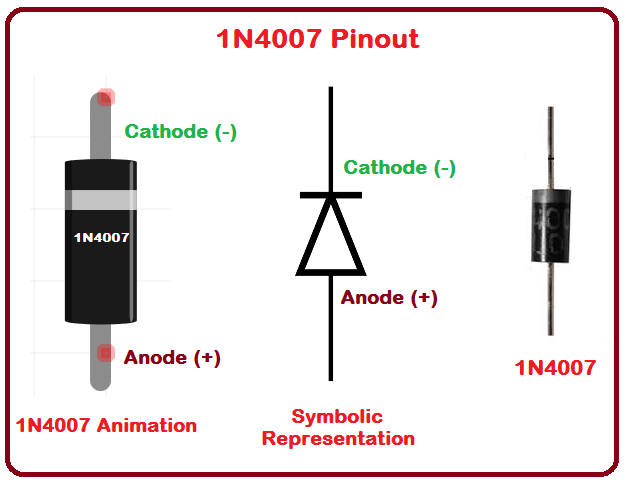 Hello everyone! I hope you all will be absolutely fine and having fun. Today, I am going to share my knowledge about Introduction to 1N4007. It is a PN junction diode. Diodes can be made by combining two different types of semiconductor e.g. P and N. PN junction is a junction formed between P and N types of semiconductors. You guys should also have a look at Introduction to 1N4148. 1N 4007 belongs to the series of 1NXXXX devices. Its an American standard numbering system standard used for semiconductor devices. This standard has been adopted globally now. In 1N 4007 the first part 1N indicates single junction semiconductor. 1N indicates 1 junction whereas N indicates the semiconductor diode. 4007 is the specific number to indicate the particular diode. From the electrical point of view, 1N 4007 is compatible with other rectifier diodes. The diodes belonging to 1N400X series can be replaced by this particular diode. They are normally used in Embedded Systems Projects. So, let's get started with 1N4007:
Introduction to 1N4007
1N4007 is a PN junction rectifier diode. These types of diodes allow only the flow of electrical current in one direction only. So, it can be used for the conversion of AC power to DC. 1N 4007 is electrically compatible with other rectifier diodes and can be used instead of any of the diode belonging to 1N400X series. 1N-4007 has different real life applications e.g. free wheeling diodes applications, general purpose rectification of power supplies, inverters, converters etc. You can download 1N4007 Datasheet by clicking below button: Download 1N4007 Datasheet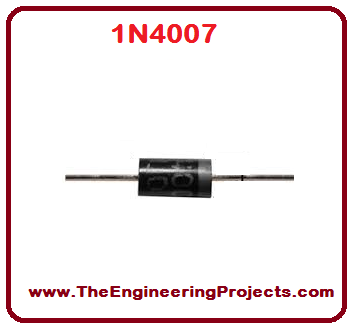 1. 1N4007 Pinout
1N 4007 has two (2) pins in total i.e. anode and cathode respectively.
There are opposite charges on both of the pins, both the pins along with their name and charges are given in the table shown below.
2. 1N4007 Pins Configuration
A properly labeled pin diagram of any device results in better standing of the user.
I have made a completely labeled diagram of 1N-4007 diode along with its animation.
The complete pinout diagram along with animation, symbolic representation and the real image of 1N 4007 is shown in the figure below.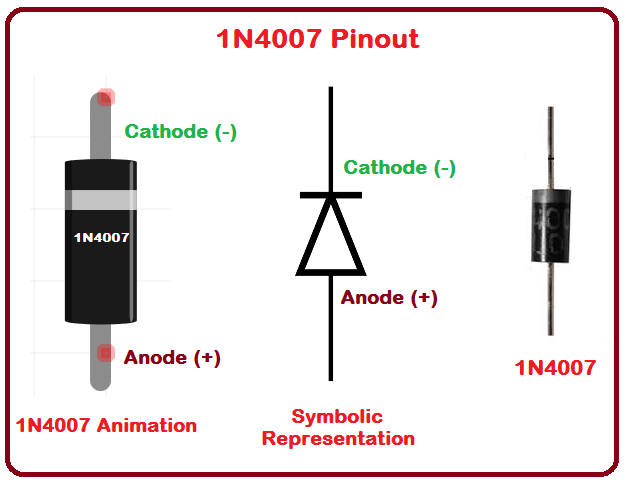 3. 1N4007 Electrical Characteristics
The electrical characteristics may include reverse voltage, reverse current, forward voltage, forward current etc.
The different electrical characteristics associated with 1N-4007 is shown in the table given below along with their typical values and System International (SI) units.
4. 1N4007 Thermal Characteristics
The thermal characteristics may include power dissipation, thermal resistance etc.
Both of the above characteristics are provided along with their maximum values and SI units, in the table shown below.
5. 1N4007 Features
Features are basically the speciality of any device which shows that how this device is different from the other devices and how efficient is this!
The different features associated with 1N 4007 are provided in chronological order, in the table shown below.
6. 1N4007 Applications
1N4007 has a lot of real life applications in Embedded Systems, a few of the major application associated with the particular diode are given below:
6. 1N4007 Proteus Simulation
I have designed a simple 1N4007 Proteus Simulation in which I have shown both of its states.
This 1n4007 Proteus Simulation is shown in below figure: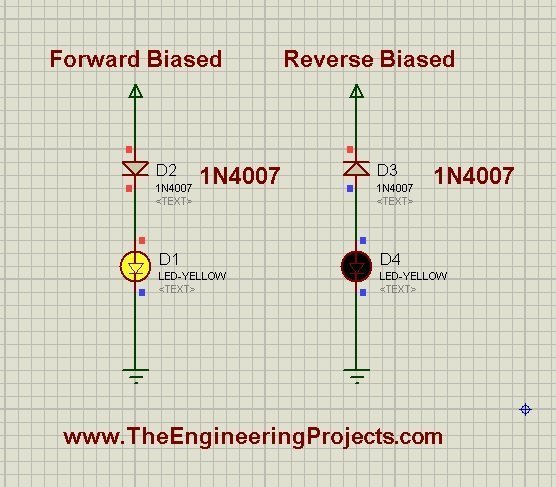 In the above figure, you can see both states of 1N4007 i.e. Forward Biased and Reverse Biased.
In Forward Biased state, its allowing the current to pass through it and that's why LED is ON.
While in the Reverse Biased state, !N4007 is in open state and that's why LED is OFF.
So that is all from the tutorial Introduction to 1N4007. I hope you enjoyed this exciting tutorial. If you face any kind of problem you can ask me in comments anytime you want, without even feeling any sort of hesitation. I will try my level best to solve your issues in a better way, if possible. Our team is also 24/ available to entertain you. I will explore further IC's in my upcoming tutorials and will surely share them with you as well. So, till then take care :)