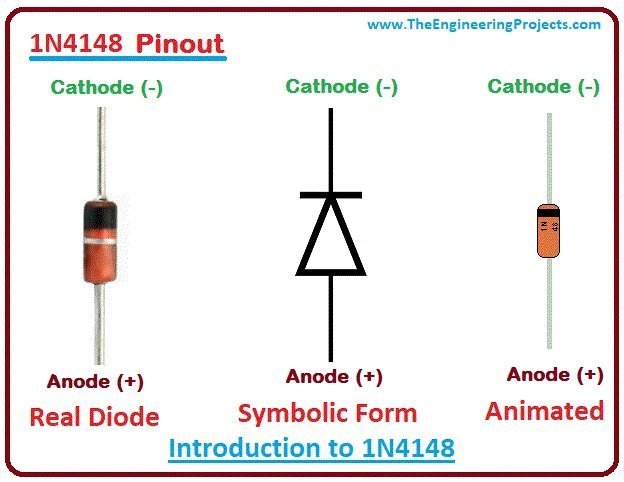 Hello everyone! I hope you will be absolutely fine and having fun. Today, I am going to give an Introduction to 1N4148. It is basically a diode used for fast switching purposes. Switching diodes are usually single P-N diodes and their functionality is similar to that of normal switch. Below a specific voltage, switching diodes i.e. 1N4148 has high resistance. Whereas as above that specific voltage they show a low resistance. It is a most commonly used diode due to its smaller size, easy availability and low cost. Good switching diode can be chosen by its maximum reverse recovery time and its power dissipation ranging from 80mW to 1kW. Switching diodes such as 1N4148, 1N4007 etc. have very wide range of applications specially in Embedded Systems for switching purposes. It is mostly used in switches having extremely fast operation. It can be used for high speed rectification, general purpose switching and fast switching are also included in its applications, protection of telecommunication industries and homes etc.
Introduction to 1N4148
1N4148 is a standard diode made up of silicon and is used for extremely fast switching operations. It has two modes of operation named as:
Forward Biased
Reverse Baised
In Forward Biased operational mode, it allows the current to pass though it and it acts as a closed switch, while in Reverse Biased operational mode it acts as an open switch and doesn't allow the current to pass through it. I have explained it in below figure: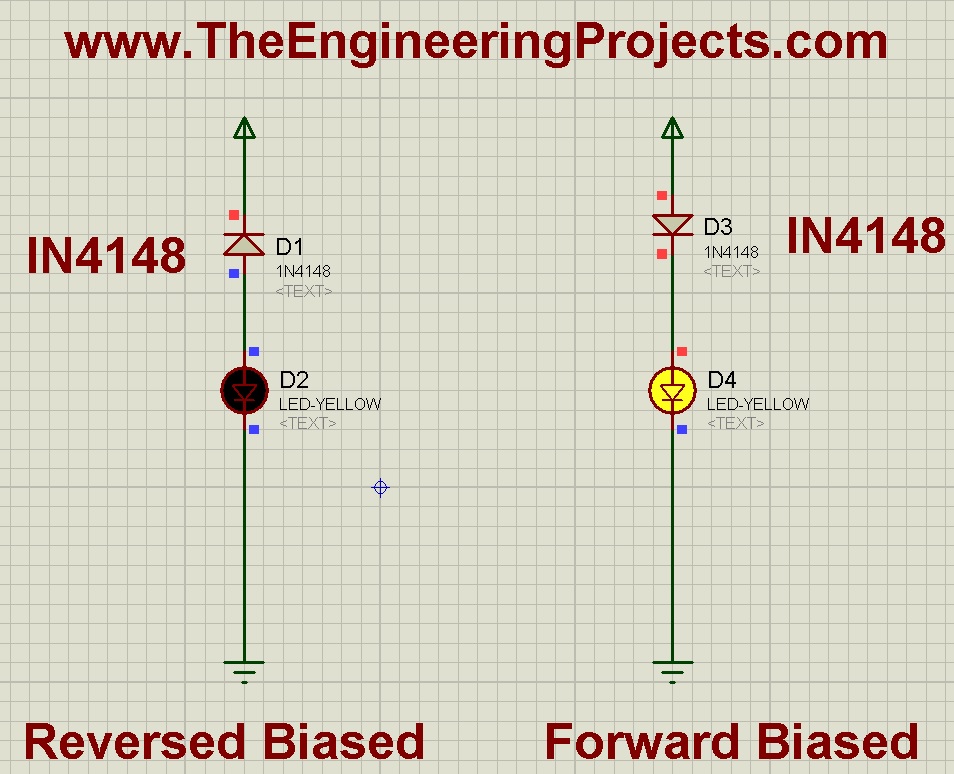 I have designed the above simulation in Proteus and you can see in the above image.
In forward biased state, diode IN4148 is acting as a closed switch and allowing the current to pass through it, that's why our LED is ON.
In Reversed Biased state, diode IN4148 is acting as an open switch and there's no current flowing through it, that's why our LED is OFF.
In the below figure, I have shown the equivalent circuit of both of these diode states: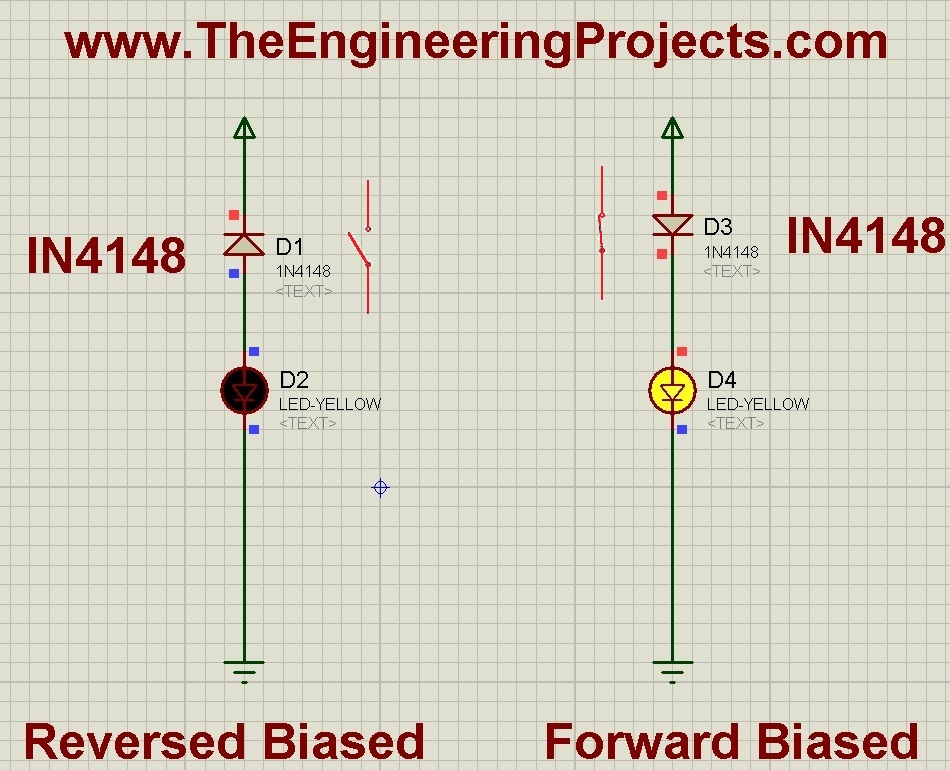 1. 1N4148 Mechanical Design Parameters
The different parameters for mechanical design of this diode are shown in the table given below.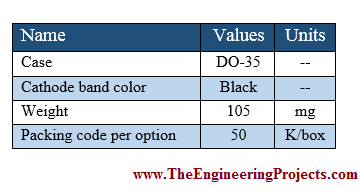 These are few of the parameters for mechanical designing of the zener diode 1N4148.
Some of the other mechanical parameters are also shown in the table given below.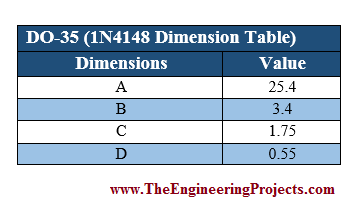 The parameters given in the table above can be verified from the figure shown below,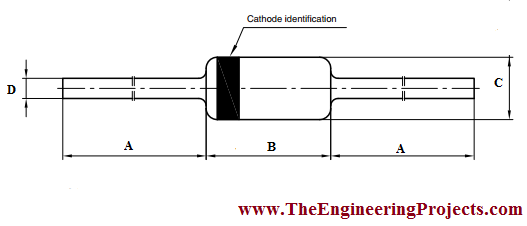 From the figure shown above, we can see that the diode has four major sides which are A, B, C and D respectively.
Each of the side has its own different dimension as given in the table shown above.
So, that was the brief discussion about the mechanical design parameters for this diode.
2. 1N4148 Pinout
1N4148 has only a single input terminal and a single output terminal.
Input terminal is known as anode and output terminal is known as cathode.
Anode is indicated by the positive (?ve) charge whereas the cathode is indicated by negative (?ve) charge.
Pins and their charges are shown in the table given below.
3. 1N4148 Pins Diagram
Pins diagram for this diode is shown in the figure below,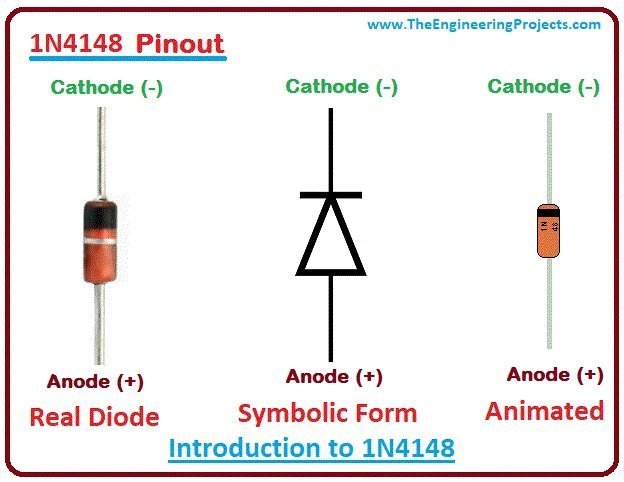 This is the properly labeled diagram of 1N4148 showing anode on one side as A and cathode on the other side as B.
4. 1N4148 Power Ratings
The current, voltage and power rating for the diode 1N4148 are provided in the table shown below.
The table above displays the ratings of the particular diode along with their symbols and values.
5. 1N4148 Applications
The switching diode i.e. 1N4148 has a wide range of applications, a few pf which are given below:
Extremely fat switching purposes.
High speed rectification.
General purpose switching.
Protection circuits in telecommunication industries, offices, homes etc.
These were few of the applications associated with this switching diode.
So that is all from the tutorial Introduction to 1N4148. I hope you really enjoyed this tutorial. If you face any sort of problem regarding any thing, you can ask me anytime in comments without even feeling any kind of hesitation. I will try my level to entertain you and to solve your issues in a better way, if possible. Our entire team is 24/7 here to entertain you and to solve your issues in a way or the other. I will explore different IC's in my later tutorials and will surely share all them with all of as you as well. So, till then, Take Care :)