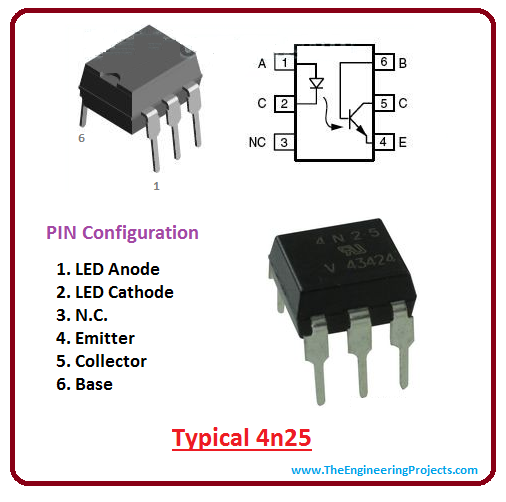 Hey Fellas! We always strive to give you useful information that resonates with your needs and requirements. Today, I'm going to unlock the details on the Introduction to 4n25. It is a standard single channel 6 pin optocoupler that contains silicon NPN phototransistor and gallium arsenide infrared LED. It is widely used in motor drive and control, communication and networking, and power management. I'll try to cover every aspect related to this optocoupler so you don't need to go anywhere else and find all information in one place. Let's dive in and explore what it does and what are its main features.
Introduction to 4n25
4n25 is a standard single channel 6 pin industry standard phototransistor coupler that contains silicon NPN phototransistor and gallium arsenide infrared LED.
It is also known as an optocoupler, photocoupler, or optoisolator.
The main purpose of this device is to transfer an electrical signal between two electrically isolated circuits by using light.
Simply put, the input signal is transformed into light, which then sends to the dielectric channel, the light is extracted at the output and then it is transformed back to the electric signal.
Optoisolator is very useful when Electronic power transmission lines are encountered with high voltage surges that can be induced by radio frequency transmissions and lighting.
Remote lighting strikes are able to produce surges up to 10kV, which is much larger than voltage limits of any electronic device.
Optocoupler prevents the high voltages surges from entering the system which ultimately keeps the system from permanent damage.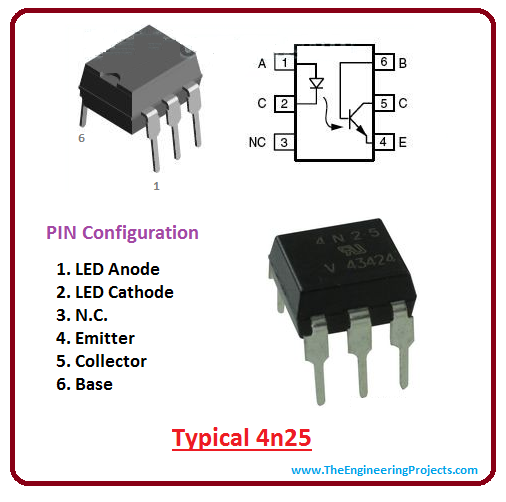 Reinforced protection capability makes this device an ideal choice for applications where voltage surge happens and it protects both the equipment and user who is operating the equipment.
The LED used in this device converts input electrical signal into light.
A photosensor that can be phototransistor, photodiode, or photoresistor is incorporated in the device to directly produce electric energy by detecting the incoming light.
This device also comes in lead formed configuration which makes it suitable for surface mounting.
Phototransistor output with base connection makes it an ideal choice for most of the applications including reed relay driving, AC mains detection, logic ground isolation, telephone ring detection, switch mode power supply feedback.
It comes with an input-output coupling capacitance of less than 0.5 pF, has interfaces with common logic families, industrial standard dual-in-line 6-pin package. and isolation test voltage of 5000 Vrms.
4n25 Pin Configuration
The 4n25 photocoupler mainly consists of 6 pins which are as follow.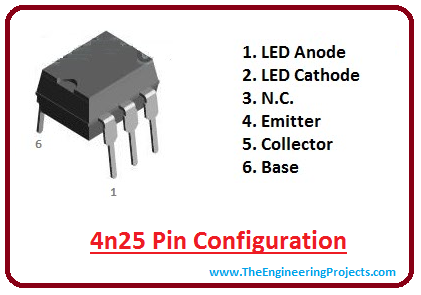 1. LED Anode
2. LED Cathode
3. N.C
4. Emitter
5. Collector
6. Base
The LED used in this optocoupler is used for transferring electric signal into light. The LED anode is the positive side of the LED and LED cathode is the negative side of the LED.
The phototransistor is a photosensor that produces electric energy by detecting input light signal.
Absolute Maximum Ratings
Following figure shows the absolute maximum ratings of 4n25.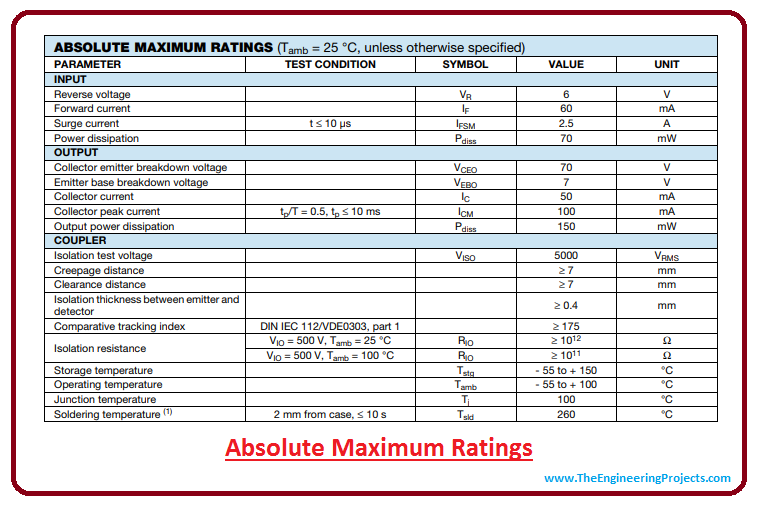 You can see from the figure, a reverse voltage is 6 V and forward current is 60 mA.
Maximum power it can dissipate is 70 mW. Collector-emitter breakdown voltage is 70 V and is denoted by Vceo.
Similarly, the emitter-base breakdown voltage is 7 V and is denoted by 7 V.
These absolute maximum ratings are obtained at an ambient temperature of 25 C
It is important to note that if stresses are exceeded above absolute maximum ratings, they can damage the device permanently.
Similarly, if absolute maximum ratings are applied for the extended period of time, they can affect the device reliability.
Electrical Characteristic
Following figure shows the electrical characteristics of the photocoupler 4n25.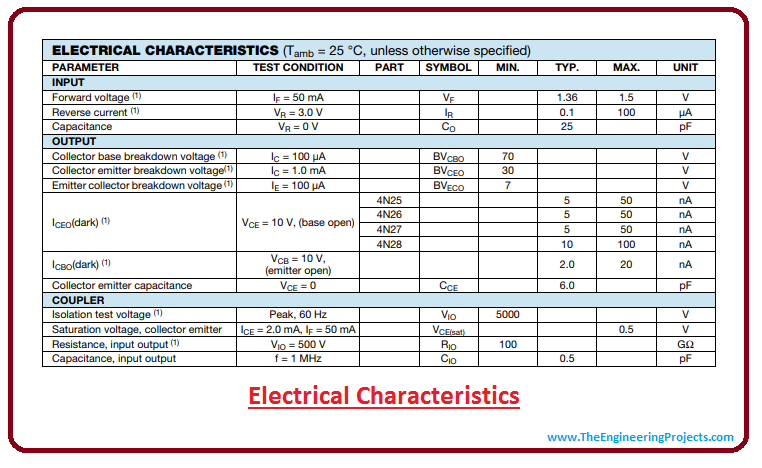 The maximum and minimum values in the figure above are testing requirements.
Typical values are considered as the result of the engineering evolution and are characteristics of the device.
Typical values are used for information purpose only and they are not related to any testing requirement.
You can see from the figure, isolation test voltage is 5000 V and maximum saturation voltage is 0.5 voltage.
You must take one thing into consideration, these electrical values don't define the quality of the product.
Applications
The 4n25 is widely used in many electronic applications because of its advanced features and characteristics. Following are some applications it is used for.
Solid State Relays
I/O Interfacing
General Purpose Switching Circuit
Reed Relay Driving
AC mains detection
Logic Ground Isolation
Telephone ring detection
Switch mode power supply feedback
Motor drive and control
Communication and networking
Power management
That's all for today. I hope you have enjoyed the article and got useful information. However, if still you feel skeptical or have any doubt you can ask me in the comment section below, I'd love to help you according to best of my expertise. Your feedback and suggestions are highly appreciated, they allow us to give you quality articles that meet your expectations. Stay Tuned!