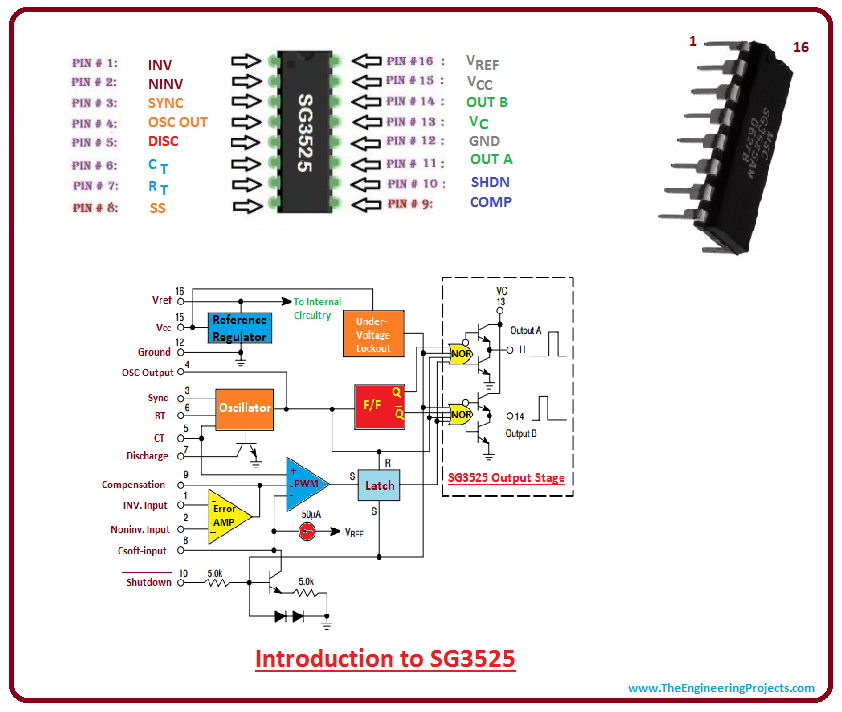 Hi Friends! I hope you are enjoying your life and getting most out of it. We are here to give you daily dose of useful information so you can excel and grow in your relevant field and stand out from others. Today, I'm going to uncover the details on the Introduction to SG3525. It is a pulse width modulated control circuit that is used to control switching power supplies and particularly helps in providing lower external parts count and improved performance. I'll try to cover every aspect and properties related to this modulated control circuit so you get clear idea what is it about and what are its main applications. You can also have a look at Introduction to SG3524 which is mainly used in regulation power supplies and switching regulators. Let's dive in and explore the features of SG3525.
Introduction to SG3525
SG3525 is a pulse width modulated control circuit that is used to control switching power supplies and particularly helps in providing lower external parts count and improved performance.
It is voltage control PWM controller in which feedback voltage is compared with reference value which then controls the duty cycle of PWM.
It is mainly used in inverter applications and utilizes two main PWM outputs that are inversion of each other.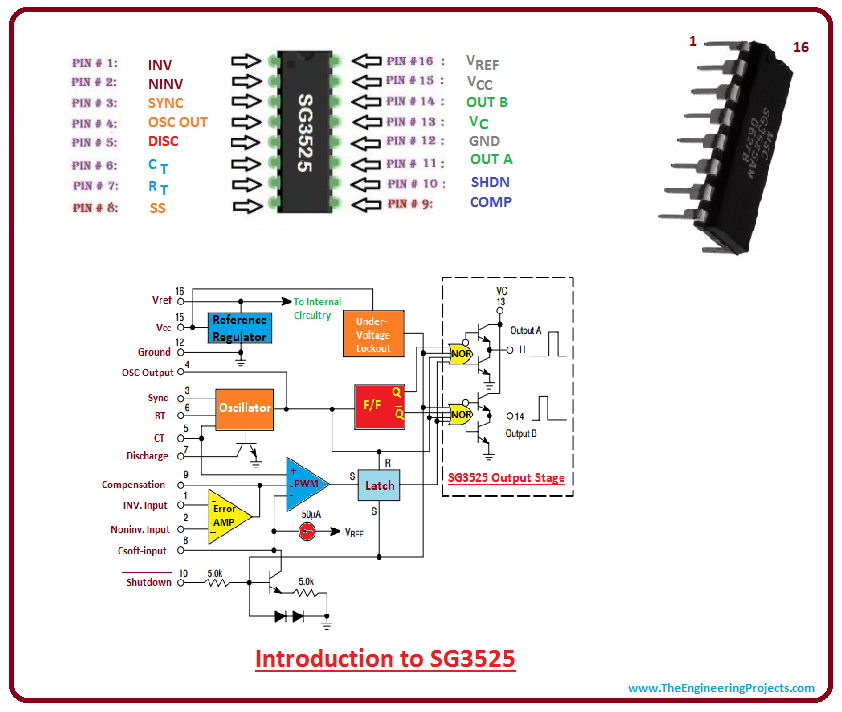 The on-chip +5.1 reference is modified to ±1% and the error amplifier that comes with both input common mode voltage range and reference voltage, helps in terminating the need of external resistors.
A sync input provided to the oscillator helps in synchronizing single unit to the external system clock.
A single resistor existed between the discharge pins and Ct is used to program the wide range of deadtime.
This modulator is also incorporated with built-in-soft start-circuitry which needs external timing capacitor.
A shutdown pin is used to control both output stages and soft-start circuitry that also features instantaneous turn-off with the help of PWM latch and pulsed shutdown.
When Vcc stays below nominal, the under voltage lockout limits both soft-start capacitor and outputs.
The output stage of this modulator exhibits NOR logic and is similar to totem-pole design which makes it stand out from other ICs.
SG3525 Pins
SG3525 is a 16 pin integrated circuit. Following figure shows the pin number along with their pin names.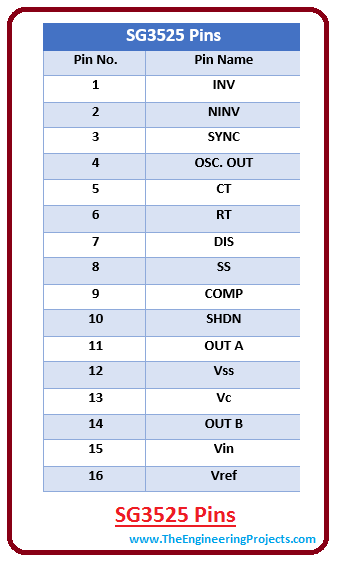 SG3525 Pin Description
SG3525 is a 16 pin IC. Each pin is allocated with different function.
Following figure shows the pin number, pin name and functions associated with each pin.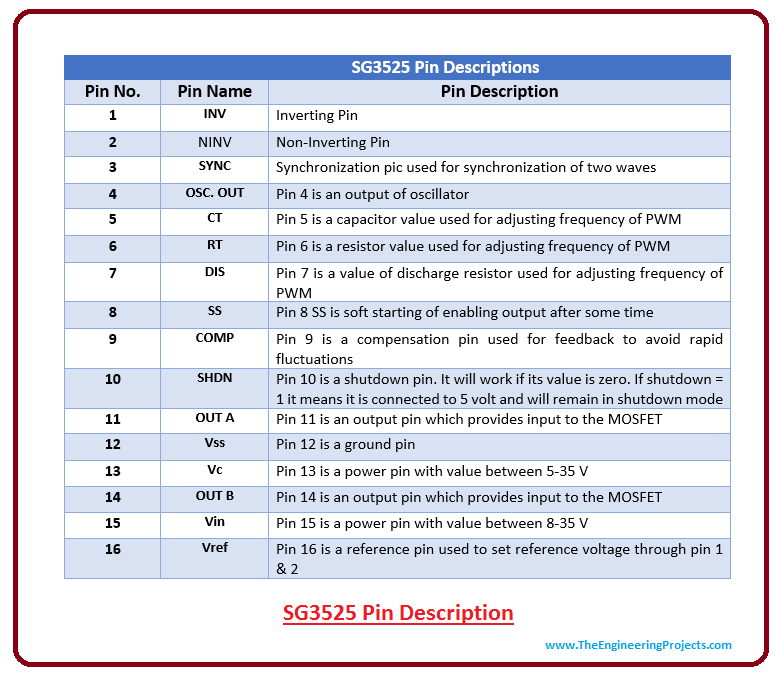 Soft start and compensation terminals receive the pull down signal and turn off the outputs when it sinks a maximum of 100µA current.
There is another way of turning off the output which involves the shutdown circuitry of pin 10 that comes with an added amount of shutdown options.
This circuit is activated by providing positive signal at the pin 10 which then executes two functions i.e. output signal turns off by immediately setting PWM latch and soft-start capacitor starts to discharge during the availability of 150 µA current.
If the shutdown command is applied for short period of time, the PWM signal will be eliminated without discharging soft-start capacitor significantly, helps in carrying out pulse by pulse current limiting.
However, if pin 10 is hold for longer duration will discharge the external capacitor quickly.
SG3525 Features
8V to 35V Operation
5.1V ± 1.0% Trimmed Reference
Separate Oscillator Sync Pin
100 Hz to 400 kHz Oscillator Range
Input Undervoltage Lockout
Adjustable Deadtime Control
Pulse-by-Pulse Shutdown
Dual Source/Sink Outputs
Latching PWM to Prevent Multiple Pulses
SG3525 Pinout
Pinout diagram features proper and detailed configuration of any electronic device.
SG3525 pinout diagram is shown in the figure below which elaborates the configuration of each pin of this modulator.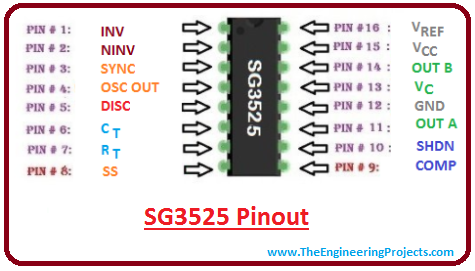 SG3525 Block Diagram
Block diagram is described in schematic form which features the general arrangement of parts or elements used in the device or process.
Following figure shows the block diagram of SG3525.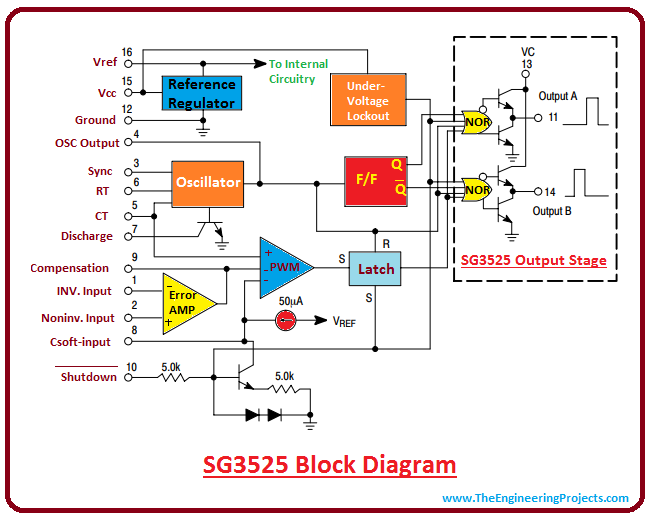 It is clear from the figure that output stage of this modulator represents NOR logic.
Absolute Maximum Ratings of SG3525
Following figure shows the absolute maximum ratings of SG3525.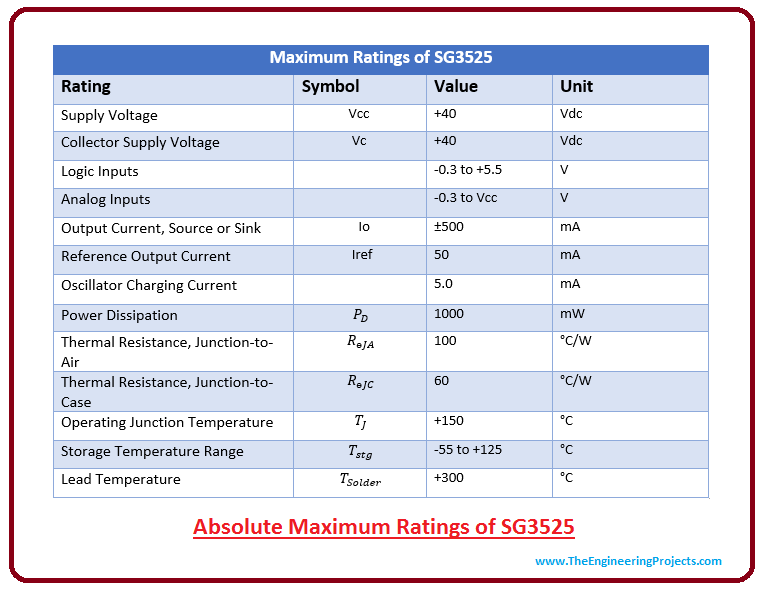 Supply voltage and collector supply voltage is 40 V.
Maximum power it can dissipate is 1000 mW.
It is important to note that if stresses are exceeded above absolute maximum ratings, they can damage the device ultimately.
Similarly, if stresses are applied for maximum period of time, they can effect the device reliability.
Applications
SG3525 has a wide range of applications but it is mainly used in transformer DC-DC inverters.
It is used for regulating power supply.
This modulator is useful for switching regulators of any polarity.
That's all for today. I hope you have enjoyed the article. We always try our best to give you practical information that resonates with your needs and expectations. However, if still you feel skeptical or have any question related to this modulator, you can ask me in the comment section below. I'd love to help you according to best of my expertise. Feel free to keep us updated with your feedback and suggestions, they help us to give you quality work so that you keep coming back for what we have to offer.