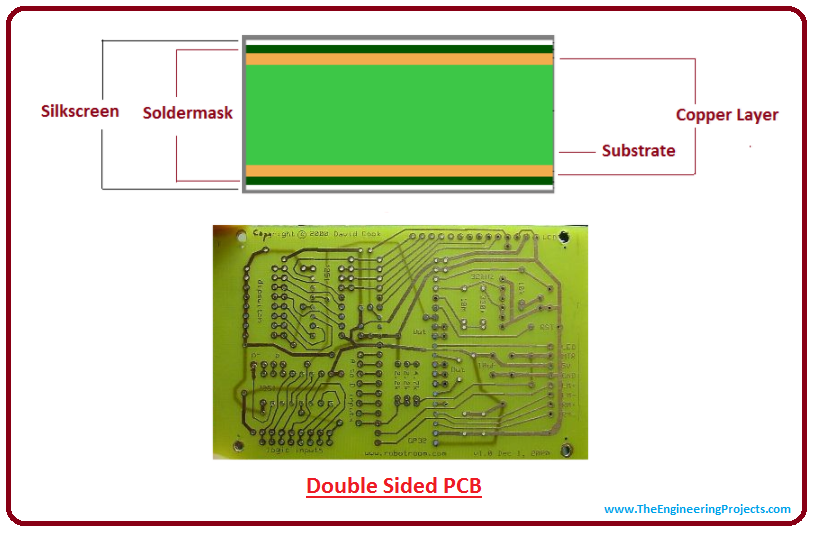 Hey Fellas! Hope you enjoying life filled with joy and happiness. I am back to give you daily dose of useful information so you can excel and grow in your relevant field. Today, I am going to unlock the details on the Introduction to Double Sided PCB. It is a type of PCB which comes with conductive copper layer on both side of the board unlike single sided PCB which has conductive layer on one side of PCB. I'll try to elaborate each and every feature related to double sided PCB so you don't need to go anywhere and find all information in one place. Let's jump in an explore what is it about and what are its main applications?
Double Sided PCB
Before we dive in and explore what is double sided PCB, we must have a clear idea what is PCB?
PCB is an acronym of printed circuit board which comes with lines, paths and traces incorporated on a single board to electrically connect different electronic components.
It is made up of substrate material which is usually fiber glass on which copper foil in laminated to provide a conductive path throughout the entire surface of the board.
Double Sided PCB, also known as two layer PCB is a type of PCB which has conductive copper layers on both sides of the board.
Simply put, double sided PCB comes with two sided traces or paths i.e. top layer and bottom layer.
It is extremely useful in many electronic applications because circuits on one side of the board can be connected on the other side of the board with the help of holes drilled on the board.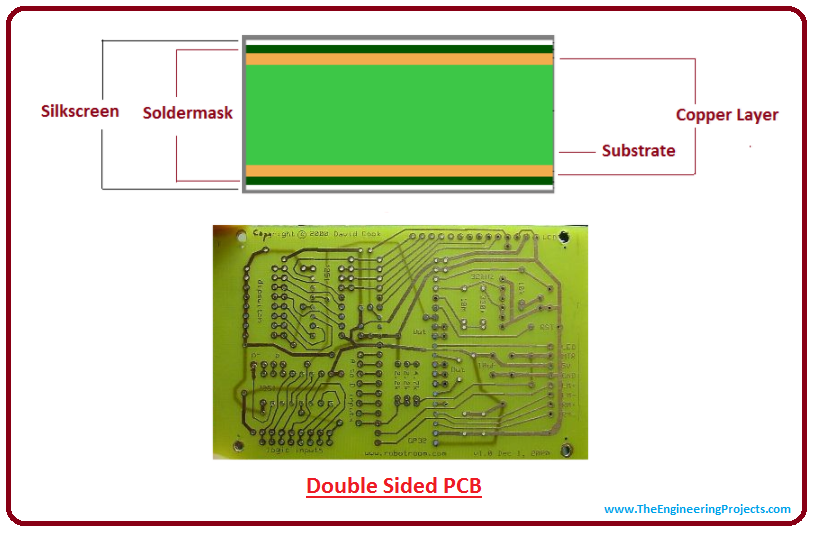 Components on these boards can be connected using two different useful technologies i.e. Through Hole Technology and Surface Mount Technology. Based on your needs and requirements, both technologies come with their own benefits and limitations.
Double sided PCBs are widely used in many electronic industry ranging from intermediate to complex circuitry.
They have made an important place in recent technology because they permit closer routing traces as compared to single sided PCB.
There are some examples where PCB comes with trances on both sides but components are connected only one side of the board. Some people get confused if we still call it double sided PCB if components are available only one side of the board? Answer is yes, we still call it double sided PCB even if components appear only one side of the board because trances will appear on both side of the board.
Soldering 2 layer boards is more like a tedious task, however, you can make use of pick and place machine to solder your board because soldering this way is faster than manual. You can also PCB using CNC Milling Machine.
Construction of Double Sided PCB
Construction of double sided PCB is similar to single sided PCB with some exceptions i.e. some layers are laminated on both side of the board.
Base of the double sided PCB is composed of insulating material also known as substrate which is mainly fiber glass epoxy resin. What type of base material is used, defines if PCB board is Flexible PCB or Rigid PCB. 
Copper foil is laminated on both side of the substrate in case of double sided PCB.
Similarly solder mask lies above the copper foil on both side of the board which gives protection.
There exists a silk screen above solder mask on both side of the board which is mainly used for adding symbols and characters on the board so a common person can understand the board functions.
All these layers that are used in the construction of double sided PCB are used in the construction of single sided PCB, but these layers are appeared to both side of the board as compared to single sided PCB on which these layers are present only on one side of the board.
You can also work with online PCB design service. Here are Top Online PCB Designing Services. 

Advantage of Double Sided PCB
Double sided PCB is an ideal choice for most of the professionals in terms of its flexibility and ease of use.
It comes with increased circuit density and pertains to lower cost as compared to multilayer complex PCBs.
Double sided PCB can be developed using reduced board size which ultimately helps in reducing overall cost. If you interested in advanced electronics, you can use Proteus Ares to design your PCB.
If you intend to sink or source current or in other words if your board act like providing a current to other shields or slaves, then picking double sided PCB makes sense because it comes with both top layer and bottom layer. You can use bottom layer as a ground copper pour.
Double sided boards have a leg over other single sided boards in terms of their complexity because if your board is densely populated and you intend to connect lot of components on single board then it is better to have some components connected on the bottom side of the board.
If you are not allowed to change board size that can limit putting thicker traces, and you are instructed to route Vcc and GND on a single board, then it is better pick a two layer board and route Vcc and GND on the bottom layer.
You can make PCB design by yourself using any of these Top 10 PCB Designing Software.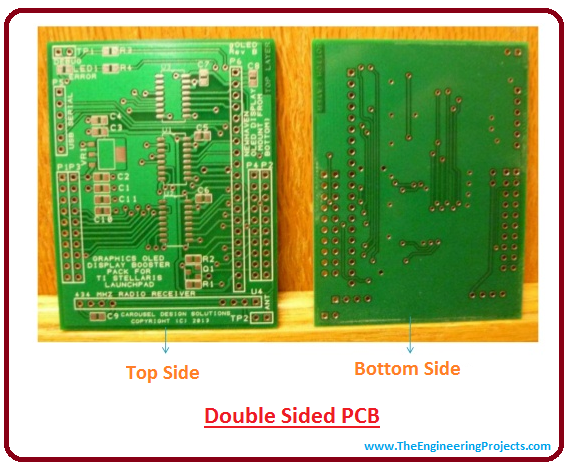 Applications
Double sided PCBs feature moderate level of complexity and mostly used in wide range of applications and deemed useful where single layer or multiplayer PCB fail to fulfill the requirement of the project. Following are some useful applications, there are also other electronic applications available but it is difficult for us to cover all at once, this is just the glimpse of applications double sided PCBs used for.
Converters
Control relays
Power conversion
HVAC
LED lighting
Instrumentation
Industrial controls
Power supplies
Regulators
UPS power system
Traffic control system
PC hard drives
Vending machines
Line reactors
Test and monitoring equipment
Printers
Phone systems
Automotive dashboards
Power amplifiers
That's all for today. I hope you have enjoyed this article. I have tried my best to guide you with most relevant and useful information that resonates with your needs and expectations. However, if still you feel skeptical or have any question you can ask me in the comment section below. I'd love to help you according to best of my expertise. Thanks for reading the article. We feel happy when you guide us through your feedback and suggestions. They allow us to give your quality. Stay Tuned!